Teaching at UPAEP


Universidad Popular Autónoma del Estado de Puebla (UPAEP) is ranked in the Top 5 Private universities in Mexico. The university is known for its basketball and soccer teams, and student groups are active in theater, dance, chorus, speech and debate, photography, and animation. Total university enrollment in 2000-2001 was 7,000. UPAEP has an exchange program for students, faculty, and curricula with Oklahoma State University.

In 1995, Several faculty and students from UCO were invited to participate in a conference, The Social Role of the Graphic Designer, in Puebla. Later, I was asked to join the faculty as a Visiting Professor. I taught a graduate course, Design Systems, in the summers of 2000 and 2001. It was an intensive course in which student teams developed a name, logo, route map, station signage, promotion pieces, and website for a new subway system in Puebla. I hired a former student to translate my materials into Spanish and I prepared the lecture outlines in Spanish. However, a few weeks before leaving, the design program director informed me that they wanted me to teach the course in English. Great. Turns out that the grad students have to take the TOEFL exam and he wanted them to practice speaking and writing English. That turned out to be less stressful, but I did have a couple students who were not fluent in English - other students and I would translate for them. The course was a seminar format. I prepped all the assignments, info, and course syllabus into a somewhat lengthy booklet. It helped both the students and I stay on track.
It was a wonderful experience. I spent several days before and after the course enjoying Puebla and Mexico City.





Course information and syllabus




Design Systems



The course, Design Systems, allows the graduate student to apply knowledge and skills to a major comprehensive project. This project includes the assessment of a design problem, development of a name, logo design, map design, environmental graphic design, advertising design, web page design, and effective presentation skills.


Course objectives


Design Systems will help students to:
• Grow as decision makers, creative problem solvers, and persuasive communicators.
• Better understand the systems used in creative problem solving.
• Enhance their inherent sense of design through problem seeking, and problem solving.
• Help open their minds to think in new ways.
• Encourage greater attention to detail.
• Analyze effectiveness of graphic design.
• Practice clear communication of message intent and content.
• Improve confidence in speaking, writing, and understanding American English.
• Develop composition and typography skills.
• Make effective oral presentations of their work.


UPAEP mission
To help create fluent thinkers and develop leaders that can transform our society.

Instructor


Jim Watson, Emeritus Professor of Design at the University of Central Oklahoma, teaches History of Graphic Design at the University of Oklahoma and at Oklahoma State University. He has taught design for 30 years and is active in the Oklahoma design community and is a founder of the Oklahoma chapter of the AIGA (American Institute of Graphic Arts).


Course grade


The grade for this course will be based on critiques of student work, class participation, meeting deadlines, and attitude towards design.
The course grade is an average of these grades:
• 10% Worksheet 1: the name
• 10% Worksheet 2: the logo
• 10% Worksheet 3: the route map
• 10% Worksheet 4: the poster and slogan
• 10% Worksheet 5: the website home page
• 20% Oral presentation
• 30% Final presentation board


Grading point explanations


0 is earned if nothing is turned in by deadline
3-5 is earned for work that is below average
6 is work that is average
7-9 is earned for work that is above average
10 is excellent, with no room for improvement


Earning a 9 or 10


Excellent students attend class regularly and on time, turn in work on time, conduct thorough research, manage time efficiently, participate in class discussions and critiques, do more than is asked for in projects, show a strong inherent sense of design, and do not settle for 'good enough'.


Responsibility for learning


Teachers can only provide information and motivation. The responsibility for learning and understanding is entirely up to the student. You determine what you get out of any course. Make up your mind to grow, set high standards for yourself, and push yourself to excel.


Student participation


Great designers are active, progressive, and assertive participants in their personal and community environments. Class participation is volunteering information, suggestions, and opinions during class discussions and critiques. Be confident to speak up about what you think.


Meeting deadlines


An objective of this course is to develop successful professional graphic designers. To best meet that objective, each worksheet and project must be turned in by the deadline (the beginning of class, unless specified otherwise).


Attendance policy


Attendance will not be taken, but missing a class will reflect in the quality of the design project by limiting input into the project from the instructor and the other students.





The project: A mass transit system for Puebla


As Puebla grows and there is more concern about traffic, air pollution, and the efficient movement of large numbers of people; the city of Puebla will consider the development of a mass transit system including surface rail or subway routes. Design Systems will develop this rapid transit system and the specific components listed below.


Proposed timeline


2008 Presentation of proposals
2016 Construction of Phase 1 begins
2020 Introduction and promotion of system
2025 Phase 1 of system completed
2040 Phase 2 completed


Components of the project


• Problem assessment: Mission statement, Statement of the design problems, Target markets: primary and secondary, Objectives of design solution
• Name of transit system
• Logo/identity for transit system
• Rider card
• Route map and station locations
• Signage: Station identification and Directional wayfinding
• Poster with promotion slogan
• Website home page
• Presentations: Oral and visual


Course schedule

Monday


Introduction and assessment
• Overview of the course and project
• Discuss students: assess, goals
• Definitions of terms
• Communication
• The problem solving process
• Creativity, devolving
• Neurobic activities
• Mind games
Project assessment
• Mission statement
• Stating the problem
• Determining the target markets
• Setting objectives
Discuss: naming the transit system
Identity design, and branding
Info & slides: symbols, logos
Worksheet assignment:
• Name and logo concepts
• Logo sketches


Tuesday


Presentations: transit system name
• Critique logo sketches
Info & slides: modern map
Worksheet assignment:
• Logo comp
• Map layout: routes and station locations


Wensday


Presentations:
• Critique logo comps
• Route map/station locations
Signage:
• Identify station locations
• Directional wayfinding
Promotion and advertising
Principles of layout composition
Worksheet assignment:
• Slogan and poster sketches


Thursday


Presentations: poster sketches
Info & slides: web design
Worksheet assignment:
• Website home page


Friday


Presentations: website home page
Prepare final presentation:
• Write rationale text
• Layout composition of board
• Mounting pieces


Saturday


Presentation of final project
• Pieces mounted
• Persuasive
• Rehearsed



Below: Some lecture notes and work in progress for class discussions.


Below: Student's final projects.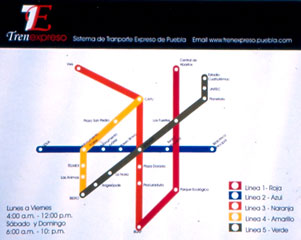 Below: The 2000 class of graduate students.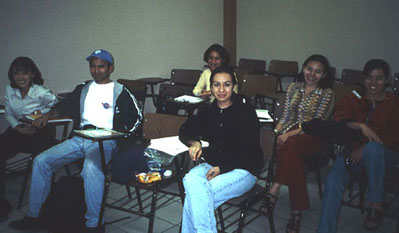 Presenting at the Encuadre International Design Conference
JoAnn Adams and Jim before Jim's presentation at the conference. Some of the UCO students.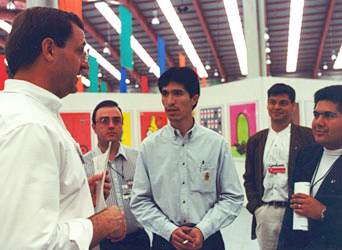 Luis Limon, the head of the Graphic Design program, and a design student; some of the UPAEP design faculty.


The workshop in the Conference Center.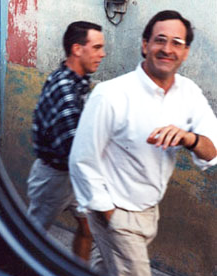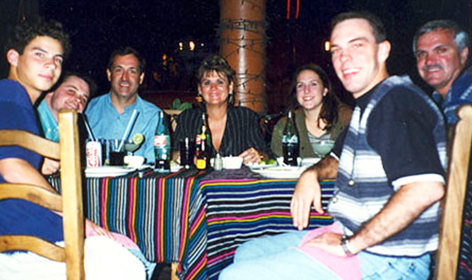 Jim and student Bret escaping from the tour bus to explore the town of Cholula. The UCO group at dinner.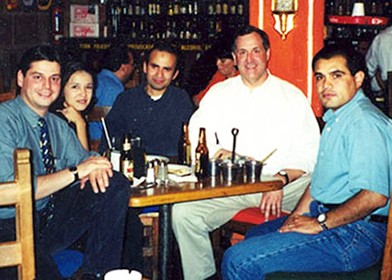 Watson with some of the faculty and students in Graphic Design.


The campus occupies several urban blocks in Puebla. The buildings form and face an interior courtyard. In the center is the Student Union.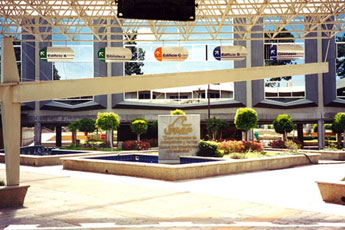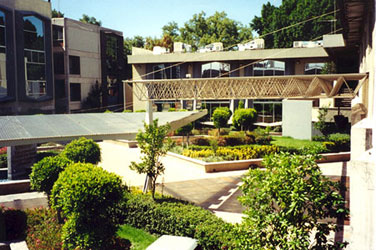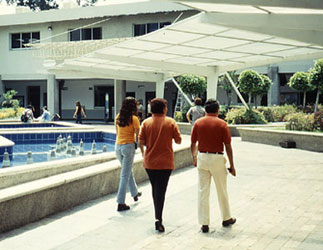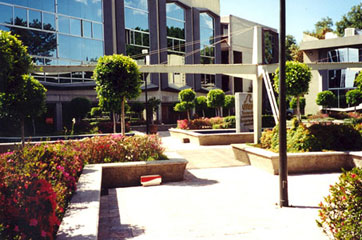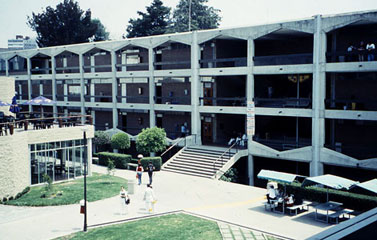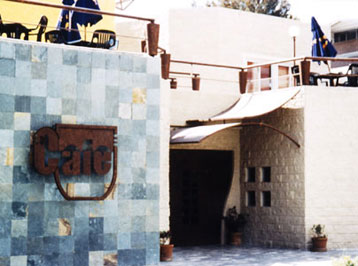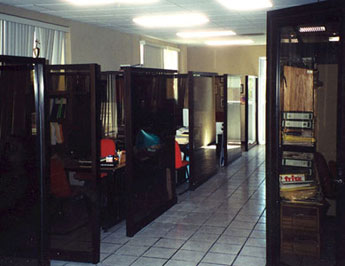 The Union Cafe; Faculty offices in the design department.



Media coverage




Professor Watson a ensenar en Mexico


By Sarah Davis
UCO visual art and design professor Dr. Jim Watson recently received the opportunity to teach graphic arts to students at UCO's sister university in Puebla, Mexico. Watson worked with students for five days in June at the Universidad Autonoma del Estado de Puebla (UPAEP) to design a subway system for the city of Puebla, located one and a half hours east of Mexico City. Watson had been a presenter at a design conference in 1995 in Puebla. They wanted me to come back and teach a class. I could never arrange my UCO schedule to accommodate, but this summer I committed to teach there," Watson said. The graphic design department at UPAEP has five full-time faculty. Watson, one of five visiting faculty, was the only U.S. professor.
Watson worked with 14 to 19 graduate students and the five faculty in the "Design Systems" class to develop a name, logo, ridercard, poster, map and signage for the subway system. Routes and station locations were determined. Mexico City, Guadalajara and Monterey all have subway systems. Mexicans are subway literate," Watson said.
The students Watson worked with were fascinated by American technology and style. "Students would stay after class to ask me about design in America," he said. Watson taught class mostly in English but did speak Spanish in and out of the classroom. English is a prerequisite for being accepted into the UPAEP's graduate program. Watson was surprised that all students had a computer at home or easy access to one. "Puebla is very current in its use of technology," he said.
Watson thoroughly enjoyed the experience. He spent three days in Mexico City after teaching the class in Puebla, visiting cathedrals, markets, and parks. This was one of the best classes I have ever taught, very satisfying and rewarding. I was able to feel like a professor in Mexico, not a tourist," Watson said.



UCO prof teaches design in Mexico


Jim Watson, professor of art and design at the University of Central Oklahoma, spent five days in June teaching 'graphic arts to students at La Universidad Autonoma led Esta do DE Puebla, Eco's sister university in Mexico. Watson was one of five visiting UCO facility members to spend time this summer at the school, which is in Puebla, a colonial city 90 miles east of Mexico City. While there, Watson worked with students who, singly and in teams, designed a subway system for Puebla. Watson said the proposed subway system was to be in service by 2010. Several cities in Mexico already have subway systems, and many Mexicans are "subway literate," Watson said. This summer's project included developing a name and designing a logo, rider card, poster map and signs, Watson said. Routes and station locations also were determined. Many students were fascinated by design in America, he said. Watson, who last visited Puebla as part of a UCO art and design delegation in 1995, said he was most surprised to find that all his Mexican students had access to a computer or had one at home. "Mexico, or at least Puebla, is very current in its use of technology."
"This was one of the best classes I have ever taught" said Watson, who's taught at UCO since August 1987.



Travel fotos and stories about trips to Puebla & Mexico City
1973 December 22-28: Mexico City Family Christmas
1995 October 24-29: Puebla: Encuadre International Design Conference
2000 June: Puebla y Mexico City: Design Systems graduate studio course
2001 May 19-28: Puebla: Design Systems graduate studio course
2008 March 27 - April 1: Mexico City y Puebla: Accompanying UCO Dancers





Puebla


The city of Puebla, full name - Puebla de los Ángeles or La Angelópolis, is the capital and largest city of the state of Puebla. With a metro population of about 4,000,000,it is the fourth most populous metropolitan area in Mexico. Puebla is one of the oldest colonial cities on the North American continent. Founded on April 16, 1531, Puebla was the first city in central Mexico that was not built upon the ruins of a conquered Amerindian settlement. Its strategic location, half-way between the port of Veracruz and Mexico City, made it the second most important city during the colonial period. Puebla is the Sister City to Oklahoma City. (Wikipedia)
Puebla is famous for 3 things:
• Cinco de Mayo - Mexico's army defeated French forces in Puebla on May 5, 1862 in the Battle of Puebla.
• Mole Poblano - Sauce of 20 ingredients including cinnamon, peppers, and chocolate.
• Talavera - Blue & white ceramics used in dinnerware, plant pots, churches and even street tiles.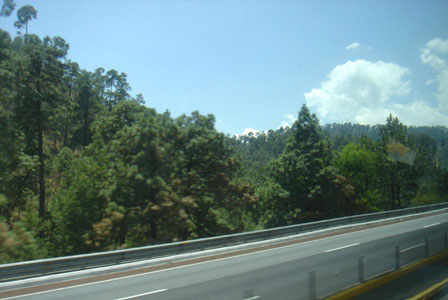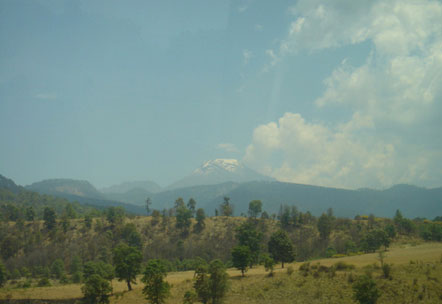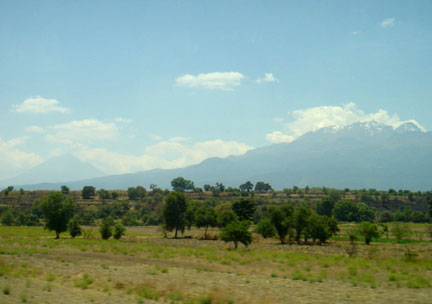 On the highway from Mexico City to Puebla. Mexico City and Puebla are 2-hour bus ride from each other. It takes about 30 minutes to get through Mexico City traffic, then its a nice ride over a mountain pass. In the background of the two bottom fotos is the volcano Popo.


Two closer views of the active volcano Popocatépetl or, Popo, as its affectionately called. It is the second highest peak in Mexico. Geologists are keeping an eye on its activity since it is in the mountains that separate Mexico City from Puebla - it is flanked by millions of people and a major eruption would likely be devastating to one or both metro areas. It had minor eruptions in 1947 and 2000.
Note: some of the pictures below were shot in 1996 and 2000 with an Instamatic type camera; these are scans of the slides so the color is not very true.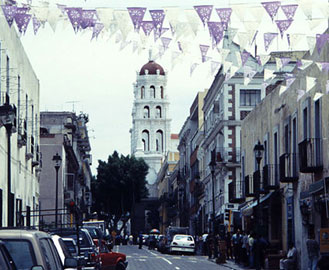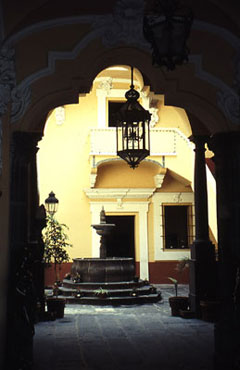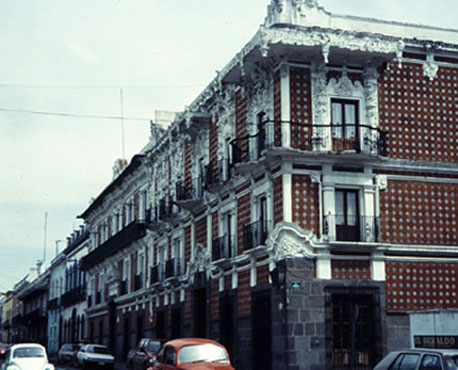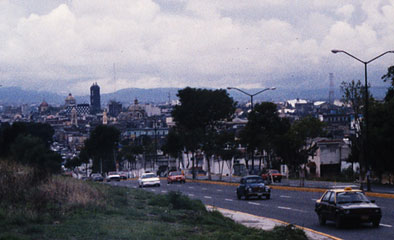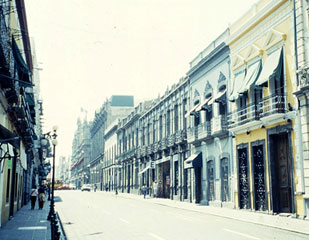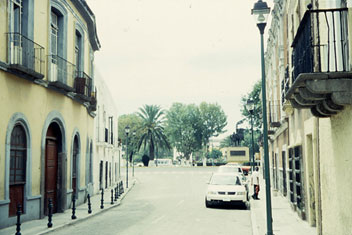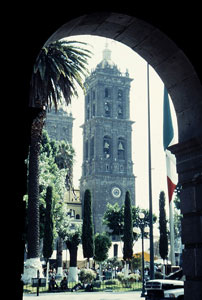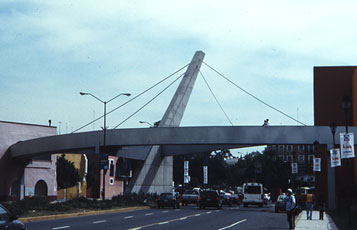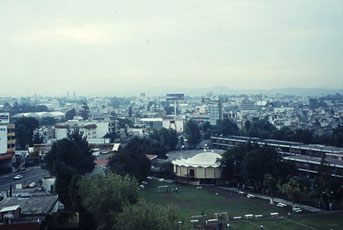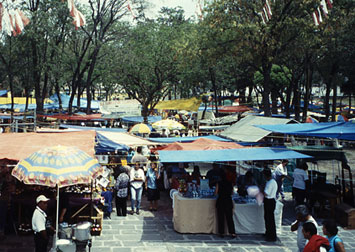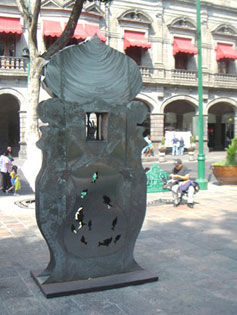 There is modern sculpture all over Mexico City and Puebla. These are around the Zocalo perimeter walkway.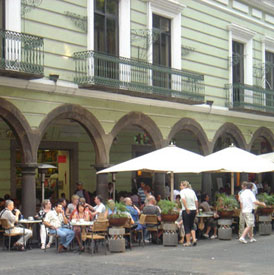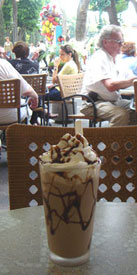 While there are Starbucks all over Mexico City, the pervasive coffee chain in Puebla is The Italian Coffee Company (all in English). There are 3 locations of The Italian Coffee Company around the Zocalo in Puebla - one on each of 3 blocks (the 4th block is the cathedral).
The Italian Coffee Company where I took a break. The view from my table. My drink, a caramel-something - I had two of them.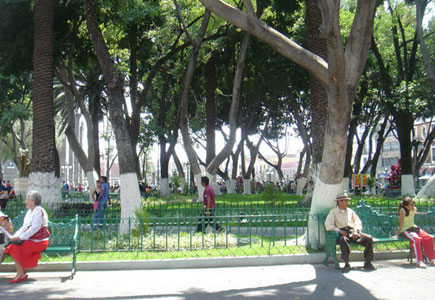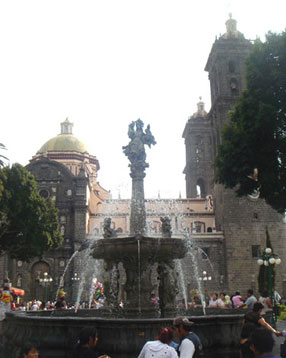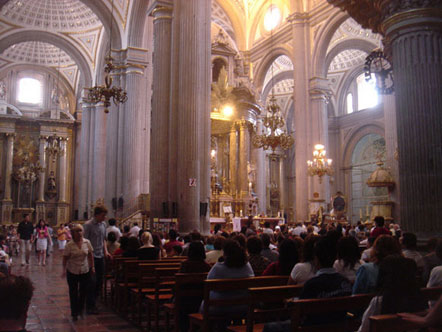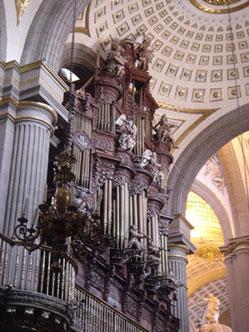 The cathedral on the Zocalo. The towers are the tallest in Mexico and the interior domes are patterned after St. Peter's Basilica in Vatican City in Rome.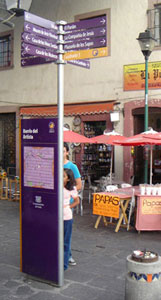 There was a jazz group playing by the restaurant umbrellas. I just sat and sat, enjoying the weather, the music, and the people. Examples of the wayfinding signage program in Puebla. The E on the sign is for 'Estacionamiento' - the Spanish word for 'parking'.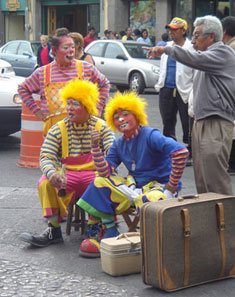 Mexican cities are full of cathedrals, churches, and chapels. Here are 3 different ones - the one on the right, Rosaria Chapel, is overwhelming covered in gold.


The largest employer in the state of Puebla is the mammoth Volkswagen plant that makes all the VW models sold in North America. I once toured the plant when they were assembling the Jetta. Watching the automated assembly lines was awesome - the technology and efficiency.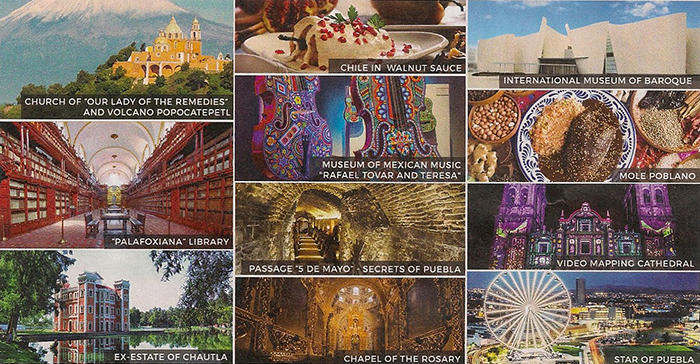 La Purificadora hotel in Puebla
This hotel is in a former 19th-century water-purifying center between the Iglesia de San Francisco and the Convention Center. Purity was the guiding principle of the hotel's design: black and white are the only colors, bringing out the subtleties of the materials used - stone from the original building, old wood, onyx and custom floor tile, as well as found materials such as bottles and glass fragments, which are also integrated into the hotel's graphic design. A ground-floor restaurant, patio, library, and wine cellar offer civilized diversions, but La Purificadora's real achievement is in its mix of tradition and contemporary flavor.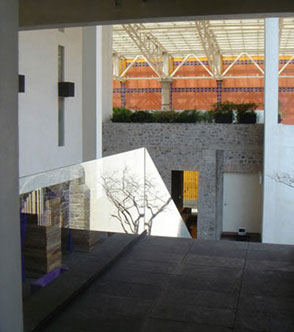 Floor plan similar to the room in which I stayed. A view from the top of the stairs looking toward the front desk and entrance.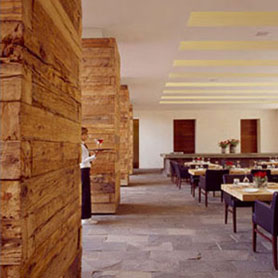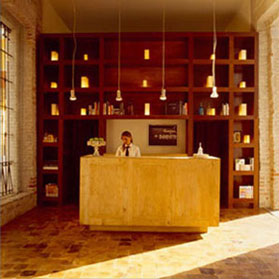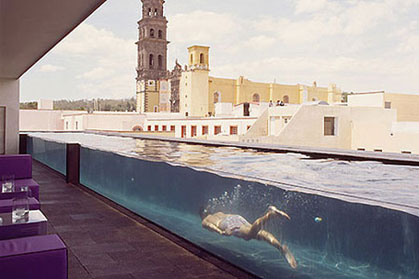 The front desk. The roof terrace with a popular evening bar and the glass-walled lap pool.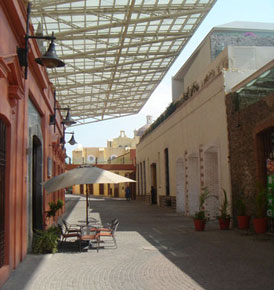 The entrance on the right with the convention center and restaurants on the left. A view from the adjoining park. My room is the one on the second floor with the blinds up.


Two views out to the park. I often slept and rested with the large glass door/wall open.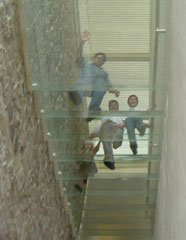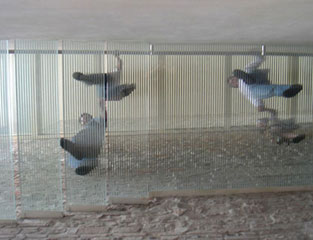 Mexico City


Ciudad de México, México DF, or simply México, is the capital city of Mexico. In 2006 the metro area had a population of about 20 million. Located in a large valley in the high plateaus at the center of Mexico, it was originally built by the Aztecs in 1325 on an island in a lake.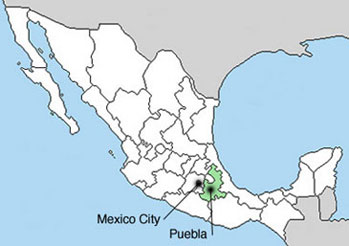 Mexico City is in the Federal District (like DC in the US). Puebla is the capital of the neighboring state of Puebla. I stayed on the 21st floor of the Sheraton Historic Center with a great view.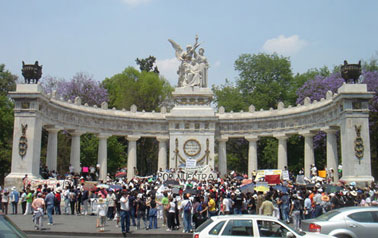 My view from the hotel room. Below is Alameda park. Just beyond the park is the Palacio de Bellas Artes. A student protest in the park.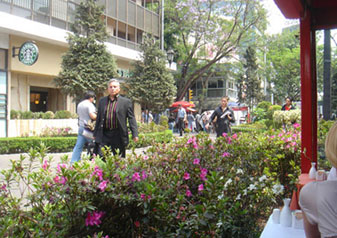 The Palace of Fine Arts with an Art Deco interior (construction was halted by the war and the interior was redesigned and finished in the 1930s) and a Tiffany glass curtain. One of several outdoor cafes where I had lunch - yes, there are Starbucks all over Mexico City - identical in every way - drinks, decor, baristas, food, except the menu is mostly in Spanish.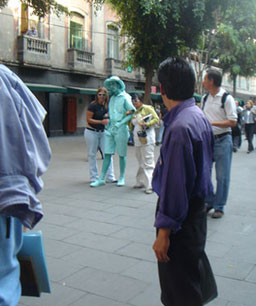 Inside the main cathedral. A mime and his 'partner'. A living statue.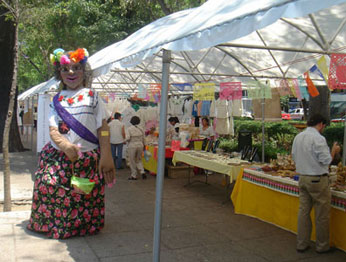 One intersection was lined with benches by different designers, all intriguing. The police use Segways. A large ugly woman at a market.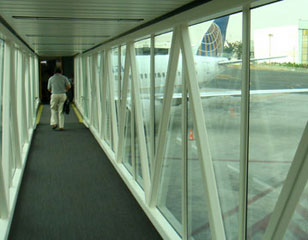 The Mexico City airport International terminal is beautiful with lots of glass and minimal masses of architecture. Exiting from a plane into a glass jetway is a very welcoming joyous experience - instead of an enclosed hallway. The baggage claim had a 2-story wall of glass overlooking the tarmac. One could watch the baggage carts come right up to the glass and the luggage put on the conveyor belt and through a window opening in the glass wall.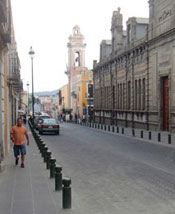 Many old cities use bollards - the short columns that separate vehicles from pedestrians. Many Mexican cities were laid out before the automobile so they didn't think to make curbs. Many new developments still use bollards instead of curbs - they are more efficient, allow wheelchairs to easily pass through, and pay homage to the heritage of the colonial cities.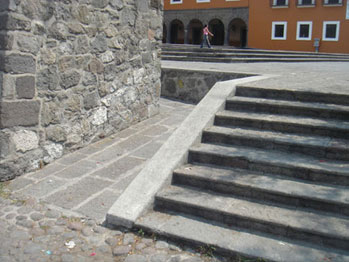 There are many instances of what appear to be dangerous ledges, steps, lack of handrails, etc. In the US we would have lawsuits. Mexico appears to be less lawsuit-crazy. I never once saw anyone get hurt or trip on a step or ledge. Mothers and fathers kept children in tow or the kids just ran around, but everyone seemed to be cautious enough and to take responsibility to watch where they were going. Very refreshing to see people rely on their own senses and intelligence than to rely on government to safetify their environment.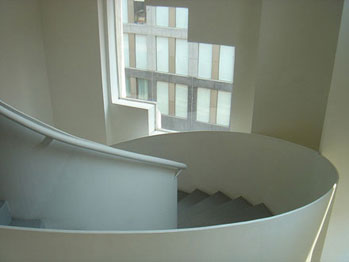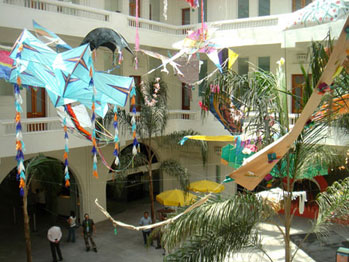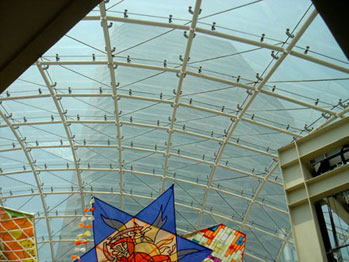 Four images from the new Museo de Arte Popular, an excellent museum right behind the Sheraton Hotel (that's the hotel tower shooting up beyond the atrium skylight). The museum was very well-designed - the entry, gift shop, cafe, ticket counter, and all the wayfinding and informational graphics throughout. Exhibit captions were in both Spanish and English. This was a great discovery I stumbled upon while walking some back streets. I'm very glad I went in.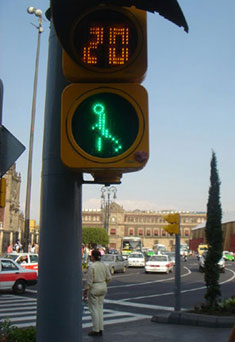 A cool way to encourage recycling - two compartments in the same container, one for organic materials that do not need to be buried and smothered in a landfill where they aren't able to decompose. The new 'Walk lights' in Mexico City count down the seconds left before the light turns to 'Wait'. The figure is animated and speeds up as the time counts down.



Graphics in the Mexico City Metro


Mexico City is served by the Metro, the largest in Latin America, the first portions of which were opened in 1969. One of the busiest in the world, it is heavily subsidized, and has the lowest fares in the world. A number of stations display Pre-Columbian artifacts and architecture that were discovered during the metro's construction.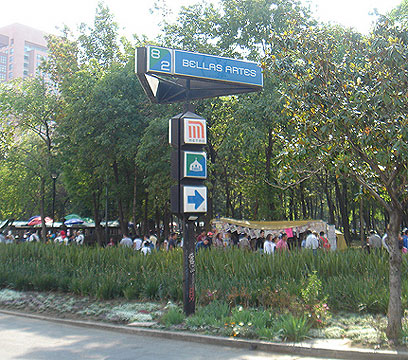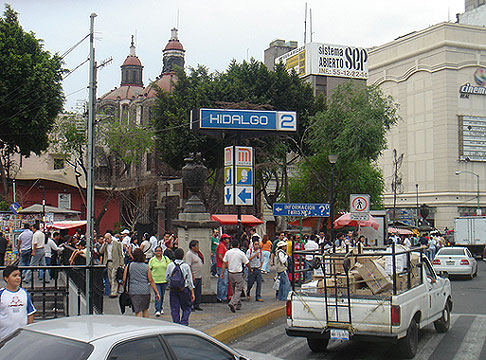 One of the reasons for going to Mexico City - to shoot slides of Lance Wyman's graphics for the subway system, opened in 1969.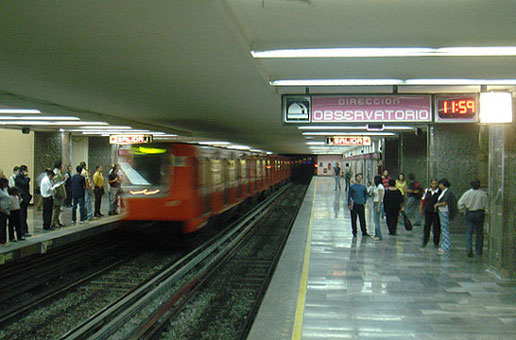 One entry to the Mexico City Metro was designed by Hector Guimard, identical to those he designed for the Paris Metro.



Bloggy thots in Mexico Impressiones de Mexico
• Often, when I travel, I get very inspired and sketch and doodle design solutions - solving problems, making things better, figuring out different ways to do things.
• My room at the hotel Purificadora was very stark and minimal - no pictures on the walls. One wall was all stone. It reminded me of a room where I stayed in Rome which was also minimal - that room inspired my love of and desire for minimalist rooms. Uncluttered walls, sparse furniture, few accessories.
• Mexican architecture and design is an eclectic mix of the traditional heritage with the contemporary modern. There are colonial ornate buildings, statues, and fountains interspersed with abstract steel sculptures and simple graphics. Many signs and posters use less ornate and less cluttered sans serif typefaces.
• Sitting at the Zocalo in Puebla, at The Italian Coffee Company, a kid came by selling silly cartoon trading cards. He was a cute kid. We chatted briefly - he will be 10 years old on September 18, 2008. He was so sweet-natured with a great smile, that I gave him 10 pesos - about a dollar. His eyes lit up, he was so excited. I didn't even take the cards.
• Another time I was just enjoying sitting on a bench at the Zocalo and watching the world go by. But I felt a fart working. I maintained decorum because I was afraid that the women sitting on the bench with me might feel the bench slats vibrate. So, I resisted. Then I saw the woman pull down her top to breast-feed her infant. Well, dang, if she can show tit, I can fart. So I did.
• I was sitting under a shade tree just outside the Student Union at the University of the Americas between Puebla and Cholula. I was waiting on the UCO dancers and faculty to check into their rooms. Using my iPhone, I was able to check into my flight the next day and get my boarding pass. Amazing, from a village in central Mexico I was able to access flight information, change my seat (to an exit row) and check-in for my flight.
I love the people, culture, lifestyle, and heritage of Mexico.

www.jamesrobertwatson.com/upaep.html