Inside the Chrysler spire and other tales of New York City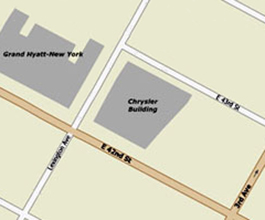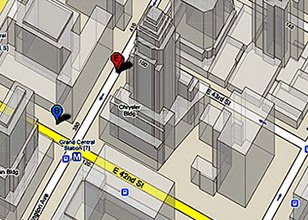 As shown in maps and satellite views, the footprint of the Chrysler Building in Manhattan has an unusual angle on its eastern boundary that doesn't respect the alignment of the street grid. Most people I've asked aren't even aware of the angle and those that are aware do not know why that side of the building is at an angle.

The old map below shows a country road angling right where the Chrysler Building would later be built. Christopher Gray, the Streetscapes columnist for The New York Times, confirmed that the country road was the old Boston Post Road, which snaked up the east side, mostly between Third and Second Avenues and led to Boston. Along this road was carried news of the Declaration of Independence. Over time, the city transferred the title of the roadbeds to buyers. When I overlaid the map showing the Chrysler Building with the older map - it was a perfect match that explains the odd angle on the side of the building.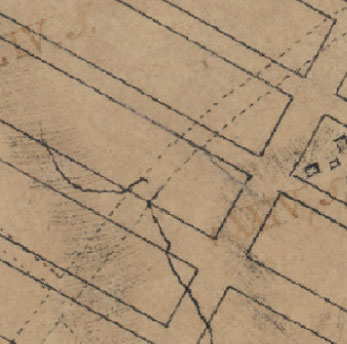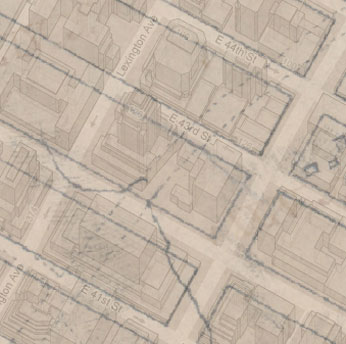 Guiding a NYC Study Group of college students, we huddled on the sidewalk up against the building. Some New Yorkers get a bit perturbed if too many tourists block or impede their movement to wherever they're going. So our flattened ourselves against the wall. I shared the plan - that I had once been up into the spire at the top of the building (where the stainless steel arches were punctuated by triangular windows) and we were going to try it in a few minutes. I described the lobby layout, the locations of the guards and the shortest route into an elevator. I cautioned them that we had to look like we belonged in that building. It amazes me how often I get into unauthorized areas by simply appearing that I have been authorized. To hide our Okieness, we needed to put away all cameras, maps, food, and anything else that screamed 'tourist'. Once we were ready, I told the students to follow me to an open elevator, act businesslike, not make eye contact, walk briskly, and not to gawk. I held open the door, let the group enter, and walked to the front to lead them through the lobby. We made it past the guards. As we approached the bank of elevators, I heard the familiar ding announcing the arrival of an elevator. This gave us a sense of urgency and purpose. Only a couple of people got off and we slid inside the cab while I am hurriedly punching the top floor button. The sooner those doors closed, the sooner I would breathe a sigh of relief.

My travel buddy, Jerry, and I were in New York City for Thanksgiving 1983. We had already been up to the observation deck at the World Trade Center, seen a taping of Letterman, saw an opera at The Met with Luciano Pavarotti, Leona Mitchell, and Sherrill Milnes, and American Buffalo with Al Pacino. One afternoon, on our way to the 5th Ave NY Public Library, we passed the Chrysler Building and decided to go in and look around. We admired the lobby and the elevator cars, each inlaid with wood from all over the globe. On a whim, we got in one and punched a button for the top floor. How cool would it be to look around the private club or the observation room that was once in the spire.

The Chrysler Building opened in 1931 with a star-themed observatory called the 'Celestial' in the spire on the 71st floor. There were views of the city from all four sides for 50¢. The observation deck closed in 1945. Below the Celestial, on the 66th to 68th floors, was the Cloud Club. It was initially designed for Texaco, which occupied 14 floors of the Chrysler Building, and used as a restaurant for executives. It opened with 300 members of New York City's business elite and only men were allowed to enter for many decades. The Cloud Club, like the Chrysler Building, was designed by William van Alan, and had a barber shop, lockers for members to store their own alcohol, and a wood-paneled bar that was used to hide alcohol during Prohibition. There was a stock ticker for the high powered financiers who frequented the club.
The Cloud Club closed in 1979.

At the upper floor, the area was small and we realized we might be in the crown of the building. We tried a door and - it opened. Whoa (this was well before increased security). We wandered through the abandoned spaces. We could see remnants of Art Deco details in the trim, wallpaper, light fixtures, and what we could see of the carpet. We were able to look out the triangular windows to the city below. We felt honored in the 1980s to realize how few people saw the inside of the spire.

With the current Study Group, I tried to get up into the very top spires but could find no access. On the 65th floor was the Tunisian Consulate - this was before the Consulate moved to Beekman Place. It's door was locked with an intercom to speak to someone - receptionist or security. I stumbled over our request and even played on the notion of students in the big city. No luck. Dejectedly, I turned to the students, "Well, we tried." We went back to the elevator. In the elevator on our way down, we met two women who were sympathetic to our plight - design students seeking to explore the building. "Oh, we work on the 71st floor, go back up and ask Colleen." Colleen was the receptionist in their office and on the 71st floor there is a balcony at the level of the gargoyles. Down at the lobby level, I urged the students to squeeze into the corner that wasn't visible to the guards. Seeing a group not get off the elevator and go right back up would be a red flag that I didn't want to risk. No one else got on, I punched two buttons, Floor 71 and Shut Doors.

On the 71st floor, there was no hall or lobby, the elevator doors opened directly into the reception desk and Colleen. She was reluctant to let us onto the balcony since the only access was through the corporation's boardroom and she was preparing for a meeting in a few minutes. We, of course, cared about none of that and continued our plea. She relented, asked to keep our visit to a few minutes, and led us through the boardroom to the balcony.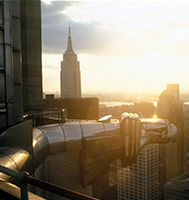 It was spectacular. The sun was setting on the towers of Manhattan. The huge gargoyles were magnificent in their Deco stainless steel. It was a treat. We had promised Colleen we would not stay out there long, so we climbed back through the open window, thanked her profusely, went on down to the lobby, walked smugly past the guards, and back to the streets of New York City that the normal person sees.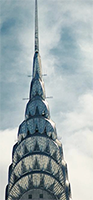 Please don't land the plane.
I spent Fall Break in 2009 in my favorite place - Manhattan. There is only one non-stop flight from New York City to Oklahoma City. To NYC, it leaves in the early morning. I rarely take that flight. I no longer like setting an alarm. The flight from NYC to OKC leaves at about 8:30p. That's nice, because there's no need to set a morning alarm and one has a full day in the city. I typically drink 3 cups of coffee a day. But on the day I was leaving New York, I had another cup in late afternoon in the MoMA cafe. I was aware that the flight is sometimes late - we have left as late as 10p. That was the case on this day. I got through Security easily and quickly, got to the gate, and saw the Delayed signboard and realized I could sit with a comforting cup of coffee. The wait wasn't too bad, the concourse gets pretty quiet at that time of night, and I was reading a good book on my tablet. Boarding, taxiing, and takeoff were uneventful. I had a great seat - 12A on an Embracer jet, the one that has two seats on one side and only one on the other. I was on the one-seat side and in an Exit Row which meant more leg room. A great seat.

We were in the air for about 20 minutes, during which I drank a Diet Coke. That brought the total number of caffeine drinks to 6 - double my normal dosage. I was lost in reading the book. But, then my heart just went nuts - loudly beating in a way I hadn't felt before and faster than I could remember, just like that of a frat boy inside the Lace Strip Club on 8th Avenue, just north of 42nd Street (ask for Lana). There had been some rough turbulence, there was the flight delay stress, and I had drank more coffee than I normally do. I don't know if these were influencing factors, but my heart was thumping loudly, rapidly, and abnormally. I ordered a Diet Sprite - my stomach felt a bit of nausea - and was slightly sweating. I turned up the cool air and hunkered in my seat, although I was too freaked to do much reading. I put the tablet away. I wanted to lie down. I thought about asking if I could lay on the floor in the rear galley, but decided not to tell the flight crew of my condition - I was afraid they'd overreact and land the plane somewhere in Indiana and piss off a bunch of sleepy passengers. I drank a cup of water and stuck it out.

My plan was to just make it to the airport departure lounge where I could lie down and rest. The airport would be almost empty at that late hour. This flight is the last of the day, no food or shops are open. There are the exit security, baggage handlers, taxicabs, and our flight crew. That's about it. Sort of creepy, but in an appealing way. As we walked off the plane, I felt strong enough to bypass the lounge and make it to the car. I can rest there on a cushion filling the entire back of the car. But once there, I was eager to just get home and in to bed. I carefully drove home, and lied down. My heart was still set on abnormal. I stayed in bed about 5 minutes. Something didn't feel right. I got up and drove the short distance to the Hospital Emergency Room. Normally checking in to this hospital is a bit of a pain, but a heart emergency seems to excite the staff and they get moving and make things happen. A wheelchair came out through the double doors and I was rolled back into a room. Immediately, some guy came in and started wiring me up to machines. They put me through numerous tests (EKG, chest x-ray, heart enzymes, ultrasound, etc.) My heart rate was way out of range - too rapid and too irregular.

I was told they were going to admit me to the hospital ICU for an overnight stay. I wasn't too keen on this but they insisted. Apparently, since they knew I had some heart trouble, they could be held responsible if I left the hospital and something happened to me as a result of the heart trouble. Uh oh, a nurse came in to tell us that there were no available beds in the ICU and that I would have to stay in the ER. Ugh. The ER beds were not as comfortable. I protested and said, then I would take my chances and go home. I don't know if they can force someone to stay in a hospital against their will. They didn't like my plan to go home and told me to give them a few minutes. Somehow, a bed opened up and I was put back into a wheelchair and taken through a maze of hallways to the ICU and that now-waiting bed. They got me all wired up, IVed, oxygenated, and drugged; I was able to get to sleep about 4a. I was awakened (and startled) for the next few hours by a variety of nurses conducting more tests, taking blood pressure, and adjusting the IV.

Laying on the bed was a 'Room pack' containing, among other things, a pair of slippers. They didn't fit. Not even close. I asked, "Will I still be charged for these?" The nurse replied, "Let me see if I can find some larger ones." But, I never heard from her again. I was, in fact, charged for slippers I couldn't wear. Another nurse came in to retake my blood pressure. She looked around the room and didn't see the blood pressure cuff, so she said she'd go get another one. Again, I asked, "Will I be charged for the second cuff?" Yes. "Well, let's look again." The cuff was just hidden under the morning paper. There seemed to be no incentive to save money or be very efficient.

I enjoyed some good heart-healthy food, watched the OSU and OU football games, and visited with friends who dropped by - the word had spread. My dogs had been boarded for my trip to New York, so I called and told them to keep them for another day. At about 3:30 in the afternoon, my heart got back to normal - medical phrase: my heart 'converted to a sinus rhythm'. Turns out there was an electrical glitch in my system and weird signals had been sent to my heart. A nurse came into the room at about 8:00 that night and told me I could go home soon. What a relief. I was discharged about 9p that night and went home to rest. All okay now but some scary moments on the plane and in the ER. I am awed by and grateful for the technology, wisdom, and experience of the medical profession. And, I'm so glad they didn't land that plane.



NYC is an amusement park
One weekend, I decided I would be quite decadent and act like a tourist kid. Just to have fun. I went to 42nd street between 7th and 8th Avenues. This area was notorious in the 1970s and 80s for being the epicenter of porno theaters and sleaze shops. True story: In 1981, I was leading a study tour and we stopped at the corner of 42nd and 8th Avenue. I told each student to be careful but to notice what goods might be offered to them as we walked the one block to 7th Avenue. I polled the group - every single student had been offered drugs, sex, or both. Fortunately not one of them accepted the enticements. Soon after, the city of New York set out to clean up 42nd Street. Disney was lured in to renovate one of the theaters (the New Amsterdam) and the other theaters were slowly reverting back to legitimate uses, one porno is now even a children's theater. 42nd Street is alive with fun amusements, restaurants, and shops (if you're interested, some of the sex trade moved around the corner to 8th Avenue.) There are 2 movie complexes - one with 13 screens and the other with 25 for a total of 38 screens on one block of 42nd Street. But I went there to see the 3 amusements.

A Chorus Line (excellent) at 2pm. That was enough time to be amazed by what had been collected and displayed in the Odditorium. After the show, I went back to the 'Amusement Park' and had an early dinner at Applebee's - the appetizer sampler. Dawg, it was good. Then on to Dave & Busters to play some arcade games. But, shoot, I couldn't find Pong, Frogger, or Asteroids. Not only did I not recognize the new games, I couldn't even pronounce the names of some of them. I asked an attendant if that had any good old pinball machines. "Pin-what?" Apparently they didn't. I finally found a game more my speed - one where you shoot coins onto a pile and when the mechanism pushes some of them into a trough, you win. This I could play. I did and I won. I actually got to where it was enjoyable and fun to play. I had played so long, it was time to go home and walk the dogs. But I went back on Sunday to see Madame Tussaud's Wax Museum. This was even better than Ripleys. Spooky likenesses, so realistic - more than once I got caught off guard expecting a figure to move or turn and look at me. The settings and info cards were also very well done. After that I went back to D&B, this time to play Trivia: I sat at chair number 4 - my lucky number. I kicked butt. People would stop playing because I kept winning the rounds. I took my winning tickets to their store and bought some tacky crap: 2 books on Ripley's oddities, a push-button fart machine, 5 sets of green train track layouts with 5 wind-up cars and trucks, Homer and Bart dolls for the dogs, and 124 squishy-spikey balls.



"Where's my face. Everybody stand still. Don't take a step. I can't find my face." Fortunately, two older men and one really wrinkly old lady calmed me down and told me it was hiding behind that ugly thing between my ears. Whew. There it is, right where I had left it. You never know when it might come in handy. Like when you have to eat or blow your nose. Think how hard either of those tasks would be if you had truly lost your face. Thinking that I had better get out of the garden, I headed inside to the gift shop. One of the security guards snickered as I went by. "Yes, I'm wearing shorts!" (Snickered sure is a silly word - snickered.) In the gift shop I bought a t-shirt, not because I needed it but because I was tipsy and this is America where we just buy stuff. I also tried on some cologne but because the bottle was facing the wrong way (or the right way if you were standing behind me and a bit to the left) I sprayed again. Oops, too much. It was a scent called 'At the beach' and it smelled just like Coppertone suntan lotion. So now, too much to drink, I smell like Coppertone, and I'm in line to buy a t-shirt that I don't need. Damn. The guy behind me took a step farther back and told his wife that it smelled like suntan lotion in here. I suspect he, like many of the men there, was jealous that I was wearing shorts. Even the kids were in long pants. People, its a fuggin garden party. The wine was very good. The snacks sucked.



YeeHa, Tex - a sunny afternoon at the beach in New York City
Rabbit Island? We all heard of it, just not by that name. Dutch settlers in the 1600s named the island for the rabbits that inhabited the island - the Dutch word for rabbits is conies). It really was an island but the separating channel of water was filled in.

The birthplace of the American amusement park - the modern roller coaster, the looping roller coaster, the dark ride and even the American hot dog - were all introduced at Coney Island. It was named by Dutch settlers in the 1600s for the rabbits that inhabited the island - the Dutch word for rabbits is conies)

New Yorkers started visiting Coney Island via a shell road during the 1830's and by the Civil War there were over a dozen hotels and bathhouses on the island. The Golden Age of Coney came with the opening of the first amusement park in 1885 and lasted until about 1910 when horse racing was outlawed. Billed as the "World's Largest Playground", it was popular for the middle and upper classes to get away from the city to the resort-like atmosphere with clubs, restaurants, theaters, and amusements for the whole family. A seedier element was also attracted to the island since the politicians looked the other way when it came to enforcing prostitution, gambling, and alcohol. That, movies, and the automobile (that allowed people to go farther away from the city) all helped turn the tide and Coney Island began a downward spiral. There are plans to revitalize the area today. The Minor League Cyclones play in a new stadium on the site of an old amusement park, AstroLand park is full of new rides, and the Cyclone and Parachute Jump are still landmarks.

In August, 2006, I wanted to go to the beach and experience the historical Coney Island. I rode the subway from downtown Manhattan and, on the train, read a newspaper so I wouldn't look quite like the old geek that I was - heading for a day at the amusement park. Reading the paper didn't seem to fool anyone. About halfway through the journey, the train rises up out of the ground and travels in a depressed culvert and then up onto elevated tracks as it nears the ocean communities around Brighton Beach. There the tall apartment buildings had surface parking lots in front of them - something I hadn't seen for a while - ample parking lots. I got a glimpse of the ocean - pretty cool. Then disembarked at the NY Aquarium. I walked on an elevated walkway over Surf Avenue (the main Coney drag) and down to the aquarium entrance. Underneath the walkway someone was mowing the grass. Grass. Mowing. I had grown up smelling cut grass every summer of my life. This was the first time for this summer - it smelled great. It brought back memories and reminded me that I would be soon heading to Oklahoma grass. The Aquarium is part of the Wildlife Conservancy Society, along with the area zoos, dedicated to preservation, education, and conservation. There were school bus loads of screaming kids. I don't know why they scream. Maybe they have buds in their ears with music blaring so often that, even when there is no ear piece, they still scream. Maybe fighting to be heard. I don't know, but they were loud. When I saw a herd of yelling kids wearing identical tee-shirts, I knew it was time to go to another exhibit. Saw the sea lion show, typical, but still a hoot, sharks, and fish stuff. Most fascinating: the seahorses with some males bloatedly pregnant - the males carry 300-400 seaponies in them - I don't know what those females must have done or threatened to make that happen. None of the males looked happy; the females were having a good time and the jellyfish. These creatures astound me with their delicate tentacles and pulsating blobby heads/bodies.

Lunch was at Nathan's Original with the best hot dog I have ever had. Granted, I was hungry and I had been anticipating a Nathan's Coney Island hot dog for about a week. Nathan worked for Feltman's restaurant (about a block over) where the hot dog was invented during the early 1900s and sold for a dime. Nathan sold his for a nickel. The public was suspicious so he heavily gimmicked and promoted and finally it became a legend.

Along the boardwalk were pavilions with locker rooms, bathrooms, pay phones (I guess, on the beach where people didn't want to bring their phones, it made sense). I changed into a swim suit and put my shoes back on, with no socks. I found an open spot to put down a large towel. The broad expanse of sand from the boardwalk to the water was not very crowded. Even in August at the edge of Brooklyn. So surreal to listen to seagulls and distant voices even after riding a subway from the land of skyscrapers, congestion, and noise.

After a while, I walked down into the ocean. Yeeha, it was cold. Shivering, take-your-breath-away cold when you dunked under. But refreshing (it was hot at the aquarium and at Nathan's) and delightful to be in the ocean in New York City. Then I strolled the amusement parks and went into the Coney Island Museum where a photo shoot of side show freaks was going on. One sultry looking woman had a large albino boa (snake, not a scarf) draped around her shoulders and arms. I moved on. There are still a couple of amusement parks operating along the boardwalk. The Cyclone, the first successful roller coaster, was built in 1927 and hits speeds of 68 mph. The Parachute Jump was moved to Coney from the NY World's Fair of 1939-40 but closed in 1964. The Wonder Wheel opened in 1920 and is still operating today. Most early buildings were wood and they were consumed by one of several fires that devastated the night clubs, restaurants, and amusements. After about 5 hours of the Coney, I headed back to the train and the ride home to a shower and rest. A great day.



Going to a Yankees game 6:00-11:00p, Monday, May 21, 2007

I was 11 years old. The family drove t0 New York City from Dallas.

Trip details, civil war,
Yankee game with dad and brothers. The ride on the subway, the walk under the elev ated tracks t the stadium entrance. Yankee Stadium. The ultimate baseball experience.


A friend, Michael, was in town for a few days. He's a baseball fanatic - we tried to get tickets to a Yankee game but, according to their website, they were sold out (except for the $250-$400 seats). So, to satisfy our desire, we booked a tour of the stadium. Incredibly cool. We saw the press box, the field, the honor courtyard, and the Yankees dugout. Our tour guide was an older fan who was very loyal to 'his boys'. The Yankees are the quintessential baseball team. The honor court reads like a who's who of baseball. The Yankees have won 26 World Championships - the second place team, Boston, has won only 10.

After we toured the empty stadium, we checked at the box office - there were a few seats that might be behind the foul ball pole (they weren't). We bought them. We went back into the city and walked around Soho Then back to Yankee Stadium for the game. Fuck, what a hoot (Yankees fans say fuck a lot). This was an incredible experience. The Yankees were playing their rivals, the Boston Red Sox, or, as the many signs said and the fans continually shouted - Boston Sucks.

A-Rod gets up to bat and, on the first swing, hits a home run. We also saw Derek Jeter.

I had decided that morning that, during the game, I would get a hot dog and a beer. I had been looking forward to it all day. It didn't disappoint. One of the best meals I've ever had. Damn, just thinking about it makes me want to go back for another. A home run ball came a few rows in front of us and this man fought and got the ball. He immediately lobbed it to his son who was also in the mix trying for the ball. I snapped the photo a few minutes later of the proud papa and son.

My bat souvenir Before and after the game, I checked lots of concession stands inside and outside the stadium - I was looking for a small bat. In 1961, my father took his sons to a Yankees game. I was 10 years old. I saw this small wooden bat pen and asked dad to buy it for me. He did. I cherished that little bat. I really wanted to get one in 2007 - 46 years later. I finally found one at the NY Yankees Gift Shop in Lower Manhattan, not far from my apartment.
The shot below on the right is of the walk from the stadium back to the subway station, under the elevated tracks. This image has been in my memory since 1961 - not sure why - I just remember dad, my brother, and I making that same walk. So, I took the photo from about where I remembered it from 46 years earlier. In my memory, there were less people which suggests that dad had taken us out of the game earlier to get us back to the hotel - mom was probably worried about us being up in the Bronx. In 1961, Battery Park City where I now live, was still a row of old piers - no parks, buildings, World Trade Center, marina - nothing was there in 1961 but the old freight piers.




40th anniversary visit to Woodstock
In August 1969, one of the most celebrated music festivals in history took place at a time when Americans were deeply divided. Over 400,000 people from across the country gathered to celebrate "Three Days of Peace and Music." The three days of legendary performances, unimaginable mud, and unforgettable experiences helped the Woodstock Music and Art Fair become a symbol of an entire generation.

I saw the Woodstock movie in 1970 at the Gemini drive-in theater in Dallas. We sat outside on our cars - almost, but not quite - like we were at the festival. I was between semesters at UT Austin. Austin was so similar to the attitudes, music, and spirit of Woodstock, that I felt a special connection with the event in New York. In 2009 I watched the new release of the Director's Cut of the Woodstock movie. Again, I was taken back to that wonderful time of my life. But now, I was in Manhattan, 2 hours away from the site. A museum had opened a year before, so I decided to make the pilgrimage to the site and the museum.
So, Friday morning, July 3 2009, after walking the dogs I took the subway up to get my car from its garage. Then on the road. I was listening to a 1969 playlist on my iPod and drinking Starbucks coffee in my power-windowed vehicle. None of which existed in 1969. But I was trying to put myself in the mood of that era. I drove straight to the site and, instead of starting at the museum, went to the monument overlooking the stage (in the upper left corner of the map above). A bearded guy was sitting under an awning. Serving as guide/docent, he had photos from 1969 on a table and we talked about the festival. He was there and helped work at several locations. He shared great insight and pointed out the main sights to me - the stage, the performer's tent, the helipad, first aid, camping, and the food tents. I walked down into the bowl and onto the flat area where the stage was. Then I drove back up the hill to the museum. There, I enjoyed the exhibits and films, had lunch, and took more drugs (coffee).

Woodstock festival
An Aquarian Exposition, the Woodstock Music and Art Fair was held August 15-17, 1969 in White Lake/Bethel NY, after considering Woodstock (venue not large enough) and Wallkill (the town said no.) The Bethel community was not prepared for the crowds that began arriving. By Thursday, August 14, much of the area had become an enormous traffic jam. The festival officially began just after 5pm on Friday, August 15, 1969, and that day's events ended shortly after 2am the next day. On Saturday, August 16, the festival began at noon and ended after The Who played a 24 song set that started at 3am. Jimi Hendrix played what many consider to be the festival highlight, on Monday, August 18, when only 35,000 people - a small fraction of the crowd - remained.

Some local residents did not embrace the crowds, yet others welcomed the visitors, supplying them with free food and water when it was apparent that Food For Love, the festival concessionaire, was not prepared to feed the massive crowd that gathered. The Hog Farm commune of New Mexico, was originally hired to build a campsite on the grounds for attendees, but morphed into opening the Free Kitchen serving macrobiotic, vegetarian meals. First aid at the festival was provided by the Woodstock medical crew in a field hospital located near the stage. The team tended minor accidents, food poisoning and an epidemic of cut feet since so many were going barefoot.

Some concert goers treasured the festival as an adventure that changed their lives. Others found it nothing but a messy, dirty, disorganized debacle. But no matter what their experiences, Woodstock was undeniably unforgettable.



Below: Friday afternoon, August 15, 1969 and Friday afternoon, July 3, 2009.



Brooklyn opens doors
Brooklyn, who I was apprehensive about in NYC, learned how to turn the latch and let herself out of the apt. Monday dusk, I was sitting outside when I spotted someone with a black Greyhound! I walked over to introduce myself and see the dog. It was Bob, the building manager, with Brooklyn. She was wandering the 5th floor and he was taking her to the vet across the street to have her implanted chip scanned. We took her to my apt and he changed the door handle so it was vertical and harder for her to open. We noticed that the dead bolt lock was busted. Tuesday morning, I left to go get a new one.
When I got back to the building, he stopped me - she got out again and frightened a bitch (human, not dog) at the other end of the hall. She (human, not dog) ran down to the office screaming hysterically and went over to the management office. They called the bldg mgr who explained how gentle the dog was and that, at that very moment, I was out buying a new dead bolt. The issue was brought up that dogs are supposed to be less than 25 pounds (not enforced as there are many other larger dogs in the building). I went up and installed the lock. I met the woman last night (she really is a royal bitch) and apologized.
I went into the city just once a day. Not a bad compromise. The girls get home and to their house, yard, and parks. And I get another week to experience NYC. I love my girls but don't want them freaking out others, even the really bitchy ones.



Crazy Man in Car
I was awake an hour earlier than my alarm demanded. I had to catch an early (for me) flight and I often stress a bit that I'll sleep right through the alarm or that it won't function - we sure put a lot of trust in those. I lay in bed a few minutes reliving the trip. I had flown to NYC to attend the opening at an art gallery. A former student had a show there and it turned out to be a very enjoyable and satisfying evening. For a teacher, watching a former student excel is much of the reward.

At the last minute, I got up, showered, packed - which means throw-things-in-the-suitcase, and eased the door shut quietly - it was early Sunday morning. In the lobby, the security/keycheck guy noticed my searching eyes and said I could just drop the key in the box, motioning to the waist high metal box with the top slot and labeled Key Drop. Nodding my thanks to him, I did just that.

There was a light rain, but the car was already there waiting, I approached, the driver rolled down the window and said,
Driver: Jeem?
Having taught in Mexico, I had heard Jim pronounced this way before. I nodded yes. The side door of the SUV slid open - I set my suitcase on the floor of the back seat and walked around to the other side. The driver got out to close the doors. When he sat down, I thanked him for being early.
Driver: Yes, 5 minutes.

It became clear a few words later that he was not a native English speaker (Jeem was only the first clue). His phone screen displayed Asian characters (fascinating how our pocket computers allow work in a variety of languages). He went on up 8th Avenue, took a left on 35th, and over to the Lincoln Tunnel. Somewhere approaching the entrance, he turned around and asked,
Driver: You pay cash or cah?
I paused to translate, and replied,
Jim: Card. Hoping that was the word he just said.

He called the Car Service. After a brief wait, the dispatcher answered.
Dispatcher: Car Service.
Driver: This two one two nah.
Dispatcher: Yes, go ahead.
Driver: Customer pay cah.
Dispatcher: Can he hear me? Passenger?
Jim: Yes.
Dispatcher: You want to pay the toll and tip with a credit card? (I had paid for the car online when booking).
Jim: Yes.
Dispatcher: What is the num
Jim: I don't want to pay now - not til the end of the trip. I don't tip until the service has been performed.

Dispatcher: Driver?
Jim: He's not here, I'll go get him. (Muffling my voice to sound more distant): Driver, the phone is for you. Dispatch, he's on the toilet, he'll be here in just a minute.
Dispatcher: Where are you?
Jim: Oh, here he comes. Sir, its for you.
Dispatcher: Driver, where are you?
Driver: We at Lincoln Tunnel.
Dispatcher: Were you in a bathroom?
Driver: No.
Dispatcher: But the passenger sa
Driver, interrupting: He crazy man. Crazy.
Driver: (To me) You, I don't drive you. You crazy.
Jim: You want me to drive? I'll drive. Slide over.
Dispatcher: Driver, you can't let the passenger drive.
Driver: I drive. I drive. He crazy.
Jim: Well, there goes your tip!



(I thought it was all over.)
The pain was so intense I couldn't see how I could ever laugh again. Excruciating. I was fine in the subway going from my apartment up to Rockefeller Center. The man sitting at the end of the car singing Hare Krishna for 36 blocks was slightly annoying, but not too disruptive. I played games on my phone to get that blasted tune out of my head. I see it clearly now - that's how they get you, those orange-robed Krishnas. A simple catchy tune. Hare Krishna. Hare Krishna. Hare Rama. Rama. Rama. I moved to about the middle of the car and went back to my phone game - Bejeweled. The Krishnas exited soon after. Much nicer. A couple stops later, I exited and came up onto Seventh Avenue. I was only a couple of blocks from Radio City. Great. I felt no pain, like I had on one of the previous trips out of the apartment. I got to the theater and after a short wait to enter, I was in. I went on in to that phenomenal Art Deco lobby with the 40 foot chandeliers that I had seen many times before. This time, I was too focused on my back and worried that the pain might return. I went on downstairs to the Men's Lounge and sat. I could feel a bit of soreness, so I forced myself to continue to sit and be still. I had learned over the last couple of weeks that I could go about 40 minutes before the pain returned to my lower back.

I have seen 15 different Cirque shows, some more than once. Thought I'd better go see this new one, Zarkana, in previews at Radio City Music Hall. What a surprise - it was not very good, actually, it was awful. The acts were standard fare, but as if they were holding back. Nice, but not awe-inspiring like I had gotten used to at other Cirque shows.
One of the bad scenes had some decent tightrope walkers performing above the apron of the stage. But behind them were a video projection of snakes, a chorus holding flame throwers that shot fire periodically, and a shrieking 'singer' dressed as a large snake. Horrible. The song was awful and she screamed it and demanded our attention with pauses, fire throws, and yelling. As if the director forgot that the audience really wanted to watch the tightrope performers. But it was tough to do that. Very annoying. So bad it was almost funny.
The finale of the first act was just chaos of people in hoops, some even in the video on the back screen. Showing videos and special effects of performers takes away from the respect we had for the humans. We go to Cirque to see daring feats done live, not in computer graphics effects.
Trapeze artists were very good, but, again, it was drastically compromised by the screeching of the singing spiderwoman in the background.
Most shows don't have much of a story and we are okay with that - we go to Cirque for the spectacle experience, not the story. This one, of a man looking for lost love was completely detached from the show. With a hokey finale love duet.

The good thing about this show is you get 3 shows for the price of one: a love story with pop ballads, a loud rock concert, and some pretty decent circus acts. Unfortunately, the three events are all overlapping in the same show, and they have nothing to do with each other. Previous Cirque shows had music that complemented the acts, Zarkana's music defies them. At intermission, a woman was seeking ear plugs so she could just watch the show. When I returned to my seat, I heard the woman in the aisle seat say to her companion, "The music ruined it."

To be fair, during the morning of the show, I awoke with terrible back pain.

Seat, adam and his wife
Clowns pre-show.
Intermission: okay, just sore. Scarfed down some KitKats (pee issue)
Second act more pain, but no one next to me. There were quite a few empty seats in Act II.
End :sat and waited in case grimace. Talked with Adam
Empty theater :got up okay but then the pain hit, I looked around desperate for relief. There was no no place to sit, shuffled to stairs, felt like lightning bolts (I assume, I have never actually felt a lightning bolt), ask where the cab stand was; hold rail to the exit doors. The street here on the side of Radio City was a one-way towards the East River and the FDR highway south to the apartment. cross the street, lost cab, held onto a sign post, Do I ask the police for help? 2 black cars, the second stopped
Bounces
Driver bout new mattress
The car fare was $28 (18 if by taxi). I gave him all the cash in my wallet, $41. He deserved it. Shuffled through lobby, to the elevator, down the hall, to the apartment. Took some pills and lied down on the bed.



Driving from OK to NY
Excitement of seeing the city for the first time from my car.
Filling time in the car.
Seeing the country.
National Road, Penn Turnpike.
Manhattan at Santa Monica and Manhattan

• When I drive to and from Edmond OK and Manhattan NY, I pass numerous Interstate highway interchanges that are full of services for motorists - fuel, food, stores, repairs, motels, amusements, etc. Some of these interchanges are small communities that rely on the traffic stopping for their survival. They are a unique part of the American landscape - created and maintained for the convenience and pleasure of mobile Americans - tourists, business people, and truckers. We need a name for these places. Travel Plaza, Services, Service Center. How about 'Stopping Center'. From Shopping Center but expressing the unique attribute - we stop at these places to interrupt our journey for a few minutes or overnight to take care of our needs and wants.

• I sure do put a lot of trust in strangers. The Interstate is full of people I never met who are in control of huge powerful machines that can cause havoc if not maintained and manipulated properly. All of these other people were trusting that I, too, was operating my driving machine in a safe manner. There are so many opportunities for accidental encounters that could be dangerous - I'm amazed there aren't more car crashes.

• I saw signs that read FOG AREA. I was confused about this acronym FOG. What could it mean? Free Octane Gas? Or Fog On Ground or Fog Over the Grass? None of those made much sense. I finally figured it must mean First Over Gear - maybe a suggestion for truckers to shift into first gear - the signs were always near the bottoms of valleys and approaching inclines - where first gear might be better. I don't know. On the drive back, maybe I'll ask a trucker at a rest area.

• Two wonderful inventions - cruise control and air conditioning. While we have many monuments to others, there should certainly be large monuments, especially in the hot south, to these two inventors. Cruise control allows one's right foot and leg to change positions and rest a bit. It also allows the mind to wander a bit more since one doesn't have to be aware of maintaining a safe and steady speed. Air conditioning - the value and necessity of this shouldn't need much explanation (unless you live near Canada).

• There were stretches of Interstate that had lines, convoys, of trucks - a solid line of trucks for miles. I wonder if we should just replace Interstate highways with conveyor belts. Large conveyor belts. We would save on gas, there would be no speeding tickets (unless some moron sped on the belt), and there would be less accidents as each driver would simply put the vehicle in Park and be able to leave the seat - visit with other passengers, sleep, or step out onto the belt and enjoy the scenery. Vendors could drive carts along the belt dispensing snax, drinks, games, magazines, etc.

• I drove between 75 and 80mph but the average speed was less due to the vast amounts of construction forcing traffic to merge into one lane. I was amazed at how many miles of Interstate are having to be refurbished. It may be due to inefficient government bureaucratic spending, highways being built to specs lower than those in Europe, and projects being awarded to the lowest bidder. Result: lots of money spent on highways and bridges and lots of time spent in traffic.

• I passed numerous Interstate highway interchanges that are full of services for motorists - fuel, food, stores, repairs, motels, amusements, etc. Some of these interchanges are small communities that rely on the traffic stopping for their survival. They are a unique part of the American landscape - created and maintained for the convenience and pleasure of mobile Americans - tourists, business people, and truckers. We need a name for these places. Travel Plaza, Services, Service Center. How about Stopping Center. From Shopping Center but expressing the unique attribute - we stop at these places to interrupt our journey for a few minutes or overnight to take care of our needs and wants.


Trip stats
States: New York - New Jersey - Pennsylvania - West Virginia - Ohio - Indiana - Illinois - Missouri - Oklahoma
Miles: about 1500
Time: about 24 hours. 9/9/6
Average speed: almost 70
Gas: $175. $350 round trip

Overnight cities
Effingham is a town whose economy and even survival seems to be reliant on Interstate traffic. There were numerous amenities - many motel and hotel chains, most fast food outlets, even a TGI Friday's and a free-standing Starbucks - a very nice one. Interesting to see the industry that now relies on truck and auto traffic. Dinner: two Whoppers for $3. What a deal. Watched Boston Legal and Will & Grace. Explored the town and the Old Highway.
Washington, just south of Pittsburgh is also at an Interstate crossroads. After I walked dogs and they went to sleep (I drove around town. A fascinating Revolutionary-era town. Home of Washington & Jefferson College (founded in 1781 - the oldest college west of the Allegheny Mountains). Here also is the restored home of Francis LeMoyne, an abolitionist who was active in the Underground Railroad providing safe havens for Negroes that were coming up from the oppressive south on their way to Canada (he also built the first crematory in the country). The Whiskey Rebellion also took place in Washington; the 1788 home of the leader, David Bradford, is now a national historic site. The Federal government placed a tax on farmers who distilled and sold whiskey. Whiskey was the main money crop of this part of the country and the farmers refused to pay the new tax. This forced the hand of George Washington who ordered 12,000 soldiers into the area to quell the rebellion. This showed the nation that the new government meant business, was powerful, and was willing to use force to enforce its laws. Got gas (for the car) and a KFC platter meal. Watched some TV and read the book Brokeback Mountain.
Richmond, about an hour past Indianapolis (the midway point), is on the old National Road with a highway museum.
Cloverdale is about an hour past Indianapolis. Just a room to sleep.
All listed motels welcome pets with no fee or deposit.
Almost all breakfasts were from McDonalds (1 from Tim Horton's in Columbus)

Along the way
Dog issues: Manhattan vomits before Tulsa. Stopped at McD in Stroud, let her walk. Greyhound Rescue mentioned later that she had been in an accident on this stretch of the Turnpike. She eventually got used to riding in the car. Vegas stayed on the floor
Turner turnpike McDonalds: consistent morning stop an hour from home, it gave the dogs time to poop and prep for 3 days in the car
Tulsa years of I44 construction
Joplin Bonnie & Clyde rental apartment and their escape route (the garage apartment is still there); surveyed tornado damage
St. Louis Route 66, Mississippi River bridges, the new stadium downtown, and
Indianapolis with the RCA/Lucas Oil Dome
Columbus Ohio and an Art Deco tower building
Wheeling West Virginia with an old suspension bridge now used as a pedestrian walkway
Farms and barns in rural Pennsylvania. I stopped at a rest area on the oldest section of the Pennsylvania Turnpike, opened to traffic on October 1, 1940. This was many years before President Eisenhower funded the National System of Interstate and Defense Highways. Ike had seen how efficient the Autobahn was for moving troops while he was commanding the army in Europe. He returned to the US to help implement such a system here - originally it was for military purposes - to move troops and equipment quickly and to allow hazardous materials to avoid city centers. The Department of Defense even had to approve the new routes. The original plan also called for 1 mile of every 5 to be level and straight in order to serve as an emergency runway for aircraft. Of course, the Interstate system has come to serve primarily civilian traffic. This old part of the PA Turnpike was fascinating - it followed the right-of-way of the former Southern Pennsylvania Railroad. The overpasses were narrow and embellished with slight Art Deco detailing. Signs before the tunnels read Remove Sunglasses.
National Road US40, walked the dogs along the old s-shaped stone bridge (too narrow for traffic anymore)
Cuba MO unexpected snow storm 2010: after seeing trucks in the ditch and tires slipping, I exited at the next Motel 6. Manhattan and I spent the afternoon and evening watching the blizzard. Walked to McD and Walmart for provisions.

First arrival in New York City
Exciting sign: New York City 135 miles. I saw it and laughed. I was getting close to something I had wanted to do for several years. The drive into the city was quite easy. I took the express lanes on the New Jersey Turnpike to the Holland Tunnel. I caught one stoplight at the tunnel approach then on under the Hudson River into Manhattan, down West Street to my block. I parked in the groj in the building while I took Vegas to pee and then on up to the apartment. I unloaded the car a bit later. Driving in the city was exciting. I drove like a New Yorker, edging my car into tight spots and zipping around the city. I didn't, however, honk or use any gestures.

Parking: Harlem
I parked the car in a fenced lot up on the north side of Manhattan, on the edge of Harlem - I bought a monthly parking place for $170/month. Great deal (parking near my apt would be around $700). I was able to keep the key and I have in/out privileges if I want to drive in the city or to another city upstate. I went up twice after that to pay the next month's rent and to check on the car. The car was good but a bit lonely. When it was time to make the trip back, I took the subway up to Grand Central; I needed to transfer to the Lexington 4 to get up to Harlem. I decided instead, to take the MetroNorth train up to 125th Street. Right before the subway doors closed at Grand Central, I stepped off and went upstairs to buy a ticket. I used a ticket machine (the lines at the ticket windows in the Main Hall were very long). Trains were leaving in 5 minutes and in 8 minutes. I missed the 5 minute one because I stopped to help some people buy a MetroCard. I made the 8 minute one. I put the ticket behind my glasses by one ear. When the conductor came by to collect tickets, I told her that I must have lost it, I've looked all over and I can't find it. I turned my head as I was talking so she could spot the ticket on my head. She laughed. I went back to looking out the window at Harlem. The train came out of the tunnel at 98th Street and I disembarked at the very nice renovated wood paneled station at 125th Street. I walked one block to the lot, got to my car and started it right up. It had sat for over 2 months but it was rarin' to go. I had planned to get an oil change before the 1,500 mile drive, but I was enjoying driving around so much that I took my time. I drove past the Apollo Theater (recently restored and still hosting amateur nights), up the Hudson Parkway, to Fort Tryon Park on a hill with great views of northern Manhattan, the Hudson, the Jersey Palisades (the parkland of bluffs and trees along the Hudson), the George Washington Bridge, and then to the West Side Highway; past the new Trump apartment buildings, the piers with 2 large cruise ships docked, and on to Chelsea to an Auto Center.

Even though the car was running well and I had the oil changed 1,500 miles ago, I wanted to have it checked over before the journey to OKC. I ate lunch while that was going on - brick-oven pizza, a salad, coffee and New York style cheesecake with caramel and walnuts on top. Then I took the car 2 blocks down to get it washed - it had 2 months of NYC soot and grime on it. Then on down West Street to the apartment. I looked for a free spot on the street but found none, so parked in the garage under the condo building.

Parking: Trump buildings
I would call Icon Parking (a garage operator with numerous properties), give them a dollar amount, and requirement of being near a subway station, preferably an express stop. They would find a garage and call me back with the address. Often, it was in one of the new Trump condo buildings that were not yet fully leased. Their garages (and Donald) were hungry for paying customers - they cut me some pretty good deals - $200 for a month of parking. The Trump garages weren't too far from the 72nd St Station.

The first drive to Oklahoma
Got up on Sunday and finished packing, cleaned up the apt, talked with Allen down at the desk (we have ongoing discussions about politics and religion), and loaded the boxes and other stuff onto a cart and took it down to the groj and loaded up the car.
I drove up out of the parking groj and took a last look at the neighborhood. Turned right, went a couple of blocks, and on down into the Brooklyn Battery Tunnel (under the ventilation building that served as the headquarters for the Men in Black) and drove alone through the tunnel and up into Brooklyn, a typical city drive until I caught a glimpse of the Verrazano Narrows bridge that connects Brooklyn to Staten Island.

On across Staten Island and on to the Interstate to Oklahoma. Vegas wouldn't want me to do any sightseeing, she didn't need to go to the bathroom for many hours, and she didn't like to get out of the car; I was eager to get on home, so I just drove and drove, stopping only for gas and snax and bathroom breaks at rest areas. Decided that I could get farther than Washington, PA where I had a motel reservation, so went on to Columbus, Ohio. The next day, we also pushed it - driving for over 10 hours, through Columbus, Indianapolis, and over the Masipi River by the Arch in St. Louis, getting all the way to Springfield, Missouri. After walking Vegas and resting a bit, I had dinner at Cracker Barrel and some birthday ice cream with caramel topping and whipped cream.

Driving accompaniment
• Podcasts: History Channel Bios, Bowery Boys NYC, and some enlightening interviews (about 7 hours worth) on freethought from the Center for Inquiry.
• Larry the Cable Guy albums - hilarious.
• Summer musicals: soundtrax from The Wedding Singer, Altar Boyz, and Tarzan.
• New York City mix, Liza Minnelli, Barry Manilow, hip-hop, rock, and more
• NYC Subway: mix of subway entertainers.
• Audio-books: Microeconomics, and woozy about Steve Wozniak, the brains behind Apple computer. Woe is a problem solver, strives to make things better, and seeks clarity and efficiency; thus, he's a designer - of the premier kind. He covers his career at Hewlett-Packard working on calculators, the Home brew Computer Club, the beginning of Apple with Steve Jobs, his airplane crash, the US Festival, the first universal remote control, and more.

The drives to and from were very smooth, I saw lots of great stuff, I got some good work done on the apartment, wrote quite a bit, visited friends - old and new, and experienced the city as a native rather than an occasional tenant. The dogs were conversation starters. We were stopped almost every time we went for a walk. Most trips, I had two dogs - Vegas & Manhattan or Manhattan & Brooklyn. We stayed in our usual cities of Effingham IL and Washington PA - both towns with great history and plenty of travel amenities.
They were some of the best summers of my life. Ranking right up there with the 4 summers that I worked at Six Flags as a Ride Operator (we got paid to have fun) and the summer when I was 8 or 12 and I slept in my underwear so that in the morning I could simply step into my shorts (that were on the floor next to the bed) and a tee-shirt. I was ready to go play with my friends all day. Interrupted only by my mother calling me in for lunch and by my father who, after dark, came outside to tell us that "tomorrow would be another day" and to come in and get ready for bed. These summers were as good as that. Even though my mom didn't prepare my lunch and my dad didn't remind me when to go to bed. But still, they are responsible for my being able to enjoy NYC summers so much.



Sorry, I don't do windows
This is ridiculous - I am trying to clean the outside of the windows in my apartment in Lower Manhattan. Its 5 stories up, about 50 feet. I'm tall, but not enough to reach the windows. I even tried standing on a chair. Nope, didn't help. Then - a great idea - water balloons. I'll throw some balloons filled with a water/detergent mixture, then some with clean water to rinse, followed by a few nerf balls with paper towels on them. Great idea, except I'm not that great of a shooter or hurler. Its why, even though the Benjamin Franklin Junior High School (that's a junior high named after Ben Franklin, not a high school named after Ben Franklin, Jr.) basketball coach wanted me to try out for the junior varsity team, I couldn't quite cut it. Sheepish, how embarrassing. A tall guy who can't play basketball. Well, I'm a white guy.

Anyway, the water balloon idea didn't quite pan out. The people in the apartment below got pissed, "What's going on - I just had my hair done." The lady below me, who didn't like when I played In A Adda DE Vida real loud, yelled at me. Granted, she was dripping wet with detergent water. The balcony door slammed. A few more failed tosses and a few pissed-off kids - well, except that one kid who was having fun playing in the water. He jiggled when he laughed. That made me laugh so I tossed him a balloon. He took it inside. I have no idea where that balloon ended up or how much trouble that kid got into. So, now I'm thinking of standing on my balcony and reaching over to the windows with a Sniffer mop taped to a broom handle with adequate amounts of duct tape. BTW: all of this was so I could save the $50 the apartment wanted to clean the windows. June 19 2009



While sipping coffee in a Soho cafe
Everyone seems to have a cell phone stuck to their face.
Constant movement.
To slow down, stop, and sit, you almost have to put it on
your to do list and make an effort to make it happen.
People move with a purpose - where are they going.

So many people - where are they coming from. And Why.
Sometimes there is just too much to do.
How many cups of coffee are served in one day.
How many pretzels.
Where is the Walmart?

Music. Sound. Horns. Traffic.
Why does this big city attract so many people.
What is the draw.
Snapshots of people alone in the crowd.
Smell of fresh coffee, the river, hot 'everything' bagels.
Helicopters overhead overheard.



A New York City Journal


There is a subtle move that people (mainly males) do in New York City - I call it the Pocket Pat. Its to check, when leaving one's apartment, to make sure one has keys and phone in the pockets before the apartment door locks behind you. Its a quick movement to check for the bulges - simple pats on the pockets.



While riding on the subway, a woman got on with a large trash bag full of something soft - maybe clothes. Even though there were several empty seats, she scrunched her bag and set it on her lap so she wouldn't take up two seats. People were leaving the seat next to her empty, thinking she might want to set the bag there. But she never did. She was so considerate and mindful of her space and the needs of others. I couldn't help but watch this sweet woman. She also had a very nice smile to go along with her demeanor. I was somewhat envious - this woman, with her big load, still managed to be polite, courteous, and considerate of others. I so wanted to say something to her but couldn't think of the right thing to say. I thought I could at least tell her she had a nice smile. But then my station approached and a crowd came between me and her as we stood to get off. Another opportunity missed. How often I wish I had acted on my impulses.



July 2004, WTC update: The symbolic cornerstone for the new 'Freedom Tower' at the WTC site was laid on July 4th, 2004, accompanied by speeches from the governor and mayor. While it is planned to be the world's tallest building (1,776 feet) it is currently mired in controversy and legalities and it has yet to sign a major tenant. It will get built but the rest of the WTC complex may take many years. The train I sometimes take from Newark to Manhattan goes under the Hudson River and emerges in the basement of the WTC - now just in the bottom of the pit. World Trade Center 7 (the last building to fall on 9/11) is now topped out at 50 stories tall. One more 40 story building is yet to come down - the structural damage is too much to repair. Another building, an older ornate stone structure, is being renovated. Almost everything else has reopened. City, state, and federal governments are offering hefty enticements for development in Lower Manhattan so there is a lot of activity and new stores, restaurants, and offices. Downtown Manhattan will emerge better than before. The city planners and architects are learning from the mistakes of the WTC in 1972. The WTC complex took up 12 city blocks, closed off streets, and turned its back to the neighborhood thereby sucking street life and pedestrian activity from that part of downtown. The new complex will have street level retail (instead of the underground mall); streets will be put back in; and space is being earmarked for a performing arts center, museums, and a children's centers - in addition to the 9/11 memorial and museum.



Gettin' into the flow. There is a fluid energy that permeates the city - there is a beat, a rhythm, that should be tapped into. If not, its easy to bump into people, to be a nuisance, to be like a tourist. But, once the rhythm is established and one gets into that groove, once can navigate tight openings in crowds, cross streets without disrupting traffic.
So many people are plugged in - they've got headphones on - listening to all sorts of input. This headphone culture has developed a new etiquette. Communicating to people on the street (sales people, passersby) must be done non-verbally - a nod, a smile, mouthing 'No, thank you.' Hearing people is possible but one must work a bit harder to decipher what is being said. Talking to people with earphones on (the dangling wire is the clue) requires a bit more patience.
Listening to music on the iPod makes the entire environment seem a bit surreal. Sometimes the music fits the people, the pace, the activity. Sometimes it defies those things. Either way the music puts a unique twist on the reality of the here and now that is going on.
Sitting in the sun in Union Square. Listening to the Favorites playlist on iPod. Watching people. Got surreal. Time was altered, slowed down. Some were reading. Playing music. Sunning. Soliciting. Seeking petition signers. Cell phoning. Conversing.
It is such a thrill to wait in a hot subway station, anticipating the air conditioned cars but hoping you won't have to stand in a crowd, then looking into the car as it pulls in and seeing three empty seats - room to sit with one on either side for breathing room. Glorious.



I spent several hours at the Liberty Science Museum across the Hudson River in New Jersey. They have impressive exhibits. The day I went was also the day that 2,000-3,000 kids from the Police Athletic League went. Despite that noise and crowd, I observed some neat stuff:
• In the IMax theater (where I saw a big movie about Hurricane Katrina and the loss of wetlands in Louisiana) a chaperon was telling his charges, "Move down" (he meant move along the row). The kids looked confused. They had just climbed up the steep aisle stairs looking for seats. The chaperon could have meant "Move down" (to another row). 'Move down the row' and 'move down a row' are very similar commands. Often, the context helps us determine which is meant, but, in this case, the context didn't help much - "Move down" could have easily meant either option. He had to keep repeating himself and gesturing before the kids understood exactly what direction to move he meant.
• Exhibits that were 'hands-on' were much more popular than those with just text, images, or stuff to look at. Kids even punched 'buttons' that were actually just bolts or circles. This generation has gotten used to a push-button world that was the stuff of science fiction not too long ago.
• In the Communications exhibit, a father was getting impatient with his girls who were at a busted exhibit. "Come on girls, that's not working." "Come on." he repeated. He probably couldn't understand why anyone would stay so long at an out-of-order exhibit. Finally, one of the girls turned to him, "We're pretending". How cool - the girls found a way to make the exhibit work - just use your imagination. Old guy couldn't see it because he probably lost his inner child a while back. The girls played a bit longer, then joined dad and the rest of their party who had moved on.



A great design exhibit called Sauma [Design as cultural interface]. It was a showcase of innovative design from Finland. From the wall text: The task of the designers is to create the best possible solutions by merging the wisdom of tradition and the excitement of innovation. The designers are deeply rooted in the traditions of craftsmanship and cultural environment. They shape our daily experiences by creating tangible objects that give us a way to relate to the world. As keen observers, the designers translate the newest technical innovations into practical tools. Thus design can be understood as a cultural interface that facilitates navigation in the world of ever changing cultural, social, and technical demands. Their website.2006



So I was walking somewhere in New York and saw a slogan or title that said - 'Power Up'. It occurred to me that Power Up backwards spells Pure Wop. Now, I'm not real sure what Pure Wop is (or even wop that isn't pure) but there must be some cosmic connection there. Power Up to Pure Wop. Maybe like 'give someone a wop upside the head'. And a powerful wop, at that. Just something to think about.
I also wonder if, somewhere in the universe, there is a woman named Pam Yawbus. Google found no such name. But Pam Yawbus is Subway Map backwards. That just can't be a coincidence. I suspect it is some sort of code used by transit workers (or the Yawbus family while in New York). Maybe there is some deeper meaning that is just not obvious to us mere mortals. More shit to think about.
And why do so many people reference this guy - Lowan B Wholed? I don't know who he is.



I was sitting at the Border's Books on 59th and Lexington (I had just come from seeing the Frank Gehry collection of jewelry at Tiffany's on Fifth Avenue). I was watching people meander around the store when one person approached this narrow passage, stood on the floor, and the floor moved. First it moved her forward about two feet (her feet didn't move on the floor) and then - and I'm not making this up - the floor she was standing on began to move up at an angle, like a staircase but she didn't have to climb the steps. By golly, she just stood there. What a great invention that is. You stand on the floor, don't move, and the floor takes you up to the next level. You just stand there. Holy cow. What's next - a small room that goes straight up and down?



The other day, I got inside a machine that I store at my house in a special room. I sat in a comfortable adjustable chair and by moving my feet and arms this machine smoothly transported me to wherever I guided it to go. I sat in a lounge chair, in a climate-controlled environment, and listened to music on a custom sound system of songs that I had programmed earlier. I was quite comfortable and without having to exert much energy, I was transported to stores and restaurants, all in a matter of minutes. I call this amazing machine my PTU, Personal Transit Unit. What a great age we live in. We no longer have to walk or ride a horse to get around.
© James Robert Watson, PhD, 2016



Summer with no television. Well, there is a television in the apartment but the antenna only picks up a slightly fuzzy educational station from New Jersey. To get good reception you have to subscribe to cable and I have yet to do that. It doesn't make sense for the few weeks that I would use it. But, okay, here's the real reason - I just hate the cables that are stapled along baseboards and over door trim to get to the television. The jack in this apt is on the opposite wall from the TV. I played with a different arrangement to get the TV by the jack but it just did not work as well. Anyway, a summer without television has been sorta nice. I can go down to the club room to watch the big screen as I have done a couple of times to watch Desperate Housewives, Boston Legal, and The Office. I am much more productive without the regimen of television and enjoy my evenings much more walking along the Hudson, talking with people, and interacting with the city instead of with equipment. I will see how much of this carries over when back in Oklahoma. I will try to watch less television. (I subscribed to cable and internet from 2010 to the summer of 2013.)
Two months and 5 days, 66 days total - my summer in New York City is coming to a close - for the moment; I will be back. This has been one of the best summers of my life. It ranks right up there with the 4 summers that I worked at Six Flags as a Ride Operator and the summer when I was 8 or 12 and I slept in my underwear so that in the morning I could simply step into my shorts (that were on the floor next to the bed) and a tee-shirt. I was ready to go play with my friends all day. Interrupted only by my mother calling me in for lunch and by my father who, after dark, came outside to tell us that "tomorrow would be another day" and to come in and get ready for bed. This summer, 2006, was as good as that. Even though my mom didn't prepare my lunch and my dad didn't remind me when to go to bed. But still, they are responsible for my being able to enjoy this city so much.



At the Terrace Cafe on the fifth floor of MoMA, I looked out on a spectacular fall day in Manhattan. I had a lunch of bread, coffee, and organic deviled eggs: black caviar, pickled red onions, and herb creme fraiche. I don't usually eat caviar (hardly ever) but I love deviled eggs and splurged on this. They were delicious.
To respond to numerous requests for more information about the Lace strip club in New York City (8th Avenue, just north of 42nd Street):
• Yes, you might get special treatment if you mention my name. That can range from a waived cover charge to a stud discount in one of the back rooms. However, if you do mention my name, be aware that they know me only as Rod Thrustenberger.
• In the reference above, I mistyped - Lace is not a strip club, its a Gentleman's Club or Gentlemen's Club (its spelled both ways on the signs in the photo). As far as I can tell, a Gentlemen's Club is just a strip club with better cocktail glasses.
• Please keep in mind, I was there only to assess the design of the Lace logo (as seen on the awning canopy in the photo). Anything I know about what goes on inside is only from stories I've read and heard.



While riding on the subway, a woman got on with a large trash bag full of something soft - maybe clothes. Even though there were several empty seats, she scrunched her bag and set it on her lap so she wouldn't take up two seats. People were leaving the seat next to her empty, thinking she might want to set the bag there. But she never did. She was so considerate and mindful of her space and the needs of others. I couldn't help but watch this sweet woman. She also had a very nice smile to go along with her demeanor. I was somewhat envious - this woman, with her big load, still managed to be polite, courteous, and considerate of others. I so wanted to say something to her but i couldn't think of the right thing to say. I thought i would at least tell her she had a nice smile. But then my station approached and a crowd came between me and her as i stood to get off. Another opportunity missed. How often i wish i had acted on my impulses.




Thursday evening of 2009 spring break, I was wandering around Times Square. I had gone to get a ticket to 39 Steps, a funny comedy; I decided not to and, instead, just walked around with the flow of the crowds. I went into the Marriott hotel to use the bathroom. When I came out, there was a small crowd across the street, right at the end of Shubert Alley, next to a couple of Broadway theaters. Several men held shoulder mounted video cameras and others had some 35mm cameras with pretty good-sized lens. I stopped to see what was going on. Two of the people in the crowd moved towards me and stood right in front of me, within inches. I was a bit baffled. I looked at their faces. One was Matthew Broderick. The other was Sarah Jessica Parker, his wife. I looked down at her scalp - she is a short woman. They both looked sad. There were a few other people near us that I recognized. Very familiar faces, including her mother, Vanessa Redgrave. Then it occurred to me what was likely going on. They were friends of Natasha Richardson who had just died. As I learned later that night, the lights of Broadway theaters were dimmed for one minute in honor of the actress. This group was standing at the best place in Manhattan to see the most theaters. There are about 6 or 8 theaters within sight of the spot where we were. I suspect the lights were dimmed while I was inside the Marriott. Then a tall man came up and hugged Sarah (is it Sarah or Sarah Jessica?) She whispered, "Thank you, Liam. How are you?" Liam Neeson, Natasha's husband. He, too, was sad. "15 years." He kept saying, fifteen years - they were married in 1994. The crowd of celebs took turns hugging and kissing him. One of the well-known faces asked him what he was going to do now. He said he was going to an Irish bar and get a drink. "You know, a traditional Irish wake." Broderick asked him where. He wasn't sure. This was going on all around me. I just stood still, right in the middle while we were circled by the photographers. The footage was aired on the news later that night. With one goofy looking Okie right in the middle. One videographer bumped over and around me - probably hoping that I would move. I didn't. I was tempted to pull out my iPhone and snap some pictures but I didn't want to look like the other tourists around who were sticking their phone cameras into our circle. Liam gave a few more hugs then walked off down Shubert Alley with a friend. The photographers didn't follow him. They left him alone.



July 1 2009. In 1967 Joe Jackson drove his sons from Indiana to the Apollo Theater so they could perform during amateur night at the famous Apollo in Harlem. They had very little money. He wasn't even sure where they would spend the night. The youngest of the Jackson 5 was Michael, 9 years old. They performed and won. The Apollo wanted them to come back but the Jacksons couldn't afford it. Soon after, Diana Ross saw them perform and she introduced them to the rest of us. The Tuesday after Michael died on Thursday, the Apollo Theater held an open house memorial from 2pm - 8pm. It was part respectful memorial, part party and celebration, and part shopping mall. I went to participate in the event. Michael Jackson's music formed much of the background soundtrack for me in the 1980s. Larry Lewis, one of my high school students, treated me to a ticket to the Victory Tour concert at Texas Stadium in 1984. It was a phenomenal concert. MJ can wow a crowd. Even in death. Some issues to ponder:
• MJ was acquitted - found innocent - of all charges in one of the 2 child molestation charges.
• The other case was settled out of court to avoid the negative publicity.
• The mother of 2 of his kids, his family, and friends have all emphatically stated that Michael is not a pedophile.
There is no evidence that he molested anyone. There is precedent, however, that some adults will exploit celebrity millionaires to get money.
• He did not 'dangle' his baby off that balcony. He had a firm grip around the child. Dangle is the term the media used to sensationalize the event and millions of gullible viewers bought it, without thinking that it was the wrong term. I wonder how the media would report it when dads toss their kids up, "Father abandons child in air" or "Dad lets go of child in mid-air."
Michael Jackson had an unusual childhood, a domineering father, success as a star at the age of 9, etc. Of course, he's going to be eccentric. But what talent. An incredible entertainer. And a great humanitarian.



I was enjoying the latest art project in Madison Square Park: Event Horizon by Antony Gormley. Numerous life-size statues perched on tops of buildings overlook the city. It was fun to seek them out and very dramatic to see these characters out of place. There was a crowd gathering so i asked what was going on - Carmen Electra was going to shave guys' chests as part of a promotion for a Norelco shaver. Carmen Electra? Damn, i felt so old - i thought Carmen Electra was a Buick. Seriously.
i was too embarrassed to ask anyone there (who all seemed quite excited over the prospect of seeing this Electra person - or car). It wasn't until i got home later that i researched her: born Tara Leigh Patrick, married to Dennis Rodman, Playboy model, and movie star who got her start in the chorus line at an amusement park in Ohio.
But, back to the park. I decided i better stick around to see the eventness of a celebrity with an entourage. was standing in a prime spot - i purposefully got back by where i assumed they would lead her up on to the temporary stage. didn't care about seeing the guys getting shaved, i wanted to see a star in the city. She is quite stunning, i could see why Rodman wanted to pork her and why she was a bunny, and why guys in the park were so excited.



NY is wonderful. Better than I hoped. Weather has been decent - several cool mornings and days (some hot and muggy). Next summer, will come 3 weeks earlier - cooler weather, longer time. I know that spending time in New York City is a privilege I would never have had if my parents had not sacrificed and saved and given to me and my brothers. I thank them almost every day.



I often see people looking at maps, looking at street signs, or just looking lost. I will go ask them if I can help them find something. I have yet to be stumped. In my neighborhood. there are many questions about the World Trade Center and how to get there - I guide them there and tell them about the exhibits and models of the memorial and new office towers that are on display. I guide people to subway lines, Brooklyn, Times Square, Little Italy, etc. Someone pointed out (while waiting on me to help some lost folks) that it is the teacher in me, wanting to help and guide people. I also wonder if it is the training I got for 4 summers while working at Six Flags to help guests. Whatever, I enjoy it. I want these tourists/visitors to have a good experience in New York and to not think all New Yorkers are abrupt and rude (I don't let on that I'm not really a New Yorker).



I talked to a woman today in Battery Park and she commented/assumed that I was a New Yorker. I nodded yes. It was the first time I had acknowledged the identity of being a New Yorker. Weird but sorta neat.



There is now a serious police presence in downtown Manhattan - and not ordinary police, but these decked-out military style soldiers. There are also National Guard kids stationed throughout the city. Seeing these quasi-soldiers on street corners and in Grand Central reminds me of seeing soldiers in Egypt - a third-world, unstable government. This is the United States of America. What is going on - paranoia, overreaction?


© James Robert Watson, PhD, 1995, 2004, 2016
https://www.jamesrobertwatson.com/storynewyork.html