The Okie Ski Trail to Colorado


Thousands of Texans drive to Colorado for ski vacations. The combined population of the cities marked on the maps below is about 18 million people. There is currently no clear direct highway access from the DFW area to the ski slopes of Colorado. To stay on a controlled-access interstate or toll road, one must go from Dallas due north to I-70 in Kansas or go due west to I-25 (or a cutoff).
Within the state of Oklahoma, which is somewhat well served by superhighways, there is a complete void of superhighways in the northwest quadrant of the state.





Solution


A new toll road from the northwest corner of the Kilpatrick Turnpike in Oklahoma City directly to US 50 and CO 47 in Pueblo Colorado would:
• Shorten the trip mileage.
• Take less time.
• Earn money for the OK Turnpike Authority.
• Help boost the economy of towns along the route with new car and traveler services.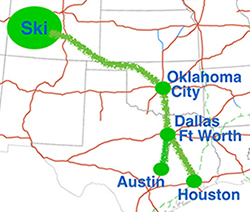 The Okie Ski Trail name and identifying icon


The general route of the Ski Trail follows that of the Oklahomans who migrated west, primarily to California, during the devastation that the Dust Bowl wreaked upon the farmland (orange blob in map below). Those people migrating were referred to as Okies, originally a somewhat derisive term, but now mellowed some to simply mean an Oklahoman. Referring to this new turnpike as the Okie Ski Trail helps associate a positive connotation with the term Okie. The Ski Trail will be the only superhighway that bisects the heart of the Dust Bowl. Historical text and artifacts at the midway Rest Area would help the users better understand this integral part of Oklahoma's history.



To introduce and facilitate direction, the new road and existing highways in Texas and Oklahoma could be branded as the Okie Ski Trail. A mark to place on highway signs could be a green disk with an android skier figure inside. The green disk is familiar to skiers as denoting the easiest way down the mountain, just as the new turnpike provides the easiest way to the mountains.



Date of conception: 1995, while planning a road trip from OKC to Colorado.

www.jamesrobertwatson.com/skitrail.html