272 Shows and concerts seen



NYC • The Addams Family - OC: B Neuwirth, N Lane, 2010
LAX • Aladdin - Disneyland, 2010
NYC • Aladdin - OC, 2014
DAL • Alegria - Cirque du Soleil, Fair Park, 2003
NYC • Alegria - Cirque du Soleil, Randall's Island, ST 2004
NYC • American in Paris - OC, 2015
NYC • Altar Boys - 2006
BRN • Andy Williams - August 1999
DAL • The Animals - 1965
DAL • Aida - NY Metropolitan Opera, 1962
NYC • Aida - Disney, OC, ST 2000
OKC • America - September 21, 2013
NYC • American Buffalo - OC: Al Pacino, 1983
NYC • American in Paris - OC
DAL • Andreas Vollenweider - 1980s?
AUS • The Apple Tree - 1970s
LON • Aspects of Love - OC, 1990
UNI • Aspects of Love - OU
NYC • August, Osage County - OC, 2008
DAL • Auntie Mame, 1960-1980s
NYC • Avenue Q - OC, 2005
BRN • Baldknobbers - with Shoji Tabuchi, April 1981
DAL • Ballet Folklorico de Mexico - 1960-1980s
DAL • Barber of Seville - Dallas Opera, 1960-1970s
NYC • Barnum - OC: Jim Dale, Glenn Close,, ST 1981
DAL • Beach Boys - December 26, 1964 or July 23, 1965
AUS • Beach Boys - Febuary 11, 1969
DAL • The Beatles - September 18, 1964
DAL • Beauty and the Beast - 1960-1980s
NYC • Beauty and the Beast - 2007
NYC • Beetlejuice - OC, 2019
NYC • Big Fish - OC, 2013
DAL • Big River, 1987
NYC • Billy Elliott - OC, 2009
LON • Blood Brothers - OC: Kiki Dee, 1990
NYC • Bloody Bloody Andrew Jackson - OC, 2010
NYC • Blue Man Group - 6 times, STs, 2000, 2002, 2003, 2004, 2005; 2008
LAS • Blue Man Group - 2000
NYC • Boeing Boeing - OC, 2009
NYC • Bombay Dreams - OC, 2004
NYC • Bonnie & Clyde - preview, OC: J Jordan, 2011
NYC • The Book of Mormon - 2012
NYC • Boy From Oz - OC: H Jackman, 2004
DAL • Brigadoon - 1960-1980s
DAL • Bring in 'da Noise, Bring in 'da Funk - July 1998
NYC • Bubbling Brown Sugar - April 1976
OKC • Bullets over Broadway - 2015
DAL • Bye Bye Birdie - 1965
DAL • Calamity Jane - 1963
DAL • Camelot - August 1964
DAL • Carnival - October 1962
DAL • Carousel - 1968
OKC • Carousel - OCU, 2022
FTW • Cat Stevens - 1970s?
LON • Cats - OC, August 15, 1981, 2 months after opening
NYC • Cats - OC: Betty Buckley, ST 1989
OKC • Cats - 1987
NYC • Chicago - OC: Gwen Verdon, Chita Rivera, March 4, 1976
CHI  • Chicago - 1978
NYC • Chicago - OC: A Reinking, B Neuwirth, J Grey, J Naughton, ST 1997
UNI  • Chicago - UCO
NYC • A Chorus Line - OC, c
DAL • A Chorus Line - October, 1978
FTW • A Chorus Line - 1980s
NYC • A Chorus Line - Mario Lopez, 2008
NYC • The Color Purple - Fantasia, 2007
DAL • Come Back Little Sheba - 1960-1980s
AUS • Come From Away - 2020
AUS • Company - 1970s
UNI  • Company - UCO
NYC • Corteo - Cirque du Soleil, Randall's Island, ST 2006
LAS • Criss Angel - Cirque du Soleil, 2009
NYC • Curtains - OC: David Hyde-Pierce, 2008
DAL • Dave Clark Five - December 7, 1964
AUS • Dear Evan Hansen - 2019
LAS • de la Guarda - 2000
DAL • Desert Song - 1960-1980s
NYC • Dirty Rotten Scoundrels - OC: John Lithgow, Norbert Leo Butz, 2005
NYC • Doubt - OC, November 27 2005
DAL • Dralion - Cirque du Soleil, 2001
NYC • The Drowsy Chaperone - OC, 2007
LAS • EFX - OC: Michael Crawford, 1995
NYC • The Elephant Man - March 20, 1981
LAS • Enter the Night - 1993
NYC • Equus - 1977
NYC • Ernani - Met Opera - L Pavarotti, L Mitchell, 1983
DAL • Evita - 1980s
NYC • Evita - Ricky Martin, OC, 2012
NYC • Fame Becomes Me - OC: Martin Short, Tom Arnold, 2006
NYC • The Fantasticks - March 25, 1972
NYC • The Farnsworth Invention - OC: Hank Azaria, 2007
DAL • Fiddler on the Roof - October 1966
NYC • Fifth of July - OC: Christopher Reeve, Swoosie Kurtz, 1981
NYC • Finding Neverland - OC: Matthew Morrison, 2015
DAL • Flower Drum Song - 1966
LAS • Folies Bergere - 2 times, 1977, 1999
NYC • Follies - OC, March 28 1972
LAX • Fosse, Dancin' - Ahmanson Theater, 1977
NYC • 42nd Street - 1981
DAL • A Funny Thing . . . Way to the Forum - 1960-1980s
DAL • Gentlemen Prefer Blondes - 1966
NYC • Ghost - OC, 2012
NYC • Good Vibrations - preview, OC, 2005
NYC • Grand Hotel - 1991
NYC • Grease - 1975-2004
NYC • Groundhog Day - OC, 2017
UNI  • Gypsy - UT, 1969
NYC • Gypsy - Patti Lupone, 2008
NYC • Hadestown June 15 2022
OKC • Hadestown October 28 2022
UNI  • Hair - UCO
NYC • Hair - Preview, Gavin Creel, OC, 2009
NYC • Hairspray - OC: Harvey Fierstein, ST 2003
DAL • Half a Sixpence - 1966
AUS • Hamilton - 2019
TUL • Hamilton - 2019
NYC • Harlem Song - Apollo Theater, OC, 2002
DAL • Hello Dolly - Mary Martin, 1965
AUS • Hello Dolly - 2020
DAL • How to Succeed in Business - D Cannon, W Waterman, D Kallman; with Dad, Oct 1963
NYC • How to Succeed in Business - Nick Jonas, 2012
NYC • I Am My Own Wife - OC, 2004
LAS • Imagine - 1998
NYC • In the Heights - OC: L-M Miranda, K Olivo, P Lopez, June/July 2008
NYC • Into the Woods - March 21, 1981
NYC • Jersey Boys - OC, ST 2006
AUS • Jesus Christ Superstar Concert - 1970s
FTW • Joseph & Amazing Technicolor Dreamcoat - 1960-1980s
DAL • Journey to Jefferson - 1964
LAS • Jubilee - 1993
LAS • KA - Cirque du Soleil, 2005
DAL • The King and I - 1960-1980s
NYC • The King and I - Lincoln Center, 2016
NYC • Kinky Boots - Billy Porter, OC, 2013
NYC • Kiss of the Spider Woman - Chita Rivera, OC, 1993
NYC • Kooza - Cirque du Soleil, Randall's Island, 2009
FLA • La Nouba - Cirque du Soleil, 2005
NYC • Legally Blonde - OC, 2007
NYC • Lennon - OC, opening night, Yoko Ono, 2005
NYC • Les Miserables - 1989
NYC • Light in the Piazza - OC: Kelli O'Hara, Matthew Morrison, Lincoln Center, August 2005
NYC • The Lion King - 2001, ST 2002
DAL • Little Me - July 1964
NYC • The Little Mermaid - OC, 2008
DAL • Long Day's Journey into Night - DTC 1965
LAS • Lord of the Dance - 1999
DAL • Lorelei - Carol Channing; with Aunt Margaret, 1973
LAS • LOVE The Beatles - Cirque du Soleil, 2007
LAS • MADhattan - 1998
NYC • Mamma Mia - ST 2002
OKC • Mannheim Steamroller
NYC • Mary Poppins - OC, 2006
NYC • Memphis - OC - 2 times, 2010
DAL • The Merry Widow - 1962
DAL • Michael Jackson Victory Tour - July 13-15, 1984, Texas Stadium
LON • Miss Saigon - OC: Lea Salonga, Jonathan Pryce, 1990
NYC • Moulin Rouge - April 2023
NYC • Movin' Out - OC, ST 2004
DAL • The Music Man - 1963
DAL • My Fair Lady - July 1964
NYC • My Fair Lady - OC, 2018
UNI  • My Fair Lady - 2018
NYC • My One & Only - Tommy Tune, Twiggy, 1983
LAS • Mystere - 4 times - Cirque du Soleil, 1994, 1995, 1996, 2001
NYC • Newsies - OC - 2 times, 2012, 13
NYC • New York New York - OC, April 2023
NYC • next to normal - OC, 2009
LAS • nSync - July 28, 2001
DAL • The Nutcracker - 1960-1980s
LAS • Notre Dame - 2000
LAS • 'O' - Cirque du Soleil, 1999
DAL • Oklahoma! - 1960-1980s
DAL • On a Clear Day You Can See Forever - 1969
DAL • 110 in the Shade - 1965
NYC • Ovo - Cirque du Soleil, Randall's Island, 2010
NYC • Pacific Overtures - March 6, 1976
OKC • Peter and the Starcatcher - OCU, 2016
NYC • Phantom of the Opera - 3 times, ST, 1989, 1991, 1997
LAS • Phantom of the Opera - 2007
DAL • Philip Glass - October, 1988
DAL • Phoebe Snow - 1980s
NYC • Pilobulus - 2006
NYC • Pippin - 2 times, April 1976, August 1976
UNI  • Pippin - UCO
NYC • The Pirate Queen - OC, 2007
NYC • The Play that Goes Wrong - OC, 2017
LAX • Porgy and Bess - Pantages Theater, 1978
NYC • The Producers - 2002
NYC • Putnam County Spelling Bee - 2007
DAL • Quidam - Cirque du Soleil, 1998
NYC • Radio City Rockettes Christmas Spectacular - 2 times, 2007, 2010
NYC • Rent - ST 2000
DAL • Rent - Majestic Theater, Feb 1998
DAL • Rolling Stones - (open: Patti Labelle) November 21, 1965
OKC • Saltimbanco - Cirque du Soleil, 2008
NYC • Satyagraha - Met opera, Philip Glass, 2011
NYC • Shucked - OC, April 2023
CHI • Second City - Jim Belushi, March 1978
NYC • Shenandoah - OC, 1976
DAL • Show boat - 1963
NYC • Shrek the Musical - OC, 2009
ATL  • Side by Side by Sondheim - July 1978
LAS • Siegfried & Roy - 1996
NYC • Something Rotten - OC, 2015
DAL • Sound of Music - A Blyth, S Duncan, K Creed, July 1964
DAL • South Pacific - 1960s
UNI  • South Pacific - April 2014, OCU
NYC • Spamalot - OC: H Azaria, D Hyde-Pierce, T Curry, 2 times, 2005, 2006
NYC • Spiderman, Turn off the Dark - Preview, OC: Reeve Carney, 2011
NYC • Spring Awakening - OC: L Michele, J Groff, 2 times, March 21 2007; May 14 2008
LON • Starlight Express - 1990
LAS • Starlight Express - 1994
NYC • Steely Dan - June 13, 2007
DAL • Stomp - 1996
DAL • Sugar Babies - Mickey Rooney, Ann Miller, 1980
DAL • Sunset Boulevard - 1995-2000s
UNI  • Sunset Boulevard - UCO
NYC • Sweeney Todd - Preview, OC, January/April 2006
DAL • Sweet Charity - 1967
NYC • Tap Dogs - ST 1997
NYC • 39 Steps - OC, 2009
NYC • Tarzan - OC, 2006, 07
AUS • Three Dog Night - 1969/70
DAL • Three Sisters - 1960-1980s
DAL • Top Banana - Phil Silvers, August 1964
OKC • Toruk - Cirque du Soleil, 2016
NYC • Totem - Cirque du Soleil, Flushing Meadow, 2013
DAL • The Unsinkable Molly Brown - 1960-1980s
NYC • Urinetown - OC, 2003 ST
NYC • Varekai - Cirque du Soleil, Randall's Island, ST 2003
NYC • The Wedding Singer - OC, 2006
AUS • West Side Story - 1980s
DAL • West Side Story - 1960-1980s
NYC • West Side Story - OC, 2009
NYC • Wicked - OC: I Menzel, K Chenowith, STs, 2004, 05, 08
NYC • Wicked Backstage - 2007
NYC • Will Rogers Follies - 1993
NYC • Wintuk - Cirque du Soleil, MSG Theater, 2007
NYC • The Wiz - OC, 1977
DAL • The Wizard of Oz - 1960-1980s
NYC • Wonderful Town - Brooke Shields, 2004
UNI  • Working - UCO
NYC • Xanadu - OC: Cheyenne Jackson, Jackie Hoffman, Kerry Butler, 2007
DAL • Yanni - 1980s?
NYC • Your Arm's too Short to Box with God - Febuary 17-20, 1977
NYC • Zarkana - Cirque du Soleil, Radio City Music Hall, 2011



Musical Theater, 226 performances

Atlanta, 1 performance
• Side by Side by Sondheim

Austin, 8 performances
1970s
• The Apple Tree
• Company
• Jesus Christ Superstar
• West Side Story


2019-2020


• Hamilton
• Dear Evan Hansen
• Hello Dolly
• Come From Away

Chicago, 2 performances
• Chicago, March 1978
• Second City, March 1978

Dallas, 54 performances
1960-1980s
• Aida
• Auntie Mame
• Barber of Seville
• Beauty and the Beast
• Big River
• Brigadoon
• Bye Bye Birdie
• Calamity Jane
• Camelo
• Carnival
• Carousel
• A Chorus Line
• Desert Song
• Evita
• Fiddler on the Roof
• Flower Drum Song
• A Funny Thing Happened on the Way to the Forum
• Gentlemen Prefer Blondes
• Half a Sixpence
• Hello Dolly
• How to Succeed in Busines
• Joseph & Amazing Technicolor Dreamcoat
• Journey to Jefferson
• The King and I
• Little Me
• Long Day's Journey into Night
• Lorelei
• The Merry Widow
• The Music Man
• My Fair Lady
• Oklahoma!
• On a Clear Day You Can See Forever
• 110 in the Shade
• Show boat
• The Sound of Music
• South Pacific
• Stomp
• Sugar Babies
• Sweet Charity
• Top Banana
• The Unsinkable Molly Brown
• West Side Story
• The Wizard of Oz
• Ballet Folklorico de Mexico
• The Nutcracker
• Come Back Little Sheba
• Journey to Jefferson
• Three Sisters


1990/2000s


• Alegria
• Bring in 'da Noise, Bring in 'da Funk
• Dralion
• Quidam
• Rent
• Sunset Boulevard

Las Vegas, 22 performances
• Blue Man Group
• Criss Angel
• de la Guarda
• EFX
• Enter the Night
• Folies Bergere
• Imagine
• Jubilee
• KA
• Lord of the Dance
• LOVE The Beatles
• MADhattan
• Mystere
• Notre Dame
• 'O'
• Phantom of the Opera
• Siegfried & Roy
• Starlight Express

London, 5 performances
• Aspects of Love
• Blood Brothers
• Cats
• Miss Saigon
• Starlight Express

Los Angeles, 3 performances
• Aladdin
• Fosse, Dancin'
• Porgy and Bess

New York City, 123 performances
1975-2004, Backgammon
• American Buffalo
• Bubbling Brown Sugar
• Cats
• Chicago
• A Chorus Line
• The Elephant Man
• Equus
• Ernani
• The Fantasticks
• Fifth of July
• Follies
• 42nd Street
• Grand Hotel
• Grease
• Into the Woods
• Kiss of the Spider Woman
• Les Miserables
• The Lion King
• My One & Only
• Pacific Overtures
• Pippin
• Shenandoah
• Your Arm's too Short to Box with God
• Will Rogers Follies
• The Wiz
1981-2008, Student Study Tours
• Aida
• Alegria
• Barnum
• Blue Man Group
• Chicago
• Corteo
• Hairspray
• Jersey Boys
• The Lion King
• Mamma Mia
• Movin' Out
• Phantom of the Opera
• Rent
• Spamalot
• Spring Awakening
• Tap Dogs
• Urinetown
• Varekai
• Wicked
2004-2016, Apartment
• The Addams Family
• Aladdin
• Altar Boys
• American in Paris
• August, Osage County
• Avenue Q
• Beauty and the Beast
• Big Fish
• Billy Elliott
• Bloody Bloody Andrew Jackson
• Boeing Boeing
• Bombay Dreams
• Bonnie & Clyde
• The Book of Mormon
• Boy From Oz
• A Chorus Line
• The Color Purple
• Curtains
• Dirty Rotten Scoundrels
• Doubt
• The Drowsy Chaperone
• Evita
• Fame Becomes Me
• The Farnsworth Invention
• Ghost
• Good Vibrations
• Gypsy
• Hair
• Harlem Song
• How to Succeed in Business
• I Am My Own Wife
• In the Heights
• The King and I
• Kinky Boots
• Kooza
• Legally Blonde
• Lennon
• Light in the Piazza
• The Little Mermaid
• Mary Poppins
• Memphis
• Newsies
• next to normal
• Ovo
• Pilobulus
• The Pirate Queen
• The Producers
• Putnam County Spelling Bee
• Quidam
• Radio City Rockettes Christmas Spectacular
• Satyagraha
• Shrek the Musical
• Something Rotten
• Spiderman, Turn off the Dark
• Spring Awakening
• Sweeney Todd
• Tarzan
• 39 Steps
• Totem
• The Wedding Singer
• West Side Story
• Wicked Backstage
• Wintuk
• Wonderful Town
• Xanadu
• Zarkana


2015 - current


• Beetlejuice
• Finding Neverland
• Groundhog Day
• Hadestown
• Moulin Rouge
• My Fair Lady
• New York New York
• The Play that goes Wrong
• Shucked

Oklahoma, 8 performances
• Bullets over Broadway
• Carousel
• Cats
• Hadestown
• Hamilton
• Saltimbanco
• Toruk
• South Pacific
University
• Aspects of Love
• Company
• Hair
• My Fair Lady
• Peter and the Starcatcher
• Pippin
• Sunset Boulevard
• Working



Cirque du Soleil, 22 performances
• Alegria
• Corteo
• Dralion
• KA
• Kooza
• La Nouba
• LOVE The Beatles
• Mystere
• 'O'
• Ovo
• Quidam
• Saltimbanco
• Toruk
• Totem
• Varekai
• Wintuk
• Zarkana



Concerts, 22 performances
• The Beatles - September 18, 1964, Dallas
• Dave Clark Five - December 7, 1964, Dallas
• Rolling Stones - November 21, 1965, Dallas
• Beach Boys - December 26, 1964 or July 23, 1965, Dallas
• Beach Boys - Febuary 11, 1969, Austin
• The Animals - 1965, Dallas
• Three Dog Night - 1969/70, Austin
• Cat Stevens - 1970s?, Ft. Worth
• Baldknobbers - with Shoji Tabuchi, April 1981
• Phoebe Snow - 1980s, Dallas
• Michael Jackson Victory Tour - July 13-15, 1984, Texas Stadium
• Yanni - 1980s?, Dallas
• Andreas Vollenweider - 1980s?, Dallas
• Philip Glass - October, 1988, Dallas
• Mannheim Steamroller - Oklahoma City
• Andy Williams - August 1999, Branson
• nSync - July 28, 2001, Las Vegas
• Steely Dan - June 13, 2007, New York City
• America - September 21, 2013, Oklahoma City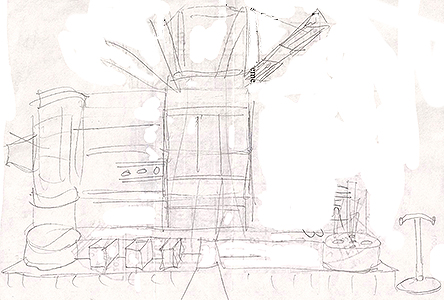 Broadway in Austin 2019 Bass performance Hall, Last 2 shows cancelled for pandemic

A few Broadway shows
Seen in New York City, 2006-12, reviewed by Jim Watson
• Broadway - theater with more than 500 seats and in the Theater District.
• Off-Broadway - theater with 100-500 seats, even if it is in the theater district around Times Square. Originally, productions that were more experimental, with smaller casts, produced on a lower budget, and typically in Greenwich Village and away from Times Square.
• Off-Off-Broadway - theaters with less than 100.

I had heard about a new musical from Disney last winter. Signs at the theater are often put up months before the show goes into previews to generate some buzz. The photo of the sign above is in Times Square and is 26 stories tall (the tallest building in OKC is about 30 stories tall.) I downloaded the soundtrack to Tarzan - with music by Phil Collins - and really liked it. I have enjoyed all the other Disney musicals so I figured I better see this one, also. I kept checking online for a ticket. It is selling out for the next few months, but tickets show up online periodically. I got a ticket, center orchestra, second row, on the aisle (my long legs need aisle room in the cramped Broadway theaters).
The opening sequence to this show is one of the most spectacular on stage. Before the curtain goes up, a projection of entries in the Captain's log is projected on a scrim at the front of the stage. The entries start off detailing nice weather and a nice voyage, then they get increasingly more ominous, ending in stormy weather. Behind the scrim is a drop of an outlined ship - this curtain rocks left and right conveying a sailing motion. Then the lights dim, lightning, thunder and it is the storm - an effect achieved with lighting and sound. Then we see the parents of the boy Tarzan drowning and swimming up and back away from us. The whole stage is lit as if it is underwater and the two actors are on cables that are hoisting them up. The effect was very believable. People were running for the lobby before they got drowned (okay, I made up that last part). But it was very convincing. Then we see a top view of the couple on the beach (which is the back wall of the set) and they are killed by the leopard, but the child is saved inside a trunk, to be discovered by the apes later. Great opening.
The aerial work of men and apes swinging thru the jungle was choreographed and produced by the creator of the aerial show De La Guarda, an innovative troupe from Argentina that performed in NYC and Las Vegas (where I saw it). Unfortunately, this show relied a bit too much on aerial theatrics. It was a visual stunner with 'dazzling special effects' but I left a bit disappointed - I had never quite gotten into the flow of the show. I was so fascinated with the mechanics of rigging, flying, and bungee jumping, that the story seemed secondary. The acting was excellent. The gorilla characters really mimicked the right moves and mannerisms. The music was good and performed well. The acrobatics and flying were almost overwhelming. Some came out over and behind my head and a few came along a wire from the back of the theater to the front, dipping periodically to just over the audience's heads.

After the show, I stuck around to listen to the orchestra (as I often do - to hear more of the music, to let the masses get out of the theater, and to see the stage set after the curtain is raised for the nite). This time, when I turned around, there were hordes of people coming down to the front and sitting down. I was aware of some special invitee-only presentations, so I sat down as if I had been invited (who would know?) I wanted to be as prospicuous as I could (the opposite of conspicuous). I'm glad I stayed. Apparently it was a large group (a hundred or so) of theater educators and theater students. The entire cast came out and sat or stood along the front of the stage. We heard great stories about the audition process and the many hours of classes in Yoga, Gorilla Movement, and Flying.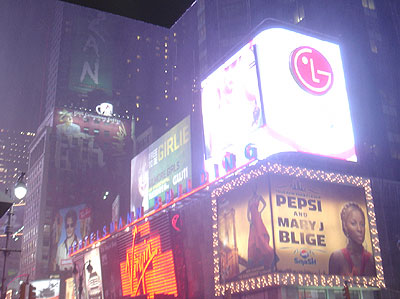 Towards the end of the Q&A, there was a loud thunderclap. People gasped. By the time we left the theater, it was a downpour. And it was stunningly beautiful. Times Square was awash in this incredible rainstorm. Loud thunder. Cracks of lightning. Gusty winds. Some had given up and were just walking and playing in the rain. I thoroughly enjoyed seeing Times Square in a whole different environment. It was laugh-out-loud joyous.
On Tuesday afternoon, July 25, a large record/electronics store sponsored Disney on Broadway, featuring a song from Beauty and the Beast, 2 songs from The Lion King, and several songs from Tarzan. I'm not sure Tarzan is getting great press and this may have been an attempt to build interest in that show. The concert was absolutely excellent. The sound system was powerful. The songs were the best I've ever heard them. It was a phenomenal evening - the park, the crowd, historic and modern buildings, the music, and the performances.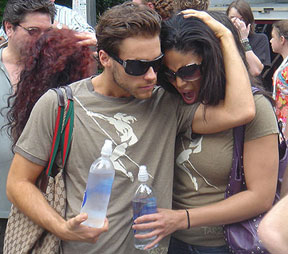 Opened in March 2011, The Book of Mormon is the story of two young Mormon missionaries sent to a remote village in Uganda, where a brutal warlord is threatening the local population. Naive and optimistic, the two missionaries try to share the Book of Mormon - which only one of them knows very well - but have trouble connecting with the locals, who are more worried about war, famine, poverty, and AIDS than about religion. In desperation, the more ignorant missionary (and with a more active imagination) makes up stories, things the people want to hear, and they become interested and choose to be baptized. The show ends with yet another new religion, one based on those made-up stories.
Granted, it is so easy to make jokes about the Mormon Church, Golden plates - that no one ever saw - buried in a backyard in upstate New York, men who can become Gods and rule their own planet, sacred underwear, men with multiple wives, and more. Even though the Mormon God cursed some people by giving them dark skin, in 1978, the Mormon Prophet got a new revelation from God that Black people were okay, after all.

Altar Boyz - the reviews and street-buzz for this Off-Broadway show about a Christian boy-band were very good. I thought I was out of my 'NSync phase (please don't ask), but I succumbed to the hype and bought a ticket. I'm glad I went. It was excellent - a lot of fun and very well done - a very enjoyable hour and a half of singing and dancing. The fotos here are of the OC. The cast I saw did better on some songs than the original on the soundtrack. I have witnessed that before - cast replacements that do better in the role than the originating actors. Sometimes, the show 'settles in' and finds its rhythm that the newcomer can embrace and enhance. The replacement cast in Spamalot did much better than the originals. Hank Azaria, David Hyde-Pierce, and Tim Curry are celebrities and movie and television stars, not musical comedy actors. The replacements fit the characters better and had more depth in the roles. I think the same holds true for Altar Boyz. This show seems to be desperately hanging on to the boy band phenomenon of Backstreet Boys, 'NSync, 98 Degrees, etc. There is a website called 'Altarholics' and a blog page on MySpace. There are references to a loyal following and all the background and promo hype that any legit boy band would have. They seem to be purposefully blurring the distinction between a musical group and a Broadway show. The show, in the guise of the band, went on tour - it played Austin and Dallas in January, 2007.
Jesus and the theater, For many years, actors were considered by the church to be heathens and undesirables. Actors and 'those nasty theater folk' were not welcomed inside most churches in Manhattan. Reasons, the large number of Jewish people in the theater that were looked down upon by the Christian community, the late hours kept by theater people, and the bawdy entertainment usually associated with live theater. When the Theater District was around Madison Square, one church did welcome actors and it became known as the Actor's Chapel and The Little Church Around the Corner. When the theaters moved uptown to the brand-new Times Square area, a couple of churches in the area were welcoming.
A couple of religious themed shows have been hits on Broadway, Godspell based on the gospel of Matthew and Jesus Christ Superstar, one of Andrew Lloyd Webber's early hits. Altar Boyz, while being very respectful and educational about Christianity, has several subtle slams against religion - the four lead Christian characters (Matthew, Mark, Luke, and ... Juan) are discovered to be greedy and selfish. Turns out, only the Jewish character, Abraham, maintains his righteous integrity.

In the Heights, about dreams, hopes, death, and tribulations of living in Washington Heights, in the northern tip of Manhattan (that's the George Washington Bridge in the poster and the stage set). It won the Tony award for Best Musical and it deserved it. It began as an original musical conceived by Lin-Manuel Miranda during his sophomore year at Wesleyan University. Upon graduating and returning home to New York, Miranda collaborated with the director to rework and restage the campus hit for a larger audience. It opened Off-Broadway, got rave reviews, and built an audience. It moved to Broadway. The direction and choreography are some of the best I have ever experienced - the choreographer also earned a Tony Award. In 2015, Lin-Manuel Miranda opened another show, Hamilton.

Legally Blonde was a hit movie was translated for the stage with music and dancing, but holding true to the screenplay. I was a bit concerned about this show - when I told people I was going to see it, there were snickers, like, 'Oh, another fluff movie-made-into-a-musical.' Once I got to my seat, I was surprised to see that the Palace Theater was only about half full in the mezzanine and balcony (I didn't check the orchestra section - hopefully it was fuller). I'm not sure this show is earning much respect. The Wedding Singer went through something similar - an excellent production but it was never taken seriously by the New York theater crowd. But, it was a good show, not great, but a good solid evening on Broadway. Individual performances were outstanding, the choreography and direction were excellent - some of the most original and best performed dancing. The sets were designed by David Rockwell who has done some hit shows but his work is too clunky, not quite polished and sophisticated enough for Broadway. I was in awe of the sets at The Pirate Queen and wishing that Rockwell could learn from Eugene Lee who has extensive experience designing sets. Legally Blonde was nominated for 7 Tony awards, including Lead Actress, Featured Actor, Featured Actress, Choreography, and Costume design. Opened, March, 2007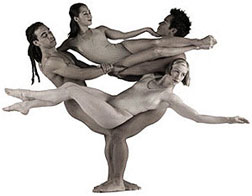 My birthday was coming up in a few days. I would spend it in New York. What to do? My mother usually made a big deal out of my birthday (mothers are supposed to do that). I had been thinking of her and dad - as I often do while in New York - so decided to get a ticket to a dance concert. I saw in the paper that a dance troupe called Pilobolus was playing NYC. I had heard of them and their avant garde pieces for many years. So, this was the time to finally go see them.
The Joyce Theater was designed to be a showcase for dance. It sits inside the shell of the 1940s era Elgin Theater, a moviehouse that saw later life as a porn house. The naberhood wanted porn out, so the Joyce moved in. It is an excellent theater - very simple, but with good use of materials, lighting and good sightlines and acoustics. Often, dance pieces are performed with no set, just a black or white backdrop and dramatic side lighting. This was an excellent performance of old and new pieces within the Pilobolus repertoire.

The Pirate Queen, from the creators of Miss Saigon and Les Miserables, is a $16 million production with a cast of 42. It is in the Hilton Theater (formerly the Ford Center theater) which is new, large, and with good legroom. This theater was formed from the shells of two old theaters - the Apollo (where I saw Christopher Reeve in Fifth of July) and the Lyric theater. They had entrances on 42nd and so went through their porno-house phase. Now its classy and first-rate. This is one of the most lavish and visually rich shows I've seen. The sets, costumes, and lighting were excellent. The music is quite operatic and not too memorable. Not a single melody stuck in my head. This show didn't make it, maybe because of the slow pacing, the mediocre music, and the lack of surprise and emotion. We know the pirate queen will win and that she will fall in love and be with the one she wants at the end. Yawn.
The Pirate Queen opened on April 5, 2007 and closed on June 17 after a disappointing run of just a few weeks. It was critically savaged during its out-of-town previews and, despite an extensive revamp, also when it arrived on Broadway. It is one of Broadway's costliest flops, coming in at a reported loss of $16 million. The producers plan to rework the show and tour it in Europe to try to get some of their money back.

The 25th Annual Putnam County Spelling Bee started as a play entitled C-R-E-P-U-S-C-U-L-E (the period of partial darkness at the beginning or end of the day) performed by an improvisational group. A playwright, Wendy Wasserstein (The Heidi Chronicles) encouraged the producers to turn it into a full-length musical. It was workshopped in Massachusetts and first performed in a school cafeteria. It then moved to Off-Broadway where it quickly sold out its run and was extended. Buoyed by that success, it premiered on Broadway on April 15, 2005 and won 2 Tony awards.
Six young people in the throes of puberty, overseen by grown-ups who barely managed to escape childhood themselves, learn that winning isn't everything and that losing doesn't necessarily make you a loser. A quirky yet charming cast of outsiders for whom a spelling bee is the one place where they can stand out and fit in at the same time. Audience members are recruited to join the on-stage spellers, providing hilarious and unexpected experiences. Spelling Bee is hilarious - clever, witty, topical dialog; mediocre music; interesting set and staging.

Xanadu, with a score by pop-rock legends Jeff Lynne and John Farrar, includes, Magic, All Over The World, Suddenly, I'm Alive, Evil Woman, Have You Never Been Mellow and Xanadu. It's based on the cult movie which starred Olivia Newton-John and Gene Kelly. I had read about the advance press notices. There was a slight air of disdain about another musical made from a movie, and a bad movie, at that. But then, it opened and the reviews came in. They were positive, some even raving that it was a solid hit show. So, I got a ticket. I rented the movie from 1980 to get a sense of the synopsis. I had read the 1980s reviews that stated this was a terrible movie, just awful. But I watched it anyway. Holy shit, it really is a terrible movie - ridiculous dialog, bad acting, weak convoluted plotlines. But I already had a ticket and the press for the Broadway version was good. It rained that day but I got to the theater early enough to dry off. It is in a small theater with some audience seating up on the stage and the band/orchestra on a platform in a far corner of the stage. Not a large performing space but the cast used the on-stage aisles and behind the seating rows. This show is hilarious, well-written, and well acted. Just a hoot. I laughed hard and long. This show is just fun. Who woulda thunk it? It works. Opened, July 10, 2007

Spring Awakening takes its inspiration from one of literature's most controversial masterpieces - a work so daring in its depiction of teenage self-discovery, it was banned from the stage and not performed in its complete form in English for nearly 100 years. Setting, Germany, 1891 - a world where the grown-ups hold all the cards. The students contend with sexuality, failure, suicide, pregnancy - you know, typical stuff - but in an environment of strict oppression from the school headmaster, teachers, and parents. The friends need each other to help them understand what it means to grow up. The show originally was off-Broadway but it built an audience and some good word-of-mouth, so the producers moved it to Broadway and enlarged the show - more singers, larger set, etc. It opened in December, 2006. The cast is superb, all younger than 24 - some even began as young as 14 when the show was being developed in workshop. Opened, December 10 2006

The Wedding Singer - I was wandering around the South Street Seaport and saw the Half-Price Ticket booth. This is operated, with its sister booth in Times Square, to sell tickets to Broadway shows on the day of the show. Theaters that have tickets remaining make them available at these two locations. I thought, why not. I had read that TWS was a hit show, with several Tony nominations including one for Best Musical - so, it seemed a bit odd that it would already be at the half-price booth. Turns out, someone had just turned in their tickets and I got one of them - a great seat, Orchestra section, third row from the stage, and on the aisle. I had plenty of leg room and a completely unobstructed view of the stage. The show was clever, well acted; with good music and very well crafted with great attention to detail. There are many references to the 1980s - 'Where's the beef?' 'Whachoo talkin bout, Willis?' and on and on. Linda, "I learned my lesson, when I applied to DeVry, I needed a back-up school."

Evita with Ricky Martin, is about the rise to power of the First Lady of Argentina, Eva Peron.



www.jamesrobertwatson.com/shows.html