A car mask rack


I keep 3 Covid masks in my car - for different environments and looks (beige, black, and a grey stripe pattern). After a few months of throwing my mask onto the passenger seat, the seat was looking sloppy and when I put another item on the seat, it would crush a mask or cover them up. I needed to get the masks off the seat.



Solution


Hanging them off the mirror wasn't great - there were 3 of them and they would block some of my view. I explored an elastic belt that goes around the seatback and has 3 hooks attached. I bought some elastic at a craft/fabric store and ordered the hooks from Amazon.





Advantages


• Convenient storage of masks. Can be installed facing forward or the belt slid around back (or easily removed) to allow seating. I'm not sure the band needs the buckle - but, the buckle would make it more adaptable to a variety of seat widths.
• Allows masks to dry out.
• Allows masks to stay isolated from other objects on the seat for better isolating/sanitizing.
• The mask rack allows easy selection and storage placement.
• The black color of each component matches the seat upholstery and car interior.



Fun activity


Say out loud, Mask Rack, 3 times real fast. If you can say it 3 times correctly, you might not be speaking fast enough.





Timeline


• March 11 2020: NBA canceled games, began Safer-at-home era
• Phase 1: Senior facilities closed, playgrounds closed, First Responders replaced Essential Workers
• April: Wear mask in close public
• April 17: Develop Covid case: face mask, hand sanitizer, sanitizing wipes, and water bottle (so I don't have to touch a water fountain). I used an existing small carry bag and kept the Case by the door so I could grab it as I left the house.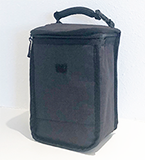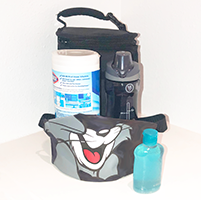 • May: Restore lunch, coffee, dinner with friends (sat outside)
• May: Playgrounds open, restraunt interiors open
• May 25-26: Made Face Mask - I considered drawing a mouth or skeleton teeth on the standard mask. Frank thought of the notion of printing mouths from classic artwork - Mona Lisa, American Gothic, David, Migrant Woman, etc.



At Walmart, I noticed kid's teeshirts with cartoon icons - Mickey, Donald, Goofy, and Tom & Jerry. I bought 2 shirts and took them to Gail to sew in the 'bra' style mask. I bought elastic bands and clasps to go behind the head - the over the ear elastic was uncomfortable. Then I assembled the parts with super glue and blacked out parts of Tom & Jerry to emphasize Tom's mouth.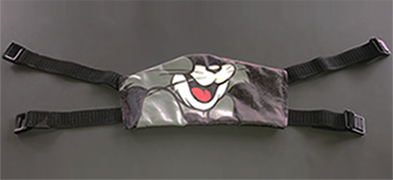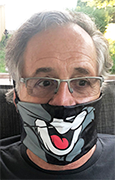 • May 29-30: Made Face Shield A face shield makes sense - the mouth is visible to aid hearing comprehension and breathing is freer. Most shields look too 'medical' or industrial. I adhered an acetate shield to a visor (cooler in the summer). Velcro is repositionable and adaptable to different sizes of shields, and removable to restore a normal visor. Online, I bought a black visor with no visible logos, brands, or decorations and acetate sheets from Michael's.
Below right: Also a version with no visor and in a color that sorta matches my skin.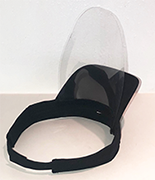 • November - January 2021: Frustration with storing masks in the car.
• Febuary 8: Idea; Ordered hooks, bought elastic and buckle.
• Febuary 12: Built prototype, tested in car.
• Febuary 15: Introduced the Car Mask Rack.
• May 7: Noticed name-brand masks on subway ad:




https://www.jamesrobertwatson.com/maskrack.html