Childhood and adult building blocks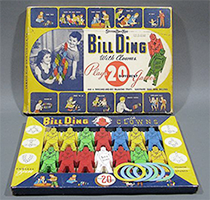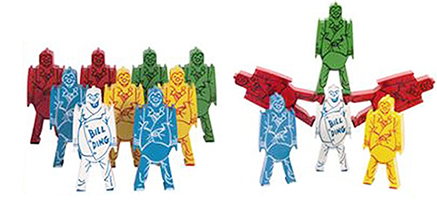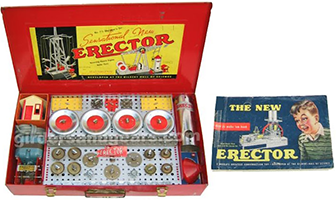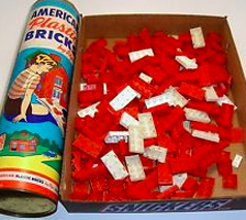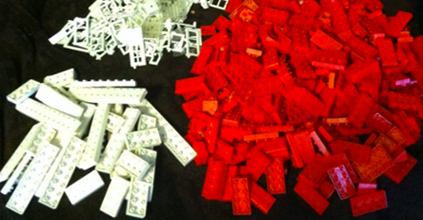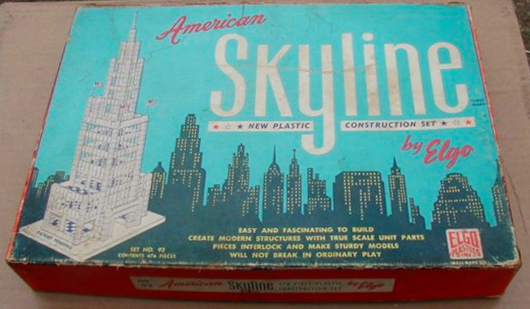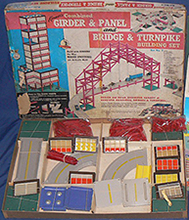 A few models made with Lego bricks


As a kid, I had many sets of construction sets, but never Legos - they were just gaining in popularity about when I was outgrowing building blocks.
In 2014, I finally became addicted to the building blocks as a 'kid' in my mid-60s. I was working on the branding for JRW consulting and explored the option of building the logo out of Legos (a Lego Logo). I ordered hundreds of blocks from the website and had fun snapping the blocks together.



The JRW Lego logo


Legos, from the Danish leg godt, meaning "play well," and one of the simplest and most iconic toys, were created by Ole Kirk Kristian-sen. Early Lego "Automatic Binding Bricks" were hollow and could only be stacked (not locked together). They've twice been named "Toy of the Century".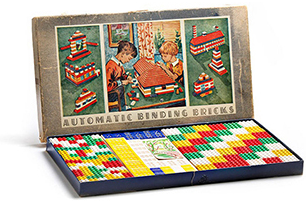 Lego bricks are beautifully engineered with very tight tolerances. The snap when sticking blocks together is quite satisfying. The first project was to build my logo out of Lego bricks: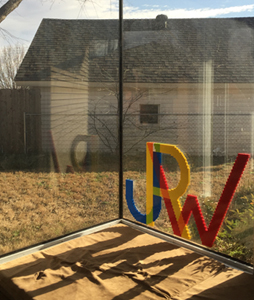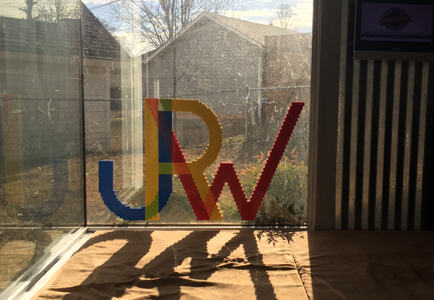 From the Architecture Studio


After building my logo out of Legos, I got hooked on the blocks. I was tempted to get the Architect's Studio once at Barnes & Noble in Union Square - it was on sale but still expensive. I vetoed the notion at that time. Not long after that, I splurged and ordered the Architect's Studio online. The blocks are either white or clear, no other colors.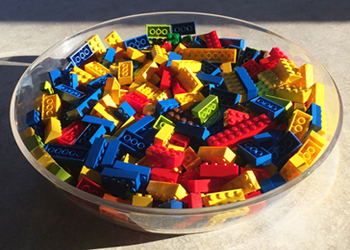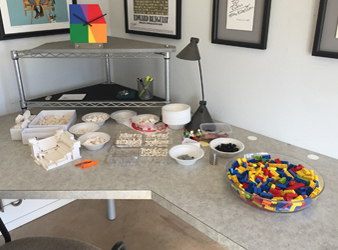 A Broadway Theater

That's a ballroom, cabaret theater, or restaurant above the seating area. A marquee is on the front wall. The ubiquitous NYC water tower is on the roof.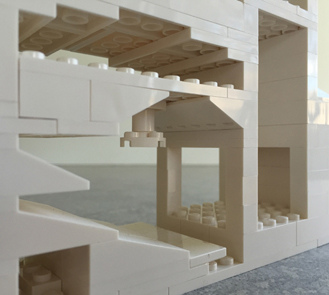 A stadium with Party Decks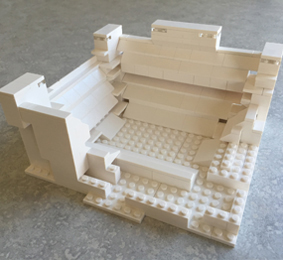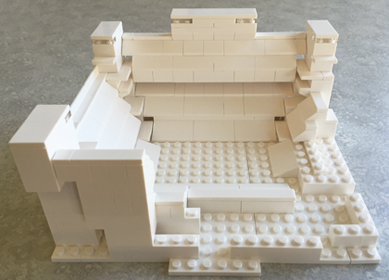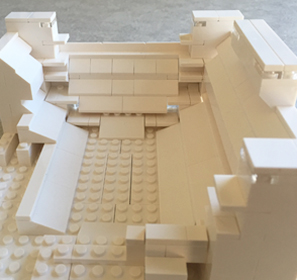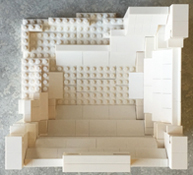 An intimate thrust theater or theater-in-the-round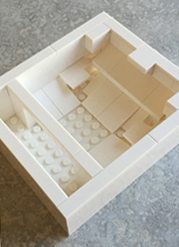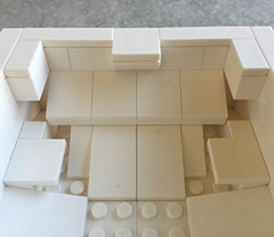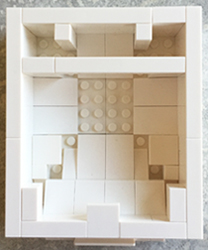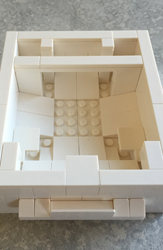 Grandstands for a major parade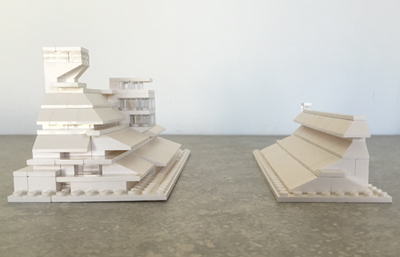 Lego Therapy


Because I ordered hundreds of dollars of bricks from the website, Lego had me on their mailing list. I regularly received the catalogs and perused them at the table while eating (I love to read stuff while I eat). I had admired the series of Victorian era buildings that might line Main Street in a Disney park. They were a bit too expensive for casual purchases. But, after selling a Manhattan apartment and while Manhattan, my favorite dog, was living with a terminal aggressive cancer, I needed a diversion. I had become a canine caretaker and stayed home a lot to feed and med dose the dog. Another catalog came. Uh, oh, now may be the time to order one and see how I like it. The kit arrived in just a few days and, I loved it. I was hooked. I set up a work area in the office and immersed myself in construction. The detail and engineering was impressive and surprising. Manhattan would lay on her bed in the office and watch me work. She stayed by my side a lot at that time. As the time to put her to sleep approached, I drove in the rain to the mall to buy a second building set. I worked on it that night. The next morning, she took her last nap. As therapy for grieving, I continued to work on the model. And bought 4 more sets.
Months later, in September, I needed more therapy - I had total shoulder replacement surgery. The Lego kits gave me projects to work on that could do with 1.5 hands.
The therapy, while successful, led to another affliction - SALA. Severe Adult-onset Lego Addiction. I don't plan to seek treatment, medicine, or therapy for my case of SALA.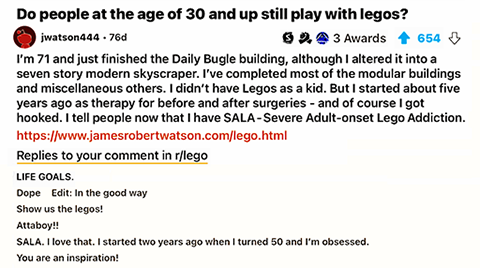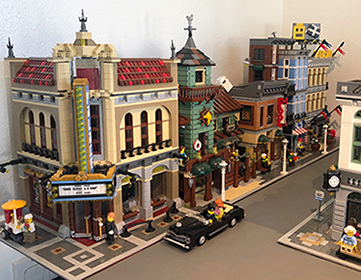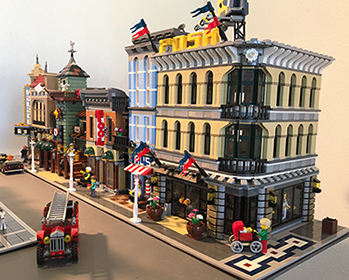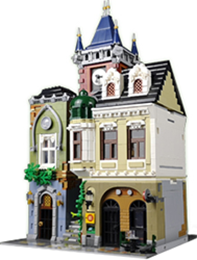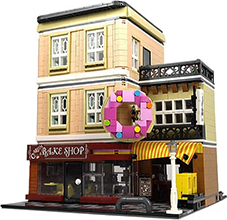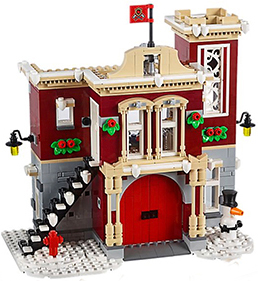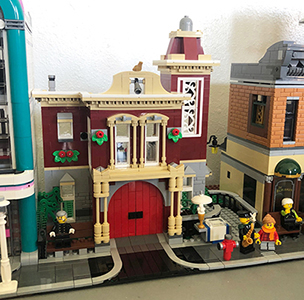 I transformed the Fishing Store (above e left) into a modular Sports Bar with a fishing theme.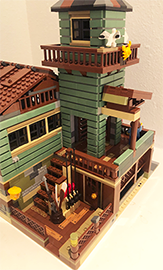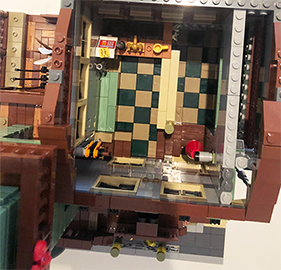 Interior rooms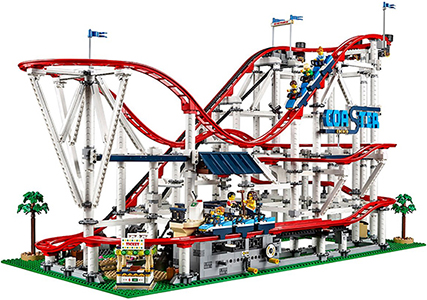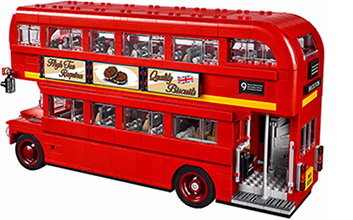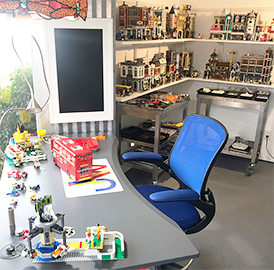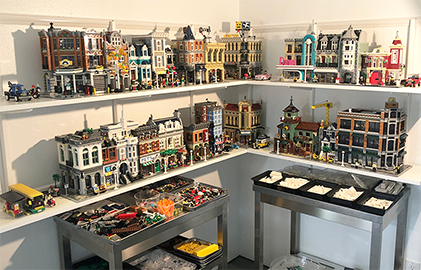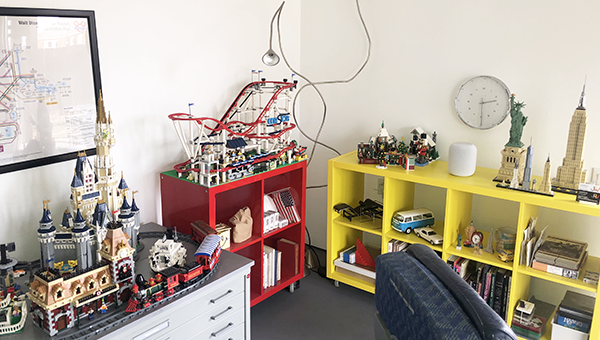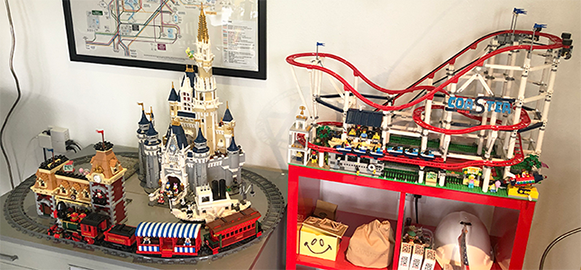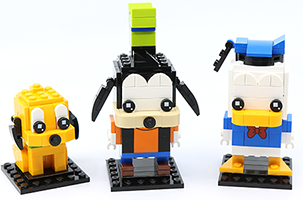 Apple Store MOC. I ordered the kit above left to get some appropriate pieces and stickers. Below: Incorporated the Apple glass front, blond wood tables, counters, and display wall.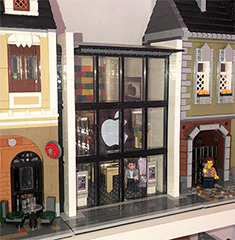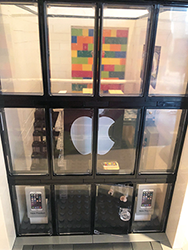 Remodeled Central Perk and apartments into a modular with open side for cameras and lights.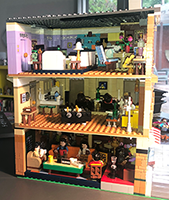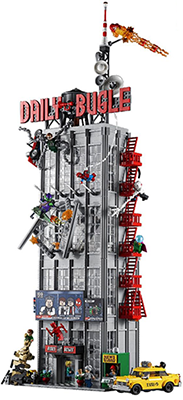 The Daily Bugle is featured in Spiderman and Marvel comics. To add it to the modular town, the cartoonish characters and explosions were a bit out of place. I transformed it into a mid-century mid-rise office tower. Major changes:
• Removed the fire escapes (those are more appropriate for older and shorter buildings. The railing pieces became a balcony rail and a rooftop crown.
• Moved the tower placement from the center of the modular base to a corner to create more room for a small plaza in front of the building. I also needed more corner pieces for the existing modular town.
• Removed the overly large sign and the massive water tank on top of the building.
• Turned the second floor around so the balcony faces front, creating a better streetscape and more human scale and helping the tower relate to the other buildings on the block.
• Changed 2 solid walls to glass window walls.
• Added more floors - changed some sections from 1 floor into 2 floors. Lobby is still extra tall.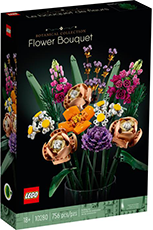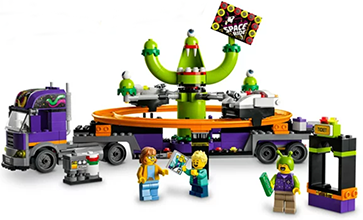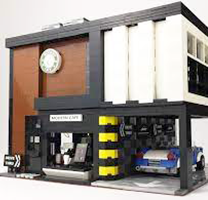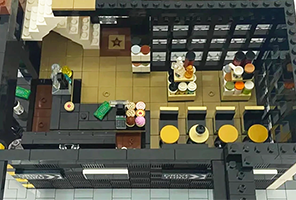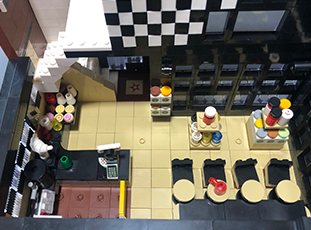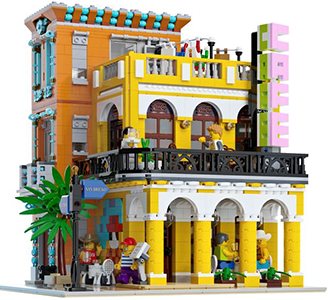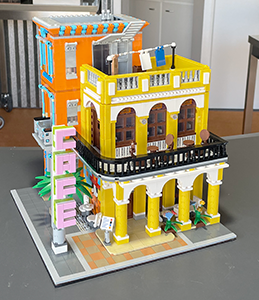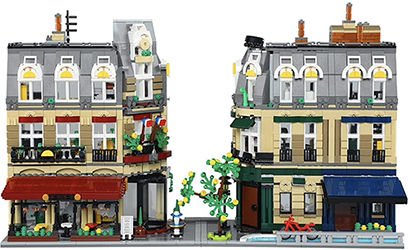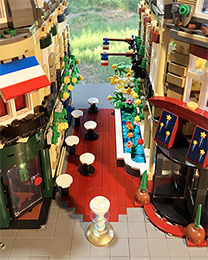 Project dates




2014


• JRW logo: Febuary-April; ordered online
• Architecture Studio models, seen at B&N Union Sq, bought at mall


2017


Manhattan surgery to remove tumor: November 2016
• Detective's Office/Pool Hall: January 4-7; ordered online
• Parisian restraunt: January 15-18; bought at mall on rainy Sunday, Manhattan's last full day
Manhattan died: Monday, January 16, 11:10a
Santa Fe with Brooklyn, Friday-Monday, January 20-23
• Palace Theater: January 24-25; bought at mall
• Brick Bank: January 27-29; ordered from car driving from Santa Fe
• Assembly Square: January 30 - Febuary 1; bought at mall
• Holiday Toy Shop: Febuary 3-4; bought at mall
• Pet Shop: March 21-23; ordered online after BrickExpo downtown
• Wine shop and crane: August 21-26; from China.
Shoulder replacement surgery 1: August 29-31
• Barnes & Noble/Starbucks: September 27-30; customized crane and cottage: November/December; from China.
• Nutcracker, City Bus, Holiday train station: December 3-5
• Winter Village, Santa and Rudolph: December 10-15


2018


• Diner: January 5-8; ordered online
• Newstand/Bus stop: January 30
• Bodega: May 14-30, customized; from China
• Posh Store: June 7-14; customized; from China
• Modern building parts: July; ordered online
• Old Fishing Store: October; remodeled into Sports Bar: November
• Holiday fire station: December; remodel: January 2019


2019


• Corner garage: January 11-14
• Disney Castle: March 8-16
Shoulder replacement surgery 2: March 12-13
• Roller Coaster: April 10-14
• Statue of Liberty: June 14-16
• Built display table, set up streetscape: June 29 - July 14
• Disneyland Train: August 29-31
• Disneyland Main Street Train Station: September 2-6
• Steamboat Willie: October 11-12
• UFO Carousel: December 24-25, queline: March 18-25 2022


2020


• Book Shop: January 18-19
• Food Trucks - Pizza, ice cream: Febuary 15-17, March
• London/Commuter bus: March 8-21, April
• Empire State Building: April 29 - May 1 (anniversary of building dedication, 1931)
• Old Pub: June 5-9; remodel: June 10-19, June 22-28
• Brickheads: Donald, Goofy, Pluto: June 19-20
• Bakery Coffee and remodel: September 18-22
• Corner Stores: October 22-27
• Teal 2 x 4 Brick, Desk Calendar: November 22-25
• Charles Dickens Book: Thanksgiving November 26
• Haunted House: Thanksgiving November 26-30
• 7-11 store (remodeled Bodega): December 18-20


2021


• Apple store China: January 15-16
• Apple store modular, MOC: January 19-25
• Police headquarters: January 26-30
• Botanical Garden: Febuary 7-11
• Bakery Coffee window, plaza seating: Febuary 8
• Friends Central Perk (Freeze therapy): Febuary 17-18; modular remodel: May 14-18; studio light truss: May 25-27
• Hotel Urge: March 14-19; roof terrace remodel: March 22-30
• Friends Apartments: May 30 - June 3; modular remodels: June - August 11
• Flower Bouquet, in Alto vase: July 27 - August 2
• Tulips, dog: July 27 - August 11-12
• Blacksmith shop: October12-17
• Daily Bugle: November 22-29; RG mid-rise tower: November 29 - December 4 & 22-28


2022


• Boutique Hotel: January 9-10
• Ferris Wheel: Febuary 21-22; queline: March 18-25
• Flower Bouquet 2: March 27-28
• Typewriter: May 7-9
• Space Ride Truck: June 23-24; remodel, queline: June 25 - July 4
• Ann's Art School: July 7-9
• Starbucks Modern Cafe: July 11-17; remodel ground floor: July 14; from China
• Loop Roller Coaster: July 24-29; purge excess pieces: July 30-31
• Bowling Alley: September 18-21, revised 21-24;
• Sanctum Sanctum: November 23-27
• Cube Modern house: December 10-13, revised 14-16; from China


2023


• Havana Coffee House: January 7-11
• Harry Potter: January 31 - Febuary 3, revised Febuary 1-3
• Recycle Truck: March 10
• Grimmauld Place: March 11-12
• Jazz Club: April 25-29
• Parisian Lane Cafe: June 25-30
• Christmas Store, Music Store: September 21-24
• Hocus Pocus: September 28 - October 3, fence landscape: October 7-9
• Disney camera: October 24-26

www.jamesrobertwatson.com/lego.html