Inventory of furniture, accessories, devices, and artwork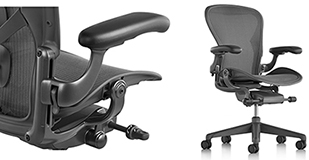 • Aeron Chair - Award-winning ergonomic chair by Don Chadwick and Bill Stumpf.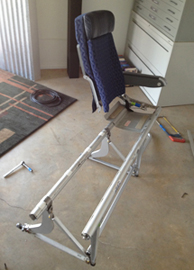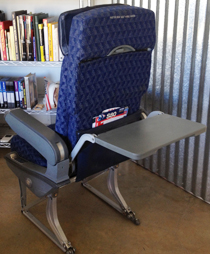 • Airline seat - A former student, Matt, works at the AmericanAirlines maintenance facility in Tulsa. He messaged that he could get some seats for free. I didn't even debate the merits, I immediately responded, Yes, I want some. I drove from OKC to Tulsa to pick them up, and we had a fun pizza lunch with some other former students. I got a set of 3 seats because I thought it would be cool to have the middle seat in coach, an icon of uncomfortable air travel. I put the seats in the house, against the angled wall, facing the television, almost like a row of theater seats. But, the exposed end of the seats was the end that butts up to the airplane cabin wall and is therefore unfinished (no end caps) and not too attractive and the set of 3 seats was just too big and dominant for the space. I moved them out to the office but they didn't fit well in there, either. Well, I'll just disassemble the 3 and create a set of 2. While planning that, I realized a single seat would be even better - it would fit better in the office and I have a connection - I often sit in a single seat on the NYC-OKC non-stop flight on an Embraer jet. I had to go to Lowe's Depot to get some specialized tools to fit some of the screw heads. I thoroughly cleaned the parts and was able to choose, from the original 3 seats, the best cushion and back sections.
• Aluminum chair - Dark green seat and back. I salvaged this from the trash outside a UCO dorm.
• Auditorium seat - Like those from Watson's elementary or junior high school. Spotted this at an antique store in Bricktown.
• Bar stools - Two brushed steel grid structured stools. In the NYC apt for a while - sold them to someone in the building.


• Barber chair - Restored, 1970s. I bought the barber chair from an individual in Dallas and restored it completely. My mother sewed the new upholstery. My friends and I used to get high and spin each other in the chair until the room spun. It was very heavy and a burden to move; I sold it later and, of course, wish I hadn't.
• Bertoia grid chair - By Harry Bertoia. Watson matched the blue cushion to those originally specified by Bertoia.



• Butterfly chair - With the original style welded frame, originally called the BKF or Hardoy chair after Le Corbusier alums Antonio Bonet, Juan Kurchan, and Jorge Ferrari Hardoy who created it in Buenos Aires, Argentina in 1938. A modern adaptation of Joseph Beverly Fenby's 1855 Tripolina chair (second above), the Hardoy is probly the most recognizable Latin American design. In 1940, after it was exhibited in Buenos Aires, the design curator Edgar Kaufmann Jr. imported two into the US - one to MoMA and one to his parents' Fallingwater house. Once the very successful chair was in the public domain, it spawned, by some estimates, 5 million copies in the 1950s alone.
• Bubble chair - (middle) Designed by Phillippe Starck, Design Dept office, 2002.
• Bubu stool - Philippe Starck - from France, 1991 - a dressing stool of orange polypropylene. Because it is top-heavy, I had a construction crew fill the legs with concrete.
• Caper Chairs - Winner of a 1999 NeoCon Gold Award for task/workstation seating, this Herman Miller chair was designed by Jeff Weber and Bill Stumpf (designers of the famed Aeron Chair). The seat and back use 100% recyclable materials and promote ergonomic flexibility and durability.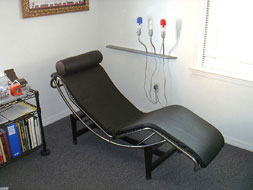 • Chaise lounge - Termed a 'relaxing machine' by designers Le Corbusier, Charlotte Perriand, and Pierre Jeanneret; produced in 1928; and inspired by on-deck recliners used on 1920s ocean liners.
• Chrome chair - Salvaged from the women's dorm at UCO, reupholstered in nifty red vinyl.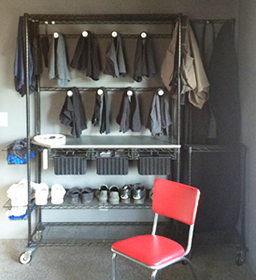 • Closet - Rolling MetroShelf unit that contains drawers, hanging rods, hooks, and laundry basket. Initially 1988 and altered many times since.
• Deck chairs - Of rustic wood post construction like those found in the National Parks of the west.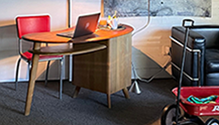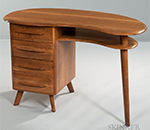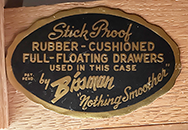 • Desk, biomorphic, 1950s - Designer Carl Bissman was a residential architect in Springfield MO prior to WWII.
After the war, he designed high-quality, walnut furniture. Gift of Betty Schmid.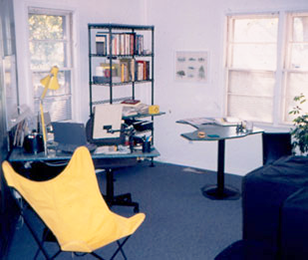 • Desks, freeform - Polygon tops with pedestal column supports.
• Desk, office - Huge built-in allows several projects to be out at one time along with a computer workstation.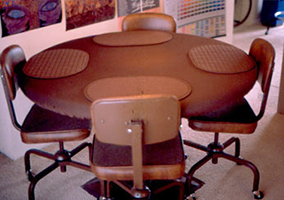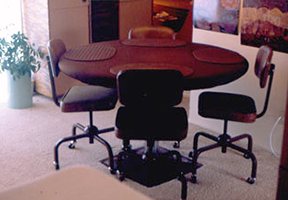 • Dining table - Custom-made with padded round tabletop and office task chairs, 1980s, Dallas.
• Eames molded fiberglass chair that began a new era in chair design and materials.
• Eames Plywood Lounge Chair - Experimenting in the 1940s with thin sheets of wood veneer formed under heat and pressure, Ray and Charles Eames put their design genius to work for the war effort making splints, stretchers, and glider shells. After the war, they adapted the technology to furniture making. Eames wanted this chair to have the warm receptive look of a well-used baseman's mitt. It was originally built just for their personal use, but it attracted the attention of others and has since become a classic icon of the international standard in modern furniture design. With a seat and back sculpted to fit the contours of the human body, it is in the permanent collection of the Museum of Modern Art, Time magazine named it the Best Design of the 20th Century.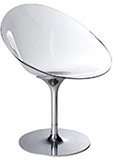 • Entertainment center - Metroshelf unit with architexctural detail top. 1990s.
• Eros chair - Phillippe Starck, Design office, 2002.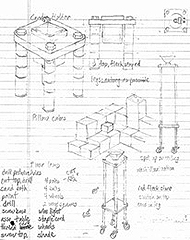 • Floor lamp - Designed by Watson (sketched at Battery Park City Marina, 1980s.
• Formal chair - Art Deco style wood and fabric. Bought at auction.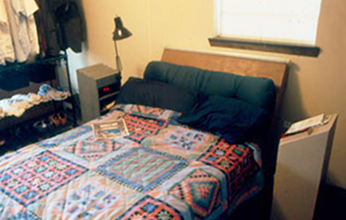 • Headboard 1 - Slanted Fleck Stone faux finish with 2 matching night stands. 1988.
• Headboard 2 - Sloped and attached to the wall, floats over the bed, and has 3 lites integrated into the surface. 1993.
• Green plastic table - Organic pedestal base used on the NY balcony, from Urban Outfitters.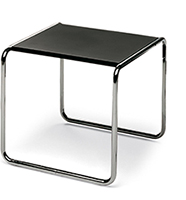 • Laccio Table - One of a set of nesting tables designed by Marcel Breuer of the Bauhaus in 1925. It reflects the experimentation the Bauhaus designers conducted with bent and chromed steel.
• Mag table - Designed by Eric Pfeiffer in 1999, a continuous sheet of contoured birch plywood performed double duty - it nested the floor pillows and formed a table surface for meals while watching TV, 1999.
• Magazine chairs - Design office, 2003.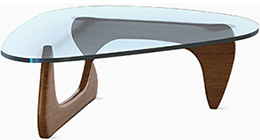 • Mid-century tripod floor lamp - 2021.
• Mini-Max exercise chair - 1994
• Mission style lamp - 2003.
• Mouse chairs - Design office, 2003.
• Noguchi Table - 1947, evolved from one designed in 1939 for the president of MoMA. The Herman Miller design team was so impressed by the table's use of biomorphism that they recruited Isamu Noguchi, 2021.
• Octagonal table - An office conference table to reflect the built-in desk.
• Parson's table - With director's chairs, 1970s, Dallas. Built by Jim and covered with laminate.
• Patio metal chair, 1950s. Bought at a Groj Sale for $5, thoriughly cleaned, hardware replaced, and painted.
• Pavilion Chair - Designed by Mies van der Rohe for the 1929 International Exhibition in Barcelona, Spain. The design is based on the classic scissors-shaped chairs that symbolized power in ancient cultures.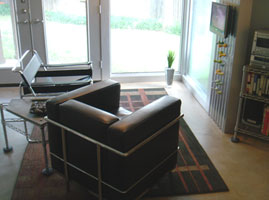 • Petite cube chair - Designed by Le Corbusier in 1928; conveying the ideals of the Bauhaus and the International Style and based on theory of functionalism in response to the decorative Art Nouveau and Art Deco fashions. Corbu made a major impact on the development of modern architecture and furniture design.
• School desk/chair - Antique store, 1970s, Dallas.
• Ronde Chairs - Designed by Aldo Ciabatti, a familiar sight in cafes throughout Europe. Made of tubular steel and sheet-metal fabric mesh. Two simple arches swoop gracefully to serve as both legs and armrests.
• Quovis Tables - Satin-finish stainless steel units and a large work table that doubles as a dining table when necessary.
• Sacco chair - (Bean Bag Chair) based on the original 1968 Sacco chair from Milan, Italy, by Piero Gatti and Cesare Paolini.
• Shelf and table furniture - Black or aluminum industrial shelving with table and desk tops, made by Watson, in faux stone/broken granite style.
• Sofa units - Designed and built by Watson, 22 seating units provide visual unity and flexibility for sitting and reclining in a variety of positions. These units align with the height of the dining, end, and coffee tables; providing order and unity. They are covered in a loose black canvas.
• Thin Edge Bed - Designed by George Nelson as part of the Case Study House program of 1949 sponsored by Art and Architecture magazine. Cherry wood with a solid foam mattress, it is oriented in the room to show off the graceful biomorphic brackets that support the headboard.
• Thonet Brothers bentwood side chair of the late 1800s is one of the most widely produced chairs of all time. Procured this from a former cafe/bar in Dallas.
• Tulip table and chairs designed by Eero Saarinen in 1955-56. Saarinen felt that a designer should seek the solution in terms of the next largest thing. If the problem is an ashtray, then the way it relates to the table will influence its design. If the problem is a chair, then its solution must be found in the way it relates to the room. He designed the pedestal Furniture, not because he was thinking about that particular shape, but because he was thinking of the environment that would contain them. "The undercarriage of chairs and tables in a typical interior makes an ugly, unrestful world," Saarinen said. "I wanted to clear up the slum of legs. I wanted to make the chair all one thing again." A standard dinette set would have 20 legs; the Tulip set has just 5 legs. The pedestal legs minimize stubbed toes and banged knees.
• Wassily Chair (original name: Club Chair B3) designed by Marcel Breuer in 1925. Created and later named by Knoll for his Bauhaus colleague, Wassily Kandinsky. It is the first piece of seating furniture in the history of design to be made from seamless precision-drawn tubular steel. Chromed steel and leather seat, back, and armrests; it has strong sparse lines and animated character.



Accessories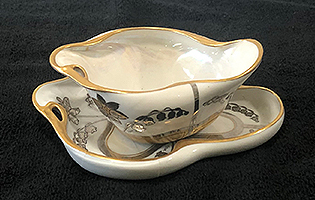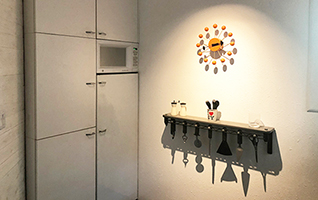 • Art Nouveau bowl & saucer - From my grandmother Watson's house in Madison. Exquisite Nouveau styling.



• Asterisk Clock
• Ball Clock - Each of a series of clocks designed by George Nelson (1908-1986) and produced in the 1950s. It typifies the progress and economic boom of the times. Nelson sought to bring modern design into the American home. An early environmentalist, Nelson's ultimate goal as a designer was "to do much more with less." As he tells it: "And there was one night when Isamu Noguchi came by and Bucky Fuller came by. Noguchi, who can't keep his hands off anything - it is a marvelous, itchy thing he's got - he saw we were working on clocks and he started making doodles. Then Bucky sort of brushed Isamu aside and said, "This is a good way to do a clock," and he made some utterly absurd thing. Everybody was taking a crack at this, making scribbles. At some point we left - we were tired and we'd had a little bit too much to drink. The next morning I came back, and here was this roll of paper. I looked at it, and somewhere in this roll there was a ball clock. I don't know to this day who cooked it up. I guessed that Isamu had probably done it because (he) has a genius for doing two stupid things and making something extraordinary, out of the combination, (or) it could have been an additive thing, but, anyway, we never knew."
• Bauhaus clock designed in 1957 by Max Bill (1908-1994), Swiss artist, architect, and sculptor, and designer. Bill was a product of the Bauhaus generation; pupil and kindred spirit of Walter Gropius, le Corbusier, and Mies van der Rohe. He was a proponent of the International Typographic Style of graphic design - a look that is still significant today for its uncluttered line and layout and emphasis of clear communication. His work is characterized by clarity of design and precise proportions. On the clock, the minute hand points to a ring of numbers for the minutes while the shorter hour hand points to a separate ring of numbers for the hours.
• Bed Cover - 1933, designer: Lilly Reich (working out of the Berlin office of Mies van der Rohe) for the E 52nd St apartment of architect and MoMA curator, Philip Johnson.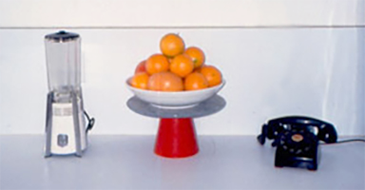 • Blender, Waring rocket - Made in 1937/1938 by the Winsted Hardware Manufg Co, Winsted, CT.
• Book shelves - At the International Contemporary Furniture Fair, May 2006 at the NY Convention Center, I saw in the Umbra display, a stack of books sitting on a new product, called the Conceal Shelf. It works with a lip to hold the bottom book cover and a horizontal shelf part hidden inside book. Nice, but I wanted a shelf just for a book or two and even a clock or lamp. I looked in several stores and saw the brackets that are simply metal rods or dowels sticking out to hold glass shelves. I made the connection: cut a hole inside of book pages and slide the book over the rod. The support rod is completely hidden and the book becomes the shelf - hence the name - Book Shelf. In Home Depot, I was about to buy the brackets when realized this could also replace the nitestand by the bed. A series of Book Shelves mounted on the wall next to the bed. Eureka. I wanted to go home and work this out before buying the brackets.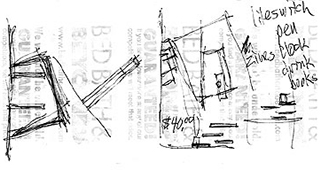 Riding the subway home I got pretty excited about the idea - so, I pulled out the only paper I had - a receipt from Bed Bath & Beyond, and started sketching to get my thoughts down on paper. I started to work out the details - how many books/shelves, the layout arrangement, list of items that will go on the shelves, etc. Maybe a magazine to hold magazines? Maybe cut the books at the angle of the carpet tiles? I had previously experimented with angle cuts on a table top mat and the dog bowl floor mat. I liked the idea of mixing the angles - the book shelves would align with the grid of the carpet yet be cut to be positioned up against the wall. I have a bedside clock that projects the time on the ceiling. I realized this would not allow the shelves to be stacked and aligned vertically because I didn't want the clock to be on the top shelf (too predominant). Placing the clock on a lower shelf necessitated the random asymmetrical layout of the three shelves.
Now to find the right three books. Strand Books is a New York institution - near Union Square, its an old musty book store, crammed with new and old books, people browsing and jostling through the aisles. I was reminded of Strand when I saw their kiosk at Central Park. I remembered the Strand Annex downtown, not too far from the apartment. Once there, I looked thru the dollar books (investing 3 dollars for the shelves would be a great bargain). Alas, I found no books large enough. I had determined three preliminary goals for the book selection: big, cheap, and some relevance. Then in the religion section, I found a large book on The Story of Jesus and it was only $10. I could handle $10. I had accepted that the dollar per book deal was out and I would have to pay to get the effect I wanted. At $10, the total would still be only $30 - cheaper than any shelf at a store. Then nearby I found The History of Islam. What a kick, now if I could find a large book having to do with Hebrews or Judaism, then that could be the theme - the world's major religions, especially as a nitestand for Jim Watson. But I couldn't find a large book with a Jewish theme for less than $20. I wasn't willing to spend quite that much. I also realized that this theme would be fun for a while - quite ironic to have religious books as reading matter, but I would likely tire of looking at those spines day after day. No, I needed something better. So, I kept looking. Maybe a theme of Design. So over to that section. Whoa, too expensive. I did find a large inexpensive book on Frank Lloyd Wright. Cool. After browsing lots of shelves and tabletops, I saw a large book called Stuff and Nonsense. What a great title and a fitting for my apartment. Then the thought - what about a New York theme. Over to that section. There were several coffee table size books, some of them cheap. One was too thin to hold the brackets, however. I also saw a collection of books all in grey covers. Maybe? A consistent color in the shelves. No, that would stray too far from the concept of having it look like three random books protruding from the wall supporting other books and magazines. I went back to what I had already - the book on Frank Lloyd Wright, Stuff and Nonsense, and for the third, a book on New York City. Good assortment. Done.
So far, I had the idea pretty solid in my head, a few rough sketches, the brackets, and three books. I bought the bracket/rods at Home Depot. The first step was to cut the books - the angle to respect the carpet grid and the cavity inside to hold the and conceal the support rods. I used stacks of foam mounting tape to hold the bottom of the book up against the book cover and to provide some snugness to embrace the rods. It was a bit weird to cut up books, but I reminded myself that they were bargain books - there were several more if I really wanted to go back and buy a virgin book and they were in the bin of leftovers of books that had been picked over and rejected by many people. I read each of the books (the Stuff and Nonsense book was just, well, nonsense stuff). I had put up three strips of tape in the bedroom to begin to determine placement of the shelves. I knew by this time that the bottom shelf would hold the alarm clock - I wanted to hide its electrical cord as much as possible and this would be the least visible. This bottom shelf would also hold a notepad, pen, and coaster for a glass. Therefore there needed to be space above the left side for the clock and glass. Inspiration: May, 2006; Design: June 16-17; Production: June 18-19.
• Bullet planter - Original 1950s white fiberglass, inspired by space age fascination: Sputnik and rockets.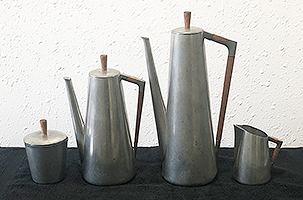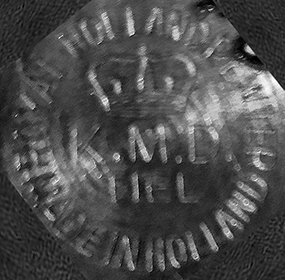 • Coffee/tea set - Pewter with walnut handles. Royal Holland Pewter, Made in Holland, K.M.D. (Royal Metal Industry), Tiel (city in Holland).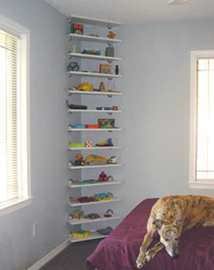 • Corner shelves - I donated all the puzzles and mind games to a school teacher to use in her classroom.v
• Dog bowl and vase - A dog bowl, raised for better eating, in a Karim Rashid vase.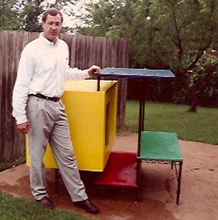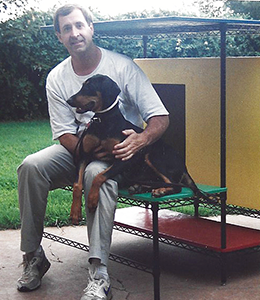 • Dog house De Stijl
• Dragonfly - Tiffany-style stained glass task light.
• Drinking fountain sink - Watson wanted a shallow basin, a small protrusion from the wall, and no visible pipes underneath. No residential sinks fit that criteria. On a visit to an office building, he saw a drinking fountain and realized, "there's the bathroom sink!" Unable to track it down locally, he ordered it from the manufacturer.


• Dyson Air Multiplier - This new unconventional fan, from the inventor of the Dyson vacuum cleaner, draws in air and amplifies it - 15 times greater. With no blades or grille, its safer and easier to clean and it produces an uninterrupted stream of smooth air, with no unpleasant buffeting.
• Dyson vacuum cleaner - James Dyson, 1983.
• Eames coat rack - Multi-colored balls on wire supports.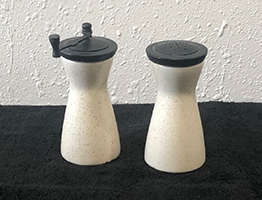 • Ego & ID vase - Designer: Karim Rashid. The profile of the vase is in the form of a human face. The vase/bowl was produced and handmade by mglass. It was probly influenced by Renato Bertelli's 1933 sculpture of Benito Mussolini.


• Fiestaware - Colorful.
• Fifties Salt & Pepper - From Jim's childhood family home.
• Flor tiles - The entire NY apt was covered with carpet tiles from Flor. They are touted for their ease of installation, are easy to replace, and can be washed in the sink. Carpet tiles have been used for years in office situations. The red rectangle under the furniture transcended the two rooms and the balcony to unify the spaces into one open plan.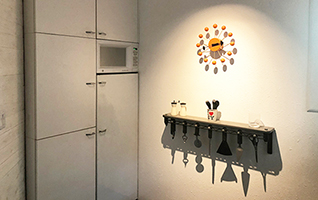 • Good Grips - Originally designed for ease of use by those with arthritis. They work well and look good for the rest of us, too.



• iPod setup - The iPod sat in a dock on one of the Quovis tables. To hide the connections and the controls, I hollowed out a book and cut channels for the cords. All the unsightly stuff fit inside the book and out of sight. Later, I drilled holes in the desk top and hid the cables under the table.



• James the Doorman - From black+blum, an English-Swiss partnership based in London, this is evidence of their philosophy to design products that are fun and affordable.
• Kitsch clock - Designed by Watson, the numbers on the wall clock are represented by icons from graphic design, Oklahoma, and the 1950s.
• Library shelves - Slanted and lipped shelves holding a variety of books and brochures about New York City. The brackets are intended for shoe shelves but I installed the shelves so that they were at a more acute angle to expose more of the book covers and take up less space in the passageway. The books and brochure covers become works of art to be viewed in a different context, 2005.
• New York Kitsch - A collection of souvenir geegaws and kitsch that grows with each guest visit to the apartment.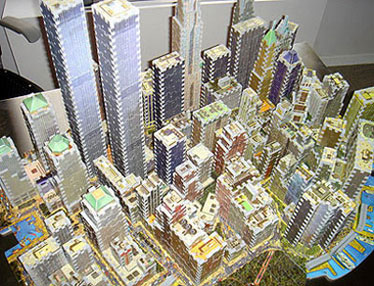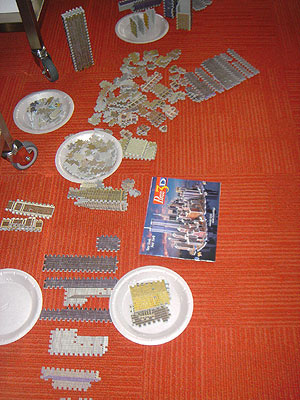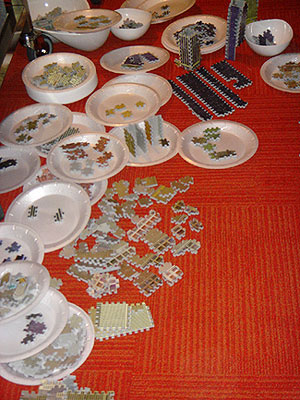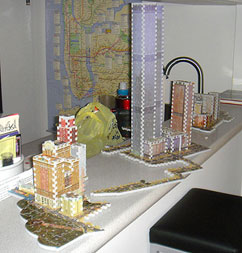 • 3D New York New York - Skyline puzzle model of the skyline, pre 9/11. From Wrebbit, Canadian maker of foam puzzles since 1991. It is quite detailed, but, unfortunately the puzzle was designed and produced before the Cove Club condominium (where apartment 5S was) was finished. A gift from my sister-in-law, Sandy. Three of my favorite things are puzzles, models, and New York City. Here was a gift that contained all three. Designer: Paul Gallant; Number of pieces: 3,141. Date begun: April, 2006; Date completed: June 10, 2006.
• Papiro Lamps - Designed by Sergio Calatroni, 9 feet tall stems that can be bent to any configuration. The organic line they form provides a counterpoint to the rigid geometry of the stainless steel Quovis units.
• Pocket shelves - On the wall by the front door are 5 small shelves to hold the stuff taken out of pockets upon arrival in the apartment. Once displayed on the shelves, the items become pieces of art, taking on a new life, 2005.


• Pull handle - Chevron-style reminiscent of the 1950s for use on the 2018 kitchen cabinets.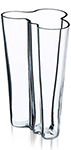 • Rashid vacuum - Minimal. Too minimal - I made some subtle marks to better show where to line up the vacuum into the base.
• Recycling cart - The cart is assembled of elements from Elfa. It has two deep storage bins, easy access, and is on casters to roll to the recycle room. New Yorkers take recycling very seriously. There are receptacles for the separated materials in the trash closet on each floor of the building.
• Rolodex - First manufactured in 1958, the Rolodex was marketed by Arnold Neustadter, an eccentric businessman, inventor and designer.
• Savoy or Finlandia vase - Alvar Aalto, famous Finland architect and interior designer, integrated the natural contours of the Finnish landscape into his freeform vase series. This vase, mouth-blown of lead-free crystal, was introduced at the Paris World's Fair of 1936. At that time, its meandering form and elegant beauty were highly revolutionary - a culture shock. It is now called the world's most famous vase and an icon of 20th century modern design. It was called the Savoy after the restaurant of the same name it was designed for. Aalto himself never referred to it as a vase - he wanted it to be a functional art piece with a wide range of possible uses. At one time, iInside the vase was a bunch of sticks broken from a bamboo curtain bought at the now-closed Pearl River Chinese Market.
• Serenity vase - A simple glass vase with sticks and twigs rising up as a reminder to slow down, calmify, and center on nature.
• Shower curtain - Grey typographical curtain of miscellaneous water-related words. Hung on rings and chains to allow the curtain rod to be high up on the wall (so I don't have to duck under it).





• Sucker - A collection of designers and practitioners from Holland, Droog produces a variety of innovative, functional, and witty objects. This is a knob/holder that sticks by suction in its soft plastic, designed by Leon Ramakers & Jan Hoekstra, 2005.
• Super FlipOut - 2003 toy designed by Chuck Hoberman who combines creative design with precision engineering to create products that delight the eye, stimulate the mind, and introduce the unexpected. Super FlipOut changes colors and shape when you throw it in the air.
• Swiss Railways Clock - Unmistakable easy-to-read face, distinctive hands and the famous red seconds hand have made the Mondaine successful the world over. Ingenuity and simplicity are the elements, which often distinguish an attractive piece of design from a truly iconic design classic. In 1944, Hans Hilfiker, a Swiss Engineer, Designer, and employee of the Federal Swiss Railways, created the Official Swiss Railways Clock, 3,000 of them seen on all Swiss railway platforms and responsible for the legendary punctuality of the Swiss rail network. A selection in London's Design Museum where Sir Terence Conran commissioned their installation as permanent functional exhibits.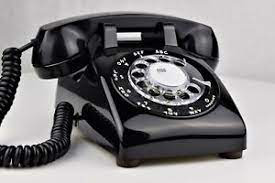 • Telephone - Desk telephone manufactured in the US by Western Electric from 1937 until 1955.
• Timesphere - Wall clock Designed by Gideon Dagan, 2002.
• Toilet flush handle - Extended for ease of use.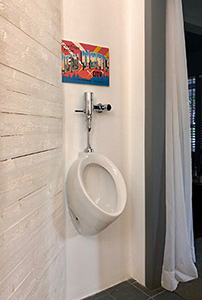 • Tool cart.
• Urinals - Finally solves the seat-up-or-down dilemma. In 2007, I replaced the urinals installed in 2004 (in the bath and in the office) with Sloan Waterfree urinals. These use a gel filter to trap odors while allowing liquids to pass through. There is no more flushing - saving thousands of gallons of water annually.
• Vase of grass - The organic glass vase on the balcony terrace held a lawn of grasses to provide a touch of backyard sight and smell.



• Vignelli/Heller dinnerware set - Durable plastic dishes designed by Massimo Vignelli in 1970 and produced by Heller.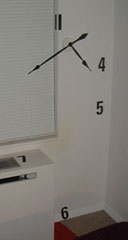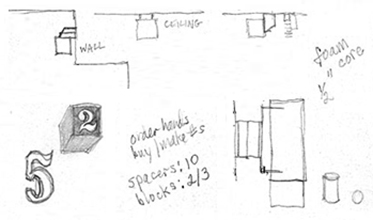 • Wall clock - Jim Watson. Inspired by the kitsch clock in the Oklahoma house, I designed a clock in NY that embraced the wall at the end of the bedroom. The OK clock allowed me to realize that the face of a clock can be made of just about anything - including the wall the mechanism is mounted on. I explored sketches of cubes and numbers that could be mounted on the walls, ceiling, and the ac unit. But, when I bought the clock mechanism, it came with the 4" sans serif numbers shown above. Great. Sometimes, serendipity works well. I simply applied the numbers to the wall. Each number is located in its correct path but at varying lengths from the clock. The numbers wrap around corners, some are flat, others vertical and the '9' is on the mini-blinds, barely noticeable during the day, but more apparent when the blinds are shut for the evening. The seemingly random chaos of the number placement offsets the structured grid of the statues and buildings on the wall to the left of the clock.



Digital devices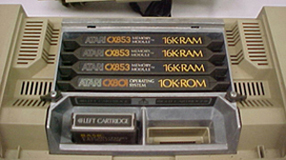 Back in the 1980s, I was facing the daunting task of writing a doctoral dissertation. I had been using an electric typewriter for my grad school papers, cutting and pasting with scissors and tape and retyping the page. It was time to get a better machine - one that could save my work and allow easier manipulation of text. I perused the options and settled on the Atari 800 in 1983 - during the very time period that Steve Jobs and Jef Raskin were developing the Macintosh computer. The Atari 800 was highly rated in reviews. You could add memory boards to boost the capacity to 58K ram! A variety of cartridges were available for games, and productivity functions. I explored options for designing layouts and manipulating and placing text, none of which was in the manuals. I was asked to present some of the layout and text formatting tips to the Computing Science department at the University of North Texas. It was so early in the chronology of desktop publishing that guidelines hadn't yet been established for graphic design. The Atari computer served me well through graduate school, but in 1988, I upgraded to Apple products.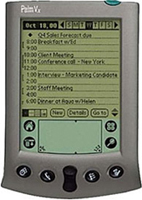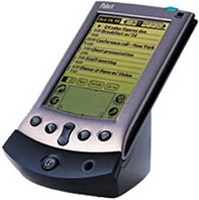 The Palm Pilot PDA truly enhanced my life and it got me hooked on pocket computers. I avoided getting a cell phone because I didn't want another gadget in my pocket. Someone told me about a Sprint phone that had a Palm PDA integrated into it. Great. I got it, loved, it, and wore it out.

5 iPhones, starting with the day it first came out - June 29, 2007
4 desktop computers: iMac, eMac, early Macs
6 laptop computers: MacBook, MacBook Pro, MacBook Air, MacBook Pro
2 iPads, starting with the first generation
2 iPad Mini, first generation
9 iPods, starting with the first generation
1 AirPods
1 Apple Watch
4 HomePods: 3 in OK, 1 in TX
13 accessories: cables, earbuds, docks, cases, hard drive, flash drives, laptop bag
3k items on iTunes (some free downloads)



Desktops: eMac, iMac,


Laptops: Macbook Pro, MacBook Air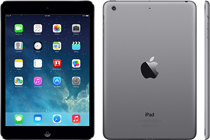 iPads: May 2010, March 2012, Mini: Oct 2013



iPods: 2001, 2003, 2004, Shuffle 2006/7, Classics: 2007


iPhones: 2007, 2009, 2011, 2013 (5 was my favorite), 2016



Artwork

Autographed signed pieces.


Milton Glaser, Massimo Vignelli, and Christo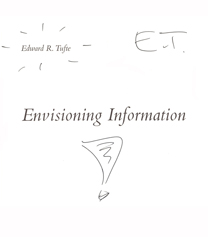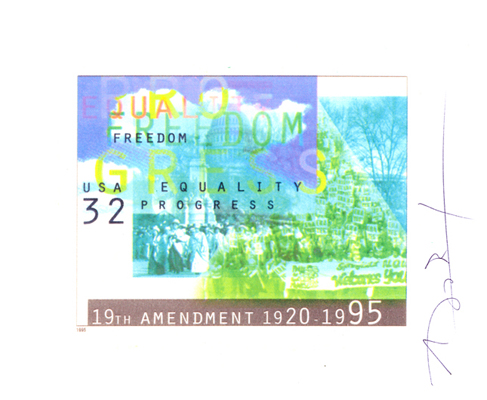 Edward Tufte, Karim Rashid, April Greiman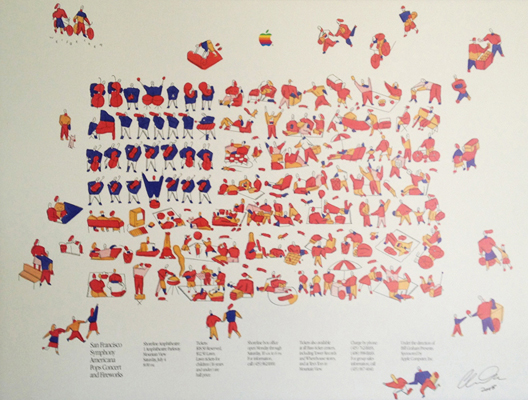 Clement Mok, Deborah Sussman. Below: Ed Benguiat, Philip Meggs, Milton Glaser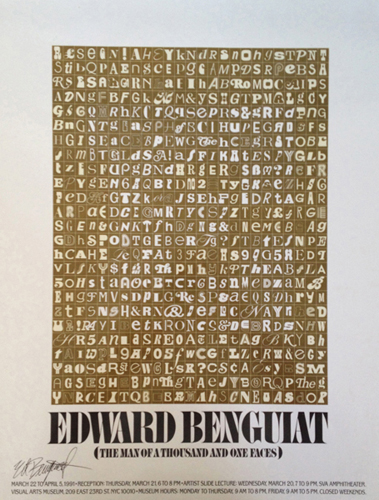 • Abandoned farmhouse - Watercolor, Steve Trower of Richardson, Texas.
• Aluminum text signs - From razed buildings at UCO: Printing, Communications, Arts.
• Backgammon in the Round - First-run production board.
• Backgammon in the Round - US Patent, USPTO, Nov 8, 1977.
• Backgammon in the Round - Package design.
• Ultimate Backgammon Board - Printout model by Jim Watson, 2013.


• Balloon dog - Small version of the sculpture by Jeff Koons.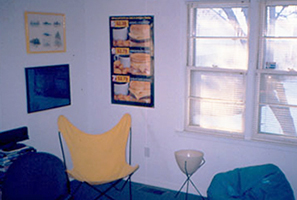 • The big E - The large E with the yellow neon is from a former Eckerd's sign and can represent Edmond.
• Breakfast items - Poster from Carl's Jr.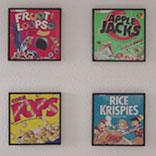 • Cereal boxes - 4 primary color boxes of cereal Jim enjoyed as a child, 2001.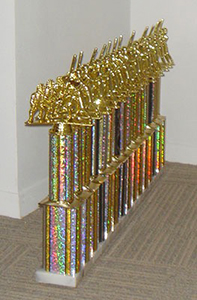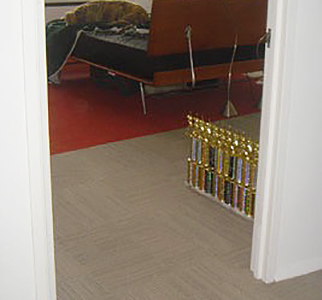 • Chorus line of batters - A collection of unused trophies rearranged and mounted in a straight line. I discovered the trophies in a box outside the apartment building. They had been unclaimed from a just-completed kid's baseball tournament and the man holding the box was about to throw them all away. I asked and received the whole boxload, 2008.


• Coffee signs - Set of coffee inspirations in 1950s colors.
• Cowboy - Painting by a former student.
• Digit Message Tape - Designed by SuckUK in London, the tape is printed with digital readouts - the user then blacks out segments so the remaining segments form letters. The quote is from a 1975 poster produced by the Women's International League for Peace and Freedom: It will be a great day in America when the schools have all the money they need and the military has to hold a bake sale, 2008.
• Digital Portfolio - Replaced wallful of work.
• Distorted Dimension - Original print by Linda Miller, UCO graduate.


• Do Frame Tape - From Droog, the design collective in the Netherlands, this Rococo patterned tape, designed by Marti Guixe, framed a mirror on the mirror.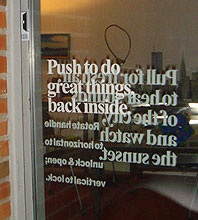 • Door text Lettering - On the balcony door instructed the guest on how to lock/unlock the door and which way to push/pull the door: Pull for fresh air, to hear sounds of the city, and watch the sunset. Push to do great things, back inside. Grey vinyl letters applied directly to the glass allowed them to take on new life as text art.
• Dylan - 1960s era album-insert poster of Bob Dylan signed by its designer, Milton Glaser.
• Eames cards column - Large interlocking cards with images and graphics by Ray & Charles Eames.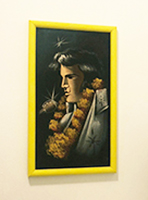 • Elvis on velvet - Bought for $5 at a vacant lot in Des Moines Iowa.
• Excess - By Rob Smith.
• Family Fotos - From Watson's childhood, his parents, his mother in costume from a ballet.
• 5x5 by NY - A grid of 25 gray framed black & white 3" square photos of classic New York City icons. The images were cut from a book of postcards, 2004.
• Flag banners - Three vertical poles of nylon fire colors provide slight kinetic movement in the Oklahoma wind.


• A Friend in Need - Commonly known as Dogs Playing Poker, one of 16 images of canine amusements painted by Cassius Marcellus Coolidge.
• The Gates, Central Park, New York City - Christo and Jeanne-Claude The black-framed piece is a print of sketches by Christo of their first site-specific work in their hometown of New York City. This temporary work, mounted for 2 weeks in Febuary 2005, consisted of 7,500 orange gate frames with hanging orange fabric spaced throughout 23 miles of Central Park walkways. The print is signed by Christo.
• Graffiti Bridge concrete - The Oklahoma City Interurban train ran from downtown to Guthrie (stopping in downtown Edmond) from the 1920s to the 1940s, a bridge spanned Western Avenue where Classen now crosses. Teens would constantly paint the bridge with graffiti, slogans, and school colors.
• Great Spirit - Painting by Ruthanne Smith.
• Greetings from New York City - An enlargement of an old postcard in the typical 'Greetings from . . ' style. It provides a bit of color and whimsy as one steps out into the city.
• Herb Lubalin, new logo - Illustration by Norman Rockwell.
• Highway interchanges - Grey and black paintings by Watson.
• Hole, 1990, painting on paper by David Crismon.
• House blueprint - Original found inside a wall during interior demolition.
• How Can You Tell - Drawing and painting by Keegan O'Keefe of Oklahoma City, Boulder, and Portland.
• In Too Deep - Mike Wallo.


• Japanese garden - Rocks, pagoda, simple bench form a serene restful area by the hot tub. The bench is minimal Japanese style with the same detailing on the legs as on the porch columns. Within the stones of the garden:
Rock with the flat top is a piece of granite from the facade of the Murrah Building in Oklahoma City, shattered by the bomb of 1995.
Blue-green glass is a piece of slag used extensively by Bruce Goff and was a part of Shin en Kan, his house for Joe Price in Bartlesville.
Concrete and bricks is from Watson's childhood home in Dallas that was razed in 2003: front sidewalk, house, driveway, and the pool deck.


• JRW Lego logo - Sculpture assemblage by Jim Watson.
• Keith Haring figures - magnetic, fun.
• know thyself - Painting by Donna Adams.
• LA Olympics style guide - Graphic poster by Deborah Sussman, 1984.
• Landscape sketches - watercolor and pen, by Laird McDonald.
• The Last Supper - Paint-by-number kit, first introduced in Detroit, 1952 by Dan Robbins; critics were appalled, calling it 'mass culture' and, therefore, no good.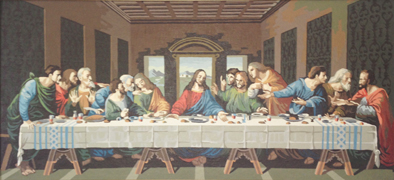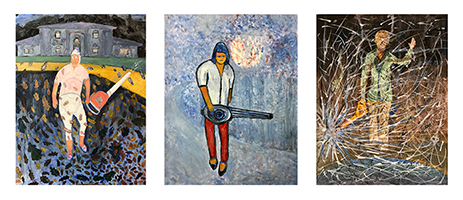 • Leaf Blowers - By Tom White ("The leaf blower is one of the worst inventions ever.") The obnoxious blower is one of those things that very few people enjoy, but many seem to have tolerated and accepted - it is not going away. Three different versions of varying chaos with the common theme - these infernal things are pervasive, in multiple manifestations.
• Lego structures - Therapy.
• Marilyn - Jigsaw puzzle print by Andy Warhol.
• MemorialOklahoma - Oklahoma City Memorial design submission, Jim Watson, 1996.
• Menu graphic - Soft drink promotion, Taco Bell.


• Mesh column - A vertical stack of undulating mesh grids.
• MetroCard columns - Three vertical sculptural columns are made of 735 recycled MetroCards collected over a period of several months. The cards take on a new life - from utilitarian access to aesthetic repetition, 2004-05.
• Mobile - Based on wire sculpture work by Alexander Calder. Marcel Duchamp named Calder's mobile in honor of the movement. Watson uses one here to provide a focal point to the space, create kinetic motion, and represent the warmth and movement of a fireplace.
• Mona Lisa - Leonardo da Vincii, copy (the original was bought by King Francis I of France to hang in his bathroom).
• Monument Valley - Photographer unknown, 2004. The wide photo of southern Utah serves as the antithesis to the bustle and crowded environment of the city. It is another of Watson's favorite places. The towers of rock match the towers of rock in the Manhattan skyscrapers.
• More Than Ever poster - Milton Glaser, a founder of the trend-setting PushPin Studios in the 1950s, designed the original 'I heart New York' mark in 1977. It has since become a graphic icon, mimicked all over the world. After 9/11, Glaser expressed his feelings by redesigning the classic mark by adding 'More Than Ever' and a slight bruise on the heart. He sent his new version to a friend at the New York Post who, unknown to Glaser, had it run on the full back page the next day. It was a hit. People posted them all over town and they were much in demand. Then the poster version was printed and distributed. This is one of those original posters, signed by Milton Glaser in 2006 (I took it by his office and left it for him to autograph).
• New York City Marathon - Print by Edward Sorel, 1990.
• Ode to New York - 96 miniature Statues of Liberty and 96 miniature Empire State Buildings - two of the most recognizable New York icons. The 192 models are arranged in a grid in the footprint plan of the World Trade Center towers. The statues face the door, welcoming guests (emigrants) into the space, the buildings are oriented as they are in Manhattan. Beneath each piece is a 'white shadow' symbolizing purity and a void or loss - something missing. The two icons - vital tourist attractions - represent liberty and now the tallest building in New York City, standing strong. The photos, top row right, show how light and shadows play on the art during the day - creating ever-changing points of interest, 2004.
• Oliblock pieces - Created by Daniel Oakley (and influenced by architect Zaha Hadid) to encourage building things in a new way; to challenge, teach and stimulate one's mind, yet be fun and appealing.
• Hole - Painting on paper, 1990, by David Crismon.


• Pedigrees of the English Peers - Engraving, 1764.
• Think Small - Volkswagen ad, Doyle Dane Bernbach, 1962.
• Pen-and-ink - Collage of Watson's life by his sister-in-law, Sandy.
• Pink flamingoes - Well, they're pink flamingoes - what else need be said. Every respectable outdoor collection of fine art must include these time-tested classics of contemporary design.
• Power - Painting by Clint Stone, Oklahoma City.
• The Prom Queen and her Escort - By Mike Wallo.
• Recent Projects - Famed prints of 6 of Watson's design projects.
• Spectrum colors - 100 half-inch cubes in one undulating line on the corrugated wall.
• Squaring the Circle - Signed/numbered print by Abdullah M I Syed.
• St. Francis - Statue of him tending to a bird.
• Subway Map - Large version of the 2004 map of the New York City subway lines. It is functional art, hung with brushed aluminum slip-on hangers designed by Jergen Moller in 1982 and made in Denmark.
• Tender Words One & Two - Signed/numbered prints by Abdullah M I Syed.
• Tripod house - Model designed and built by Watson of a Bucky Fuller style domed house that cannot crack from settling since it is on a tripod base.
• Ultimate Backgammon Board - Model, 2013 by Jim Watson.
• Vignelli subway map - Massimo Vignelli designed a stylized schematic Beck-style map/diagram for the New York City subway system in 1972. He had designed all the graphics and signage for the system in 1966. This framed map is from Watson's personal collection - I got it free as a tourist in 1977 and saved it, not knowing its history as a classic icon of graphic design. During spring 2008, I visited Massimo in his home/office and he signed the map.
• Vignelli New York City Subway Diagram - 2008 Massimo Vignelli designed a stylized schematic Beck-style map/diagram for the New York City subway system in 1972. He had designed all the graphics and signage for the system in 1966. I got a free map in 1977, now mounted in the apartment bathroom - see below. In 2008, Men's Vogue magazine commissioned Vignelli to revise and update his 1972 map. They offered a limited edition for sale but those sold out within 2 hours. This one was a gift from Massimo and his assistant Beatriz after we visited with them in Massimo's apartment/office for 2.5 hours in May, 2008.
• Vintage New York City - Set of 3 posters.
• Vitra Furniture Poster - Vitra Design Museum in Germany.
• Watson's shirt - Painting by Letitia Head.
• WindSwirl - This piece, made of several long gooseneck arms, represents the swirling winds and tornadoes of the Oklahoma prairie.
• Wisteria - Asian-style brushstroke painting, a 1992 gift from a former student.
• Women's Suffrage Postage Stamp - Designed by April Greiman, 1995.



By designer/artist name
• Alvar Aalto - Finlandia vases, 1936
• Donna Finch Adams - nosce te ipsum (know thyself), mixed media, 2007
• Harry Bertoia - Grid chair, 1950s
• Max Bill - Clock, 1957
• black+blum - James the Doorman
• Marcel Breuer - Laccio Table, 1925
• Marcel Breuer - Wassily Chair (original name: club chair B3), 1925
• Sergio Calatroni - Papiro Lamps
• Don Chadwick and Bill Stumpf - Aeron chair, 2008
• Christo and Jeanne-Claude - The Gates, Central Park, New York City, 1970s-2005, signed by Christo
• Cassius Marcellus Coolidge - A Friend in Need (Dogs Playing Poker)
• Le Corbusier, Charlotte Perriand, and Pierre Jeanneret - Chaise lounge, 1928
• Le Corbusier - Petite cube chair, 1928
• David Crismon - Hole, painting on paper, 1990
• David Crismon - Untitled painting, 1989-95
• Doyle Dane Bernback - Think Small: Volkswagen ad, 1962
• Ray and Charles Eames - fiberglass chair, 1950s
• Ray and Charles Eames - lounge chair and ottoman, 1950s
• Ray and Charles Eames - Plywood Lounge Chair, 1950s
• Milton Glaser - Dylan, 1970s, signed by Glaser
• Milton Glaser - I Love NY More Than Ever poster, 2001, signed by Glaser
• Jorge Ferrari Hardoy, Juan Kurchan, & Antonio Bonet - BKF butterfly sling chair, 1938
• Keith Haring - metal figures
• Letitia Head - Watson's shirt
• Steve Jobs & Jony Ive - Apple products, 2007-2008
• Samantha Leong - Wisteria, 1992
• Linda Miller - Distorted Dimension, print, 2001
• Clement Mok - San Francisco Pops Concert, 2008, signed by Mok
• George Nelson - Case Study Bed, cherry wood, 1949
• George Nelson - Asterisk Clock, 1950s
• George Nelson - Case Study Bed, 1949
• George Nelson - Orange Ball Clock, 1950s
• Isamu Noguchi - Noguchi Table, 1947
• Keegan O'Keefe - How Can You Tell, drawing and painting, 2006
• Karim Rashid - produced by mglass, Ego & ID vase
• Karim Rashid - Umbra vase
• Mies van der Rohe - Pavilion Chair, 1929
• Eero Saarinen - Tulip table and chairs, 1955-56
• Piero Gatti & Cesare Paolini - Sacco bean bag chair, 1968
• Rob Smith - Excess
• Ruthanne Smith - Great Spirit
• Philippe Starck - Bubu stool, 1991
• Clint Stone - Power, 2004-05
• Deborah Sussman - 1984 LA Olympics graphics manual poster, 1983-84, signed by Sussman
• Abdullah M I Syed - Tender Words One & Two, signed prints, 2009 & 2010
• Abdullah M I Syed - Squaring the Circle, signed print, 2013
• Thonet Brothers - Bentwood side chair, late 1800s
• Massimo Vignelli - produced by Heller, Vignelli/Heller place setting, 1970
• Massimo Vignelli - Subway map, 1972
• Massimo Vignelli - Subway diagram, limited edition, gift from designer, 2008
• Mike Wallo - In Too Deep, 1989
• Mike Wallo - The Prom Queen and her Escort
• Andy Warhol - Marilyn Monroe print as a jigsaw puzzle
• Jeff Weber and Bill Stumpf - Caper Chairs, winner, 1999 NeoCon Gold Award

www.jamesrobertwatson.com/inventory.html