Disney Very Magic Princess Improvements
• New names for parks at global resorts
• Rename two hotels in the Walt Disney World Resort
• Remove Disney from hotel names
• Improve the Resort experience without Annual Passes

• FastMap in the parks
• Remodel of Epcot World Fair plan
• WDW master plan layout
• Disney Resort in New York City




New names for parks at Disneyland Resorts




• Disneyland


There is a historic component as the country's first major amusement or theme park, but the Disneyland resort has grown and morphed from a single park into a much bigger destination. The lessons learned from the World resort in Florida can be applied to the resort Land in California.
To be more consistent with WDW, brand it as Magic Kingdom.



• California Adventure


The name is nondescript, generic (there are adventures all over CA), and no longer accurate - Cars from the desert southwest, Avengers in New York City. Many of the major attractions are from movies: Avengers, Cars, Mermaid, Toy Story, Monsters, Pixar, and the movie set street. Even the Cathay Circle Theater is significant for the Snow White movie premiere.
Hollywood Studios (to mirror WDW) seems awkward just miles from the actual Hollywood studios. Name it Disney Studio.

• Continue to brand the entire resort complex as Disneyland California Resort.
DL and WDW resorts would each have a Magic Kingdom and a Disney Studio Park.

• Strengthen Disney brands with consistency and familiarity throughout all parks worldwide.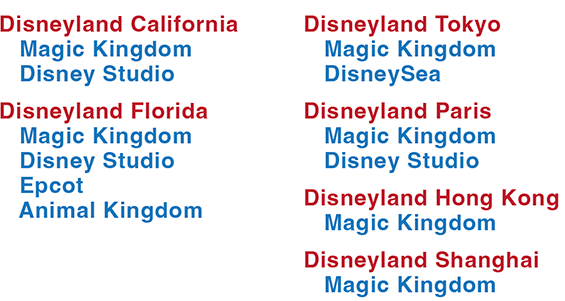 Rename WDW Hotels


While staying on property, I witnessed bus drivers, guides, and guests saying Animal Kingdom and then having to clarify the Lodge, not the Park. Same confusion with Wilderness Lodge and Fort Wilderness. Each major entity name at WDW should be unique and clear - minimal similarity with other names.

• Wilderness Lodge
Too close to Ft. Wilderness (in location and in name). A new name could be inspired by National Parks Lodges and the Arts & Crafts era - to fit the architecture, interiors, and landscaping of this resort. Suggestions: Geyser Rock Lodge after the geyser located between the pool and the lake, Sequoia Lodge (as at Disneyland Paris). Even Copper Creek, and Boulder Ridge (names within the Wilderness Resort) are better than the redundant Wilderness.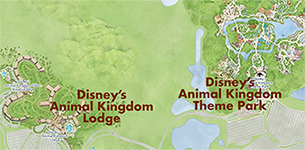 • Animal Kingdom Lodge
Too close to Animal Kingdom. The name should evoke African Safari, animals, excursions. Suggestions: Jubilani Lodge, Serengeti Lodge, Safari Lodge. The made-up word Jubilani suggests jubilee and jubilant and has a foreign exotic connotation.



Remove Disney from hotel names
• Just overkill - people often say, "We're going to Disney." Do people say "Disney's Contemporary Resort" or "Disney's All-star Sports Resort"? Disney should respect and empathize with guests - use their vernacular - Contemporary or All-star Sports. Disney branding is strong without that annoying redundancy of the Disney name. Each hotel should stand on its own - adding Disney dilutes the strength of the individual hotel brand. The guest knows its a Disney Resort. Hotel brands without unnecessary additional words are easier to write and say in conversation.

• Drop '& Spa' from reference names, keep for signage and descriptors in promo materials and on property.

• List Hotel/Resort name first, then the specific area within resort.





Improve the Resort experience - cease the Disney Incredi-Pass (former Annual Passes)


There is something to the notion of Disney Magic - that euphoria created by the orderliness, creativity, comfort, and delight of visiting a Disney park. Most guests would agree that the more people that experience the magic, the better off society, culture, and the country would be. The biggest negatives among guests at the parks are probly the crowds, the long lines, and the high costs. A factor that affects each of these is the abundance of repeat visitors using the Annual Pass. Crowded conditions and the resulting demand helps Disney justify raising the price.
As of July 2021, an estimated 1 million Disney passholders comprise an estimated 50% of Disneyland resort attendance, according to UBS financial analysts. Disneyland and DCA together draw an estimated 28.6 million visitors annually, according to the TEA/AECOM Global Attractions Attendance Report. Based on the UBS estimates, passholders make up about 14 million of those visits.
The reduction will discourage additional future cost increases, allowing a greater number of people to visit - and those people will be paying full price, not the reduced rate the Passholders pay. This will result in a greater number of first-time visitors. Of course, those that have gotten used to the perks of the AP will complain loudly, but so did those when Disney deleted the Ticket Book and its A-E Attractions coupons.


A faster map for Disney parks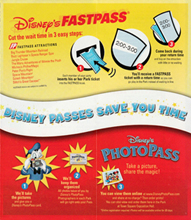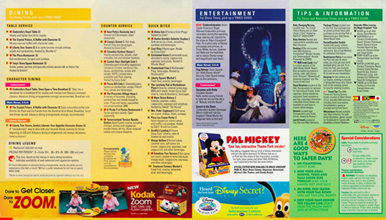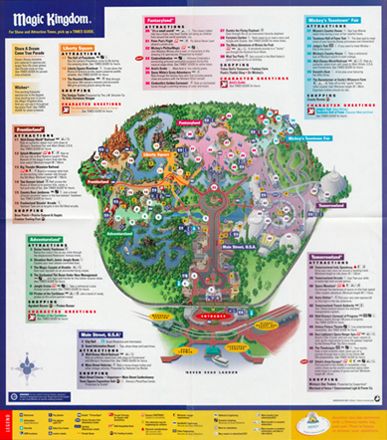 In 2005, this was the park map. Folded up, it's the size of a typical brochure. 3 unfolds later, it is a large map.
The 2019 version was this Guidemap, below. Less unfolding to get to the map, but still cumbersome while in the park.


Each time I wanted to find the location of an attraction or the quickest route, I got frustrated having to go through the unfolding, turning, and folding ordeal. I knew what I wanted to go see, but had to pull out the big folding map, stop and turn or fold it to the applicable area. Several times during the day, I wished I had a simpler smaller map. One that I could easily and quickly access, even while walking around the park. At some rest stop that day, I assessed, made notes, and sketched a smaller, faster map. I dubbed it the FastMap to convey its value and to respect and connect with the FastPass system in place at the quelines of the rides. It shows only the major attractions and walkways. On the other side: promo info and resort map showing the other parks and areas.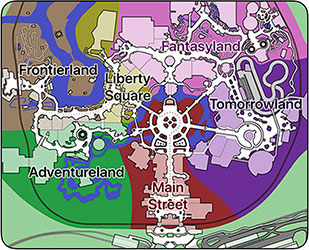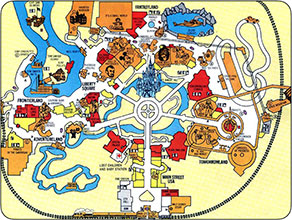 Target markets


Disney park guests are typically two distinct markets with different needs:


First-time or infrequent visitors: those who need to plan their day, peruse, learn, and want/need info, detail, descriptions. The existing full map brochure or phone apps work for leisurely reading and getting detailed info.


Repeat or regular visitors: those who need quick access to get somewhere, they want simple landmark icons and accurate walking routes. A simpler pocket-size map allows a quick glance to help the guest get to the next major attraction or area. This FastMap could be a single card printed front & back or it could be a tear-off portion of the full map booklet.




FastMap advantages


• Can be accessed and read while walking.
• Fits easily in pocket; card stock and rounded corners.
• No unfolding.
• Easy to read; few legends and little text.
• Consistent - each park map has the entrance at the bottom - more intuitive and familiar.
• Faster and easier than accessing the full map or an app.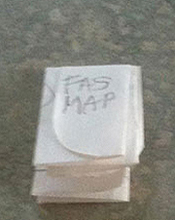 Dates Concept and sketches: May 2005. Revisions: Febuary 2014.
Update: Disney has embraced digital maps and info. A paper map will likely be available mainly for those without app access or those needing better sight accommodations.





Remodel of Epcot World's Fair plan




Issues


• Lacks the open vistas of World Fairs (an inspiration for Walt's original plan for World Showcase).
• Communicore buildings are barriers to other pavilions. They channeled people to World Showcase.
• Barrier planters in sidewalks.
• Numerous extemporaneous walkways.
• Longer walks tire people faster.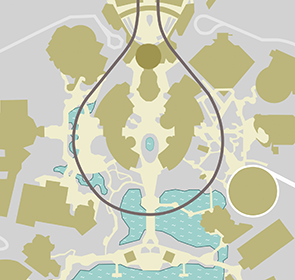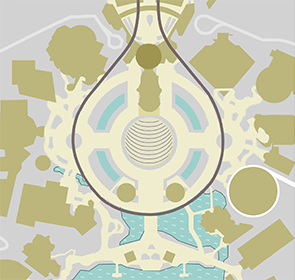 Improvements


• Amphitheater in front of Spaceship Earth. All-day/night programming.
• Monorail ring around amphitheater with video screens.
• Fountains with dancing waters.
• Wide sidewalks for open vistas.
• All pavilion buildings visible from central plaza.
• Less chaotic disconnected layout, more orderly and connected.
• Consistent use of circular forms that respect predominant form in Epcot World's Fair.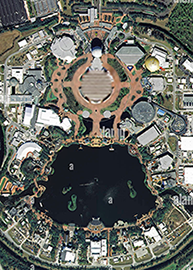 Below: Adding a large theater behind Main Street. Three pathways tinto Theater Square allow easy and convenient options. The Main Street parade bypass remains.



Property layout for Walt Disney World

Above right: The hotels around Seven Seas Lagoon.
Below: Entrance to the Magic Kingdom: walkway to the parking lot, tram station, and monorail station.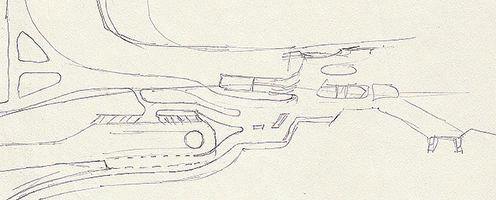 Changes/advantages

Parking lot in walking distance to Magic Kingdom
Initially it was a nice adventure to take the monorail or a ferry from the parking lot over to the entrance to the park. Then, as more attractions opened and guest's crammed more adventures into their day, the wait time to get to the park became more of a nuisance. Moving the lot matches the set up at the other parks, each with their own parking lots by their entrances. This plan would also decrease the passengers on the monorails and ferries across the lake. The monorails could then be repurposed for better inter-resort travel. The former parking lot could be used for additional hotels.


Additional hotels and resorts


The WDW experience is greatly enhanced when guests can stay on the property and travel by public transit to the attractions, shows, shopping and meals. Sitting in traffic at WDW is not much of an escape. More hotels could accommodate the demand and provide more budget opportunities for guests.


More extensive monorail system


One of the unique attractions at WDW is the smooth and quiet monorail that glides above the landscape and traffic. This should be expanded and exploited into a more thorough transit system. It should connect more hotels, all the parks, and Downtown Disney.
Dates: Concept and sketches May 2005 & 2009.





A Disney resort in the New York City area


The Disney Company has a large presence in New York City through their Broadway shows

.

And, while they have resorts in California, Florida, Hawaii, Paris, Tokyo, and Hong Kong, there is nothing in the densely populated Northeast. They tried a while back with an American-themed park, but it was too close to sacred Civil War battlefields and raised too much opposition.
Cirque du Soleil has permanent shows in Las Vegas and Walt Disney World in Florida but nothing in NYC. They have mounted many shows in New York in a variety of venues. They, too would benefit from a permanent venue in the Big Apple.
Dates: Idea and sketches 2011. Presentation: 2013.

The concept: A vacation destination to appeal to the Disney fan with resort amenities, including an indoor/outdoor pool, waterfront location, and water sports; a permanent Cirque du Soleil showplace; and easy access to the Statue of Liberty, Disney on Broadway, and all that Manhattan has to offer. Much like resorts in Hawaii, Florida, California, and Asia; and on their cruise ships. The resort could even include Disney timeshare units and vacation packages before or after boarding a Disney Cruise ship.

But, a major problem for both Disney and Cirque is finding enough land in the city and then paying high Manhattan prices.
Solution: Build a resort in New Jersey. Yep, instead of being

in

the city, have a view

of

the city. Like Disneyland and Walt Disney World, the resort is located in and part of a major amusement park - New York City. Guests would take excursions into the city, but from a resort getaway on the water, a resort that has the safe, familiar, and comfortable Disney attitude and service.


Location: On the Hudson River waterfront between Jersey City and Hoboken, across the Hudson from Greenwich Village, between Downtown and Midtown. Two blocks off of Interstate 78 and US1, and a short way from I-95, allows easy freeway access and convenient highways from all 3 NYC airports. The red dots are, from top to bottom, Times Square, the new World Trade Center and the 9/11 Memorial, and the Statue of Liberty.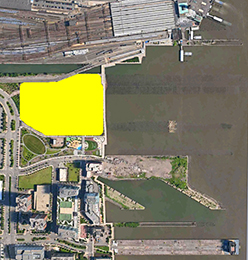 At the very northern boundary of Jersey City. Above: the Erie Lackawanna train and ferry depot is at the top of the photo, Newport Mall and movie theaters are at the lower left.
Below left: Jersey City. Below right: Views of Midtown Manhattan from the resort.




Activities at the resort
• Fireworks several times a week
• River watersports: paddle boats, kayaks, jet skis
• Bike rentals, waterfront bike path
• Indoor/outdoor pool and waterpark
• Cirque du Soleil
• Hotel restaurants, arcade, and theater
• Character dining and Meet & Greet
• Breakfast and dinner cruises
• River tour boats: Hudson Bay, loop around Manhattan
Activities nearby in New Jersey
• Newport Mall with movie theaters
• Hoboken
• Light Rail: downtown Jersey City, PATH trains to Manhattan and Newark Airport, Liberty Science Museum, and Liberty Park
Ferries across the Hudson
• Times Square: Broadway shows, 3 or 4 are Disney musicals
• Midtown and Rockefeller Center
• Museums: The Met, MoMA, the Guggenheim, Natural History
• Statue of Liberty and Ellis Island Museum of Immigration
• Downtown: WTC, Wall Street
• Brooklyn: the bridge, IKEA, waterfront park, Grimaldi's Pizza, Dumbo shops
• Plus, all of the other sights of New York City
Shuttle vans
• Liberty Science Museum, Airports, train stations, and Meadowlands sports arenas


Cirque du Soleil mounts amazing and popular shows that tour all over the world and have a permanent presence in Las Vegas and Walt Disney World. This NYC Disney show could have an urban, city theme and be integrated into the resort complex. The same ferries that transport resort guests would also ferry ticket holders from Manhattan to the resort venue.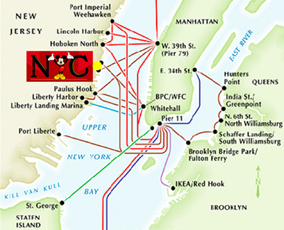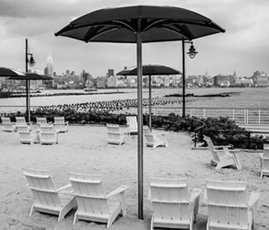 Numerous ferries ply the Hudson River. Above right: How the waterfront might look.
Below: The Disney Aulani resort in Hawaii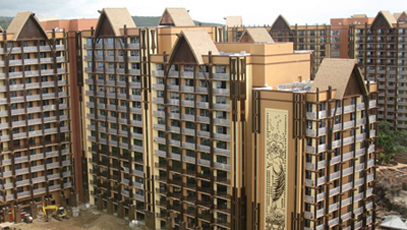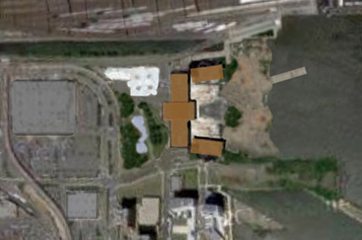 The resort could pay homage to the days of Art Deco when NYC gained many of its classic skyscrapers: Empire State, Chrysler, GE, Chanin, etc. A rough rendering showing the Hotel towers (brown) and the Cirque arena (white) and the expanded riverfront beach and boardwalk. Sketches: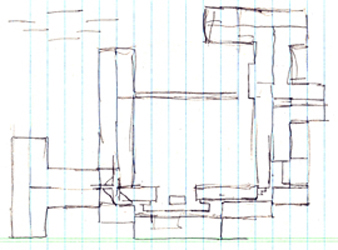 The genius of Walt Disney


At age 23 - Walt Disney moved to Los Angeles and founded Disney Brothers. One of their first successes was the Alice Comedies - combining live action and animation. The producer suggested a cute rabbit; Walt named him Oswald. The president of the distribution company invited Walt to NY to discuss renewing the distribution contract, but swipes Disney's animators and reminds Walt that he had signed away the rights to the character. On the train back to California, Walt vowed to keep better control of his ideas and his work. He sketched a new character, based on Oswald the Rabbit; he shortened the ears to ovals, defluffed the tail, and called him Mortimer. His wife, Lillian didn't like the name Mortimer and recommended naming him Mickey (she didn't mention at that time that Mickey was the name of her ex-boyfriend.)


The first cartoon starring Mickey Mouse was Steamboat Willie. His next project was Silly Symphonies, merging music and animation. Distributors weren't too enthusiastic so Walt presented them as 'Mickey Mouse presents Silly Symphonies'. They were the first cartoons in color.
1936-37: Snow White and the Seven Dwarfs cost 1 million to make and earned 8 million (at (25 cents for an adult ticket). That profit funded the new Disney Studios in Burbank. Snow White was a struggle - doctors claimed that people would hurt their eyes if they watched a full-length cartoon, bankers didn't think people would sit through a cartoon that long. If the price of movie ticket and the value of a dollar were equalized since then, Snow White would be the second highest-grossing film of all time (Gone With the Wind would be number one).
July 17, 1955: Disneyland opens. Walt's dream - a place where children and adults can enjoy a park together. Clean, safe, and comfortable (that's why we enter down a familiar and comfortable small-town Main Street).
Concern over whether East Coast people would accept a second Disney park in Florida was satisfied when Disney built 4 attractions for the World's Fair in New York City in 1964. To avoid the peripheral schlock that sprang up around Disneyland, WED bought large acreage near Orlando, Florida, under the name of 'Project X'. They set up 'dummy' companies to purchase the land so as not to give away the Disney name (which would cause higher prices). M.T. Lott was one such name. They paid $80/acre until the Orlando newspaper broke the story, then the land sold for $80,000/acre. The last few parcels of land cost about the same as the previous large bulk. It was to be called Disneyworld (like Disneyland) but Walt died before it opened and brother Roy changed the name and insisted it be called Walt Disney World to honor Walt.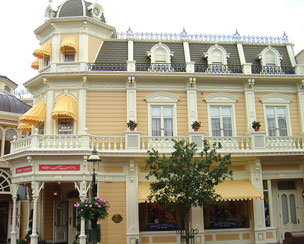 Examples of forced perspective - diminishing window sizes to suggest greater height.



Disney inspirations




Storytelling

- Walt was a master at creating a synopsis. His mastery is carried on today - attractions, stores, and restaurants each follow thorough story lines. We humanoids love stories - they provide interest, empathy, life, connections, socializing.


Attention to detail

- the smallest element in the parks will have been thoroughly thought out and executed with finesse. There is no public rest room in Liberty Square because those didn't exist at that time. The restraunts have restrooms but they are technically in other adjoining lands.


Innovation and exploration

- Walt stayed ahead of the technology curve by envisioning attractions and films and then challenging the staff to make them happen.


Lures

- Walt called them 'wieners' At the end of each major street is a lure or enticement (the castle, rockets, buildings, etc.) that pulls you in to that area. Such barbs are used to grab a viewer/reader's mind.


Maintain control of production

- burned by the "theft" of the rights to Oswald the Lucky Rabbit (which led to Mickey)


Control view/viewer

- provide planned vistas, signage, trash cans


Cast member keys to success

: Safety, Courtesy, Show, and Efficiency



Some wisdom from Walt Disney




When you're curious, you find lots of interesting things to do.


Somehow I can't believe there are any heights that can't be scaled by a man who knows the secret of making dreams come true. This special secret, it seems to me, can be summarized in four C's. They are
Curiosity, Confidence, Courage,
and
Constancy
and the greatest of these is Confidence. When you believe a thing, believe it all the way, implicitly and unquestionably.


Whenever I go on a ride, I'm always thinking of
how it can be improved
.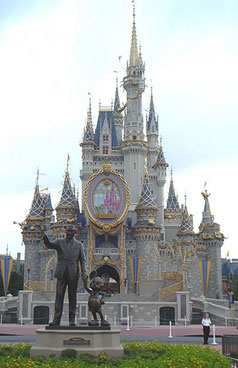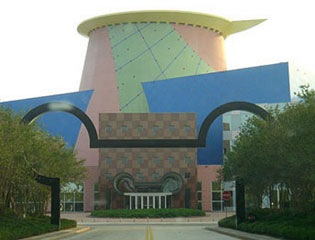 Statue of Walt and Mickey at WDW. The Team Disney Animation building in Florida.

Walt's favorite attraction: The Jungle Cruise. He wanted live animals but was told that they would be sleepy in the afternoon sun and that it would not be easy to control their whereabouts. So, Walt set out to develop animatronic animals that would perform on cue, all day long.





Some notes made while sitting at Disneyland


What a phenomenal place, manufactured to be comfortable, satisfying, and exciting. I enjoyed it on several levels: reminiscing about visiting it for the first time in 1956 with the family - I could spot the locations where we had taken pictures of the three boys; appreciating the attention to detail, storytelling, and craftsmanship of the Disney imagineers; and just having fun.
In LA, I took a walk in Walt's footsteps: houses and early studios. An incredible experience. Walt Disney is one of my role models, a mentor - his imagination, vision, talent, and persuasiveness to get things accomplished. I had been a fan since watching the Disneyland TV show, visiting Disneyland in 1956, watching the Mickey Mouse Club, and enjoying his many movies. So, here I was in LA at the site of his first home (he moved in with an uncle after he moved west from Kansas City) and three blocks down the street was the first storefront studio that he and his brother Roy opened - Disney Bros. Studio. I walked those three blocks twice seeing houses that Walt saw, wondering what his imagination was thinking while he made that walk every day.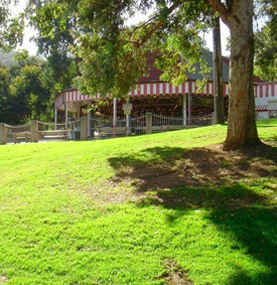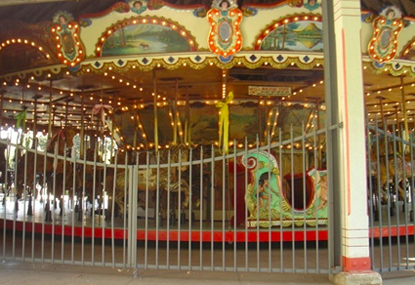 In Griffith Park, I saw the carousel where Walt sat and watched his daughters ride in the early 1950s. It was amazing to be in the same spot, almost unchanged, where he was inspired to create Disneyland. I drove the route he probably took from his home to the park.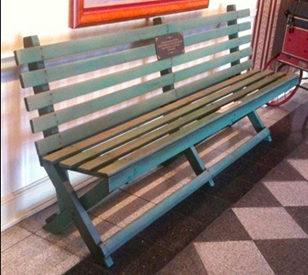 Below: The studio during Mickey, Alice, and Snow White: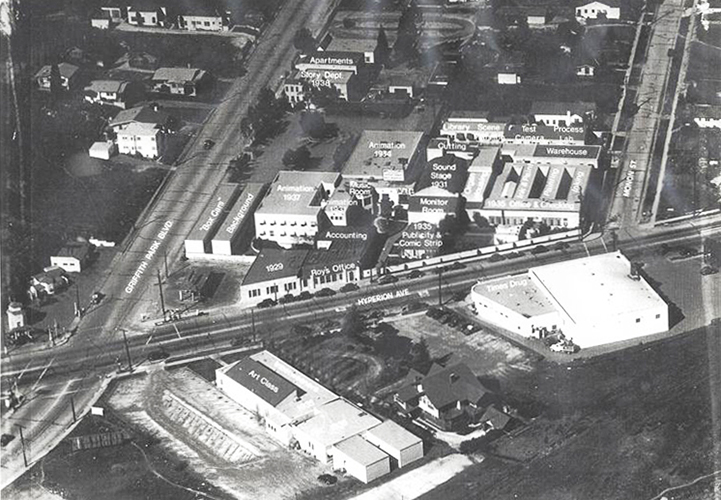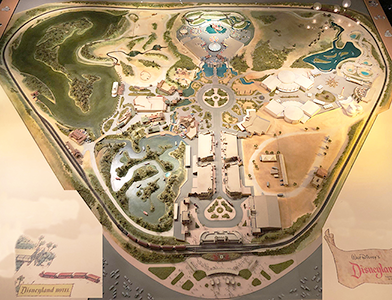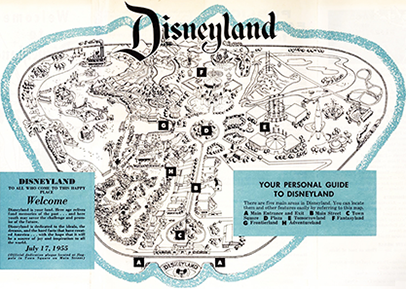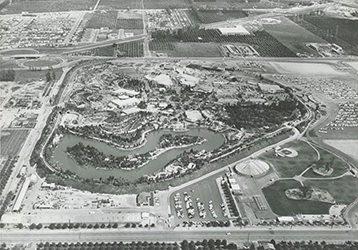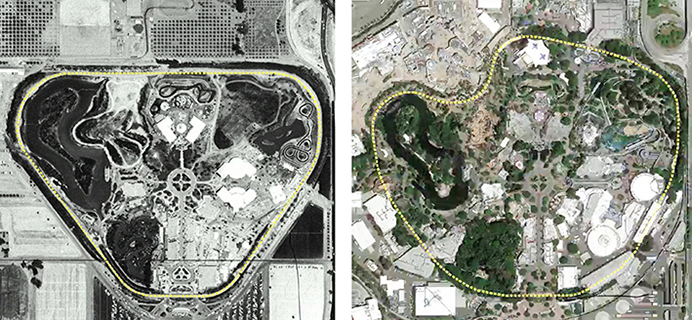 Above: 1955 & 2018. Below: Overlay of 1955 and 2005 maps.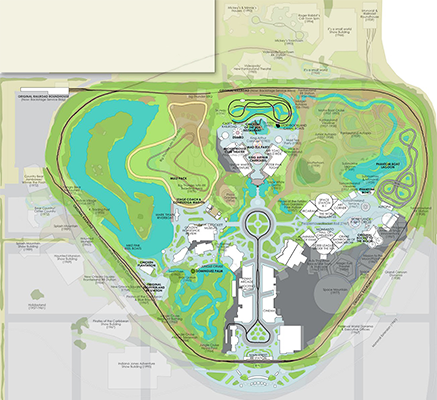 Why I can't watch much of the Disney Christmas Parade.
• There is added constant background noise of annoying screams and yells. I have watched this parade in person. Nobody screams and yells throughout the entire parade, as Seen on TV.
• The people clap nonstop, even when the emcees are introducing a performance. How rude to clap while someone is speaking. I suspect someone at Disney felt that they needed to up the level of excitement and coached the parade audience to clap, yell, and scream (or added a clap-track).
• The visual images are flashed in constant rapid cuts. The viewer can't focus on a person, a dance number, or a song - the action is jerky quick cuts.
• It is just one very long and repetitive infomercial for the Disney Company. It is a cover for promoting Theme Parks, resorts, Cruise ships, Films, and Broadway shows.

www.jamesrobertwatson.com/disney.html