Jim's cars
Childhood cars
1950s 1946-1948? Black Dodge - when we moved to Dallas in 1952 we only had one car - Dad would carpool to work or drive if Mom didn't need the car that day.
1950s Buick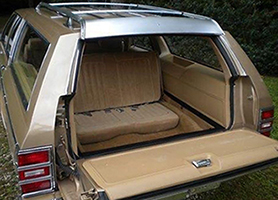 1950s Tan Plymouth station wagon with a rear-facing third row - we kids loved to ride back there on road trips. Once, we put a blanket up over and behind us, blocking us from the rest of the car.
1960s Gold Chevrolet Impala
1960s? Red Ford Falcon
1965-1968 1965 Green-blue Mustang
Jim's cars
1969-1974 1966 White Ford Mustang, Shuttle Bus - 5 years
1972-1983 1970 Blue/grey VW van, Billy Bob - 11 years
1983-1985 1983 Silver Toyota Tercel - 2 years
1985-1989 1985 Dark grey Dodge Caravan - 4 years
1989-1998 989 Black Geo Tracker 2 door- 9 years
1998-2007 998 Taupe grey Chevy Tracker 4 door - 10 years
2007-2020 2007 Silver Dodge Nitro, Greyhound Bus - 13 years
2020-2020 2019 Silver Toyota Rav4 - 6.5 months
2020-now 2018 Tesla Model X, Happy Car - Aug 31-



My first car


It was a 1966 Ford Mustang. After graduating from high school, I had spent the summer working at Six Flags (what a fun time) but had to get rides from North Dallas to Arlington, a 30 minute trip. The next summer, I decided to get my own car. My parents had told my brothers and I that we could get a car whenever we wanted but we had to pay for it ourselves.
I checked the ads in the paper for used cars and found this Mustang not too far from our house. It was $1,000. I went with my father to take a look at the car; it looked good, so I bought it. I drove it home. How exciting to drive my own car, my first. I worked double shifts at Six Flags that summer to pay for the car. A group of us would carpool.
It was a white car - I added red pinstripes along the sides, put in a cassette player, and built a console armrest. It was a great car. Later, while going to school at UT Austin - I named it Shuttle Bus, partly because of the new shuttle buses that had been put into service on campus and partly because it was used to give rides to friends and fraternity brothers.
My 1966 Mustang was similar in style and colors to the model introduced at the NY World's Fair:



Billy Bob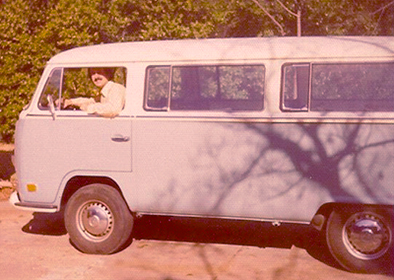 Shuttle Bus finally wore out. I sold it to the father of a fraternity brother who had to tow it away. I became enamored with the idea of a van - being able to sit higher, more interior room, and better use of road space. I found a used Volkswagen van and refitted it to be more sophisticated and classy than a typical VW van. I do not remember why I named it Billy Bob.
Dates
Bought van: 1972
Renovated: 1976

Notes and sketches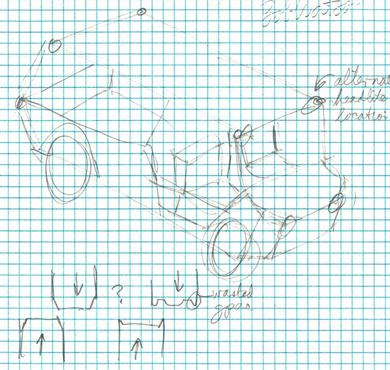 A vehicle must fit within specific dimension parameters - the width of a lane and of a parking place, the length of parking spaces, and the height of clearance under stoplights, bridges, and parking decks. Imagine the rectangular box that fits in that space. Most cars use only a small portion of that box - the Volkswagen van and other boxy vans use the space more efficiently. I'm not sure how a flat front would affect gas mileage - maybe there could be a greater slope to improve the aerodynamics. I bought my first boxy van, a VW, in 1972. With one exception (a Toyota), I have continued to drive boxy van/suv vehicles. I also like the higher seat for better road visibility and increased cargo/dog space.

Renovations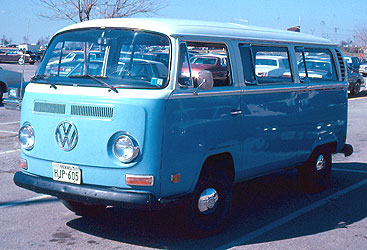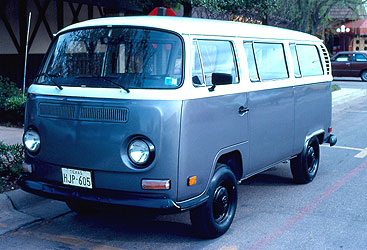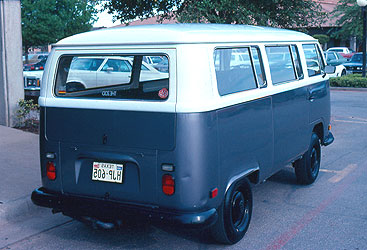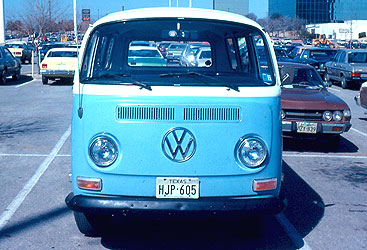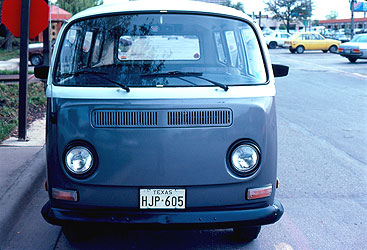 Alterations/improvements
• Removed all insignia from the body.
• Replaced, removed, or or painted all chrome.
• New floor carpeting.
• Painted black dashboard charcoal grey.
• Painted exterior from charcoal grey.
• Reupholstered all seats.
• Reupholstered panels behind front seats.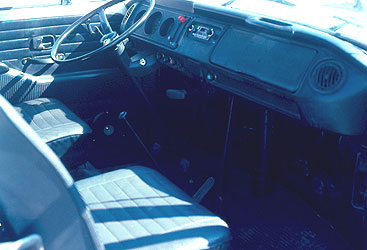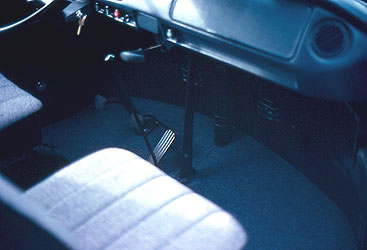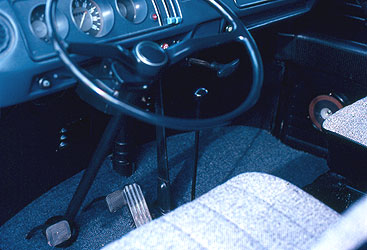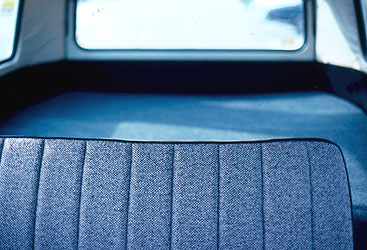 Toyota Tercel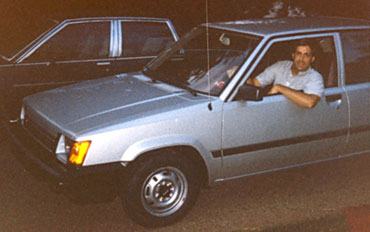 Only had this for 2 years. Not a good car. No great memories. It was just a cheap ride.



Dodge Caravan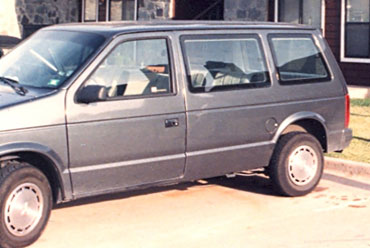 I missed having a van and the increased visibility and better view of the road. I bought the new Dodge Caravan. This van helped move me to Oklahoma and took me on many road trips. A good car.



Geo Tracker 2 door
A few years later, I was on my way to get a new van. I passed the Geo Tracker convertible, and thought it might be neat. Then, no don't be silly, not that tiny thing. But the more I thought about it, the more I liked the idea of a convertible and a smaller sporty car. Test drove it. Bought it. Loved it.


I later had the spare tire removed from the rear gate and built a padded platform in the back of the car that stored the spare tire. I also bought a 2-piece hard top later.
This car was fun to drive - it felt a part of the road. It took me on some memorable road trips all over the west - a life highlight was driving through the national parks in Southern Utah. The top was off and folded up in back. Back home, Dallas the dog would ride with her paws on the roof line and her head out the open roof. Her tongue and cheeks would flap in the wind. People we passed would point, stare, and laugh. It was quite a sight and she loved those car trips.



Chevy Tracker 4 door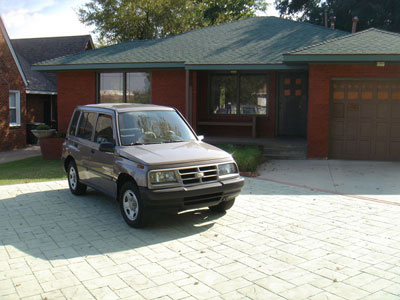 I liked the Tracker so much that when it came time to get a new car, I bought another Tracker - a bit larger for more comfortable highway riding. This Tracker has taken me to New York and back for a total of 6 cross-country trips. After 10 years and 114,000 miles, I figured it was time to get a new car. I bought a Dodge Nitro but it was a bit tough to part with the Tracker. I sold it to a neighbor who lives 4 houses down the street.



Dodge Nitro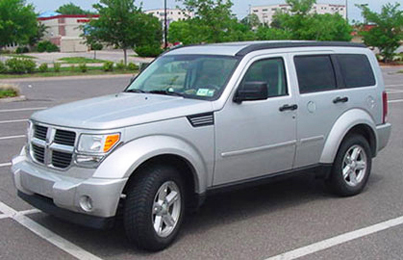 Story about the exterior cupholder.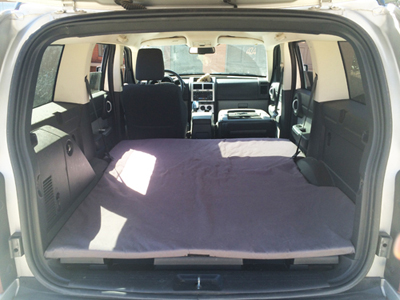 This was a comfortable road trip car. It also had amenities that were new for me: power windows, power lock with key fob, fold-down passenger seat, and fold-down rear seats.
Because it transported the dogs to the dog park several times a week and took us all on long-distance treks to California and New York, I dubbed it the Greyhound Bus.



Toyota Rav4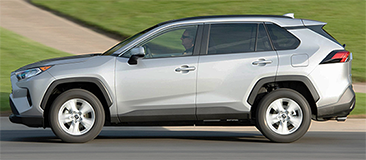 Had this for only 6.5 months, Jan-July 2020. Buy: 22,500 + 1,500 = 24,000. Sell: 24,000
Not a good car. No great memories. Poor purchase experience.
Pros: Fewer repairs, more reliability, 2 year warranty; Safety features: cameras, sensors; Better gas mileage; Updated features: syncing music, keyless.
Cons: awkward styling, silver color, uncomfortable fit, sloped dog bed
January 13, 2020: the salesman and I agreed on an out-the-door price of $22,000 - it was initialed by me and Ron Reeves, the Sales Manager. Upon paying, the price was $1,000 higher. Ron said he made a mistake and would split the extra 1,000 with me. I mentioned the Bait & Switch con, the lack of integrity, and the mistrust of the dealership. He didn't care - it was cancel the deal or I had to pay for his mistake. He took the OTD sheet (with his initials) to - according to another Jim Norton Toyota employee - "hide the evidence." The Title sat at the dealer for 17 days, until I called to ask where it was. Manager Heath called at the 30 day follow up - he wanted to make sure I was happy. I told him about the Bait & Switch scam, the missing title, and the lack of follow-up communication. It was too late to negate the deal. He wasn't sure what else to do. I said, "there is something you can do. You can honor the sale price that was agreed upon." He said he would check with the sales manager in the morning and call me back. That was on February 13 - he never called.



An electric vehicle
I plan to never go back to a combustion engine. I plan to never go to a car dealership again.

How an EV helps others
• Disrupts the auto sales industry: the culture of lying and bullshitting the customer, finance add-ons and fees, price negotiations, and service scams. They'll keep doing that as long as we keep buying from them. If not Tesla, I would have bought a used car from an online source.
• Disrupts the sexism and racism inherent in car sales - women and people of color are treated differently from white males as soon as they step onto the lot. Ordering online is more blind to race and gender.
• Disrupts the corporate petroleum industry: fossil fuels, drilling, offshore spills, pipe line leaks and land scars.
• Helps the environment and climate concerns: no gas or oil, less pollution, reduce my carbon footprint. Gas stations take up a lot of land and have buried tanks of fuel. Car lots take up acres of land.
• Disrupts the car design philosophy of planned obsolescence. Car designers are concerned with a different swoop, chrome, and looks so consumers can be easily manipulated to get the newest and latest styling.
• Driving a safer car on roads and highways.




2018
ICCF, NYC: Sat in Tesla X: May 20, 12 noon


2020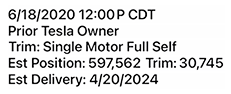 Covid pandemic: March 11
Reserved CyberTruck: June 18, RN113548547, Dual Motor AWD, Full Self-Driving Capability
Met with Financial Advisor: July 6
Test drove Model X, Southlake TX: July 7
Ordered Model X online: July 8
Completed application: July 11
Perused used Model X inventory: August 8
Met with Financial Advisor: August 10
Ordered used X: Saturday August 15, 12:44p
Approved trade-in offer, finalized all submissions, made payment: Thursday, August 27
Last tank of gas: Sunday August 30, 2020, 5:06p
Delivered Toyota, picked up Tesla X, Plano TX: Monday, August 31, 12n
Named it Happy Car: September 16
Dechromed sides: September 18-19
Dechromed front & back: October 3-4
Painted wheels: October
Bang pole, dented car: Martin Kumbak's, Austin: December 10


2021
Tire blowout, Alvarado, Ft Worth SC: September 30


2022
New tires, Discount Tire, 33,000 miles: Febuary 8
First Self-Drive, I-35 Emporia-Perry: Febuary 14
Wheel balance & alignment: May 2
Mounted license plate: JRW NYC: September 27
Screens go black for 10 hours, hit garage: brick and hood damage: December 29


2023
Jack garage wall into place: January 3
Quote on car hood dent: January 5
Repaired car hood dent: Febuary 20-24 (7 weeks wait)
Retrofit CSS Adaptor: April 18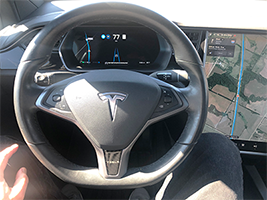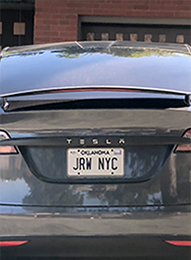 Improvements
• Dechromed entire car.
• Painted wheels matte black.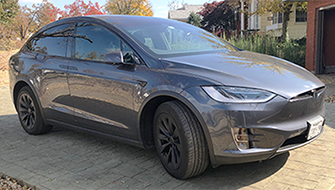 • Removed three add-on plates from rear tailgate.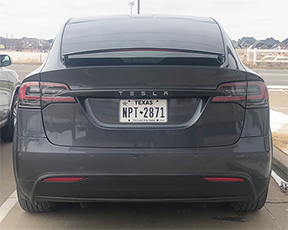 • Added cup holder in well.


• Installed mask rack - hooks on passenger seat.


• Installed phone charger cable.



Improvements Tesla should implement
• Provide more room for app icons at the bottom of the screen.
• Delete Most Recent icons to allow more room for other app icons.
• On the app, finding Charging History takes 4 steps. That link should be moved to the homepage under Charge Stats, since that's exactly what charging history is.
• Auto fold mirrors should move in and out only when in drive. When mirrors are out, walking by car is tougher in parking lots.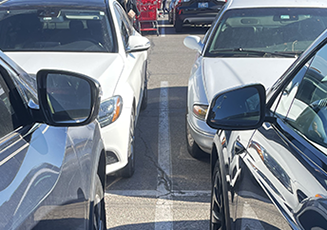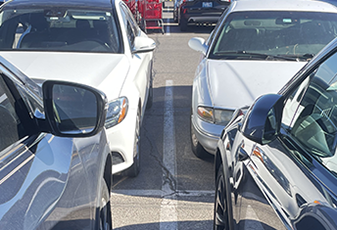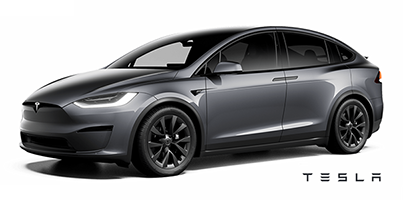 Above: Tesla X 2021. Below: Not sure what this 'collision' means - but it looks ominous (it went away after a few minutes):



Next electric car
• Boxy shape, simple line, little chrome
• Medium to dark gray, non-metallic
• Simple dash, large screen, GPS on screen
• Built-in garage door opener button
• No auto window down/up
• Fold down passenger seat
• Fold flat rear seat for dog bed
• Safety features and cameras

CyberTruck
Reservation number: RN113548547
Paid: June 18, 2020
Canceled: Febuary 1, 2023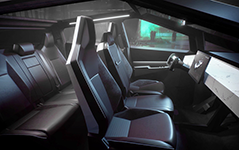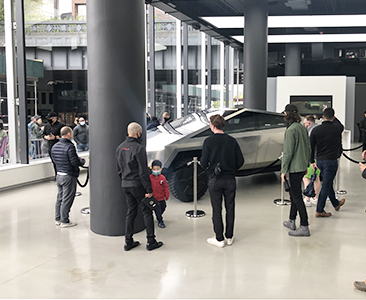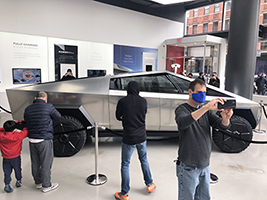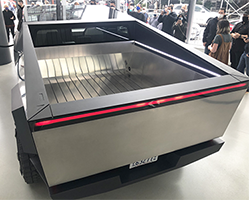 Van overnighters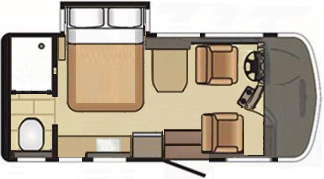 A simple adequate camper conversion for road trips:




What car dashboards should look like
Truck dashboards are better configured than car dashboards. The wraparound configuration places more controls within easier reach of the driver and they don't take up any more space - that volume is just wasted. I am waiting for automotive designers to embrace concepts for better efficiency and convenience in car dash controls. Some cars still have their ignition in the steering column - out of sight - the driver has to do some contortions to peer around to see if the key is going in. Years ago, the key unlocked the steering mechanism but there is absolutely no reason today to put that ignition there. Its just the way its always been done.
Below: Driving would be safer and easier if the dash instruments wrapped around the driver, like in many semi-rig truck cabs.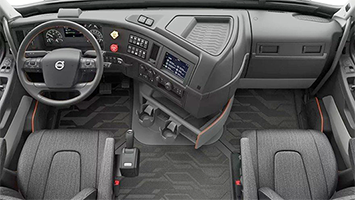 Below: 2021 pickup truck and Tesla Model X. There are no knobs or dials on the Tesla dash - the touch screen has the controls.



www.jamesrobertwatson.com/cars.html