Chronology of Aaron Martin Watson, 1836-1910




Civil War soldier, Firefighter, Grocer, and Jim's great-grandfather


Some research, maps, and old photos from Steve Watson; Johnny Watson; John Harrington; and James R Watson.



Aaron's father William B Watson

(Father: James Young Watson, Mother: Susan Stone)

January 27, 1809, Born in Salem, Washington, New York.

1820: Lived in Fair Haven, Rutland, Vermont.

1835: Married Lydia Martin in Salem, Washington, New York; Children: Sarah M Watson and Aaron Martin Watson (1836).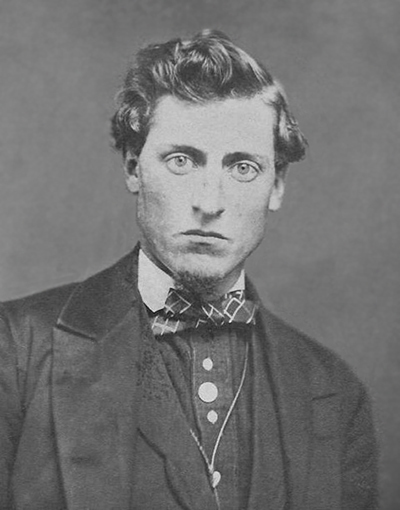 Aaron Watson - 6 feet tall, 180 lbs, blue eyes brown hair, light complexion, no scars.

August 18 1836 - Aaron Martin Watson born in Sherman (or Salem) Washington County NY to William and Lydia Martin Watson.

January 30, 1837: William B: Military Service in New York; Appointed Captain, 50th Regiment of Infantry, State of New York.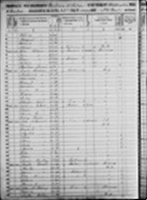 1850 Census: Aaron living with father and mother in Salem, NY. Also in the house - Betsy Taylor, 51 yrs.

June 1856 - Family moves to LaCrosse, Wisconsin. Aaron aged 19 or 20.

1860 Census: household of William B. Watson with wife, Lydia, and son Aaron.

September 24 1861 - AMW's father, William B. Watson dies, 53yrs, of paralysis. He was born January 27, 1809. Buried in LaCrosse Oak Grove Cemetery, Section 5, Lot 16.


1862-64 - AMW is a Union soldier in the Civil War.


Company D, 14th Infantry Regiment, Wisconsin, Messmore Guards; Unit Numbers - 3064 3064; Regiment organized under Superintendent David E. Wood.
• 1,910 total men; 970 original plus 940 recruits; 129 men from LaCrosse county, 8 company officers from LaCrosse county.
• 327 total died; 123 killed/died of wounds; 194 died of disease; 10 died of accidents.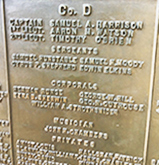 Entries from a diary Aaron kept during his stint in the Union Army


Battles Aaron was in are set in Bold Italic.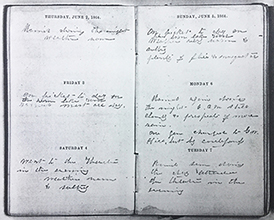 1861


October 10 - Enlisted in US Army, LaCrosse WI, Private. To serve 3 years. Age 25yrs.
November 15 - Promoted to Sergeant 1st Class.


1862


January 30 - Mustered in to US service
February - Drill & Discipline at Camp Wood, Fond du Lac.
February 22 - Washington's birthday - Fond du Lac gave a picnic for the entire Regiment and Col Wood read Washington's Farewell Address to everyone.
March 8 - 1:00a struck camp, left Camp Wood; people of Fond du Lac gave everyone a bundle of food for breakfast and lunch. Went by rail to Chicago where marched for 2 hours through the city and had supper on train. Went by rail to Alton IL, boarded a steamer for St Louis (left on 10th at 3:00a arrived at sunrise).
March 10 - Marched 3½ miles to Benton Barracks, St Louis (Benton Barracks built by Maj-Gen John C. Freemont to house 35,000 soldiers, many in tents. Now called Fairground Park in St. Louis).
March 23 - Left Benton Barracks to report to Major General US Grant at Savannah TN
March 28 - Arrived Savannah TN
April 6 - Battle of Shiloh at Pittsburgh Landing, 7 miles from Savannah on the opposite side of the river. At 4p ordered to the battle front, arrived at midnight.
April 7 - At daylight, marched to the battlefield attached to General Smith Division. Ordered to attack a Rebel battery, attacked three times and repulsed, overtook battery on fourth attack. Took cannonball as souvenir.


April 8 - Guard duty at Pittsburgh Landing to July 23rd.
July 6 - Promoted to Full Lieutenant 2nd Class
July 23 - Marched to Hamburg TN; assigned guard duty as provost guard, to August 23rd
August 23 - Ordered to Corinth MS, arriving August 24. Assigned to Sixth Division of Second Brigade under General MacArthur.
August 27 - Ordered to tear up Railroad track on Mobile & Ohio Railroad; marched to Bethel, returned August 29th.
September 8 - Reconnoitering expedition, marching to Chewalla, returned on the 10th
September17 - Marched to Iuka MS, to reinforce General Rosecrans, attached to Second Brigade; camped near Burnsville MS.
September 18 - Marched about 10 miles from Iuka. Promoted to Full Lieutenant 2nd Class, with rank from July 6, 1862.
September 19 - Marched circuitous to east side of Iuka; went out on skirmishes.
September 20 - Marched to within 2 miles of Iuka, then received orders for whole Division under General Ord to go to Corinth. Forced march about 30 miles Camped about 4 miles from Corinth. Entered Corinth on the 21st.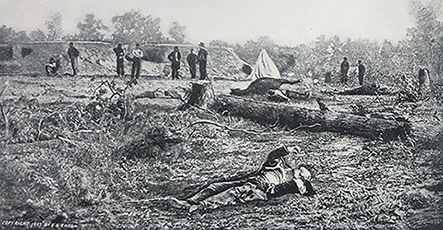 October 3 - Skirmishes. Battle of Corinth. 78 killed and wounded. Above: In front of the earthworks at Ft. Robinette in Corinth. Have no way of knowing if any of the men standing are Aaron.
October 5 - Pursued retreating Rebels to Ripley MS, returned to Corinth on the 12th.
October 29 - Promoted to Full Lieutenant 1st Class
November 2 - Left Corinth marched to Chewalla and to Coldwater, arriving Nov 5th at Grand Junction MS. Camped until 27th.
November 27 - Marched towards Holly Springs.
November 28 - Met the Rebels, drove them to Waterford.
December 5 - Marched to Abbeyville; camped.
December 18 - Left Abbeyville, marched via Oxford reached Yocona, MS, on Mississippi Central Railroad on the 19th.
December 21 - Marched north by way of Abbeyville and Coldwater, camped at Moscow TN on the 30th. By rail, Memphis & Charleston Railroad.


1863


January 10 - Left Moscow, encamped at Memphis on January 13th. Stayed 4 days.
January 14 - Promoted to 1st Lieutenant.
January 17 - Embarked to join Army before Vicksburg; embarked on 25th on LA side of Mississippi near Vicksburg.
From a letter home: We are now on a steamer ready to start down the river. We have just been paid off for two months but I only recd. sergeants pay $36.00 after paying up for six months clothing. My commission dates from July 6th but I did not receive it until Sept. 23rd so that I have got six month Lieuts. pay coming to me after deducting my Sargts. pay. We shall probably be paid off again soon then I should have quite a sum coming to me which I will send to you. We have started at last. Our fleet consists of 13 steamers & 2 gun boats. We have just passed Helena. The boat stopped for a ½ hour.
We have just passed the city called Napoleon, a place of 2 or 3 thousand inhabitants, but it is nearly deserted probably all in the rebel army. We are 200 miles from Memphis but I do not see much change in the weather, it being cold & rain but no snow. I can let you know after we get Vicksburg when I shall come home. The regiment will probably be consolidated then so it will give me a chance to rejoin. We were fired into by a guerilla band this afternoon, but nobody was hurt. Bullets passed within a foot of me.
We are now lying on the bank of the Mississippi 12 miles above Vicksburg. The darkies here say there are 100,000 rebels & 200 cannon at Vicksburg. Our men are working on a canal to make Vicksburg an inland town. If we succeed it may save us a hard battle. We shall probably know in a day or two what we shall do.
I was within 3 miles of Vicksburg yesterday. Could see the town plain & with a glass could their forts. They are strongly fortified, no mistake. I have seen most of the Wisconsin 1st Battery also the 8th Wisconsin regiment so I have seen quite a number of LaCrosse boys. We are now camped on the bank of the river on the Louisiana shore about 8 miles from Vicksburg. We do not know how long we shall remain here, probably not long.
February 8 - Sailed up river, landed on the 10th; encamped at Lake Providence LA, 75 miles north of Vicksburg. Expedition on small steamers of Bayou Baxter, returned on the 16th. Expedition up river to American Bend, returned to Lake Providence on March 16th, securing and shipping 3,200 bales of Confederate cotton.
April 20 - Broke camp at Lake Providence, traveled down river to Milliken's Bend LA arriving the 21st.
April 25 - Marched from Milliken's Bend by way of Richmond, Smith's Plantation; remained in camp at Smith's Plantation for 12 days to May 10; at Perkins Landing crossed Mississippi River to Grand Gulf below Vicksburg on May 13.
May 14 - Set out to join advance forces near Raymond, MS; after marching in the rain, reached their place on morning of 16th. Battle of Champions Hill in progress 5 miles to the west. Took position near the battle line and remained there until morning of 17th
May 17 - Marched 20 miles passing over previous day Champion Hill battle ground, reaching Railroad crossing at Big Black River. Helped build two floating bridges (Rebels had burned bridge in retreat).
May 18 - Crossed river and proceeded towards Vicksburg, marched 21 miles over indirect road; encamped at 10pm.
May 19 - Took position in rear of Vicksburg; skirmishes for 2 days.
May 22 - At noon formed in line with the brigade for an assault on enemy's works. Charged Rebs at about 3pm, disastrous repulse. Lost 107 killed, wounded, missing out of 256. Retreated back and occupied this position until July 4th Rebel surrender.
July 4 - Marched in to Vicksburg. General Ransom said 14th was a hero. Camped in northern part of the city until July 12.
July 12 - Under General Ransom went down river and landed on July 14 at Natchez, MS, and went into camp until October 9.
August 13-24 - Absent on 20 days furlough under Act of Congress GO 73.
October 9 - Embarked from Natchez to Vicksburg, arrived Oct 11; went in to camp for the winter.
December 11 - 2/3 of the Wisconsin 14th re-enlisted; became a veteran organization.


1864


January 3 - Embarked for veteran furlough to Wisconsin.
January 20 - Arrived Madison WI.
January 26 - Paid and received furlough for 30 days. At the end, ordered to rendezvous at Camp Washburn, Milwaukee.
February 27 - Left Camp Washburn for Vicksburg. Spent 27th in Chicago. Colonel Ward in command.
February 28 - On Illinois Central Railroad for Cairo IL.
March 6 - Arrived at Vicksburg in time for the Red River Expedition. Brigadier General T.K. Smith commanded 17th Army Corps (Red River Division). 2nd Brigade commanded by Colonel Ward (14th WI and 2 IL Regiments).
March 10 - Under Command of Major General A.J. Smith, left Vicksburg down Mississippi River to mouth of Red River; went up Atchafalaya River about 10 miles from confluence with the Red River. Disembarked on March 13 - near Simmsport, LA.
March 14 - Present at the capture of Fort DeRussy, 32 miles from Simmsport. Destroyed the Fort over 2 days; rejoined main body on March 17 at Alexandria on Red River; went in to camp. Joined forces under General Banks who assumed command.
March 26 - Set out from Alexandria, arrived Bayou Cotile 28 miles away on the 27th.
April 2 - Embarked at Bayou Cotile and arrived on the 3rd at Grand Ecore. 17th Army Corps distributed as guards for the supply fleet (about 30 transports). Plan was for the fleet to meet in Shreveport about the same time as the Army marching there.
April 7 - Left Grand Ecore going up Red River
April 10 - Discovered large transport with bricks, stones, and earth sunk, blocking the channel. Ordered to return to Grand Ecore.
April 12 - Fleet attacked at Pleasant Hill Landing (General Green of Texas, CSA. was killed).
April 14 - Arrived at Grand Ecore. Camped until the 20th.
April 20 - Rejoined main force, marched through Natchitoches, crossed Old River on 21st.
April 23 - Participated in battle near Cloutierville.
April 24 - Battle of Cane River.
April 26 - Arrived at Alexandria; delayed there to construct a dam to float transports.
April 30 - Left camp, crossed river on a pontoon bridge and marched 4 miles to form line of battle. No Rebs.
May 2 - Left camp and marched 4 miles; some skirmishing, remained there for the night. Moore's Plantation?
May 3 - Marched 4 miles, formed line of battle.
May 4 - Some skirmishes. Marches continue every day, talking line of battle and having some skirmishes each day.
May 16 - Action at Marksville. In reserve.
May 18 - Action at Yellow Bayou. Ft Morgan. In reserve.
May 20 - Marched to Atchafalaya River, crossed the river on a bridge made of 28 steamboats.
May 21 - Marched to the mouth of the Red River.
May 22 - Embarked and arrived Vicksburg on May 24 (75 miles) at 4a, went into camp.
May 27 - Left Vicksburg for Memphis.
May 30 - Arrived at Memphis TN and went in to camp.
June 22 - Part of Tupelo Expedition under General A.J. Smith; assigned to 4th brigade, 16th corps. Regiment remained to get their pay; others left Memphis by way of Moscow TN.
June 25 - Left Memphis and rode Railroad to Moscow, 46 miles; went in to camp.
June 27 - Left Moscow 5:30a, marched to La Grange TN, arrived 12 noon. Very hot.
July 5 - Set out from La Grange, 8am, extremely hot weather. Marched to Davis Mills, 7 miles. Marched for several days, arrived New Albany
July 9 - Left New Albany the next day. Arrived on July 11 in vicinity of Pontococ MS.
July 13 - Marched from Pontococ at 5a to Tupelo, attacked at rear of the train near Carmargo Cross Roads.
July 14 - Participated in the Battle of Tupelo, Rebs attached at 5:30a until 12 noon. Defeated Generals Forrest and S.D. Lee.
July 15 - Broke camp and marched 7 miles and Rebs attacked again - Battle of Old Town Creek, about 5 miles from Tupelo.
July 16 - Started again at 5a, marched 13 miles. Reached New Albany July 17, crossed Tallahatchie river. Marched to Davis Mills arriving July 20.
July 21 - Reached La Grange TN, at 6:30am.
July 22 - Left La Grange 1p and took Railroad to arrive in Memphis at dark; went in to camp.
August 3 - Ordered to be at the levee at 4p, loading the boat.
August 4 - Left Memphis at 5a, went down the Mississippi River, arriving Helena at 11a, and then the mouth of the White River at 9p.
August 5 - Started up the White River, reached St Charles AR August 6.
September 1 - Left St Charles and moved up river, reaching Duvals (De Valls in diary) Bluff on September 2. Went in to camp.
September 3 - Went on expedition to find Rebels. Moved up White river about 20 miles.
September 4 - Fired on within 6 miles of Augusta AR. Landed and marched upon Augusta; found few Rebs, marched back to the Bluff.
September 5 - Captured Augusta without any Rebs there.
September 6 - Arrived back at Duvals Bluff, about 125 miles from Augusta.
September 7 - Proceeded by rail to Brownsville AR, about half way between Duvals Bluff and Little Rock, about 25 miles from Little Rock.
September 17 - Marched from Brownsville 10 miles in pursuit of Rebels under General Price who marched into Missouri. Did not find them.
September 18 - Started at 5am, marched 26 miles in northeasterly direction through Austin and Stoney Point; went into camp.
September 19 - Started at 6a, marched 18 miles and forded Little Red River at Searcy; went in to camp. Marched 15 miles on the 20th.
September 21 - Routed out at 2:30a but did not leave until 7a; marched 25 miles and reached White River at Sulpher Rock and went into camp.
September 22 - Started at 6a, crossed White River, marched 15 miles to Elgin on the Black River, built a bridge; bivouacked for the night.
September 23 - Crossed Black River marched 10 miles and camped in a sweet potato patch.
September 24 - Advance brigade started at 6:30am and marched 20 miles, NE and camped on east bank of Big Black.
September 25 - Left at 6:15a and marched NNE to Pocahontas, 25 miles.
September 26 - Train guard. Started at 7:30a marched 26 miles NE and went into camp on Big Black River.
September 27 - Marched 15 miles
September 28 - Re-crossed the east branch of the Black River by felling trees, marched 18 miles.
September 29 - Train guard. Started at 11:15a marched 9 miles due to bad roads.
September 30 - Started at 6a, passed through Poplar Bluff and crossed Black River; marched 20 miles. Went into camp on east bank of the Black River.
October 1 - Started at 8a, marched 12 miles, went into camp at 4pm.
October 2 - Started 6:30a, marched to Greenville MO, forded St Francis River, 15 miles & went into camp at 3p.
October 3 - On picket at night; started at 7:30a, marched 15 miles through a town, Hog Eye (?)
October 4 - Breakfast at midnight. Train guard. Started at 8:30a, low on supplies, forced marched 29 miles during severe rain storm.
October 5 - Started at 9a and marched to Cape Girardeau 20 miles meeting the evening train (330 miles march in 10 days).
October 7 - Embarked at Cape Girardeau on steamer ascended Mississippi and Missouri rivers, arrived October 15 at Jefferson City MO.
October 17 - Left Jefferson City 9a on Pacific Railroad, and reached General Smith at 5p at Lamine Bridge.
October 22 - Left at 7p and marched 15 miles to Sedalia, arriving 1a. Moved two days later westward to Warrensburg MO. Rebels were expulsed from the state.
November 7 - Left Warrensburg at 9a reached Jefferson City by Railroad at 10pm.
November 8 - Went to Capitol to vote. Within the Regiment - 140 votes for Lincoln, 32 votes for McClellan.
November 9 - Left Jefferson City on steamer General Grant at 8a. November 11 - Returned to St Louis to Benton Barracks until November 23.
November 23 - Left St Louis on steamer Prairie Rose. Ordered to Nashville to join the Army under General Thomas.
November 25 - Arrived Cairo; left Cairo on 27th and reached Paducah.
November 29 - Arrived Nashville at 2a, Nov 30 (Battle of Franklin was November 30). Regiment employed in erecting defenses on extreme right of the line.
December 2 - Camped in line of battle about 2½ miles from Nashville.
December 7 - Mustered out of service. (December 15 &16 - Battle of Nashville.)



Map showing some of Aaron's march routes and battles


Map created by Steve Watson, Aaron's great-grandson. Larger PDF version


December 7, 1864 - Discharged in Nashville Tennessee. Aaron returns to LaCrosse. Age 28yrs.

1866 - According to the City Directory AMW is working at J. B. Richards & Co., a purveyor of patent medicines. He resides on the south side of King St. between Eighth and Ninth. Directory shows only heads of household and residents over 21. Wives are not listed.

1868 - AMW is listed as a partner in the firm of Howard and Watson located at 37 Main St., "Manufacturers of and Jobbers in Parry's Patent Medicines".


1869 - Aaron was one of the charter members of the Rescue Hose Company, motto: On to the Rescue, organized on October 11. In 1874 he was elected chief. During a big sawmill fire in the 1880s, he sustained an injury from which he never fully recovered. He was considered one of the best fire fighters in the state at that time.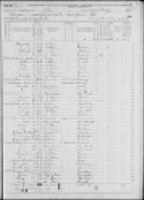 1870 Census: household of Lydia Watson, age 65 with son Martin (Aaron Martin - Census takers were not too particular about exact names).

1870 - Jane 'Jennie' Webster occupation - School Teacher. Residence with parents in Elba.

1873 - AMW is listed as a clerk working for J. A. Spier, a dealer in "confectioneries and fruits" located on Front St. at the corner of Main St.

October 14, 1875 - AMW's mother, Lydia, dies, in her 71st year. She was born April 20, 1805. Buried in Oak Grove Cemetery, Section 5, Lot 16.


1875 - AMW had opened a grocery store and is listed as "The Grocer, dealer in Choice Family Groceries, Eggs, Butter, Fish, Vegetables, fancy and staple groceries, fine coffees, teas, flour, canned and bottled goods." located at the southwest corner of 5th and Main.


January 17, 1877 - AMW married Jane 'Jennie' Webster (my great-grandmother) by Rev. H.A. Miner in Danville, Dodge, Wisconsin. She was born July 27, 1841 in Western, Oneida County, NY. She was the daughter of James Webster and Maria Putman.


January 16, 1879 - Aaron and Jennie have a son, James Webster Watson (my grandfather).

1880 Census: household of Aaron Martin Watson, age 44, retail grocer, living with wife, Jane (Jennie), age 35, and son James W, 18 months.

Febuary 14, 1881 - The father of Jennie Watson, James Webster, of Elba, Dodge County, Wisconsin, died in his 67th year.

By 1884 - AMW had expanded the business to include "groceries, provisions, canned goods, fruits, vegetables, celery, butter eggs, fish, oysters, etc." Address is 431 Main and residence as 724 King (now 204 S 8th - addresses often reassigned while actual locations remained unchanged). He is listed as President, Rescue Hose Co. No. 1 of the local fire dept. The following year he became Chief Engineer of the Fire Dept.

By 1888 - moved his grocery business to 504-506 Main St.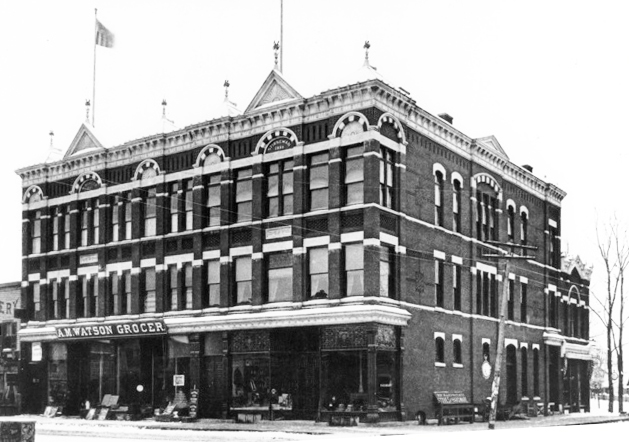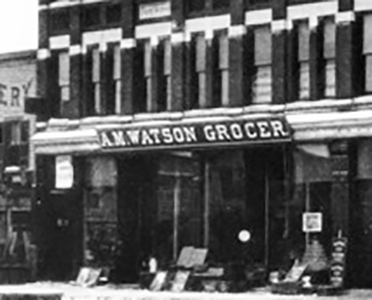 Above: about 1900. Below: current. Notice the right half of the building has a new facade, possibly part of the movement to 'modernize' in the late 1950s to early 1960s. Consumerism after WWII and a growing economy encouraged older buildings to update their look. Check the windows and arch on the side street - you can see the original building peeking through.


Below: The 1900 photo is mounted in the light grey area on the right. Also note the brick motif between the windows. Much of the original front facade has just been painted over and new windows installed. The top parapet with the gable and the intricate detailing have all been removed on this part of the building. There may have been structural issues, leaks, or just the desire for a 'new' look.


1890 - Census lists Aaron living with wife Jane and son James W, age 11.

1893 - AMW listed as Lt. Col. in the Union Veteran Legion of the US.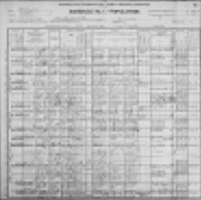 1900 Census: A M Watson with wife Jennifer and sons James W, age 21, and Aaron Martin, age 19.

1901 - James W Watson is listed as a student living at 724 King St.

1903 - James W Watson is listed as an electrical engineer living at 724 King St.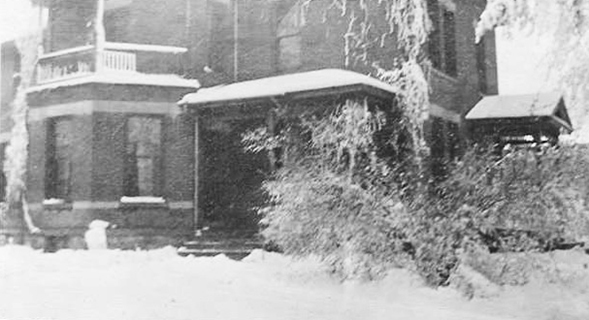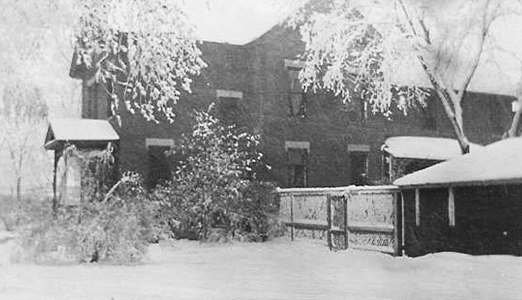 Above - 724 King St, corner of King St and 8th St. Below - current. Note the corner porch and slanted roof have been removed and replaced with a room.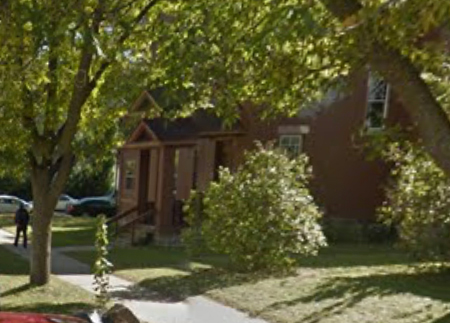 Aaron lived (lower right) only a few blocks from his grocery store (upper left) in downtown LaCrosse -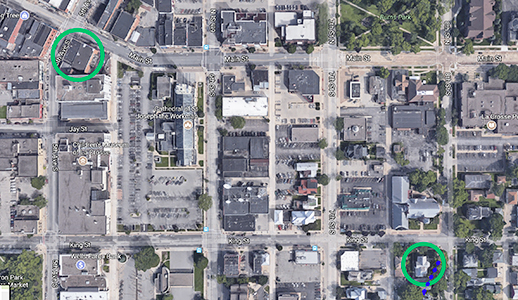 April 30, 1904 - Received "Declaration for Invalid Pension" age 68; declared he is "permanently unable to earn support by manual labor by reason of old age."

1904-05 - AMW apparently sold his grocery business to T. A. Lavake.

1905-09 - AMW is listed as retired and residing at 724 King St. together with daughters Marie, a stenographer at National Bank of LaCrosse, and Susan, a clerk. He rented out rooms to a Mrs. Maurer and a Mr. A. A. Taggert.
Below: Daughter Sue is behind Aaron in both photos. Daughter Marie is below left and roomer Myrtle is holding Aaron's hat below right. Not sure where sons Aaron and James are at this time. James (my grandfather) had moved to Madison by then.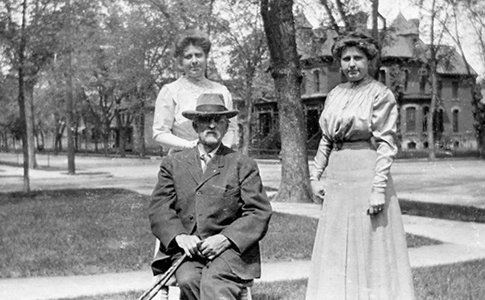 The Watson house is to our left, Aaron's right. The King St sidewalk is just behind them. Below - the house across the intersection is also still there (and undergoing some renovations?). The porch has been filled in and a room added above the porch on the corner right. Direction of photo is the blue line in the aerial view above.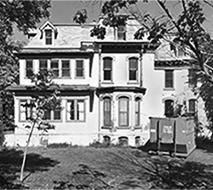 1909 - Domestic servants Sadie and Louise Kendall lived with them. He rented rooms to Lawrence Kennedy and Louis H. Alrick.

March 11, 1907 - Notarized declaration for Pension of $15 per month (previously $8 per month to October 21, 1904; then $10; later $12 per month.)


December 8, 1909 - AMW's wife, Jane (Jennie) Webster Watson dies. LaCrosse Tribune obituary published on December 9, 1009. Buried in Oak Grove Cemetery, Section 5, Lot 16.


1910 Census: James W Watson as living in Madison, WI. He is 31, single, and an Engineering instructor at U. Wisconsin.


December 31, 1910 - Aaron Martin Watson dies, aged 74 years, 4 months and 13 days. Death reported on page 1 of LaCrosse Tribune on December 31, 1910. Obituary published in LaCrosse County Record on January 11, 1911. Buried in Oak Grove Cemetery, Section 5, Lot 18 (Aaron's father and mother were buried in Lot 16).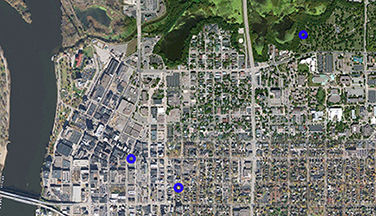 Aaron M Watson Probate - James W Watson, Executor; witnesses - S.R. Webster, Hattie E. Webster; Otto Bosshard, Notary Public). His estate - "the homestead estate appraised at a value of $2,000 and a personal property net residue of $11,684.34."

1911 - The house at 724 King St. is shared by Marie Watson, who now works in the clearing dept. at National Bank of LaCrosse; Harry Watson (relative?), an engineer with the Chicago, Burlington and Quincy Railroad; A. Martin Watson; and Susan Watson. Room rented to Myrtle Shanks. Directory also lists a George Watson (relative?), also an engineer with the CB&Q. From 1911-46, house owned by Peter M. Brink, but appears to have been a rental from them on.

By 1913 - House at 724 King St. has apparently been sold to a widow, Mrs. Abbie S. Peregrine, who converts the place to a boarding house - Furnished Rooms; this is the first year the house is an address in the city directory as 204 S. 8th. Home built for $5,000; 12-31-1885 newspapers show it as new construction. Harry and Marie moved, but remained in LaCrosse. The others are no longer listed.

July 6, 1917 - James Webster Watson, Jr (my father) is born in Madison WI, the 3rd of 4 children of James Webster Watson.


1920 - Census shows James Webster Watson living in Madison as a professor at the university. He and wife Ethel have four children Charles, Robert, James Webster Watson Jr, and Richard.

July 27, 1950 - James Robert Watson is born in New Orleans, the 3rd of 3 sons of James Webster Watson, Jr.



The linage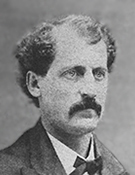 Aaron Martin Watson 1836-1910
James Webster Watson 1879-1951
James Webster Watson Jr. 1917-2003
James Robert Watson 1950-





Parties at the Turn of the Century


In our father's house following his passing, was a shoe box with 12 perfectly preserved letters, dated 1905, between Grandmother Ethel Churchill, and Grandfather James Webster Watson, when they were dating. She was 20 years old and he was 25. The letters were long, generally 6 to 8 pages, and in precise cursive handwriting.

The train was the main mode of transportation, life was at a much slower pace, everyone knew their neighbors, most everyone would go to the weekly parties, and - being the main mode of communication - they were always eager to write and receive letters. The envelopes simply read, "Miss Ethel Churchill, Monroe, Wisconsin." Monroe at that time with a population of 4,300 people needed no street address.
Varsity referred to the university - "When I go back to the varsity in the fall" or "You remember Sally, whom you met at the varsity." Letters were referred to as 'a postal' and the post office was 'the postal'. Mid-day meals were called dinners.

Boys would come by and take Grandmother for a drive. "Richard took me out driving. He drives a mighty fast horse and I nearly got my head blown off." "We drove around town, but didn't drive long because the horse was afraid of the shadows the arc lights made and it was too dark to drive in the country." Picture 1905 with a horse and buggy pulling up to my grandmother's house and she coming out in a long dress with a hat and her date in a coat and tie, probably wearing a hat. Grandmother would make a dress for a special occasion and in one letter commented that she was making a "stunning white hat." The house she grew up in is still standing, and one can picture the two of them driving down the dirt road to the town square and driving around it.

She belonged to a girl's group called the "BBB" club - "Bold, Bad, Bust up". Throughout her letters, she commented about going to parties:
• Christmas dance, New Year's Eve party, and the annual County Fair.
• Ice Cream Social at the County Schoolhouse.
• Annual old settler's picnic at the Water Tower Park with the orchestra playing from 1:30 to 4:00p on a Tuesday.
• Thursday, marshmallow toast and bonfire party.
• Band concerts on Monday.
• There was a barn party, what she called, "an old-fashioned husking bee" where they husked corn, made cider, and danced to a fiddler. They had to wear old-fashioned clothes.
• Friday night dances in various nearby towns - Monroe, Portage, and Columbus.
• One Thursday night dance lasted until 2:00a.
• Charity Ball where she sat with the "old folks."
• High school dances where people in their 20's attended.

www.jamesrobertwatson.com/aaronmartinwatson.html