University of Central Oklahoma 2020




A clear vision master plan for the university



The University of Central Oklahoma is one of the oldest universities in the state. Begun as the Territorial Normal School before Oklahoma was a state, the name morphed to Central State Teachers College Central State College, Central State University, and finally, University of Central Oklahoma. The campus plan and layout was just as discombobulated. Major construction in 1968 (Library and Student Union) and rapid growth in the 1990s added new buildings. There were many poor decisions made during the 90s and the campus was in need of a cohesive Master Plan.



Benefits


The design (architecture, landscaping, and layout) of a university campus provides important intangible benefits:
• Pride in the visual environment.
• An affirmation of one's decision to attend or visit the university.
• Order and organization that provide cohesive continuity to a collection of structures, activities, and uses.
• A sense of identity unique to the campus.
• Comfortable and pleasurable feelings of design aesthetics and beauty.



Target market


People impacted by the design of the campus environment:
1. Prospective students, parents, and friends.
2. First-time students, faculty, and staff.
3. Repeat students, faculty, and staff.
4. First-time visitors to academic events.
5. First-time visitors to non-academic events.
6. Repeat visitors to campus.
7. Edmond and metro citizens using the campus for recreation.



Before and after maps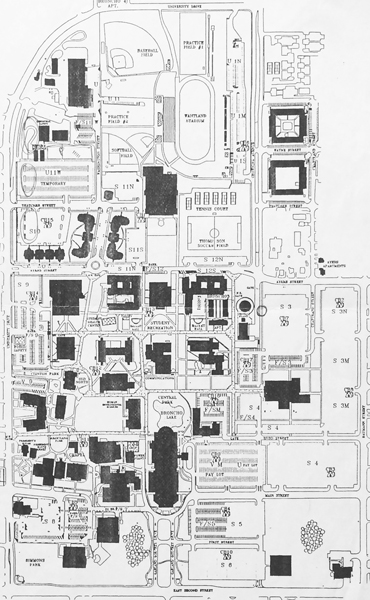 Objectives


The design of the UCO campus should meet these objectives:
• Convey a professional environment.
• Respect and enhance the heritage of the university's historical architecture.
• Create a sense of entry, that lets one know he/she has arrived on the campus.
• Establish efficient pedestrian and vehicular access, parking and traffic flow to allow easy navigation and access.
• Organize building and sidewalk layout that facilitates wayfinding and direction.
• Provide visual consistency to create a unique campus identity.
• Develop more urban activity on the west side, in cooperation with Edmond retail, restaurant, and housing development.
• Integrate the campus into the fabric of the city of Edmond.
• Provide adequate open space for scenic vistas.
• Encourage a greater diversity of campus life and activity.
• Work with the city of Edmond to improve traffic flow, intersection layout, and campus perimeter development.



Recommendations


To accomplish those objectives, these should be implemented:
1.

Planning and organization


• Create a Design Advisory Board to determine long-range architectural planning needs and assure intelligent design with greater attention to detail.
• Develop a true long-range Master Plan.
2.

Remedial

(to correct some of the poor decisions made in the last few years)
• Remove the crumbling Greek columns. The columns were a poor decision and a mistake that are now an embarrassing and negative blight on the campus.
• Stucco the Education Building. One reason that building is so ugly is the garish contrasts between materials, shapes, and colors. Stuccoing the light part to match the darker part will create more of a solid visual mass (the walls will need to be refinished anyway when the columns are removed).
• Remove the confusing one-way street designation on Main Street to create campus drives at Ayers and Main.
• Develop a nature area at Blake's Creek. Remove undergrowth and add sidewalks and a pedestrian bridge across the creek.
• Remove or paint over the Land Run mural on the Communications building. It does not convey professional university-level quality.
• Upgrade the University Center: paint over the childish purple wall waves, install professional signage, rearrange store layouts, and change the name. University Center is too cumbersome to use comfortably. Bronco Union might work (and uses the more common and preferred spelling of Bronco).
3.

Buildings


• Construct new buildings for Music, Art, Design, Theater Arts, a Performing Arts Center, Public Safety and Student Health Center, and a Day Care Center.
• Build additions for Mathematics and Science, Business Administration, Education, Thatcher Hall, and dormitories.
• Renovate Old North into a public space housing a visitor's center, Art Museum, and History Museum.
4.

Parking, sidewalks, and landscaping


• Develop and landscape the Central Mall between Old North and Liberal Arts.
• Pave sidewalks in a 2-tier system: wide geometric for major arteries and organic fluid for secondary arteries.
• Install information kiosks with signage, directories, and activity notices.
• Improve parking allotments, quantity, access, and safety.
• Build entry peninsulas with signs, drop-off lanes, and visitor parking.
• Encourage the city to stripe two-lane turn lanes on Second at Godfrey and on Baumann at Second, and install a new signal light at Ayers and University.


In the map above, notice the orderly grid pattern, the hierarchy of sidewalks, a better sense of order and navigation, the mall focal points, easier-to-maneuver parking lots, and the new buildings. Close-up of central mall area below.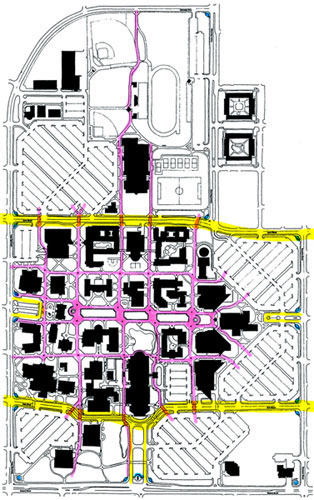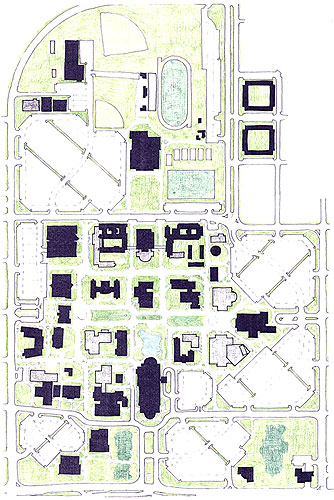 Purple: sidewalks showing the grid and orderly navigation, yellow: major east-west connector streets (Ayers and Main Street) and entry/dropoff loops, and blue: corner entries to the campus.
The 'green' areas - ponds, trees, lawns, etc. It is an earlier version so it doesn't show all the proposed buildings.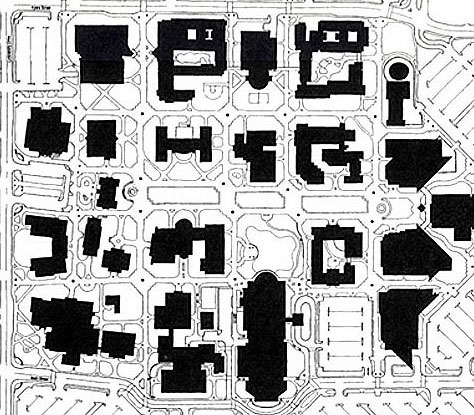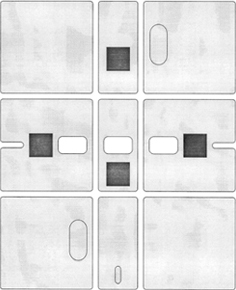 Dates


Designed: Fall 1997
Drawings and plans: January-Febuary 1998
Presented: Febuary 1998



Master Plan from a proposal in 1970-1980



Sketches, student union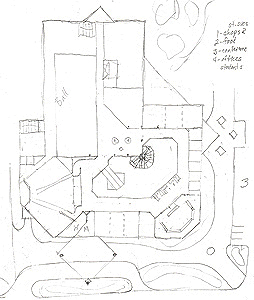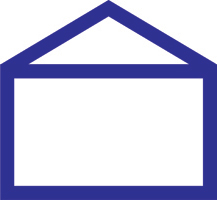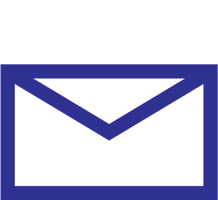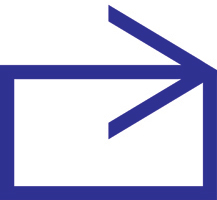 www.jamesrobertwatson.com/ucomap.html