Trip diaries: USA




1953-1963 diairies recorded by my father, Jim Watson


Jim's Chronology • Trips to New York City • Trips to Mexico, Europe, and Africa





Disney Parks


• 1956 Disneyland: Family, August
• 1978 Walt Disney World: Lana, January
• 1978 Walt Disney World: TGIF, July
• 1983 Walt Disney World: Jerry, Spring
• 1984 Walt Disney World: Family Christmas
• 1990 Disneyland: Laird, January
• 1996 Disneyland Paris, May
• 1998 Disneyland: August
• 2005 Walt Disney World: Roberta, May
• 2005 Disneyland: Grand Californian, December
• 2010 Disneyland: Manhattan, October
• 2019 Walt Disney World: March



Las Vegas


• 1956 Family, August
• 1977 Mike McClure, April
• 1977 TGIF, September
• 1993 Laird, May
• 1994 June
• 1994 Christmas
• 1995 March
• 1996 March
• 1996 August
• 1998 January
• 1999 January
• 1999 June
• 1999 October
• 2000 Mitch, May
• 2000 December
• 2001 July
• 2002 May
• 2003 August
• 2005 January
• 2007 January
• 2009 November



Presidential Libraries and Museums


• 2009 Theodore Roosevelt: Oyster Bay NY, & 2010
• 2005 Franklin Roosevelt: Hyde Park NY
• 1989 Harry Truman: Independence MO
• 1989 Dwight Eisenhower: Abilene KS, & 2015
• John Kennedy: Boston MA
• 1971 Lyndon Johnson: Austin TX, & 2012
• 1998 Richard Nixon: Yorba Linda CA
• Gerald Ford: Grand Rapids MI
• Jimmy Carter: Atlanta GA
• 2010 Ronald Reagan: Simi Valley CA
• 2012 George H Bush: College Station TX
• 2015 Bill Clinton: Little Rock AR
• 2014 George W Bush: Dallas TX
• Barack Obama: Chicago IL



1951 • June • Madison Wisconsin
Got call that Grandfather Remmel died, left for Madison at 11a, spent nights in Memphis and Bloomington IL, got to Madison at 1:00p. Funeral the next day. A few days in Madison. Left Madison at 8a, to Anna IL. Left Anna at 7:30a, supper in Jackson MS, home at 1:30a.

1953 • July 24 - August 28 • Madison Wisconsin
FR: Left Dallas for Madison at 3:30p. Stopped in MacAlester OK at 8p.
SA: Left MacAlester at 6:30a - stopped at Miami OK to go into a mine to look around. Stopped at Pacific, just west of St. Louis (Below: boys climbed up to observation point).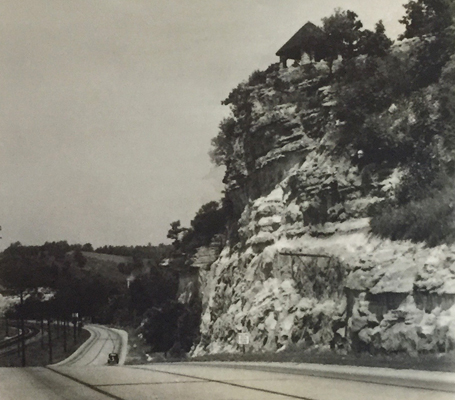 SU: Left Pacific at 6:30a. Stopped in Springfield IL to see Lincoln home and tomb. Got to Madison WI at about 6p.
MO: Had a birthday party for Jim. (Dad left for California at 7p.)
TU-TH: (Dad's trip to LA)
FR: (Dad got in from LA at noon.) Mother took us to the University Club for supper.
SA: Left Madison with Mother Remmel at 9a and got to Minocqua at 3:30p. Shopped for groceries. Ate at the Tower with Dick and June.
SU: Fished - no catch. The boys enjoyed the lake and the woods.
MO: Drove up to Spider Lake. Stopped in Woodruff to see the million pennies.
TU: Fished some but didn't catch any big ones. Played bridge with Dick and June.
WE: Took it easy today. Drove over to Lac du Flambeau. Took mother to the Tower for dinner.
TH: Ate supper? at Baracki's (?) in Minocqua after a day of hiking, fishing, and horseshoeing.
FR: Fished some more but only got some little ones. Steve had a big time catching fish.
SA: We left Sunday Lake at 11:15a and got back to Madison at 5p. Picked up Bob, Gladys, Mother, and Carole at the station.
SU: Had a good visit with Bob, Gladys, Norma, Uncle Bob & Aunt Helen, and the Benkerts. Ate dinner at Saks. Visited with Ray Dvorak.
MO-FR: (Dad to Dallas - no family entries.)
SA: Lorraine drove to Westby. The boys visited the farm with Margaret and Olaf.
SU-SU: (Dad in Dallas - no family entries.)
MO: Lorraine is busy getting ready to leave and helping mother.
TU: Lorraine packed up and drove to Westby to pick up Margaret & Olaf.
WE: Lorraine left Westby early and drove to Bethany MO.
TH: Lorraine and everybody spent the night in Vinita OK
FR: Lorraine and family got back to Dallas today after a tiring trip.

1954 • August 27 - September 5 • Colorado
FR: Left Dallas at 1:00p, stayed at El Rancho Motel, Childress TX.
SA: Drove to Colorado, saw some fine mountains, the boys enjoyed the trip. Arrived in Colorado Springs at 7:00p, stayed at Belmont Hotel 2 nites.
SU: Garden of the Gods, Manitou Cliff Dwelling, Cave of the Winds.
MO: Seven Falls, Eagle's Nest, Inspiration Point, hiked up to Helen Hunt Jackson's grave, Cheyenne Mt Zoo, stayed at Navajo Motel.
TU: Pike's Peak summit, cog railway, drove to Cripple Creek in the afternoon.
WE: Drove to Denver via Boulder, Golden, Lookout Mountain, Buffalo Bill's grave & museum. Central City, tour mine, stayed at Fern Lodge, a fine cabin with TV.
TH: Estes Park, Rocky Mt Park, Chasm Falls, End of Valley campground, Bear Lake Lodge, Glacier Basin campground. Spent a fine day. (Back to Denver at 6p?)
FR: Denver City Park, Museum of Natural History, US Mint, back to the park then to the cabin.
SA: Left Denver early. Ate lunch on Capulin Volcano in New Mexico. Stayed overnight in Amarillo TX.
SU: The boys were glad to get home at 3:15p.



1955 • July 29-31 • San Antonio
FR: We left Dallas for San Antonio at 12:45p. Took the back road and got to SA at 7p. Stayed at the Westerner Motel.
SA: Went out to the Alamo in the morning. Ate lunch in the park, then saw Ft. Sam Houston, the Mission San Jose, San Juan, Brooksfield. Ate at Del Rio (on the Riverwalk) and took a boat ride.
SU: Went to the zoo etc. Left SA after lunch. Stopped at Austin to see the Capitol and the University of Texas. Got home at 10:45p.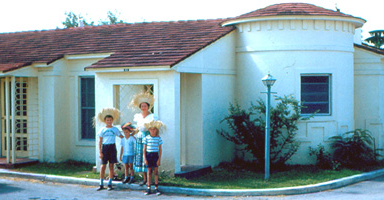 1956

• July 28 - August 18 • California, Yosemite, Grand Canyon
FR: Lorraine took Jim and his gang out to Storybook Land. Packed in the eve.
SA: We left Dallas on our vacation at 6:30a. Drove to Carlsbad NM. Looked around Hobbs a little. Had a swim before dinner.
SU: Went through Carlsbad Caverns in the morning. Drove to El Paso in the pm. Took a swim, then went to Juarez, Mexico. Ate in a drive-in.
MO: Drove to Phoenix AZ. Saw a lot of saguaro cacti and Arizona scenery. Saw Coolidge Dam. Stayed at the Desert Sun in Phoenix.
TU: Had an interesting trip to California. Stopped in Banning to see Ralph and Mary Webster. Arrived in Pasadena about 4p. Had a swim. Went over to Bob and Gladys for dinner.
WE: Took it easy. Visited and ate with Bob and Gladys. Drove around Hollywood, Santa Monica, and Beverly Hills.
TH August 2: Spent the whole day at Disneyland - 9:30a - 9:45p. We all enjoyed it.
FR: Drove to Wilmington and took the boat to Catalina. Had a swim. Saw a bunch of flying fish. Were disappointed in the glass bottom boat.
SA: Took it easy. Helped Bob put up some back fence. Ate dinner with B&G.
SU: Got up late. Had dinner at B&G's at 3:30. Lorraine drove Dad to the Biltmore (Dad at meetings).
MO: (Dad at meetings) Lorraine and the boys drove to Santa Monica and played on the beach.
TU: (Dad at meetings) Lorraine took the boys to Knott's Berry Farm.
WE: (Dad at meetings) Lorraine washed and took it easy.
TH: (Dad drove back to LA) Took Bob, Gladys, and Carole out to dinner. Lorraine packed up during the day.
FR: Took off for San Francisco. Stopped to see Jack Filman in Ventura and the Sinsheiners in San Luis Obispo. Stayed in Monterrey. Went to the beach in Carmel.
SA: Took the 17 Mile Drive and enjoyed it. Looked around Monterrey and drove to Oakland. Rode cable car, ate at DiMaggio's in Fisherman's Wharf. Saw the Bay Bridge, Telegraph Hill, Chinatown.
SU: Drove to SF from Oakland and over the Golden Gate Bridge. Saw truck-car accident (Hwy 50.) (Del Monte Groves?) Drove to Merced (Hill's Motel). Got the air-conditioner fixed in Merced.
MO: Drove to Yosemite. Went up to Glacier Pt. (lunch) and then to the big trees. Wow! (Bear, 2 bucks, deer.) Checked in our tent cabin, then cooked out (hot dogs) and saw the firefall. (Slept in tent at Lodge.)
TU: Cooked scrambled eggs over a campfire - good! Hiked to Bridal Veil Falls. Drove out Tioga Pass enjoying mountain scenery - deer (lots of them) and snow. Stayed at Lee Vining CA.
WE: Up early. Saw ghost town at Rhyolite. Stopped at Las Vegas to play the slot machines. Boys waited on curb. Saw Hoover Dam. Stopped at Kingman AZ.
TH: Started at 6:30am. Drove up to the Grand Canyon. What a ditch! Ate lunch with the deer and birds. Drove to Winslow, Ariz.
FR: Detoured from Hwy 66 to see the Petrified Forest and Painted Desert. Drove to Tucumcari NM.
SA: Got home about 4p. Everybody glad to be home - even to the 100* weather.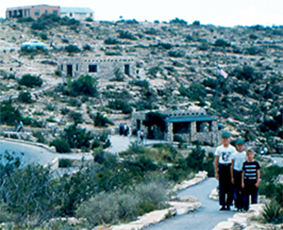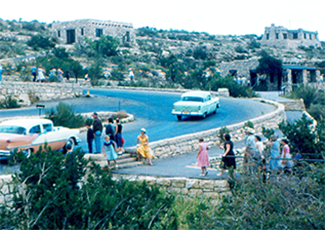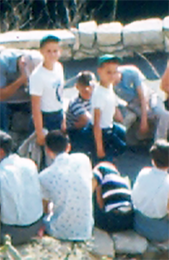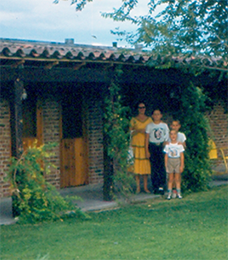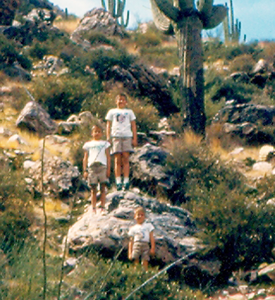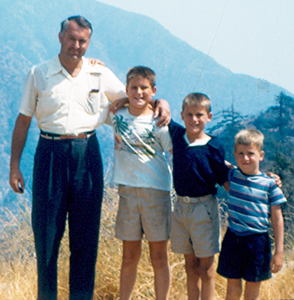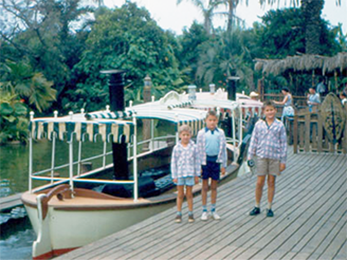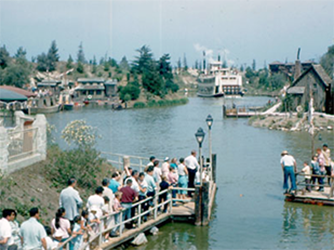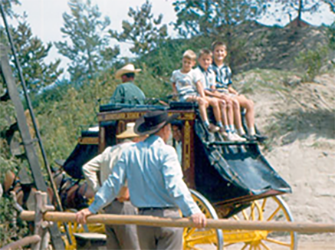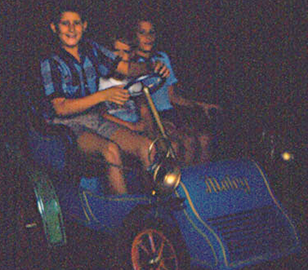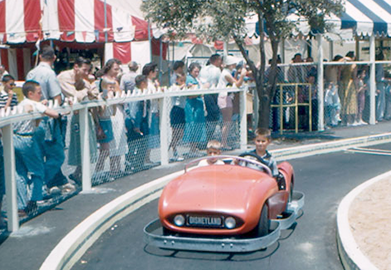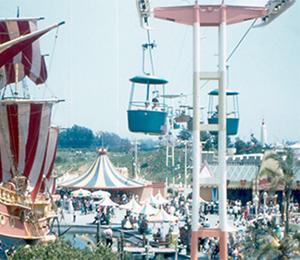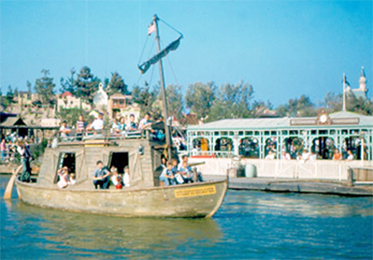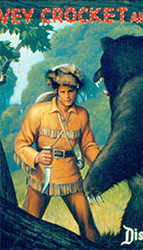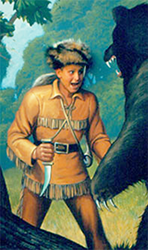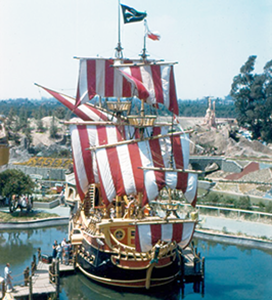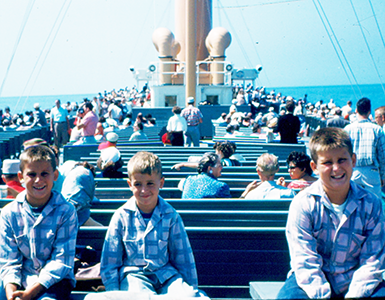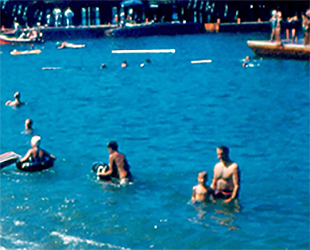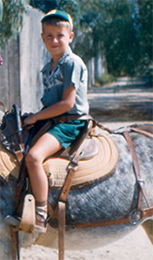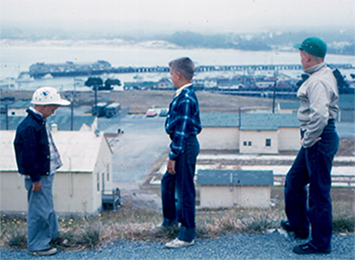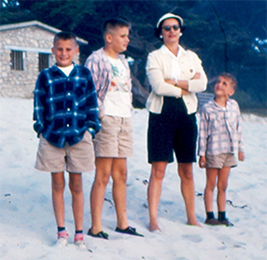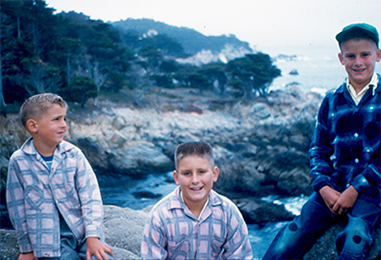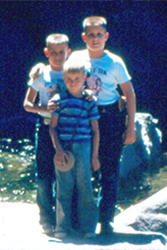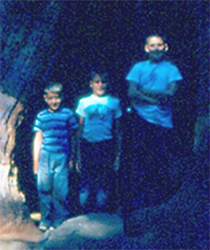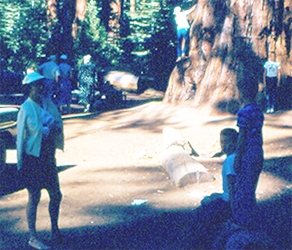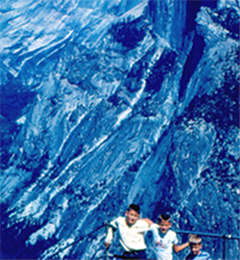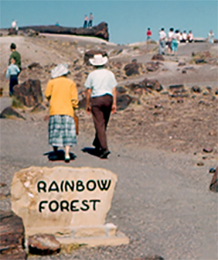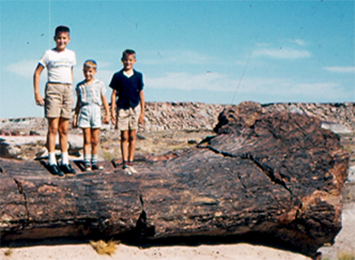 1957 • August • Camp, Mineral Wells
We took Bill or Steve to Camp Grady Spruce, spent a day at the Baker Hotel in Mineral Wells.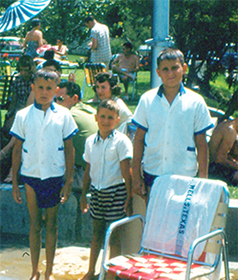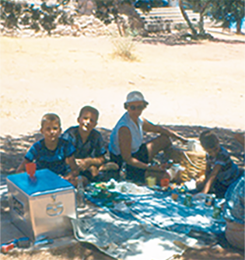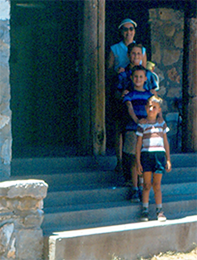 1957

• August 18-23 • Oklahoma
SU: We left Dallas on our vacation at 7a. Drove to Duncan and Lawton OK. Looked around Ft. Sill and then drove through the Wichita wildlife refuge. Spent the night in Altus OK.
MO: Drove up to the Quartz Mt. Lodge in the am. Went fishing and swimming in the pm. Checked in at 3p. Had a good time around the lodge. Lorraine water skied today.
TU: Hiked around the rocks. The boys got up early and went fishing. We water skied in the afternoon. It was tiring but fun. Moved out of the lodge and into a cabin on the shore of the lake. Swam, fished, and cooked hot dogs on the beach.
WE: Spent the day taking it easy - fishing and swimming. Bill tried water skiing today and did pretty well. Mr. Greer of Dallas gave us a boat ride. Ate at the lodge in the evening.
TH: The boys fished and climbed. We left the cabin at 11a and drove to Anadarko. Saw the program in the grandstand; drove out to the Indian Village; and saw the pageant in the amphitheater in the eve. Saw plenty of Indians - dances, costumes, etc.
FR: Left Anadarko and drove to Chickasha for breakfast. Stopped in the Arbuckles to hike down to a stream and wade in the water (Turner Falls). Ate lunch at Lake Murray Lodge near Ardmore. Took the scenic route and got back to Dallas about 7p. Ate dinner at Southern Kitchen.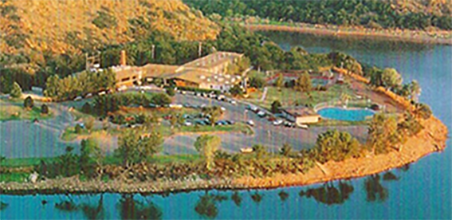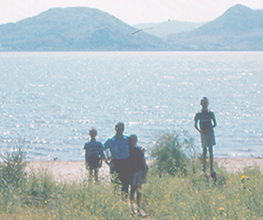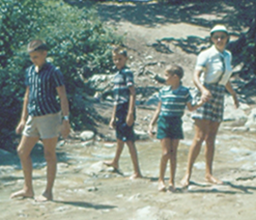 1958

• July 27 - August 9 •

Wisconsin


SU: We left Dallas for Wisconsin at 7:30a. Spent 3 hrs in Sherman TX getting the car fixed. Stopped at Fort Scott, Kansas (Red Ram Motel?) for the night.
MO: Drove to KC for breakfast. Called Mac Miller and met him at Union Depot for coffee. Left KC at 11:30a and drove to Madison via Des Moines, the Amana country, and Dubuque IO. Got there about 1a.
TU: Took it easy visiting with the mothers, Chuck, etc.
WE: Took the boys to the museum.
TH: Went boating with the boys on Lake Wingra.
FR-SA: (no entries)
SU: Drove to Wisconsin Dells. Took boat ride thru the Dells.
MO: Borrowed Walter Niederer's boat and went over to Lake Mendota and had a picnic lunch on picnic point with Chuck, Jean, and Ricky.
TU: We drove to Westby and had a good visit with Margaret and Olaf. The boys had fun at the farm (Jim jumped off loft in barn and cut his lower lip?). Ate picnic lunch at Coon Valley.
WE: Dad drove to Milwaukee with Bill & Steve and had broiled Bratwursts with Dick, June, and the cousins - went to the Braves - Pittsburgh game. Got back to Madison at 12:30a or so.
TH: (no entry)
FR: We left Madison at 9a after having the car fixed. Drove through Dubuque, Davenport, Keokuk, and had lunch near Hannibal MO. Spent the night at (blank)
SA: Arrived back in Dallas about 11p in a driving rain.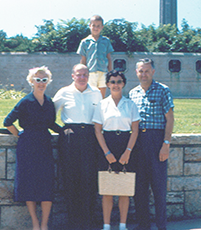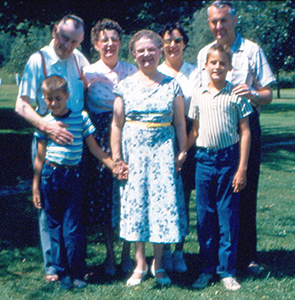 1959 • July 10-12 • Houston
FR: Left Dallas for Houston at 4:45p. Got there at 11:30 and stayed at Western Skies motel. The whole family.
SA: Visited Taylors, Folks, Neighbors, and Dunhams, then went to San Jacinto to visit the battleship and the battleground. Drove on to Galveston at 5:30 and stayed at Buccaneer hotel. Ate at Paul's.
SU: Got up early and chartered a boat. Everybody caught some fish! Back at noon. We spent the afternoon at the beach. Left Galveston at 6p. Stopped in Huntsville to see Sam Houston's house and grave and the prison. Home at 2:30a.



1960 • July 22-30 • Colorado
FR: Finished packing car, took Blackie to Dr. Holt, then met the Johnstons and the Radkes at the Circle and took off for Colorado at 11:30a. Ate at a roadside park and stopped at Amarillo.
SA: Left Amarillo at 6a and drove to Walsenburg CO then went to Salida and Gunnison. Checked a couple of campsites and set up camp on the Taylor River.
SU: Fished but didn't catch anything. Drove up the river and found a better campsite.
MO: We broke camp and moved to another campsite about 15 miles farther up the Taylor River. It was a better site, not so dirty, and cooler.
TU: Spent the day resting and fishing. The boys went horseback riding (Jim on Peanut who took off running and rared back on his hind legs). Played bridge in the evening.
WE (Jim's birthday): Took it easy and fished in the evening - didn't catch anything. Lorraine drove the kids over to the riding stable. Played bridge in the evening after taking a ride up to Taylor Lake reservoir. We won the money.
TH: Broke camp in the morning and left for Colorado Springs at noon. Drove over Cottonwood Pass and arrived in Manitou at about 4p. Drove out to Scout Jamboree site with Johnstons and saw Steve. Watched closing ceremony and program.
FR: Left Manitou at 9a. Ate breakfast at Walsenburg. Inspected old coal mine town near Trinidad. Reached Amarillo at 5:30p and drove on to Memphis TX. Steve left Jamboree at 3:30p but didn't leave Colo Springs until 7(?).
SA: Left Memphis TX at 7:00a. Ate breakfast at Childress and drove on to Dallas.





1961 • July 23 - August 10 • Civil War sites, NYC, Washington DC, Wisconsin




Recorded in a diary by my father, Jim Watson


SU: Left on our vacation at 8am. Spent the night at Memphis, Tenn (in the original, very first Holiday Inn Hotel Courts; named after the Fred Astaire movie and before the word motel - from motor + hotel, was popularized). Played miniature golf. Dad had low score for the day - 35.
MO: Drove to Shiloh battlefield and drove along tour route and inspected the area (Great-grandfather Aaron fought here). Continued on to Chattanooga and went up on Lookout Mt. to see battlefield. Spent the night in Chattanooga (at Albert Pike motel - still there, below).
TU: Left at 7:30a and drove down to Chickamauga battlefield. Went to Oak Ridge, Tenn and went through Atomic Museum. Drove thru Knoxville, visited Davy Crockett birthplace cabin. Spent the night in Bristol, VA.
WE: Drove thru Roanoke and visited Appomattox Court House. Drove to Richmond - then to Williamsburg. Luckily found motel room, then spent some time in restored area.
TH: Watched Visitor Center movie at 8:45 then spent the morning in the restored area. Drove to Jamestown, crossed on ferry, then went to Petersburg battlefield. Spent the night on north side of Richmond.
FR: Drove back into Richmond to see Confederate Museum in Jeff Davis' old house. Drove to Fredericksburg and saw Marye's Heights battle area. Went on to Washington and stayed in Holiday Inn. Went in to town to see Wash. Mon. etc.
SA: Spent the day in Washington and the Smithsonian buildings.
SU: Drove to Mt. Vernon and looked over George's old hangout. Picniced along way back, then went to Arlington cemetery, Lee House. Drove in to see Wash. at night.
MO: Visited Capitol and Senate and House buildings. Then Supreme Court. Visited FBI at 4pm.
TU: Lorraine visited Pan American Union building and the boys and I went to Bureau of Engraving. Took off for New York about noon. Stopped in Verona NJ and had supper with Bob and Helen Shaw after driving up on N.J. Turnpike thru Baltimore. Stayed at Howard Johnson motel in Ridgefield Park, New Jersey.
WE: Went over to New York and checked in at New Yorker Hotel. Took boat trip around Manhattan then went to United Nations. Ate dinner at Mama Leone's. Walked for awhile.
TH: Drizzled all day. Got tickets for TV shows 'Say When' (host: Art James) and 'The Price is Right' (host: Bill Cullen, 1953-1963; announcer: Don Pardo). Took subway to Wall Street area and visited Stock Exchange. Back on bus. Taxi to PiR TV program at 5p. Steve, Jim, and I went to Yankee Stadium to see Yanks and KC.
(Colonial Theater: 1887 Broadway at 62nd. Studio was the first equipped for color production, originated the first color telecast Nov 3, 1953. Demolished 1977).
FR: Checked out after going to top of Empire State Bldg. Drove to Battery Park, boys and I went to Statue of Liberty while Lorraine parked car. Left NY at 3pm. Drove out NJ and Penn turnpikes to Gettysburg PA.
SA: Went thru museum, then toured battlefield taking a look at Ike's farm. Left about noon and drove to Lorain Ohio. Got pretty lousy motel room in rainstorm. Ate at Howard Johnson restaurant.
SU: Drove to Madison.
MO: Took a drive around the campus. The boys went swimming at Wingra and looked over the zoo. Lunch at Mother Remmel's and dinner at University Club.
TU: Tried to find a boat or canoe to rent. Ate lunch at Union with Chuck, Jean, and Ricky. Went swimming at their pool. Ate dinner at 2116 Fox. Boys played miniature golf.
WE: Left Madison at 7a after 6a breakfast at 2116 Fox. Compressor busted near Lincoln IL. Got it fixed in Springfield. Drove around St. Louis and spent the night in Rolla MO. Highways 51, 66, 69, 75
TH: Left Rolla at 7a and arrived home at 7p.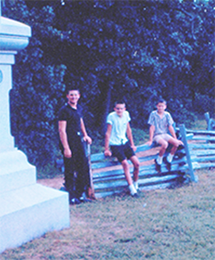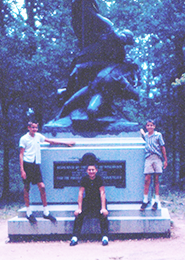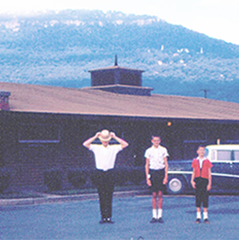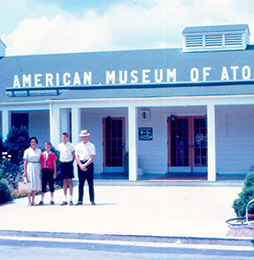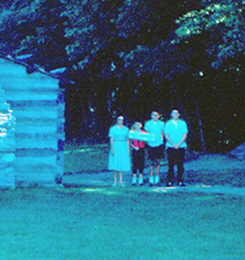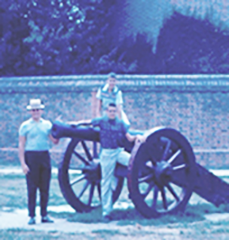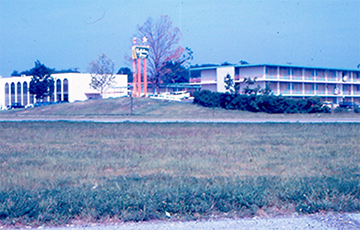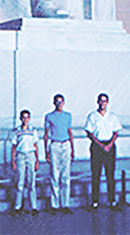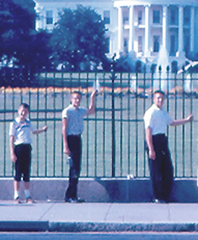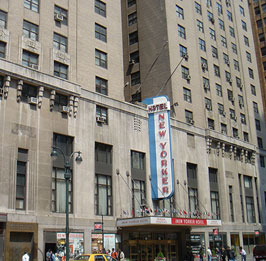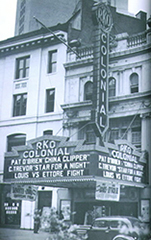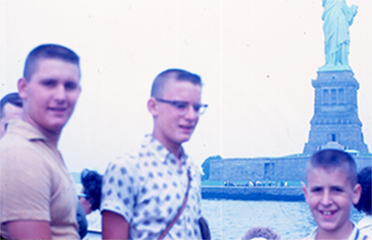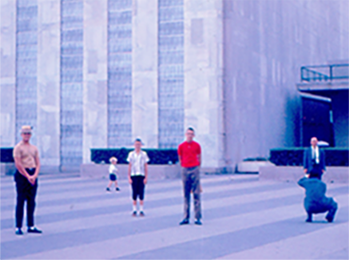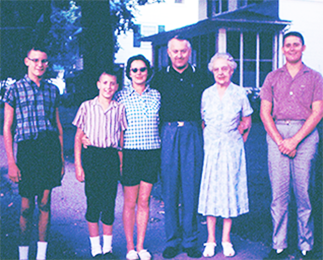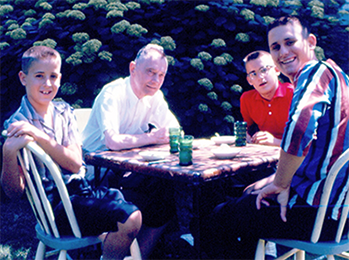 1963 • August 10-26 • St. Louis, Chicago, Wisconsin
SA: 6:15 left Dallas, drove to DX in Tulsa, ate lunch, saw FL Osborn world headquarters outside Tulsa. We got on Will Rogers Turnpike to Chicago. Played games in car. 1:20 got to Missouri. Stopped at Dairy Queen (Joplin?), went through Springfield to St. Louis. 6:00 stopped in Rolla for gas, saw grape vineyard. 7:45 stayed at Ozark Plaza Motel at (66 at Lindbergh?). Ate at Flame Cafe, then back to motel.
SU: St. Louis: 6:45 left motel to see Operetta outdoor theater in Forest Park, then Cardinals Stadium. 8:50(?) crossed Mississippi River to Illinois (at Alton?). Then ate breakfast at a place about 9:45, then stopped at 11:00 for gas and later stopped at Stuckey's at 12:50. Then went on and arrived in Chicago about 2:45, found a motel (Shore Drive Motel), looked around town, went through Chicago to Natural History Museum and ate lunch at the beach, then came back to the hotel to change clothes. Took IC train downtown and then ate dinner at Mammy's, took IC back to motel and went to sleep.
MO: We woke up at 8:15 and ate breakfast at 9:15, then went to Museum of Science & Industry at 9:50 and ate lunch there at 1:30 then left museum at 3:50 and went to the Shedd Aquarium from 4:10 to 5:45. We got out of Chicago at about 6:00, then ate dinner on the road at 8:30. Got gas and drove some more and arrived in Madison at 9:05. We got to Grandma's house at 9:30 and went to sleep.
TU: I woke up at 7:15 and ate breakfast at 8:50 and then went to zoo until 11:00. We left Madison about 11:30 and got to Westby at 1:30 to visit Margaret & Olaf. Ate lunch at 2:05, saw ski jump and Tri-State breeders til 4:30, then ate dinner at Aunt Margaret's house. Left Westby at about 5:50 to go to Madison. Went to see Bob and crew at 8:06 and talked til 9:15, drove around town from 9:55 to 11:30, then came home and went to sleep.
WE: Woke up at 9:00 and ate breakfast at 10:00 (then did something until about 1:00). Ate lunch and went sightseeing, then home, to the park until 4:30. We got dressed for dinner at the University Club at UW Union. After dinner we went to Chuck and Jean's to show slides and give Norma presents until about 11:00, then went home to sleep.
TH: I woke up at 8:20 and ate breakfast at 9:00, then left for Milwaukee at 10:20, I played with Tommy at Dick's (and had lunch there) and we went to new zoo til 4:45. Steve and dad went to Braves Dodgers game, Bill and Pete went to state fair. Then we all had a snack and left for Madison at 6:20, stopped for gas at 6:30 and got to Madison at 7:50. Watched TV and drove around town at 10:30 then went to sleep at 12:00.
FR: I woke up at 9:30, 10:00 went to Math Building and sightseeing until 11:15, ate lunch at 12:00 in a cafe, at 1:00 went to zoo and Grandma Watson's house, 5:00 got dressed to go see Aunt Elizabeth at 5:15. 7:00 we went to Chuck's for dinner until about 10:00, then back home, packed, and sleep at 11:00.
SA: Woke up at 8:00, 10:00 we drove to North Woods, stopped at 11:10 for gas and for beer at 12:30. Ate lunch at 1:15 in Wausau, grocery shopped in Minocqua, gas again at 2:25. Arrived at lodge at 4:15, settled into rooms, fished, ate dinner, more fishing, sleep at 11:00.
SU: Woke up at 8:30, breakfast at 9:30, rowed and played baseball with dad and uncles. Took pictures until 12:30. Cabin, rested, lunch, rowed, took a walk. Dinner at Paul Bunyan's. Water ski show at Minocqua. Sleep at 10:45.
MO: Woke at 9:30, walked, played horseshoes, lunch, fished, dinner, fished, played, sleep at 10:45.
TU: Woke at 9:15, rowed and rowed, horseshoes, baseball to 12:45. Lunch, swimming til 4:15. Lac du Flambeau Indian reservation: dinner, costumes, Pow wow. Home, sleep.
WE: Woke at 9:30, breakfast, horseback riding, horseshoes, lunch, swimming to 4:00. To Trout lake Point and Boulder Junction: watched bears at dump, dinner, til 8:00, saw ski show again in Minocqua, home, played cards, sleep.
TH: woke at 8:45, hiking, lunch at Uncle Richard's cabin, swimming, barbecue dinner cookout on pier, baseball, island for marshmallow roast; read comics, sleep.
FR: Woke at 9:00, breakfast, rowed, hiking, lunch, swimming til 5:00. Played cards went out to eat at Yeshek's Tower for dinner, played cards, packed, sleep.
SA: Woke at 6:45, breakfast, left Sunday Lake at 8:30, gas at 10:45, got to Madison at 1:10, ate lunch out (McDonald's?) to Grandma Watson's to see Ricky play at UW church or carillon tower, dinner at Remmel's.
SU: Woke at 7:00, left Madison at 7:45, stopped for breakfast at 8:30 bought food at 10:50 and ate it at 1:30. Drove to Rolla MO: stayed at Zeno's.
MO: Woke at 5:50, left Rolla MO at 6:20, breakfast in Springfield MO at 8:45, lunch in McAllister OK at 12:45, home at 5:30.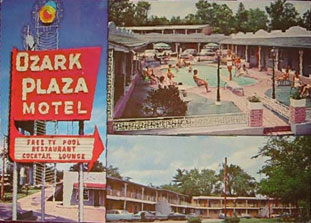 1964 • August 12-16 • New Orleans
Orange TX, Maplewood LA, New Orleans, Baton Rouge; mom (and Bill?) drove.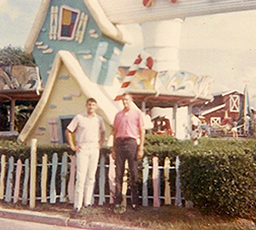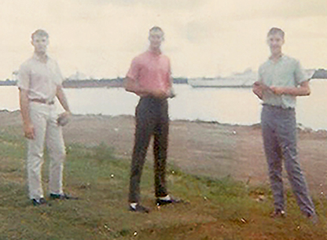 1966 • August 24-28 • San Antonio and Monterrey, Mexico
WE: Georgetown: Inner Space; San Marcos: Aquarena Springs; San Antonio: Fiesta del Rio.
TH: Drive, cross border.
FR: Monterey, Mexico: Grotto at Villa de Garcia.
SA: Drive Monterrey to San Antonio.
SU: Drive to Dallas.

1967 • August 12-21 • Atlanta and Florida
SA: Left on vacation at 7am. Lunch in Monroe LA, Vicksburg battlefield, drove to Meridian MS:


SU: Stopped in Selma AL and Montgomery, drove to Columbus GA to visit friends, on to Atlanta.
MO: Stayed in downtown Holiday Inn. We went out to Six Flags in am. Went to baseball game in evening: Braves & Giants.
TU: Visited Cyclorama, checked out, drove to Stone Mountain, railroad ride, sculpture; drove to Valdosta.
WE: Drove to Jacksonville FL, St. Augustine, Ormond Beach (below left):


TH: Drove to Cypress Gardens to see water ski show, then to Tampa to visit Busch Gardens, then St. Petersburg to visit Manny Douglas.
FR: Drove to Sarasota (above right) to see Circus museums, back to beach by 4:30.
SA: Up early, drove to Mobile AL, visited battleship Alabama, stayed at Ramada Inn.
SU: Early drive, afternoon in Bay St. Louis, New Orleans, walked around French Quarter.
MO: Left NOLA at 7am, drove Alexandria, Shreveport, Dallas.

1971 • March • Chicago, Evanston
Sigma Chi Pledging & Rushing committee meeting; visit Steve, Sigma Chi headquarters, Old Town.

1971 • August • DeKalb IL
Sigma Chi Leadership Training workshop: Tulsa, Six Flags over Mid-America, St. Louis; DeKalb; Greg Dial.

1971 • September 18-19 • Milwaukee and Madison
Flew to Milwaukee on Friday?
SA: Steve & Heidi wedding and reception: Cooper's backyard. Drove to Madison arriving at 9:30.
SU: Bill, Jan, and Jim visit grandmothers. Drove to airport at 2:00, Minneapolis layover.

1971 • Salt Lake City
Sigma Chi Pledging & Rushing committee meeting; Temple Square, Tabernacle, Mormon museum.

1977 • May • Drive to California
Drive with Mike McClure, Phoenix, Grand Canyon, Las Vegas: sleep in Tropicana parking lot, CircusCircus, Folies Bergere?; Los Angeles: Marina Del Rey (TGIF open: May 19)

1977 • September • California, Arizona
Los Angeles: Playa del Rey, beach, Friends at TGIF; Las Vegas: Folies Bergere?, Grand Canyon

1978 • January • Tampa
TGIF, Lana: Walt Disney World

1978 • March 7 - July 17 • TGIF Opening Team van
Nora Hughes, Lenzy Griffin, Lee Ann Malina, Brad Nelson, Gary Sweatt; Paul Curran, Malcolm MacRae
• Rolla MO, Columbia MO, Springfield IL, Schaumburg IL (Schaumburg open: Mar 17) Chicago, Chicago, Second City, Madison WI, Chicago, Cleveland (Mayfield Hts open: Apr 17), Chagrin Falls OH, Louisville KY, Memphis TN, Hot Springs AR, Dallas
• Hot Springs, Jackson TN, Louisville KY, Mammoth Cave KY, Nashville TN, Chattanooga TN, Atlanta, Savannah GA, Brunswick GA, Tampa FL, St. Petersburg, Sarasota, Naples, Ft. Lauderdale (open: Jun 26)
• Montego Bay Jamaica, Negril, Ocho Rios, Ft. Lauderdale
• Ft. Lauderdale, Walt Disney World, Lake City, Atlanta GA, Jackson MS, Dallas



1978 • Los Angeles • TGIF, Marriott

1978 • Los Angeles • Denver, Dayton, Shreveport, Houston, St. Louis, TGIF, September

1979 • San Diego • TGIF

1981 • April • Arkansas and Branson
TH: 2:00 Leave AMHS parking lot, Sherman gas, Lake Eufala, Arkansas, Ft. Smith gas, play King-of-the-Wall; dinner: Asher's house, sit outside, sleep in bedrolls on floor.
FR: Eureka Springs, drive around and pass van, shop & sightsee, drive to Passion Play and statue; Branson: set up camp, pool pinball, drive to dam; charades, campfire.
SA: Silver Dollar City; dinner: camp; Baldknobbers show; camp, poker, hear bigfoot.
SU: Inspiration Point, drive by Beaver Lake, scenic view; lunch: Ashers; car games, McD, McAlester, Sherman.
Campers: Trysh Travis, Katy Pybas, Jessica Heimberg, Daniel Webster, Craig Stoddart, John Mullins, David Opalecky, Tom Asher

1983 • New Orleans • Walt Disney World • Jerry, Spring
Drive & camp in Jerry's VW van. Camp Wilderness, Magic Kingdom, Epcot. Great Liquor survey: picked Dewar's Scotch at WDW Village bar in lake.

1983 • August • Amtrak, Chicago, Wisconsin Star Lake family reunion
Amtrak: Dallas, Longview, Marshall, Texarkana; Mississippi River, St. Louis, Alton, Springfield, Joliet, Chicago.
Chicago YMCA; Train: Chicago, Milwaukee; Star Lake: Aurora lights, horseshoe game: Steve, Dad takes me for a walk of ghost town. Flite home.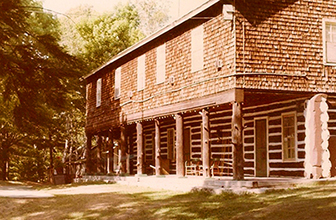 1984 • Christmas • Walt Disney World
TH: Orlando airport, van ride to hotel, sprite boats, volleyball, room 4838 sunset, roof: lights, bus/monorail to Village, dinner: Empress Lilly.
FR: Bkfst hotel, Magic Kingdom, lunch: King Stefan's, parade, Hall of presidents, Disney Story with dad, Pirates, Jungle, Mansion; night: Epcot, Spaceship, Motion, Rose & Crown pub.
SA: Epcot, Imagination, Bus to Japan, lunch: Morocco, American Adventure, Energy, Computer, Mexico: margaritas, dinner: Germany: dance polka with mom, Laserphonics.
SU: Walk to Magic Kingdom; hotel, volleyball; Epcot, dinner: Italy, France: movie.
MO: Epcot, Horizons, coffee, The Land, Canada, China, margaritas, Teacher's Center; Magic Kingdom, castle Christmas show, bears with mom & dad; boat to Ft. Wilderness, Hoop-Dee-Doo; boat to hotel, walk, hotel shops.
TU: Beach with Bill & Jan, mom & dad room: tv special; Epcot with mom, Canada, lunch: France, margaritas, mom back to hotel, walk, monorail to hotel, bus to airport.


"An eating fest at the Morocco Pavilion at Epcot Center, Dec 21" Dad. The Germany Biergarten where Mom and Jim polkaed.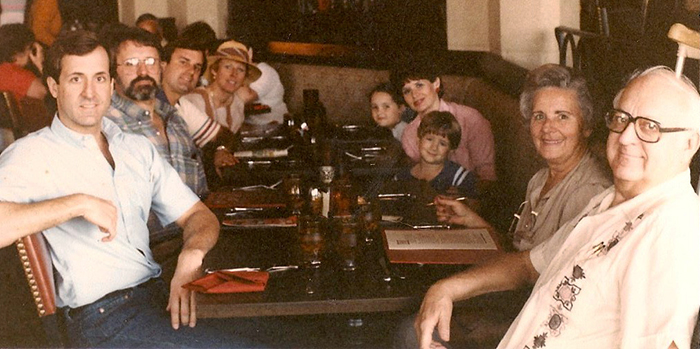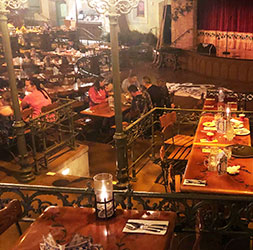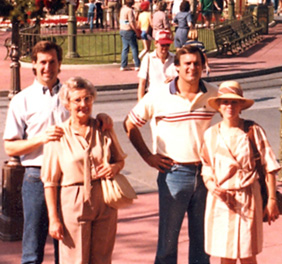 1985 • Spring • Santa Fe Cecilia
5 people: Cecilia & Jim, Dorothy & Michael Dunn, another woman
• Day 1: Load station wagon, drive Amarillo, Tucumcari: Pony Soldier motel on 66.
• Day 2: Valley road up to Las Vegas, brunch downtown, Santa Fe, camp up Ski Basin road, 10,000 Waves.
• Day 3: Camp, "I rac m u cut".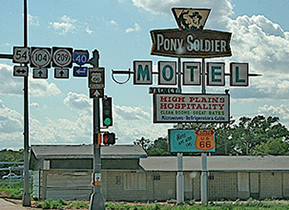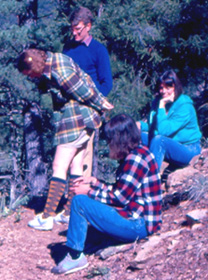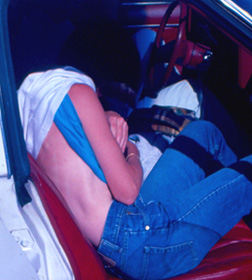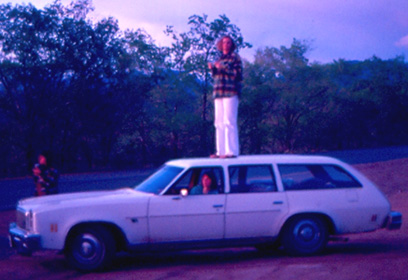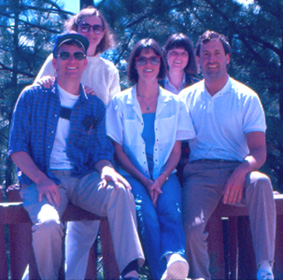 1986 • May 16-20 • San Antonio Laird
FR: Lancaster: Interurban tracks, Waxahachie: Interurban Court, station, bridges, Italy: station, tracks, Hillsboro: station, West: station, Waco: bridge; Austin gas, Salado, dinner: Stagecoach Inn; SA: Skyline Motel, Austin Hwy.
SA: 410 drive, Med Center, 1-10, airport, North Star Mall lunch: Los Patios; downtown, visitor's center, Hyatt roof pool, rain; motel, meet Jerry, to River, drink at Texas 21, trolley to dinner: La Margarita, mercado; trolley to texas 21: drink.
SU: Bkfst: Sheraton, drive residential, Ft. Sam Houston, downtown Joske's groj; Alamo model, Menger; Hemisfair Plaza, lunch: Tower, Institute of Texan Cultures, Marriott; King William district, McNay Art Museum & grounds, Breckenridge Park drive, drink at bridge, motel, Jerry leave for Houston; Olmos residences, Rio, dinner: Michelino's, Alamo Plaza.
MO: Bkfst: La Tierra mercado, Mission Drive, aqueduct, dam, Lone Star Brewery, Buckhorn, free beer; Rio, dinner: Casa Rio, Alamo Plaza, Fuddrucker's: cookies, ice cream.
TU: Bkfst: Jim's Austin Hwy, Witte, Alamo, ITC: nap under tree; drive I-35, dinner: Torito Austin, Ft. Worth.

1987 • June 4-7 • El Paso Laird
TH: Ft. Worth, Ranger, Abilene: Buffalo Gap, Sweetwater, dinner: truck stop, Colorado City, Big Spring: Mayo Ranch Motel.
FR: Bkfst: Friendship Inn, Midland: Petroleum Museum, Odessa, Monahans: sand dunes, lunch: McDonald's, Pecos: hotel museum, depot, mountains; Van Horn, Sierra Blanca: Palace Hotel, transcontinental railroad; lower valley, San Elizario, Socorro, dinner: Juarez: Chihuahua Charlie's.
SA: Bkfst: Whataburger, El Paso History Museum, lunch: Magda's, drive: UTEP, Sunset Heights, Mesilla, NMSU, Transmountain Road, Wilderness Museum, scenic drive: views; Juarez, dinner: Paso del Norte, scenic drive: night views.
SU: Walk Socorro, bkfst: fruit; drive, Monahans, lunch: buffet in Inn, Midland, leave I-20: Sterling City, San Angelo: Ft. Concho, Miss Hattie's, Ballinger: library, depot, Santa Anna, Brownwood: Avalon motel.
MO: Comanche, Hico: bkfst coffee, Iredell, Glen Rose: square, Cleburne: interurban route, Burleson, Ft. Worth, home.

1987 • July 4-7 • Tulsa, Edmond Laird
SA: Chili's; OK tourist center, Indian Nation Tpk; Tulsa: ORU, downtown, Boston Ave Church, Philbrook, Rt 66: motel, nap; El Chico, river fireworks, motel.
SU: Church: Boston Ave, tour downtown, Council Oak, Harwelden, Riverside Drive; Furr's; ORU: Journey thru Bible, City of Faith; Turner Tpk, Chandler, 66 to Arcadia, Edmond; Capitol, Harn homestead, Heritage Hills, downtown, fairgrounds; dinner: Del Rio, Motel 6 I-35.
MO: Edmond, CSU campus: interview, lunch: Graystone, driving tour; Cowboy Hall, Penn Square, Quail Springs, look at apts, Northpark, dinner: Interurban; Northwest Exp: drink: Charleston's, Regal 8.
TU: CSU, I-35 to 77 to Norman, lunch: Interurban, OU campus; 77 to Turner Falls; dinner: Chili's Lewisville.

1987 • July 27-29 • Edmond
Motel 6, Signed UCO contract: July 27, got apartment: WindRush, July 28.

1987 • August 7-8 • Edmond
Motel 6, Laird: Moved office to UCO.

1987 • August 15 • Edmond
Moved to new apartment in Oklahoma, Laird.

1987 • October 16-20 • Santa Fe Laird, Jerry, Becky
FR: OKC airport, DAL: met Laird, ALB, Avis car, drive Santa Fe, dinner: Tomasita's, drive to Velarde.
SA: Coffee croissant, petroglyphs, San Juan Pueblo, Espanola: Bond House, Chimayo, lunch: Ortega; high road to Taos, Gorge bridge, plaza, shop, Velarde, dinner.
SU: Bkfst, San Juan Pueblo, Bandolier: hike, Los Alamos: museums, Santa Fe: La Fonda, dinner: Steaksmith, ski basin: lights, views.
MO: Georgia O'Keefe, Abiquiu mosque, Ghost Ranch Living Museum; Santa Fe: museums, St. Johns, Canyon Road; Old Taos Road: Bishop's Lodge, Shidoni, Zia, Tomasita's, plaza: Elaine Horwitch, coffee.
TU: Walk with Laird, Gloria's: chile wreathes, drive thru SF to Cerrillos, Madrid, Alb: Old Town, lunch: La Placita, Museum of Natural History, airport; Lubbock, Love Field, Lucille pick us up, me to Orchid; to airport, home.

1988 • April 23-24 • Bartlesville and Kansas
SA: Drive, McD: coffee, thru Tulsa to Bartlesville; Price Road, Joe Price/Goff house, FLW 'Robie' house, Frank Phillips home, Price tower, Interurban fotos, Hotel Phillips: roof deck, Comm Center: Taliesin, Johnstone Park, dinner: Western Sizzlin, Washington Park Mall, hotel, read.
SU: Walk to Presby Church: coffee, socialize; Price Tower, downtown, hotel: check out; Wesleyan College, interurban route to Dewey, Dewey; Bartlesville, Woolaroc: museum, lodge, nature trail; Pawhuska: Osage Center; Ponca City: Marland mansion, Pioneer Woman; 77 to Newkirk, Kansas: Cherokee Strip, Arkansas City; 166 to I-35.

1988 • May 18-25 (?) • Austin, Houston, Galveston
WE: I-35; UT: Prather, Jester rooms, Mall, Co-Op, Union; Carey Gallery, mission house; dinner: El Rancho with Tom, Guadalupe: Nuvo, metropolis.
TH: Cafeteria, Highland Mall, 183: Arboretum, Simon David, 2222, motel, Art Bldg, PAC, LBJ Library, Comm Bldg; Sigma Chi house, East Mall; Carey Gallery, Carey party, 6th Street.
FR: Coffee muffin with Tom, Sigma Chi, Drive 71 LaGrange, Columbus, Houston; lunch: Luby's with Jerry; drive Gulf Fwy Galveston: Seaside Pointe; beach, volleyball, San Luis pool, bar; motel; dinner: Landry's.
SA: Strand: shops, lunch, coffee in sidewalk chairs, Seawolf Park; motel; beach volleyball, dinner: Landry's.
SU: Lunch: Hunan, walk jetty; Strand: chairs, meet April, lunch: Yaga's, coffee; San Luis: beach, volleyball; drive Kemah, dinner: Shrimp Point; Houston: Sam's Place, house.
MO: Lunch: seafood with April, Daphne's, Katy's: games; Luby's: with Jerry, movie: Willow, TCBY yogurt.
TU: Randall's: juice, coffee; lunch: Houston's with Jerry and Tom Bartley, Jerry's office, pack; drive Eagle Lake, Columbus, New Ulm; visit Bartley's, dinner: burgers.
WE: Bkfst: TB & Anne in Bellville; Brenham: tour Blue Bell, independence, Washington, Navasota, A&M, Luby's, Bryan; home.

1988-89 • December 31 - January 6 • Arizona, Ventura CA
SA: Drive 9a - 11p, Lordsburg NM: Motel 10.
SU: Lordsburg, Tucson, Phoenix, 2:30p: Arcosanti: bakery, tour, valley walk; Phoenix: Regal 8: tv, rolls, swim.
MO: Bkfst: McD, Cosanti; Taliesin: tour, walks, deliver DFW FLW papers; Phoenix: Price home, Biltmore, lunch: Furr's; drive Ventura: Motel 6; Eric, Denny's.
TU: House hunt, lunch: Gary's, house; Santa Barbara: Lyon's, dinner: Carrow's.
WE: Beach walk, pier, house, errands, lunch: Gary's, Valencia: CalArts, Camarillo dinner: Ottavio's, Motel 6 Camarillo.
TH: Errands, movers unload; drive Ventura mall, lunch: Arby's, dinner: Fuddrucker's, house.
FR: Ventura: old hotels; bus to LAX, terminals, flite, Austin, DFW; Orchid.

1989 • May 27-29 • Springfield MO, Arkansas Laird
SA: Drive Turner to Tulsa, 66: Avery Court, Claremore: Will Rogers Memorial, Oolagah: WR birthplace, lunch: Hardee's; 66 Chelsea, Vinita, Afton: Buffalo Ranch, Kansas, Joplin, old road to Carthage, Hallstown, Springfield, dinner: Seven gables, Lone Star motel.
SU: Springfield downtown bkfst: Ziggie's on 60; 160 to Silver Dollar City: shops, rides, lunch; lake, dam road, Blue Eye, Berryville, Eureka Springs: Razorback Inn, Passion Play.
MO: Christ of Ozarks statue, back road to Eureka Spr, downtown: shops, yogurt, bakery, hotels: Palace & Crescent; 62 west to Thorncrown Chapel, Castle Inspiration Point, Rogers, Springdale, Fayetteville: Univ of Ark, downtown, lunch: taco Bell; 62 west: Prairie Grove Civil War battlefield; Tahlequah: NEOSU, Cherokee Capitol, dinner: Hardee's, Ft. Gibson, Muskogee downtown, 69, I40, 244.

1989 • August 8-13 • St. Louis
TU: Drive: food & coffee on road; St. Louis: 66, groceries, Coral Court, MacArthur Bridge, Union Station, I-70 to Motel 6.
WE: St. Charles: walk, bridge, coffee, Interurban Station; old bridge and road, McDonnell Douglas: tour, gift shop; lunch: Old Country Buffet, downtown: AIA tour map, St. Louis Centre mall, County Courthouse, riverfront, Laclede's Landing: bookstore, river cruise; arch: movie, museum, ride to top; Wainwright Bldg, Union Station: yogurt, margarita, motel.
TH: Forest Park: Jefferson Memorial, History Museum, Art Museum: furniture, cheesecake & coffee, Forest Park; Grand, Fox Powell, Mossa: furniture, St. Louis Centre, Eads Bridge; trace 66: East St. Louis, Staunton, Chain of Rocks, Missouri banks; airport, motel.
FR: Bkfst: Steak & Shake; Zoo, Muny, Cupples House, St. Louis Univ, lunch; Laclede & Euclid, Science Museum; Washington Univ: Art Gallery, Olympics, dinner: TGI Friday's Creve Couer, Chesterfield Mall: haircut, motel.
SA: Kirkwood, 66, bkfst: Hardee's, Laumeier Sculpture Park, 66 across Meramec, Museum of Transport; Busch Brewery, Cherokee, 66, Coral Courts; Grant's Farm: train, birds; cathedral Riverview Dr to Chain of Rocks bridge: toll plaza ruins, walk across bridge; Laclede's: Spag Wrhs, Sundecker's, bridges, motel.
SU: 66: Six Flags, Devil's Elbow, Lebanon: Munger Moss, Springfield, I-44, Edmond 11p.

1989 • October 13-17 • Kansas Laird
FR: Wichita: Hardee's, Vista Mall; Kansas City: downtown, Travelodge, Crown Center, Westport, dinner: Chili's, Westport.
SA: Downtown: City Hall, Auditorium, Lewis & Clark Point; Union Station, Crown Center, bkfst: pastries; Hallmark: Hyatt skywalk, visitor's center: film, lunch on grass; KC Art Inst: buildings, lawn, nap, gallery; Swope Park, Starlight, dinner: Furr's, motel: Regal 8, Vietnam memorial, Westport: bookstore.
SU: Sports complex, Independence Square, shuttle Truman home, library, lunch: cafe; Mormon Visitor's Center; Nelson-Atkins Museum: Goff & FLW; Liberty Memorial, Crown Center yogurt, Lewis & Clark Bridge, Kaw Paw: cruised dock, Worlds of Fun: brief walk (closing), Westport, dinner: Lucille's, Animation Festival.
MO: Cave Springs, Mission Hills, Thomas Hart Benton home, lunch: Winstead's, KC, KC, US 40: Lawrence, KU, art & design; Topeka, Manhattan, Motel 6 check in, mall, dinner: Sbarro.
TU: Drive mall, downtown, KSU: union; Abilene: Eisenhower library, home; lunch: Hardee's, Mennonite villages; Pioneer adobe house, Newton: snax, train depot, Wichita; SF earthquake news, home, tv.

1989 • December 22-29 • Santa Fe Family Christmas
TH: Drive I-40 to Amarillo - bitter cold, blowing snow; Route 66 thru Glenrio; lunch: Tucumcari, Santa Rosa, Clines Corner, Albuquerque: Motel 6, tv movie.
FR: Museum of Alb, NM Museum of Natural History, Old Town, Central Avenue (66), Route 66 Diner, Univ of NM walking tour; Sandia Peak tram and hike; shop mall: new gloves.
SA: Old 66 east to Edgewood, Kirtland AFB: National Atomic Museum, Petroglyph State Park, old old 66 west & south to Las Lunas; Sandia tram: 2 hour hike along mile-high Sandia crest at night.
SU: Oldest church in Alb Old Town; Pick up family at Alb airport, drove to Cochito Pueblo, Santa Fe: settled in at Residence Inn (Rms 211 & 313, 1213) plaza, dinner: Coyote Cafe.
MO: Bkfst at Inn, high road to Taos, Chimayo, forest scenic views, Taos: lunch: Ogelvies, Pueblo dancing, Rio Grande Gorge, drove up to ski area, river road to Santa Fe at 7p, hot tub.
TU: Bkfst at Inn, Santa Fe museums, Canyon Road galleries, lunch: Tomasita's with Jean and Susan Sylvester, Plaza, dinner: Pink Adobe (saw Bill Daly), videos at Inn.
WE: Bkfst at Inn, grocery shopping, Opera House, Santa Fe winery; Los Alamos: historical and science museums; Bandolier National Monument: lunch, hikes, ruins, cave dwellings; Nambe shop, coffee at Plaza, updated videos at Inn.
TH: Bkfst at Inn, shopped and explored the Plaza, search for FLW pottery house, State Capitol,11a: I-25 to Alb, 2:20p: send off family at airport.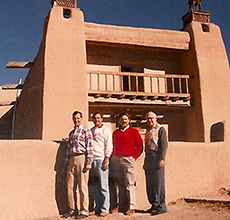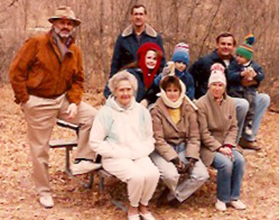 1989-90 • December 29 - January 10 • Pasadena, Ventura, Los Angeles, Phoenix
TH: I met Laird at airport; drive 66 to Grants, Villa de Cubero, Flagstaff AZ.
FR: 6 inches of snow, freeway solid ice, drove deserted old 66 in deep snow, bkfst: Ash Fork on old 66; Kingman: search for Watson 1956 trip motel (no luck), lunch: Route 66 cafe; mountain pass through abandoned mining town, Oatman, Colorado River, Needles CA.
SA: Wash, vacuum & check car; Mojave desert on 66, stone graffiti in Essex, Roy's Cafe in Amboy, abandoned Ludlow cafe and stations; lunch: Barstow, old 66 thru Cajon Pass, San Bernardino, Foothills Drive.
SU: 66 on Colorado Blvd, Pasadena, Hollywood, to dead end in Santa Monica (plaque in park), walked Venice Beach, dinner: TGI Friday's; El Monte Motel 6.
MO: New Year's Day: Up at 5:40, inspected parade floats, watched entire parade; drove through Simi Valley to Ventura, visit with Eric and family, Drove around Ventura, Chinese dinner, slept on sofas.
TU: Ventura: summit mountain view, beach, harbor, Channel Island National Park Visitor's Center, lunch at California 66; drove Hwy 101 to UCLA: toured campus & art building; Griffith Park and observatory (clear night), Jack & Jill motel next to Disneyland.


WE: Took car to fix flat tire, walked to and spent all day at Disneyland.
TH: Crystal Cathedral tour, CalState Fullerton: tour and interview; lunch: Sizzler, CalState Long Beach tour, Long Beach, USC, Museum of Science & Industry, Wilshire Blvd, Century City: Born on the 4th of July (filmed in Dallas), Melrose Avenue, Rodeo Drive; El Monte Motel 6.
FR: Universal Studios, Hollywood, LA County Museum of Art, La Brea Tar Pit museum, Sunset Blvd: dinner at CA-style health food, walked Melrose Avenue.
SA: Car oil change and laundry, Pasadena: Art Center College of Design, Gamble House tour, FLW's Hollyhock House tour, Disney's 1923-25 house & studio, line for Jeopardy (no luck), La Cienega, Hollywood Avenue, Mann's Chinese Theater.
SU: Denny's breakfast, Crystal Cathedral: Robert Schuller & met Rosa Parks, Hollywood Avenue, taping of Jeopardy teen tournament, drive I-10 to Phoenix/Tempe.
MO: Tempe: coffee, Arizona State University tour and interview, Phoenix downtown, Arcosanti:, night hike.


TU: Arcosanti tour, Oak Creek Canyon, drive old 66 in Flagstaff, Albuquerque: Route 66 diner, De Anza: old 66 motel.
WE: Old 66 through Tijeras Canyon, unpaved old old 66 from San Jon to Glenrio, abandoned Ende facilities, Amarillo: Cadillac Ranch, replace fan belt, Laird's Aunt Sis, I-40 to Edmond.
4,460 miles, one flat tire, one worn belt, one burned out indicator bulb.

1990 • July 30 - August 13 • St. Louis, Chicago, Wisconsin, Laird, Door County reunion
MO: 44/66 to Ft. Leonard Wood.
TU: Pacific, St. Louis, Coral Court, Art Museum, Laclede's.
WE: Forest Park, AIA, Grant's Farm, Arch.
TH: 66 to Braidwood.
FR: 66 drive, Motel 6 TGI Friday's, Woodfield Mall.
SA: Prairie Avenue, Robie House, Science & Industry, Lakeshore, Rush St, Magnificent Mil.
SU: Oak Park: FLW, deco.
MO: AIA Loop tour, Art Institute, Sears Tower, boat ride, GuadalaHarry's.
TU: Bkrs Sq, O'Hare: goodbye to Laird; drive, Racine WI.
WE: Door County Family Reunion: Newport Beach, dinner: pasta, custard.
TH: Mini-golf, cookout, Uno.
FR: Goodbyes; drive Ripon, Madison UW, Monroe & Fox Aves, FLW.
SA: Taliesin; Madison UW, dinner: PortaBella State St.
SU: Coffee: Margaret's; drive: Amana, Cedar Rapids, Grinnell, Des Moines.
MO: Des Moines, Hwy 69, Bethany: motel, Ft. Scott, 66/Turnpike.

1990 • October 11-16 • San Francisco, Yosemite Jerry
TH: Class, pack, airport; flite: sleep, Denver transfer, coffee; Jerry at SFO airport, van to rental car; call Chris & Orchid, drive Wharf/Ghiradelli, Lombard St; dinner: Scoma's; cab Buena Vista, Irish coffee; bye to Chris, drive Oakland Motel 6.
FR: Drive UC Berkeley, bakery; mountain drive to freeway; drive Yosemite, grocery shop; check in Lodge, settle; walk to Falls, bar: margarita; dinner: cafeteria, bed.
SA: Bkfst: cafeteria; bus to Glacier point; hike 12:15-6:45; bar: drink; room; dinner: Ahwahnee.
SU: Bkfst in room, coffee in cafeteria; drive to Mariposa Grove; walk sequoias: Grizzly Giant; lunch: Wawana, hotel, golf shop; Village: Visitor's Center, Ansel Adams; room: scotch, sunset from meadows; film: Ansel Adams; room; dinner: Mountain Room.
MO: Bkfst: cafeteria; drive valley to Sausalito; Muir Woods, beach; Sausalito: bay overlook; point overlook of bridge, city, bay; dinner: Chinatown, walk; bookstore, North Beach: cappuccino.
TU: Walk naberhood hill, view, drive Marina District; bkfst: Mel's Diner, view; Alcatraz tour; cable car barn, museum; Alamo Heights, Haight Asbury; airport.

1991 • May 24-28 • Arkansas, Memphis
FR: I-40/US 64, Ft. Smith: forts, downtown, Lake Dardanelle, Conway: downtown, Univ of Central Ark, US70, West Memphis: Motel 6; racetrack, dinner: Western Sizzlin, swim.
SA: Graceland, bkfst: Burger King, Graceland: mansion, film, cars, plane; Pink Palace, Hist/Science Museum, Children's Museum gift shop; Brooks Museum of Art: lunch; Huey's: call Thomas Boggs, city tour, TB house, downtown; Summer Avenue Holiday Inn Courts US64, dinner: Oak Court Mall, Memphis State campus, Union Street, Sun Studio; Beale Street, motel.
SU: US70 West Memphis, bkfst: Burger King; Loraine Motel: talk with Jackie; Sun Studio, Victorian Village; Mud Island: river museum, walkway, museum: Memphis Belle film; lobby of Catherine the Great; downtown, Peabody lobby; river cruise: beer on Mississippi; drive Little Rock, dinner: Hardee's, check in, watch fireworks; downtown: Riverfest, bed.
MO: North Little Rock, downtown; Central High School; drive Hot Springs: visitor's center, Central Avenue; Hotel Margarette; walk Central shops, drive Mid-America Museum, West Mountain summit, hotel: rest; hike Hot Springs Summit, views; bathhouse row, dinner: Magee's, drinks: Hotel Arlington porch, park, bed.
TU: Buckstaff bathhouse: massage, sit in rocker at Fordyce, walk Central Avenue; pack, drive Hot Springs Mountain; US270 to Mena; Talimena Drive; McAlester, turnpike I-40 US62 I-35, home.

1991 • August 10-20 • Route 66, Santa Fe, Utah, Boulder, Denver, Kansas
SA: 66, Weatherford, Elk City, Sayre, Erick, McLean: Route 66 Museum & Western museum; Texola, I-40 Amarillo: downtown, 6th Street; Vega, Adrian, Glenrio, gravel road to San Jon; Tucumcari lunch: Hardee's; Santa Rosa, US84 Las Vegas, Inn of Las Vegas, drive town, dinner: Pizza Hut salad & beer.


SU: Fort Union NM - excellent, with recordings, period costumes, SF trail ruts; Springer, Cimarron: Visitor's Center, tour Villa Philmont (Waite Phillips summer home) scout camp, Old Cimarron; drive Sangre de Cristo mountains, Vietnam memorial, Angel Fire, bypass Taos, river road to Espanola; Rebecca's house, drive Santa Fe, trace pre-1937 Route 66, El Dorado: nachos & margaritas, Wild Oats.
MO: Bkfst with Rebecca: fruit & bread, shop: cold medicine, drinks; US84 Hernandez, Abiquiu, Ghost Ranch Living Museum; Chama & San Juan Mountains; 64 west to Bloomfield, Salmon Indian Ruins, Farmington; Four Corners; Cortez: motel hunt, check in, drive town, hot tub, tv, sleep.
TU: Colorado Visitor's Center, Texaco oil change; drive, natural Bridges Nat'l Park, sit; gravel switchbacks, views, Valley of the Gods, Medicine Hat, Monument Valley, Kayenta; drive desert, Page: drinks; Glen Canyon dam tour; Kanab, St. George, Motel 6, drive town, yogurt, grocery shop, tv, bed.
WE: Zion National Park, Vis Ctr, lunch; tunnel, drive Bryce Canyon: check in, nap, general store; walk rim, nap, walk rim: pink rain storm; sunset, lodge, rainbow, bed.
TH: Bkfst: Lodge, pack, check out; hike Sunset Point 11:30-2:00; store, lunch: Lodge; walk Inspiration Point; drive canyons, Aspen, deer, Mormon towns, Loa, views; Green River: Motel 6, swim, beer.
FR: Powell River Museum; Grand Junction, I-70 canyons, Glenwood Springs: town, pool; Glenwood Canyon hwy construction (repeat): Grizzly Beaver rest area; Vail, Lake Dillon, lunch: McD, Eisenhower tunnel; US40 to Lookout Mountain: Buffalo Bill grave, views; Thornton Motel 6; Cherry Creek mall, dinner: Sbarro, yogurt, Cusco music, motel.
SA: Boulder, walk Pearl Street mall: bookstore, toy store, sit; Sound Warehouse: Cusco tape, Rolf Inst, UC campus: Union, Art Bldg, mall grass; Golden: watch hang gliders, tour Coors, drive town; US6 Central City: walk town, drive up dirt side roads; Gold Rush Junction: beer on porch; Lookout Mt: city lights view; Golden, motel.
SU: Museum of Natural History, lunch: T Rex cafe, museum shop; downtown: Art Museum: Herbert Bayer, shop; Museum of History: mining, dioramas, shop; drive Broadway, Larimer Square, walk, 16th St mall, ride bus, Brown Palace, Shops at Tabor; drive, TGI Friday's, beer: Caldonia's volleyball court patio; Wild Oats shop & dinner, motel.
MO: Check out; tour US Mint, Broadway to I-25, coffee; Colorado Springs: USAF Academy Vst Ctr, chapel, movie; US Olympic Training Center: Vst Ctr movie, walk; downtown; Pueblo, US50; Bent's Fort; Santa Fe Trail; Garden City KS: dinner: McD.
TU: Trail ruts along US50; Dodge City: Front St, Boot Hill Museum, lunch: Golden Corral (ticket #44, card from Bob Watson, Dallas Texas)?; drive Ft. Larned: nature trail walk, SF trail; platform view of trail ruts, SF Trail center Larned; drive Pratt, US54, bypass Wichita, KS tpk, home at 10:00, hot tub.

1992 • May 20-30 • Pennsylvania, Washington DC Laird
TH: Drive, Lebanon, 66, Ft. Leonard Wood, dinner: St. Louis Olive Garden, river, rain, Terre Haute Motel 6.
FR: Bkfst: Hardee's, Bloomington IN: Indiana Univ: Art museum, campus, drag; Columbus: arch buildings, mall, lunch: Subway; Cincinnati: Chuck's house, Mariemont Inn: check in, meet Chuck & Rick in bar, dinner: The National Exemplar, room: Johnny Carson's last show.
SA: US50 downtown, stadium, old bridge to KY, lunch: TGIF, downtown, Union Station tour, shops; Columbus: Ohio State: campus, drag, Wexner Center, downtown, conv ctr, capital square; Pittsburgh.
SU: Downtown: 3 rivers, old fort, bkfst: Burger King; Fallingwater: Pavilion, tour house, cafe, shop; Wash DC Laurel MD motel.
MO: Drive, park near White House, lunch: Old PO, Ford's Theater, Portrait Gallery, Building Museum, Gallery of Art East Wing: coffee, mall to Wash Monument, Vietnam Mem, Lincoln Mem, Wash Mon top: views; drive Georgetown dinner: American Cafe, walk, hotel.
TU: Drive to New Carrollton: Metro to mall, Mus American History, lunch, Smithsonian Castle: Arts & Industries, Air & Space cafe: coffee, metro, Dupont Circle: shops, Metro: Arlington Cemetery: Iwo Jima, Metro: Union Station shops, pizza, Metro: car, motel.
WE: Drive to FBI, bkfst: McD, FBI tour, Capitol buildings, Union Station: juice & muffin; walk, drive Baltimore: Dylan's apt, dinner: lasagna, Little Italy: coffee, apt.
TH: Downtown, Harborplace, World Trade Center Observation, Aquarium dock, Harborplace shops, lunch: burrito, National Aquarium, Harbor Cruise, shops, Johns Hopkins, dinner: fajitas; drive Fell's Point, beer, apt.
FR: Goodbyes, drive; Harper's Ferry Nat'l Park: walk, drive, Knoxville dinner: Cracker Barrel.
SA: Knoxville tour: UT, Expo site, downtown; Nashville: Opry Hotel, downtown, Parthenon, lunch: Taco Bell; Memphis: Overton Park zoo, Lorain Motel: Nat'l Civil Rights Museum, Beale Street, Mud Island houses, Pyramid; Little Rock, Conway dinner: Subway.
SU: Drive, Dardanelle Locks, Ft. Smith: fort, walk; OKC, Stuckey's, home.

1992 • August 10-20 • Oregon Trail, Yellowstone Laird
MO: Drive, lunch: Guymon; Boise City: Trail, Goff house; Colorado: Lamar, Bent's Fort, Pueblo, Colorado Springs Motel 6.
TU: Air Force Academy: chapel, coffee, museum; downtown Denver: bagel muffin, Larimer Square, 16th St. Mall, Tabor Shops; Boulder: UC, Pearl St. Mall, deli sandwich; Boulder Canyon, falls; Shoshoni: check in, hike, dinner, massage.
WE: Bkfst, walk, Flotation sensory deprivation, hot tub, lunch, check out; Peak-to-Peak Drive; Estes Park: walk, shops; Ft. Collins: Old Town, CSU; Cheyenne: capitol, town, Motel 6, airport, train station, beer downtown.
TH: Guernsey, trail ruts, overlook; lunch: Torrington Subway, Carhenge Alliance; Hot Springs, Crazy Horse Monument at night, Mt. Rushmore lighting; Keystone: check in, dinner.
FR: Mt. Rushmore: bkfst, video, tour; Deadwood: gambling: slots, blackjack, lunch: Bodega buffalo burger; Devil's Tower; Montana, Custer's battlefield at dusk; Billings dinner: Fossen's Diner counter, motel.
SA: Billings downtown, wash car, bkfst; I-90 rest area, Livingston lunch: Taco Johns; US89 to Gardiner, Yellowstone; Mammoth Hot Springs Visitor Center, springs tour, walk, Ft. Yellowstone, beer; Old Faithful Inn: check in, beer in lounge, walk geyser, lodge, dinner, gift shop, room; walk, lobby lodge geysers, room.
SU: Geyser, lodge: coffee, basin loop; tour Inn, rest, lunch: lodge; Vst Ctr: film; drive Fishing Bridge: laundry; Canyon Village: juice, muffin; Canyon rim: walk, falls; Inn: rest, dinner, walk, gift shop.
MO: Bkfst: muffins, car to shop; Observation Loop walk, geysers, lunch: Hamilton's, rest; walk to Biscuit basin; Inn: beer in lobby, dinner: lodge, lobby.
TU: Lobby: coffee, lodge: muffin; drive Grant Village vst ctr; Grand Tetons, views; Jackson: walk square, lunch: Pedro's; drive Farson, Trace; Oregon Trail Hwy 28, Rock Springs, Flaming Gorge dam, Vernal UT: Econo Lodge, dinner: Arby's.
WE: Meeker, Rifle, US6; Glenwood Springs, lunch: Italian; Glenwood Canyon, I-70; Denver: shops, dinner, 16th St. bus, Larimer: coffee, muffin; drive Goodland KS: Motel 6.
TH: I-70, Great Bend, Fort Hays; SF trail ruts: Chase, Lyons, home 6:30; Laird leaves, walk Dallas.

1993 • May 22-30 • Utah, Las Vegas, Grand Canyon Laird
SA: Dallas to vet, Laird arrives, leave at 1p; 66: Weatherford, Sayre; Amarillo: Aunt Sis dinner; Tucumcari: Motel 6.
SU: Tucum to Las Vegas: downtown, walk plaza, Armand Hammer World College; Ft. Union: walk; mountain pass to Taos, McD, Gorge Bridge; Farmington NM: Motel 6; shop.
MO: Car oil change, wash; bkfst; Shiprock, Four Corners, Mexican Hat, Bluff; Monument Valley: Vst Ctr, drive loop; Page: Walmart, McD, Glen Canyon dam, Pariah movie set, Kanab, Zion: lodge check in, walk, sleep.
TU: Hike Emerald Pools, bkfst: lodge, rest, check out; hike Narrows gateway; lunch: lodge terrace, nap on lawn; Weeping Rock: hike Hidden Canyon, lodge, vst ctr, wash car; St. George: Brigham Young home, temple; Virgin River Gorge, Las Vegas: strip, Riviera: check in, walk strip, Stardust, beer: Riviera lounge.
WE: Bkfst: buffet, walk strip Mirage, Caesars, Forum Shops, Bally's: get tkt, taxi hotel; move to Circus Circus, lunch: buffet, rest, pool, trolley to Excalibur: rollercoaster motion ride, Trop, bus Circus, rest; dinner: buffet, drive Bally's: Jubilee, downtown.
TH: Drive Mirage bkfst: buffet, gamble, Forum Shops, art galleries, La Piazza: dessert & coffee; downtown, UNLV: library pix of old Vegas, Stardust: gamble, Enter the Night, Mirage volcano, walk, sleep.
FR: Check out, drive strip, bkfst: Sahara; drive Hoover Dam: tour; Kingman: Arby's; Rt 66 to Seligman, Ash Fork, Williams: Westerner Motel, walk shops, laundry, McD, motel.
SA: Drive Grand Canyon, bkfst: El Tovar, walk rim, Bright Angel Trail, Vst Ctr; drive Desert View: snack, Watchtower, store; Painted Desert, Tuba City, Hopi mesa, Gallup 66, Grants: Motel 6.
SU: Drive Alb: bkfst Old Town, drive Central; Shamrock, Clinton, Edmond 9:30p; dinner: Outback.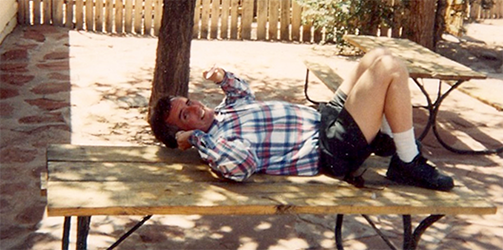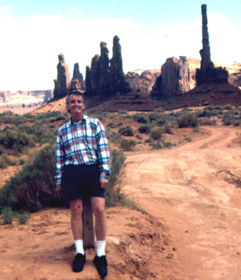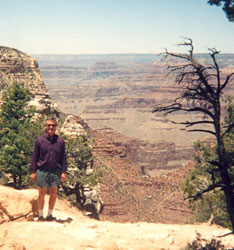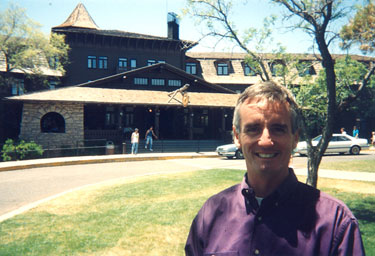 1994 • March 18-24 • Dallas Laird's death
FR: Drive; Laird's; Humperdink salads at Orchid,
SA: File box idea: Home Depot, Laird's, Java, Boston Mkt, Laird's, Orchid; Christopher Stephens: Blue Goose.
SU: Laundry, call Bill, Luby's, Holocaust Museum, Orchid; Phil & Ginni, Rick Eubanks.
MO: Container Store, Laird, Office Depot, Orchid, Mom: Sam's; Laird: Academy Awards.
TU: Holocaust, Home Depot, Wendy's, Rob Smith, Dan & Jim, McKinney, Chuy's margarita, Hillcrest, Leameadow, Orchid.
WE: NorthPark: Sbarro, coffee; Preston: Laird's "Can't keep up." Tollway: Office Depot, Orchid; SMU: Andreas Vollenweider.
TH: Up late, Orchid, packed, goodbyes, Borders - bought tapes, looked at books, vowed to sit there one day and sign cards for The Idea Kit. Very mellow and a bit sad. Drove in rain down Preston, man's heart attack? at S&L by Preston Bank. Office supply - bought file box. To Laird's, bypassed muffin at HP Village and Predock house. Laird not well, "Favorite memory?" stroked hand, left for escape, hugged Janet at stoop, coffee and walk to Cedar Springs shops, feeling better, bought frame at Nuvo for Laird's picture. Sun came out. Back to Wycliff - visit, show frame, talk to Laird "Judy... She's from there" ?
Visit with Lucille on patio. Took a walk (Janet on the phone) around block -sun was out. Decided to leave & get home & to work. Went upstairs to Laird and Lucille. Told them, they agreed. Hugged Laird. He smiled back. Went to bathroom, stroked & goodbye. Lucille said I'm "one of her boys." Downstairs, started to leave - hugged Janet - came back in to wait on John. Watch TV (not scrapbook) with Janet - Designing Women. Mark came & went upstairs (Lucille out). John in - I thank & hugged him - cried a bit (John never did) - thank he'll be glad to see this end. Hugged Janet again as she came downstairs. Outside - down walk - decide to wait on Lucille, turned around - she was walking in from the rear, we hugged and I was off, some crying, gas at Lemmon, Cedar Springs to Oaklawn to Laird's park - trees are budding green. Onto freeway, drive OK, on and off cry, straight home. Got home, called Lucille - no news - called home, called Barbara, got mail, unloaded, took a sleeping pill. Barbara called back at 10:45. Slept.
FR: Up OK, unpacked, worked on Idea Kit, got girls at 11:30. Drove to Western - jacket, coffee at BreadWorks, mail, school - prep test until 6:30. Home, saw message light, knew. Called Lucille - talked to Janet, she relayed the info. Hung up, started to call Barbara but emotion took over. I laughed out loud, cried, took a walk to the store, bought soda, home, sleeping pill, movie - Groundhog Day, went through Laird file.
SA: Up, called Barbara, called Orchid, worked on Kit, Laird file, TV - travel, gym, Sutherlands (edger). Home - dogs - out to mail, school, send postcards to Chris, Margaret, and Rebecca. Shop, rent movies, home - Raising Arizona. Called Rebecca, sleeping pill, Laird file, sleep.
SU: Laundry, clean house.

1994 • May 30 - June 3 • Las Vegas
MO: Dave Harris ride to airport, flite: Houston Hobby, San Antonio, McCarran; van to MGM Grand, Studio Cafe, casino, pool, drink at bar, room, rest; Tropicana, Excalibur, Luxor: Nile boat ride, atrium, dinner: buffet, Search of Obelisk motion ride, drink at Millennium, ride inclinators, hotel, sleep.
TU: Bkfst: Oz buffet, Caesars, Mirage, Treasure Island, tkt to Mystere, reserve room, casino, Fashion Mall, bus to Polo Towers, MGM, lunch: Coyote Cafe, room, pool, hot tub, drinks, room, casino, taxi to TI: watch Buccaneer Battle, drink; Mystere, dinner: Mexican, bus hotel, rode Obelisk Search again.
WE: Bkfst: Benninger's, Tropicana, MGM gamble, lunch: Wolfgang Puck's, room: pack, Trop: backstage tour, MGM gamble, drinks, pizza, theme park; taxi to Treasure Island, check in, rest; Mirage, Caesars Forum Shops, dinner: Spago, casino, Mirage volcano, TI.
TH: Bkfst: TI buffet, Stardust, Circus Circus, shuttle train to tower, Grand Slam Canyon rides; Riviera, McD, Frontier, TI, room, pool: saw Jim, drinks, room; got rental car: drove Boulder City: plaza, Hoover Dam: new visitors center, Lake Shore Drive by Lake Mead, back to Henderson, I-15 to Jean NV: Boomtown, downtown LV: old fort, Golden Nugget, room ,rest, casino, dinner: TI buffet.
FR: Bkfst: buffet, casino, pack, drove Red Rock Canyon: visitors center, scenic loop, hikes, vistas, drive strip, Hard Rock, lunch, Hilton: Starlight Theater, turn in car, airport, Phoenix airport, OKC.

1994 • August 6-13 • Santa Fe, Bisbee
SA: Dogs to kennel; I-40 & 66 to Jericho TX, Panhandle: Square House Museum; Amarillo, San Jon: transmission fluid; Tucumcari: Motel 6: beer & juice, pool.
SU: Santa Rosa 66; Pecos: museum, walk; Santa Fe: plaza, lunch: Ore House, Christopher: Gardunos, plaza: art show, music; Chris: pool, room, Gardunos: margaritas, dinner.
MO: Galieto News: coffee, walking tour; Ski Basin; hike Hyde Park; Chris: pool; 10,000 Waves; dinner: Coyote Cantina.
TU: Alb to Caballo over Emory Pass; Nat'l Forest, Silver City: smoothie, Lordsburg, Douglas: Gadsden Hotel: check in, dinner, walk downtown.
WE: Bkfst: McD; drive Bisbee: Lavender Pit Mine, Bisbee Grand: check in, rest; walk town, lunch: Cafe Maxie, museum; Deco courthouse; tour Queen Mine; walk town, beer: Stock Exchange, views, sunset; beer: Copper Queen Hotel, dinner.
TH: Bkfst: balcony, check out; drive Tombstone: OK Corral, Courthouse Museum; Fairbank ghost town; I-10, Deming McD; El Paso: Motel 6, pool; margarita & burritos, walk, room.
FR: Smoothie in room, downtown El Paso; US62 Hueco Mts; Guadalupe Nat'l Park: hike, vst ctr, stagecoach station; Carlsbad Caverns: vst ctr, coffee, gift shop; Lubbock: Motel 6, dinner: Kettle.
SA: US82, Wichita Falls; McD on turnpike, home, get girls.

1994 • December 18-26 • Las Vegas and Dallas Christmas
SU: Drive, Orchid: arrange furniture; drive airport, flite, McCarran, van to rental car, drive to Treasure Island, room, casino, dinner: buffet, room.
MO: Bkfst drinks, drive, drug store, Sam's Town: coffee, atrium, State Line: Buffalo Bill's: roller coaster, log flume, roller coaster, lunch: buffet; drive TI, room, Gold's Gym, shops, return car, van to TI, bar, Cowboy game, room.
TU: Coffee shop, room, bus to MGM, Theme Park: lunch: Kenny Rogers; bus to TI, room, Mirage pool, hot tub, Cal Pizza Kitchen, walk, Sand's, TI, room rest, Stardust, Hilton: Starlight Express, TI.
WE: Buffet, room rest, Mirage pool, room, casino, spa: work out, whirlpool, casino; Mirage volcano, Caesars Forum: 3D motion rides, Planet Hollywood, TI.
TH: Fashion Mall, coffee, Virtual World: 'Tex', hotel check out, Mirage, Flamingo: lunch, pool; Imperial Palace Auto Collection, TI, taxi to airport, flite.
FR: Dallas: shopping, dinner: macaroni Grill.
SA: Gym, Wanda's, dinner, presents.
SU: Leameadow bkfst, presents, Orchid rest, Leameadow dinner.
MO: drive to OK, get girls.

1995 • March 20-24 • Las Vegas
MO: Flite, Phoenix, Hard Rock hotel: store bag, walk to Holiday Inn pool; lunch, check in, room, pool, hot tub; walk Bally's, Caesars, Mirage, TI, taxi hotel.
TU: Read, bkfst: hotel, walk UNLV, gym, hot tub, club.
WE: Read, bkfst: market, pool; walk MGM: coffee, get tkt, Excalibur, Trop, MGM: see Doug & Damita, dinner: Coyote Cafe; EFX, walk home.
TH: Read, bkfst: market; gym, massage, lunch: hotel; walk Flamingo: drinks, bagel, Harrah's, TI: Mystere, dinner: TI salad, taxi home, gamble.
FR: Bkfst: market, read, hot tub, massage, lunch: (comped), walk mall, TI: pirate battle, Forum Shops, Magic Museum, hotel, taxi to airport, flites with Doug & Damita.

1996 • March 18-22 • Las Vegas
MO: Girls to kennel; airport: front row legroom, read Grisham; LV: get rental car, Texas Casino lunch: buffet, Rio, Mirage: check in, buy tkts; pool: drink; drive NYNY, Fremont Experience, Stratosphere, 7-11 snax, Mirage: gamble, rest; Siegfried & Roy, room.
TU: Spring Mountain Road, bkfst: McD, airport: return car; Mirage: rest, gamble, spa, swim pool, gamble, room; TI: pirate battle, dinner: Dive, Fashion Show Mall, gamble, room.
WE: Gamble, spa, massage, rest, gamble; lunch: comped buffet, gamble, room; walk Monte Carlo, NYNY, Luxor: lose wallet, retrieve; MGM Grand: monorail, shops, Bally's, Mirage, room.
TH: Comped bkfst: Caribe Cafe, gamble; Forum Shops, Mirage, rest, spa, pool, room, haircut; Flamingo, Harrah's Mirage, dinner: cafe, room; TI: Mystere, gamble, room.
FR: Comped bkfst: buffet, gamble, spa, massage, room, check out; taxi airport, flite; get girls, home.

1996 • August 4-8 • Las Vegas
SU: Flite: front row leg room, next to "Do you see her?" megabitch with weeny boyfriend; LV: luggage, Alamo car; drive Strip, lunch: Stratosphere buffet, tower views, rode Hot Shot, waited on sunset: views, bar, down to lounge show; drive, Luxor check-in: room, unpack, read.
MO: 5:42 construction noise, bkfst: buffet; Hoover Dam: new vst ctr, movie, exhibits; Kingman: trace old old 66 to Oatman exit, loop to Yucca, to Lake Havasu City: London Bridge, snacks; Colorado River: trace old 66 to Needles, drive; Laughlin: strip, Flamingo, walk river, dinner: buffet, gamble; Boulder City, LV; tour Michael Graves new library, Luxor: gamble, room.
TU: Bkfst: casino; low on gas, old 91 into Mesquite: Player's Island, buffet; Mesquite, Virgin River Gorge canyons; St. George past Motel 6 (earlier Brice trip) and Taco Bell (earlier Zion Laird trip) to old 91: Santa Clara; tour Jacob Hamblin Pioneer Mormon house; Ivins: old 91 valleys and views; I-15 to Ethel M Chocolate Factory (awful); turn in car, taxi Hacienda, Luxor buffet, room, pool margarita, rest, casino, room.
WE: Read, walk, gamble; Excalibur, NYNY, Monte Carlo bkfst: buffet, room. spa/gym, room, gamble; taxi Caesars, La Piazza, Forum Shops, Country Star Grill: relax, write, ice tea; Luxor room, gamble: almost a Royal Flush K Q A (didn't hold A, got 10 & J), room: read.
TH: Pack, taxi airport: exit row, WRA, drive, get girls, unpack.

1997 • May 27-30 • Mississippi and Memphis
TU: Dogs in, drive; Tunica MS, Sam's Town check-in.
WE: Checked car, Hernando: walk square, Info Ctr; Batesville, Oxford, Ole Miss campus: Sigma Chi, Union, lunch, Starbucks coffee, bookstore, Lyceum: where James Meredith was denied admission in 1962, walk to museums, trail to Rowan Oak: Faulkner's bedroom & typewriter, trail to Lyceum, Library: James Meredith exhibit, Grisham, and Faulkner collection (Nobel Prize); downtown, bookstore, square; Tunica: Grand Casino: drink at bar, dinner: buffet, gamble, Circus Circus: plans for remodel to Goldstrike; hotel, hot tub, pool, room.
TH: Bkfst in room, Memphis: Civil Rights Museum with restored motel and room where MLK was assassinated; Beale Street, lunch King's Palace Cafe, band in WC Handy park, Schwab's drugstore, Main St, trolley thru town, Pinch Hist Dist, Pyramid, Titanic gift shop, exhibit of recovered artifacts; Main, trolley, Beale: Handy Park blues band; drive Union to Overton Park: Art Museum, gift shop, sit in park; drive West Memphis and Southland Greyhound Racetrack, popcorn and beer, watch races; hotel, hot tub, pool, dinner: buffet; Hollywood, Harrah's, Sam's Town, room.
FR: Bkfst: room, get gas, drive 9 hours: 2 stops, some rain, home.

1997 • July 28 - August 3 • Pacific Northwest



SA: Commencement with Lon; Mom & Dad at house, Cowboy Hall; Pepperoni Grill with Dehnerts (above).
SU: Bkfst: Cafe 501, house, goodbyes; prep trip.
MO: Dogs in, grades in; airport: 1st Class, St. Louis, Seattle: get rental car; drive Portland, check in.
TU: Bkfst: Miner's, Lake Oswego, Oregon City, Willamette Falls views; End of Oregon Trail Museum (Laird and I had traveled much of the trail in Nebraska and Wyoming); downtown: Advert Museum, lunch: deli, Pioneer Courthouse Square, Starbucks, History Museum (funeral parlor/living room), Art Museum shop, rail to car; Sandy info center; Columbia River Historic Highway: views, Vista House, falls, hikes; Kelso: mall buffet, check in, walk bowling alley, sleep.
WE: Bkfst: McD; Castle Rock to Mt. St. Helens Visitor Center: exhibits, movie; Coldwater Ridge: coffee, ranger talk, Forest Service VC, Johnson Ridge VC, views; Olympia, Tacoma, Snoqualmie Falls: coffee, Roslyn (Northern Exposure filmed) mural, Joel's office, Brick, Ruthanne's store; Seattle check in, dinner: Taco Bell, walk, sleep.
TH: Drive Everett: tour Boeing; Univ of Washington: lunch: Indian buffet, bookstore, campus, nap, Art Bldg, quad, Union: coffee, Arch Bldg, Art Museum, shop; Fremont: marine store, Interurban brewery, canal with ducks; Ballard: old town, market street; Locks: VC, fish ladder, rest; Golden Gardens Beach: volleyball, barefoot in sand, join group for wine & sunset; Queen Anne bookstore, motel, Jack-in-Box, sleep.
FR: Laundry, bkfst; downtown, surprise David Moore; Pioneer Sq: cartoon store, Elliot Bay Bookstore, pier lunch, waterfront, Starbucks; ferry to Bainbridge; Art Museum; Broadway market, David's apt: walk to Fremont: Triangle Tavern, Olive Way; motel.
SA: Pike Place Public market lunch: Lowell's, shops: puzzles; downtown, Niketown, Gameworks, monorail to Seattle Center: tower views, beer, dusk over Lake Union, night lights, down; walk fairgrounds, dinner: Seattle House pasta, monorail, car, motel.
SU: Check out, bkfst: Denny's, Bellevue downtown, Asian Art Museum: tea, Fremont, Lake Union, Queen Anne: shop, Tully's coffee, FLW style house; airport: return car, change clothes, flites; home.

1997 • November • New Orleans
Went with two others to a graphic design conference. French Quarter, new aquarium, ferry across the River, museums, etc. Had my palm read and a tarot card reading by a former Texan named Hubba Bubba - it was quite true, revealing, and a real hoot.

1998 • January 11-14 • Las Vegas
SU: Pack, walk dogs, drive airport, rest, whole exit row; LV: get bag, car, drive Strip, Sahara: buffet, Hilton: Star Trek Experience, Hard Rock: beers, drive, NewYorkNewYork: check-in, MGM, room read.
MO: Bkfst: NYNY America; drive Desert Inn, UNLV, Rio: coffee muffin, gamble, sky parade; Circus Circus; Caesars, turn in car; MGM RainForest Cafe, NYNY: coffee, room rest; Luxor: Imagine, deli, room.
TU: Monte Carlo bkfst: buffet, Bellagio, Caesars: magician took my watch, Forum Shops: Atlantis show; Mirage: Dolphin & Animal Garden, Venetian Preview Center, Harrah's: buffet; room rest, rollercoaster, Madhattan, visit Jason, walk Showcase, gamble, room.
WE: Luxor bkfst: buffet, room, check out, MGM, lunch: NY deli, taxi airport, explore C & D gates, nice flite; got girls, home.

1998 • March 17-20 • Austin
TU: pack, dogs in, drive new Tracker; dinner: Orchid, Container Store, visit Sandy, Jim, Tracy.
WE: Fixed S&S yard sign, drive old 77 thru Waco: Circle lunch: Elite Cafe, drive, Motel 6: check-in, nap; Tom's house, we drive to dinner: Shady Grove, house, Jeff, beer: Chain Drive, motel.
TH: Guad/Nueces, park Sigma Chi house, walk drag to Einstein Bagels: coffee, sit, drag, Barnes & Noble (former Co-Op), Dobie Mall, Ransom Center: Guten Bible, South Mall, Bus, Jester, Prather, Jester: room 467 (1969-70, sophomore year), stuck 15 minutes in elev lobby until an unsuspecting coed let me out, Drama bldg, East Mall, Union, Tower Room (Now the Revolution), AC, Kinsolving "can I see your tits", Drag: coffee; drive 2222, Hippie Hollow: lay in sun naked, 180/360: Whole Foods lunch; motel: rest, drive Ridgelea, Tom's: Antique mall, dinner: La Madeline, Tom's: internet: Kirk, drive Riverside, motel.
FR: Check out, Warehouse district, Children's Museum, South Congress, capitol vst ctr, Zilker, Barton Springs, 2222 to antique mall, lunch with Tom: Sonic, talk; drive, Orchid Bill, dinner: El Fenix, Steve visit, drive home.

1998 • May 29-31 • Wichita
FR: Drive, over to Arkansas City: train, Winfield, Augusta, 54 to Motel 6: check-in, rest; downtown, Old Town: Bohemian Bean, Train Station, walk market, Heroes bar/grill, drive to Metro: sit & write, dinner: McD, motel.
SA: Old Town Market: coffee, scone; FLW house, Wichita State, Coleman Store, Black Museum/church (closed), Old Town lunch: River City, Brewery, County History Museum: buy beanie baby of Dallas, antique store on Douglas, Boeing, Airport Museum, mall, movie: Godzilla, dinner: Luby's, motel, rest, dinner: Boston Market, airport, motel.
SU: FLW house, town, river; Wichita Zoo, WSU Art Museum: tour bldg, lay in grass, drive Hillside to see old plane factory, lunch: Boston Market, Black History Museum: talk with retired activist/teacher; drive, tpk plaza, home.

1998 • August 4-9 • Los Angeles
TU: Pack, dogs to vet, WRA: bkfst, flite, Denver: walk/train, flite: Las Vegas view, LAX: luggage, bus to Thrifty; drive freeways, lunch: Tilly's, Motel6 check in, shower; 4p: Disneyland, dinner: Plaza Inn, fireworks; walk hotel: lights out!
WE: Check out, drive Disneyland roads, South Coast Plaza: Starbucks bkfst, Noguchi sculpture garden; drive Yorba Linda: Nixon Library: tour home, film, Nam artifacts; drive Pasadena, lunch: bagel place; Huntington Library: Gutenberg Bible, house, gardens; drive Old Pasadena, smoothie; Arroyo Seco Fwy to 101 to Hollywood: check in Motel 6; drive Sunset/Santa Monica to West Hollywood, dinner: Boston Market, hotel.
TH: Drive Westwood: Starbucks, walk, UCLA union, Bruin Plaza, quad; Armand Hammer: Disney models exhibit, Strbx, more exhibit, gift shop book, cafe, pkg groj, changed clothes, shut car door - keys inside "I can't believe I just did that." security desk, saw tow truck with locksmith on it drive by, chased, caught as he u-turned at roadblock, we drove back, he opened door; drove on to Getty Center, tram to museum: films, manuscripts, dinner: cafe, gardens, sit on plaza: music wine, took last tram down; drive, motel.
FR: Drive Hollywood, coffee/bagel, Roosevelt Hotel: tour, early Hollywood exhibit, Mann's Chinese; drive Sunset, Paramount Studios: tour, original gate; drive Melrose: 1910 A&C store, lunch: Melrose diner; Beverly Center: coffee break; Hollywood, Universal CityWalk, dinner, hotel.
SA: Strbx bkfst; drive Crest hwy to Mt. Wilson, hike to observatory; drive Pacific Coast hwy and ocean, see Eames house; Venice: Marina Pacific hotel, ocean walk, sidewalk cafe overlooking Venice Beach boardwalk, beach, and breaking waves, vendors, snacks on sand, ocean; drive to TGIF (vacant); motel rest, late night, eat ihop.
SU: Burbank: Strbx, Bob's Big Boy, Griffith Park: TravelTown, Gene Autry Western Heritage Center; drive to Thrifty, turn in car, shuttle LAX: strbx, lunch, flite; luggage, drive home.

1999 • August 12-14 • Southeast Missouri
TH: Pack; drive Tpk, bkfst: McD, Tulsa, 66 Claremore: Will Rogers Museum, Davis Gun Museum, lunch: 66 coffee shop, 66; Foyil: totem pole park, Chelsea, Buffalo Ranch, 9' paved sections, Miami: Coleman Theater, Commerce, Quapaw, Baxter Springs KS, walk arch concrete bridge, Galena, old 66; Joplin, Springfield: Bass Pro: Hemingway's; Branson: town, Motel 6 check-in, read, sleep.
FR: Drive 76, bkfst buffet; Silver Dollar City: rides, cajun show, cave; juice n Java, outlet mall, motel, outstanding Andy Williams show, snax, traffic, sleep.
SA: Chateau Hotel on lake, Big Cedar Lodge; Berryville: square; Eureka Springs: see Letitia at Crescent Hotel, downtown shops, Letitia's house; Bentonville: (Walmart Visitors Center), Rogers: 1st Walmart, lunch: McD; drive, eat at WD 'Bill' Hoback Plaza, home, sleep.

1999 • January 3-6 • Las Vegas
SU: Bkfst: Braum's, airport, flite: good seat, view Grand Canyon; get rental car, Hard Rock, Mirage: check-in, room; drive Rio: Voodoo Terrace views; downtown: Glitter Gulch light show; Mirage: massage, dinner: Caribe Cafe, gamble, room.
MO: Bkfst: buffet; drive walk desert, LVS&SR: watch & sit, Pahrump, sandwich, Terrible's Town, Red Rock; Whitney Library, Sam's coffee; Mirage: rest, Bellagio shops, tram Monte Carlo, conservatory, O show, dinner: Bellagio cafe, Fountain show, hotel, room.
TU: Bkfst: buffet; drive Reserve, tour Ocean Spray, drive town, Strbx, Summerlin, Mandalay, NYNY lunch: deli, MGM, return car; Ceasars Empire tour, coffee, Forum Shops, room: rest, spa, workout, hot tub, room, bellagio Fountains with Adam, shops, 3rd fountain show (Sinatra, Chorus Line, classical), Forum dinner: Planet Hollywood, shops, Mirage: Adam gamble, me to room, TI, room.
WE: Bkfst: snack bar, Paris, Aladdin, Starbucks, MGM shops, pool, monorail, Mirage: pack, check out, Forum Shops: 3D Race for Atlantis, coffee: Virgin Cafe, venetian, TI: pirate battle, eat Lookout Cafe, Bellagio Fountains, Mirage: taxi airport, wait delay, easy flite, luggage, drive, home.

1999 • May 31 - June 4 • Las Vegas
MO: Dogs in, gym, laundry; airport: lunch, read Grisham; flite, taxi: NewYorkNewYork, rest, MGM, dinner: NY America, gamble, views, read.
TU: Tram Mandalay bkfst: buffet, explore Mandalay, Luxor: coffee, ride simulator, room, pool, read; Trop: get tkt, Gambling Museum, NY deli: lunch, room; strip, Bellagio, strip; room, Trop: Follies, room.
WE: Bkfst: America, strip, tour Venetian, TI: Strbx,; Rio bus: Rio 51st floor, lunch: Beach Cafe, bus; room, Mandalay, room; Lord of the Dance, strip, room.
TH: Rent car, Hard Rock bkfst; Valley of Fire: vst ctr, petroglyphs, Moulin Rouge, Downtown: Neon Museum; Fashion Show Mall lunch, Mandalay, Yesco graveyard, LV volleyball center, Stratosphere Tower: observation, scotch, Bellagio fountains, park, room, gamble, sleep.
FR: Check-in airport, read, flite, get girls.

1999 • September 29 - October 3 • Las Vegas
WE: Pack, girls in, airport: bkfst, flite, DFW, ride traain, LV: taxi to Treasure Island: check-in, Venetian, pizza, TI: room, Ven: Penn & Teller, drink, eat, pool deck; TI: read, sleep.
TH: Bkfst: cafe, Ven: coffee, Program, lunch: Star Canyon with Ruthanne, canal shops, Program; TI: unpack strip, Bellagio Fountains, Mirage, room.
FR: Ven: bkfst, Program, lunch: Star Canyon with girls, Program, iced coffee, Canal shops, dinner: Mexican Tussaud's Wax Museum, Mirage volcano, TI: room.
SA: Gamble, Ven: bkfst: deli, bus to Yesco sign factory tour; gamble, Paris: lithograph studio, Bally's, monorail, MGM, Elvis auction, Lion habitat, NYNY: snacks, gamble, Fountains, Eiffel Tower: views, fountains; TI: dinner: cafe, room.
SU: Pack, bkfst: Cafe, gamble, pool, read, spa, Strbx, lunch, room: pack, taxi with girls, airport check-in, drive girls home, home.

2000 • May • Las Vegas, Mitch
FR: drive: lost glasses? Hospital: talk with mom, dinner in hospital, Orchid.
SA: Strbx, Northpark; hospital: visit, talk with doctor; Container Store, Orchid; drive Love Field, dinner: takeout Luby's.
SU: Orchid; lunch: Petroleum Club, S&S, B&D; Orchid; Galleria, Imax: Siegfried & Roy; Orchid, dinner, pack.
MO: DFW, flite: Las Vegas: taxi Monte Carlo: check in, gamble, lunch NYNY deli, coffee; MC: pool, rest; food court: coffee; Mitch: drive Strip, Sahara coaster, MC, Luxor: Blue Man Group, dinner: Luxor buffet, Bellagio Fountains, MC: sleep.
TU: Gamble win $250, coffee, gamble win $130, room, bkfst: MC cafe, bye to Mitch, room rest, gamble lose $100, tram Bellagio, Mirage coffee, Forum Shops: shoes (leave old pair in mall), Paris, room; tram Bellagio, Paris: Notre Dame, gift shop; Bellagio Art Gallery, tram, room.
WE: tram Bellagio, Paris: gamble win $640, bkfst: Paris buffet; room, pack, win $60, MGM: coffee bagel, MC: taxi airport: win $162,; flite: front row leg room; DFW baggage: no car keys in suitcase pocket (unzipped), baggage handler called: he found keys; drive Orchid.
TH: Visits, pack; Strbx, Dart Park Lane, Knox Strbx, Rest Hdwr; Central, Woodall, 35, drive home, get girls.

2000 • December 18-21 • Las Vegas
MO: Pack, girls in, airport check-in, LV: get car, Aladdin check-in, shops, drive Strip, Reserve: gamble, dinner: Congo Jack's; Alad, rearrange room, read, sleep.
TU: Strbx, gamble, gym; Suncoast: gamble, lunch, coffee; turn in car, shuttle to Aladdin room, Paris, Bellagio fountains, dinner: Alad cafe, room, read; taxi Rio: gamble, De La Guarda, taxi hotel, room.
WE: Bkfst: buffet, gamble, room read, Caesars: coffee, shops, Venetian shops: mime, singers, lunch: Chinese, Grand Canyon store, MGM, deli to go, room: eat, tv, sleep.
TH: Bkfst: cafe, Bellagio, Desert Passage shops, coffee, gamble: free buffet, room: pack, taxi airport.

2001 • July 27-30 • Las Vegas
MO: Aisle seat, prep Typography; taxi Flamingo: check-in, room, gamble, snax; taxi to Boulder Hwy C-store, get snax, walk to stadium, desert heat, crowds, nSync concert, great set, watch strike, hail taxi, share to Barbary Coast, dinner: Lindy's, room.
SA: Bkfst: buffet, gamble, room, pool, room, Aladdin shops, Strbx, NYNY, Mandalay, Shark Reef, lunch: rock lobster, Luxor iMax: nSync movie, shop, Excalibur, NYNY, MGM: monorail, Bally's, Flamingo: sleep.
SU: Bkfst: buffet, room, Caesars, La Piazza coffee, Forum Shops, lunch: Cafe Lago, Bellagio, Desert Passage, room, Venetian: shops, coffee, pretzel, Guggenheim Hermitage, TI: scotch, Mystere front row, volcano, Flamingo: dinner: Lindy's, room.
MO: Bkfst: room pastries, coffee, pack, check-out, taxi airport; roam airport, flite; buy nSync CD, get dogs, home.

2002 • April 12-14 • Southwest Oklahoma
FR: Panera: Lon, Tom, bagels coffee; drive Bailey Tpk US81, Duncan Chisholm Trail Museum, Waurika lunch: Country Cookin', depot, Walters, Temple, Lawton: Museum of Great Plains, prairie dogs: lay in grass (miss travels out west), Holiday Inn: check in, rest, Meers: store, see Larry Howard, Medicine Park dinner: Front Cafe, walk shops, cabins, Lawton casino, motel.
SA: Walk, bkfst: fruit coffee, rainstorm, Lawton: Cameron Univ, Mattie Beal home, Central Mall, check out, Cache, Wichita Vst Ctr, lunch: Meers, drive Wildlife Refuge, hike to creek & clearing, drive old 62 to Altus: square, auditorium, Hastings: coffee, Museum of Western Plains, Quartz Mt: check in, hike dinner: cafe, library, hot tub, room.
SU: Foggy lake, bkfst: Sundance Cafe, granola, coffee, check out, Mangum, historic windbreak, Sayre: Art Deco PO, WPA mural, old 66, Elk City: 66, Oldtown Museum buildings, 66 to Clinton: park, alignments, Route 66 Museum, lunch: Del Rancho, Dairy Queen, Weatherford, SWOSU, PO mural, home.

2002 • May 26-30 • Las Vegas
SU: B&N: Mitch Baker, Doug Getzoff, drive airport, flite: aisle exit row, get rental car, give ride to OK woman to Mirage, drive to Stratosphere, dinner: Lucky's, shops, observation, bar, shops, drive Caesars Palace: check in, unpack, rearrange furniture, read, sleep.
MO: Drive strip, old airport, Mandalay, Palms: bkfst, Red Rock Visitor's Center, scenic drives, overlook, spring, pictograph, hikes; drive Liberace Museum; Caesars, La Piazza coffee, gamble, room, drive Gold's Gym, smoothie, return car, shuttle to hotel, gamble, room rest, Forum Shops, Atlantis, dinner: La Piazza, gamble, sleep.
TU: Bkfst: Cafe Lago, gamble, Bellagio Conservatory, walk NYNY, MGM, Aladdin, Desert Passage: buy mobile for 424, Starbucks, Paris, Bellagio, Gallery: Calder exhibit, Caesars room, pool, iPod music, hot tub; dinner: La Piazza, gamble, shops, sleep.
WE: Bkfst: Cafe Lago buffet, gamble, fitness center, room, Forum Shops, Venetian: Guggenheim Museums - Masterpieces & Art of Motorcycle, lunch: food court, Canal Shops; room, pool, iPod music, room, Cafe Lago, gamble, bellagio: Fountains, shops, snak, room.
TH: Gamble, Cafe Lago, room, pack, photo room arrangement, check out, taxi to airport, exit row, flite, car, drive, dinner, home.

2002 • August 8-11 • Dallas
TH: Drive; Orchid; Ft. Worth: Grants, TCU, Modern Art, downtown, Joe T Garcia's.
FR: Drive with mom: Willow Bend: Chiasso, Apple; lunch; Deep Ellum: buy bicycle for Dept Office; dinner: Luby's, Cowboy's game.
SA: Wanda Hill: bkfst; lunch; Container Store: buy Dept Office mailbox cubes, Mockingbird Station, NorthPark; Steve's: Bill & Debbie.
SU: Drive; Donna Adams: coffee; drive.



2002 - 2003


• Mom died December, 2002. Christmas was a bit tough. Inurnment service was on Christmas Eve. The focus of Christmas was to keep dad occupied. We spent time at each brother's house. Everyone did the best they could to not dwell on the huge void in the family, at the dinner table, around the tree.
• I spent many spring weekends in Dallas to spend time with dad who now lived alone after 60 years of marriage. One weekend I took him to see Alegria by Cirque du Soleil. I enjoy their work and wanted dad to see this show with me. We had a great evening.
• In April, 2003, 4 months after mom died, dad had a severe stroke. We moved him into rehab and critical care nursing homes. He never went home again. I spent many weekends throughout the spring, summer, and fall driving to Dallas and taking care of dad. Helping him eat, wheelchair rides, crossword puzzles, and talking and sharing.
• We went through decades of mementos in our family home, held an estate sale, and sold the house in September. We had moved into this house in 1958.
• Dad got progressively worse until late September when he was taken back to ICU. He was put on a breathing machine (which he specifically did not want). My brothers kept him on the machine until I could get back to Dallas to be with them when dad took his last breath.
• Dad died on September 29, 2003.

2003 • August 5-8 • Las Vegas
I hadn't had a good getaway for a long time; I wanted to be available for my dad in the nursing home. I took a chance and booked a trip to one of my favorite cities. I sat by the Treasure Island pool, wrote, and read. I didn't see any shows, didn't gamble much, or walk much - just took it easy. It was good.

2004 • October • Chicago
Took the train from O'Hare into the city - the CTA Chicago subway has a station right at the airport (great idea - New York has done the same with its AirTrans system). Went to a pharmacy the next morning to buy stuff since I had forgotten to pack any toiletries. Walked to Millennium Park - an absolutely fantastic urban park, one of the best I have ever seen - great public art, an amphitheater with an awesome bandshell by Frank Gehry, plazas, fountains, and gardens. I had not experienced a Gehry structure up close - they are true works of architectural art. Other sights: Art Institute, Chicago Architecture Foundation shop and exhibits, Monadnock and Rookery buildings, the Art Deco La Salle Bank, Michigan Avenue (the Magnificent Mile), the Apple Store, Museum of Contemporary Art, Water Tower Place, Hancock Tower Observatory (I rearranged the queue line ropes while waiting in line), and the Navy Pier where I enjoyed dinner and music at Joe's BeBop with the Skinny Williams band. Then a day and a half at the AIGA Design Education conference - spent time with Dean Markwood and Greg Skaggs, one of UCO's best graduates. Sunday afternoon was in Oak Park, former hometown of Frank Lloyd Wright, and several great examples of his early work when he started his own firm. Walked the town and had coffee and dinner there before taking the train back to the Loop and the hotel.

2005 • January • Las Vegas
Went to The Amazing Meeting - a conference of and for freethinkers. It was fabulous. Great presentations including Julia Sweeney of SNL and Penn & Teller plus numerous other illusionists, scientists, and religious scholars: Richard Wiseman, Jamy Ian Swiss, Michael Shermer, Banachek, Richard Dawkins, James Randi, and Christopher Hitchens.
The most impressive aspect, however, was the goodness of the people there. You know how Bill O'Reilly, Rush Limbaugh, and Bush have a negative bitter tone about them - these free thinkers were very positive and supportive - not an unkind word about anyone. How refreshing. Just enlightened and intelligent talks about reason, science, and evidenced phenomena.
After the 4 day conference, I spent a day just enjoying Vegas. Stardust: rented a compact car (but they were out so they gave me the use of a Cadillac Escalade). Saw the new Cirque du Soleil show, KA, at MGM Grand, drove downtown to see the Neon Museum, the new wing of shops at the Forum at Caesars Palace, and the new outdoor show at Treasure Island. Vegas is such a great visit. I've yet to tire of going there. The design, architecture, and attention to detail are outstanding. It is easy to get around, fun to see new sights, and wander the strip and ogle outstanding architecture, exhibits, and people. It is a real hoot.

2005 • May • Walt Disney World, Orlando
I went to central Florida to visit friend Roberta and her husband Steve.
MO: Spent most of the day in airports and on flites. Roberta picked me up in her new red Mini Cooper convertible. Toured her beautiful house in a great older naborhood near downtown Orlando. Had dinner on a terraced patio overlooking Lake Eola in downtown Orlando. Walked around the lake, getting caught up with Roberta. Drove around town a bit.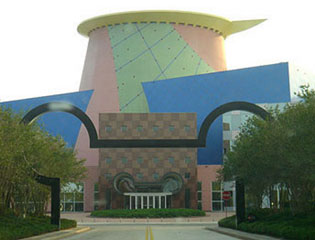 TU: Walked with Steve to naborhood cafe patio for breakfast. Toured the campus of the University of Central Florida - Roberta's Theater department, student union, and library. Enjoyed Tex-Mex lunch with Roberta. Drove to Universal Studios - walked thru Hard Rock Hotel, took boat shuttle to CityWalk and peered in both parks. Drove International Drive - restaurants, theme attractions, Sea World - to WDW. Parked at Swan Hotel. Walked the Boardwalk resort and the Swan and Dolphin hotels. Drove to Downtown Disney. Dinnered at Gloria Estefan's Bongas, Cuban food. Walked to gift shops. Back to the Cirque du Soleil building (designed by the Rockwell Group that we toured in NYC two weeks before and where we saw models and renderings for this very building). Thoroughly enjoyed the absolutely phenomenal La Nouba. Cirque shows represent the ecstasy of the human species - dedicated craftspeople who strive to do their very best. Every humanoid on the planet should experience at least one Cirque performance.
WE: Had breakfast with Steve. Drove back to WDW, Animal Kingdom: 3-D bugs life film, Maharajah Jungle Trek, lunched in Africa, Kilimanjaro Safari journey, Dinosaur ride (no wait - not a great ride), Tarzan Rocks show (sorta sucky), and Festival of the Lion King show. Drove to the Sloan's. Winter Park - strolled along Park Avenue and dinnered at a Turkish restaurant - nice evening.
TH: Got up early and drove to Magic Kingdom. Got in early (had to use the bathroom and then wandered on down Main Street and saw it deserted. Waited on Main Street until the park opened and got coffee and bakery items. Took the Keys to the Kingdom backstage tour: Main Street, Adventureland, rode the Jungle Cruise (VIP entry), backstage to see the parade staging area and the back of Splash Mountain, lunched in Liberty Square (VIP dining room), rode the Haunted Mansion (VIP entry), Liberty Square, backstage behind Main Street, and down to see a bit of the tunnel system. After the 5-hour guided tour: saw Tomorrowland, rode the transit thingys, Mickey's ToonTown, Mickey's Philharmagic, walked to thunder and splash mountains, rode Pirates of the Caribbean (no line at all - walked right onto a boat), and back to Main Street. Drove to see the Grand Floridian resort. Parked at the spectacular Wilderness Lodge, walked around, and had a drink in the soaring lodge lobby. The design of the lodge is timber and rocks - straight from the National Park lodges in Southern Utah and the Rockies. Joined Sloans for a superb first-class dinner at Artist's Point in the lodge. Home, crashed asleep.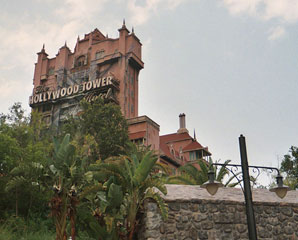 FR: Slept late, ate breakfast with Steve. Discussed terrorism and the OK bombing memorial with Steve. Roberta and I drove to Disney Studios. Met Gene Columbus, Disney Entertainment exec (who got me in free). We rode the movie ride (sorta hokey) and chatted while having lunch. Gene has fascinating knowledge and insite about WDW (he had even met Walt while working in Hollywood). He headed back to work - Roberta and I rode the Tower of Terror (excellent attraction), took the backlot tour (so-so), and saw One Man's Dream - the Walt Disney story with artifacts and a great movie about Walt. I rode the excellently awesome Rock 'n' Roller Coaster, we had pizza for dinner, and finished the day watching Mickey's Fantasmic show.
SA: Slept in and loafed around the house - had a cup of coffee and read The New York Times. Joined Roberta and Steve for lunch in College Park. Packed, rested, and said goodbye to Roberta. Lay down and fell asleep. Woke up and Steve took me to the airport in his spiffy convertible. Checked into getting a flite to NYC (Steve's great idea) for a few days instead of going right back to Oklahoma. Last-minute flites were a bit too expensive so I stuck with the original plan. Good flites. Home to the dogs.

2005 • June • Dallas
Valley View mall: new theaters built on the roof of the existing mall; PHPC Columbarium; NorthPark massive mall expansion with a 15 screen theater, Nordstrom's, and a new multi-story wing; West Village; Greenville Ave: take pix of Society Bakery (graphics and signage by ClockTower Studio); evening swim and iPod at the motel pool, inspiration and sketches for TravelPants logo; Gaylord Texan resort to explore and eat breakfast buffet; Frisco to see the new IKEA store; therapeutic drives on I-35.

2005 • September 2-4 • Ft Worth • Scott Grant wedding
FR: Drive 44 to Lawton, Mt. Scott, Wichita Falls: nice hills; check in, dinner: Cafe Express, hotel: web, sleep.
SA: Sleep to 9:30, bkfst: hotel, FtW paper, drive Steve and Barbara's house; lunch Charleston's: S&B, Mary Ann; hotel, drive Zoo (no go in), Northeast Mall: walk, eat; hotel, church wedding: sat with Mary Ann and Connie, talked outside church, follow Steve to reception: Laura, Mary Ann, Connie, B&S, walk grounds, Scott; hotel sleep.
Hey Laird. Little Scott got married. You'd have loved it. We would have gone together. Like to Barbara's wedding. There: Laura, Connie, Mary Ann, Larry & Hillary. Very nice. Wish you were here. Drove your old hometown of Ft. Worth. Missed you. Miss you.
SU: Up, pack, hotel bkfst; B&N: Dallas paper, coffee, write; drive 130: Reunion: Katrina refugees, Central, pix, High Five, Northpark, Northwest Hiway, White Rock, cemetery, Wanda's, Humperdink's lunch: salmon, drive Park Lane, Braum's, Wanda's; Preston Center Starbucks, PHPC: talk to mom & dad, called Barbara, Steve's: swim, nachos, call Jimmy, Tracy; drive to OK: 3:10 minutes, Albertson's shop, home, girls, unpack.

2005 • December 18-22 • Los Angeles, Disneyland, Venice Beach
SU: Melinda ride to airport, easy check-in/security, bkfst, newspaper/journal; good flites, all exit rows; bus to Budget: car, drive freeways to Disney, check-in Grand Californian (Arts & Crafts - woods, tile, copper, tremendous detail, a real treat to be in such an environment, decorated for Christmas - Victorian carolers in the great hall, direct access to Downtown Disney shops and restaurants and separate entrance to California Adventure park), unpack; walk Downtown Disney: burrito, Disneyland Hotel lobby, bookstore - pix of old park, Esplanade, World of Disney shop, coffee; room, read, sleep, listen to fireworks.
MO: Up, read, bkfst: Storytellers Cafe, characters, room; walk Magic Kingdom: Walk in Walt's footsteps tour check-in, wait in town square, Tiki room, train, lunch in apartment Walt had built for himself (he died before being able to enjoy it) overlooking New Orleans Square and the Rivers of America, Disney Gallery: sketches, models, and a book store; Main street - Story of Walt Disney: artifacts and film; California Adventure: Tower of Terror twice, Soarin' California, Grizzly walk and rafts, Paradise Pier, and Screamin' Coaster; hotel, rest; CA: Paradise Pier, pasta lunch, Screamin' coaster, parade block party, lights of pier; room, pool hot tub, room; MK: parade, dinner Mexican, wait on canceled fireworks, walk; room, read, email.
TU: Up slow, dress, walk DD, bkfst: Jamba Juice, La Brea Bakery cart: coffee, sit in patio, World of Disney; room, email, web, download pix, store bags; walk street to monorail to MK Tomorrowland: Innoventions, eat parfait, Small World, walk thru Fantasy, McDonald's fries, get HM FasPass, walk Tarzan tree, get fruit cup and pretzel, eat on bench in Frontierland, walk, Mark Twain riverboat, Haunted Mansion, Frontierland, coffee, Fantasy, wait on parade, monorail round trip (wasn't quite ready to leave Disney), walk Main Street; DD: buy coffee mug souvenir, hotel: get bags, get car; drive Venice: Marina Pacific Hotel (where I stayed in 1977): check-in, unpack, walk to boardwalk, appetizers and margarita dinner at Venice Cantina: appetizers and margarita; room, read newspaper, watch The Office, sleep.
WE: Sleep late, bkfst: hotel; Drive Venice/Santa Monica: Sussman signage, Gehry's Chiat Day, Gehry house, historical pix of Walt Disney icons: Griffith Park carousel that inspired family theme park, first house and studio, and two later Disney homes, Starbux: write; downtown: Gehry's Disney Concert Hall, drive Wilshire: Hancock Park Sussman signage, Venice Blvd to hotel; walk Venice boardwalk with crowds, shops, vendors, entertainers, and dinner at The Sidewalk Cafe at sunset: fajita wrap and beer; room: download pix, write, read.
TH: bkfst in hotel, Starbux: Main St Santa Monica, sit and watch, freeways to Sunset to Walt's last house (with backyard railroad); drive Getty Center, UCLA: park sit in Union and write; drive freeways, 4th, Pacific to hotel: pack, check out; drive Lincoln to Rental Car return: easy, bus to terminal, check in; chicken sandwich, Starbux, flite, Houston layover, flite, Melinda pick-up.

2006 • August 18-19 • Fayetteville AR

FR: Drive, check in, walked around UA campus a bit, lunch in the Union, then spent the afternoon doing research on Fay Jones, a renowned practitioner and proponent of organic architecture. His most famous project is the Thorncrown Chapel outside of Eureka Springs. Mr. Jones had donated his collection of drawings, plans, models, and personal slide collection to the U of A library. Housed in the Special Collections, the Fay Jones Papers are an incredible resource and Ellen and Greta were extremely helpful and kind - allowing me to peruse the database of images, look thru drawings and photograph the models. It was a lot of fun. I even stopped in briefly at Greta's going-away reception later that evening. I also had the pleasure of meeting Fay Jones' 92-year-old teacher and the founder of the Architecture program at UA, John Williams. Later, I met up with my brother at the historic Inn at Carnall Hall on campus. A former women's dormitory, it is now a delightful inn. We had a drink in rocking chairs on the porch and then drove around Fayetteville, seeing and photoing Jones sites including his home, office, and structures he designed. Dinner was at the strip of campus hangouts. My nephew, Jimmy, was being initiated into the Sigma Chi Fraternity. His father (my brother) and I are both members of Sigma Chi (we were also each presidents of our respective chapters). In the evening we walked across the street to join in the evening initiation event. Jimmy did not know we were in town, yet.
SA: Hotel breakfast, walked over to the house, Initiation Ceremony. It was verbatim to what I had experienced in 1969. As president, I had to recite (some from memory) much of the ceremony. Floods of memories came back. My brother put the fraternity pin on his son while I stood next to him. It was a great morning, meeting the brothers in Arkansas and reliving great college days. Drive back to OK.

2007 • January • Las Vegas
Riviera Hotel: The Amazing Meeting conference of freethinkers and skeptics: Richard Wiseman, Penn & Teller, Michael Shermer, Banachek, Adam Savage, James Randi, Julia Sweeney, Phil Plait, Jamy Ian Swiss, and Trey Parker & Matt Stone. LOVE The Beatles Cirque du Soleil, Phantom of the Opera, explored the new Wynn Resort, afternoon with Mitch Baker.

2007 • Thanksgiving • Dallas
WE: Meet with Edmond mayor re Rt 66 project; dogs to kennel; drive, DQ lunch, Irving, Loop 12, PHPC; Mimosa; El Fenix.
TH: Walk schools/naberhood, Orchid; Bill, Allison & Chris, Vernons; feast; tv football, Northpark: Enchanted.
FR: Drive tollway, Victory area, Arlington, Cowboys stadium, B&N; Lamar/Sears, downtown, AMHS, Central; Panera lunch, web; Mockingbird, Casa Linda Starbucks: Wanda, Fair Park Dart, Central/LBJ/Tollway; IKEA, shop, web; Tollway; Cont Store, A&C FLW store; Mimosa: burgers; Helvetica
SA: Sleep late, cereal; Border's; Bishop Arts: Tillmans lunch; football; Border's web; tv, tortilla dinner, movie
SU: Talk Steve; Panera: email, web; drive Central; Denison: Donna Adams loft/gallery, naber Scott Goddard (Dallas Cecilia VB friend); Loose Wheels: lunch; tour driving, old hotel, goodbyes; drive, Choctaw Casino: won $56; drive, McDonalds; work in house

2008 • Febuary 1-4 • Kansas
FR: Drive on ice in OK, McD brkfst & lunch; Lawrence, house: brief tour; drive pickup to KC: Casey Twenter's house, Hallmark tour, coffee; foto Disney homes, Laugh-O-Gram, Caitlin, house; drive to Lawrence; dinner: Eldridge 10, drive town
SA: Brkfst Milton's, drive town; drive KC: Architect Salvage, downtown: KC Star, deco bldgs; Country Club Plaza: Rest Hdwr, North Face, B&Noble; Winstead's lunch; Nelson-Atkins: new wing, cafe, audio tour, store; drive city, Lawrence, shop; house: web work; dinner: Free State Brewing
SU: Rain; brkfst Wheattree, shop; work website; Visitor Center: film, KU Nat Hist Museum; home; Union coffee, Spencer Art Museum: Constructivism; drive Sigma Chi; Super Bowl, bed
MO: Brkfst/coffee: Brandon Shelton; house, pack; lunch: Quinton's; drive 59 Ottawa, Emporia, 35, girls

2008 • October 24-26 • Austin • UT Orientation Advisor's Reunion
FR: 7 hour drive, Holiday Inn, bar: Mary Flanagan, Nancy Lee, Larry Barbles, Carol Hall, Sarah, room, unpack, lobby, shuttle bus to Union, walk campus, visit, eat, fotos; walk Guadalupe, taxi to hotel.
SA: Sleep late, drive South Congress, walk shops, meet Tom & Leah at Bread Co, unison: 'Jim', San Jose motel, original Schlotzsky's, drive northwest: Arboretum, Domain, Tom's house, MoPac, Shady Grove lunch, back to car, goodbyes; walk Congress, drive hotel, Linda to Kinko's, tour; hotel; drive to UT: game traffic, coffee, Sigma Chi, Drag, Kinsolving, Comm Bldg (seek initials), smoothie, Dobie Mall, Drag, Jack in the Box, Sigma Chi walk house; drive, hotel, bed.
SU: Up, pack, coffee with Sarah; drive UT Ransom: photo, Bible; Comm bldg fotos; 24th to MoPac to 2222 to Oasis, Advisor's brunch reunion; drive to Dallas with Sarah, Starbucks M'Bird, drive to Oklahoma.


Jim, Sarah Martin McConnell, Linda, Tom White. Below: 1972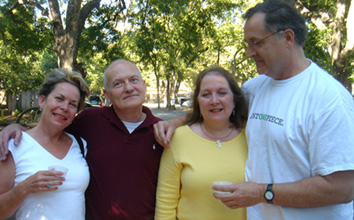 2008 • December 22-25 • Dallas Christmas
MO: House, vet; drive; Southlake: B&N, walk; drive, freeways; Steve's, youth party, read
TU: Bkfst Wanda: errands; drive city: Victory, McKinney; Lemmon Panera lunch, Lakewood Starbucks, downtown; house: salad, read, bed
WE: Sleep late, Cindy's deli, Central/Northhaven; Northpark: walk loop, sit in park court; SMU, Central, Arts District: new theaters, AMHS; Rogers, Tollway; house, Church, house tortilla dinner, bed
TH: Brkfst, gifts, drive Bill's: lunch, Allison, Eric/Emma, drive PRoyal Starbucks, Preston Hollow, Geo Bush's new house; house, read, Sandy
FR: Preston Center Starbucks, Tollway, 380, I35; Winstar casino; home, girls

2009 • January 30 - Febuary 2 • Kansas
FR: drive; Cottonwood Falls/Strong City, Tallgrass Prairie Preserve; Council Grove: Kaw Mission, bakery, river crossing, Baldwin City, Black Jack park trail ruts, Baker Univ, Lawrence; dinner
SA: brkfst; KC: Trails Museum, Rte 24, Downtown, Hammerpress, Jack Stack BBQ, Union Station, Lawrence
SU: Brkfst, Java Break, shop, drive trail route, old capital; house, television, Super Bowl
MO: Wheatfield's brkfst, drive 24; Topeka: Brown v. Board of Educ, drive, Outliers audiobook

2009 • November 19-22 • Las Vegas
TH: Flight, Houston, back of plane, car rental, check in Flamingo; coffee shop lunch - good sketch notes; walk Caesars, Forum shops; Bellagio Fountains, Salad and yogurt in room, TV.
FR: Brkfst buffet; drive Boulder City, Hoover Dam, Visitors Center, drive Lake Mead, Strip, hotel; Serendipity lunch; Mandalay shops, Luxor; Criss Angel.
SA: Brkfst Margaritaville outside - work on NY trip, room; Venetian, Palazzo, First lunch, TI, tram, Mirage, room; City Center, NYNY, MGM, Planet Hollywood shops, drink, Paris, shops, Bally's, Bellagio fountains, room.
SU: Brkfst: Caesars, walk Caesars, gamble, room dump, pack check out, gamble; drive Flamingo Rd: Red Rock park, walk brdwalk, drive car return, check in, shuttle, check in - get exit rows, Chili's lunch, flite home.

2010 • July 24-28 • Breckenridge Colorado
Drove with niece - an 11 hour drive. Deck views of the peaks above the valley, sightseeing, and hiking.


Looking to the ski slopes from the new gondola plaza. We rode fiberglass sleds down these runs.


Center: I-70 switchbacking to Loveland Pass and Eisenhower Tunnel. Lily Pad Lake at the end of the hiking trail.
Kansas: we listened to soundtracks from Glee much of the way.



2010 • October 8-18 • Los Angeles, Route 66, & Grand Canyon
FR/SA: Saw balloons in Albuquerque. Traced 66 thru Gallup, Needles and Ludlow. McDonald's coffee and smoothies.
SU: Drove thru Mojave desert. Into LA. Too early to check in: drove around Disney and took a walk with Manhattan. Checked in, unpacked, and rested. Afternoon at Downtown Disney: La Brea Bakery lunch, Grand Californian Hotel, shops, bought a $101 park pass. Walk to hotel and Manhattan - rested, worked. Walked with Manhattan through Anaheim GardenWalk. Drove to McD for dinner to go.
MO: Walk Manhattan; walk to Disneyland: coffee/cookie, Finding Nemo submarine, Matterhorn, Trail mix snack, old 1956 mine train tunnel, rode Mark Twain riverboat, rode Indy Jones (single line), coffee at bench at Plaza, Disney story - renderings, models, Steve Martin narrated film, see/foto bench. California Adventure: Grizzly walk, World of Color Fastpass, future renderings; walked hotel; rested, walked Manhattan. Walked CA Adv: burrito lunch, Paradise Pier, Grizzly forest walk, rode Grizzly river boats (single line), rode Soaring (single line), walked Hollywood back lot, Monsters (broken), saw Bug's Land, Aladdin show and Tough to be a Bug show; got snacks for brkfst, drank margarita, watched World of Color water show, ate pretzel, walked hotel, walked Manhattan, shower, bed.
TU: walked Manhattan, rested, read, bkfst, laundry, packed; walked Manhattan, loaded car, drove freeways to Venice Beach, found Cadillac Hotel, check in - nice hotel, good parking; rested, walked Manhattan/boardwalk, unpacked; walked Manhattan/brdwlk; drove slow freeways to Pasadena; Mitch and Meghann apt, walked to Vegan dinner, naberhood of bungalows; drive, walked Manhattan/brdwlk, bed.
WE: walked Manhattan/brdwlk; drove, McD brkfst, drove Simi Valley: Reagan Library: Air Force One, Nixon/Sawyer typewriter, lunch/coffee in cafe, grave; drove Venice, rested. Manhattan to dog park, passed Santa Monica Airport (Clover Field), hotel rest, walked along ocean & sand; dinner at Venice Ale House on brdwlk; room: TV, worked on lecture, walked Manhattan/brdwlk
TH: walked Manhattan/brdwlk, drove: car oil change, coffee/sandwich, bike shop, SM Airport (camouflaged in WWII): read plaques; drove Venice, hotel; walked to beach, to Venice boardwalk, ate at Venice Cafe (by Marina Pacific), Melinda calls; hotel to get Manny - we walked brdwlk quite a ways and PCH, hotel tv and rest; Market for dinner snax; room: pack, late nite walk to beach - Manny freaks in ocean, hotel, bed.
FR: Weird morning - agreed to have breakfast with Aldon Stone, Frank calls, Shawna Ronald calls. Decide to just get up and leave - its drizzly. Cancelled Aldon, packed, checked out, and drove on; McD on I-15 near Barstow. Drive; Grand Canyon: New Visitor's Center, walk trails, Manny at edge, drive to Lodges; Williams AZ, check-in, fed Manny, drove town: ate at Cruiser's, shops, bakery; motel, rest.
SA: drove Williams, Visitor Center; talked with Shawna: impactful History class; drive Route 66 thru Winslow, Holbrook (Wigwam motel), Santa Rosa, and Tucumcari NM (Pony Soldier motel is nothing but a concrete slab - sign is still up); checked-in, rested, worked, dinner: Denny's, bed.
SU: drove Tuc to McD bkfst, I-40, Cadillac Ranch, car trouble: TX 70, call Dodge, wait with farmer, call and tow to Pampa Dodge, check-in AmericInn, walked to CVS, McD; rested/worked in room, TV, dinner from Taco Bell.
MO: not sleep well; called Angie at Fenton Dodge at 8:10a: explained issue; she called back at 10:30 - needs new water pump - should be ready by mid-afternoon; took final walk around naberhood to see hiking trail and tree sculptures; cleaned room, checked-out, waited on van, waited at dealer - took walk, ate from c-store, sat outside, sat in waiting room - put blanket on floor for Manhattan. Ready by 2:00p, took final walk; loaded car, drove to I-40, McD stop, and on home.
• Trip Hilites: Manhattan: rest areas, hotels, Anaheim, Venice, Pampa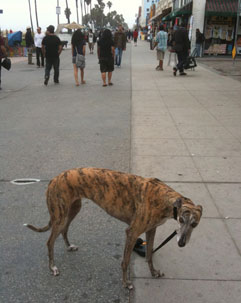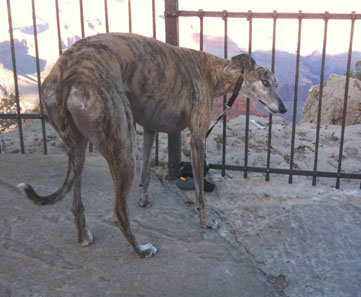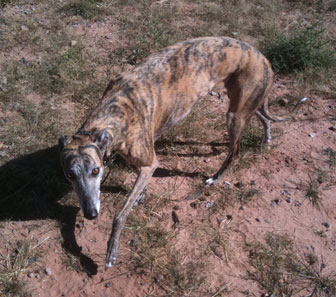 2010 • November 6-8 • Kansas
SA: Drive, 2 rest stops; Dehnerts, walk downtown, coffee, shops; home, drive to Oread: 9th floor terrace, walk to Sticks, library, arch bldg, campus, dinner, home
SU: Bkfst home; walk dogs; West Campus sculpture, Sonic, drive to KC: Arabia Museum, dBronx lunch, Westport, Laugh-O-Gram building; drive, Lawrence, tv, wedding fotos, snax; Drive downtown: yogurt, dogs, home, bed.
MO: Bkfst; drive, rest areas; get Manny.

2012 • Febuary 3-6 • Kansas
Kansas City: WWI Museum, Disney bldg
Lawrence: KU,

The Artist,

Super Bowl, Dehnerts.

2012 • May 7-16 • Texas
MO: Girls in, McD bkfst, drive, coffee Ardmore, Ft Worth: Mont Ward Boomer Jacks: lunch with Barbara & Steve, walk Univ Coop; drive, coffee gas; Austin: check in, rest, Renee call, drive UT, park: memories, Tower memorial, AC, Business, JB; 24th, big white house, Lamar; Chipotle: Tom & David; drive downpour Tom's house, "do you have any marijuana?": groj tissue paintings, memories, deep discussions; drive: missed exits; motel: shower, sleep to 30Rock.
TU: Sleep late, shower, coffee on San Jacinto, Cat Stevens playing; drive, park; History Museum, Blanton: lunch coffee, galleries; History, IMax: awful, cafe: fruit, coffee; drive Woodland: WillowCreek apt, Riverside, Mun Aud, SoCongress: Schlotzskys bldg, Hopdoddy burger, walk shops; Zilker Park: Nature Center, ped bridge, barton Springs pool, fone calls path, old bridge; drive 3rd/5th, Congress: park, wait for bats, none; drive 35, Subway, motel: tv, eat, shower.
WE: Slept late, check out; foto hospital signs; park groj, Starbucks Les Amis; walk Drag: Co-op, Hemphill's to Sigma Chi, go in house; drag, Varsity Theater Coffee Bean, Les Amis; Burnet 51st: Torchy's Tacos, Tom chat; seek Heather's mushroom apt; drive SA, Starbucks San Marcos; check in, rest; Frank tour: King William, downtown, Ursuline, river locks, Pearl: La Gloria dinner; drive Broadway: motel, shower, tv.
TH: Read Thomas Boggs died in 2008, bkfst motel, walk Mi Tierra, room, rain; drive Cathedral, park Rivercenter: mall, Alamo, city, river, Villita, Hemisfair walk, Tower base, Riverwalk; Maria Mia lunch, mall, walk city; drive Cathedral, motel: rest; Mi Tierra: coffee pastries, walk Cathedral Plaza, City Hall, Alameda Museum; Mi Tierra: Frank dinner, sit in park; lightning, room: tv, shower.
FR: Bkfst motel; drive, McD coffee, Waco: Browning Library, phone calls, lunch: Schlotzskys; drive, Starbucks Preston Center: webwork, rain; Mimosa: visits, dinner outside, call Tracy, tv, bed (pain).
SA: Bkfst with Steve & paper, web; On the Border: Debbie, S&S, Spec's; web, rest; shop: Container Store, Knox Starbucks, Crate & Barrel, drive Central, Rogers, Calatrava bridge, Central, LBJ; house: web, laundry, Central Market dinner, bed.
SU: Shower, read paper on patio; bkfst: Panera Preston Forest: web, drive Central, Plano downtown & IU, Richardson IU; house: web, late lunch: pizza, visit outside; drive Oak Cliff, wedding in park, took pix, toured Allison's house; drive TravisKnox: reception, Johnnie, Jan brother/Kathleen, Eric, walk Starbucks, sit, cut cake, goodbyes; house: show pix.
MO: Shower, pack load, sit with Steve, goodbyes; McD bkfst, drive, Texas music, Bucee's: gas coffee snax; Madisonville 190; A&M Bonfire Memorial, Bush Library, campus, Luby's lunch; drive, Huntsville: Sloans, tour, Farmhouse: chicken fried steak & pecan pie dinner, tour; house: talk with Steve, bed.
TU: Shower, bkfst/talk with Roberta, drive tour campus, square, Sam Houston Museum grounds; lunch: Pita Pit, house: get car, Prison Museum, US75, square: coffee, old prison, Sam Statue & visitor center, Sam's grave, houses of trash, drive; house: fotos and web; drive north to Shrimpy's: excellent seafood; house: web, shower.
WE: Shower, sit on deck, Sloan goodbyes; Starbucks bkfst, drive, Dallas; Lewisville: Festival marker, lunch: Jack in Box, gas; drive, home; get girls.


Austin Town Lake was filled with rowers.


Wildflowers along Barton Creek in Austin


The San Antonio river during a soft rain.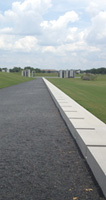 The Bonfire Memorial at Texas A & M. This memorial is very well done - every element has appropriate rationale and appears to be well thought out.


The George HW Bush Library on the campus of Texas A&M in College Station.


The home and law office cabin of Sam Houston in Huntsville.


Shrimpy's in Madisonville TX - some of the best seafood anywhere, and it's in a trailer park. So rural Texas.


An appropriate Texas dinner - the State Meal: chicken fried steak with mashed potatoes and green beans, pecan pie for dessert, and iced tea to drink. At The Farmhouse in Huntsville.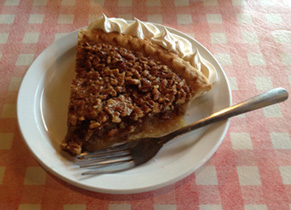 2012 • December 21-26 • Texas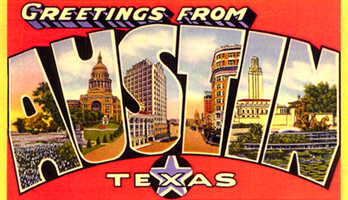 FR: Girls in, Starbucks, drive; Ft Worth: tour BEP money factory, drive, Waco: McD, toll roads, Austin, Tom: Torchy's Tacos, house, coffee; drive Congress, check in Austin Motel, walk, bed.
SA: Read, Frank, bkfst motel, drive SoCo, First, UT: walk campus, Emily, Comm, Drag, Ransom Center Geddes; coffee lunch Red River, Hyde Park, Mueller, Mt Bonnell, Bull Creek park, Hiway, Zilker, downtown, BeeCaves, El Alma dinner, Frank leave, walk SoCo: chocolates, motel, bed.
SU: Up, pack, coffee SoCo, check out; drive Congress; LBJ Library; drive 35, coffee snak stop, Dallas downtown, DMA: Paris posters, coffee, Woody Rogers park; drive Central, Steve's, Tracy talk, dinner tortilla; drive see lights, drop Tracy, house, bed.
MO: Shower, paper bkfst; pickup Tracy Knox, see Jimmy's apartment, park; Perot science museum, Woody Rogers park: lunch, drive; house: rest, Starbucks Preston Center, house; drive Jan and Ralph's, dinner, dogs, baby, presents, Allison & Randy, Eric; drive, bed.
TU: Thunderstorms, sleep late, coffee, presents, bkfst, lazy, rain/sleet/snow, rest, shower; Weeks for dinner, house: tv, bed.
WE: Check roads, bkfst, clean car, pack, goodbyes; talk with Mom Dad Bill, drive: LBJ/35, wrecks, bridge ice; McD coffee, drive clear; Edmond: lunch, shop, unload; get girls, unpack.


From the LBJ Library. Above: view of downtown. Below: the stadium, high-rise student housing, and the UT Tower.


The road trip was a brief but enriching cultural journey:
1. Bureau of Engraving & Printing, where 60% of all bills are printed, Ft. Worth
2. Norman Bel Geddes exhibit, Ransom Center, Austin
3. LBJ Library, new exhibits, Austin
4. Posters of Paris, Art Nouveau, Dallas Museum of Art
5. Perot Museum of Science and Nature
And a great Christmas: quality time with all 4 nieces and nephews, the families, and good friends; 2 days in Austin; 3 days in Dallas (with snow); over-the-top Christmas lights; abundant food feasts; and only a few presents (for a minimalist, this is truly worthy of praise).



2013 • Febuary 1-4 • Kansas
FR: Drive 35, Kansas City: Indian Mission, Starbucks CC Plaza, Brandon: driving tour, Main St, Union Sta, theaters, Power & Light District, dinner; Lawrence: Dehnerts.
SA: Bkfst, Moon Marble demo and gift shop, Arby's; KU/OSU basketball: OSU won, downtown: dinner, coffee & web work.
SU: Dillon's, Mirth bkfst, drive park, history, shop, Dole Inst, cemetery, McD; Super Bowl.
MO: Drive, bkfst, get girls.


Exhibits in the Dole Institute of Politics. At the end, on either side of the stained glass flag, are two columns from the World Trade Center. Below: KU Jayhawks loss to the OSU Cowboys.




2013 • August 12-18 • Colorado
MO: Girls in; Perry bkfst, Kansas: snak, Gorham, Victoria Cathedral, Hays, Ellis: Chrysler home; CO McD, rain wait, clear mountain view, freeways; check in, work blog, Taco John's, work, bed.
TU: Up 8:40, yogurt; McD bkfst, drive Speer, park street, Denver Art Museum: Nick Cave, Bayer (logocrap and house rehab thots); lunch Mad patio; call motel, drive, check out; drive Boulder: Flatiron coffee, find motel: Univ Inn: mt view, walk UC and Pearl St; check in, rest; walk creek park, Pearl St mall, Deco courthouse & theater, Boulder Cafe salmon beer, mall sit, walk creek park, Alfalfa's snax wine; blog, bed.
WE: Good sleep; Alfalfa's bkfst, walk Arboretum path, Colorado U: Old Main, maps, chat house couple, Interurban trace, creek path; room rest, check out; Alfa lunch, drive, CU Hill, History Museum, Chautauqua; drive, CS tea tour, shop; drive, Panera lunch; drive Boulder Canyon, Nederland, Shoshoni: check in, rest, yoga class, dinner on deck Phil, rest, hike, bed.
TH: Slept 7:30, miss bkfst, coffee scone on deck, room, 2 hour hike, rest shower, drive; Black Hawk: Ameristar casino 5$, Central City opera house, Main St, lunch: Harley Hippy, walk, view valley; drive Idaho Sp: sit Stbx, drive town, Georgetown: walk town, museum, coffee sit; drive Breck: unload, deck, golf club bbq buffet, drive ski hills, house, bed.
FR: Bkfst deck: emails, blog; drive, Country Boy Mine tour, driving tours, Fatty's: burger coffee; condo: Brian & Carol, Pete & Marcia, dinner, bed.
SA: Pack, S&S coffee muffin, gang: photos, byes; mountain towns: Leadville bkfst, Buena Vista, Salida, Westcliffe; scenic drives, Bishop's Castle, I-25, drive NM TX: oldies music, Amarillo Quality Inn.
SU: Sleep 9:30, shower, McD, drive, Shamrock deco station, drive: 60s & psyche, McD, drive; home: unpack, shop, get girls.


This was the largest cathedral west of the Mississippi River when built in 1908-11 by Russian orthodox immigrants in Victoria, Kansas. This was about the halfway point of my 10-hour drive to Denver so it was a good opportunity to get off the Interstate and travel the old US 40 and see some small towns in western Kansas.



Approaching Denver after a pounding rainstorm that required every driver on the Interstate to pull over and wait out the zero visibility.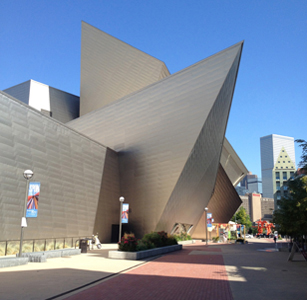 The wing of the Denver Art Museum designed by Daniel Libeskind. I wanted to see it and the Herbert Bayer Collection. Bayer was the head of graphic design at the famous Bauhaus design school. I didn't stay in Denver long, I wanted to get on up to Boulder and closer to the mountains.



Above: shots from the common areas at the Shoshoni Yoga Retreat. I had wanted to learn yoga to help me breathe, improve back pliability, and overall health. But, I always chickened out before making it to a class in Oklahoma. I reasoned that staying overnight at a yoga retreat in the Rocky Mountains would motivate me to go to class. It did and I did. Damn, yoga is a real workout. It's tough. But good. And what a great environment. The next morning I took a 2-hour hike up a mountain (below).


Central City and Blackhawk. Boom towns for mining and now, boom towns for gambling. That is a high-rise casino hotel at the bottom of the valley. I won $5.00.


My sister-in-law and I toured this old gold mine and panned for gold (nothing). In the background below are the ski slopes of Breckenridge.


Below left: During a drive around Breckenridge with my brother and his wife, we spotted this fox. Below right: Bishop's Castle, a fascinating construction by a single eccentric mountain man. You can climb up into the rickety towers for scenic views. These sights are the rewards for taking road trips on the back roads.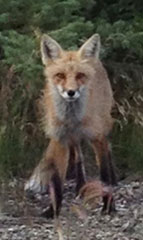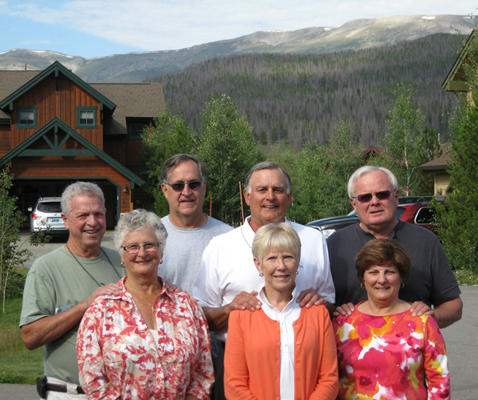 After time with my brother and two of our cousins and their spouses, I drove to the mining towns of Georgetown, Leadville (breakfast), Buena Vista, Salida, and Westcliffe. I took scenic drives on south to extend my time in the mountains before heading back to the plains of Oklahoma. A great week that was restful and inspiring.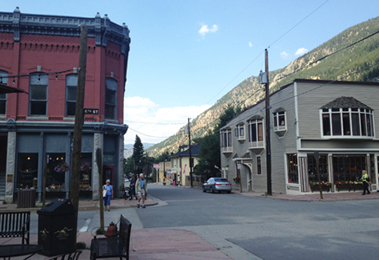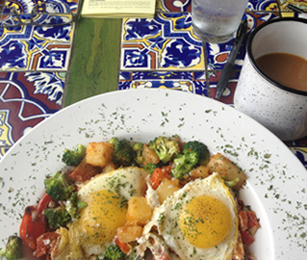 2013 • October 3-6 • Dallas
TH: Girls in, Drive to America, 1 stop, LBJ construction, check-in: La Quinta, brief rest; Dart downtown to Fair; State Fair: food court, Hall of State, Embarcerdero: mink, band in grass, ice cream pretzel, coliseum: shoe cleaner, Tower view, midway, food court: coffee roll, Chinese Lantern, bratwurst margarita, brick, parade, Lanterns lit, Illumination, bldg, ice cream, Dart; hotel, work, bed.
FR: Hotel bkfst, room, drive Bush/SMU, MBird east, Ihop bkfst, White Rock, hobby shop (gone), Swiss Ave, Greenville, MBird, Love Field: new terminal; drive, Scouting Museum, drive 35E/Bush/NDT, Preston Center Starbucks: late lunch coffee work, hotel rest, NorthPark: pizza, walk, yogurt; hotel, read, bed.
SA: Clean car, McD bkfst, PU Margaret, HHS anniv: program, walk school, Margaret, Barbara, walk backstage; El Fenix: Marg & Barb, bye to BG, visit with Liz, Marg, & Linda; drive LBJ, hotel, Panera: dinner, prep lecture, hotel, finish reading An American Band, bed.
SU: Hotel bkfst; drive Calatrava bridge, 35, Denton: Square walk, train, UNT: Mike's coffee: TIK work, walk campus, drive OK; Ardmore: Strbx/Burger, drive home: unpack, get girls.


Downtown Dallas from the new Tower at the State Fair.



2014 • May 23-26 • North Texas
FR: Girls in, bad McD bkfst, Drive Ft. Worth; Museums: Kimbell, lunch, art, Modern: gallery, shop; Science: gift shop; Strbx; Barbara/Steve: house, tour Hillcrest house, hospital, downtown: drink, Taco Diner, house; drive; check in, no toiletries, walk CVS, buy toiletries, card decline, okay, hotel, bed.
SA: LaQ bkfst, Bush Library, vet: Manhattan ear cut, yogurt fruit, walk wildflower garden; drive Central, Panera: lunch, emails; hotel: rest, Strbx, call vet; drive: Calatrava bridge, Allison, Eric's party: Jan Ralph Randy, drive Woody Central, hotel, bed.
SU: Manhattan's ear suture surgery: Sleep late, Strbx brkfst; drive LBJ Stemmons, Reunion: Hyatt, Tower, revolving cafe, Union Station: msg from vet: all okay, text thanks; drive downtown, park: Warren park, DMA: Hogue, video numbers, Frank calls; drive I30: White Rock, Lakewood, Skillman Live Oak: Matts TxMx lunch, drive Skillman LBJ; hotel: rest; MargaretLiz: Chinese dinner visit; drive LBJ TexPress, hotel, bed.
MO: Hotel bkfst; drive Central; Denison Donna: coffee, lunch, Fudge shop, parade; Drive, Rest Area coffee; Get girls.



2014 • July 9-11 • Dallas
WE: Bkfst, girls in, gym, drive rain, quick coffee; LBJ/Central; NorthPark: Wich, Apple, Strbx; downtown: park, check in, rest, work on bags, HappyHr wine, walk Wilson, ThanksSq, ride Dart, eat Wich, hotel, cookies, walk AT&T, bed.
TH: Hotel bkfst, edit & print; Whichwich meeting 10-4, tour, conf rm, walking tour, lunch, break: hotel, coffee, meeting; hotel: rest, notes; HappyHr, walk Dart; West End, call Mike; Union Sta: catch TRE train: Ft Worth: Subway dinner, train, Dart, sit in Pegasus park, hotel: cookies, bed.
FR: Hotel bkfst, pack, walk Main Street Park, check out; drive OK.

2014 • August 6-8 • North Texas
WE: Girls in, gym, eat, pack; drive non-stop 3 hours, LBJ, Panera ParkLane, central; Adolphus check in; walk, Jimmy, drive Oak Cliff: Bridge, Allison Randy, Bishop dinner, drive; bad sleep, change rooms, bed.
TH: Little sleep; bistro bkfst: revised and rehearsed, room; walk, Jeff's WhichWich office: MJ, James, Jeff; lunch at table, 10-4:20; hotel: rest, walk, Dart, West End: BBQ dinner, Dart, 1st Baptist, hotel: work, bed.
FR: Shower, Bistro granola, walk WW, pack; drive Central, Denison: Donna lunch; drive, get girls, home.



2014 • December 15-18 • Santa Fe
MO: Girls in, drive: 8:45-4:30, bkfst Weatherford, lunch Amarillo, gift shop coffee, mtns, Check in; drive Alameda: Frank & Nancy: dinner, talk, Voice, room bed.
TU: Meet Frank, drive Tesuque market: bkfst, drive mountains, Opera, airport: tour and talk, U of A&D: Manhattan film set, Soleri amphitheater, Molecule design store: buy whiskey glasses, Railyard: Flying Star lunch, work Roler; motel: rest, walk Plaza: coffee chocolate, walk town, buy Pinon incense & candles, La Fonda: sit, email Cecilia, walk; motel room: web, drive Frank's: work on website, drive cafe: dinner, Frank's; motel, bed.
MO: Snowing, bkfst at corner place, room rest, Plaza, History Museum, walk Fonda, motel shower; drive Franks: web, drive oil, shop, lunch, bye to Nancy, drive, bye to Frank; drive Canyon Rd, Farol: Cecilia, drinks, talk, catharsis apology, drive, Gallery, Residence Inn, motel, rest; La Fonda: dinner, history fotos, 109 Palace, Plaza, motel, bed.
TH: Sad sleep, shower, Plaza Cafe: bkfst; walk north plaza, Basilica, motel: pack, check out, JiffyLube, call Frank; drive 285, Clines: coffee gas, I40 podcasts, Amarillo Starbucks, drive Aladdin, home; unload, shop.
FR: Get girls, unpack, resettle.



2014 • December 25 • Bella Vista Arkansas
Drive turnpike, Highway restraunt; Bella Vista, lunch, visit Mildred Cooper Chapel, tour town, visit Cooper Chapel, prep dinner, shop, family dinner; drive home in dark.
Fay Jones, a Frank Lloyd Wright protege, applied the principles of organic architecture to the design of worship spaces. A church building should inspire, be uplifting and welcoming, and connect the worshipper with nature and the earth and sky. Jones' chapels do just that.



2015 • March 27-28 • Arkansas
FR: Drive Tulsa, Siloam; Bentonville: Walmart museum, Station Cafe, square; 21C hotel/art, Art Trail, meditate, flw house site, Crystal Bridges Art Museum, coffee, store; trail, drive, WalmartToGo & WalmartOnline; Springdale: AQ Chicken House; drive Little Rock, check in, bed.
SA: Bkfst hotel, drive Quapaw homes, Sugerbakers, downtown; Clinton Library; coffee, shuttle to RiverMarket, Flying Fish lunch, walk river, market; Statehouse Museum; walk, Clinton Store, shuttle, drive Quapaw, GovMansion; Central High museum, walk school; drive I-40, gases, home.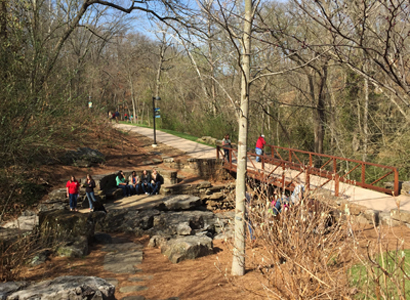 2015 • August 7-10 • Abilene & Lawrence Kansas
FR: Girls in; Bkfst Perry; Abilene: Greyhound Museum: beany dogs; Eisenhower vis ctr, shop, Home, Museum; McD lunch; grave; drive Lawrence; dinner, talk, bed.
SA: Bkfst: Milton's, Sondra, home; drive Leavenworth: VA campus, Nat'l Cemetery, lunch: Pullman, fort: no ID, Prison building; drive Atchison: Amelia Earhart house, Vis Ctr museum, drive houses, Mueller's: beer on deck river; drive home, downtown: Genovese: dinner, walk Mass, home.
SU: House bkfst, Rock Chalk park, drive BlackJack battlefield, Eudora, Library; home, Library: work lecture, shop, home, cook dinner, walk; downtown: ice cream, home.
MO: Pack, Panera bkfst; drive: Hardee's bkfst coffee; shop, unpack, settle, get girls.



2015 • December 24-25 • Dallas
Christmas Eve: Girls in; pack, drive: I35 lake bridge, BK Walnut Hill, downtown bridges, Tippit marker, call Allison, WoodyRogers, Central LBJ TexPress, Macarthur Starbux, LBJ free, Whitehurst apt, jogging route, Walnut Hill Trader Joes: shop, PHPC: mom dad bill; Forest, Preston Royal, Specs/theater; Mimosa: talk, dinner, church, dessert, talk, bed, no sleep.
Day: shower, coffee, breakfast, gifts, play roborex & drone; drive: Amy/Stephen, Debbie, kids; drive: Donna, girls & spouses, drive; home, warning ticket, unpack.

2016 • Febuary 5-8 • Lawrence & Topeka Kansas
FR: girls in, Grease drive, Perry bkfst, Wichita: Art Museum, black photos, coffee; negro church; WSU Ulrich; drive, musicals, dunkin lunch coffee, drive; Vermont: dinner, tv
SA: walk Panera bkfst, drive KU, LeCompton museums, Topeka: Capitol building, Westboro Baptist, lunch McD, History museum, trail; drive, rest, MassAve: walk, rnd corner dinner, diner pies; tv
SU: Alchemy bkfst, walk; Pet World, drive Arts District; drive LeCompton Hall: exhibits, book sale; prep food, Super Bowl, Apple tv, bed
MO: bagel bkfst; McD coffee, drive, turnpike coffee, shop; get girls, resettle.



2016 • April 10-13 • North Texas • "I could live here."
SA: Pack, Toruk Cirque du Soleil.
SU: Pack, McD bkfst, girls in, drive Toruk, Love's, drive; Denton: Rayzor Ranch WW, UNT: Union, Library, Wooten, strip: JimJohn lunch: sketch ww; Greek row, ATrain depot, square: West Oak Coffee, walk; drive 35: lake bridge, Trinity bridge, Six Flags, stadium, hotel: Laird rearrange, drive, park, check in, work, rest; tollway: S&S, tv, MatchBox dinner, house, drive, park, cookies, get laptop, work, bed.
MO: Bkfst, work, room; walk Old Red: museum, 6th Floor shop: lunch, Rosa Parks Plaza, calls Donna Frank, room: work rest, Flying Red Coffee: WW keynote, pull over; room: shower rest; change pants, WW Meeting 5:50-10:00p; room, bed, little sleep.
TU: Shower, check out; coffee; WW Meeting: new menu board and items; walk/talk with Jeff, get car, Tollway, NWest Hwy/Preston: Corner Bakery: coffee desserts; Margaret P Hudson service; drive Tollway, Rayburn; La Quinta check in, work.
WE: LaQ bkfst, pack; drive 121 DNT; Frisco Square, heritage, old Frisco, Starbucks; Nebraska furniture Mart coffee; drive 121 75, Sherman; Denison: Donna lunch coffee; drive 70 35 Choctaw coffee; get girls, home.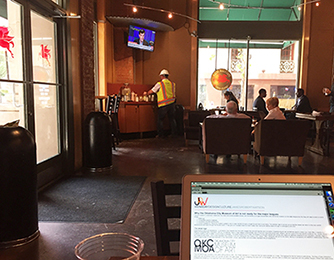 2016 • July 15-16 • Dallas
FR: Pack, girls in, Walmart McD bkfst, drive; Denton: mall, Corner Bakery lunch; drive LBJExp E & W, 35Exp, Cadiz: Police Memorial; drive river, bridge, 75; Park Lane Starbucks; Mimosa: The Rustic: decorate, Jimmy surprise party, walk: Mutts, subway station, home, bed.
SA: Bkfst at Flying Fish Preston Center; drive Tollway/121/35; 77: Turner Falls, Davis, Ada: Courthouse, murder apt, CCC park, ECU, Arby's lunch, motels; drive, shop; get girls.



2017 • January 20-23 • Santa Fe
FR: Load, drive, Hinton: Sonic bkfst, TX rest area walk, windy, Amarillo McD lunch, Santa Rosa: walk park, blue hole, 66; Clines: coffee, bars; Lamy Amtrak; Eldorado: Greg's house, Brooklyn in, talk with Greg, pizza, family; drive LaQ: check in, rest; Panera pasta dinner, bed. Very little sleep.
SA: Alarm, prep; drive Brooklyn to evaluate at Santa Fe Tails daycare, get McD bkfst, check back - she's good to go; drive motel, eat, rest; Frank's: Railyard market, shops, Cafe Una: lunch; motel rest; drive Eldorado: find Comm Ctr, Jill's Celebration of Life: slides, readings, people share; drive to daycare, Brooklyn home, rest; Frank visit, walk to Blue Corn Cafe: sit with hikers, Chris & David, Conrad, Greg; walk home, Frank, walk Brooklyn, bed.
SU: Slept late (yay), Brooklyn daycare, Starbux, Frank: Plaza Cafe bkfst: bagel salmon, granola, walk, La Fonda; drive search FLW house (no luck), Violet Crown: coffee, LaLaLand, get Brooklyn, Franks: walk naborhood, visit Nancy; Hotel: webwork, emails, Panera dinner to go, bed.
MO: Brooklyn daycare, drive; Harry's Roadhouse: bkfst with Greg, talk; pickup Brooklyn; drive 285, I-40: Tucumcari 66; San Jon: gas, coffee, 66 drive; Deco rest area; Shamrock: McD coffee macs, Main St, water tower, 66 motels; drive home.



2017 • March 3-6 • Lawrence Kansas
FR: lazy am, Brooklyn in, drive: writing audiobook, turnpike lunch, music; Starbucks Topeka; I-70, Iowa, 19th; walk Joey, talk, dinner, talk, bed.
SA: walk Alchemy, Dillons coffee, Hank's brkfst, home; walk Levee, North Lawrence; Joey home; campus, Rules home, drive East Lawrence: BonBons lunch, Hawkins History Museum, Spencer Museum, Johnny's bar, home; bball game, chicken dinner, movie: Selma, bed.
SU: bkfst, Sunday Morning; drive I 70, St. Joseph MO: Patee Museum, Ground Round lunch downtown; Grole Psychiatric Museum: Secrets; drive, walk Panera, TV, salad, TV, bed.
MO: Bkfst Ladybird, goodbyes, drive US59: downtown, Emporia State: National Teachers Hall of Fame dump, downtown, drive 59, 35; Trnpk McD coffee, drive; get Brookyln, Taco Bell, home: eat, unpack, resettle.
Below: signs seen around Lawrence in response to Trump: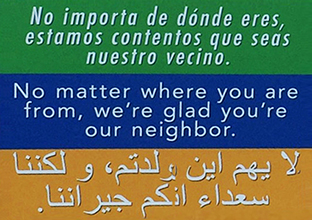 2017 • July 11-12 • Dallas
TU: Drive; TexExp 35, 635; Urban Reserve, Forest: Schlotskys; HHS, Mimosa; change cloze; drive Oak Lawn: Debbie service, family, drive Lakewood, Balcony Club; drive Lakewood; Mimosa: pix, trains, shower, bed.
WE: Shower, foto train, granpa; drive Sasha daycare, Knox, Hillcrest, SMU; Flying Fish bkfst; Drive NY Hwy, Skillman, Urban Reserve: builder & realtor, tours; Orchid, Mimosa; read book; drive DFW: S&S byes, drive 35, Starbux, get Brooklyn, home.

2017 • August 14-18 • Santa Fe
MO: Bkfst, pack; Brooklyn in, checkin, coffee; delay (miss connection), wait, cancel flite, leave security, drive to SF; reconsider, go to counter: book new flites (1st class), check bag; shuttle to car, drive to check on Brooklyn, eat pdq, home rest: adjust attitude - all good; drive airport, easy checkin, board, 1st Class: stare out window entire flite, wine; DFW: seatmate (Jeremy Cobb? Atty to Tyler) invites me to Centurion Club: buffet dinner, wine, work; SkyLink to TermE, wait, board, wine, seatmate: David Lind (architect, Steve's house) "where are you going?" deplane; Greg, get bag, drive; talk, bed: little sleep.
TU: Read Grisham, puzzles; up: bkfst, sit outside, nap read; grocery store, sandwich, sit out, rest, shower; WF: meet Frank, buy dinner, SFOpera: park, see bldg, lecture, car: tailgate, seats, The (R)evolution of Steve Jobs, home: stars, bed.
WE: Ride to opera house, wait, talk docents; Backstage Tour, Greg pickup, drive Tune Up bkfst, House of Mud: Nancy, Frank: tour Hopper House, lunch: Bumble Bee salad, MeowWolf, coffee; arm pain, Seton Village; Gregs, rest, pasta dinner, tv, stars, bed.
TH: Bkfst outside, rest; drive Bandolier: hike down to valley, vistas, dust in the wind, visitors center, shuttle to car; drive Los Alamos: Starbucks, brkfst bagel, walk to lodge; drive home relief route, rest, check in flite; dinner: Harry's Road House: Frank, Greg; drive convertible bmw: route 66, Lamy, home, tv, bed.
FR: Shower, bkfst patio, pack; drive airport, goodbyes, check bag, walk/sit, tsa, sit on tarmac 1.5 hours (miss connection), flite: entire exit row, work; DFW: get pass/seat, McD lunch; flite: work, no luggage; drive get Brooklyn, salad, home.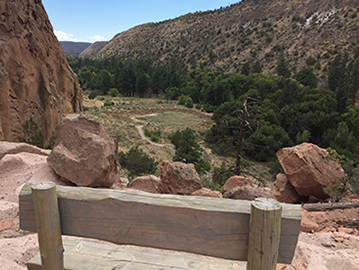 2017 • October 17-19 • North Texas
TU: Nightmare, up at 5? Bkfst, up 7; pack, Brooklyn in, Chick-fil-A breakfast, I 35; exit Denton - across on 380, down tollway to the Star: Dallas Cowboys, call Frank, lunch at tri-tip grill; hear tire suckup screw: find 3 tire places, Goodyear waiting, walk cross street to Starbucks: afternoon coffee outside; Goodyear; drive 121: Toyota, 35, PGBT, 183, 360; AAMuseum; drive 183, 121, 7th st; Barbara & Steve: wine outside, Cafe Press outside, house; drive 30, 35, DNT; S & S, talk, bed.
WE: Bkfst Mimosa, shower; drive contemp homes: FredaStern, Meadow, Lakewood, White Rock; Arboretum: terrace lunch, Oz, skywalk, DeGolyer home tour; Mimosa: rest; Prestonwood Club: HHS alumni award: Steve, reunion; Mimosa: reminisce: PH park, PH school: 3 brothers at same time, bed.
TH: Sleep late, cereal, shower, pack, byes; drive Columbarium, Orchid, PForest, Preston obj central, old road Sherman-Denison; Donna: new art, new furniture, lunch Sage Sherman sq, museum, drive, walk Denison main st, byes; drive, Durant coffee, drive; get Brooklyn, home, unpack, laundry, bed.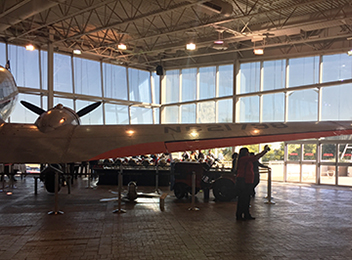 2017 • December 2-3 • Denton Texas
SA: Bkfst, pack/load; drive, 2 stops; 11:35 Denton: Historical Park, smell Texas, walk old homes, drive University: Petco, Strbx, Panera: sit outside; LaQ: checkin, room rest ou game; drive Strbx, TWU, houses & streets, home tour on Oak, p drive, Square: walk, sit on courthouse grass, Denton store, drive, Little Chapel, rock garden, ChikFA, room: eat, tv, hotel walk, bed.
SU: McD bkfst in room, pack shower, load car; drive UNT: walk campus Brooklyn, drive 77 town loop 380, Taco Cabana bkfst; I35: express, lbj, Preston, S&S: visit back deck, Brooklyn run, fall pool, PHPC: Brooklyn in car, Parlor, family: Inurnment; drive PR Strbx, dnt lbj 35; Ardmore: Strbx outside, drive, home, unload, shop, resettle.



2018 • Febuary 2-5 • Lawrence Kansas
FR: little sleep (Edmond city stress), bkfst, rest, pack/load; Brooklyn in, drive, Kansas Star, Hardee's, Lawrence: 6th St, house, dinner, tv cable info, bed.
SA: sleep well, Hank's bkfst, see Green Book house, home; drive 6th: Clinton Park, Pinckney school, College motel, drive (OSU won) Topeka, North Topeka: Bradley's diner, Great Overland station tour, & museum; drive, rest, Phil Bradley's farm: soup dinner, Kay Tibbs, Jennifer King?, Laura Dahnert (UT won); home, tv, bed.
SU: drive McD, bkfst home, tv Sunday morning, mt press; drive, lunch: Lawrence Beer, Henry's coffee, dogcare place, campus, stores, home; rest, tv, Puppy Bowl, Super Bowl, halftime, pizza, game, bed.
MO: coffee, MassAve: Roost bkfst, home, byes; drive, Hardees, shop, home: unpack; get Brooklyn.

2018 • Denton Texas

Thursday March 15


Bkfst, Drive, Ardmore Loves: coffee, rr, walk; drive, Rayzor Panera: sit outside, walk; Jon call, meet square: WO coffee bar: cbrew, talk map; drive Linden, talk look, TWU; Square: art gallery, goodbyes; walk, CHouse lawn: Calhoun kids, great Dane, lay in grass, car cup, WO coffee bar: cbrew, sidewalk patio: Canadians chat: Brooklyn, Yukon Hamilton, rr, water, Jon; walk, Fuzzys: quesa, walk Sq: bench eat; drive Oak St I35 - 2hr 45min; home, unpack.
• Trip confirmed desire to move.
• Redesigned Linden house.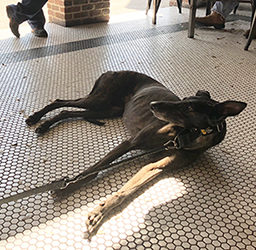 Sunday April 29
Drive; Panera lunch, North Sts: Anna: walk Brooklyn, Bolivar, Jazz Fest; West streets; Square: walk dogs, ice cream sit, grass, coffee; drive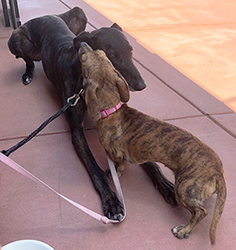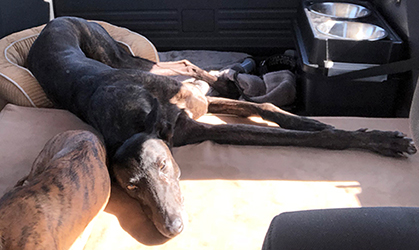 Sunday June 3
Bkfst, drive, coffee poop stop; drive; new I35, Dog Park, 1100 Bolivar (drove by house April 29): Tour house, sit on porch, Brooklyn greets people, discuss; walk to 1500, drive to cool off Brooklyn; West Oak coffee: Cbrew, water Brooklyn, Jonathan prep offer, signatures; Panera: sit outside, drive: JWW license plate, billboard for Bolivar St BBQ in Sanger, gas stop Love's, home.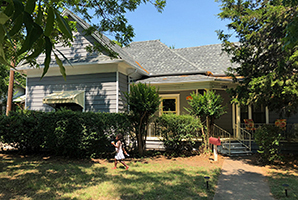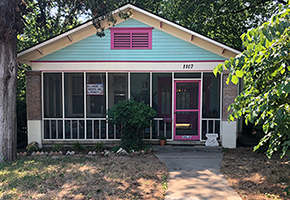 Saturday July 21


Drive, Rumpy's stop, Argyle: check in; museums: house, QTown; DAC Jason Lee photos, Fire Sta, Sq: LSA Burgers, Jonathan, West Oak, drive see houses Historic Hickory Randy, Hickory bike shop, Ponder; square: West Oak water; PU Brooklyn, drive OK.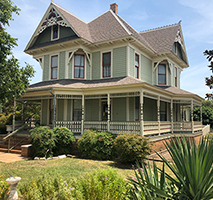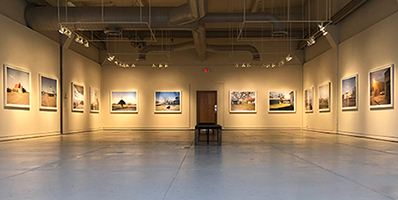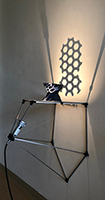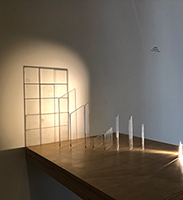 Tuesday September 11


Drive, Cowboy Chicken, daycare, UNTSq ONeil Ford, Parkway: tour, talk, WOCB: discuss, Congress, bye, daycare, drive OK.

2018 • July 31-August 4 • Santa Fe
TU: Bkfst, pack; Brooklyn in; easy checkin; smooth flite; dfw: strbx snwch, read/fart mags, walk; flite: read/edit; get rent car; Garrett's: chek in: rest, unpack; 109 Palace, Plaza, room; Frank: drive town, BumbleBee: dinner, house, Nancy, motel.
WE: Shower, drive Strbx: coff bkfst sandwich, drive; Los Alamos: walking tour, Museums, Lodge; bagel bkfst, Strbx, sit outside; Bradbury Science: bombs, film; drive: Española, Classic gas station museum; drive: Tesuque Market lunch, get gas, drive Agua Fria, San Isidro, airport: return car, taxi to motel; rest, walk Plaza: opera singers, sit, Nacha Mendez: salsa jazz, grilled cheese, nightlites, buy cd, motel, shower.
TH: Bkfst: Plaza Cafe, Five&Dime; room: emails, coffee; oldest church & house, Canyon Road, sit in windmill/fountain, corner cafe: lunch, mex mocha, flw email, Coyote Cafe, walk shops, photo: RFK master, walk, room, shower; Frank: Opera: park, talk, box dinner, Doctor Atomic: storm, explore house, drive, motel.
FR: Sleep til 9, shower, Frank: walk east plaza, bkfst cafe, plaza, art museum shop, drive: St Johns College, Santa Fe Trail, train depot: goodbyes, coffee, snak; 1:02 Rail Runner: Sandia Sta: shuttle, Casino, Uber to Tram: standby wait, Peak walk view; Uber: Sandia Casino: shuttle, train; SF depot, walk plaza, 7:45 Thunderbird: margarita, fajitas, walk, motel, DrA music, shower.
SA: delayed/change flite, walk, Strbx: bkfst, Plaza, walk; room rest, pack, checkout, Uber to airport; checkin, wait, outside, nice flite: read, DFW: link term c: Dickey's, Strbx, sit, flite: read, bagclaim, drive; mex food, home resettle.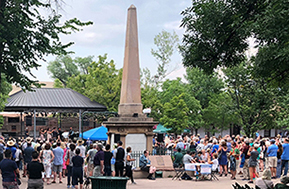 2018 • November 2-5 • Austin • UT Orientation Advisor's Reunion; House/condo search
FR: Bkfst, Brooklyn in, Ardmore McD, 35E: Waco, Temple, Troy, Round Rock: (ikea) Strbx lunch brew, Austin: LaQ chekin, rest; walk Capitol grounds, Scholz Garden, walk home, vending dinner, shower, bed.
SA: Room bkfst, shower, car, Tcall capitol, park city hall, walk, Public Library, see 222 West, city hall cafe: coffee quesas, Umlauf sculpture garden, drive 1Exp, hotel; pu Sarah Kandy at tailgate, drive Maudie's Triangle: Tom drinks chips, girls to hotel; we drive East Austin, Mueller portapot, Hyde Park, Tom's House, hotel.
SU: Drive campus: foto Prather Jester, Art, Embassy: bkfst gang, drive campus: Kinsolving, Littlefield, Tower, AC, Union, Lunch: goodbyes; drive Sarah/Kandy Congress coffee, goodbyes, Toms: coffee, drive EAustin, downtown, park at library; tour • : 3 studio units, sunset balcony, 7:00: True Food dinner, drive TomÒ€ℒs, hotel.
MO: Bkfst, Tom: see 19th and 29th condos, 29: Zilker park view - "this is it", inspect apt, lobby, pet store, trader joes, tom: get Merit coffee, sit prep to do list, hotel: pack, chekout; drive, McD lunch coffee, Ft Worth express, Gainesville: Strbx, drive, get Brooklyn, home.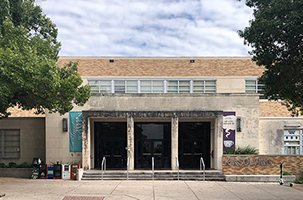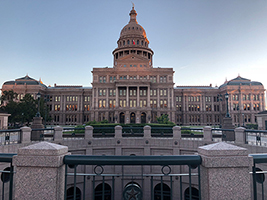 2018 • November 20-21 • Austin • Condo closing
TU: Little sleep: Brooklyn foot wound, stress of moving details, rushed stressful physical day - opt to fly, find flites, call Tom, rest; Brkln in, CFa bkfst: visit Sherry, pack; airport: easy park/checkin, Shlotz lunch, bottle breaks; flite read; DFW: train, 7-11 protein; flite; walk Austin airport: Salt Lick BBQ, Lyft ride; LaQ: checkin, wash, eat, bed.
WE: Good sleep, bkfst, chekout, Tom: condo keys, 222 West: 2908: measure window, get manual, drive TitleCo: closing sign papers, drive Lamar, coffee yog, Highland Mall, 183, airport: easy tsa, explore terminal; flite: manual, read; dfw: Strbx lunch coffee; flite (tarmac delay): read; drive, get Brooklyn, dinner, home.

2018 • Nov 29 - Dec 2 • Austin • Condo move-in
TH: Bkfst, Brooklyn in, load car; drive, parking place, unload mattress, Room: unpack, tour with Grace, Tom: unload car to Room; street: Toni, Room view, True Food drinks/dinner, bye Tom, John greyhound Talley, Room: settle, shower.
FR: Poor sleep, settle, shower, Merit bkfst, Alexis pkg, Justo nest; Room: settle; drive IKEA: 2 carts full, chekout/load car, cafe lunch coffee, drive; unload, move car; assemble balcony table, bed, Poke dinner, finish bed, shower, bed.
SA: Good sleep, read book, prot bar coffee, purge cdbrd, rug; drive, Strbx, IKEA: return, buy pieces; Tom, DickÒ€ℒs house: watch UT/OU game, lunch coffee; Room: assemble drawers, walk ped bridge, pix, assemble table, Deck sunset xmas lites, TrueFood burger, TJs: bkfst, Room, bed.
SU: Bkfst: quiche coffee, pix, pack, drive 35, Hillsboro Strbx, Ardmore Strbx, home; shop, get Brooklyn.

2018 • Dec 20-25 • Austin • Condo settle, Brooklyn 1
TH: Bkfst, load car; drive (okc crash), Round Rock: Strbx, Ikea; apt: unloads, redo bed linens, rug; walk Strbx: get dinner.
FR: Walk Waller Creek; Justo install shade, chandelier; wifi installed, hang pix, mount coat racks; Ikea return, Depot; home rest, mount pix; walk river, shop TJs; rest, assemble night stand.
SA: Finish tasks, drive So Lamar, Target, Ben White, 5th st, Strbx, apt.
SU: Apt, Whole Food terrace cafe, sit at river, web work; Tom: Torchys, Dick & Jenny.
MO: Laundry, fix ceiling holes; drive 360, 2222, Mt Bonnell, 4104 Ridgelea, BBath, Strbx, PetSmart, Dobie Target, gas; take pix.
TU: Poor sleep, 5a walk, pack; drive; White Rock walk, Mimosa: Sasha, dinner; drive, home.

2019 • Jan 17-22 • Austin • Brooklyn 2
TH: Bucee's, restarea talk greys; IKEA: stool, coffee sit; room, walk.
FR: Brooklyn daycare: tour; walmart: mac pack, shop; fix macpack; Halcyon: James web consult; Library: website, Brooklyn webcam; Epoch; get Brooklyn; room.
SA: Shop, Norwood estate; Zilker Park, drive Westlake Hills.
SU: dog park, coliseum park; UT campus, drag, PTs burger.
MO: walk naberhood, Brooklyn daycare; haircut, Maudies, Strbx, History museum, gas, Brooklyn.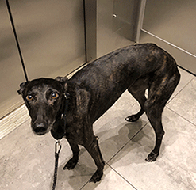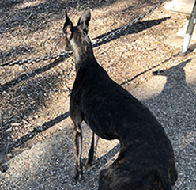 2019 • Feb 14-20 • Austin • Brooklyn 3
TH: Drive: CTS, Bucees, Waco Silos, lunch coffee, river bridge; home: settle.
FR: Brooklyn in, deck, room; walk Congress, Hideout coffee (Mitch), Sixth St shops, markers, Dickinson & OHenry Museum, honeysuckle, Coopers bbq, walk 2nd, drive: Walmart, room, Pelota bike coffee: web, Brooklyn, sit, room, rest, walk grass, room.
SA: webwork, Zilker Park, drive, walk Lamar, Starbux, web, walk.
SU: Marathon, webwork, Pease Park walk, drive Nueces; walk bridge, dog park.
MO: Brooklyn in; load desk; WholeFoods, Castle Hill; Whites: lunch, move; room, Torchys, Pelota coffee, Brooklyn, room.
TU: Brooklyn in, WholeFds: bkfst, shop; rest, Ransom: A&C, Maudies SoLamar, Library: coffee web,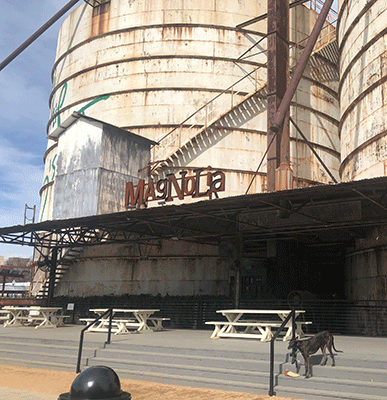 2019 • Feb 28 - March 3 • WaltDisneyWorld Wilderness Lodge
TH: Poor sleep: icy; bkfst, Brooklyn in, no ice, easy tsa, delayed flite, rebook, DFW: burger coffee, missed boarding: rerebook, buy dinner snax; flite: puzzles; MCO: Magical Express, hotel room.
FR: Good sleep, RoaringFork parfait outside, walk, room, bus: Animal Kingdom: Everest, bkfst bowl, ice coffee, Pandora: Passage, River Journey, bus: Epcot: Umbrella lunch/coffee, Test Track, Mexico boat ride, Norway Frozen ride, Germany polka floor, American Adventure, Japan family pic, Spaceship Earth, taxi; hotel: shower, Whispering Canyon salmon salad, lobby, water parade, room.
SA: Good sleep, bus: Hollywood Studios: Trolley Cafe Starbucks bkfst, walk, ToyStory, Star Tours, Prime Time Cafe salmon salad, bus: lobby, room: shower, rest, boat to Contemporary, monorail: hotels, Magic Kingdom: parade crowd, Main St, TLand: coffee snak, Carousel Progress ride, new Fantasyland, Gaston ham/swiss snak, Liberty: steamboat ride, Adventure: Tiki Room, HMansion, walk exit, Fireworks, Boat home: RoaringFork grilled cheese, Woodbridge outside, lobby, shower, geyser, room.
SU: WCanyon salmon caper, room: pack, check bags, bus: Disney Springs: Disney store, Lego, Star Wars, Blaze pizza, Coke roof, bus: hotel: buy snax, bag, coffee outside, Magical Express: hotels, MCO: Disney store: Mickey Chip Dale pins, Ruby Tuesday salmon coffee, flite, DFW: flite, car, home.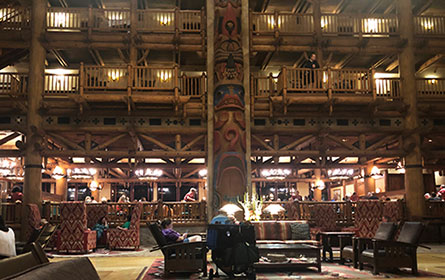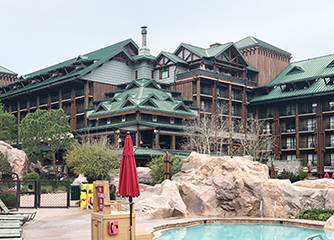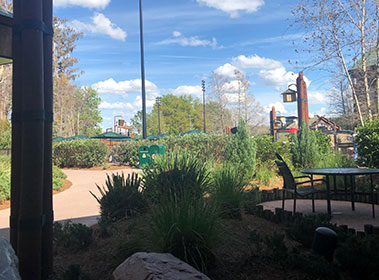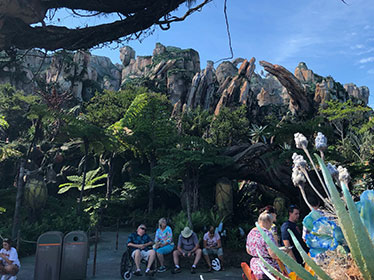 2019 • April 1-4 • Austin • Amtrak
MO: Little sleep, Brooklyn in, easy drive/park; 1st on train, smooth ride: NYTimes, bagel coffee, laptop; FtWorth: subway coffee, sit; board, delays, bkfst sandwich beer, Observation car; MoPac, station; walk cross Lamar, TrueFood dinner, room, unpack, bed.
TU: Better sleep, Merit burrito coffee, walk Independent, room, mirror, laundry shelf, call Tom, Shark Tank call, walk 2nd St, Library: work, CookBook lunch, room: web rest; walk West St, 6th: Tom, visit Dick & Jenny, Luby's dinner, Tom's patio, drive; Cookie ice cream, TJ's, room, bed.
WE: Cereal bkfst, rest, Pelota coffee: web; room, walk river bridge, path, Library: CookBook dinner, room: laundry, bed.
TH: Juice coffee, pack; Merit burritos, walk to Amtrak (delay), train: web, observation car; Ft Worth: Texas Hotel SBux, JFK shrine, Barbara Sundance, train: dinner, work, car, home.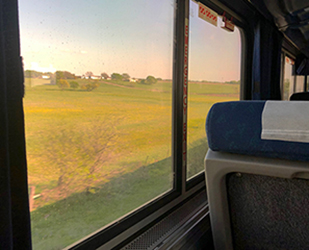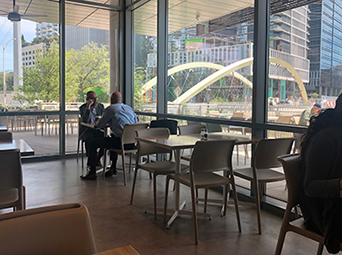 2018 • April 26-29 • Lawrence
FR: Brooklyn in, sholder check-up, Target; Joannie drive: Wichita CFA lunch, coffee in car, Topeka rr, Vermont: sit, dinner; Lons presentation, home, bed.
SA: PoorBoy bkfst, home, drive, Carnegie exhibit, bread, coffee, toy store, Lucky Dog, drive: Ed bldg, West Lawrence, lake campground, Mass: Jimmys Egg, Walgreens, home, rest, dinner: brisket, chopped salad, Bill, Gary & Barbie, tv, bed.
SU: Lon walk, home, McD bkfst, Meet Press, laptop, drive: NYTimes, Weston MO: Tin kitchen, shops, Holladay Distillery, drive, dinner leftovers & RBG movie, bed.
MO: Miltons bkfst, tour Wagmore; Joannie drive, rr stop, Edmond Panera lunch, home, get Brooklyn.



2019 • May 14-20 • Austin • Kerrville & Fredericksburg • Donna & Johnny • Brooklyn 4
TU: Drive: Bucee's, HEB; unpack, rest; walk 2nd st, lawn, rest, walk, bed.
WE: Drive 183: Bricks store, Philly sanch, 360; rest, river rapids; gas, cvs, El Arroyo sign & dinner, walk creek/river.
TH: Buy can food (she eats!), Brooklyn to boarding, ABIA: get Donna, drive: Pickle House lunch, Dripping Springs, Johnson City: visit ctr, boyhood home, LBJ Ranch: wildflowers, school, hangar, jet, film, house, grave; KVille: check in, Johnny's house: drink, Cowboy Steak House dinner, D emerging from restroom: "I think I got it all", hotel.
FR: Poor sleep, Starbucks brew, hotel, Del Norte breakfast J&D; Schreiner campus, Center Point high school, farmhouse, Camp Verde General Store, camp site, J's ranchfarm; Pax coffee, Schreiner house, Main St, Pampell soda shop; post office, drop off J, drive FBurg: walk Main St, Burger Burger patio lunch wine, dog store, Java Ranch coffee, drive Kville: liquor store, Whataburger: Dr Pepper shake, rest, J's: meet family, Rails: dinner, car, HEB, bed.
SA: Good sleep, J's house: kids cake, goodbyes, drive FBurg: Sunset Grill bkfst, drive, DripSpr Starbucks, Austin airport: check in, ipad, goodbye hugs; shop, unpack, get Brooklyn, walks.
SU: B&N: NYTimes, HDepot: tp holder; apt, TJ's, dog food; Republic Sq jazzfest, Capitol: Brooklyn pets,
MO: Brooklyn daycare, 6th St Gold's Gym, Starbucks; Tom, Luby's; Library: webwork, coffee, CookBook pita, get Brooklyn, rest, walk, pack.
TU: Rainy drive, Bucee's, unpack.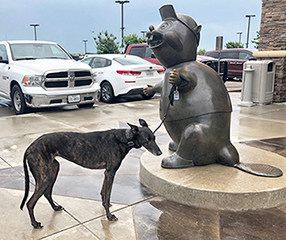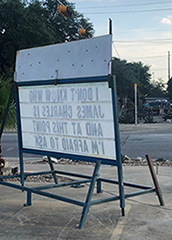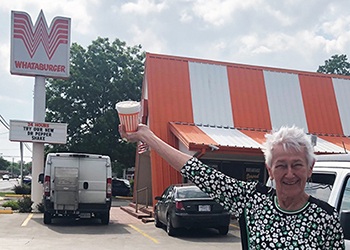 2019 • May 30 - June 2 • Dallas • Jim & Erin Wedding
Wedding present: Lego Statue of Liberty, Lego Star Wars planes, DFW Deco, coffee table book, Texas flag and state stickers, Wood plaque: What good will I do today? Cooler lights, Dog beer treats, Dog beer.
TH: Brooklyn in, drive, Denton Square: WOak Coffee: lunch, CBrew, web; I35, Las Colinas, DFW airport, Ranger stadium, Six Flags, Preston Center Starbux: web; Mimosa: rest; Arboretum: visits, Mimosa, visit.
FR: Poor sleep, coffee visit, Flying Fish lunch; Starbux: web, Northwood: Rehearsal dinner: toasts, visits, Bill, Sigma Chi; bed.
SA: Good sleep, Starbucks: bkfst brew, Tollway: closed, first one to re-enter, park DMA: 10a walking tour, 11:30a ATT center tour, DMA Cafe lunch, sit, gallery; rest, Fair Park Garden Center: rain, Wedding: outside wet, inside seated, dinner, Ann, concrete house, gallery; bed.
SU: Pack, coffee, Brunch: visits, goodbyes, drive, Starbux, get Brooklyn; unpack.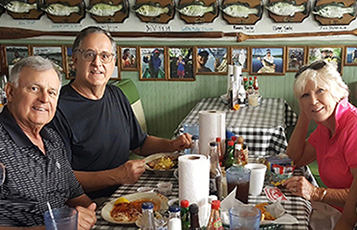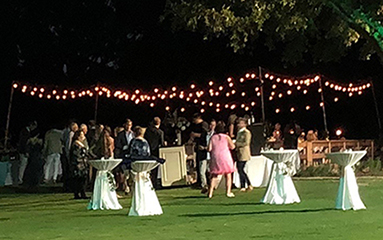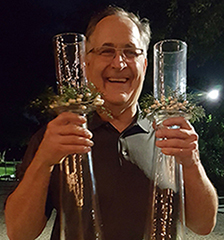 2019 • June 7-12 • Austin • Hamilton • Brooklyn 5
FR: Drive, Magnolia: gr cheese, coffee; heb, unpack; shop, mount fan, shelf, mirror.
SA: Brooklyn in, gym; parking, Bass Hall: Hamilton - phenomenal, get Brooklyn, rest.
SU: GreatGlobalGreyhound walk; drive: NYTimes, Starbucks, Arroyo; rest, work in condo, storm.
MO: Brooklyn in, 6th Stbx, Golds; Jenny visit, Tom & David: lunch, shop; Library, get Brooklyn, laundry, pack.
TU: Drive, Salado bridge, home.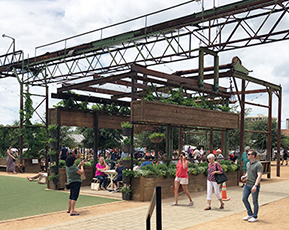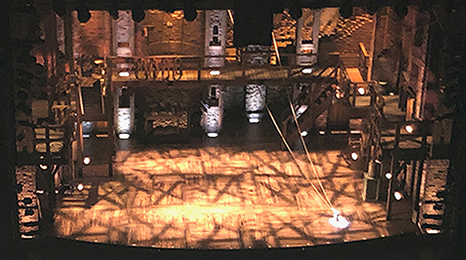 2019 • July 25-29 • Austin • Flite
TH: Bkfst, Brooklyn in, WRA: sexual patdown; DFW: TGIF sanch, Strbx yog fruit cbrew; AUS: coffee walk, Ube? Taxi home; unpack, coffee; Irene's hummus beer, rest, walk bridge, deck, bed.
FR: Merit bkfst, Whole Foods; GGym, Violet Crown lunch, Q Tarantino movie; bars, coffee; Tom: Luby's, new house; bed.
SA: Bkfst, work, text/fone calls; Uber: Barton Springs, Uber: Nekter bowl, room; Pelota coffee lunch, web, Royal Blue: ice cream & chocolate, room; Bus: Univ Coop: Texas mug, CVS, Bus; TJ Pizza, bday dinner, bed.
SU: Bkfst, texts; Royal Blue coffee, GGym; rest, Library: lunch coffee, web; rest, Book People, REI, Waterloo Records, Whole Foods: dinner, apt: eat, Devil Prada, bed.
MO: Bkfst, pack, Uber: AUS: Taco, yog, tarmac delay, Flite; Love: walk loop, coffee, Flite; get Brooklyn.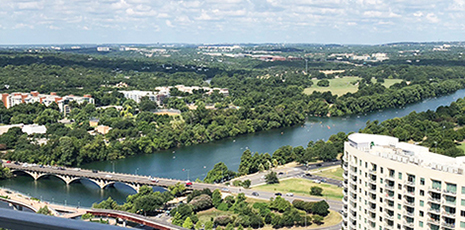 2019 • October 19-26 • Austin • Official Texan • Brooklyn 6
SA: Drive: OU game traffic, air show Alliance, Silobration, walks.
SU: Merit burritos; Home Tour, Target; rest, bridge, nektar smoothie, call T; get NYT; room, buy dog food.
MO: (Dallas tornado) Brooklyn to daycare; Jiffy Lube: inspection, State tax: voter registration, car title/tag, DL - not wait, Whataburger, Dodge: put on plate, rear plate, insp stkr; rest, Library roof deck: work, get Brooklyn.
TU: San Marcos: Aquarena Springs, Square: coffee cookie, Wimberley: walk square; bkfst tacos, drive; fone calls, rest,
WE: Bkfst, online: sign in; Brroklyn in, license: no birth cert, home: order cert, gym, Sarah logo, Stbx work, Torchy's bkfst bowl, get Brooklyn, walk bridge, call Donna.
TH: Drive: Round Rock: downtown markers, Star coffee, dog park: fone calls; Pfluger: West Pecan coffee, downtown; rest; Tom, yogurt murder plaque, !-35 plan, rain, Lubys to go, Tom's, home.
FR: Brooklyn in, Chik bkfst, Target shop, Tom: visit Jenni, rest; Total liquor, BB&B: bath baskets; Library: bkfst, work; get Brooklyn, pack.
SA: Georgetown: walk square, Coffee; Denton: Quakertown Park, see houses on Austin Street; Ardmore CfA; unpack.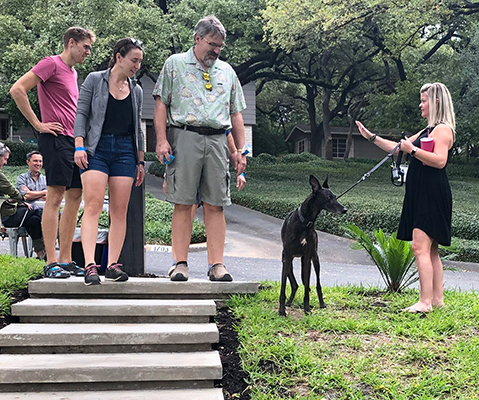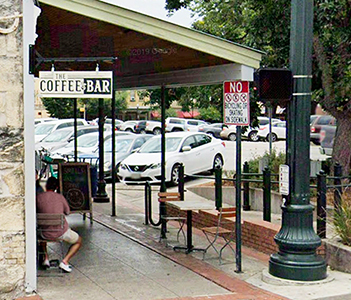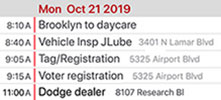 2019 • December 11-17 • Austin • Dear Evan Hanson • Brooklyn 7
WE: Drive, Bucees, Temple CFA, unpack, walk, mail.
TH: Make DL appt, Brooklyn in, Merit bkfst, got License, Target, Capitol Visitor Center, rest, Cook Book: lunch web, TJs, get Brooklyn, walk.
FR: Walk Zilker/Barton Creek: redefine retirement - hobbies, not projects, apt.
SA: Bkfst, Brooklyn in, Manor groj, Blanton: Ellsworth Kelly, cafe/shop, Jester, DEH, AIA models, get Brooklyn, walk 2nd: Flower Child dinner, lawndry.
SU: Drive 290/16, BK burrito, Kerrville: Johnny, Starbucks, drive, back deck; drive I10/I35
MO: Bkfst, Brooklyn in, Title hassle, Whatab DP shake bkfst cawf, Jenny chat walk, Target, LBJ Motown, Briscoe: Davis statue, music exhibit, Capitol: Grill, shop, chambers, Senator Watson, get Brooklyn, walk, rest, HopDaddy dinner Tom, Pack.
TU: Dash lights, Temple gas, lights out, Magnolia Take Away, Loves, unpack.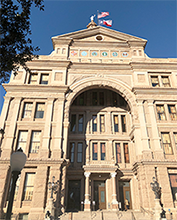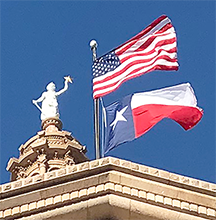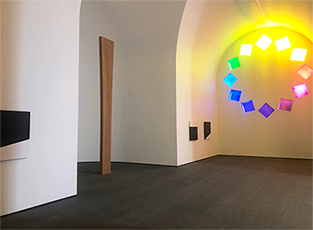 2019 • January 24-28 • Austin • Hello Dolly • Brooklyn 8
FR: Drive new car, Sanger gas/snak, Temple Chik, 130/45; unpack, HomePod, walk bridge, mail, Driver License balcony toast Laird, Orchid, Jim; salmon parmesan dinner.
SA: Walk, bkfst, Brooklyn in, Campus: Mem Museum, Art Bldg, Blanton Cafe, Bass: Hello Dolly, CVS, got Brooklyn, walks.
SU: Walk, bkfst, loo, River trail, sit: Congress/1st, walk 2nd; call: HomePod; Library: lunch cawfy, work UCO Parks; condo door not open, note in door, Brooklyn locked privacy dead bolt, panic, desk, call locksmith, wait, check door: unlocked, cancel locksmith, walk: call Joanie, bridge drummer: "thank you for making the evening more special"; Greens notes to Patti, walk.
MO: Bkfst, Daycare, Mrs Johnsons donuts, Tag temp license, JackBox coffee, Highland Mall, Gym, Brick Store: rails & stairs, BarnesNoble: miniblocks, Domain: Apple, Cafe Lorraine; In&Out shake: Sigma Chi house razed apts, Pink Lizard, condo rest; get Brooklyn, walk, rest, walk river, bridge.
TU: Pack, drive, Temple Chik bkfst, knee pain, rainy drive; shop, unpack.



2020 • Febuary 21-24 • Austin • Vote Dem Primary, Come From Away
Tom fired me up to write again. Come From Away fired me up to be kind.
FR: (afib poor sleep) Bkfst, prep; Brooklyn in, WRA: Tuckers: free tacos; flite: read, pods; DFW: Popeye sandwich, cold brew, "I just need this corner for my coffee"; flite: read, pods; AUS: coffee, taxi: City Hall vote TX Dem Primary, walk, rest; walk Lamar: 24Diner bkfst, Whole Foods: dinner to go, rest, laundry, eat, read.
SA: Merit bkfst, built pizza blox, Sarah call; bus: UT Union: cafe, theater, ballroom, Hogg Aud: backstage, Starbux: sandwich brew bagel, Littlefield, park women's car for her, Comm Plaza, Journ Bldg, campus, Drama Bldg rooms, Come From Away, Keith T talk, Q&A, Keith at Merch booth, wait for Tom, go back: buy book from Keith, text Tom; drive to let dogs out, El Patio: cvs, talks (thanks Tom), drive Nueces, home, shop TJ: bkfst, read CFA.
SU: Bkfst, clean, fix tray handle, walk Golds, home; Library: late lunch coffee, roof deck: view Rally; uber cvs, walk 1st across river, Bernie Rally, ped bridge, 10th deck; apt: move nite stand cables, clean rug, floors; True Food dinner, read.
MO: Bkfst, pack (delayed flite), uber: Spanish-only speaking driver, check-in, tsa: pat down (twice), (further delay) bkfst sanch, flite: read CFA book; walk c2-c9, board, read; get Brooklyn, home.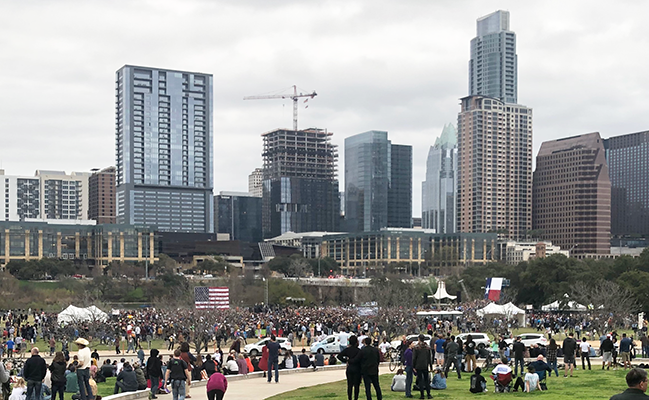 2020 • October 14-18 • Austin • Vote • First EV road trip • Brooklyn 9
WE: Drive, Ardmore, Denton, WhichW, Paul SBux ideas, Alvarado, Waco: Collin Bakery, burrito, home, rest, walk.
TH: Merit bkfst, walk: APLibrary, guard, no line, Vote with Brooklyn, Google bldg: 12 floors; rest, TJ: shop; apt work; 183 Charger: Panera cawfy, I35 charger, Electric Ave: 2 Ital Greys & Storm guy; apt, walk.
FR: Bkfst; Brooklyn in, Mitch: Summer Moon coffee truck; SoCo, Congress Capitol, Old Bakery, Tom: house, Luby's, Starbucks; get Brooklyn, walk dog park, guy moves barrier, I tell him to put it back, apt.
SA: Cereal, walk bridge; apt: 30Rock, spackle; drive: Butler park, Riverside, Festival Beach, Total Wine, 183 charger, Panera; walk bridge, trail; apt, lawndry, walk.
SU: Early, pack; Temple McD, Waco: Corey from NYC to Austin, Alvarado, Denton: Panera, Petco, Ardmore, home: unpack.

https://www.jamesrobertwatson.com/tripsusa.html