Trip diaries: New York City 2008-2012
In chronological order. For the complete list of all trips taken, see Jim's Chronology.
See separate files for trips to:
USA: 1951-2013
USA: 2014-now
New York: 1961-2007
New York: 2013-now
Disney parks
Las Vegas
Europe
Mexico
Link to more fotos on


2008 • March 14-24 • Spring break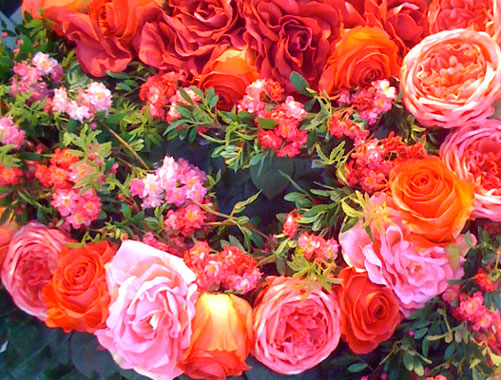 At the Macy's Flower Show was a large paint brush with green bristles and paint of flowers. Below is a model of the Macy's store made out of twigs and bark.


It was overwhelming. The colors, the sweet aroma everywhere, the arrangements. It was one of the most beautiful events I have experienced. It is a week-long event with activities and presentations. And lots of people. I shot the above fotos (of phlowers?) with my iPhone so the resolution doesn't quite do justice for the plants.
• Accomplishments: Macy's Flower Show; Easter Parade hats; Vignelli signature; Stereo with remote; iPhone dock; Hang pix in bedroom
• Friday: late flite, grocery shop, sleep
• Saturday: shop, C&B SoHo, Apple Store 14th: buy briefcase bag, BB&B
• Sunday: apt; Qdoba, 29th Starbucks, WFC; apt
• Monday: gym; 8th St, Chipotle, Parson's, Union Sq, Charles, Museum of Sex, Grand Central cards; apt; TimesTalk Car design, 8th Av: maps, Times Sq.
• Tuesday: work in apt, Frank: burrito lunch; MoMA; apt; salad, Gypsy
• Wensday: gym; Harlem, lunch, Lenox; apt; The Little Mermaid, Cafe Bravo
• Thursday: work apt; Frank, get Vignelli autograph on map, Whitney, peanuts; apt; Beau: PJClarke's
• Friday: Macy's flowers, Apple iPhone, Fifth, mxyplyzyk, Benny's Burritos, Village, Forbes Galleries, bank; work apt: pix, Hudson - good
• Saturday: apt; SoHo: Bose, Miro lunch, Muji, Apple; Apple 5th: buy JBL; apt frames, stereo wires; Hudson WFC, bagel sandwich, cookies; apt: web
• Sunday: apt; GCT, St Patrick's Easter Parade hats, Rock Ctr, omelet lunch, Starbucks; BMG tkts; Battery Park, apt; Hudson walk, apt, make MetroCard columns
• Monday: apt; walk Staples; clean apt, laundry; car; airport Pres Club, flite, home

2008 • May • NYC Study Tours



2008 • May 29 - July 19

•

with Vegas 5 & Manhattan 1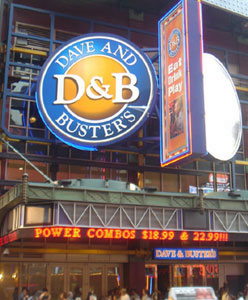 One weekend, I decided I would be quite decadent and act like a tourist kid. Just to have fun. I went to 42nd street between 7th and 8th Avenues. This area was notorious in the 1970s and 80s for being the epicenter of porno theaters and sleaze shops. True story: In 1981, I was leading a study tour and we stopped at the corner of 42nd and 8th Avenue. I told each student to be careful but to notice what goods might be offered to them as we walked the one block to 7th Avenue. I polled the group - every single student had been offered drugs, sex, or both. Fortunately not one of them accepted the enticements. Soon after, the city of New York set out to clean up 42nd Street. Disney was lured in to renovate one of the theaters (the New Amsterdam) and the other theaters were slowly reverting back to legitimate uses, one porno is now even a children's theater. 42nd Street is alive with fun amusements, restaurants, and shops (if you're interested, some of the sex trade moved around the corner to 8th Avenue.) There are 2 movie complexes - one with 13 screens and the other with 25 for a total of 38 screens on this one block of 42nd Street. But I went there to see the 3 amusements pictured above.
A Chorus Line(an excellent show) at 2pm. That was enough time to be amazed by what had been collected and displayed in the Odditorium. After the show, I went back to the 'Amusement Park' and had an early dinner at Applebee's - the appetizer sampler. Dawg, it was good. Then on to Dave & Busters to play some arcade games. But, shoot, I couldn't find Pong, Frogger, or Asteroids. Not only did I not recognize the new games, I couldn't even pronounce the names of some of them. I asked an attendant if that had any good old pinball machines. "Pin-what?" Apparently they didn't. I finally found a game more my speed - one where you shoot coins onto a pile and when the mechanism pushes some of them into a trough, you win. This I could play. I did and I won. I actually got to where it was enjoyable and fun to play. I took my winning tickets (shown below) to the in-house store and bought some tacky crap. I had played so long, it was time to go home and walk the dogs. But I went back on Sunday to see Madame Tussaud's Wax Museum. This was even better than Ripleys. Spooky likenesses, so realistic - more than once I got caught off guard expecting a figure to move or turn and look at me. The settings and info cards were also very well done. After that I went back to D &B, this time to play Trivia. I kicked butt. People would stop playing because I kept winning the rounds. It was a great weekend. And look at all the shit I won.


'Push the coins over the edge' game. Some of the tickets I won at the coin push game.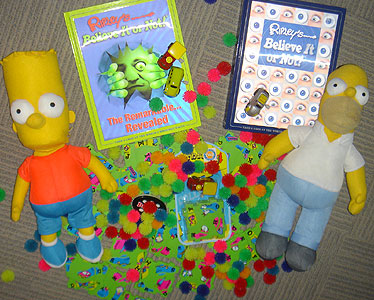 The Trivia game. I sat at chair number 4 - my lucky number. The crap I bought with my winnings: 2 interesting books on Ripley's oddities, a black push-button fart machine, 5 sets of green train track layouts with 5 wind-up cars and trucks, Homer and Bart dolls for the dogs, and 124 squooshy-spiky balls.


"Where's my face. Everybody stand still. Don't take a step. I can't find my face." Fortunately, two older men and one really wrinkly old lady calmed me down and told me it was hiding behind that ugly thing between my ears. Whew. There it is, right where I had left it. You never know when it might come in handy. Like when you have to eat or blow your nose. Think how hard either of those tasks would be if you had truly lost your face. Thinking that I had better get out of the garden, I headed inside to the gift shop. One of the security guards snickered as I went by. "Yes, I'm wearing shorts!" (Snickered sure is a silly word - snickered.) In the gift shop I bought a t-shirt, not because I needed it but because I was tipsy and this is America where we just buy stuff. I also tried on some cologne but because the bottle was facing the wrong way (or the right way if you were standing behind me and a bit to the left) I sprayed again. Oops, too much. It was a scent called 'At the beach' and it smelled just like Coppertone suntan lotion. So now, too much to drink, I smell like Coppertone, and I'm in line to buy a t-shirt that I don't need. Damn. The guy behind me took a step farther back and told his wife that it smelled like suntan lotion in here (Hey, it was a Garden Party). I suspect he, like many of the men there, was jealous that I was wearing shorts. June 20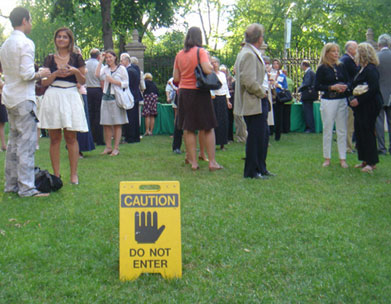 The garden behind the Cooper-Hewitt with Central Park just beyond. People simply refused to obey the signs. Or maybe they thought that since they didn't have a flat geometric black hand, the sign didn't apply to them.


The wine was very good. The snacks sucked. This man in the awful green sportcoat tried to distract us with that way-too-big blue hat. It had already knocked down the guy in the blue shirt. And, as I found out later, the security guard to the left is escorting him to a nearby store that offers complimentary hat alterations.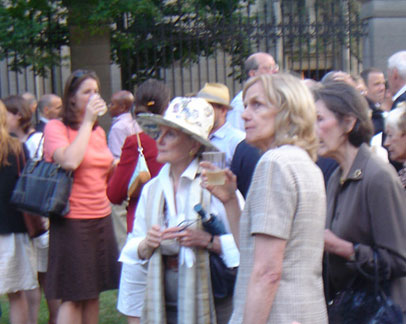 Even the kids were in long pants. People, its a fuckin garden party. Since these women are each looking in a different direction, I assume they are bored with each other's company, have had too much to drink, are struggling with botched botox treatments, or a combination of any two or more of the previous options.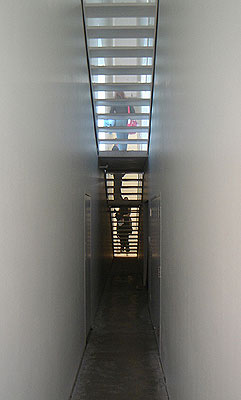 The New Museum in its new building in its new location between SoHo and the Lower East Side. A somewhat hidden narrow stairway that is an architectural delight. Wall graphics next to the elevator - a neat way to show the directory of the building and the floor where one is currently.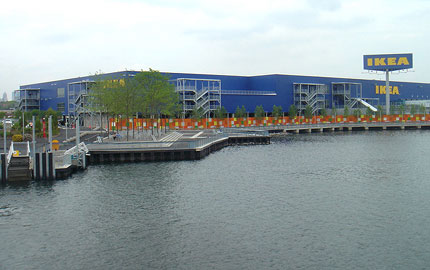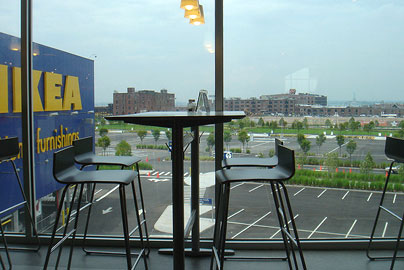 • Accomplishments: Listened to iWoz audiobook; Train girls - dog park, river; Finished reading The Learners; Facebook: learned, enhanced, and checked; Spoke up at Cove Club owner's meeting; Revised History syllabus & web entries; Read iCon Steve Jobs; Bought longer iPhone ear buds; Bought laptop cool feet; Revised Rodkey proposal with Valerie; Designed GuideMapLoMa; Revised guidemaps; Developed 5sguestinfo.pdf; Designed apt area map; Email from Ruki about dept changes; Good phone call with Barbara Calls/emails with Greg & Lon re UCO; Mount Greetings from New York City; Offer from OSU: prepared emails, calls; Restored iPhone - no good, its dead, Got new iPhone, second Genius bar; Wrote recom to Tribeca Trib, got response; Reviewed Chun's portfolio; Cove Club proposal: Christian, Fran; Favorite web site, emails, Trib; Updated/upgraded website
• Bought domain names: pushpullstickers, justonepiece; Refined JustOnePiece with Frank; Designed JustOnePiece Tshirts.
• Apartment upgrades
Bedroom: Moved bed light switch; Framed Vignelli map; Removed glass from Glaser poster; Rearranged graphics on bedroom wall; Made chorus line of batters; Painted touch up walls; Reorganized closet: rods, new hooks, painted; New bedspread
Kitchen: Installed stove countertop; Got turntable for microwave; Installed/filled in digit message tape; New vase of squishy balls
Foyer: New taller sticks in serenity vase; Installed coat hooks in closets, umbrellas
Bath: toilet seat, flush handle, towel rod, coat hooks
• Museums: Cooper-Hewitt Garden Party; Tenement Museum; New Museum; MoMA: Dali films, lunch, light/mirrors; Whitney: Bucky Fuller; Met Art: Koons on the Roof; MoMA: Prefab dwellings
• Shows: Curtains with David Hyde Pierce, A Chorus Line with Mario Lopez, In the Heights, August: Osage County, Spring Awakening (3rd time), hilarious Backpack Picnic, with Mitch Baker.
• 42nd Street: Ripley's Believe It or Not; AppleBee's; Dave & Busters coin game; D & B Trivia game; Tussaud's Wax Museum
• Sights/activities: Dinner/drinks with Beau & Julie; Photo shoot with dogs for Chilean lingerie; Indiana Jones movie; Dinner with Steve and Roberta Sloan: Brooklyn Diner; Bowling Green dancers; CBGB, Katz's, Hotel on Rivington, Economy Candy; Taylor Valentine: Apple, Diner; SWNY; Mitch: lunch, downtown tour, David Byrne Play the Bldg, subway and airtrain around JFK; See office, lunch with Beau & Jenny intern; AIGA/NY: films, Bumble offices; NYCA program: 'Atheists in Foxholes'; Waterfalls boat trip, Pier 17 eat; Drove northern Manhattan/Harlem, walked around Grant's Tomb; July 4th fireworks at drizzly Seaport; Dinner with Charles & Jenny: Coffee Shop 14th St; IKEA Brooklyn, sub/bus over, water taxi back; Saw Wall•E, Seth: Republic, Union Square.



2008 • Fall • AIGA Fellow, Sean Cobb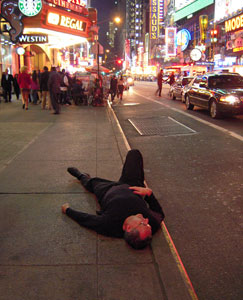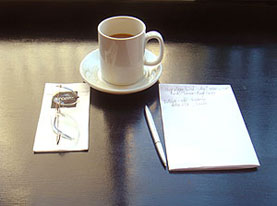 Me and some drunk passerby, club patron, or vice cop - I just don't remember. Curiously, it looks like we're singing something. Jim taking a short nap on 42nd Street.
To respond to numerous requests for more information about the Lace strip club in New York City (8th Avenue, just north of 42nd Street):
• Yes, you might get special treatment if you mention my name. That can range from a waived cover charge to a stud discount in one of the back rooms. However, if you do mention my name, be aware that they know me only as Rod Thrustenberger.
• In the reference above, I mistyped - Lace is not a strip club, its a Gentleman's Club or Gentlemen's Club (its spelled both ways on the signs in the foto). As far as I can tell, a Gentlemen's Club is just a strip club with better cocktail glasses.
• Please keep in mind, I was there only to assess the design of the Lace logo (as seen on the awning canopy in the foto). Anything I know about what goes on inside is only from stories I've read and heard. BTW: the logo is awesomely superb. I think.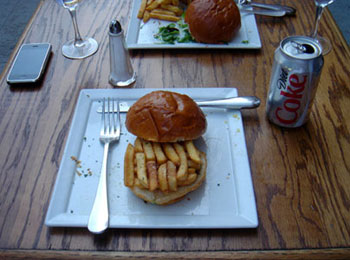 We love burgers and fries, so here's a burger made of fries, with a delectable spicy sauce with a subtle yet robust hint of ketchup and pickle.


Museum of Modern Art: Terrace Cafe on the fifth floor and looking out on a spectacular fall day in Manhattan. I had a lunch of bread, coffee, and organic deviled eggs: black caviar, pickled red onions, and herb creme fraiche. I don't usually eat caviar (hardly ever) but I love deviled eggs and splurged on this. They were delicious. I ate all but one before I decided I better get a picture of a caviar deviled egg. The foto on the right is how I stacked my dishes for the server.
• Wensday: Flite, cab to apt, unpack; walk to SWNY, apt.
• Thursday: Walk East River, ferry to IKEA, lunch, bus/sub apt, rest, cab AIGA, walk Maritime bar, Meatpacking.
• Friday: SoHo, Apple, DWR Tools, Aroma coffee, AIA, Wash Sq: JOP, pita, ACGears, game: East Vill, coffee, cab, apt, sub, Chevy's, Lace, popcorn, Times Sq, apt.
• Saturday: Greenwich Village, street fair, Meatpacking, Taylor Strbx, Ear Inn, Tribeca, apt, cab Nobu next door, cab Gansevoort, cab Rockefeller Ctr, Tropic Zone, Times Sq, apt.
• Sunday: Sub Brklyn, brkfst, walk bridge, apt, Sean car; shop, nap, rest.
• Monday: Starbucks 29th: GD2 emails.
• Tuesday: Frank lunch, apt, Starbucks, SIFerry, Battery Pk, apt.
• Wensday: Hudson, car, Pres Club, flite.

2008 • December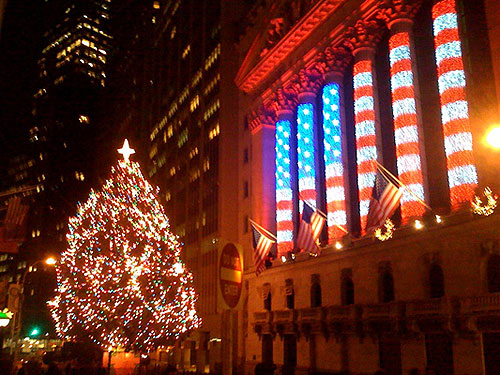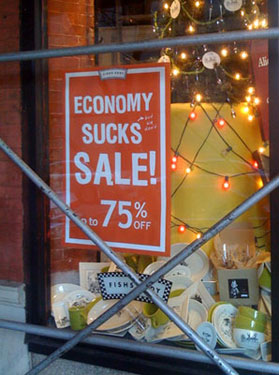 Even though it took quite a beating this fall, Wall Street looks festive for the holidays. Normally a large flag is draped in front of the NY Stock Exchange, but it is replaced by lights around the columns for the holiday season. Christmas, with its excessive shopping and spending, is now truly a patriotic American holiday. The tree is about 6 stories tall.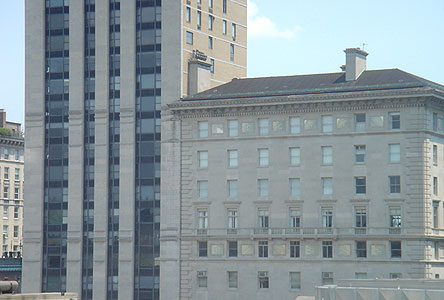 Across 5th avenue from the Met. Downtown in the Financial District. Note how the newer buildings on the left respect the older buildings with the alignment of the ornamentation bands.
• Thursday: Okay flite, trains to WTC, Whole Foods, BB&Beyond, walk WFC; apt, nap, shop, apt.
• Friday: Gym, smoothie/coffee; Milford: login info, sub SoHo: Cafe Miro, Rock&Roll Annex, Crate&Barrel, Best Buy, sub Home Depot, AIGA gallery, sub apt; rest; sub 28th Starbux: web, email; walk 30/30, sub Wall St, Strbx write, walk apt.
• Saturday: BP Starbucks: breakfast, email, web NY trip, walk Wall St, Border's: xmas cards, Grisham book, Gristedes; apt; sub Murray Hill, Pax, pizza, Bloomies: coffeemaker, sub; apt.
• Sunday: NYTimes; sub Union Starbx: web, email, walk to 27th: lunch Frank; walk Penn Sta, sub Port Auth: check buses, lunch; walk 42nd, Times Sq, Strbx, W Hotel:
email, coffee; Times Sq, sub Hudson: sit laptop, apt, call Bill re operation Monday.
• Monday: Gym, walk Broadway, PO: mail xmas cards, haircut, BPC Hudson walk, WFC, Hudson, apt; call Melinda, Debbie, WFC, movie: James Bond, call Debbie, Sandy, Whole Foods dinner, BB&B: coffee, WTC, Hudson, apt.
• Tuesday: Walk Sports Museum, Federal Hall, lunch: Mangia, Finance Museum, South St; bus, apt; Starbux: web, snow, call Debbie, apt.
• Wensday: Sub MAD museum, lunch Brooklyn Diner, sub 96th CPW, walk across park, 5th Ave, Jewish Mus: Chagall/Yiddish theater; Guggenheim: rotunda, coffee/cookie, bus 5th to 53rd; MoMa: Cadillac Ranch video, van Gogh, Design, video murals; Rockefeller Center: Saks, tree, NBC shop; Park Ave, Grand Central: Zocalo dinner/margaritas, MTA store, Pylones; sub Hudson, apt, read.
• Thursday: Apt: laundry; BP Strbx: email/web, talk to Debbie; walk BP, Hudson, apt; car, call Bill; car, EWR long security line, flite: delayed, refuel in Dayton, OKC; dinner: Charleston's with Michael.



2009 • December 31 - January 7


• Wensday: 7:20a flite cancelled, brkfst, 7:55a to Houston, to EWR: first class; taxi, apt; shop, mount bedroom wall clock, apt; walk Trinity - nada; apt, listen to fireworks, sleep.
• Thursday, Jan 1, 2009: apt, watch Rose Parade, apt; sub Strbx 29th, sub, buy hat, apt: install clock numbers; walk, Gatehouse dinner, shop, apt.
• Friday: Apt; sub 23rd: sign shop; sub Grand Central Shuttle, Times Sq, eat Europa, Boeing Boeing, Sbarro, Times Sq, Walgreen's, sub; apt read.
• Saturday: Apt: sick; walk, Strbx Broad lunch, Wall St, Broadway, WTC, RiteAid, WFC, Hudson; apt.
• Sunday: Sick; sub Shrek, Applebee's, Hershey's, Boeing (closing) stage door, Times Sq, sub; apt.
• Monday: Apt; taxi to Eagle Signs, SVA; sub, Grand Central, NYP Library: prep syllabi, day 1, Deco exhibit; walk 5th, Cal Pizza Kitchen: lunch, Starbucks 29th, walk, PU vinyl sign, Starbucks23rd; sub BPark, apt; TV: UT game, laptop, apt.
• Tuesday: Prep NJCourt; sub Battery Park, 86th, Chase, Guggenheim: lunch, anywhatever; walk/bus, Central Park Zoo, Park; sub, Union Sq: StBx bathroom, sub; apt, rest; walk Wagner Park, PizzaCafe: dinner, walk, store, WFC, movie: Earth Stood Still; apt: Scrubs, apt, read.
• Wensday: Apt; Ritz Carlton: breakfast; apt: laundry, clean; Strbx Battery Park: emails/web, walk Hudson; apt, pack; walk PATH, train to Newark, walk to Court House in rain: checked in, down to courtroom and prosecutor, judge: case dismissed, walk out, caught cab to EWR; snax, call Bill, wait (delay, then not); flite: 12b with no one next to nor in front of me; smooth egress, drive home.
A small fraction of the people using the subway system in NYC: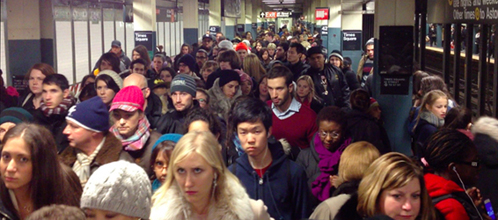 While riding on the subway, a woman got on with a large trash bag full of something soft - maybe clothes. Even though there were several empty seats, she scrunched her bag and set it on her lap so she wouldn't take up two seats. People were leaving the seat next to her empty, thinking she might want to set the bag there. But she never did. She was so considerate and mindful of her space and the needs of others. I couldn't help but watch this sweet woman. She also had a very nice smile to go along with her demeanor. I was somewhat envious - this woman, with her big load, still managed to be polite, courteous, and considerate of others. I so wanted to say something to her but i couldn't think of the right thing to say. I thought i would at least tell her she had a nice smile. But then my station approached and a crowd came between me and her as i stood to get off. Another opportunity missed. How often i wish i had acted on my impulses.



2009 • March 13-21 • NYC & Philadelphia




So, Thursday evening of spring break, I was wandering around Times Square. I had gone to get a ticket to 39 Steps, a funny comedy; I decided not to and, instead, just walked around with the flow of the crowds. I went into the Marriott hotel to use the bathroom. When I came out, there was a small crowd across the street, right at the end of Shubert Alley, next to a couple of Broadway theaters. Several men held shoulder mounted video cameras and others had some 35mm cameras with pretty good-sized lens. I stopped to see what was going on. Two of the people in the crowd moved towards me and stood right in front of me, within inches. I was a bit baffled. I looked at their faces. One was Matthew Broderick. The other was Sarah Jessica Parker, his wife. I looked down at her scalp - she is a short woman. They both looked sad. There were a few other people near us that I recognized. Very familiar faces, including her mother, Vanessa Redgrave. Then it occurred to me what was likely going on. They were friends of Natasha Richardson who had just died. As I learned later that night, the lights of Broadway theaters were dimmed for one minute in honor of the actress. This group was standing at the best place in Manhattan to see the most theaters. There are about 6 or 8 theaters within sight of the spot where we were. I suspect the lights were dimmed while I was inside the Marriott. Then a tall man came up and hugged Sarah (is it Sarah or Sarah Jessica?) She whispered, "Thank you, Liam. How are you?" Liam Neeson, Natasha's husband. He, too, was sad. "15 years." He kept saying, fifteen years - they were married in 1994. The crowd of celebs took turns hugging and kissing him. One of the well-known faces asked him what he was going to do now. He said he was going to an Irish bar and get a drink. "You know, a traditional Irish wake." Broderick asked him where. He wasn't sure. This was going on all around me. I just stood still, right in the middle while we were circled by the photographers. The footage was aired on the news later that night. With one goofy looking Okie right in the middle. One videographer bumped over and around me - probably hoping that I would move. I didn't. I was tempted to pull out my iPhone and snap some pictures but I didn't want to look like the other tourists around who were sticking their phone cameras into our circle. Liam gave a few more hugs then walked off down Shubert Alley with a friend. The photographers didn't follow him. They left him alone.
• Friday: Smooth flite: exit row, read, write; Path, walk to WinterGarden lunch, Starbucks, sit under palms: write: OSU away, History preview; Cove Club: new furniture/carpet, apt rest; walk South Ferry, downtown, Stbx, Brdwy, WTC, shop, Hudson; apt; evening walk; apt.
• Saturday: Apt; sub 29th Stbx; sub Times Sq, tkts: West Side Story & Hair; 42nd; sub; SoHo: Apple, Droog, Canal; sub, Rector pizza, liquor; apt; walk Hudson, new ferry terminal, Whole Foods, Embassy Suites, Hudson; apt.
• Sunday: Brkfst newspaper; sub Times Sq, muffin, Hair, stage door, Strbx, AppleBee's burger mochatini, D&B trivia: boxers, Walgreen's; sub, walk WFC, Hudson; apt.
• Monday: Work out; sub Grand Central, walk 42nd; NYPL: write, History Preview, email; Chipotle, Grand Central: gallery, scone, sub/Union Sq/sub, Brooklyn/sub, new station: Whitehall/South Ferry, walk, apt.
• Tuesday: Sub Brooklyn: Boro J train, Emily Suggs & Cate Lucas, brownstone, walk D'Amico's, bakery; sub, Boro Hall, sub WFC: Irish dance, lunch Cosi, apt, rest, sub 86th: St Pats parade, Fifth Avenue walk 86th-59th, sub apt, rest; sub, Times Sq, Palace: West Side Story, stage door, sub with 'Tony', apt.
• Wensday: Stbx: brkfst, emails; shower, sub Penn Sta: train to Philly, Roberta, drive, South Philly: Pat's cheesesteak sit outside, Italian Market: cheese, coffee outside, gameats, drive, condo; walk bridge to Market Street, Franklin's grave, Visitor's Center, Pres House ruins, Independence Hall, sit on bench, Carpenter's Hall, walk streets, condo; dinner at Continental (Dunlap's print shop site) ice cream at Franklin Fountain, condo: television, bed.
• Thursday: Condo; Temple Univ: brkfst dorm, theater bldg, Tyler art building: gallery, classrooms, campus, Student Union; train to station; lunch, Amtrak to Penn, sub to apt; rest, emails, apt; sub Times Sq: 39 Steps - no go, walk area, burgers at McD, Marriott pee, crowd of celebs: Broderick/Parker, Redgrave, Neeson, on-camera; sub apt, The Office, 30 Rock, news: WSStory and Natasha death with footage of me, apt.
• Friday: Apt work, gym, sub: Waldy's pizza with Frank, office: get exit row, walk Stbx 29th: write, download, call Bill (birthday), sub, apt; walk Hudson, ferry terminal; Chevy's: dinner/drinks Chuck/Jennie and Taylor, walk marina, goodbyes, sit South Cove, talk Frank, apt .
• Saturday: Laundry, clean apt, Bejeweled game; car svc, EWR: slow security, flite, Detroit airport: check in, walk airport, eat/coffee at Online Cafe, Express Tram, gate; exit row; flite: read, Preview, classes; home: see new fence.
• Sunday: Yard work, dog-proof new fence, get girls.



2009 • May 12 - July 7

•

with Vegas 6 & Manhattan 2 (surgery)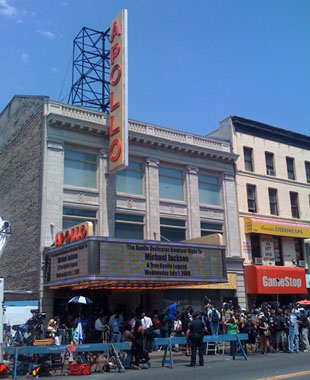 Michael Jackson Memorial at the Apollo Theater The media trucks continued around the corner and up the next block. The line of people continued the other direction, also around the corner and up a couple of blocks. 125th Street was closed to all traffic but buses and emergency vehicles. The photo below on the right is from the newspaper.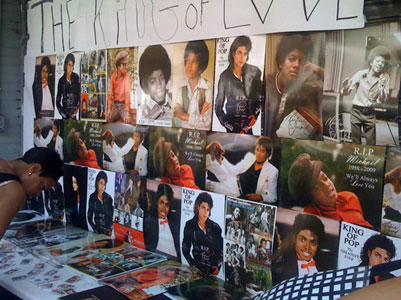 1967: Joe Jackson drove his sons from Indiana to the Apollo Theater so they could perform during amateur night at the famous Apollo in Harlem. They had very little money. He wasn't even sure where they would spend the night. The youngest of the Jackson 5 was Michael, 9 years old. They performed and won. The Apollo wanted them to come back but the Jacksons couldn't afford it. Soon after, Diana Ross saw them perform and she introduced them to the rest of us. The Tuesday after Michael died on Thursday, the Apollo Theater held an open house memorial from 2pm - 8pm. It was part respectful memorial, part party and celebration, and part shopping mall. I went to participate in the event. Michael Jackson's music formed much of the background soundtrack for me in the 1980s. Larry Lewis, one of my high school students, treated me to a ticket to the Victory Tour concert at Texas Stadium in 1984. It was a phenomenal concert. MJ can wow a crowd. Even in death.
Facts: 1. MJ was acquitted - found innocent - of all charges in one of the 2 child molestation charges.
2. The other case was settled out of court to avoid the negative publicity.
3. The mother of 2 of his kids, his family, and friends have all emphatically stated that Michael is not a pedophile.
There is no evidence that he molested anyone. There is precedent, however, that some adults will exploit celebrity millionaires to get money.
4. He did not 'dangle' his baby off that balcony. He had a firm grip around the child. Dangle is the term the media used to sensationalize the event and millions of gullible viewers bought it, without thinking that it was the wrong term. I wonder how the media would report it when dads toss their kids up, "Father abandons child in air" or "Dad lets go of child in mid-air."
Michael Jackson had an unusual childhood, a domineering father, success as a star at the age of 9, etc. Of course, he's going to be eccentric. But what talent. An incredible entertainer. And a great humanitarian. July 1 2009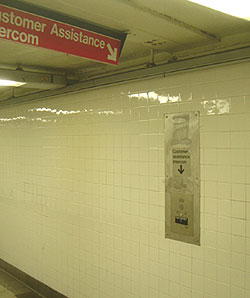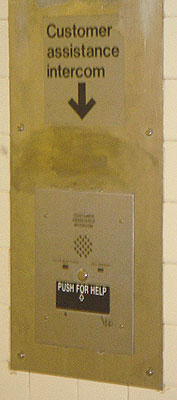 'PUSH FOR HELP' seems more effective than 'Customer assistance intercom'. Does one care if its an intercom, telephone, walkie-talkie, or whatever? - one just wants help.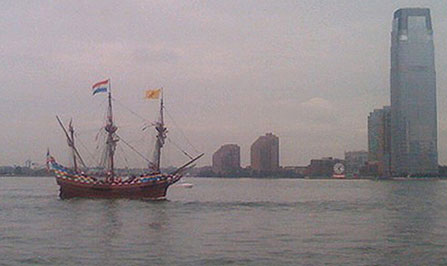 An accurate recreation of Henry Hudson's ship, the Half Moon sailed up the Hudson River on a overcast day. While he was British, he made this exploratory excursion for the Dutch East India Company. June 7 2009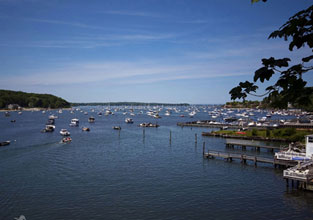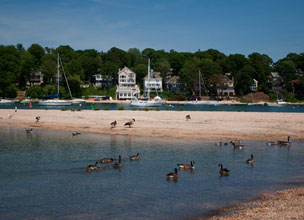 Spent a great day on Long Island: Sagamore Hill, the home of Teddy Roosevelt, lunch of fried clams while sitting outside and sharing stories with a local Islander, and the beach above. Beau, a UCO grad and Battery Park City naber, messaged about taking a train trip on Memorial Day. I replied that I had my car, so we drove. (Fotos by Beau) June 2 2009
Manhattan (the dog) got sick in Manhattan (the city). Months ago she chewed off her collar and apparently swallowed a few pieces. Those pieces eventually wound up in her intestine where they bunched up and blocked her intestine completely. She spent a day and nite vomiting bile. She didn't drink nor eat for about 30 hours. I took her to the vet at 7:59 (it opened at 8:00) and they began a long process of assessment - x-rays, ultrasound, and finally, surgery to remove the blockages. The surgeon cut into her stomach and two places in her intestine. She was away from home from Thursday morning to Sunday afternoon. I was frightened that something would happen to her as something happened to Austin, my first greyhound who died while undergoing surgery. But, all went well. I went to visit her in the hospital a couple of times, just two subway stops from my naberhood. I also wanted her to feel a sense of familiarity and comfort. I was very impressed with the vet in Battery Park City, the surgeons at the hospital, and the staff in both places. Everyone was very caring, competent, and professional. A tough experience that I am glad is over. We now have a week of a special diet, rest, and healing. The fotos below are of the animal hospital in Tribeca, just south of Canal Street. June 7 2009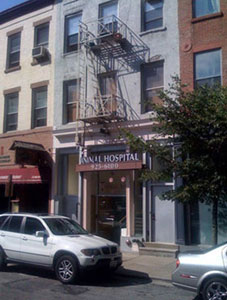 • Accomplishments: New door handle levers, Revised apt/guest info & tour, Sent design guidelines to Edmond Museum, Installed door address sign, Installed new printer, Rearranged LR cart stuff, cart tops, Framed fotos: install in bedroom, Bought new dog-proof, countertop trash can, Bought new vacuum cleaner, Prepped History course syllabus & Lecture 0, Wrote Met Art re wall text, got reply, Bought new microwave, Submitted question of Chrysler Bldg angle, Designed/submitted Thames St Bridge proposal, Spoke at Community Board #1 meeting, Submitted revised essay to BPCA, Spoke with Downtown Express, Designed/submitted Ticker Tape medallions, Submitted essay to Board Landmarks Comm.
• Purged: clothes, closets, books, moved tools to closet/removed cart, bar stools, removed Droog message tape & batter chorus line. Donated 4 bags to Goodwill
• Movies: Objectified, Milton Glaser, Antonio Gaudi, The Hangover
• Shows: Kooza Cirque, Billy Elliot, next to normal, 39 Steps
• DVDs: Iron Man, Dark Knight, Lord of the Rings, 30Rock, John Adams, Knocked Up, Tropic Thunder, Role Models, Sweeney Todd, Whats up Doc?, Billy Elliot, Saboteur, Bourne Triad, Woodstock, Milk
• Books: How to be like Walt Disney, On the Road, From Bauhaus to Our House, do good design*
• Museums: Met American Wing, roof; Whitney: Jenny Holzer; Cooper-Hewitt: garden party, Guggenheim FLW, MoMA with Frank, Cooper-Hewitt: Ellen Lupton book talk.
• Activities: Coffee with Tim Baughman & Rebecca; ICFF; Frank: apt, NY Info Center, Beatriz apt; Dinner with Julie Linn and friends; Walked the High Line; Michael Jackson memorial at Apollo Theater; Fifth Ave: Abercrombie, Armani; Walking tour with Settles family; Library (2 times), Bryant Park, sit at new Times Square plaza.
• Drive, Beau: Memorial Day Long Island, Oyster Bay, Sagamore Hill, Huntington, lunch with Joyce, beach
• Drive, Frank: Connecticut, New Canaan, Philip Johnson Glass House tour, Lorenzo & Gay lunch and dessert
• Wensday June 3: Manhattan vomiting; Thurs: to vet, to ultrasound, to hospital; Friday: surgery, await phone calls; Saturday: visits at hospital; Sunday: take home.
• Wensday, July 1: call from Debbie/Sandy - Bill worse; Thursday: rain; Friday: Drive: Woodstock site and museum; Saturday: pack; Sunday-Tuesday: Drive to OK



2009 • October 2-9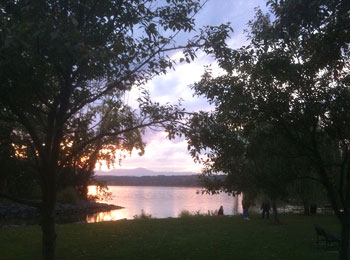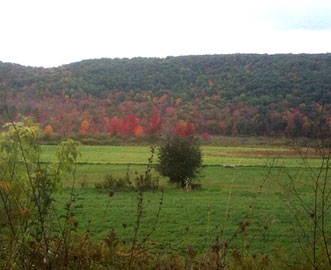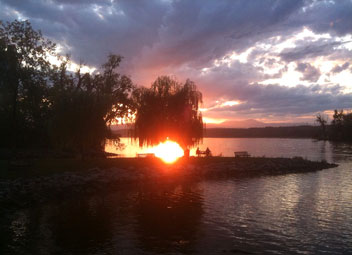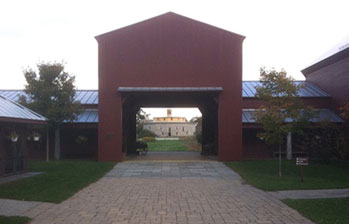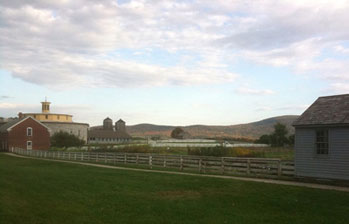 • Friday: Flight, train with Tim, apt: rest, shop, call/text Sean (in town with Brian)
• Saturday: Subway, Penn Sta. tkt kiosk, train, Hudson: coffee, Warren St, lunch: Baba Louie's, drives, Omi sculpture park, Martin van Buren house, river: ice house ruins, Carriage House, OU game, dinner: Valatie Main Street Cafe, Cumberlands, Carriage House: ice cream, OU game, bed
• Sunday: Scrapbook, pack, drive, Chatham breakfast, Massachusetts Berkshires, Norman Rockwell Museum: docent talks, Lubalin/Post painting, bookstore, Studio; Stockbridge fotos, Lenox snax/coffee, Hancock Shaker Village: museum, Brick Dwelling, round barn; drive Hudson: buy train tkt, sunset at river, dinner: Mexican Radio, train station; train, subway, sleep
• Monday: Village: Wash Sq, SoHo: Strbx, Apple, sub; work; sub FIT: Paula Scher, halls; brgr, sub, work, bed
• Tuesday: Web work all day, Chipotle, sub, Cooper-Hewitt: exhibit, lecture, walk Fifth, Central Park, Fifth, Times Square, Europa, sub, peanuts, River, bed
• Wensday: Sleep late, walk, McD bkfst/latte, sub; MoMA: drawings, design, Ron Arad, caviar lunch, Arad, store; Times Sq: shoes, sub, apt, work, sub; Apple Store: battery, phone, Pop burgers, sub; laundry, Tavish, Hudson walk, Strbx SWNY, apt, bed
• Thursday: Sub, haircut, sub, SoHo: DeanDeluca, buy Crocs shoes, 1st elev, Lafayette, Spring Natural bkfst, new Cooper Union Gallery, Strbx, sub, apt: work; sub Letterman theater: Sarah and Mickey, walk sub Chelsea gallery opening, walk High Line, Meatpacking, drinks rooftop Gansevoort, dinner Vento, cab/sub home
• Friday: Sub Home Depot, Staples, sub; remove caulk, clean bath, Staples exchange inks, caulk tub, print PP & stuff, mail PP stickers, McCafe, home, laundry, vacuum, clean apt, shower, car to Newark, easy security, Pres Club, flite, Heart fibrillation, Edmond Hospital



2010 • January 8-13


Purge/rearrange apartment, Avatar movie, daVinci exhibit, MoMA: Bauhaus, Cooper-Hewitt: awardees, Ticker stickers
• Friday: girls to kennel; MJOK ride, flight; long bus ride; apt, shop.
• Saturday: Frank: diner, da Vinci exhibit, Pax, diners; 34th, Staples; apt, rest.
• Sunday: apt: redo; test sticker on Broadway; Staples; D&B, 42nd St: Avatar; apt, rest.
• Monday: Rockflr City; MoMA: Bauhaus, Tim Burton, lunch, Bauhaus; Times Sq, Discovery gift shop; Staples, snack, Frank's; Madison Sq; apt, Max Bill movie, notes.
• Tuesday: apt; Cooper-Hewitt, lunch; bus Fifth; Apple store; Staples: get printouts; Village; apt; Starbucks: emails, web; apt, rest, write.
• Wensday: laundry, clean apt, files; sub delay, walk, taxi, bus to airport; long security; Pres Club, flite; Houston, bbq dinner, flite; MJOK pickup; home: mail, unpack.
• Thursday: get girls, mail away.



2010 • April 15 - June 20

•

with Vegas 7 & Manhattan 3


i was enjoying the latest art project in Madison Square Park: Event Horizon by Antony Gormley. Numerous life-size statues perched on tops of buildings overlook the city. It was fun to seek them out and very dramatic to see these characters out of place. There was a crowd gathering so i asked what was going on - Carmen Electra was going to shave guys' chests as part of a promotion for a Norelco shaver. Carmen Electra? Damn, i felt so old - i thought Carmen Electra was a Buick. Seriously.
i was too embarrassed to ask anyone there (who all seemed quite excited over the prospect of seeing this Electra person . . or car). It wasn't until i got home later that i researched her: born Tara Leigh Patrick, married to Dennis Rodman, Playboy model, and movie star who got her start in the chorus line at an amusement park in Ohio.
But, back to the park. decided i better stick around to see the eventness of a celebrity with an entourage. was standing in a prime spot - i purposefully got back by where i assumed they would lead her up on to the temporary stage. didn't care about seeing the guys getting shaved, i wanted to see a star in the city. She is quite stunning, i could see why Rodman wanted to pork her and why she was a bunny, and why guys in the park were so excited. May 2010


• Accomplishments: Installed cable TV, DVR, Internet, wireless router; Send Ticker essay to Alliance & Mayor; Buy iPad; Stuff to Taylor's
• Shows: Memphis (twice), The Addams Family, Cirque du Soleil: Ovo, Bloody Bloody Andrew Jackson
Day trips:
• NJ, Frank: Panera, Stickley Farms: Gustav Stickley's home and workshop, trains, Newark, Juilliard cafe, Apple store
• NJ, Thomas Edison, Frank: Menlo Park, West Orange, Diner
• Museums: Natural History: gems, snack, dinosaurs; South Street Seaport: Deco Normandie, ships; Cooper Union: Design Triennial's Why Design Now?, Medellin arch; Brooklyn Museum: Dinner party; MAD: bicycles, collection, lunch at Robert; MoMA: Matisse, Design & Architecture; Met: Picasso, Bambu, Design, and American Fashion exhibits; ET Modern gallery: sculpture by Edward Tufte
• Exhibits: Library: Hudson Maps exhibit; Grand Central: South Ferry archeology
Design inspirations
• Perused files at the Herb Lubalin Study Center for Design & Typography
• Learned from Stefan Sagmeister at his lecture at FIT
• Saw the film Art & Copy, a documentary on the golden age of advertising, at the Paley Center for Media
• Participated in a panel to assess and improve a proposed iPhone app for the Museum of Modern Art
• Activities: D-Crit conference, Madison Sq Pk; Tea/walk with Julie; Steelcase showroom; Phone call with Marty Crutsinger; AIGA, Eisenberg's Diner, Billy's Cupcake; Grey Dog brkfst, AIA, SoHo; Village: narrow house, Chumley's, White Horse Tavern, Magnolia cupcake, High Line, ET Modern, Viceroy: lunch; Staten Island Ferry, SI terminal; Central Park: Belvedere Castle, the Ramble, Boathouse Cafe, Mall; Craftsman Building, Morgan Library; Dance parade, St. Marks; LES; International Contemporary Furniture Fair and the Stationery Show.
• Frank: Brooklyn Botanical Garden, Library, Prospect Park; sub, Wall St Strbx (Oklahand), Yankees Shop, Pier 17.
• Melinda & Jerry: apt, PJ Clark's, WTC, cab MoMA; NYCA books, leave; B&H, cab: Rosa Mexicana
• Sean & girls: Lil Italy, Chinatown, City hall, downtown, Battery Park, apt; SWNY snax, WTC; MePa: Apple, HighLine, Marimoto? Japanese dinner, Diner dessert; SoStSeaport: Cobbs, bridge, dinner, ice cream.
• Seth: Central Park Zoo: lunch; Strbx coffee, pass Woody Allen, Armory: interiors, exhibit; sub Battery Pk Strbx: 'veranda', telescope model, walk dogs, Marina.
• Michael: Subway, Bronx Zoo: Congo, 3D Dora movie, monorail, lunch, sub; North Cove: Baltimore party, deli dinner; Bowling Green, Mus Amer Indian, sub; Cooper-Hewitt: web notes, snax coffee, garden, bus; Met: Picasso, cafeteria, roof Bambu, Design, Fashion, sub; apt dogs, Times Square, Restraunt Row: Italian; Times Sq: TKTS, Heartland pickles, Memphis; apt dogs, Chinatown, LES: Rivington, Katz, Tavish apt; WTC, walk Brklyn Bridge, DUMBO, parks, Brklyn Heights; apt dogs, High Line, 14th, Los Caminos, sub.
• Taylor: Village Art Bar, MePa: Bill's Burger Bar
• Nancy: Bowling Green/Battery Park/Hudson, apt, SWNY



2010 • August 2-21

•

with Manhattan 4
First drive to NY without Vegas. Good 2 weeks - bicycling, Manny, sights.
• Movies: Toy Story 3, Inception, The Morgans, Ghost Writer
Day trips:
• Sagamore Hill, Teddy Roosevelt's home and museum in Oyster Bay, Long Island
• Princeton Battlefield, house; lunch; campus: Nassau Hall, Art Museum lobby, Prospect gardens, chapel, old library; Historical Society, Einstein papers, Panera, Old World Coffee; drive, canal, old bridge; New Brunswick: Pressman factory, train station
• Levittown, the first planned suburban development; Waded in the Atlantic Ocean at Jones Beach with its 1930s parkways, shops, and bathhouses
Activities
• Governor's Island: ride bike, picnic point, drumming/dancing, coffee/yogurt granola/cookie, South African food, ferry; walk Manny - North Cove dancing/drumming.
• Grey Dog, Village, SoHo (twice)
• Governor's Island: ride bike; Union Square
• Central Park: bicycle, walk; MtPk: Los Caminos
• Work on website, purge laptop fotos
• Dog Park friends: Allison, Laura, Jerome, Kim, Leslie (dog Tru put to sleep)
A few fotos (or a phew photos):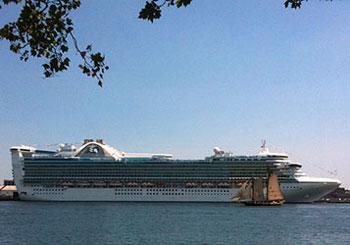 This replica old ship passed in front of the Caribbean Princess cruise ship at the dock in Brooklyn, NY. The sailors on the sailing vessel would probly have had difficulty comprehending a ship the size of the Princess. Sunset over the Hudson River from the Esplanade by the apartment. Shot on my last nite in NYC for the summer.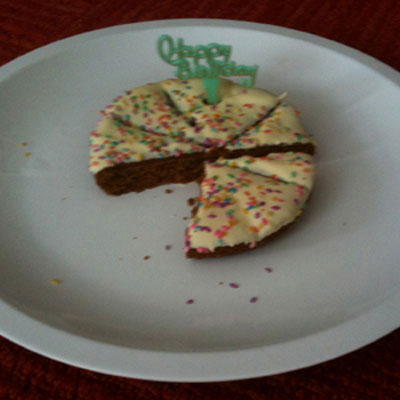 My dessert and coffee at the Museum of Modern Art in August and the cake for Manhattan's 5-year birthday party on August 11, 2010


One painting from the excellent multi-media art exhibit, Empty Spaces, that was on Governor's Island in August, 2010. See the number 60 in the holder - this is a table at TGI Friday's in Union Square. I noticed that this table was at the beginning of a row of tables. The table to the left was numbered 70 and the next row was 80. The rest of the tables in the row followed sequentially. This was an idea I implemented at Friday's in the 1970s. At the time, the tables were numbered sequentially in the main section and lettered in the cafe sections. I developed a system of starting rows with a 10-digits number (10, 20, 30, etc.) so a new employee would only have to count along the tables in each row. It was gratifying to see the system still in use, over 30 years later.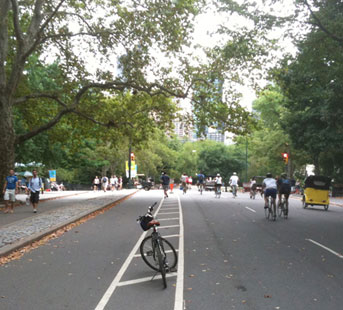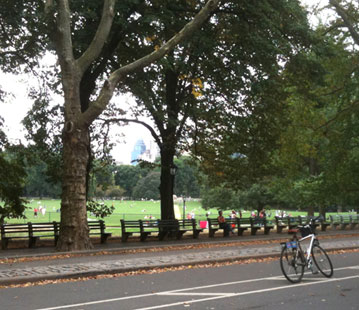 In August of 2010, I rented a bike on Governor's Island and loved it - I hadn't ridden a bike in decades. A week later, I was in Central Park and decided to see the park by bike. It was a great ride, but it wore me out - 8 miles in the park and some serious hills (Manhattan is a native Indian word meaning 'Land of Hills'). On Sundays, the interior streets in the park are closed to vehicles and the roads fill with cyclists, skaters, pedicabs, joggers, and walkers.


Grey Dog coffeehouse. View from Robert, the restraunt in the Museum of Arts & Design.


The Bambu exhibit on the roof of the Met. Times Square crowds, now that Broadway has been closed to traffic.


The Manhattan Bridge, seen from Dumbo. Sunset at the North Cove marina.


Views of the Hudson from the naberhood.



2010 • November 17-22 • NYC & Washington DC


Washington DC Museums/Monuments: National Postal Museum; National Building Museum; Capitol Visitors Center; Library of Congress; Supreme Court; National Gallery/East Wing; Museum of American History; Ford's Theater; WWII Memorial; Washington Monument; White House Visitors Center; White House/Pennsylvania Avenue; National Archives; Newseum.
• Wensday: Manny in, McD bkfst, flat tire: exit 63rd, change to spare; easy check-in: bd pass/phone app; flite, HIA: snax, calls; flite: grade tests, read; bus to PA/42nd, walk to subway; apt, settle, shop, get mail, eat in apt.
• Thursday: Sub to Penn Sta (forgot charger), get tkt, buy bkfst sandwich/coffee, wait, board train, table, read Facebook book, lunch; Union Station; Postal Museum; Metro (poor tkt process and maps); Building Museum: perm collection, 1956 Skyline model kit, coffee and snax, man in line, World's Fair exhibits; walk to hotel, check-in, rest; walk 7th/Chinatown: AT&T, BB&B, buy chargers, 5guys burger, Urban Outfitters; hotel, tv, sleep.
• Friday: Bkfst hotel (nope), room, deli, cab; Capitol Visitors Center: film in, tour, exhibits, buy pen; walk tunnel to Library of Congress: Gutenberg Bible display (but no Bible), exhibits, reading room; Supreme Court: film, peek in courtroom, front stpes, views; walk Capitol grounds, mall to East Wing, moving sidewalk, sandwich & coffee, out to mall; Sculpture Garden; Museum of American Hist: lunch counter, 66 pavement, shopping cart, parking meter; walk mall, Wash Monument, 15th St, Harry's, sit outside: burger/fries; Ford's Theater, hotel, bed.
• Saturday: Bkfst bars in room, Starbucks coffee, cab, WWII monument, walk Wash Monument, line, elevator, views, walk, White House Visitors Center: exhibits, video; walk Penn Ave, White House, walk to hotel: lunch/coffee, room, pack, check out (donate charger to hotel), walk Natl Archives: Decl, Constit, exhibits, sit outside, walk to Newseum: 9/11, Berlin wall and tower, OKC bombing, Unabomber cabin, Waco, Pulitzer photos, films, Decl printing press; check Matthew Brady's Studio locatiom, sit on Penn Ave, walk to Union Station: Chipotle dinner, wait; train: finish Facebook book, eat sandwich & coffee; sub to apt, sleep.
• Sunday: Recharge gadgets, fix shower; BPC Market: fritatta, coffee; sub, Queens: 5ptz, fotos, Zimad talk, PS1, Diner omelet lunch; sub Times Square: new Disney store, Aeropostale, Walgreen's, sub apt, rest; walk Hudson, WFC: cans, WTC overlook, coffee, marina, walk apt, rest; sub to Madison Square: art lights, SD26: see Vignelli reserv, Starbucks, work, SD26: say Hi to Massimo; Shake Shack dinner, see movie snow, sub; call Frank, bed.
• Monday: Laundry (3 loads), muffin coffee, sit on Hudson, vacuum, pack; walk Bdwy: tunnel fotos; sub Union Sq, Heartland pickles & Caesar, Pret: coffee/cookie, ABC Conran Shop; Flatiron: Jim Carrey snow filming; sub apt, pack, walk Hudson, car to EWR, check-in, grade tests; flite: finish tests, read Home, Margarita; garage, car, drive home.



2010-11 • December 21 - January 11

• with Manhattan 5

•

The Blizzard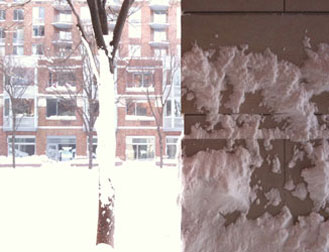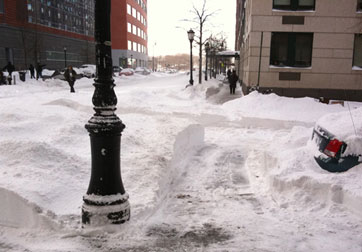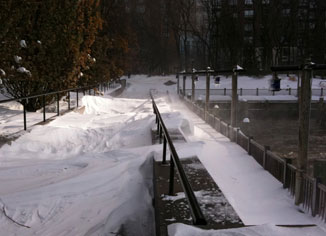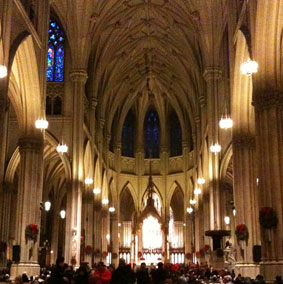 The tree at Rockefeller Center. Inside St. Patrick's Cathedral.
• Accomplishments: Clear shower curtain; wireless router; design websites to iPad; purged bookmarks; uploaded student work and trip diaries; called friends.
• Books: Home by Bill Bryson, The Confession John Grisham.
• Tuesday-Thursday: Drives - smooth, rest areas, iPod, McD, poor sleep (nightmares), some snow in PA, then sunny and dry.
• Thursday: Unpack, grocery shop, set up router and tv, Bravo dinner.
• Friday: Walk, drive car to 66th, shop, bank, subway, tips to desk, shop, work, phone calls.
• Saturday Christmas: Sandy call, Disney parade; cab to Rockefeller Center tree, St Patricks: text Tracy/Jimmy, walk to Times Square, dinner: Heartland Brewery; Walgreen's, sub, tv.
• Sunday: Snow, sub to Radio City: Rockettes Christmas Spectacular, Starbucks, sub home; (pm blizzard) walk Manny, phone calls, tv, read.
• Monday: (Blizzard am) walk WFC: lunch coffee, call Barbara, read.
• Tueand Central: snak, MetLife: donate blood and lunch at Naples; sub home, rest.
• Thursday: Times Square, BowlMor lunch
• Friday: Walk downtown, be
• Tuesday: Laptop work; sub Union Sq: Barnes lunch, Petco, sub, longer Manny walk.
• Wensday: Sub: Grd early (sick, back pain).
• Saturday: Rose Parade, webwork, tv football.
• Sunday-Saturday: (sick, back pain) Buy drugs; Hudson to WFC; Chipotle; Cosi; taxi to Home Depot, Goodburger, Petco; Battery Park; SoHo: Dean & Deluca, Thomas' art opening.
• Sunday-Tuesday: Drives; snow storm west of St.Louis, evening in Cuba motel, walk to Walmart & McDonald's; MODoT did good job of clearing the Interstate, drive was okay.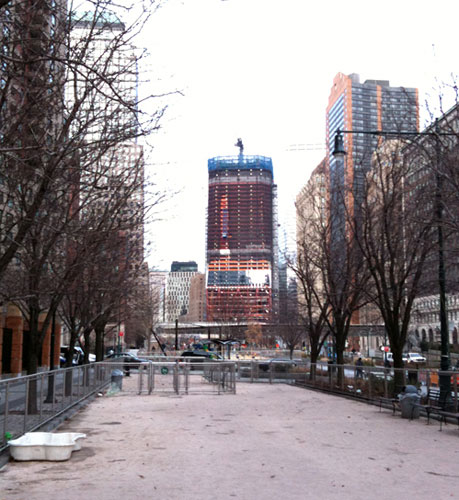 The building under construction is One World Trade Center. As of December, 2010, it is up to 52 stories and 3 lower floors have the reflective glass skin installed. In the foreground is the dog park by my apartment building, which is to the left.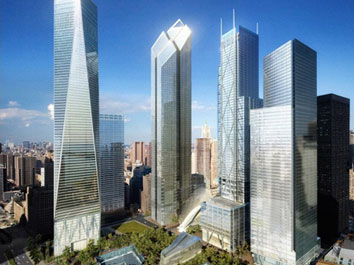 Rendering of the site, testing the water in one of the Memorial fountains.


One World Trade Center.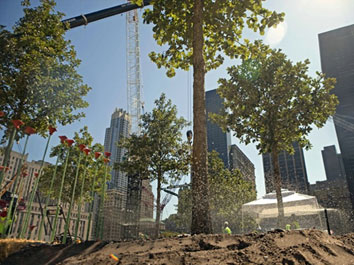 Planting the 'Survivor Tree' from the original site, other trees planted as part of the memorial plaza. December 2010



2011 • May 9 - June 16

•

with Manhattan 6
• Accomplishments: Input/update trip diaries, ICFF furniture fair, updated web sites, home screens; sick/backache
• Books: Sci-Fi, Hitchhiker's Guide to the Galaxy,
• Visits: Greg Skaggs and Pam: Chinatown, MoMA coffee, Taylor: blog talks, Seth: Union Square, South Cove, Jill: midtown, Joyce & Don: downtown tour
• Shows: Spiderman: Turn off the Dark, final shows of Oprah, (back pain)



2011 • August 13-19


• Airflite ordeal: delayed flite, rebooked, Peoria tarmac, cancelled flite, fly standby; return: delayed flite
• Accomplishments: Dreamweaver sessions, website notes
• Visits: Jim Henson at Mus of Moving Image, SoHo, Columbus Circle, MoMA: Glaser and Comm Objects, High Line & cafe, Village



2011 • November 8-13


• Flite: upgraded to First Class for extra $40.
•

Films

:

Tree of Life

video,

Urbanized


•

Visits

: Occupy Wall Street, Negro Burial Ground, 9/11 Memorial, Apple Store, UniQlo, Village, East Village
•

Museums

: Museum of Arts & Design: Modernism Crafts, MoMA, Lubalin Study Center
•

Shows

:

Bonnie & Clyde

musical,

Satyagraha,

Philip Glass opera at the Met
• Visiting the new 9/11 Memorial
• Occupy Wall Street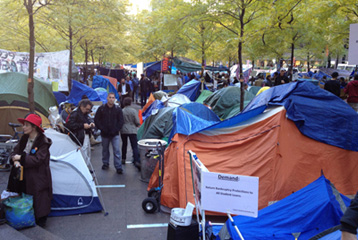 This quote from Adbusters says it well: Our system of economic growth, of ineffective democracy, of overloading planet earth, of unfettered corporate greed plus a trillion dollar ad industry urging us to consume ever more - this system, our system - is in the process of eating itself alive.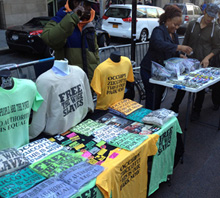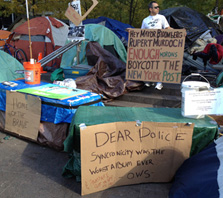 • Negro Burial Ground

During construction for another Federal Building in 1991, some graves were discovered. It was a part of a much larger burial ground used by African immigrants to early America. An estimated 15,000 Negroes were buried at the site until it was closed in 1794 when the land was divided and sold as lots. in 1992, 419 graves were dug up, researched, and reburied at the site and a memorial and National Park Visitor's Center was established. Well worth a visit - fascinating stories, artifacts, and the very well-executed visitor's center is free. Website.
•

New entry to the flagship NYC Apple Store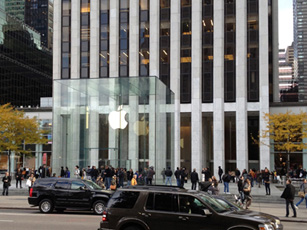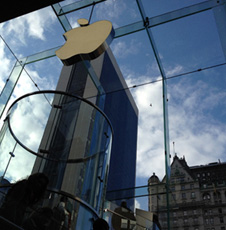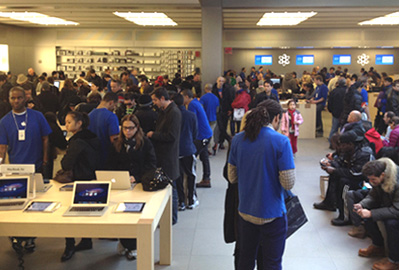 Steve Jobs had explored extensive use of glass, beginning with the staircase in the factory for NeXT Computers. When he Returned to Apple, he took the glass fetish with him. It is now a trademark icon of the Apple Stores. Steve was never quite satisfied with the glass cube at the entrance to the store on Fifth Avenue by Central Park and the Plaza Hotel - it had too many panes. In the fall of 2011, the cube was removed and a new one, with fewer panes, was installed.
Critics and advisors told him to not invest in retail stores - Apple only had a few gadgets and computers on sale, why store? People said there wouldn't be enough traffic to justify the expense. The store is open 24 hours and often has to use queue lines outside the store to manage the crowds. All of the product info is now on iPads.
•

An evening at the Metropolitan Opera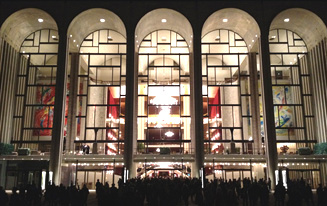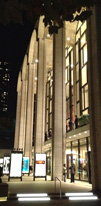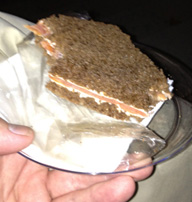 I love music by Philip Glass. I first heard it while watching Koyaanisqatsi in the 1980s. Mesmerizing. I had been hoping to catch a Glass concert in NYC, but they never coincided with my visits there. This fall, The Metropolitan Opera produced one of his operas, Satyagraha. Great. A Glass opera at the Met. I'm not a huge opera fan (heck, I'm not even a small opera fan), but The Met and Philip Glass. Gotta do it. It was a fun evening. People were really dressed up. I no longer have dress-up clothes so I wore a white dress shirt and khaki slacks. I felt a bit self-conscious, so I walked up to the upper levels where the cheaper seats were. People up here looked more like me. Aah, I could fit in a bit better. Right before curtain time, I walked back down to the dressy sections and took my seat. It was a long opera: 8p - 11:50p, with 2 30-minute intermissions. During the first, I bought a delicious sandwich of smoked salmon and cream cheese on pumpernickel bread. I took it outside and sat under some trees and enjoyed my dinner at the Met.


• Astor Place lightpoles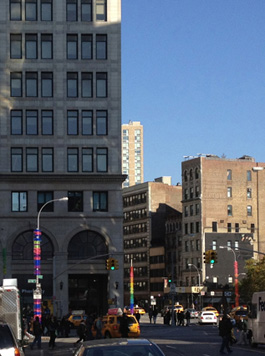 This is a great area of Manhattan. It is between NYU and Washington Square and the East Village. Going off in one direction is St. Mark's Place where Jimi Hendrix played and Madonna lived. To the south is Cooper Union, both the original classic building where Abe Lincoln spoke and the new building where the Herb Lubalin Study Center is located. Nearby are McSorley's Bar and Bill Graham's Fillmore East concert hall. Milton Glaser did huge murals down below in the Astor Place subway station. It is a center of creativity in the busy city. Here are light poles ablaze in bright colors. Simply cable ties wrapped around the poles.



2012 • Febuary 29 - March 4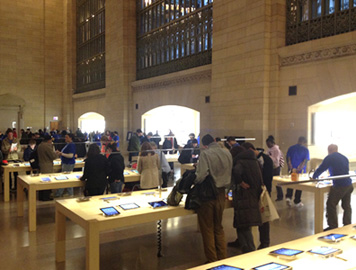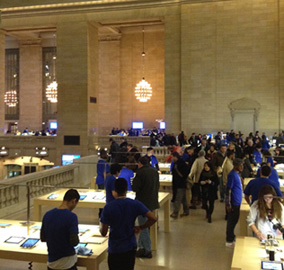 The largest Apple Store opened recently in Grand Central Terminal on 42nd in New York City. The Terminal prohibited too much altering of the historic structure, so Apple kept the store very minimal - the Terminal stone walls and marble floors. Apple moved in their standard store fixtures and furniture and mounted some signs on the walls and in glass pylons on the floor. The Genius Bar, One-on-One classrooms, and accessories are each in separate rooms, some beneath the globe chandeliers in the background.


Trivia, Part 2

. Grand Central is named a Terminal because the train lines terminate (end) at that location. Penn Station is a station because the lines pass through (under) the facility. It is a station on the rail line, Grand Central is a terminal.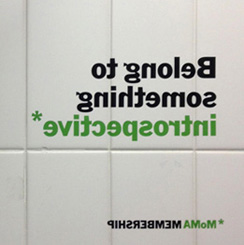 Nice use of the mirror at MoMA. A symptom that shows that the designer considered the location where the slogan signs would be mounted. As all designers should - the surrounding environment is an integral factor in the success of any design project. The other sign was directing museum visitors and bathroom users to download the MoMA app. I served on a focus group that tested a beta test version of the new app. I enjoyed the opportunity to provide some input and suggestions on how to improve the app.


Left: People do lots of things while riding the subway, but this was the first time I had seen someone open up and use their laptop. Right: I had read about the Doughnut Plant on 23rd Street, at the base of the Chelsea Hotel. Had to try it. The filled peanut butter and banana was my favorite.



Wensday

: Flite: delay OKC & CHI, wrote iPad, 1st Class: watch 30 Rock & Family Guy, wine; taxi, condo, Allen, sleep til 9:20.


Thursday

: Bkfst George's, sub: GCT: largest

Apple Store Grand Central

, buy booster, Transit Museum: London posters, Japan exhibits, sub, help tourists, rest, emails, feel home; sub, Chelsea:

Doughnut Plant

, sub: Times Sq, buy How to Succeed tkt, walk, Heartland: usual, sub apt; rest, river, shop, apt, tv.


Friday

: Bkfst, meet/discuss apt broker; taxi,

MoMA

: uniform notes, stores; walk, lunch cookies, sub, apt, rest; walk to Mem passes, sub: Times Sq, snack,

How to Succeed in Business,

Nick Jonas, rain, sub, apt


Saturday

: Bkfst in apt, meet Seth:

9/11 Memorial

, WFC, arcade, Irish Hunger; river, apt, rest; taxi Hilton, no;

MoMA

: coffee, design exhibit; sub

Union Square

: sit at Gandhi, Taylor: Rosa no,

Coffee Shop

; sub, apt.


Sunday

: Laundry, bkfst, AFib episode, pills, eat, rest; car to Newark, easy check-in, recharge, flites: 1st Class, write blog.



2012 • May 29 - June 6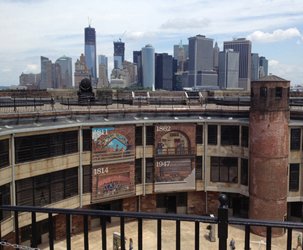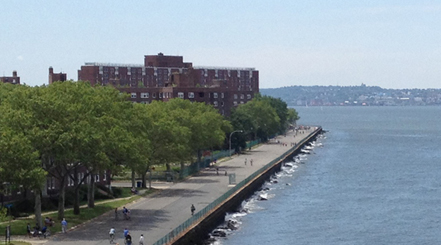 A War of 1812 circular fort with the skyline above. The esplanade along Governor's Island.


The skyline of lower Manhattan. 1 World Trade Center reaching up and to its right, 5 World Trade Center under construction.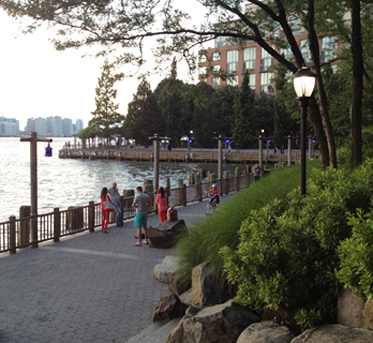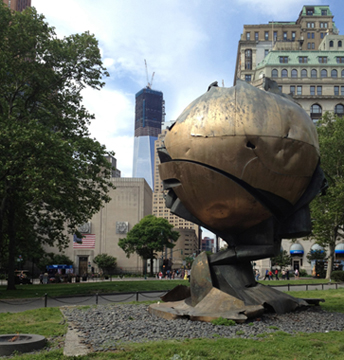 Through the windows at the Museum of Modern Art. South Cove in Battery Park City. The WTC Sphere with the new 1WTC tower rising in the back and the MiB headquarters. Below: the Shuttle on its way to its new permanent home at the Intrepid Museum.




Tuesday

: Starbucks bkfst, girls to vet; airport: delay, yogurt, coffee, newspaper, board; flite (2hour 33minute delay) website; WashDC: flite board errors, flite cancelled, line: hour wait - book new flite on app, change terminals, several gates, check in: paper bd pass, eat Five Guys burger, delay: 5 hours in terminal, move JFK flite (leaving after 1a) to Newark flite leave 12:01a (

16 hours

in planes and airports), easy flite; pills, cab home.


Wensday

: Sleep til 9:30; walk Hudson, Cosi bkfst, new Conrad Hotel, WFC, WTC overlook, Conrad

movie

MiB3, bagel lunch: North Cove Plaza, shop, talk apt with Jim & Tommy, apt; see Anna, coffee,

Battery Park

: 1961 bench, walk labyrinth, debate apt, carousel const, Bowling Green, Broadway, Occupy park, apt; river: sunset,

Wagner Park

grass, shop, apt: tv, bed.


Thursday

: Apt bkfst, calls; sub Union Sq: call Ed Jones,

SethTalks

: sub SoHo, Dia galleries, Angelika Cafe, AIA, Wash Sq; Carmine: yogurt, coffee, buy wallet, sub, apt; talk with broker Heather (no have to prep apt); walk Hudson, Conrad Greens salad, walk West St, apt.


Friday

: Apt bkfst, org sell notes, call lawyer, call Heather; sub Times Sq:

Spy exhibit

, Junior's: lox bagel lunch, buy Ghost tkt, check on Mormon; sub apt; sub 14th: walk Village, Vitra, Apple, Taylor & Karen:

Tavern on Jane

dinner, beers, walk, sub, apt.


Saturday

: Apt bkfst, printer; cab, ferry,

Governor's Island

: Castle Williams tour, rent/ride bike, sit, Cuban sanch, snax, rides, lay grass, Ft Jay, GD exhibit, ferry; Strbx Batt Park, Hudson, apt; hear Disney ship, walk to

J&R

: buy iPad keyboard/cover, WTC, North Cove plaza: veggie burger, beer, Hudson, shop, Hudson, apt; laundry, sit at river, apt: Thunder game.


Sunday

: Apt bkfst, work in apt; sub Apple Store: keyboards,

Central Park

: violins, sit at literary, volleyball, Bethesda, snax Sheep Meadow, Strawberry Fields, 72nd, sub; apt: open houses, tell Heather plan to wait; apt, walk

Esplanade

, shop, river, apt.


Monday

: Apt bkfst, purge files, call United: 65 minutes, sub;

MoMA

: lunch, alphabets, store; sub, 29th/Park: Starbucks, sub Battery Park, Hudson, apt, work, shop, apt, Thunder game.


Tuesday

: Apt bkfst, apt work, sub; Goodwill, Eataly,

Madison Square

Park: pret lunch, sculpture; AIGA, walk Bdwy, Dish Eddy's, Union, sub; apt: rest, work, eat; sub, Times Sq: snak,

Ghost

, sub; apt.


Wensday

: Apt bkfst, laundry; Dave Harris: walk Hudson: see Shuttle barge, sub to

Meatpacking

, lunch: Dos Caminos, walk

Hi-Line

; cab to WFC, walk Hudson, apt; car to LGA: flite delayed 2 hours (would miss connection), agent got me on earlier flite, last row, window, but OK - got work done; O'Hare: walk terminal, Chili's: long wait, asked for ID, long wait on salmon - I left, Stanley's: crab cake salad, beer, hair in salad - returned, perused shops, ate from tea shop, gate: watch Thunder game; smooth flite, drive home: check storm damage on vinyl.



2012 • August 11-17


The beginning of the fall semester was approaching. Uh oh, I better get out of town. Watching the Olympics made me long for a trip to a cosmopolitan city. I needed a NYC fix.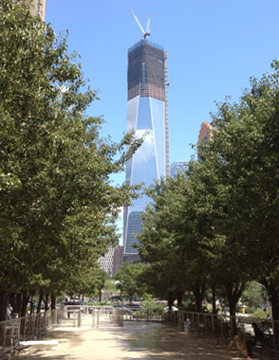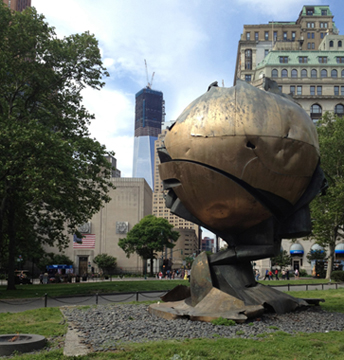 The new WTC Tower as seen from the dog park by the apartment. In Battery Park, sits the sphere that used to be on the WTC Plaza. It is about to be moved (maybe just put into storage) and there is much discussion about moving it back to the WTC site. Some (including Mayor Bloomberg) feel there should be no signs of destruction on the Memorial site. Others (myself included) feel there should be - as a tangible reminder of the historic site. On a lighter note: the solid concrete building in the background on the left served as the Headquarters for the Men in Black.


A sunny afternoon in Bryant Park. A shot of a couple of tired tourists.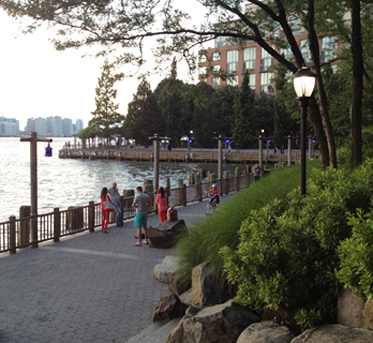 South Cove by the apt. My lunch at the Met - a delicious salmon salad overlooking Central Park.



The boardwalk and beach at Coney Island. I was there in 2006 - it was time to get back to the ocean. More fotos and stories here.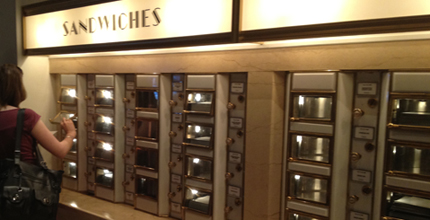 The NY Public Library had an excellent exhibition on Lunch. Included was this original section from a Horn & Hardart Automat - put a nickel in the slot, turn the knob, and retrieve your item. These were all over Manhattan in the 1950-70s. There are none left. The Library's website.


While in the library, I spotted these relics - phone booths, with pay phones. These may become obsolete. Although, I hope the concept of a booth in which to make phone calls comes back. Wouldn't it be great if people were considerate enough to step into a soundproofed enclosure when speaking on their cell phones.


Saturday

: Girls in; bkfst airport; flites, trains; WFC, Hudson river; apt, shop dinner.


Sunday

: Bkfst apt; Hudson, shop groceries, apt;

Battery Park

: dance, coffee cookies, fountain kids, apt: Olympics; walk 9/11: see new

Tribute logo

, Gristede's snax, apt: tv Olympics Closing Ceremony.


Monday

: Bkfst, tv: Olympic wrap-up, dogcam; taxi,

NYPL: Lunch Hour

, scone coffee; Pret lunch in

Bryant Park

, walk 42, Grand Central, sub Battery Park, apt: rest, coffee shake; sub,

Union Square

: walk, Goodburger, Warhol bldg, ice cream cookie, sit, Lev discussion of words; sub, apt, bed.


Tuesday

: Bkfst apt, mail, Tommy/Heather, web, videos; bus to

Seaport, Museum

: film, bus; apt, rest; walk dog park: brindle grey, Memorial line,

9/11 Memorial

, find my cobblestone; WFC plaza: taco, walk Hudson, sit at dog bench; apt, web.


Wensday

: Bkfst apt, emails, dogcam; taxi,

Met

: roof, Petrie Court Cafe: salmon salad lunch,

American Wing

: Lincoln, Civil War, Cross Delaware, Research: Tiffany, Wright, Cafe: coffee fruit, shop, Egyptian; taxi, apt: rest, dogcam.


Thursday

: Bkfst, sit Esplanade by dog park, sub,

Coney Island

, Nathan's crab roll sandwich, sit, wade ocean, Luna Park: watch rides, sub; apt, rest, help to Times Sq, sub, 23: Doughnut Plant, BG YMCA, sub Christopher St, walk

West Village

, dinner: Caliente Cab, walk Bleeker St, sit Father Square; sub, apt.


Friday

: Bkfst, dogcam, laundry, apt; walk Wall Street, help tourists, Starbucks, apt, pack; car to LGA, flite with Dubai discussion, United Club: dogcam, web, flite with dumb Okie family.



2012 • October 16-21




During my Fall Break escape (from the election madness) to New York City, I was eager to check out a temporary art exhibit at Columbus Circle. The artist, Tatzu Nishi, is known for his installations that give access to our urban environment that radically alter our perceptions. For his first public project in the United States, Nishi focused on the historic statue of Christopher Columbus at the southwest corner of Central Park.
Nishi built a fully decorated living room around the colossal 13-foot-tall statue of Columbus that stands atop a 75 foot granite column. The statue was unveiled in 1892 to commemorate the 400th anniversary of Columbus's first voyage to the Americas. Despite its prominent public location, the statue is visible only as a silhouette against the sky or at a distance from surrounding buildings.
Discovering Columbus was quite Dadaistic in that it forced the viewer participant to see a standard NYC statue icon in a whole new way - a new context, a new orientation, and a new experience.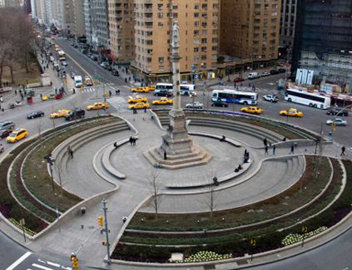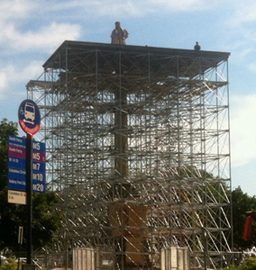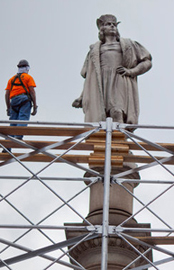 Nishi even designed wallpaper inspired by memories of American popular culture, having watched Hollywood movies and television as a child in Japan.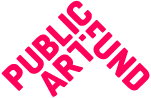 The exhibit was sponsored by the Public Art Fund. In their logo, on the left, is a unique treatment of text only, forming an arrow pointing up, possibly to suggest that experiencing art is uplifting and a contributor to growth and aesthetic enlightenment.
Notice the point where the three words are in close proximity - the inside corner. If the words were spaced evenly (in the middle), the arm of the T would prevent the vertical stroke of the T from tucking under FUND. There is then a trapped awkward space formed by the T and FU in FUND. One solution would be to make a ligature of the T and F, tightening up that space (on the right). But that creates an awkward clunky letterform. The logo designer wisely separated the words into sections thereby creating a square dot that sits in the corner as a focus. That dot serves as the barb in the logo to provide uniqueness and memorability.



One of my most eccentric habits




I had spent much of a day wandering through the massive Museum of Modern Art. I took a break for an afternoon meal at Terrace 5, one of three eateries in the museum.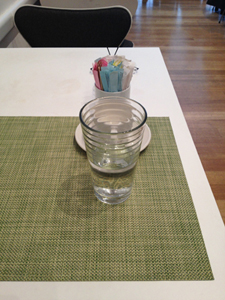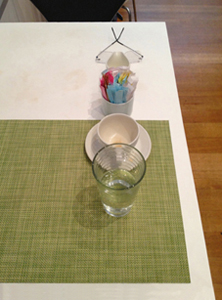 After a meal of salmon bruschetta, shrimp noodle salad, and an apple cobbler sundae, I arranged the unbussed items in this straight line. The order and alignment felt right at home in the museum.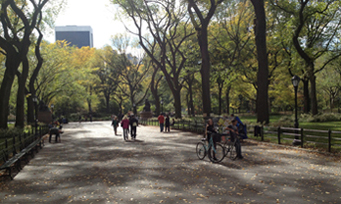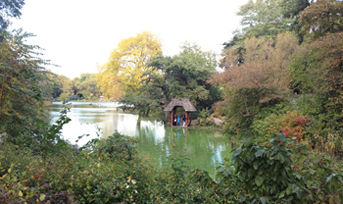 I spent an afternoon in Central Park, talking over the nation's ills with Seth.
Below: Panorama of Union Square on a cool October afternoon.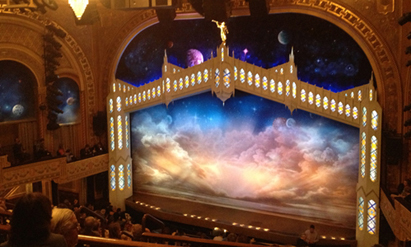 A hot ticket on Broadway since it opened in March 2011,

The Book of Mormon

was conceived, written, and scored by the creators of South Park and Avenue Q. Naïve and optimistic, two missionaries try to share the Book of Mormon, but have trouble connecting with the locals, who are more worried about war, famine, poverty, and AIDS than about religion. In desperation, the more ignorant missionary (and with a more active imagination) makes up stories, things the people want to hear, and they become interested and choose to be baptized. The show ends with yet another new religion, one based on those made-up stories.
Granted, it is so easy to make jokes about the Mormon Church: Golden plates - that no one ever saw - buried in a backyard in upstate New York, men who can become Gods and rule their own planet, sacred underwear, men with multiple wives, and more. Even though the Mormon God cursed some people by giving them dark skin, in 1978, the Mormon Prophet got a new revelation from God that Black people were okay, after all.
The parallel to today's ChristRepublican Party is clear - if you lie and tell people what they want to hear to support their pre-existing biases, you will gain ardent followers. The musical was hilarious and very entertaining.


Tuesday

: Girls in, airport priority, smooth flites: grade tests exit row; taxi, call Frank; apt, river Chinese takeout, unpack, bed.


Wensday

: Bkfst apt, taxi: Apple 14th, meet John: walk HiLine, Starbux; subway apt: lecture images; walk Battery, sub SoHo: Puck glasses, Apple, sub, George's lunch; apt to fart, lecture images; river, shop, apt TV.


Thursday

: Bkfst, make fb cover; sub: Columbus Circle, Seth, statue living room; Central Park: walks, lunch cafe, Literary Walk, Bethesda, Cherry Hill, Imagine, Elaine guide, NY Historical: coffee, store; sub Jehovah, Rector, Tommy/Lucky, river, apt: fotos, TV.


Friday

: Apt: fotos, bkfst; sub: Village, Goodwill, Joe coffee muffin, sub, Rock, MoMA: childesign, cafe5, store, sub; apt: rest, work, River, shop, apt: work.


Saturday

: Apt bkfst, email, photos, lecture, OSU game; sub: Times Square pizza, cookie,

Book of Mormon

, bar: Taylor & Karen, Times Square: waffle, lights, crowd, sub; Union Square, subs, Battery Park; apt.


Sunday

: Laundry, bkfst; Walk Battery Park, Broadway, yogurt, Zucotti, Cent21 foto, Fulton Sta, sub; Union Square: Panera, bench, sub SoHo, sub Bowling Green; apt, pack; car EWR: Club: grade; flite: tests, fotos; O'Hare: run to gate, 1st Class, lecture, snax; home, unpack.



2012 • November 27 - December 2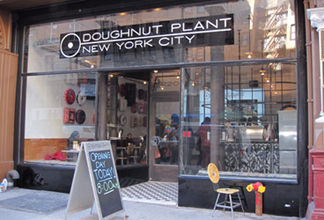 I have been trying to eat healthy and lose some weight. This was dinner at the Doughnut Plant in the Chelsea Hotel on 23rd in NYC: Tres Leches (half-eaten) and Peanut Butter & Banana.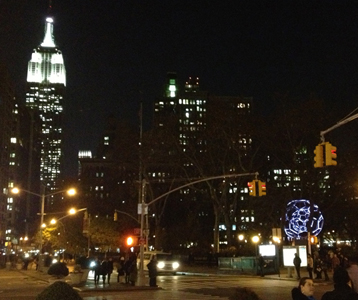 After buying some stain at Home Depot - I needed to seal and protect the wooden chairs on my balcony - I was walking along 23rd Street to the subway stop at the Flatiron Building. As I approached Madison Square Park, I couldn't help but notice the glowing geodesic ball in the park. Inspired by the work of Buckminster Fuller, Buckyball by Leo Villareal applies concepts of geometry and mathematical relationships within a towering 30-foot tall, illuminated sculpture. Buckyball features two nested, geodesic sculptural spheres with 180 LED tubes arranged in a series of pentagons and hexagons. Individual pixels located every 1.2 inches along the tubes are each capable of displaying 16 million distinct colors and will be specifically tuned by the artist's own software, creating a subtle and sophisticated palette. Link to more info.


The new Disney musical

Newsies

about the newsboy strike against Joseph Pulitzer in 1899. I place Newsies in the top tier of current Broadway musicals, with Phantom of the Opera, The Lion King, Wicked, and The Book of Mormon.


Evita

with Ricky Martin, is about the rise to power of the First Lady of Argentina, Eva Peron.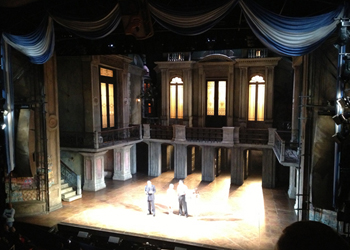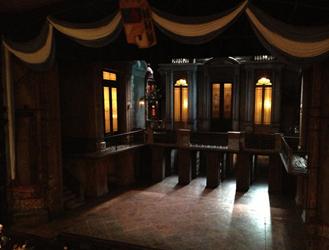 Tuesday

: Girls in, drive, WRA: check vacuum box, grade tests, nice flite: grade much of tests; Houston: Bubba's lunch, old silent couple, flite: tests, web, read; baggage claim, car, call Frank; apt: river, shop, unpack.


Wensday

: Bkfst apt, sub: 42nd St, snak, buy postcards,

Newsies;

theater, sub, 23rd: Doughnut Plant, Home Depot: stain, smoothie,

MadSq

: Buckydome, subs, Battery Park, apt: tv Rock tree, fotos.


Thursday

: Bkfst, stain chairs, webfotos; deliver vac, walk: WallSt,

East Esplanade/pier

, South St flood, lunch, WTC, WFC: Starbucks, sit, walk; apt: chairs, rest, fotos, sub: Times Square: subway station, scone, Microsoft store, Marquis:

Evita,

Times Square: empenadas, sub, shop, apt.


Friday

: Apt, meet Scot on West/Thames, park truck; apt, walk Hudson, WFC, WTC:

Memorial

, Broadway Pret, sub:

Grand Central

: Apple, transit, Pylones, 42nd St, sub: Battery Park, apt; rest, eat, sub:

Starbucks

29th/Park.


Saturday

: Apt bkfst; subs/walk, Hilton:

Science of Happiness

;

MoMA

: Cafe2 salmon, The Scream, Quay Brothers; subs; apt: tv, eat, rest; subs: Apple Store: Seth, bathroom, Barney's, Burger Heaven, St. Patrick's,

Sak's light show, Rock tree

, chestnuts, subs: Union Sq: sit, shops; sub: apt.


Sunday

: Laundry, bkfst, clean apt; sub

Union Square

: waffle coffee, bench, walk perimeter, Christmas shops, sub: Battery Park, River, apt: pack; car to airport, stupid TSA line, flite: grade tests, O'Hare: eat, web,flite: web and talker; drive home.



New York trips: 1961-2007

2013-Now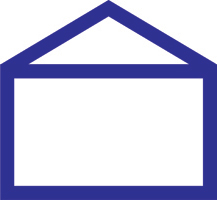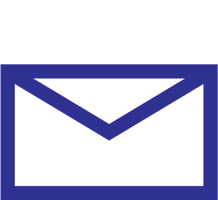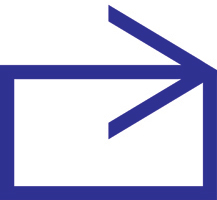 www.jamesrobertwatson.com/tripsnyc2.html