Trip diaries: New York City


Jim's Chronology • Trips in the USA • Trips to Mexico, Europe, and Africa





1961 • July 23 - August 10 • Family trip: Civil War sites, New York City, Washington DC, Wisconsin

1972 • March 25 - April 1 • UT Study Tour • Paramount Hotel
Dr. Pierce (Adv) and Dr. Scott (PR), 20 advertising, public relations, journalism, and theater majors
SA: Depart Braniff 9:10a to JFK 2:08; bus to hotel; 46th Street, Century Paramount Hotel, room 529, Times Square; subway to Greenwich Village, ate Greek souvlaki, saw Fantasticks, saw The Bitter End, Folk City; walked home (50 blocks), 5th Ave & Broadway, delicatessen on the way; party in hotel room with Michigan students.
SU: Rockefeller Center, breakfast; Broadway theaters; mass at St. Patrick's; Central Park, Fifth Avenue; lunch: Horn & Hardart, hotel; lobby - 2:45, bus to apt, Fifth @ 15th: Joseph Trum, Rick Houser, Mal Bybee (UT grads), Village, Washington Square; Chinatown, dinner; subway, Empire State observation deck; hotel, Times Square; party in Guy's room - teasers; call Susan, sleep.
MO: 10:00 tour Young & Rubicam (3rd largest, 24 floors, 1,500 people): presentation, lunch; 2:00 IBM: international advertising; 5:15 Dolphin: The Computer in Advertising; got ticket for Follies, eat at Flame Steak, bought postcards; hotel, TV, write letters, sleep.
TU: 10:00 tour CBS: talk with Walter Cronkite in Executive Dining Room; Italian lunch; 2:00 Toured Ted Bates agency (4th largest); ate hot dog, saw the Dick Cavett show; Follies (WinterGarden Theater); dinner: Steak & Brew, hotel.
WE: Breakfast; 9:30 Carl Ally agency presentation and talk; hotel, Greek lunch; 2:45 tour Advertising Age magazine; saw offices of J Walter Thompson (largest), Doyle Dane Bernbach, and Wells, Rich & Greene; Central Park, shot movie; hotel, TV, sleep; eat, walk Times Square, sleep.
TH: Breakfast; 8:00 bus to Stamford Connecticut: Conoco headquarters, presentation, Italian lunch buffet;1:50 bus to Hudson River: Institute for Motivational Research, saw upper Hudson, Harlem, hotel; try ticket to Hair - no, walk around, sleep.
FR: Up early, breakfast at automat; 10:00 walk to NBC: presentation on censorship in media; hotel, got phone books; subway to South Ferry, Staten Island Ferry, saw Statue of Liberty, lunch on Staten Island, back to subway; hotel, nap; tried Hair - no, ate hot dog, walked around theater district, hotel, nap; party with Seagram's, Times Square, sleep.
SA: Pack, shop for t-shirts; Central Park; 2:20 bus to airport; 4:10 Braniff to Austin.

1976 • March 3-7 • BG1 • Edison Hotel
WE: 50 cent cab ride (shared with 2 businessmen), Times Square, Burger King
TH: Call to make appts Friday with Pressman (12noon) and Sybarite (3:00); lunch: sausage house with the Whites; shop & walk with Tom: 5th Ave, FAO Schwarz (bought dice), saw Tom's agent, Central Park; hotel; Brentano's, Schwarz, bought Chicago ticket; hotel; Chicago; hotel, sub and walk to TGI Friday's, Charlie's; hotel, sleep.
FR: 12:00: saw Mrs. Pressman; hotel (had Ed cancel the Sybarite appt); lunch at Charlie's with Whites, Toni, and Mark; 2:30 saw James Pressman contract, deal; park with Ed, walk to Madison Square Garden, Penn Station; met April, sub to hotel, told White's of Pressman deal, called home, walked with Whites to Tom's play; Yes, No & Yellow, sat with Windell Edgar; walk home by 42nd & Times Square; party with cast, friends; eat falafel dinner in Greenwich Village; hotel, sleep.
SA: Lunch at Ma Bell's; ran for tickets to Chicago - sold out, split up for shows, Toni, April, and I to Wiz but passed A Chorus Line and bought 2 tickets, Toni and I stay, April to movie; A Chorus Line (original cast); hotel bar, met others; Toni, Mark, and I search for more tickets - saw Pacific Overtures; dinner with Dennis at Sweet Basil, Village, gay bars (Meatpacking); hotel, drink in room, sleep.
SU: Saw the Whites off, pack; meet Dennis in the Village, lunch: Front Porch, saw Dennis' apt; hotel, drop Ed off, to airport.

1976 • April 5-12 • BG2 • McBurney YMCA
TU, April 6; 23rd St Y: took cab to meet Devlin at LaGuardia, we talk and ride cab to Pressman; 2:30: Met with Pressmans, Jacoby, Devlin: discussed licensing contract; Gramercy bar
WE, April 7: Took train to New Jersey: Met with engineers at the Pressman factory.
Shows:

Pippin, Bubbling Brown Sugar

, movie: King Kong (Times Square W bar)
MO, April 12: Received licensing contract from Devlin and delivered it to Pressman.

1976 • August 17-21 • BG3 • McBurney YMCA
23rd St YMCA with Woody Kane
TU, August 17: Met with Pressman: finalized design, approved model, decided on name Backgammon in the Round; New Jersey factory; Getting drunk in the village: Christopher St., Sheridan Square. Subway back to 23rd St. Y, passed out in Woody's room. The next day we split up - I had Pressman business; Show:

Pippin;

train to Boston: Bicentennial walk, Plymouth, Cape, show?; rented car, drove to NYC.

1977 • Febuary 16-21 • BG4
American Toy Fair: backgammon display; 23rd St Y or East Side Y, Movie Times Square: King Kong, Show:

Your Arms too Short



1981 • March • Study Tour

1983 • November 19-27 • YMCAs
SA: With Jerry. Bus and taxi from airport to United Nations YMCA; walk around Grand Central, Rockefeller Center, Times Square, see Al Pacino, Tommy Tune, make reservation at Sardi's; seafood dinner at Pier 44.
SU: Church at Marble Collegiate - Norman Vincent Peale, walk, home, change clothes; bus to Washington Square; WTC observation deck day, sunset, and night; subway to 1st Avenue: Maxwell Plum's, Adam's Apple.
MO: NBC: line for Letterman tickets; sub to Brooklyn: Pratt Institute; Letterman show; dinner: Gallagher's, watch Doonesbury crowd.
TU: Parson's, Cooper-Hewitt, national Academy of Design, Met Art; home: work out/jog, UN; met Kathie at 3:00; South Street Seaport, Fulton, Air Terminal: meet Wanda; cab to Frankie & Johnny's; see My One & Only, dinner: Sardi's.
WE: Met at Y, Chrysler Building (up into tower spire), tour library, walk to Trump Tower, Lindy's: cheesecake, see doubt, dinner: Charlie's; walk with Kathie to Dreamgirls, home, check West Side Y, O'Neal's, margaritas.
TH: Lincoln Center: tickets for opera, MoMA and store, AT&T bldg, Guggenheim, walk to deli; home change;

Ernani

- Metropolitan Opera (Luciano Pavarotti, Leona Mitchell, Sherrill Milnes), saloon by Lincoln Center.
FR: Met Art, lunch: Met cafe, Booth (no show), Wall Street: NYSE, Federal Hall, downtown, Statue; cab to Little Italy: Benito II, Chinatown; sub: Tavern on the Green: drinks.
SA: City tour: Harlem, Hudson, St. John cathedral; Park, jogging; dinner: Charlie's, see American Buffalo, Empire State Bldg views.
SU: Walk, check out, cab to Air Terminal: check luggage, lunch: Skyline Cafe on Lexington; Whitney Museum, Met Art, Frick, Plaza Hotel, 5th Avenue; dinner: Lindy's; cab to Air Term, flite, met April at IAH.

1989 • March • Study Tour

1991 • March • Study Tour

1993 • July 20-25 • Lincoln Center YMCA
TU: Flite St. Louis, entire row, flood views, Lambert: walk airport; Flite to LGA, flooded Miss River, Chain of Rocks; Carey van to Lincoln Center YMCA; Check-in, subway to Times Square: TKTS, dinner: salad bar, Hard Rock beer, walk home, rest; Will Roger's Follies Palace Theater, Times Square
WE: Breakfast at Y, bus up CPW, cross Central Park, Lex to Purdy optical (no glasses there), bus to 52nd, Madison: buy glasses, walk Midtown, Citicorp: Conran's, lunch: atrium salad, GE Building, IBM Galleries, FLW Benz showroom, Hamm Schlem, MoMA Store, Subway to Village, walk, Washington Sq, Louis Sullivan building, Cooper Union, dinner: 8th St BBQ & beer, Village, sub to Y; taxi to Broadhurst Kiss of the Spider Woman, stage door, 8th Avenue, sub to Y, muffin at Lincoln Center
TH: Bkfst at Harkness atrium, walk to 59th subway, ride express to Bronx and back, local to Natural History. Walk across park to Met: shop, up 5th to Guggenheim, lunch at Gugg cafe, walk up 5th: see wooden houses, Jewish Museum, Photo Museum, Cooper-Hewitt: Cubist Czech), Museum of City of NY; bus down 5th to 50th, check on glasses lens; walk to MoMA, bookstore, dinner at MoMA Cafe: sandwich & wine, design collection, bookstore; sub to Empire State Observ: sunset; dinner: Sbarro 34th, sub home, muffin at Lincoln Center
FR: Bus to Grand Central, bkfst, coffee3, muffin in Grand Hall, Red Grooms exhibit, Chrysler, Daily News, Ford Foundation, Tudor City, UN, ITC Gallery, GE Bldg; Purdy: got glasses; sub to Union Square Market: cider & cookie, NY Art Directors, SVA, WPA PO, Armory, Madison Square, sub to Bowling Green, Glaser's NY Unearthed, Fraunces Tavern, SoStSe Pier 17 lunch: salad, coffee, muffin; walk downtown: Deco, Federal Hall, McDonald's, WTC bridge to WFC, Battery Park City: beers, esplanade, courtyard, WTC: Sbarro, sub to 34th, Village, walks, sub to 23, walk Chelsea, Diner, bar for beer, Chelsea Hotel, sub home
SA: Bkfst from Y, walk to 59th sub to Delancey, walk Orchard, shops, tenements; SoHo: Dean & Deluca, Guggenheim: Klee, minimalists, toilet; SoHo: buy socks, crazy ball, candle glass, books; sub to South Ferry, Staten Island Ferry: 2 beers, walk thru Battery Park and BPC to Pipeline (SWNY): dinner, sketch candle holder, talk with waiter, sunset "Very well done" with World Financial Center, apts, shops, restaurants, a neat river promenade. Sat outside and watched sun set over Hudson, with views of harbor; walk thru WinterGarden & WTC, sub to Times Square, walk home up Broadway
SU: Bkfst from Y, walk Central Park: Dairy, rink, volleyball; Plaza Hotel, FAO Schwarz, 57th, Planet Hollywood, Hard Rock: lunch, walk to Y; cab to LGA

1997 • March • Study Tour

2000 • March • Study Tour

2001 • Febuary 22-26 • AIGA Design Education Conference • Gershwin Hotel
TH: Flite: read Grisham, exit row aisle; LaGuardia cab; Gershwin
FR: Cooper Union, NYU, Washington Square, visit Roberta: apt, lunch; Subway, MoMA: Workspheres, model, walk, goodbyes; sub to room, rest; sub 42nd: Internet Cafe: 700 terminals, New Amsterdam: The Lion King, Times Square; sub to 27th, snacks, room
SA: Sub to 59th, Lighthouse: check-in, bkfst, auditorium, presentations, lunch, Conran Shop, more presentations; walk, Crate & Barrel, Plaza Hotel, Carnegie Hall, dinner: Brooklyn Diner, Wellington, sub to Gershwin
SU: McD: egg biscuits, sub to Lighthouse, coffee, presentations, walk 59th, Columbus Circle, sub to 116th, visit with Clint Shore, walk Morningside naberhood, Tom's Restaurant, dinner: Deluxe Diner, Columbia, park, Clint's apt; sub to hotel
MO: Bkfst coffee shop on Madison, check out, cab to LGA, delayed flite, exit row empty next seat; DFW, missed connection, but it was delayed so made it, read book, OKC: drive to OU, change clothes in car, walk campus, review notes; class

2002 • March • Study Tour

2002 • October • 30/30 Hotel?
WTC, Jewish Holocaust Museum, The Producers, Union Square, SoHo, Naqoyqatsi.

2003 • May • Study Tour

2003 • November 26-30 • Search for condo, Part 1 • Gershwin Hotel
WE: Dogs to vet, drive to WRA: grade tests; flites; LGA, taxi, Gershwin, walk to Container Store, Union Square; dinner: Ranch 1; hotel
TH: Thanksgiving was going to be tough - the first time ever without parents. I was not ready to try to ignore that, recreate the past, or start new traditions. Instead, one brother took his family to Florida and I went to Manhattan. I slept a lot and read a lot. Spent Thanksgiving morning with two designer friends. We had brunch in the Village and then walked around SoHo. We talked about the upcoming study tour in May (both these men are on the itinerary to make presentations to the students) and they educated me about buying an apartment. Later that day, I had a turkey burger at Dallas BBQ on 23rd near Chelsea.
I spent the next two afternoons with brokers who were showing me apartments. It was fun to see the different units and imagine me living in one in New York. I didn't find an apartment this trip, but I resumed the search in January.
FR: Look at apts; Grand Central, Hammacher, MoMA, read.
SA: WTC, path trains, memorial exhibits, sub to hotel: read; look at apts; Conran, dinner: Houston's, hotel: read.
SU: Pack, Starbucks, taxi: LGA, flite: grade tests, read; lost luggage, drive home.

2004 • January • Search for condo, Part 2 • Gershwin Hotel
Went back to look at apartments. So far, all the units we had looked at had views of only buildings. Having grown up in North Texas and living in Oklahoma - I wanted a vista. The broker took me to Battery Park City along the Hudson by the World Trade Center site. We looked at apartments for two days. One at the end of a cul-de-sac had promise - a balcony looking through some trees to the Hudson River. The third day I went and walked the naborhood to see if it 'felt right'. It did. I made an offer.

2004 • March • Closing on the condo • Hilton Millennium
SU: Trains to WTC, walk to Marriott and Hilton Millennium, high room with view of WTC hole, bought shaver, walked by apt, dinner: McD, sleep.
MO: Apt, bought toiletries, nap, check out; 1:00 walk-thru inspection of apt, Starbucks, Closing at lawyer's office: John Street; Hilton: get luggage, walk to new apt; J&R: buy TV, cab home; Century 21: buy bedding, bath; apt: airbed.
TU: Lite snow, Woolworth Starbucks, Staples: office stuff, apt: files; furniture arrives 3p, crates into apt; Apple: buy speakers, dinner; apt: set up stuff, walk, sleep.
WE: Starbucks, Mens Wearhouse: jacket; Union Square: Sleepy's bed, ABC: buy Nelson bed, table, clock; Union Sq, sub to hardware on 8th; J&R: antenna, walk lunch, WFC, apt: nap; Crate & Barrel: dishes, flatware; SoHo hardware store; apt: set up units.
TH: Unpack dishes; sub to Bed Bath: housewares delivery, Conran: Vignelli set; sub home, break down boxes, move with Abel, prep tables, delivery arrives, unpack, set up chairs, rug; sub Container Store: nite stand; Times Square: NYC mugs, dinner: Texas Texas.
FR: Downtown Starbucks, lunch: Cosi; apt, bed arrives, settle apt, printer; Chuck & Jenni dinner: Tribeca Indian; apt sleep.
SA: Shoot apt photos, Meatpacking with Frank, lunch: Tequila Jack's; sub Time Warner; apt: settle, write cards; sub Cooper Union: concert, Sbarro; sub, walk Hudson
SU: laundry, coffee, finish Christmas cards, print files, pack; walk WTC, trains to EWR, flite.

2004 • April
Settle apt, install artwork

2004 • May • Study Tour

2004 • June • Washington DC & NYC
I took the train from New York's Penn Station to Washington DC to see the UCO dancers perform at the Kennedy Center. It was really neat. They got a great ovation and the whole evening was very exciting. That afternoon, I walked around DC a bit and visited the National Building Museum and the Holocaust Museum. After the students' curtain call at 9:22, I hurried to a taxi to Union Station to catch a 10:00 train back to New York.

2004 • July
I spent the July 4th weekend in New York. The apartment building has a roof deck that overlooks the Hudson and the Statue of Liberty - great vantage point to watch the spectacular fireworks display over the statue. A real hoot. Most buildings in the area have roof decks and there were hundreds of people on them and apartment balconies partying and cheering - a real frat party atmosphere. Hudson Bay was filled with all kinds of boats - incredible large yachts to jet skis. I watched with a NY designer friend who is one of the presenters on our student Study Tour. We went out afterwards to eat and talk about NY design stuff. I had spent the whole day in the naborhood - earlier in the day, I went to a street festival, took a harbor cruise, watched crowds at the free Lyle Lovett concert in Battery Park, and walked along the Hudson Esplanade. Spending the 4th at the Statue in NYC may become a new holiday tradition.
WTC update: The symbolic cornerstone for the new 'Freedom Tower' at the WTC site was laid on July 4th, 2004, accompanied by speeches from the governor and mayor. While it is planned to be the world's tallest building (1,776 feet) it is currently mired in controversy and legalities and it has yet to sign a major tenant. It will get built but the rest of the WTC complex may take many years. The train I sometimes take from Newark to Manhattan goes under the Hudson River and emerges in the basement of the WTC - now just in the bottom of the pit. World Trade Center 7 (the last building to fall on 9/11) is now topped out at 50 stories tall. One more 40 story building is yet to come down - the structural damage is too much to repair. Another building, an older ornate stone structure, is being renovated. Almost everything else has reopened. City, state, and federal governments are offering hefty enticements for development in Lower Manhattan so there is a lot of activity and new stores, restaurants, and offices. Downtown Manhattan will emerge better than before. The city planners and architects are learning from the mistakes of the WTC in 1972. The WTC complex took up 12 city blocks, closed off streets, and turned its back to the naborhood thereby sucking street life and pedestrian activity from that part of downtown. The new complex will have street level retail (instead of the underground mall); streets will be put back in; and space is being earmarked for a performing arts center, museums, and a children's centers - in addition to the 9/11 memorial and museum.

2004 • August 9-16
Deco exhibit at the Met, Chelsea, LES, Queens: MoMA & Noguchi, Police Museum, SoStSe Museum; Frank, Casey & Cristi, Sean; work on apt.

2004 • October
Spent time with my high school art teacher, Margaret Hudson. We saw the impressive library and galleries of the Hispanic Society of America. Then Liz, her partner, joined us for lunch and coffee. Later, they came down to Battery Park City to see the apartment and the Hudson Esplanade. Also spent time with Beau, a graduate of the UCO design program - he's a web design team leader at American Express. Saw great design shows at the Cooper-Hewitt Museum of Design: Design is not Art and an exhibit about and by Josef and Anna Albers (teacher from the Bauhaus who started the Department of Design at Yale.) Had brunch with good friend Roberta Sloan, a former UCO faculty member who is now in Florida. Saw Wonderful Town with Brooke Shields. Spent most of the time, however, laying carpet tiles in the apartment. All the parquet floor is now covered and the new carpet is laid on the same angled grid as the furniture.

2004 • November

2004 • December • Christmas week

2005 • Febuary • The Gates Complete story and pictures.

2005 • March • Philadelphia & NYC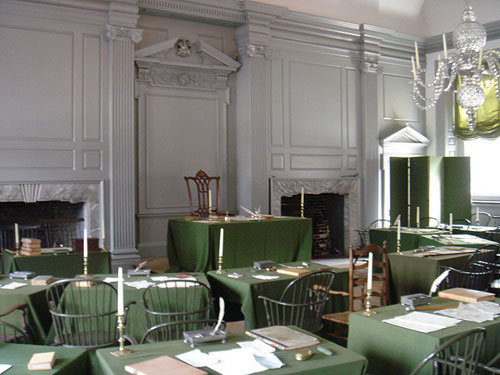 Prompted by a desire to see a Dali exhibit at the Philadelphia Museum of Art and the fact that I had never been to Philly, I took Amtrak from New York's Penn Station - the trip was about an hour and 15 minute. I took puzzles to do on the train but spent the whole trip staring out the window at New Jersey and Pennsylvania towns and scenery. Arrived at a beautiful mammoth Art Deco station on the west side of downtown Philly. Walked all the way to the Art Museum. I wasn't able to get a conveniently timed ticket to the Dali exhibit but still had a great visit in the museum - one of the best collections of work by Marcel Duchamp and other Dadaists. I saw two films by Dali - one I had seen in college (where an eyeball gets sliced open- if you've seen this one, you know of what I write) and another that he did in collaboration with Walt Disney - although it was stopped due to WWII and just completed in 2003. Had lunch in the art museum.
Took the 'trolley' bus to the historic center. This was overwhelming. Every American ought to take a pilgrimage to tour Independence Hall. Phenomenal - the Liberty Bell; the room where the first Supreme Court sat; the Senate room; and the Assembly Room (picture above) where the motion was made for independence, where Jefferson's draft was revised, where the vote was taken and the reps signed the handwritten version. I had a great visit in the American Philosophical Association Museum discussing their authentic typeset Declaration of Independence (the handwritten one that John Hancock and the others signed wasn't prepared until August of 1776). The ones presented to the colonists on July 4th were the ones printed by John Dunlap in his print shop - now the site of a martini bar. Spent a while talking to printers in a reconstructed demonstration 1776 print shop. Had dinner at the Hard Rock Cafe, saw the restored Redding Railroad depot, and City Hall. Wore myself out with too much walking, but the whole visit was such an upper, I just kept going. Finally able to relax and slow down on the train ride back to Penn Station. I'll go back to Philly - lots of great stuff to see.

2005 • April • Prep Study Tour
Gettin' into the flow. There is a fluid energy that permeates the city - there is a beat, a rhythm, that should be tapped into. If not, its easy to bump into people, to be a nuisance, to be like a tourist. But, once the rhythm is established and one gets into that groove, once can navigate tight openings in crowds, cross streets without disrupting traffic.
So many people are plugged in - they've got headphones on - listening to all sorts of input. This headphone culture has developed a new etiquette. Communicating to people on the street (sales people, passersby) must be done non-verbally - a nod, a smile, mouthing 'No, thank you.' Hearing people is possible but one must work a bit harder to decipher what is being said. Talking to people with earphones on (the dangling wire is the clue) requires a bit more patience.
Listening to music on the iPod makes the entire environment seem a bit surreal. Sometimes the music fits the people, the pace, the activity. Sometimes it defies those things. Either way the music puts a unique twist on the reality of the here and now that is going on.
Sitting in the sun in Union Square. Listening to the Favorites playlist on iPod. Watching people. Got surreal. Time was altered, slowed down. Some were reading. Playing music. Sunning. Soliciting. Seeking petition signers. Cell phoning. Conversing.
Everyone seems to have a cell phone stuck to their face.
Constant movement.
To slow down, stop, and sit, you have to put it on your to do list and make an effort to make it happen.
People move with a purpose - where are they going.
So many people - where are they coming from. And Why.
Sometimes there is just too much to do.
How many cups of coffee are served in one day.
How many pretzels.
Where is the Wal-Mart?
Music. Sound. Horns. Traffic.
Why does this big city attract people.
What is the draw.
Snapshots of people alone in the crowd.
Smell of fresh coffee, the river, hot 'everything' bagels.
Helicopters overhead overheard.

2005 • May • Study Tour

2005 • August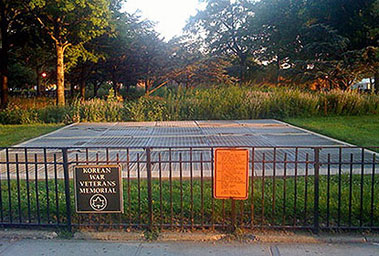 A bad location for a memorial sign On the left is a foto of the ventilation grates for the Battery Park tunnel that connects West Street to the FDR drive (the orange sign details some upcoming construction in the park). The sign on the fence, however, states 'Korean War Veterans Memorial'. If you look real closely in the right foto, off in the distance among the trees, you can just barely make out the Korean Memorial - a cut-out silhouette of a soldier. The sign clearly suggests that the Korean War memorial is a large ventilation grate in the grass. There has to be a more appropriate and respectful place for the sign that would still grab the attention of tourists walking by but more accurately direct people to the memorial.

Saw a taping of The Late Show with David Letterman. Paul Shafer and the CBS Orchestra were great, Letterman was hilarious, and it was fun to see the behind-the-scenes taping. But I was just as awed and fascinated to be in the very theater where the Beatles first performed in America, Sunday, Febuary 9, 1964, on the Ed Sullivan Show. Beautiful old theater right on Broadway. Saw two good musicals - A Light in the Piazza, a rich, almost operatic love story and the opening night performance of Lennon, about, well, John Lennon. Yoko was there with son Sean, Yoko got up onstage and danced to 'Give Peace a Chance' - really touching to see Yoko Ono up close - we passed each other during intermission. Other celebs there: Paul Shafer and Geraldo Rivera; also (but I didn't see them) Jerry Springer, Ralph Nader, and the actor from the tv show, Ed. Afterwards, while watching the crowd go to the private opening party at Sardi's, I saw Tim Curry and David Hyde-Pierce from Spamalot.
Had lunch before the show at the new Hard Rock Cafe located in the old Paramount Theater on Broadway where the Beatles performed in the sixties. Their guitars and Beatle jackets were on display. The week took on a Beatles theme with the Ed Sullivan Theater, the Paramount, and Lennon.
Also saw the Intrepid aircraft carrier and Concorde museum. Was okay - I felt a bit slimy supporting an awful war machine, but it was interesting to see where lots of history happened - the Intrepid saw action in WWII, Vietnam, Cold War, and was the pickup vehicle for several of the astronauts. Rode a Water Taxi around the southern half of Manhattan. Plus: Serendipity cafe, The Conran Shop, SoHo, West Village, Container Store, and the Staten island Ferry. Made a new recycling cart and a tool cart. Did some serious writing on essays for the website. That was the original intent for having an apartment in NY - inspiration and focus on writing. Plus, the stimulus from this great city. It was very hot, humid, muggy, and sultry. I look forward to coming back in October with near-perfect temperatures.
Felt sorta useless until I started doing some serious writing on essays for the website. That was the original intent for having an apartment in NY - inspiration and focus on writing. Now, its happening. It is such a thrill to wait in a hot subway station, anticipating the air conditioned cars but hoping you won't have to stand in a crowd, then looking into the car as it pulls in and seeing three empty seats - room to sit with one on either side for breathing room. Glorious.

2005 • October


Walked across the river on the Brooklyn Bridge. Many people told me it was a real treat, a highlight. They were right - it was spectacular - the crowds, the bridge cables and stone towers, and the incredible views of Manhattan. About a mile to walk over the East River from Manhattan to Brooklyn. Once there, I lay down on a the base of a statue and rested a bit, then walked through Brooklyn Heights. Later walked up the Hudson River and thru Tribeca. Next day was spent in Queens to see the site of the World's Fairs in 1939 and 1964. There were exhibits in the Queens Museum of Art which was the City of New York Pavilion in 1964 and before that, the temporary home of the United Nations before it moved into its new building on the East River. Also saw the Museum of the Moving Image in part of the former Astoria Studios in Queens, one of the largest and most active movie studios before the industry moved to LA.

2005 • Thanksgiving
Read the Michael Crichton book State of Fear. Replaced Flor tiles on the balcony and refinished the balcony chairs. Phone visits with brothers and their families. Saw the movie Rent (it was great to see a NY movie while in NY). Thanksgiving dinner: salmon fajitas and a cranberry margarita. Went to the newly reopened Top of the Rock observation deck in the Art Deco Rockefeller Center. MoMA: lunch and design stores. NY Public Library: Illuminated Manuscripts, Gutenberg Bible, NY maps, & the elaborate reading room. Framed the Vignelli subway map. Brooklyn: Brooklyn Museum, Grand Army Plaza, Park Slope brownstones, and BAM, Brooklyn Academy of Music. Saw the excellent Tony award-winning play Doubt.

2006 • January
FR, December 30, 2005: Fun late dinner with Roberta Sloan, got caught up.
SA, December 31: Snowing, shopped, slept, worked sudoku puzzles, read Stephen King. 9p: subway to Times Sq. (New Year's Eve) - too much of a madhouse, back to subway, home, read, surf web, watched fireworks over Hudson Bay at midnite at Battery Park.
SU, January 1, 2006: Up late, subway/walk to Met (closed), bus to MoMA, crowded, bought books, maps, puzzle; went home.
MO: Subway to Starbux at Park/29th, write, meet Frank Nichols: walk to Armenian church, lunch at great Mexican restaurant on 2nd Avenue, bus to Macy's, walk up Broadway to Times Sq: buy May study tour tickets to Spamalot and Jersey Boys (story of Frankie Valli and the Four Seasons), after debating with Wicked, sub home, write, surf, watch DVD of the Cybill Shepherd/Bruce Willis TV series Moonlighting, sleep.
TU: Work on May student trip, subway to Union Square: lunch at Starbux, write. Barnes & Noble, debate/buy Sudoku book, walk to Parson's Gallery: Designing the Taxi, help family from Georgia get luggage into subway, buy Taxi book, walk esplanade & meditate (watching for Queen Mary 2), home, saw ship go by, read.
WE: Saw excellent and awesome exhibit Pixar: 20 Years of Animation at the Museum of Modern Art - short film, models, sketches, demos, etc. Bought the soundtrack to Jersey Boys, SoHo, write, browse at MoMA Design Store and Pylones. Sub home to write, sudoku, and watch UT Longhorns win the National Championship in the Rose Bowl.
TH: Union Sq. Starbux: lunch, write, walk University Place, Wash Sq, LaGuardia, West Broadway, WTC, WFC, home, sub to meet Charles at Union Sq. Got table at Coffee Shop. Dinner with Charles & Jenni: wedding, Hawaii, friends, work. Walk 14th St. to Starbux & subway. South Ferry, watch subway construction, Esplanade, sit on bench watching Hudson River, home.

2006 • April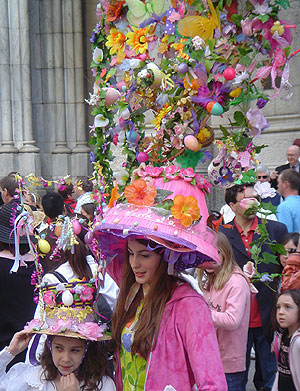 Easter in New York. I thought St. Patrick's Cathedral might be all decked out, so after my morning coffee at Starbucks in Union Square, I subbed up to Fifth Avenue and the Cathedral. As I approached from a block away I noticed the side street was barricaded. Sup with that? When I got to Fifth, the street was packed with people. An Easter parade (I thought that was just a movie), protests? street fair? alien probing seminar? Nope, just a bunch of people doing New York. Then after I noticed the second and third outlandish hat extravaganzas, I realized people had spent time and money making spectacular Easter Bonnets and they were just parading and showing them off. Others were snapping pictures and touring the various millinery creations. It was a beautiful day. I never did get inside the Cathedral cuz the line was too long for the next service.
SA: Morning coffee/emails, afternoon installing carpeting. Dinner in Village with Beau Wade and drinks in Union Square.
SU: Union Sq Starbux, Easter Bonnet parade, Biennial art exhibit and lunch at the Whitney museum, sub, Border's Bdwy, walk esplanade, dinner outside at SWNY
MO: Shop/errands, Starbux, home, lunch at Burger Heaven, MoMA: saw a show of recent architecture in Spain - their inventiveness in organizing spaces and use of materials was very cutting-edge inspirational. I hope many American architects see this exhibit, MoMa store, Museum of Arts & Design, Border's 57th, Container Store 59th, sub, work on puzzle
TU: Starbux: write, sub to Charles at work, pizza lunch with Frank, sub to SoHo Starbux: write, MoMA store, Apple Store, walk down Greene to Tribeca, salad at Pecan Cafe, sub, laundry, walk/sit esplanade, clean apt.
I was sitting at the Border's Books on 59th and Lexington (I had just come from seeing the Frank Gehry collection of jewelry at Tiffany's on Fifth Avenue). I was watching people meander around the store when one person approached this narrow passage, stood on the floor, and the floor moved. First it moved her forward about two feet (her feet didn't move) and then - and I'm not making this up - the floor she was standing on began to move up at an angle, like a staircase but she didn't have to climb the steps. By golly, she just stood there. What a great invention that is. You stand on the floor, don't move, and the floor takes you up to the next level. You just stand there. Holy cow. What's next - a small room that goes straight up and down?

2006 • May • Study Tour

2006 • May • HGTV filming
There is a subtle move that people (mainly males) do in New York City - I call it the Pocket Pat. Its to check, when leaving one's apartment, to make sure one has keys and phone in the pockets before the apartment door locks behind you. Its a quick movement to check for the bulges - simple pats on the pockets.

2006 • May 30 - August 8 • with Vegas 1
MO: May 29: Indian lunch with Ruki, Starbux & MFA with Scott & Ruki, Paseo with MJOK & Ruki; drinks, Vegas drugs, PeiWei dinner with Dehnerts; pack & load.
TU: May 30, 9:15 hr drive: Load car, vacuum, show Lon yard, talk to Mike, keys to Lon.
9:30: Drive, iPod, coffee at Stroud McD, gas Joplin, rest areas, Larry the Cable Guy, St.Louis: Busch Stadium.
6:45: Motel 6 Effingham, TGIFridays, Starbucks, unload, Vegas cools off, eat, drink; 2 Whoppers for $3. What a deal. Watch Boston Legal, Will & Grace.
WE May 31, 9 hr drive: Vegas slept on bed, the drugs may have helped. Load car, walk Vegas, Starbucks coffee, Arby's breakfast, drive; ran over a bird, rest area, Indianapolis: RCA dome, deco tower; Columbus, Wheeling: river, tunnel, mountains; Washington PA: Motel 6, cool off, rest, puzzles; walk Vegas, drive town: great courthouse, old stone buildings, Washington & Jefferson College, Whiskey Rebellion, abolitionist; got gas, KFC platter meal; TV, read Brokeback Mountain.
TH June 1, 7hr drive: Up late (8:15) slept great, Vegas pills, load, drive; coffee/egg biscuits at McDonalds, Rest Area on original 1940 PA turnpike, gas in PA/NJ, drive into city, forest, express to Holland Tunnel, tunnel. West St, apt: unload, walk Vegas, apt to cool off, unload car with Bob, rest, walk to Jewish park, dog park, apt, unpack, bed.
Cobbs visit June 29-July 3
TH: Breakfast at Hotel 30/30. Sub: downtown, Trinity, Wall, Bowling Green, Battery Park, Apt 5-S, WFC: Burritos, Godiva chocolates, WTC, City Hall. Sub: hotel, phone store. Sub: Times Sq, Letterman, MoMA, store, Starbux Broadway, Hershey's, rain. Sub: Apt, walk Vegas, walk esplanade, SWNY margaritas dinner, walk to sub.
FR: Hotel, walk Empire Observatory. Sub: Wash Sq, SoHo: Moss, Apple, Cafe Miro, Prada, NoLiTa, Little Italy: Pastries Farrara's, Chinatown, walk downtown. Harbor Cruise: drinks. Apt: video 9/11, walk Vegas, rainy walk So St Seaport, dinner: Harbor Lights, walk sub/home.
SA: Frank/car, Sean, 23rd, walk to gallery 'Bodega', walk Penn Sq. Sub: Central Park, walk, Guggenheim: Zaha Hadid, walk/bus, Apple Store, NikeTown, IBM, Sony/Starbux, St.Patricks. Sub: apt, laundry, Vegas, purge.
SU: Hotel. Sub: Queens, walk Noguchi Museum, Sculpture. Sub: 23rd Monster Sushi. Sub: FAO Schwarz ice cream & cookie. Trump Tower: coffee/pizza, St.Patrick's, Rockefeller Ctr. Sub: apt balcony rain. Sub: 28/Third, dinner: La Cocina, walk nabe. Taxi home.
MO: Sub, NBC Studio Tour. Sub: 23rd, lunch: pizza, AIGA Gallery, walk Madison Sq, Hotel goodbyes, phone store. Sub: home.


Bowling Green fountain dance show (pic above); the great new fun Pylones store in SoHo, photoed the sidewalk grate where Marilyn Monroe's skirt was blown up in classic promo pic for The Seven Year Itch and the Mercedes showroom designed by Frank Lloyd Wright; neat art exhibit (pic above) at the Lever House on Park Avenue; the funny clever musical, Avenue Q; search SoHo for location of apt in the movie Ghost.


SU: Met Frank Nichols for breakfast, drove Riverside Drive, George Washington Bridge, Palisades Parkway, drove up to Deco lookout observation tower, built in 1934, in Bear Mountain park; Garrison (where Yonkers in Hello Dolly was filmed), Cold Spring downtown antique shops; Dia:Beacon, outstanding art museum and collection, avant-garde large-scale work, lunched there; Beacon, Hyde Park: toured Franklin Roosevelt's estate, library (and room from which some of the fireside chats were broadcast), and museum (saw deer on the grounds by the rear terrace); drove through the large Vanderbilt estate and grounds; Poughkeepsie: drove around Vassar College; Taconic parkway and West Side Hiway past Cloisters, Riverside Church; dinner at Mi Cocina: sat outside in cool weather.
July 4: NoLita naborhood; walk downtown, Staten Island Ferry; movie: War of the Worlds (summer action flick, poorly crafted film); walk along Esplanade: crowds awaiting fireworks, saw fireworks at park overlooking the Statue.
Accomplishments: Secured pocket shelves; Framed signed Glaser poster; Finished 3D/NY puzzle; Made Book Shelves; Concreted Bubu stool; Painted window sills and trim; Installed new blinds; Refinished snack tray; Hid iPod wires; Made rock soap dish; Painted closet wires, dead bolt, doorbell; Organized file folders: brochures/maps; Bought Sudoku puzzle, improved; Purged papers; Switched sides of kitchen sink faucet handle.
• Shows:The Wedding Singer, Altar Boyz, Tarzan, Disney on Broadway, Pilobolus
• Movies: United 93, War of the Worlds, and Wordplay
• DVDs: History of Violence, 40 Year Old Virgin
• Filming: Spiderman III and Enchanted.
• Museums: MoMA: Dada; MAD: Eames lounge chair; Guggenheim, Frank & Sean: Zaha Hadid; Morgan Library: Guttenberg Bible, building; WTC Gallery: Sauma Finland Design; Brooklyn Museum: Graffiti, Egyptian.
• Activities: Apple Store, Fifth Avenue: iPod/iTunes; Marathon swim, South Cove; Villages & MeatPacking walks; Downtown with Diane, Lisa, & Susan; East Village, Seth; UES, Gracie Mansion.
• Tours: Federal Reserve gold vault, exhibit; Downtown walking tour; Times Square walking tour.
• Excursions: Staten Island, Seth: walk, SIR train; Brooklyn walk, diner, Hassidic Jews; Jersey City: light rail, Hoboken terminal, mall, waterfront; Coney Island: subway, Aquarium, Nathan's, Museum, ocean, boardwalk; Park Slope, Seth.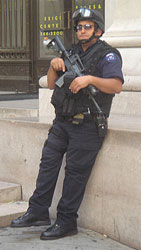 Above left: There is now a serious police presence in downtown Manhattan - and not ordinary police, but these decked-out military style soldiers. There are also National Guard kids stationed throughout the city. Seeing these quasi-soldiers on street corners and in Grand Central reminds me of seeing soldiers in Egypt - a third-world, unstable government. This is the United States of America. What is going on? Is it paranoia? Security precautions? Overreaction? Have we yet acknowledged that terrorists have made a major impact on our culture and lifestyle?
Two interesting conversation phrases - almost everyone in New York City says Good morning instead of hello, hi, ugh, or any other morning greeting. Also, I rarely ever hear No problem - its almost always You're welcome.
Summer with no television. Well, there is a television in the apartment but the antenna only picks up a slightly fuzzy educational station from New Jersey. To get good reception you have to subscribe to cable and I have yet to do that. It doesn't make sense for the few weeks that I would use it. But, okay, here's the real reason - I just hate the cables that are stapled along baseboards and over door trim to get to the television. The jack in this apt is on the opposite wall from the TV. I played with a different arrangement to get the TV by the jack but it just did not work as well. Anyway, a summer without television has been sorta nice. I can go down to the club room to watch the big screen as I have done a couple of times to watch Desperate Housewives, Boston Legal, and The Office. I am much more productive without the regimen of television and enjoy my evenings much more walking along the Hudson, talking with people, and interacting with the city instead of with equipment. I will see how much of this carries over when back in Oklahoma. I will try to watch less television. (I subscribed to cable and internet from 2010 to the summer of 2013.)
Two months and 5 days, 66 days total - my summer in New York City is coming to a close - for the moment; I will be back. This has been one of the best summers of my life. It ranks right up there with the 4 summers that I worked at Six Flags as a Ride Operator and the summer when I was 8 or 12 and I slept in my underwear so that in the morning I could simply step into my shorts (that were on the floor next to the bed) and a tee-shirt. I was ready to go play with my friends all day. Interrupted only by my mother calling me in for lunch and by my father who, after dark, came outside to tell us that "tomorrow would be another day" and to come in and get ready for bed. This summer, 2006, was as good as that. Even though my mom didn't prepare my lunch and my dad didn't remind me when to go to bed. But still, they are responsible for my being able to enjoy this city so much.
I know that spending time in New York City is a privilege I would never have had if my parents had not sacrificed and saved and given to me and my brothers. I thank them almost every day.
I often see people looking at maps, looking at street signs, or just looking lost. I will go ask them if I can help them find something. I have yet to be stumped. In my naberhood there are many questions about the World Trade Center and how to get there - I guide them there and tell them about the exhibits and models of the memorial and new office towers that are on display. I guide people to subway lines, Brooklyn, Times Square, Little Italy, etc. Someone pointed out (while waiting on me to help some lost folks) that it is the teacher in me, wanting to help and guide people. I also wonder if it is the training I got for 4 summers while working at Six Flags to help guests. Whatever, I enjoy it. I want these tourists/visitors to have a good experience in New York and to not think all New Yorkers are abrupt and rude (I don't let on that I'm not really a New Yorker).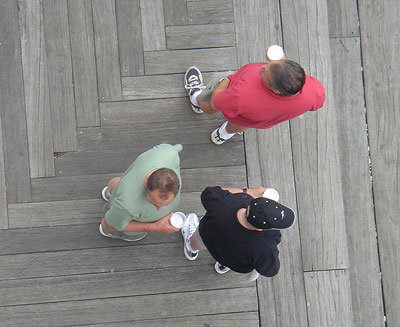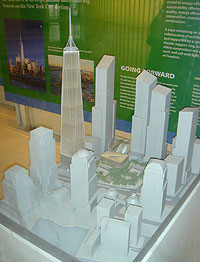 Above left: I wonder - are these guys 'undercover' security guards, scoping out the area, or are they on the lookout for a shoe store.
I talked to a woman today in Battery Park and she commented/assumed that I was a New Yorker. I nodded yes. It was the first time I had acknowledged the identity of being a New Yorker. Weird but sorta neat.
Above middle: Part of the July 4th festivities in NYC was this 'concert' at the pier in Battery Park - it may be the worst attended performance ever. I'm hoping that this is the singer's mom and not just some woman waiting for the ferry.
Above right: The latest model of the recently begun Freedom Tower.

2006 • October • Fall break
TH: Up early, long security line, flite delayed, grade tests; bus/walk to apt; nap, buy burrito at Gristede's; sub TSq: Mary Poppins; sub home.
FR: Up, MoMA cards, guard, store, Renee, Modern maitre'd; galleries, lose Renee, guard George Lowhar, design stores, walk; Burger Heaven, walk, sub Bowling Green, walk to apt; balcony talk; walk, wind, lose glasses, sub to Union Sq; bye to Renee; visit Charles, visit Frank at pizza, office; sub home, find glasses, sleep.
SA: Apt; sub SoHo, MoMA, Cafe Miro, Aroma, AIA, Wash Sq, Music, nap; street fair, Astor Strbx; sub Brkln Br, walk WTC, WFC, Hudson walk, shop; apt; walk Battery Park, ferry bldg, pastries, Chipotle, walk home, sleep.
SU: Apt, dvd movie, write; sub TS, eat Fax, Pizza, walk, ToysRUs, theater; Martin Short; TSq, walk home: 5-6:45pm, 45th to BPC, Starbx Union Sq, Jamba Tribeca, Hudson; apt, stuff, sleep.
MO: Laundry, clean apt, write; sub to Chambers, walk Duane, Negro Buriel Ground exhibit, Strbx: hot chocolate, bus; security, Pres Club: grade tests, flite write; home: Vegas, sleep.


Saw Martin Short on Broadway in Fame Becomes Me. I have never laughed harder nor longer in my life and, depressingly, I don't think I will ever laugh this hard again. For me and comedy, its now all downhill. At one point, I was about to leave and go to the lobby to stop laughing - I was making myself ill from laughing so much.

2006-07 • December 23 - January • with Vegas 2
A Chinese New Year Holiday Spectacular. I saw an ad in the paper and thought it could be cool. So, I went. It was half cool - it was a vaudeville style collection of acts, both western and eastern. About half of the acts allowed me to take a nap while the other half were fascinating, including a Chinese drum dance and a fan dance. Overall, it was fun to experience rituals, music, costumes, and dances from another culture. The narration and the program were bilingual and much of the audience was Chinese. It was sponsored by New Tang Dynasty Television and performed in the 3,000-seat Beacon Theater on Broadway in the Upper West Side. Built as a naberhood vaudeville theater, the Beacon is quite opulent.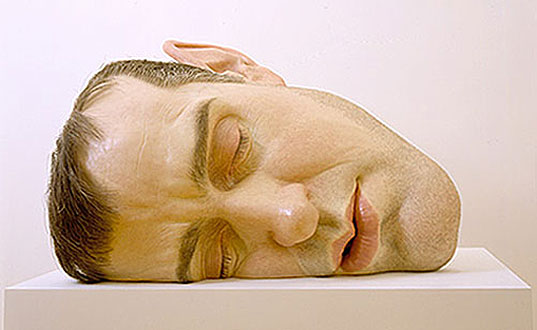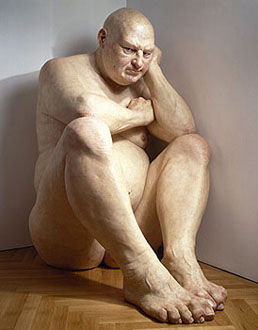 The Brooklyn Museum and sculptures by Ron Mueck (rhymes with Buick). A London-based photo-realist artist, he worked in special effects for Jim Henson's Muppet movies and the film Labyrinth. Mueck then made models to be photographed for advertisements. Now he uses resin and fiberglass to create his own artwork. And they are astonishing - the detail, the emotion, the eerie presence. The sleeping head is 3 feet tall, the brooding figure is 7 feet tall. One expects them to breathe, snore, blink - any sign that they are not mere sculptures. The super-realism and the awe at the technique of sculpting and producing such large and detailed figures is what viewing great art is about - it allows us to transcend the norm and the expected into an imaginary realm of possibilities.
• Smooth 2-day drives: Vegas in back, iPod/audiobooks; rainy drive home
Accomplishments: Prepped all spring syllabi, Graphic Design 2 outline, Organized GD2 agenda; Designed JRW products logo; Reconfigured sink faucet, installed paper towel holder, fixed drain; Designed, ordered, and installed door text lettering; Weblished: products, logo book, Hudson Ocean, Tribute.
• Museums: MoMA: Beijing architecture, Cafe 2, design exhibits, stores; MA&D: Droog products exhibit; Metropolitan Museum of Art: Tiffany exhibit, Egyptian, Chinese art; Cooper-Hewitt: Design Life Now Design Triennial, joined, store; Brooklyn Museum: Ron Mueck and Annie Libovitz; Federal Hall.
• DVDs: Superman, DaVinci, Cars, Pirates, WTC, Little Miss Sunshine
• Shows: Drowsy Chaperone and Chinese Holiday Spectacular, Beacon Theater.
• Activities: Inspired at Droog/DIY lecture at MAD; Party at the White's apt; NetFlix movies; Katz's Delicatessen, Lower East Side; Tribute WTC Visitor Center; SoHo; iBook crashes - buy new MacBook; visit with Jonathan, Frank, Seth; Bloomingdale's - shop and eat; Heights Cafe, Brooklyn Heights, walk Brooklyn Bridge, Upper Broadway, Union Square

2007 • March 16 - March 25 • Spring break
TH: AIGA meeting with 4 grads, On the Border.
FR: Headache; Aldon call advice; dinner Sean; Kaleidoscope dance concert, present scholarship, walk home.
SA: Lunch Lon, Bricktown Michael; pack & prep.
SU: Up at 5am; drive, easy check-in, flite; trains to WTC, walk apt; Gail & Pam - walk to Gigino's for lunch, Starbux, Skyscraper Museum, ladies in cab; river, newspapers, apt; write, surf, read, arrange apt.
MO: Work out; Borders, shop Broadway, WFC; apt; sub, call Paul SFSU, shoes to 88th/Lex, Starbux, subway, call Ruki; apt; dinner at Pax; sub home, write, read, fix shoes
TU: Write Ruki recom; sub SoHo: Uniqlo, shirts, Longchamp, Miro lunch, sub; Frank, Cafe 28, Charles, sub to 86th, get/change shoes; sub to Bowling Green: Chipotle, Battery Park, Castle Clinton exhibits, walk home; read/purge, write, watch episodes of The Office
WE: Write; sub to 103rd, pee in rampway, walk to MoCoNY, Robert Moses, film, theater exhibits, sandwich, 'group shot' on front steps; walk Central Park, sub to 72nd, walk; Lincoln Center Library: theater exhibit, clips, models, posters; bus 9th to 48th, lunch at Say Cheese, walk to 42nd, sub home; decaf, write, rest; Sub to Times Sq: eat scone, walk, Spring Awakening, walk Bdwy, 42nd-9th Ave, taxi home, read.
TH: Write web homepage, work out; bus to Seaport: tkts, Brookstone, lunch at Pier 17, sit bridge deck; Bodies exhibit, walk streets, coffee, shop, walk Chase, apt; write/fotos, walk Esplanade to Rockefeller park, watch Chen dance show, apt; soup, write
FR: Write, prep GD2; walk to WTC, eat at Essex Cafe, Century 21 shoe horn, walk (rainy) home, Ruki call re interview; apt, write, read; sub Canal, SoHo map, chips, help European tourists; AIA: FLW films Edgar Tafel's 95th birthday; walk Houston, sub, Cafe Bravo, apt
SA: Watch The Devil Wears Prada; coffee at Gristede's, gym, write, coffee Gristede's: walk Hudson, Battery Park, West St, talk Jenny's owner; write, walk Beekman Place, MoMA apt, Waldorf-Astoria, Grand Central: dinner; sub, home, Hudson, apt.
SU: Coffee Hudson, laundry, vacuum; walk, lunch Essex, Path train (Spring Awakening on iPod), NJ train, Newark Penn sta, airport check-in, Pres Club, board, flite; read Greyhound mag; write, read; drive home.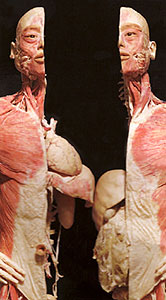 Left: Bodies The Exhibition was much better than I expected. Wow, eerie and fascinating. Bodies are immersed in acetone, which eliminates all body water, then placed in a large bath of silicone/polymer and sealed in a vacuum chamber - the acetone leaves the body in the form of gas and the polymer replaces it, entering each cell and body tissue. A catalyst is then applied to the specimen to harden it. It was very educational - seeing how complex the inner workings, billions of cells each doing their specific task, day after day for decades. Makes me tired thinking how much work they do. March 23
Right: Edgar Tafel was one of Frank Lloyd Wright's apprentices at the Taliesin school in Wisconsin. When Wright was commissioned to build Fallingwater in the forested countryside outside of Pittsburgh, he assigned 3 apprentices to oversee the design and construction of the house. Edgar was 24 years old at that time (he was born in 1912.) Well, I went to his 95th birthday celebration at the American Institute of Architects Gallery near SoHo/Village. But not too impressive since I had no idea who Edgar Tafel was until I held the door open for him and his caretaker. I was going to the AIA to see 2 films about Fallingwater, one of which starred Edgar. The birthday party was just a nice surprise - it turned out to be pretty neat. One of the films was a reunion of the three apprentices talking about the building of Fallingwater; the other was about the process of rebuilding the cantilevered terrace that juts out over Bear Run Creek. A fun, educational, and inspiring evening out in the city. March 20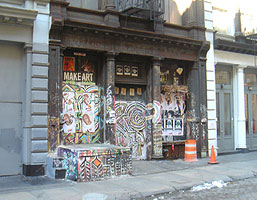 2007 • Drive: May 16 - June 17 • with Vegas 3
2007 • Flight: July 28 - August 3
WE/TH: May 16-17: smooth drive, iPod, Ind., drive US40, Holland tunnel
FR: May 18: Car to Harlem, sub, Chipotle; clean apt, laundry, talk with Frank.
SA: May 19: ICFF, cab; walk Vegas; MJO'K, subway, Karim store opening, ate Elmo 8th Avenue, subway; groceries, apt.
SU: May 20: Walk Hudson Esplanade, Marina, Hunger Memorial, Michael jog, Jim to dog park, visit with dog owners, home; apt smoothies, Battery Park walk; subway,
Union Square, Taiwan festival, Anti-Bush buttons, sat on steps; subway Grand Central, transit gallery, Starbucks, Fifth Ave, St. Patrick's Cathedral (mass 300 50th Wedding Anniv), Rockefeller Center, NBC store, walk to MoMA: sit sculpture garden, Helvetica, paintings, graffiti wall, store; eat outside 53rd Street Deli, rain, walk 6th Ave to Central Park: carriages, volleyball, toilet ads, drummers, Bethesda Fountain, freeline skaters, literary walk, rock hill; Apple Store, subway; walk/sit on Hudson, apt, balcony, roof deck.
MO: May 21: Web tkts to Stadium tour, rush ready, sub, tour Yankee Stadium: press box, field, dugout; buy game tickets, walk Bronx, lunch McDonald's; sub KMart buy bed, sub to SoHo: Pylones, Starbucks, MoMA, Uniqlo, Longchamp, Prada, sub; apt: rest, sub: Yankees game, walk streets, stadium, seats, game: A-Rod homer, fights, hot dog & beer, sub home on crowded car; walk Vegas to Hudson.
TU: May 22: Walk Vegas, sit Promenade; groceries, bus Seaport, tkts, walk WTC, Path, WTC7, WFC sit, Design from Africa, walk to Chambers; sub 23rd, Dallas BBQ, Chelsea: galleries, bus 23rd, sub, apt: rest; rush, sub Times Square: Spelling Bee, Times Square, Bubba Gump's, sub, walk Vegas to Hudson.
WE: May 23: Walk Vegas, walk Battery Park, Fraunces Tavern, Stone Street, Seaport: tkts, Michael to Bodies exhibit, Pier 17 deck, shops, buy bat, lunch: Trattoria, walk Chinatown: Mott, Canal; sub, rest; sub Times Sq, eat Pax, Tarzan, Times Sq, sub; walk Vegas to Hudson.
TH: 3:50a, up and see Micheal off.

The plan was to get a new dog that would be more social than Vegas and then to take both dogs to the big city for the summer. After spring break, I adopted Manhattan, a great greyhound - very social and gregarious. We set out on Monday after spring commencement. Oops, Manhattan was so anxious she pissed in the bedroom right before we were to leave. Then she shit in the car and, a few minutes later, threw up. We were about an hour away from home. I turned around and went back. I got sedative drugs for the dogs and a crate for Manhattan and tried again two days later. The night before, Manhattan pissed again, this time on the bed. I realized she was just not ready for the anxiety of car travel and living in an apartment (I found out later that she had been in a car wreck on the same turnpike where she threw up). I arranged for the adoption people to foster her for a month, shortened the trip to 4 weeks, and set out a week later with just Vegas.
This time, all went well. I drugged Vegas with a sedative - she just buried her head in the blanket in the back and slept until we stopped for the night. This was about an hour past Indianapolis, in Richmond, on the old National Road (later US 40) that ran from coast to coast. I drove a bit of it after walking Vegas and eating dinner. The next morning we drove on into Manhattan. My butt was sore - two days in the car, one for 13 hours and one for 11 hours. On the return trip back to Oklahoma, I took 3 days. I stopped in Columbus Ohio and in St. Robert Missouri, where I drove on old Route 66 thru part of the Ozarks and toured the historic town of Waynesville with its stagecoach inn, Union fort site, and overnight stop along the Trail of Tears - the Cherokee's march to resettlement in Oklahoma.
After 6 weeks back in Oklahoma, I was itching to return to Manhattan so I flew back for a week in July/August before the semester began.
• Accomplishments: Weblishing, NY contents menu, Study Tour; Balcony vase of grass sticks; Decide to continue Study Tours; Bought back-up hard drive
• Shows: Spelling Bee, Tarzan, The Pirate Queen, Legally Blonde, Beauty and the Beast, Xanadu
• Museums: Museum of Modern Art (Helvetica, Richard Serra sculptures), Cooper-Hewitt Museum of Design (The Other 90%), Whitney Museum (Art of Psychedelia), Metropolitan Museum of Art (Greek/Roman, armor, Egyptian), Guggenheim (just for lunch), Liberty Science Museum (Skyscaper, iMax), Grand Central Terminal: New York in Film, WFC: Design from Africa
• DVDs: Boogie Nights, Lucky Number Slevin, The Fountainhead, Night at the Museum, Scary Movie 4 (OMG LOL), The Departed, Into the Woods
• Concerts: Bang on a Can, Joan Armatrading, Steely Dan, and Phoebe Snow
• Activities: Contemporary Furniture Fair; Yankees game against Boston; Wander the back hallways of Grand Central Station ; Tracked down the site of Fillmore East, Bill Graham's 60s concert venue, and CBGB; Hiking around the Historic District on Governors Island; Karim store opening; Hunger Memorial; Central Park: fountain, drums; SoHo, Chinatown, LES, Fifth Avenue; Chelsea galleries; Visits: Michael, Roberta, Seth, Frank, Jeremy & Andrew; Sitting at the Hudson River and watching people and river traffic (almost daily activity).
• Tours: United Nations, Yankee Stadium, East Village, Harbor Cruise on the Zephyr.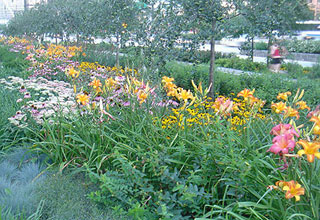 Salvaged beam from the World Trade Center showing the force of the collapse - enough to bend this huge steel beam. Phenomenal landscaping along the new West Street Promenade in my naberhood. A dog trying to eat or bite the fountain jets of water in the new Battery Park bosque.
Joan Armatrading in a free concert. 'Free Joan' sounds like a sixties-era rallying cry and sound bite for a protest march. But, this was just a great concert (with lots of middle-aged former and a few current hippies.) The World Financial Center, in Battery Park City a few blocks from my apartment, has its own entertainment office that produces numerous events throughout the year. This concert was part of the River to River Festival co-sponsored by the city and major corporate sponsors. Often, the events are inside in the WinterGarden. Joan sang out on the plaza overlooking the marina and the Hudson River. A brief rain delayed the start time, but then, she put on a great show. I remember hearing her music on the radio in the seventies. Bio blurb from her website: All the while, no matter the accolade, Joan Armatrading has focused on the music. When first you hear the voice, rich, warm, remarkable, it's a voice that suits a secret sharer, a woman who tells the truth. For 33 years, Joan Armatrading has done just that - in songs crafty, subtle and sublime. Armatrading's songs are in the truest sense soul music; even at their boldest, driven by her passionate guitar, they touch the listener like a whisper to the ear, like confessions from heart to heart.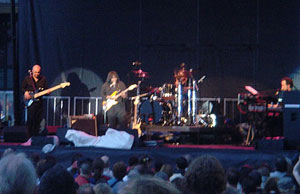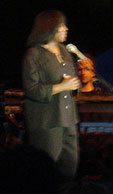 This summer NY trip had a recurring Sixties theme: the Psychedelia art show at the Whitney Museum; finding the site and facade of the Fillmore East theater; walking St. Mark's Place with its history of clubs, homes, and shops of that era; the East Village and Tompkins Park - site of many protest allies; the Joan Armatrading concert; the aroma of marijuana floating by at Joan's concert and at Steely Dan; and the finale of the Steely Dan concert with the theater full of middle-aged groovers and younger fans.


Views from my table sitting outside at the Seaport Inn having dinner on Sunday evening. Lots of people and street entertainers.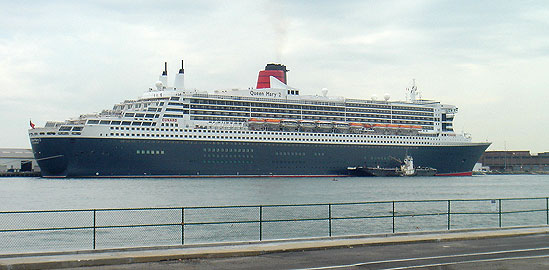 Queen Mary docked in Brooklyn, shot from Governors Island.


Sitting in the WinterGarden, under palm trees, in the World Financial Center - there has been a marathon of music from Bang on a Can, a collection of musicians who share only the connection that they are exploratory, avant garde, and pushing the envelope of what can be defined as music (one piece was just noise). The marathon went on for 24 hours, although I experienced only about 3 hours of it. The sound system is fantastic and it is pure delight to be able to sit in this environment and hear such great experimental music. The left foto below is from the top of the grand stairs looking towards the stage at dusk. Right: a 4-piece drum group.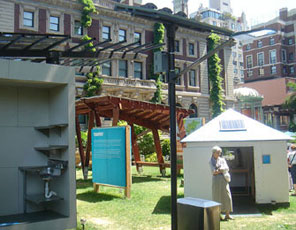 The Cooper-Hewitt National Design Museum has a show this summer entitled, Design for the Other 90% (you likely guessed that because of that orange title block to the left). This issue has fascinated me since I was in college in the late 60s - most design, millions of dollars worth, is produced for the top 10% of the planet, for the more well-off and industrialized nations. There is a huge undeserved population that needs great design - great creativity and innovative solutions to problems. Designers are trained to make things better, to address social ills as well as competitive commercialism. Most designers spend their entire career designing new logos, brochures, annual reports, etc. for a highly commercialized and competitive environment. Imagine if designers pent 10% of their time, talent, and resources to help people grow crops more efficiently, to get and keep water that is pure, to communicate to each other over long distances. We, then, truly could and would make a difference.
These fotos show a few of the solutions and exhibits in the garden area of the Cooper-Hewitt museum. A bit weird and ironic since this was the backyard of Andrew Carnegie, one of the wealthiest tycoons in America.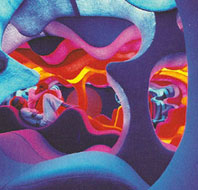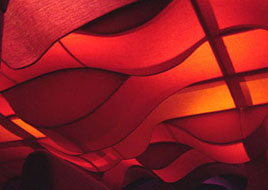 I had read about this comprehensive exhibit of art from the 1960s. I have always enjoyed shows at the Whitney - they do a good ob of curating and including thorough examples. So, this was a must on my to do list. I got to the Whitney at about 2:45 and left at 7:15 - 4.5 hours. I lost track of time, just like we did in the 60s. It was a great show. Artwork, photography, films, and text. I watched several short films - some on psychedelia, some about the war protests (eerily similar to responses to Iraq today). I learned some neat stuff about some of the poster designers. There were, in addition to the main film screening room, 9 small theaters showing light shows, videos, and strobe projections. I thought I was through but noticed on my way out that there was an audioguide with music. Cool. So I checked it out and went back to one of the theaters, the one with the pillows on the floor, and lay down and grooved to classics - Iron Butterfly, Jefferson Airplane, the 13th Floor Elevators, Beatles, etc.
At one point, I was listening to In-A-Gadda-Vida with headphones on and laying on the floor. Whoa. It took me right back to 1969 when I was laying on the floor of my dorm room in Prather Hall at the University of Texas, with headphones on, listening to In-A-Gadda-Vida. True flashback - without drugs.
The fotos above were the only ones I could take since no photography of any kind was allowed in the exhibit (which just means one must be more creative and more cautious). Above (I didn't shoot this one) is an installation of a colorful padded room. Guests had to remove their shoes and only a few could go in at one time. I lay down, rested, reminisced, and watched others enjoy the environment. On the right is the ceiling of this room. On the lower left is a wall of posters by Rick Griffin, Victor Moscoso, Wes Wilson, and others. On the lower right is a graffiti art version of the baby-changing table in the men's room at the Whitney Museum.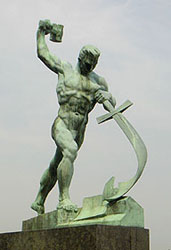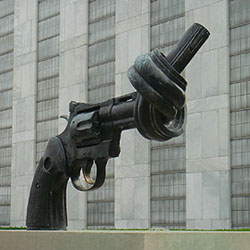 The United Nations is housed in some great 1950s era buildings with biomorphic shapes and 'Scandinavian style' furnishings; designed by a consortium of architects including Le Corbusier. The land was donated by the Rockefellers. The UN was formed in San Francisco and first met in a former World's Fair pavilion in Queens. The UN is an interesting place. An entire complex created because our species can't get along. But, good things have come from the UN. 192 countries out of 195 have chosen to become members and pay their dues (based on a percentage of the country's GNP - Gross National Product). Of the 3 that aren't members, one is Vatican City and the other 2 are small island nations with almost no resources to spend. I learned that it was the UN that decided that all pilots and air traffic controllers on the planet would use English as their language of operation, that the color red means stop in all countries, and what is the healthiest determined expiration time for milk. The UN has no peacekeeping forces but solicits volunteer nations to volunteer troops. Those soldiers wear their own uniform but paint their helmet UN Blue as a symbol of solidarity. Our family had toured the UN in 1961 and much of it looked exactly the same.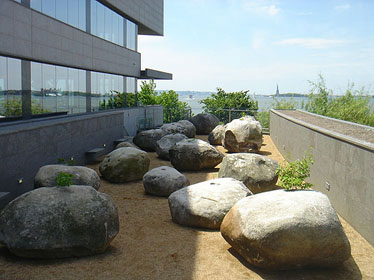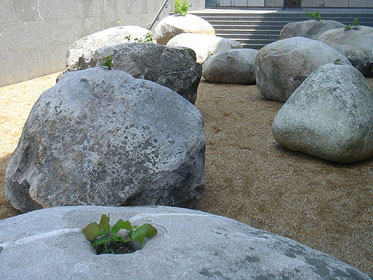 Andy Goldsworthy is a phenomenal artist who works on site changing the way we see nature and creations. His only permanent installation in Manhattan is this one, Garden of Stones, at the Museum of Jewish Heritage at the tip of Battery Park City (about 2 buildings south of my apartment building). Garden of Stones is an eloquent garden plan of trees growing from stone, a contemplative space dedicated to the memory of those who perished in the Holocaust and honoring those who survived. Goldsworthy worked with nature's most elemental materials - stone, trees, and soil - to create a garden that is the artist's metaphor for the tenacity and fragility of life. An oak sapling emerges from the top of each of 18 boulders, growing out from the stone. As the trees mature, each will become a part of the stone, its trunk widening and fusing to the base. It demonstrates how elements of nature can survive in seemingly impossible places. In Jewish tradition, stones are often placed on graves as a sign of remembrance. Goldsworthy brings stone and trees together as a representation of life cycles intertwined. He included 18 boulders because of the number's symbolic significance: Chai, number value 18, is the Hebrew word for life, and is in the traditional toast "L'chaim" - to life! Andy Goldsworthy is best known for his outdoor sculptural interventions and indoor installations that transform nature's most familiar elements into graceful designs.


The paving stones within the yellow marks look darker than those outside, but they are the same grey color - the dark marks and the yellow aura outline create an illusion that makes those appear darker by contrast.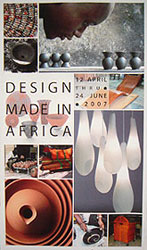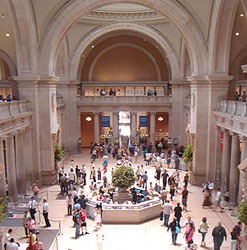 Design Made in Africa was a gallery show of crafts and design, some very innovative, some very organic and natural, but all of it very well-crafted and produced with a meticulous eye for heritage and respect. It was in the gallery in the World Financial Center in my naberhood so I went twice. Some of the neat stuff: A stool, made from a solid piece of tree trunk, with carved slots to hold books or magazines; exquisite weavings of native and synthetic materials forming furniture seats and backs, wall hangings, and decorative pieces. At least that heavy duty lock is still intact. It is probably now worth more than the bike. I also wonder why someone didn't take that nice rear reflector. Red and shiny. From the Metropolitan Museum of Art.

2007 • October 18-23


A herd of tired art lovers at the Museum of Modern Art.
TH: flite, taxi, shop, walk Hudson.
FR: Meet Londons: NBC, apt, WFC/WTC, downtown, Times Sq; apt; Farnsworth Invention.
SA: Wicked backstage tour, lottery ticket wait, MoMA, Chelsea gallery, Boston Mkt; apt; Beau: Brooklyn Grimaldi's pizza.
SU: Union Square, B&N, SoHo, Uniqlo; apt write; brgr, 34th street.
MO: apt; Frank visit, lunch; apt; car svc, flite delayed, Memphis airport run, Tulsa flite, ride from Tulsa to OKC airport, drive home.

2007-08 • December 22 - January 2 • Christmas and New Years


Winter break: MoMA: Cafe 2, design exhibits, stores; MA&D: Droog products exhibit; party at the White's apt; NetFlix movies; Cooper-Hewitt: Design Life Now Design Triennial, joined, store; Chinese Holiday Spectacular, Beacon Theater; Katz's Delicatessen, walk the Lower East Side; Tribute WTC Visitor Center; SoHo; iBook crashes - buy new MacBook; visit with Jonathan, Frank, Seth; Bloomingdale's - shop and eat; design, order, and install door text lettering; reconfigure sink faucet, fix drain plumbing; buy new sheets; Brooklyn Museum: Ron Mueck and Annie Libovitz, Heights Cafe, Brooklyn Heights, walk Brooklyn Bridge; Federal Hall; Metropolitan Museum of Art: Tiffany exhibit, Egyptian, Chinese art; Droog/DIY lecture at MoA&D.
Christmas was always a great family time filled with the decorations, aromas, foods, and good times of the holiday. My mother was great at decorating the house, cooking our favorite meals, and having a warm welcoming house for friends and family. I have many fond memories of the Christmas season at the Watson house. Mother even baked a birthday cake for Jesus and had us sing Happy Birthday. However, once my parents died in 2003, there was no way to recreate those traditions so I began some new ones in my second hometown of New York City. Christmas now is quite different, but still memorable. I have a playlist of carols on my iPod, I have a couple of decorative trees for the apartment, and the big city is just glorious at Christmas - the lights, sounds, and holiday activities. Of course, its also crammed full of tourists.


12 days were spent with Sean and Jamie Cobb. We did about as much as we could:
• Walkin': Museum of Modern Art, Bryant Park, Public Library, Rockefeller Center tree, St. Patrick's, NY Historic Society, Natural History Museum (briefly - it was so crowded), Grand Central, IBM building, the Charmin bathroom in Times Square
Holiday windows: Macy's and Saks (tied for 1st place), Lord & Taylor, Bergdorf Goodman, Barney's, and Bloomingdales
• Shows: Rockettes' Christmas Spectacular, Cirque du Soleil's Wintuk, The Color Purple with Fantasia
• Shoppin': Moss, Apple Store, Hammacher Schlemmer, Tourneau, Sony Store, Taschen, Wired, Longchamp, UniGlo, Muji, Macy's
• Eatin' and drinkin': Chevy's (our favorite), Dave & Buster's, Applebees, brgr, Cosi, Hawaiian Tropic Zone, Katz's Deli, 72nd St deli, Brooklyn Diner, Chipotle

SA: Delayed flite to NYC, car, apt, shop
SU: Cab, meet Sean Ferguson at MoMA, burger at BenAsh deli, Times Sq; sub, B&N, downtown; apt, write, PushPull; Chipotle dinner
MO: Join Cobbs, Pax, Bryant Park, Library: Kerouac & Construct, Lord & Taylor, Macy's pretzel; sub WTC, Hudson, apt rest/change; sub Grand Central, sub Lex, walk across park; Tavern on the Green, park, Apple Store, Bergdorf, Bloomies; sub Times Sq, ESPN, Applebee's; sub apt
TU: Apt; xmas calls, sub, Times Sq, Junior's lunch Shubert Alley; hotel, Radio City; Rockettes show, tree, Sak's, St. Patricks, seek dinner; Chevy's margaritas, sub, Apple Store, Barney's windows, walk Madison Ave, 42nd, sub
WE: Apt; hotel, walk Cosi, Strbx, MSG; Wintuk, walk, brgr, Museum of Sex, Gershwin, Madison Sq; sub, Dave&Busters, 42nd, sub, apt
TH: Apt, hotel, sub 72nd, deli lunch, Dakota, NY Hist Soc: 9/11 fotos, Natural History; Sub Times Sq: buy tkts: Wicked & Spring Awakening, walk NYPublic Library: Kerouac book, exhibit, Strbx, mail pkg, Grand Central; sub Times Sq, hotel, sub 57th: Hammacher, Tourneau, IBM, Sony store, TSq, Famiglia dinner; Grey Line nite tour, Hawaiian Tropic Zone: soup, drinks, dessert; Charmin bathroom, sub; apt
FR: Meet at Prince/SoHo: Moss, Taschen, Longchamp, Wired, Muji, Uniqlo; NoLIta, Katz's Deli, 1st Ave, St. Marks Place, bank, Strbx, Bdwy; Gray Line; 49th, walk, Chevy's, sub, apt, laundry
SA: Poor sleep, sick, shop, cereal; sub hotel, walk 8th/Times Sq; The Color Purple; Brooklyn Diner; sub home
SU: Bed, shop, paper, sudoku
MO: Bed, paper, sudoku; shop, Hudson
TU: Bed, paper, sudoku; WFC shop, pizza, Hudson
WE: Clean apt, pay monthly; cab, Hammacher, Java Cortez snack; cab LGA; snacks, security, flites; explore DFW airlink, Term D (yuk), earlier flite; drive home
TH: Get girls, sleep.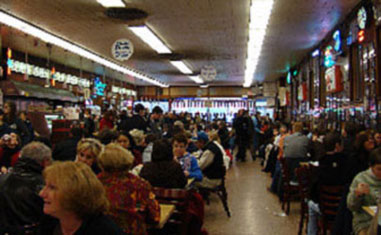 Katz's Deli in the Lower East Side. We had beef, pastrami, and corned beef sandwiches, fries, and a potato knish. The place was jam packed and hectic but we had to eat at Katz for the experience. It has been a staple of the naberhood since 1888.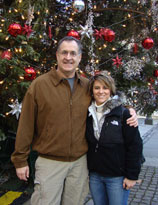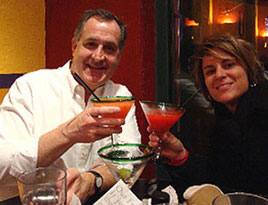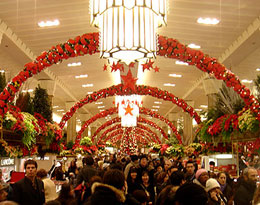 Jim & Jamie at some decorated tree somewhere (there were hundreds of trees all over town). Jim & Jamie at Chevy's in Times Square. Macy's on Christmas Eve.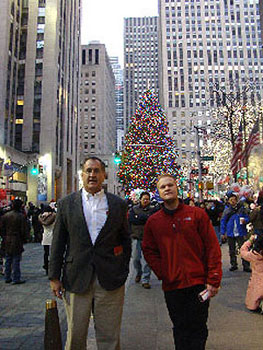 Rockefeller Center and its big tree.


We saw three great shows. The Christmas Spectacular at Radio City Music Hall was the ultimate Christmas show - almost flawless. Wintuk was a new seasonal show from Cirque du Soleil. The Color Purple - an excellent musical starring Fantasia (of American idol fame).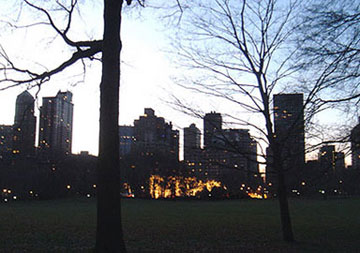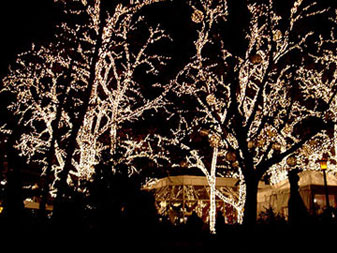 Christmas Eve dinner was at Tavern on the Green on the edge of Central Park with the Cobbs. The ornament wreath was above our table next to a window overlooking the trees.

2008 • March 14-24 • Spring break


At the Macy's Flower Show was a large paint brush with green bristles and paint of flowers. Below is a model of the Macy's store made out of twigs and bark.


It was overwhelming. The colors, the sweet aroma everywhere, the arrangements. It was one of the most beautiful events I have experienced. It is a week-long event with activities and presentations. And lots of people. I shot the above fotos (of phlowers?) with my iPhone so the resolution doesn't quite do justice for the plants.
Accomplishments: Macy's Flower Show; Easter Parade hats; Vignelli signature; Stereo with remote; iPhone dock; Hang pix in bedroom
FR: late flite, grocery shop, sleep
SA: shop, C&B SoHo, Apple Store 14th: buy briefcase bag, BB&B
SU: apt; Qdoba, 29th Starbucks, WFC; apt
MO: gym; 8th St, Chipotle, Parson's, Union Sq, Charles, Museum of Sex, Grand Central cards; apt; TimesTalk Car design, 8th Av: maps, Times Sq.
TU: work in apt, Frank: burrito lunch; MoMA; apt; salad, Gypsy
WE: gym; Harlem, lunch, Lenox; apt; The Little Mermaid, Cafe Bravo
TH: work apt; Frank, get Vignelli autograph on map, Whitney, peanuts; apt; Beau: PJClarke's
FR: Macy's flowers, Apple iPhone, Fifth, mxyplyzyk, Benny's Burritos, Village, Forbes Galleries, bank; work apt: pix, Hudson - good
SA: apt; SoHo: Bose, Miro lunch, Muji, Apple; Apple 5th: buy JBL; apt frames, stereo wires; Hudson WFC, bagel sandwich, cookies; apt: web
SU: apt; GCT, St Patrick's Easter Parade hats, Rock Ctr, omelet lunch, Starbucks; BMG tkts; Battery Park, apt; Hudson walk, apt, make MetroCard columns
MO: apt; walk Staples; clean apt, laundry; car; airport Pres Club, flite, home

2008 • May • Study Tour

2008 • May 29 - July 19 • with Vegas 4 & Manhattan 1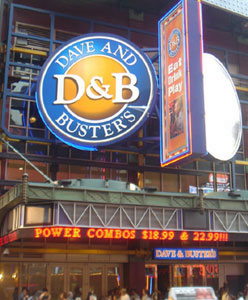 One weekend, I decided I would be quite decadent and act like a tourist kid. Just to have fun. I went to 42nd street between 7th and 8th Avenues. This area was notorious in the 1970s and 80s for being the epicenter of porno theaters and sleaze shops. True story: In 1981, I was leading a study tour and we stopped at the corner of 42nd and 8th Avenue. I told each student to be careful but to notice what goods might be offered to them as we walked the one block to 7th Avenue. I polled the group - every single student had been offered drugs, sex, or both. Fortunately not one of them accepted the enticements. Soon after, the city of New York set out to clean up 42nd Street. Disney was lured in to renovate one of the theaters (the New Amsterdam) and the other theaters were slowly reverting back to legitimate uses, one porno is now even a children's theater. 42nd Street is alive with fun amusements, restaurants, and shops (if you're interested, some of the sex trade moved around the corner to 8th Avenue.) There are 2 movie complexes - one with 13 screens and the other with 25 for a total of 38 screens on this one block of 42nd Street. But I went there to see the 3 amusements pictured above.
A Chorus Line(an excellent show) at 2pm. That was enough time to be amazed by what had been collected and displayed in the Odditorium. After the show, I went back to the 'Amusement Park' and had an early dinner at Applebee's - the appetizer sampler. Dawg, it was good. Then on to Dave & Busters to play some arcade games. But, shoot, I couldn't find Pong, Frogger, or Asteroids. Not only did I not recognize the new games, I couldn't even pronounce the names of some of them. I asked an attendant if that had any good old pinball machines. "Pin-what?" Apparently they didn't. I finally found a game more my speed - one where you shoot coins onto a pile and when the mechanism pushes some of them into a trough, you win. This I could play. I did and I won. I actually got to where it was enjoyable and fun to play. I took my winning tickets (shown below) to the in-house store and bought some tacky crap. I had played so long, it was time to go home and walk the dogs. But I went back on Sunday to see Madame Tussaud's Wax Museum. This was even better than Ripleys. Spooky likenesses, so realistic - more than once I got caught off guard expecting a figure to move or turn and look at me. The settings and info cards were also very well done. After that I went back to D &B, this time to play Trivia. I kicked butt. People would stop playing because I kept winning the rounds. It was a great weekend. And look at all the shit I won.


'Push the coins over the edge' game. Some of the tickets I won at the coin push game.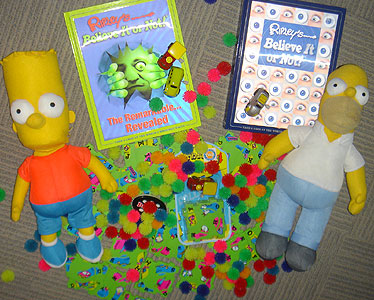 The Trivia game. I sat at chair number 4 - my lucky number. The crap I bought with my winnings: 2 interesting books on Ripley's oddities, a black push-button fart machine, 5 sets of green train track layouts with 5 wind-up cars and trucks, Homer and Bart dolls for the dogs, and 124 squooshy-spiky balls.


"Where's my face. Everybody stand still. Don't take a step. I can't find my face." Fortunately, two older men and one really wrinkly old lady calmed me down and told me it was hiding behind that ugly thing between my ears. Whew. There it is, right where I had left it. You never know when it might come in handy. Like when you have to eat or blow your nose. Think how hard either of those tasks would be if you had truly lost your face. Thinking that I had better get out of the garden, I headed inside to the gift shop. One of the security guards snickered as I went by. "Yes, I'm wearing shorts!" (Snickered sure is a silly word - snickered.) In the gift shop I bought a t-shirt, not because I needed it but because I was tipsy and this is America where we just buy stuff. I also tried on some cologne but because the bottle was facing the wrong way (or the right way if you were standing behind me and a bit to the left) I sprayed again. Oops, too much. It was a scent called 'At the beach' and it smelled just like Coppertone suntan lotion. So now, too much to drink, I smell like Coppertone, and I'm in line to buy a t-shirt that I don't need. Damn. The guy behind me took a step farther back and told his wife that it smelled like suntan lotion in here (Hey, it was a Garden Party). I suspect he, like many of the men there, was jealous that I was wearing shorts. June 20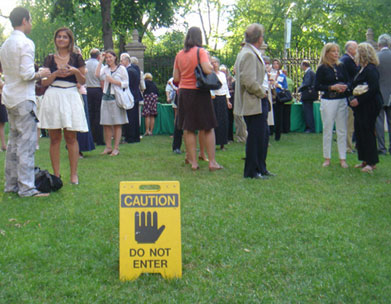 The garden behind the Cooper-Hewitt with Central Park just beyond. People simply refused to obey the signs. Or maybe they thought that since they didn't have a flat geometric black hand, the sign didn't apply to them.


The wine was very good. The snacks sucked. This man in the awful green sportcoat tried to distract us with that way-too-big blue hat. It had already knocked down the guy in the blue shirt. And, as I found out later, the security guard to the left is escorting him to a nearby store that offers complimentary hat alterations.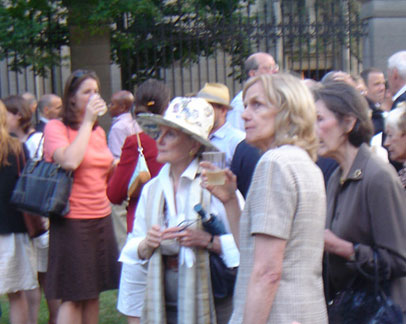 Even the kids were in long pants. People, its a fuckin garden party. Since these women are each looking in a different direction, I assume they are bored with each other's company, have had too much to drink, are struggling with botched botox treatments, or a combination of any two or more of the previous options.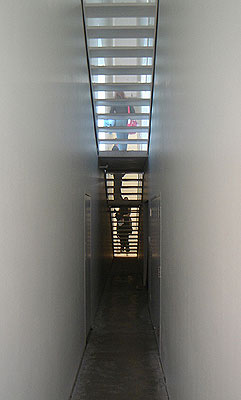 The New Museum in its new building in its new location between SoHo and the Lower East Side. A somewhat hidden narrow stairway that is an architectural delight. Wall graphics next to the elevator - a neat way to show the directory of the building and the floor where one is currently.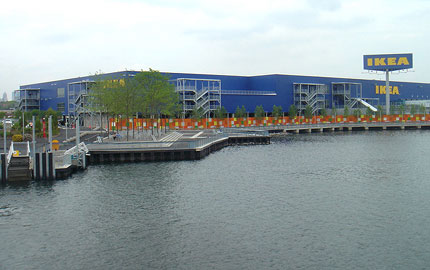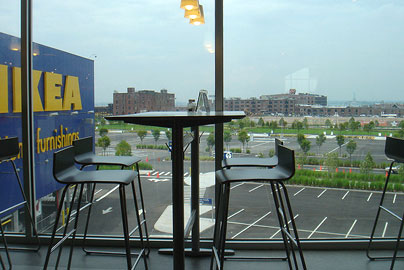 • Accomplishments: Listened to iWoz audiobook; Train girls - dog park, river; Finished reading The Learners; Facebook: learned, enhanced, and checked; Spoke up at Cove Club owner's meeting; Revised History syllabus & web entries; Read iCon Steve Jobs; Bought longer iPhone ear buds; Bought laptop cool feet; Revised Rodkey proposal with Valerie; Designed GuideMapLoMa; Revised guidemaps; Developed 5sguestinfo.pdf; Designed apt area map; Email from Ruki about dept changes; Good phone call with Barbara Calls/emails with Greg & Lon re UCO; Mount Greetings from New York City; Offer from OSU: prepared emails, calls; Restored iPhone - no good, its dead, Got new iPhone, second Genius bar; Wrote recom to Tribeca Trib, got response; Reviewed Chun's portfolio; Cove Club proposal: Christian, Fran; Favorite web site, emails, Trib; Updated/upgraded website
• Bought domain names: pushpullstickers, justonepiece; Refined JustOnePiece with Frank; Designed JustOnePiece Tshirts.
• Apartment upgrades
Bedroom: Moved bed light switch; Framed Vignelli map; Removed glass from Glaser poster; Rearranged graphics on bedroom wall; Made chorus line of batters; Painted touch up walls; Reorganized closet: rods, new hooks, painted; New bedspread
Kitchen: Installed stove countertop; Got turntable for microwave; Installed/filled in digit message tape; New vase of squishy balls
Foyer: New taller sticks in serenity vase; Installed coat hooks in closets, umbrellas
Bath: toilet seat, flush handle, towel rod, coat hooks
• Museums: Cooper-Hewitt Garden Party; Tenement Museum; New Museum; MoMA: Dali films, lunch, light/mirrors; Whitney: Bucky Fuller; Met Art: Koons on the Roof; MoMA: Prefab dwellings
• Shows: Curtains with David Hyde Pierce, A Chorus Line with Mario Lopez, In the Heights, August: Osage County, Spring Awakening (3rd time), hilarious Backpack Picnic, with Mitch Baker.
• 42nd Street: Ripley's Believe It or Not; AppleBee's; Dave & Busters coin game; D & B Trivia game; Tussaud's Wax Museum
• Sights/activities: Dinner/drinks with Beau & Julie; Photo shoot with dogs for Chilean lingerie; Indiana Jones movie; Dinner with Steve and Roberta Sloan: Brooklyn Diner; Bowling Green dancers; CBGB, Katz's, Hotel on Rivington, Economy Candy; Taylor Valentine: Apple, Diner; SWNY; Mitch: lunch, downtown tour, David Byrne Play the Bldg, subway and airtrain around JFK; See office, lunch with Beau & Jenny intern; AIGA/NY: films, Bumble offices; NYCA program: 'Atheists in Foxholes'; Waterfalls boat trip, Pier 17 eat; Drove northern Manhattan/Harlem, walked around Grant's Tomb; July 4th fireworks at drizzly Seaport; Dinner with Charles & Jenny: Coffee Shop 14th St; IKEA Brooklyn, sub/bus over, water taxi back; Saw Wall•E, Seth: Republic, Union Square.

2008 • Fall • AIGA Fellow, Sean Cobb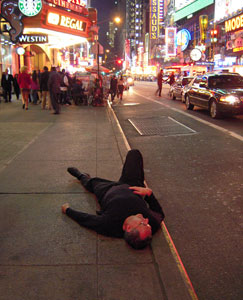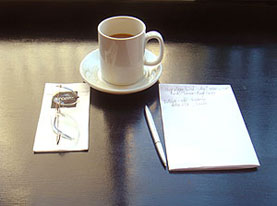 Me and some drunk passerby, club patron, or vice cop - I just don't remember. Curiously, it looks like we're singing something. Jim taking a short nap on 42nd Street.
To respond to numerous requests for more information about the Lace strip club in New York City (8th Avenue, just north of 42nd Street):
• Yes, you might get special treatment if you mention my name. That can range from a waived cover charge to a stud discount in one of the back rooms. However, if you do mention my name, be aware that they know me only as Rod Thrustenberger.
• In the reference above, I mistyped - Lace is not a strip club, its a Gentleman's Club or Gentlemen's Club (its spelled both ways on the signs in the foto). As far as I can tell, a Gentlemen's Club is just a strip club with better cocktail glasses.
• Please keep in mind, I was there only to assess the design of the Lace logo (as seen on the awning canopy in the foto). Anything I know about what goes on inside is only from stories I've read and heard. BTW: the logo is awesomely superb. I think.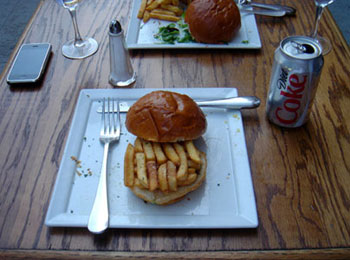 We love burgers and fries, so here's a burger made of fries, with a delectable spicy sauce with a subtle yet robust hint of ketchup and pickle.


Museum of Modern Art: Terrace Cafe on the fifth floor and looking out on a spectacular fall day in Manhattan. I had a lunch of bread, coffee, and organic deviled eggs: black caviar, pickled red onions, and herb creme fraiche. I don't usually eat caviar (hardly ever) but I love deviled eggs and splurged on this. They were delicious. I ate all but one before I decided I better get a picture of a caviar deviled egg. The foto on the right is how I stacked my dishes for the server.
WE: Flite, cab to apt, unpack; walk to SWNY, apt.
TH: Walk East River, ferry to IKEA, lunch, bus/sub apt, rest, cab AIGA, walk Maritime bar, Meatpacking.
FR: SoHo, Apple, DWR Tools, Aroma coffee, AIA, Wash Sq: JOP, pita, ACGears, game: East Vill, coffee, cab, apt, sub, Chevy's, Lace, popcorn, Times Sq, apt.
SA: Greenwich Village, street fair, Meatpacking, Taylor Strbx, Ear Inn, Tribeca, apt, cab Nobu next door, cab Gansevoort, cab Rockefeller Ctr, Tropic Zone, Times Sq, apt.
SU: Sub Brklyn, brkfst, walk bridge, apt, Sean car; shop, nap, rest.
MO: Starbucks 29th: GD2 emails.
TU: Frank lunch, apt, Starbucks, SIFerry, Battery Pk, apt.
WE: Hudson, car, Pres Club, flite.



2008 • December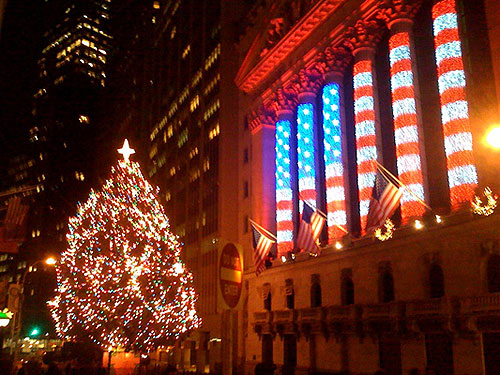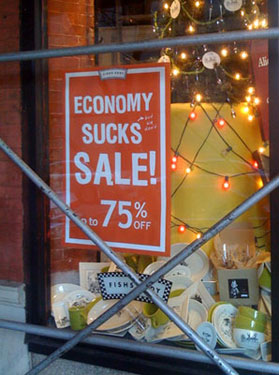 Even though it took quite a beating this fall, Wall Street looks festive for the holidays. Normally a large flag is draped in front of the NY Stock Exchange, but it is replaced by lights around the columns for the holiday season. Christmas, with its excessive shopping and spending, is now truly a patriotic American holiday. The tree is about 6 stories tall.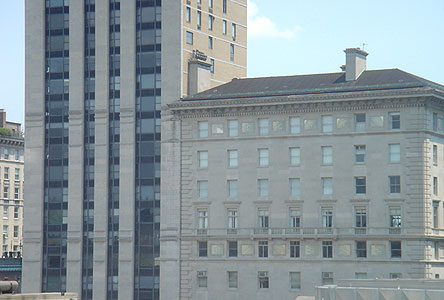 Across 5th avenue from the Met. Downtown in the Financial District. Note how the newer buildings on the left respect the older buildings with the alignment of the ornamentation bands.
TH: Okay flite, trains to WTC, Whole Foods, BB&Beyond, walk WFC; apt, nap, shop, apt.
FR: Gym, smoothie/coffee; Milford: login info, sub SoHo: Cafe Miro, Rock&Roll Annex, Crate&Barrel, Best Buy, sub Home Depot, AIGA gallery, sub apt; rest; sub 28th Starbux: web, email; walk 30/30, sub Wall St, Strbx write, walk apt.
SA: BP Starbucks: breakfast, email, web NY trip, walk Wall St, Border's: xmas cards, Grisham book, Gristedes; apt; sub Murray Hill, Pax, pizza, Bloomies: coffeemaker, sub; apt.
SU: NYTimes; sub Union Starbx: web, email, walk to 27th: lunch Frank; walk Penn Sta, sub Port Auth: check buses, lunch; walk 42nd, Times Sq, Strbx, W Hotel:
email, coffee; Times Sq, sub Hudson: sit laptop, apt, call Bill re operation Monday.
MO: Gym, walk Broadway, PO: mail xmas cards, haircut, BPC Hudson walk, WFC, Hudson, apt; call Melinda, Debbie, WFC, movie: James Bond, call Debbie, Sandy, Whole Foods dinner, BB&B: coffee, WTC, Hudson, apt.
TU: Walk Sports Museum, Federal Hall, lunch: Mangia, Finance Museum, South St; bus, apt; Starbux: web, snow, call Debbie, apt.
WE: Sub MAD museum, lunch Brooklyn Diner, sub 96th CPW, walk across park, 5th Ave, Jewish Mus: Chagall/Yiddish theater; Guggenheim: rotunda, coffee/cookie, bus 5th to 53rd; MoMa: Cadillac Ranch video, van Gogh, Design, video murals; Rockefeller Center: Saks, tree, NBC shop; Park Ave, Grand Central: Zocalo dinner/margaritas, MTA store, Pylones; sub Hudson, apt, read.
TH: Apt: laundry; BP Strbx: email/web, talk to Debbie; walk BP, Hudson, apt; car, call Bill; car, EWR long security line, flite: delayed, refuel in Dayton, OKC; dinner: Charleston's with Michael.

2009 • December 31 - January 7
WE: 7:20a flite cancelled, brkfst, 7:55a to Houston, to EWR: first class; taxi, apt; shop, mount bedroom wall clock, apt; walk Trinity - nada; apt, listen to fireworks, sleep.
TH: Jan 1, 2009: apt, watch Rose Parade, apt; sub Strbx 29th, sub, buy hat, apt: install clock numbers; walk, Gatehouse dinner, shop, apt.
FR: Apt; sub 23rd: sign shop; sub Grand Central Shuttle, Times Sq, eat Europa, Boeing Boeing, Sbarro, Times Sq, Walgreen's, sub; apt read.
SA: Apt: sick; walk, Strbx Broad lunch, Wall St, Broadway, WTC, RiteAid, WFC, Hudson; apt.
SU: Sick; sub Shrek, Applebee's, Hershey's, Boeing (closing) stage door, Times Sq, sub; apt.
MO: Apt; taxi to Eagle Signs, SVA; sub, Grand Central, NYP Library: prep syllabi, day 1, Deco exhibit; walk 5th, Cal Pizza Kitchen: lunch, Starbucks 29th, walk, PU vinyl sign, Starbucks23rd; sub BPark, apt; TV: UT game, laptop, apt.
TU: Prep NJCourt; sub Battery Park, 86th, Chase, Guggenheim: lunch, anywhatever; walk/bus, Central Park Zoo, Park; sub, Union Sq: StBx bathroom, sub; apt, rest; walk Wagner Park, PizzaCafe: dinner, walk, store, WFC, movie: Earth Stood Still; apt: Scrubs, apt, read.
WE: Apt; Ritz Carlton: breakfast; apt: laundry, clean; Strbx Battery Park: emails/web, walk Hudson; apt, pack; walk PATH, train to Newark, walk to Court House in rain: checked in, down to courtroom and prosecutor, judge: case dismissed, walk out, caught cab to EWR; snax, call Bill, wait (delay, then not); flite: 12b with no one next to nor in front of me; smooth egress, drive home.
A small fraction of the people using the subway system in NYC: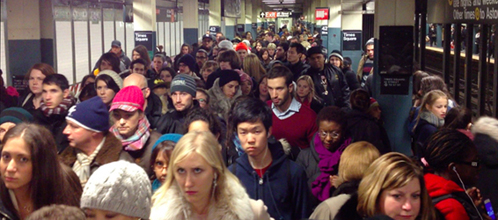 While riding on the subway, a woman got on with a large trash bag full of something soft - maybe clothes. Even though there were several empty seats, she scrunched her bag and set it on her lap so she wouldn't take up two seats. People were leaving the seat next to her empty, thinking she might want to set the bag there. But she never did. She was so considerate and mindful of her space and the needs of others. I couldn't help but watch this sweet woman. She also had a very nice smile to go along with her demeanor. I was somewhat envious - this woman, with her big load, still managed to be polite, courteous, and considerate of others. I so wanted to say something to her but i couldn't think of the right thing to say. I thought i would at least tell her she had a nice smile. But then my station approached and a crowd came between me and her as i stood to get off. Another opportunity missed. How often i wish i had acted on my impulses.

2009 • March 13-21 • NYC & Philadelphia


So, Thursday evening of spring break, I was wandering around Times Square. I had gone to get a ticket to 39 Steps, a funny comedy; I decided not to and, instead, just walked around with the flow of the crowds. I went into the Marriott hotel to use the bathroom. When I came out, there was a small crowd across the street, right at the end of Shubert Alley, next to a couple of Broadway theaters. Several men held shoulder mounted video cameras and others had some 35mm cameras with pretty good-sized lens. I stopped to see what was going on. Two of the people in the crowd moved towards me and stood right in front of me, within inches. I was a bit baffled. I looked at their faces. One was Matthew Broderick. The other was Sarah Jessica Parker, his wife. I looked down at her scalp - she is a short woman. They both looked sad. There were a few other people near us that I recognized. Very familiar faces, including her mother, Vanessa Redgrave. Then it occurred to me what was likely going on. They were friends of Natasha Richardson who had just died. As I learned later that night, the lights of Broadway theaters were dimmed for one minute in honor of the actress. This group was standing at the best place in Manhattan to see the most theaters. There are about 6 or 8 theaters within sight of the spot where we were. I suspect the lights were dimmed while I was inside the Marriott. Then a tall man came up and hugged Sarah (is it Sarah or Sarah Jessica?) She whispered, "Thank you, Liam. How are you?" Liam Neeson, Natasha's husband. He, too, was sad. "15 years." He kept saying, fifteen years - they were married in 1994. The crowd of celebs took turns hugging and kissing him. One of the well-known faces asked him what he was going to do now. He said he was going to an Irish bar and get a drink. "You know, a traditional Irish wake." Broderick asked him where. He wasn't sure. This was going on all around me. I just stood still, right in the middle while we were circled by the photographers. The footage was aired on the news later that night. With one goofy looking Okie right in the middle. One videographer bumped over and around me - probably hoping that I would move. I didn't. I was tempted to pull out my iPhone and snap some pictures but I didn't want to look like the other tourists around who were sticking their phone cameras into our circle. Liam gave a few more hugs then walked off down Shubert Alley with a friend. The photographers didn't follow him. They left him alone.
FR: Smooth flite: exit row, read, write; Path, walk to WinterGarden lunch, Starbucks, sit under palms: write: OSU away, History preview; Cove Club: new furniture/carpet, apt rest; walk South Ferry, downtown, Stbx, Brdwy, WTC, shop, Hudson; apt; evening walk; apt.
SA: Apt; sub 29th Stbx; sub Times Sq, tkts: West Side Story & Hair; 42nd; sub; SoHo: Apple, Droog, Canal; sub, Rector pizza, liquor; apt; walk Hudson, new ferry terminal, Whole Foods, Embassy Suites, Hudson; apt.
SU: Brkfst newspaper; sub Times Sq, muffin, Hair, stage door, Strbx, AppleBee's burger mochatini, D&B trivia: boxers, Walgreen's; sub, walk WFC, Hudson; apt.
MO: Work out; sub Grand Central, walk 42nd; NYPL: write, History Preview, email; Chipotle, Grand Central: gallery, scone, sub/Union Sq/sub, Brooklyn/sub, new station: Whitehall/South Ferry, walk, apt.
TU: Sub Brooklyn: Boro J train, Emily Suggs & Cate Lucas, brownstone, walk D'Amico's, bakery; sub, Boro Hall, sub WFC: Irish dance, lunch Cosi, apt, rest, sub 86th: St Pats parade, Fifth Avenue walk 86th-59th, sub apt, rest; sub, Times Sq, Palace: West Side Story, stage door, sub with 'Tony', apt.
WE: Stbx: brkfst, emails; shower, sub Penn Sta: train to Philly, Roberta, drive, South Philly: Pat's cheesesteak sit outside, Italian Market: cheese, coffee outside, gameats, drive, condo; walk bridge to Market Street, Franklin's grave, Visitor's Center, Pres House ruins, Independence Hall, sit on bench, Carpenter's Hall, walk streets, condo; dinner at Continental (Dunlap's print shop site) ice cream at Franklin Fountain, condo: television, bed.
TH: Condo; Temple Univ: brkfst dorm, theater bldg, Tyler art building: gallery, classrooms, campus, Student Union; train to station; lunch, Amtrak to Penn, sub to apt; rest, emails, apt; sub Times Sq: 39 Steps - no go, walk area, burgers at McD, Marriott pee, crowd of celebs: Broderick/Parker, Redgrave, Neeson, on-camera; sub apt, The Office, 30 Rock, news: WSStory and Natasha death with footage of me, apt.
FR: Apt work, gym, sub: Waldy's pizza with Frank, office: get exit row, walk Stbx 29th: write, download, call Bill (birthday), sub, apt; walk Hudson, ferry terminal; Chevy's: dinner/drinks Chuck/Jennie and Taylor, walk marina, goodbyes, sit South Cove, talk Frank, apt .
SA: Laundry, clean apt, Bejeweled game; car svc, EWR: slow security, flite, Detroit airport: check in, walk airport, eat/coffee at Online Cafe, Express Tram, gate; exit row; flite: read, Preview, classes; home: see new fence.
SU: Yard work, dog-proof new fence, get girls.

2009 • May 12 - July 7 • with Vegas 5 & Manhattan 2 (surgery)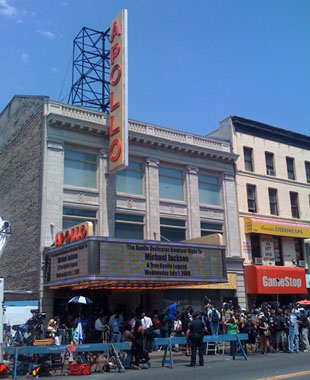 Michael Jackson Memorial at the Apollo Theater The media trucks continued around the corner and up the next block. The line of people continued the other direction, also around the corner and up a couple of blocks. 125th Street was closed to all traffic but buses and emergency vehicles. The photo below on the right is from the newspaper.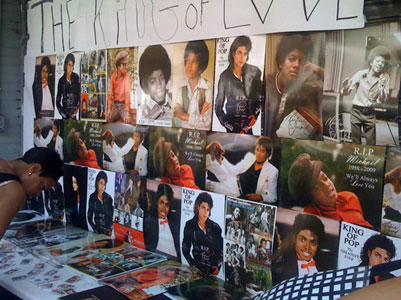 1967: Joe Jackson drove his sons from Indiana to the Apollo Theater so they could perform during amateur night at the famous Apollo in Harlem. They had very little money. He wasn't even sure where they would spend the night. The youngest of the Jackson 5 was Michael, 9 years old. They performed and won. The Apollo wanted them to come back but the Jacksons couldn't afford it. Soon after, Diana Ross saw them perform and she introduced them to the rest of us. The Tuesday after Michael died on Thursday, the Apollo Theater held an open house memorial from 2pm - 8pm. It was part respectful memorial, part party and celebration, and part shopping mall. I went to participate in the event. Michael Jackson's music formed much of the background soundtrack for me in the 1980s. Larry Lewis, one of my high school students, treated me to a ticket to the Victory Tour concert at Texas Stadium in 1984. It was a phenomenal concert. MJ can wow a crowd. Even in death.
Facts: 1. MJ was acquitted - found innocent - of all charges in one of the 2 child molestation charges.
2. The other case was settled out of court to avoid the negative publicity.
3. The mother of 2 of his kids, his family, and friends have all emphatically stated that Michael is not a pedophile.
There is no evidence that he molested anyone. There is precedent, however, that some adults will exploit celebrity millionaires to get money.
4. He did not 'dangle' his baby off that balcony. He had a firm grip around the child. Dangle is the term the media used to sensationalize the event and millions of gullible viewers bought it, without thinking that it was the wrong term. I wonder how the media would report it when dads toss their kids up, "Father abandons child in air" or "Dad lets go of child in mid-air."
Michael Jackson had an unusual childhood, a domineering father, success as a star at the age of 9, etc. Of course, he's going to be eccentric. But what talent. An incredible entertainer. And a great humanitarian. July 1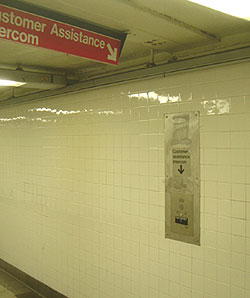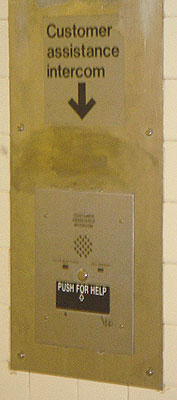 'PUSH FOR HELP' seems more effective than 'Customer assistance intercom'. Does one care if its an intercom, telephone, walkie-talkie, or whatever? - one just wants help.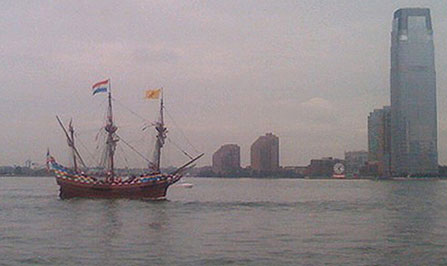 An accurate recreation of Henry Hudson's ship, the Half Moon sailed up the Hudson River on a overcast day. While he was British, he made this exploratory excursion for the Dutch East India Company. June 7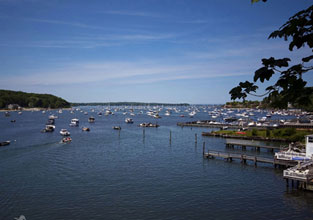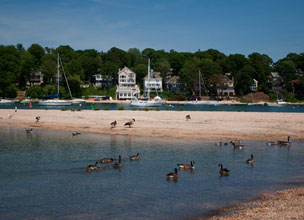 Spent a great day on Long Island: Sagamore Hill, the home of Teddy Roosevelt, lunch of fried clams while sitting outside and sharing stories with a local Islander, and the beach above. Beau, a UCO grad and Battery Park City naber, messaged about taking a train trip on Memorial Day. I replied that I had my car, so we drove. (Fotos by Beau) June 2
Manhattan (the dog) got sick in Manhattan (the city). Months ago she chewed off her collar and apparently swallowed a few pieces. Those pieces eventually wound up in her intestine where they bunched up and blocked her intestine completely. She spent a day and nite vomiting bile. She didn't drink nor eat for about 30 hours. I took her to the vet at 7:59 (it opened at 8:00) and they began a long process of assessment - x-rays, ultrasound, and finally, surgery to remove the blockages. The surgeon cut into her stomach and two places in her intestine. She was away from home from Thursday morning to Sunday afternoon. I was frightened that something would happen to her as something happened to Austin, my first greyhound who died while undergoing surgery. But, all went well. I went to visit her in the hospital a couple of times, just two subway stops from my naberhood. I also wanted her to feel a sense of familiarity and comfort. I was very impressed with the vet in Battery Park City, the surgeons at the hospital, and the staff in both places. Everyone was very caring, competent, and professional. A tough experience that I am glad is over. We now have a week of a special diet, rest, and healing. The fotos below are of the animal hospital in Tribeca, just south of Canal Street.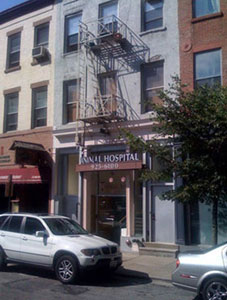 • Accomplishments: New door handle levers, Revised apt/guest info & tour, Sent design guidelines to Edmond Museum, Installed door address sign, Installed new printer, Rearranged LR cart stuff, cart tops, Framed fotos: install in bedroom, Bought new dog-proof, countertop trash can, Bought new vacuum cleaner, Prepped History course syllabus & Lecture 0, Wrote Met Art re wall text, got reply, Bought new microwave, Submitted question of Chrysler Bldg angle, Designed/submitted Thames St Bridge proposal, Spoke at Community Board #1 meeting, Submitted revised essay to BPCA, Spoke with Downtown Express, Designed/submitted Ticker Tape medallions, Submitted essay to Board Landmarks Comm.
• Purged: clothes, closets, books, moved tools to closet/removed cart, bar stools, removed Droog message tape & batter chorus line. Donated 4 bags to Goodwill
• Movies: Objectified, Milton Glaser, Antonio Gaudi, The Hangover
• Shows: Kooza Cirque, Billy Elliot, next to normal, 39 Steps
• DVDs: Iron Man, Dark Knight, Lord of the Rings, 30Rock, John Adams, Knocked Up, Tropic Thunder, Role Models, Sweeney Todd, Whats up Doc?, Billy Elliot, Saboteur, Bourne Triad, Woodstock, Milk
• Books: How to be like Walt Disney, On the Road, From Bauhaus to Our House, do good design*
• Museums: Met American Wing, roof; Whitney: Jenny Holzer; Cooper-Hewitt: garden party, Guggenheim FLW, MoMA with Frank, Cooper-Hewitt: Ellen Lupton book talk.
• Activities: Coffee with Tim Baughman & Rebecca; ICFF; Frank: apt, NY Info Center, Beatriz apt; Dinner with Julie Linn and friends; Walked the High Line; Michael Jackson memorial at Apollo Theater; Fifth Ave: Abercrombie, Armani; Walking tour with Settles family; Library (2 times), Bryant Park, sit at new Times Square plaza.
• Drive, Beau: Memorial Day Long Island, Oyster Bay, Sagamore Hill, Huntington, lunch with Joyce, beach
• Drive, Frank: Connecticut, New Canaan, Philip Johnson Glass House tour, Lorenzo & Gay lunch and dessert
• Wensday June 3: Manhattan vomiting; Thurs: to vet, to ultrasound, to hospital; FR: surgery, await phone calls; • Saturday: visits at hospital; SU: take home.
• Wensday, July 1: call from Debbie/Sandy - Bill worse; • Thursday: rain; FR: Drive: Woodstock site and museum; • Saturday: pack; Sunday-TU: Drive to OK

2009 • October 2-9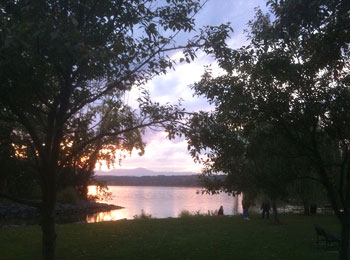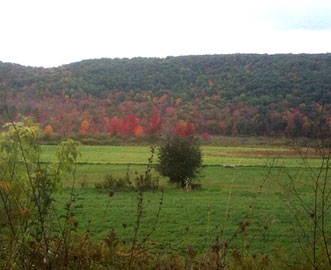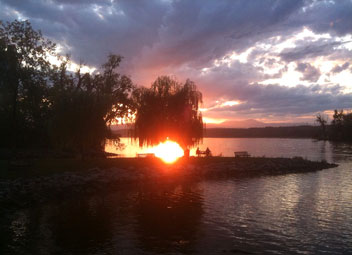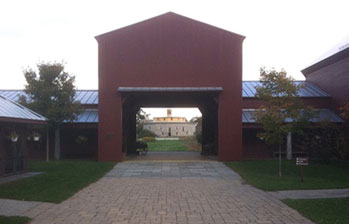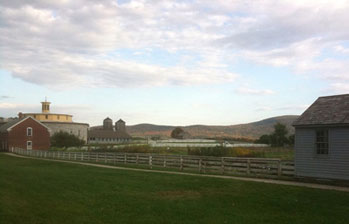 FR: Flight, train with Tim, apt: rest, shop, call/text Sean (in town with Brian)
SA: Subway, Penn Sta. tkt kiosk, train, Hudson: coffee, Warren St, lunch: Baba Louie's, drives, Omi sculpture park, Martin van Buren house, river: ice house ruins, Carriage House, OU game, dinner: Valatie Main Street Cafe, Cumberlands, Carriage House: ice cream, OU game, bed
SU: Scrapbook, pack, drive, Chatham breakfast, Massachusetts Berkshires, Norman Rockwell Museum: docent talks, Lubalin/Post painting, bookstore, Studio; Stockbridge fotos, Lenox snax/coffee, Hancock Shaker Village: museum, Brick Dwelling, round barn; drive Hudson: buy train tkt, sunset at river, dinner: Mexican Radio, train station; train, subway, sleep
MO: Village: Wash Sq, SoHo: Strbx, Apple, sub; work; sub FIT: Paula Scher, halls; brgr, sub, work, bed
TU: Web work all day, Chipotle, sub, Cooper-Hewitt: exhibit, lecture, walk Fifth, Central Park, Fifth, Times Square, Europa, sub, peanuts, River, bed
WE: Sleep late, walk, McD bkfst/latte, sub; MoMA: drawings, design, Ron Arad, caviar lunch, Arad, store; Times Sq: shoes, sub, apt, work, sub; Apple Store: battery, phone, Pop burgers, sub; laundry, Tavish, Hudson walk, Strbx SWNY, apt, bed
TH: Sub, haircut, sub, SoHo: DeanDeluca, buy Crocs shoes, 1st elev, Lafayette, Spring Natural bkfst, new Cooper Union Gallery, Strbx, sub, apt: work; sub Letterman theater: Sarah and Mickey, walk sub Chelsea gallery opening, walk High Line, Meatpacking, drinks rooftop Gansevoort, dinner Vento, cab/sub home
FR: Sub Home Depot, Staples, sub; remove caulk, clean bath, Staples exchange inks, caulk tub, print PP & stuff, mail PP stickers, McCafe, home, laundry, vacuum, clean apt, shower, car to Newark, easy security, Pres Club, flite, Heart fibrillation, Edmond Hospital

2010 • January 8-13
Purge/rearrange apartment, Avatar movie, daVinci exhibit, MoMA: Bauhaus, Cooper-Hewitt: awardees, Ticker stickers
FR: girls to kennel; MJOK ride, flight; long bus ride; apt, shop.
SA: Frank: diner, da Vinci exhibit, Pax, diners; 34th, Staples; apt, rest.
SU: apt: redo; test sticker on Broadway; Staples; D&B, 42nd St: Avatar; apt, rest.
MO: Rockflr City; MoMA: Bauhaus, Tim Burton, lunch, Bauhaus; Times Sq, Discovery gift shop; Staples, snack, Frank's; Madison Sq; apt, Max Bill movie, notes.
TU: apt; Cooper-Hewitt, lunch; bus Fifth; Apple store; Staples: get printouts; Village; apt; Starbucks: emails, web; apt, rest, write.
WE: laundry, clean apt, files; sub delay, walk, taxi, bus to airport; long security; Pres Club, flite; Houston, bbq dinner, flite; MJOK pickup; home: mail, unpack.
TH: get girls, mail away.

2010 • April 15 - June 20 • with Vegas 6 & Manhattan 3


i was enjoying the latest art project in Madison Square Park: Event Horizon by Antony Gormley. Numerous life-size statues perched on tops of buildings overlook the city. It was fun to seek them out and very dramatic to see these characters out of place. There was a crowd gathering so i asked what was going on - Carmen Electra was going to shave guys' chests as part of a promotion for a Norelco shaver. Carmen Electra? Damn, i felt so old - i thought Carmen Electra was a Buick. Seriously.
i was too embarrassed to ask anyone there (who all seemed quite excited over the prospect of seeing this Electra person . . or car). It wasn't until i got home later that i researched her: born Tara Leigh Patrick, married to Dennis Rodman, Playboy model, and movie star who got her start in the chorus line at an amusement park in Ohio.
But, back to the park. decided i better stick around to see the eventness of a celebrity with an entourage. was standing in a prime spot - i purposefully got back by where i assumed they would lead her up on to the temporary stage. didn't care about seeing the guys getting shaved, i wanted to see a star in the city. She is quite stunning, i could see why Rodman wanted to pork her and why she was a bunny, and why guys in the park were so excited. May


• Accomplishments: Installed cable TV, DVR, Internet, wireless router; Send Ticker essay to Alliance & Mayor; Buy iPad; Stuff to Taylor's
• Shows: Memphis (twice), The Addams Family, Cirque du Soleil: Ovo, Bloody Bloody Andrew Jackson
Day trips:
• NJ, Frank: Panera, Stickley Farms: Gustav Stickley's home and workshop, trains, Newark, Juilliard cafe, Apple store
• NJ, Thomas Edison, Frank: Menlo Park, West Orange, Diner
• Museums: Natural History: gems, snack, dinosaurs; South Street Seaport: Deco Normandie, ships; Cooper Union: Design Triennial's Why Design Now?, Medellin arch; Brooklyn Museum: Dinner party; MAD: bicycles, collection, lunch at Robert; MoMA: Matisse, Design & Architecture; Met: Picasso, Bambu, Design, and American Fashion exhibits; ET Modern gallery: sculpture by Edward Tufte
• Exhibits: Library: Hudson Maps exhibit; Grand Central: South Ferry archeology
Design inspirations
• Perused files at the Herb Lubalin Study Center for Design & Typography
• Learned from Stefan Sagmeister at his lecture at FIT
• Saw the film Art & Copy, a documentary on the golden age of advertising, at the Paley Center for Media
• Participated in a panel to assess and improve a proposed iPhone app for the Museum of Modern Art
• Activities: D-Crit conference, Madison Sq Pk; Tea/walk with Julie; Steelcase showroom; Phone call with Marty Crutsinger; AIGA, Eisenberg's Diner, Billy's Cupcake; Grey Dog brkfst, AIA, SoHo; Village: narrow house, Chumley's, White Horse Tavern, Magnolia cupcake, High Line, ET Modern, Viceroy: lunch; Staten Island Ferry, SI terminal; Central Park: Belvedere Castle, the Ramble, Boathouse Cafe, Mall; Craftsman Building, Morgan Library; Dance parade, St. Marks; LES; International Contemporary Furniture Fair and the Stationery Show.
• Frank: Brooklyn Botanical Garden, Library, Prospect Park; sub, Wall St Strbx (Oklahand), Yankees Shop, Pier 17.
• Melinda & Jerry: apt, PJ Clark's, WTC, cab MoMA; NYCA books, leave; B&H, cab: Rosa Mexicana
• Sean & girls: Lil Italy, Chinatown, City hall, downtown, Battery Park, apt; SWNY snax, WTC; MePa: Apple, HighLine, Marimoto? Japanese dinner, Diner dessert; SoStSeaport: Cobbs, bridge, dinner, ice cream.
• Seth: Central Park Zoo: lunch; Strbx coffee, pass Woody Allen, Armory: interiors, exhibit; sub Battery Pk Strbx: 'veranda', telescope model, walk dogs, Marina.
• Michael: Subway, Bronx Zoo: Congo, 3D Dora movie, monorail, lunch, sub; North Cove: Baltimore party, deli dinner; Bowling Green, Mus Amer Indian, sub; Cooper-Hewitt: web notes, snax coffee, garden, bus; Met: Picasso, cafeteria, roof Bambu, Design, Fashion, sub; apt dogs, Times Square, Restraunt Row: Italian; Times Sq: TKTS, Heartland pickles, Memphis; apt dogs, Chinatown, LES: Rivington, Katz, Tavish apt; WTC, walk Brklyn Bridge, DUMBO, parks, Brklyn Heights; apt dogs, High Line, 14th, Los Caminos, sub.
• Taylor: Village Art Bar, MePa: Bill's Burger Bar
• Nancy: Bowling Green/Battery Park/Hudson, apt, SWNY

2010 • August 2-21 • with Manhattan 4
First drive to NY without Vegas. Good 2 weeks - bicycling, Manny, sights.
• Movies: Toy Story 3, Inception, The Morgans, Ghost Writer
Day trips:
• Sagamore Hill, Teddy Roosevelt's home and museum in Oyster Bay, Long Island
• Princeton Battlefield, house; lunch; campus: Nassau Hall, Art Museum lobby, Prospect gardens, chapel, old library; Historical Society, Einstein papers, Panera, Old World Coffee; drive, canal, old bridge; New Brunswick: Pressman factory, train station
• Levittown, the first planned suburban development; Waded in the Atlantic Ocean at Jones Beach with its 1930s parkways, shops, and bathhouses
Activities
• Governor's Island: ride bike, picnic point, drumming/dancing, coffee/yogurt granola/cookie, South African food, ferry; walk Manny - North Cove dancing/drumming.
• Grey Dog, Village, SoHo (twice)
• Governor's Island: ride bike; Union Square
• Central Park: bicycle, walk; MtPk: Los Caminos
• Work on website, purge laptop fotos
• Dog Park friends: Allison, Laura, Jerome, Kim, Leslie (dog Tru put to sleep)
A few fotos (or a phew photos):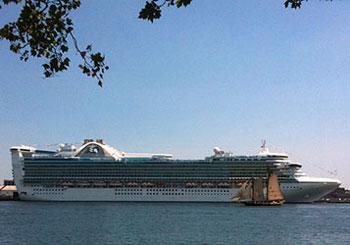 This replica old ship passed in front of the Caribbean Princess cruise ship at the dock in Brooklyn, NY. The sailors on the original sailing vessel would probly have had difficulty comprehending a ship the size of the Princess. Sunset over the Hudson River from the Esplanade by the apartment. Shot on my last nite in NYC for the summer.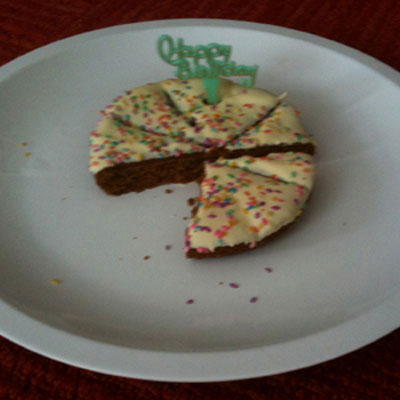 My dessert and coffee at the Museum of Modern Art in August and the cake for Manhattan's 5-year birthday party on August 11, 2010


One painting from the excellent multi-media art exhibit, Empty Spaces, that was on Governor's Island in August, 2010. See the number 60 in the holder - this is a table at TGI Friday's in Union Square. I noticed that this table was at the beginning of a row of tables. The table to the left was numbered 70 and the next row was 80. The rest of the tables in the row followed sequentially. This was an idea I implemented at Friday's in the 1970s. At the time, the tables were numbered sequentially in the main section and lettered in the cafe sections. I developed a system of starting rows with a 10-digits number (10, 20, 30, etc.) so a new employee would only have to count along the tables in each row. It was gratifying to see the system still in use, over 30 years later.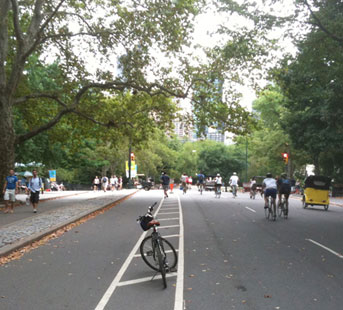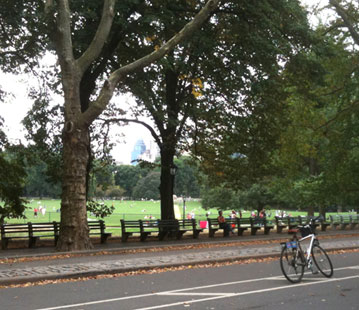 In August, I rented a bike on Governor's Island and loved it - I hadn't ridden a bike in decades. A week later, I was in Central Park and decided to see the park by bike. It was a great ride, but it wore me out - 8 miles in the park and some serious hills (Manhattan is a native Indian word meaning 'Land of Hills'). On Sundays, the interior streets in the park are closed to vehicles and the roads fill with cyclists, skaters, pedicabs, joggers, and walkers.


Grey Dog coffeehouse. View from Robert, the restraunt in the Museum of Arts & Design.


The Bambu exhibit on the roof of the Met. Times Square crowds, now that Broadway has been closed to traffic.


The Manhattan Bridge, from Dumbo. North Cove Marina. Below:The naberhood.



2010 • November 17-22 • NYC & Washington DC
Washington DC Museums/Monuments: National Postal Museum; National Building Museum; Capitol Visitors Center; Library of Congress; Supreme Court; National Gallery/East Wing; Museum of American History; Ford's Theater; WWII Memorial; Washington Monument; White House Visitors Center; White House/Pennsylvania Avenue; National Archives; Newseum.
WE: Manny in, McD bkfst, flat tire: exit 63rd, change to spare; easy check-in: bd pass/phone app; flite, HIA: snax, calls; flite: grade tests, read; bus to PA/42nd, walk to subway; apt, settle, shop, get mail, eat in apt.
TH: Sub to Penn Sta (forgot charger), get tkt, buy bkfst sandwich/coffee, wait, board train, table, read Facebook book, lunch; Union Station; Postal Museum; Metro (poor tkt process and maps); Building Museum: perm collection, 1956 Skyline model kit, coffee and snax, man in line, World's Fair exhibits; walk to hotel, check-in, rest; walk 7th/Chinatown: AT&T, BB&B, buy chargers, 5guys burger, Urban Outfitters; hotel, tv, sleep.
FR: Bkfst hotel (nope), room, deli, cab; Capitol Visitors Center: film in, tour, exhibits, buy pen; walk tunnel to Library of Congress: Gutenberg Bible display (but no Bible), exhibits, reading room; Supreme Court: film, peek in courtroom, front stpes, views; walk Capitol grounds, mall to East Wing, moving sidewalk, sandwich & coffee, out to mall; Sculpture Garden; Museum of American Hist: lunch counter, 66 pavement, shopping cart, parking meter; walk mall, Wash Monument, 15th St, Harry's, sit outside: burger/fries; Ford's Theater, hotel, bed.
SA: Bkfst bars in room, Starbucks coffee, cab, WWII monument, walk Wash Monument, line, elevator, views, walk, White House Visitors Center: exhibits, video; walk Penn Ave, White House, walk to hotel: lunch/coffee, room, pack, check out (donate charger to hotel), walk Natl Archives: Decl, Constit, exhibits, sit outside, walk to Newseum: 9/11, Berlin wall and tower, OKC bombing, Unabomber cabin, Waco, Pulitzer photos, films, Decl printing press; check Matthew Brady's Studio locatiom, sit on Penn Ave, walk to Union Station: Chipotle dinner, wait; train: finish Facebook book, eat sandwich & coffee; sub to apt, sleep.
SU: Recharge gadgets, fix shower; BPC Market: fritatta, coffee; sub, Queens: 5ptz, fotos, Zimad talk, PS1, Diner omelet lunch; sub Times Square: new Disney store, Aeropostale, Walgreen's, sub apt, rest; walk Hudson, WFC: cans, WTC overlook, coffee, marina, walk apt, rest; sub to Madison Square: art lights, SD26: see Vignelli reserv, Starbucks, work, SD26: say Hi to Massimo; Shake Shack dinner, see movie snow, sub; call Frank, bed.
MO: Laundry (3 loads), muffin coffee, sit on Hudson, vacuum, pack; walk Bdwy: tunnel fotos; sub Union Sq, Heartland pickles & Caesar, Pret: coffee/cookie, ABC Conran Shop; Flatiron: Jim Carrey snow filming; sub apt, pack, walk Hudson, car to EWR, check-in, grade tests; flite: finish tests, read Home, Margarita; garage, car, drive home.

2010-11 • December 21 - January 11 • with Manhattan 5 • The Blizzard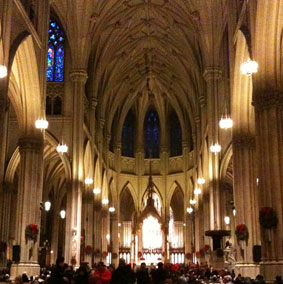 The tree at Rockefeller Center. Inside St. Patrick's Cathedral.
TU-TH: Drives - smooth, rest areas, iPod, McD, poor sleep (nightmares), some snow in PA, then sunny and dry.
TH: Unpack, grocery shop, set up router and tv, Bravo dinner.
FR: Walk, drive car to 66th, shop, bank, subway, tips to desk, shop, work, phone calls.
SA Christmas: Sandy call, Disney parade; cab to Rockefeller Center tree, St Patricks: text Tracy/Jimmy, walk to Times Square, dinner: Heartland Brewery; Walgreen's, sub, tv.
SU: Snow, sub to Radio City: Rockettes Christmas Spectacular, Starbucks, sub home; (pm blizzard) walk Manny, phone calls, tv, read.
MO: (Blizzard am) walk WFC: lunch coffee, call Barbara, read.
TU: Sub: Grand Central: snak, MetLife: donate blood and lunch at Naples; sub home, rest.
TH: Times Square, BowlMor lunch
FR: Walk downtown, be
TU: Laptop work; sub Union Sq: Barnes lunch, Petco, sub, longer Manny walk.
WE: Sub: Grd early (sick, back pain).
SA: Rose Parade, webwork, tv football.
SA-SU: (sick, back pain) Buy drugs; Hudson to WFC; Chipotle; Cosi; taxi to Home Depot, Goodburger, Petco; Battery Park; SoHo: Dean & Deluca, Thomas' art opening.
SU-TU: Drives; snow storm west of St. Louis, evening in Cuba motel, walk to Walmart & McDonald's; MODoT did good job of clearing the Interstate, drive home was okay.
• Accomplishments: Clear shower curtain; wireless router; design websites to iPad; purged bookmarks; uploaded student work and trip diaries; called friends.
• Books: Home by Bill Bryson, The Confession John Grisham.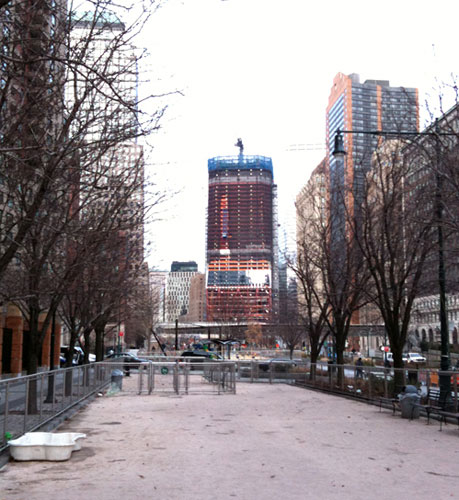 One World Trade Center under construction. As of December, 2010, it is up to 52 stories and 3 lower floors have the reflective glass skin installed. In the foreground is the dog park by my apartment building, which is to the left.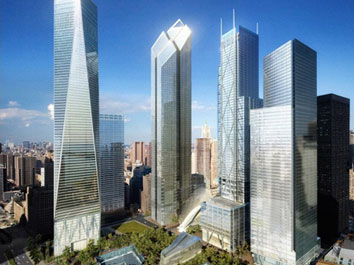 Rendering of the site, testing the water in one of the Memorial fountains.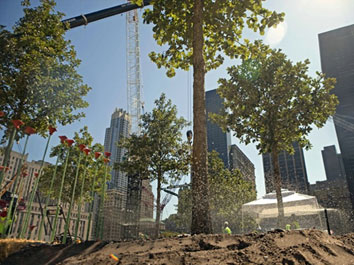 Planting the 'Survivor Tree' from the original site, other trees planted as part of the memorial plaza. December 2010

2011 • May 9 - June 16 • with Manhattan 6
• Accomplishments: Input/update trip diaries, ICFF furniture fair, updated web sites, home screens; sick/backache
• Books: Sci-Fi, Hitchhiker's Guide to the Galaxy,
• Visits: Greg Skaggs and Pam: Chinatown, MoMA coffee, Taylor: blog talks, Seth: Union Square, South Cove, Jill: midtown, Joyce & Don: downtown tour
• Shows: Spiderman: Turn off the Dark, final shows of Oprah, (back pain)

2011 • August 13-19
• Airflite ordeal: delayed flite, rebooked, Peoria tarmac, cancelled flite, fly standby; return: delayed flite
• Accomplishments: Dreamweaver sessions, website notes
• Visits: Jim Henson at Mus of Moving Image, SoHo, Columbus Circle, MoMA: Glaser and Comm Objects, High Line & cafe, Village

2011 • November 8-13
• Flite: upgraded to First Class for extra $40.
• Films: Tree of Life video, Urbanized
• Visits: Occupy Wall Street, Negro Burial Ground, 9/11 Memorial, Apple Store, UniQlo, Village, East Village
• Museums: Museum of Arts & Design: Modernism Crafts, MoMA, Lubalin Study Center
• Shows: Bonnie & Clyde musical, Satyagraha, Philip Glass opera at the Met
• Visiting the new 9/11 Memorial
• Occupy Wall Street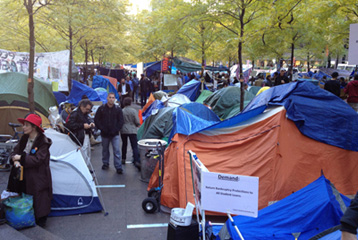 This quote from Adbusters says it well: Our system of economic growth, of ineffective democracy, of overloading planet earth, of unfettered corporate greed plus a trillion dollar ad industry urging us to consume ever more - this system, our system - is in the process of eating itself alive.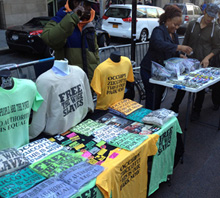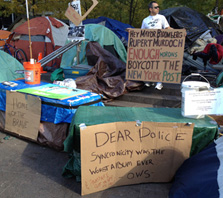 • Negro Burial Ground During construction for another Federal Building in 1991, some graves were discovered. It was a part of a much larger burial ground used by African immigrants to early America. An estimated 15,000 Negroes were buried at the site until it was closed in 1794 when the land was divided and sold as lots. in 1992, 419 graves were dug up, researched, and reburied at the site and a memorial and National Park Visitor's Center was established. Well worth a visit - fascinating stories, artifacts, and the very well-executed visitor's center is free.
• New entry to the flagship NYC Apple Store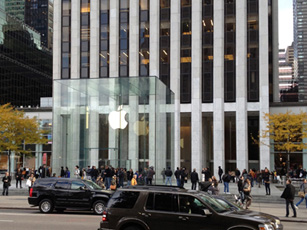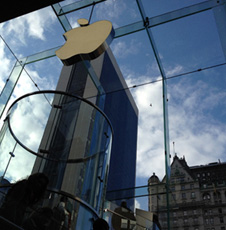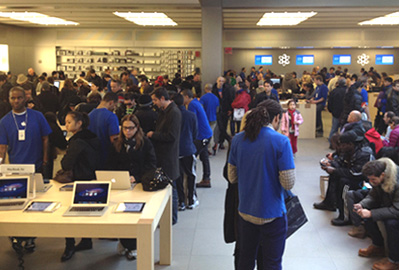 Steve Jobs had explored extensive use of glass, beginning with the staircase in the factory for NeXT Computers. When he Returned to Apple, he took the glass fetish with him. It is now a trademark icon of the Apple Stores. Steve was never quite satisfied with the glass cube at the entrance to the store on Fifth Avenue by Central Park and the Plaza Hotel - it had too many panes. In the fall of 2011, the cube was removed and a new one, with fewer panes, was installed.
Critics and advisors told him to not invest in retail stores - Apple only had a few gadgets and computers on sale, why store? People said there wouldn't be enough traffic to justify the expense. The store is open 24 hours and often has to use queue lines outside the store to manage the crowds. All of the product info is now on iPads.
• An evening at the Metropolitan Opera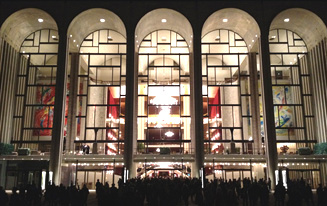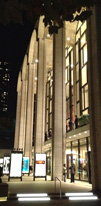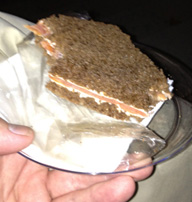 I love music by Philip Glass. I first heard it while watching Koyaanisqatsi in the 1980s. Mesmerizing. I had been hoping to catch a Glass concert in NYC, but they never coincided with my visits there. This fall, The Metropolitan Opera produced one of his operas, Satyagraha. Great. A Glass opera at the Met. I'm not a huge opera fan (heck, I'm not even a small opera fan), but The Met and Philip Glass. Gotta do it. It was a fun evening. People were really dressed up. I no longer have dress-up clothes so I wore a white dress shirt and khaki slacks. I felt a bit self-conscious, so I walked up to the upper levels where the cheaper seats were. People up here looked more like me. Aah, I could fit in a bit better. Right before curtain time, I walked back down to the dressy sections and took my seat. It was a long opera: 8p - 11:50p, with 2 30-minute intermissions. During the first, I bought a delicious sandwich of smoked salmon and cream cheese on pumpernickel bread. I took it outside and sat under some trees and enjoyed my dinner at the Met.


Astor Place lightpoles: This is a great area of Manhattan. It is between NYU and Washington Square and the East Village. Going off in one direction is St. Mark's Place where Jimi Hendrix played and Madonna lived. To the south is Cooper Union, both the original classic building where Abe Lincoln spoke and the new building where the Herb Lubalin Study Center is located. Nearby are McSorley's Bar and Bill Graham's Fillmore East concert hall. Milton Glaser did huge murals down below in the Astor Place subway station. It is a center of creativity in the busy city. Here are light poles ablaze in bright colors. Simply cable ties wrapped around the poles.

2012 • Febuary 29 - March 4
WE: Flite: delay OKC & CHI, wrote iPad, 1st Class: watch 30 Rock & Family Guy, wine; taxi, condo, Allen, sleep til 9:20.
TH: Bkfst George's, sub: GCT: largest Apple Store Grand Central, buy booster, Transit Museum: London posters, Japan exhibits, sub, help tourists, rest, emails, feel home; sub, Chelsea: Doughnut Plant, sub: Times Sq, buy How to Succeed tkt, walk, Heartland: usual, sub apt; rest, river, shop, apt, tv.
FR: Bkfst, meet/discuss apt broker; taxi, MoMA: uniform notes, stores; walk, lunch cookies, sub, apt, rest; walk to Mem passes, sub: Times Sq, snack, How to Succeed in Business, Nick Jonas, rain, sub, apt
SA: Bkfst in apt, meet Seth: 9/11 Memorial, WFC, arcade, Irish Hunger; river, apt, rest; taxi Hilton, no; MoMA: coffee, design exhibit; sub Union Square: sit at Gandhi, Taylor: Rosa no, Coffee Shop; sub, apt.
SU: Laundry, bkfst, AFib episode, pills, eat, rest; car to Newark, easy check-in, recharge, flites: 1st Class, write blog.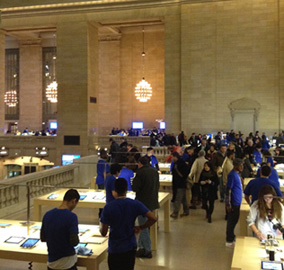 The largest Apple Store opened recently in Grand Central Terminal on 42nd in New York City. The Terminal prohibited too much altering of the historic structure, so Apple kept the store very minimal - the Terminal stone walls and marble floors. Apple moved in their standard store fixtures and furniture and mounted some signs on the walls and in glass pylons on the floor. The Genius Bar, One-on-One classrooms, and accessories are each in separate rooms, some beneath the globe chandeliers in the background.
Trivia, Part 2. Grand Central is named a Terminal because the train lines terminate (end) at that location. Penn Station is a station because the lines pass through (under) the facility. It is a station on the rail line, Grand Central is a terminal.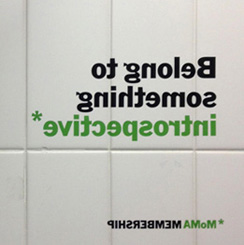 Nice use of the mirror at MoMA. A symptom that shows that the designer considered the location where the slogan signs would be mounted. As all designers should - the surrounding environment is an integral factor in the success of any design project. The other sign was directing museum visitors and bathroom users to download the MoMA app. I served on a focus group that tested a beta test version of the new app. I enjoyed the opportunity to provide some input and suggestions on how to improve the app.
Below: left: People do lots of things while riding the subway, but this was the first time I had seen someone open up and use their laptop. Right: I had read about the Doughnut Plant on 23rd Street, at the base of the Chelsea Hotel. Had to try it. The filled peanut butter and banana was my favorite.





2012 • May 29 - June 6


TU: Starbucks bkfst, girls to vet; airport: delay, yogurt, coffee, newspaper, board; flite (2hour 33minute delay) website; WashDC: flite board errors, flite cancelled, line: hour wait - book new flite on app, change terminals, several gates, check in: paper bd pass, eat Five Guys burger, delay: 5 hours in terminal, move JFK flite (leaving after 1a) to Newark flite leave 12:01a (16 hours in planes and airports), easy flite; pills, cab home.
WE: Sleep til 9:30; walk Hudson, Cosi bkfst, new Conrad Hotel, WFC, WTC overlook, Conrad movie MiB3, bagel lunch: North Cove Plaza, shop, talk apt with Jim & Tommy, apt; see Anna, coffee, Battery Park: 1961 bench, walk labyrinth, debate apt, carousel const, Bowling Green, Broadway, Occupy park, apt; river: sunset, Wagner Park grass, shop, apt: tv, bed.
TH: Apt bkfst, calls; sub Union Sq: call Ed Jones, SethTalks: sub SoHo, Dia galleries, Angelika Cafe, AIA, Wash Sq; Carmine: yogurt, coffee, buy wallet, sub, apt; talk with broker Heather (no have to prep apt); walk Hudson, Conrad Greens salad, walk West St, apt.
FR: Apt bkfst, org sell notes, call lawyer, call Heather; sub Times Sq: Spy exhibit, Junior's: lox bagel lunch, buy Ghost tkt, check on Mormon; sub apt; sub 14th: walk Village, Vitra, Apple, Taylor & Karen: Tavern on Jane dinner, beers, walk, sub, apt.
SA: Apt bkfst, printer; cab, ferry, Governor's Island: Castle Williams tour, rent/ride bike, sit, Cuban sanch, snax, rides, lay grass, Ft Jay, GD exhibit, ferry; Strbx Batt Park, Hudson, apt; hear Disney ship, walk to J&R: buy iPad keyboard/cover, WTC, North Cove plaza: veggie burger, beer, Hudson, shop, Hudson, apt; laundry, sit at river, apt: Thunder game.
SU: Apt bkfst, work in apt; sub Apple Store: keyboards, Central Park: violins, sit at literary, volleyball, Bethesda, snax Sheep Meadow, Strawberry Fields, 72nd, sub; apt: open houses, tell Heather plan to wait; apt, walk Esplanade, shop, river, apt.
MO: Apt bkfst, purge files, call United: 65 minutes, sub; MoMA: lunch, alphabets, store; sub, 29th/Park: Starbucks, sub Battery Park, Hudson, apt, work, shop, apt, Thunder game.
TU: Apt bkfst, apt work, sub; Goodwill, Eataly, Madison Square Park: pret lunch, sculpture; AIGA, walk Bdwy, Dish Eddy's, Union, sub; apt: rest, work, eat; sub, Times Sq: snak, Ghost, sub; apt.
WE: Apt bkfst, laundry; Dave Harris: walk Hudson: see Shuttle barge, sub to Meatpacking, lunch: Dos Caminos, walk Hi-Line; cab to WFC, walk Hudson, apt; car to LGA: flite delayed 2 hours (would miss connection), agent got me on earlier flite, last row, window, but OK - got work done; O'Hare: walk terminal, Chili's: long wait, asked for ID, long wait on salmon - I left, Stanley's: crab cake salad, beer, hair in salad - returned, perused shops, ate from tea shop, gate: watch Thunder game; smooth flite, drive home: check storm damage on vinyl.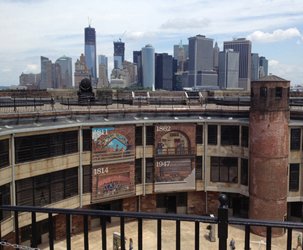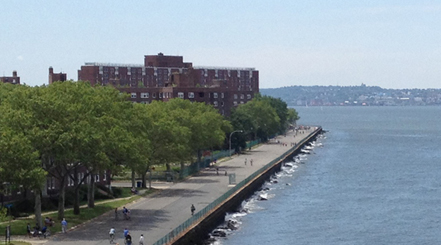 A War of 1812 circular fort with the skyline above. The esplanade along Governor's Island.


The skyline of lower Manhattan. 1 World Trade Center reaching up and to its right, 5 World Trade Center under construction.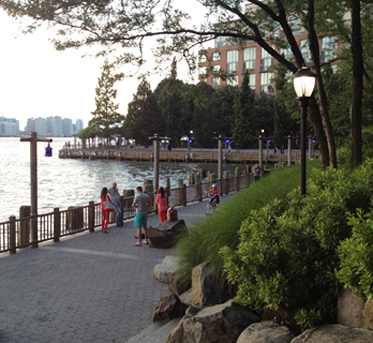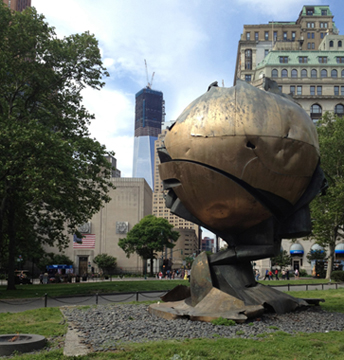 Through the windows at the Museum of Modern Art. South Cove in Battery Park City. The WTC Sphere with the new 1WTC tower rising in the back and the MiB headquarters. the Shuttle on its way to its new permanent home at the Intrepid Museum.



2012 • August 11-17
The beginning of the fall semester was approaching. Uh oh, I better get out of town. Watching the Olympics made me long for a trip to a cosmopolitan city. I needed a NYC fix.
SA: Girls in; bkfst airport; flites, trains; WFC, Hudson river; apt, shop dinner.
SU: Bkfst apt; Hudson, shop groceries, apt; Battery Park: dance, coffee cookies, fountain kids, apt: Olympics; walk 9/11: see new Tribute logo, Gristede's snax, apt: tv Olympics Closing Ceremony.
MO: Bkfst, tv: Olympic wrap-up, dogcam; taxi, NYPL: Lunch Hour, scone coffee; Pret lunch in Bryant Park, walk 42, Grand Central, sub Battery Park, apt: rest, coffee shake; sub, Union Square: walk, Goodburger, Warhol bldg, ice cream cookie, sit, Lev discussion of words; sub, apt, bed.
TU: kfst apt, mail, Tommy/Heather, web, videos; bus to Seaport, Museum: film, bus; apt, rest; walk dog park: brindle grey, Memorial line, 9/11 Memorial, find my cobblestone; WFC plaza: taco, walk Hudson, sit at dog bench; apt, web.
WE: Bkfst apt, emails, dogcam; taxi, Met: roof, Petrie Court Cafe: salmon salad lunch, American Wing: Lincoln, Civil War, Cross Delaware, Research: Tiffany, Wright, Cafe: coffee fruit, shop, Egyptian; taxi, apt: rest, dogcam.
TH: Bkfst, sit Esplanade by dog park, sub, Coney Island, Nathan's crab roll sandwich, sit, wade ocean, Luna Park: watch rides, sub; apt, rest, help to Times Sq, sub, 23: Doughnut Plant, BG YMCA, sub Christopher St, walk West Village, dinner: Caliente Cab, walk Bleeker St, sit Father Square; sub, apt.
FR: Bkfst, dogcam, laundry, apt; walk Wall Street, help tourists, Starbucks, apt, pack; car to LGA, flite with Dubai discussion, United Club: dogcam, web, flite with dumb Okie family.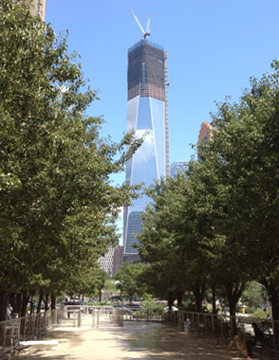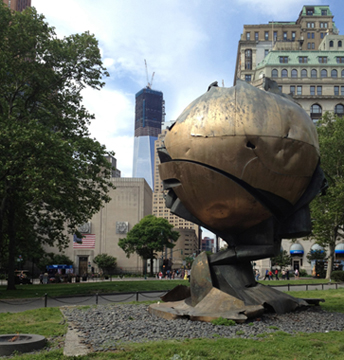 The new WTC Tower as seen from the dog park by the apartment. In Battery Park, sits the sphere that used to be on the WTC Plaza. It is about to be moved (maybe just put into storage) and there is much discussion about moving it back to the WTC site. Some (including Mayor Bloomberg) feel there should be no signs of destruction on the Memorial site. Others (myself included) feel there should be - as a tangible reminder of the historic site. On a lighter note: the solid concrete building in the background on the left served as the Headquarters for the Men in Black.


A sunny afternoon in Bryant Park. A shot of a couple of tired tourists.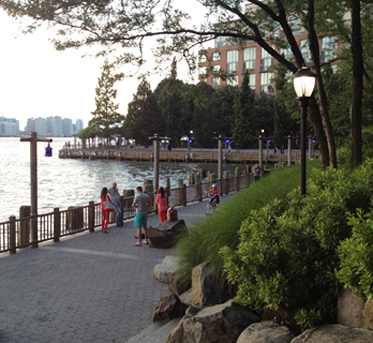 South Cove by the apt. My lunch at the Met - a delicious salmon salad overlooking Central Park.



The boardwalk and beach at Coney Island. I was there in 2006 - it was time to get back to the ocean. More fotos and stories.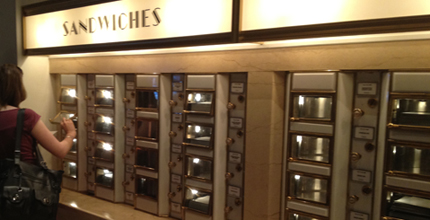 The NY Public Library had an excellent exhibition on Lunch. Included was this original section from a Horn & Hardart Automat - put a nickel in the slot, turn the knob, and retrieve your item. These were all over Manhattan in the 1950-70s. There are none left.


While in the library, I spotted these relics - phone booths, with pay phones. These may become obsolete. Although, I hope the concept of a booth in which to make phone calls comes back. Wouldn't it be great if people were considerate enough to step into a soundproofed enclosure when speaking on their cell phones.



2012 • October 16-21


TU: Girls in, airport priority, smooth flites: grade tests exit row; taxi, call Frank; apt, river Chinese takeout, unpack, bed.
WE: Bkfst apt, taxi: Apple 14th, meet John: walk HiLine, Starbux; subway apt: lecture images; walk Battery, sub SoHo: Puck glasses, Apple, sub, George's lunch; apt to fart, lecture images; river, shop, apt TV.
TH: Bkfst, make fb cover; sub: Columbus Circle, Seth, statue living room; Central Park: walks, lunch cafe, Literary Walk, Bethesda, Cherry Hill, Imagine, Elaine guide, NY Historical: coffee, store; sub Jehovah, Rector, Tommy/Lucky, river, apt: fotos, TV.
FR: Apt: fotos, bkfst; sub: Village, Goodwill, Joe coffee muffin, sub, Rock, MoMA: childesign, cafe5, store, sub; apt: rest, work, River, shop, apt: work.
SA: Apt bkfst, email, photos, lecture, OSU game; sub: Times Square pizza, cookie, Book of Mormon, bar: Taylor & Karen, Times Square: waffle, lights, crowd, sub; Union Square, subs, Battery Park; apt.
SU: Laundry, bkfst; Walk Battery Park, Broadway, yogurt, Zucotti, Cent21 foto, Fulton Sta, sub; Union Square: Panera, bench, sub SoHo, sub Bowling Green; apt, pack; car EWR: Club: grade; flite: tests, fotos; O'Hare: run to gate, 1st Class, lecture, snax; home, unpack.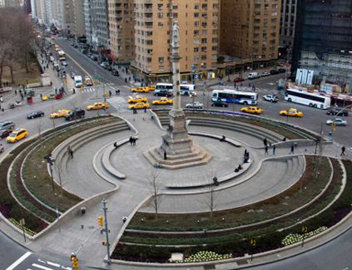 During my Fall Break escape (from the election madness) to New York City, I was eager to check out a temporary art exhibit at Columbus Circle. The artist, Tatzu Nishi, is known for his installations that give access to our urban environment that radically alter our perceptions. For his first public project in the United States, Nishi focused on the historic statue of Christopher Columbus at the southwest corner of Central Park.
Nishi built a fully decorated living room around the colossal 13-foot-tall statue of Columbus that stands atop a 75 foot granite column. The statue was unveiled in 1892 to commemorate the 400th anniversary of Columbus's first voyage to the Americas. Despite its prominent public location, the statue is visible only as a silhouette against the sky or at a distance from surrounding buildings. Discovering Columbus was quite Dadaistic in that it forced the viewer participant to see a standard NYC statue icon in a whole new way - a new context, a new orientation, and a new experience.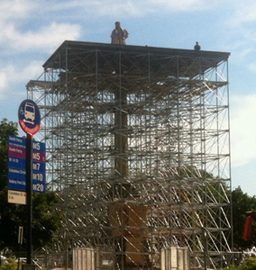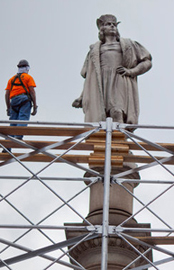 Nishi even designed wallpaper inspired by memories of American popular culture, having watched Hollywood movies and television as a child in Japan.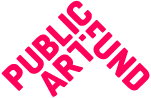 The exhibit was sponsored by the Public Art Fund. In their logo, on the left, is a unique treatment of text only, forming an arrow pointing up, possibly to suggest that experiencing art is uplifting and a contributor to growth and aesthetic enlightenment.
Notice the point where the three words are in close proximity - the inside corner. If the words were spaced evenly (in the middle), the arm of the T would prevent the vertical stroke of the T from tucking under FUND. There is then a trapped awkward space formed by the T and FU in FUND. One solution would be to make a ligature of the T and F, tightening up that space (on the right). But that creates an awkward clunky letterform. The logo designer wisely separated the words into sections thereby creating a square dot that sits in the corner as a focus. That dot serves as the barb in the logo to provide uniqueness and memorability.

One of my most eccentric habits


I had spent much of a day wandering through the massive Museum of Modern Art. I took a break for an afternoon meal at Terrace 5, one of three eateries in the museum.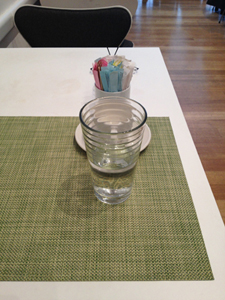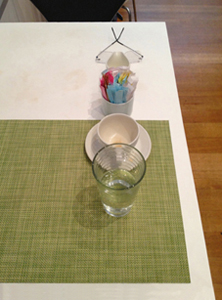 After a meal of salmon bruschetta, shrimp noodle salad, and an apple cobbler sundae, I arranged the unbussed items in this straight line. The order and alignment felt right at home in the museum.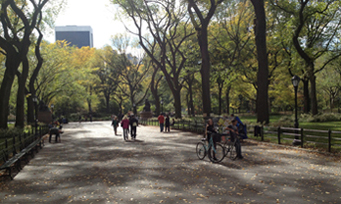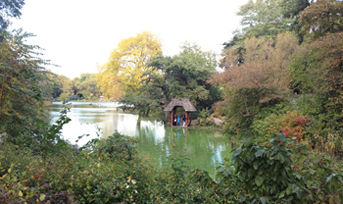 I spent an afternoon in Central Park, talking over the nation's ills with Seth.


Panorama of Union Square on a cool October afternoon.

2012 • November 27 - December 2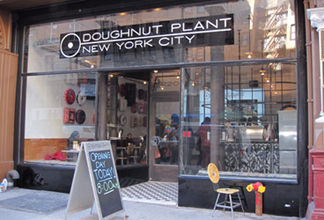 I have been trying to eat healthy and lose some weight. This was dinner at the Doughnut Plant in the Chelsea Hotel on 23rd in NYC: Tres Leches (half-eaten) and Peanut Butter & Banana.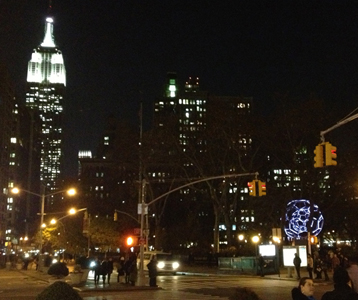 After buying some stain at Home Depot - I needed to seal and protect the wooden chairs on my balcony - I was walking along 23rd Street to the subway stop at the Flatiron Building. As I approached Madison Square Park, I couldn't help but notice the glowing geodesic ball in the park. Inspired by the work of Buckminster Fuller, Buckyball by Leo Villareal applies concepts of geometry and mathematical relationships within a towering 30-foot tall, illuminated sculpture. Buckyball features two nested, geodesic sculptural spheres with 180 LED tubes arranged in a series of pentagons and hexagons. Individual pixels located every 1.2 inches along the tubes are each capable of displaying 16 million distinct colors and will be specifically tuned by the artist's own software, creating a subtle and sophisticated palette.
TU: Girls in, drive, WRA: check vacuum box, grade tests, nice flite: grade much of tests; Houston: Bubba's lunch, old silent couple, flite: tests, web, read; baggage claim, car, call Frank; apt: river, shop, unpack.
WE: Bkfst apt, sub: 42nd St, snak, buy postcards, Newsies; theater, sub, 23rd: Doughnut Plant, Home Depot: stain, smoothie, MadSq: Buckydome, subs, Battery Park, apt: tv Rock tree, fotos.
TH: Bkfst, stain chairs, webfotos; deliver vac, walk: WallSt, East Esplanade/pier, South St flood, lunch, WTC, WFC: Starbucks, sit, walk; apt: chairs, rest, fotos, sub: Times Square: subway station, scone, Microsoft store, Marquis: Evita, Times Square: empenadas, sub, shop, apt.
FR: Apt, meet Scot on West/Thames, park truck; apt, walk Hudson, WFC, WTC: Memorial, Broadway Pret, sub: Grand Central: Apple, transit, Pylones, 42nd St, sub: Battery Park, apt; rest, eat, sub: Starbucks 29th/Park.
SA: Apt bkfst; subs/walk, Hilton: Science of Happiness; MoMA: Cafe2 salmon, The Scream, Quay Brothers; subs; apt: tv, eat, rest; subs: Apple Store: Seth, bathroom, Barney's, Burger Heaven, St. Patrick's, Sak's light show, Rock tree, chestnuts, subs: Union Sq: sit, shops; sub: apt.
SU: Laundry, bkfst, clean apt; sub Union Square: waffle coffee, bench, walk perimeter, Christmas shops, sub: Battery Park, River, apt: pack; car to airport, stupid TSA line, flite: grade tests, O'Hare: eat, web,flite: web and talker; drive home.

2013 • January 17-23
TH: Girls in, smooth check-in, flite; IAH Starbux lunch, flite; car, apt; shop, unpack, bed.
FR: Rest back, bkfst, Cloverfield movie; walk, Starbux, Battery park, drugstore, river; apt, rest, tv.
SA: Rest back, bkfst, sub, Union Square: greenmarket, Starbux, sub; apt rest; walk: Hudson WFC Starbux WinterGarden, call Frank, shop, river sunset; apt, web, rest.
SU: Apt bkfst, sub 23rd, Home Depot: nite lite, Pret: lunch coffee, Madison Square, call Renee, buy scarf, wander Eataly, sit Flatiron, violinists, sub, Hudson sunset cruise ship, apt.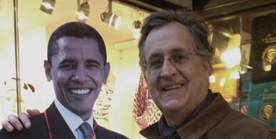 MO: Sub to Penn Station, Dunkin bkfst, board train; late bkfst from cafe car, looked out window: Edison, Pressman, Philly; prep afternoon: water, stretch, bathroom; Union Sta, walk Senate Office Bldg: no tkt, streets, hear cheers from mall, wait in security line, walk parade route; Parade: Barack & Michelle, Bidens; walk route a bit, eat empenadas; leave security, coffee, Ford's Theater, Spy Store, Strbux: yogurt, Union Station: food court, line "Sr Citizens", board, full train: Brklyn teacher, wine, trail mix; Penn Sta, waiting subway, apt: CNN Inaugural Ball, bed.
TU: Apt, load/tweak fotos; sub SoHo: Apple, Camper, Warby, Starbux, MoMA store; sub, apt, blog work/upload, watch Inauguration ceremony.
WE: Apt, web, laundry, clean; sub: Times Sq: Hard Rock lunch, Bryant Park: ice skaters, NYPLibrary: new plans, chat with Trustee, Dickens, Lunch, Grand Central: squash, Apple, sub; Fulton, WTC, River, buy bars, apt: pack, fotos, car to EWR; easy check-in, lounge: eat, work; flite, OKC, home, bed.


I had recently downloaded the Rio version of Angry Birds and, as usual, was somewhat obsessed with freeing the innocent caged birds. I took a break to go up to Union Square to get afternoon coffee. I looked up from my table - see what was painted on the truck on the street? Those dang birds. The fotos are of two Starbux: Union Square on the right and Battery Park on the left.


Sunset over South Cove by the apartment. Lady Liberty is tucked between the tree trunk and the lamppost on the left.



The new Camper store in SoHo
Branding (an attitude in the viewer's mind) of a product, company, or store can be achieved in many ways. In this store in SoHo in New York City, the entire store is exploited to reinforce the brand name and logo. The corporate logotype, layout, and color are exploited as the interior theme.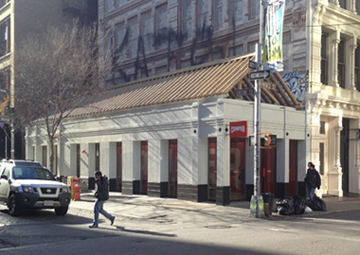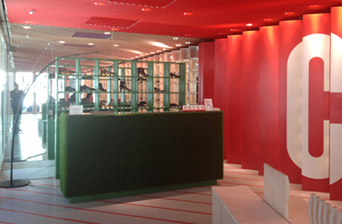 Viewed from the street or upon entering, the customer sees very little merchandise - the dominant element is the wall with the brand logo and colors. But, after walking in a few feet, the eye is drawn back to that red wall which has now become a cover for the shelves of display shoes.


The wall opposite of the shelves consists of sliding mirrors that fill the blank walls between the windows. The mirrors slide open to reveal storage closets. The back wall, behind the green counter is also mirrored, creating almost an effect of looking into infinity.



2013 • April 12-13 • Illinois
FR/SA: Drive to Effingham, Illinois, Super 8 motel: check-in, rested from 6:30-8:00. Shopped at Walmart: pillows for dogs in back; bought salad, drove around, walked dogs. Room: ate dinner, took sleeping pill. To bed. Very noisy location: front door chime, doors slamming, voices, night clerk talking with friend. Later walked dogs, took second pill. Still noisy. Worked puzzles, read news, facebook, reddit. 4:00a - got excited by getting up and driving on back home. So, that's what I did. Was fun to drive in the dark, St. Louis by dawnlight. Drive home: 4:15am - 1:45pm. Unpack.

2013 • April 17-24
WE: Bkfst, walk dogs, to vet, Renee ride to airport, check stereo, carry on cart; flite: empty seat, CLE: yogurt & bagel, flite: empty seat, oversize luggage claim, car to apt; unpack, set up stereo, cart; walk river, Chinese food wine, shop; apt: TV, bed
TH: Bkfst, email; walk WTC, City Hall tour; sub City Hall Sta, Union Sq: Pret lunch, BarnesNoble; sub, apt: rest; walk river (drizzle), empty WFC, Goldman alley, Blue Smoke dinner; BarnesNoble, Bed Bath; walk river, apt: emails, fotos, tv, bed
FR: Bkfst, tv; talk with Bob: apt; call vet, walk Wall St, plaza, Chipotle, Starbucks, Tweed: no keys, backtrack to apt: keys, rest; walk river, Battery Park, Strbx, Bowling Green, Ferry plaza, park/river; apt rest; River sit, apt: work bed
SA: Apt: bkfst rest work, walk downtown; rest, sub Grand Central, sub 5pointz, Mets Field, Cirque line, pretzel coffee, Totem, sub; Times Sq, HB dinner, Times Sit, sub, mech diff at Franklin, met Toni who was trying to get to Conrad, we walked, got bus to Conrad, goodbyes, walk river to apt, bed.
SU: Apt: bkfst, work; sub, Madison Square: pee under Shack, walking tour, Strbx lunch, Home Depot, Tiffany factory, MadSq park: Frank, Lubalin office, Strbx 29th, sub, river; apt, walk river, bed.
MO: Bkfst, work: Contents; cab traffic, MoMA: cafe 5, Oldenburg, store iPad grip; sub: Transfer, GrCent: pee, cookies, sub, river, apt: rest, sub SoHo, AIA: Seth, Woolworth lecture, walk Demo Square: dinner, Village, sub, apt.
TU: Apt: bkfst, work, uploads; sub 86th, walk Guggenheim: crappy stuff, lunch; bus 5th Ave, Apple pee, sub apt: rest, Meindal called, sub, walk block, Nederlander: Newsies, sub, apt.
WE: Apt: work, walk, bagel bkfst, north cove, fotos DisneyNY; apt: rest; walk fotos PierA, park, Bowling Green, FiDi: Bravo lunch, Wall street, apt; pack, clean; see river, car to EWR, easy security, wait work, flite single exit row, work; cab to 424; unpack, mail, bed.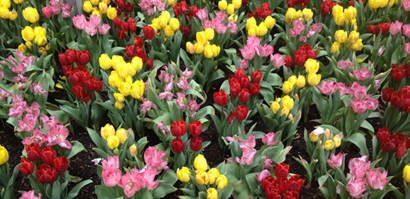 Zucotti Park, former home of Occupy Wall Street. Bowling Green.


New York by Frank Gehry, the tallest residential tower in the Americas, in the Financial District of Lower Manhattan.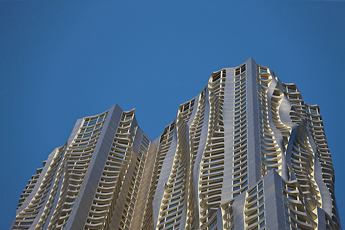 MoMA sunlight and looking up at the AIA Gallery. A somewhat crappy exhibit, but nice atrium at the Guggenheim.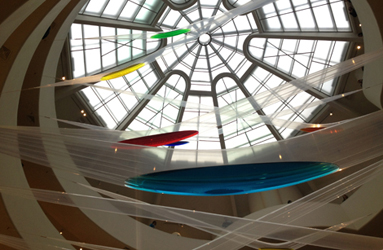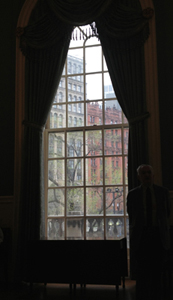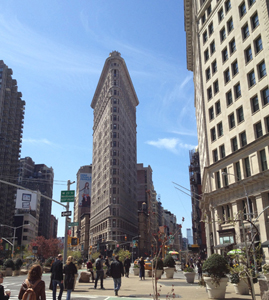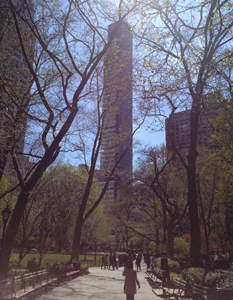 Shots from tours of City Hall and Madison Square Park.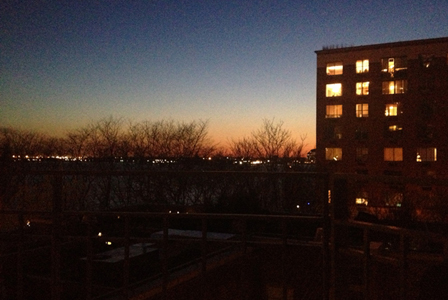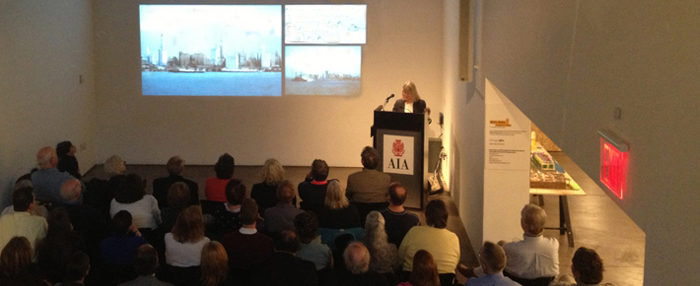 2013 • June 25 - July 2


TU: Walk dogs, to vet, drive airport, park, security, bkfst, flite, IAH: lunch, delay wait, flite; LGA: car RFK bridge FDR, apt: river, unpack, walk Hudson WFC, SWNY dinner drink, groceries, apt, mail, bed.
WE: Apt bkfst, email, photos; sub Madison Square: strawberries & cream, Strbx, Depot shower, MoMath, Eatalys bathroom, Seth walk Armory, 19th Block Beautiful, Gramercy Park, National Arts Club, Big Daddys Diner: coffee & omelet, Stuyvesant Sq: sit, greys, Union Square; sub Battery Park, Hudson, apt rest; river view, apt dinner bed.
TH: Long sleep, bkfs, BPMarket coffee, sub, Chambers: pizza, BB&B shop, WFC, river, apt rest; ride bike: path and river; shower, sub Times Sq: walk 8th; Kinky Boots, slight rain, sub: apt, cereal, bed.
FR: Apt bkfst, emails, subs: MoMA: Rain 7.5 hr wait, lunch Cafe2, Design, Corbusier, rain viewing, store; sub, apt rest; bike to Bowling Green, sub to Grand Central, walk KFC Bryant Park, sit eat, walk Times Sq, sub, ride bike; apt bed.
SA: Apt bkfst, bike to ferry; ferry Governor's Island: exhibits, sit, Eva's salad wine, art golf, rocking chair, ferry, Strbx: Bowling Green, apt rest fotos, bike - BowlGrn, sub Bleecker, Bowery dinner: Bowery Bar&Grill, walk Cooper, KMart, Astor sub, apt, river, shop, apt, bed.
SU: Apt bkfst, bus/sub: Village Bleecker, Pridefest, Strbx lunch, sit 'dog' park, bike 2 blocks, subs: Grand, Little Italy, edge SoHo, subs BGreen: bike WFC Hudson, apt, rest, bike street & Hudson, Conrad, movie: This is the End, walk Hudson, Mediterranean dinner, river, shop, apt bed.
MO: Apt bkfst rain, bus to Strbx, sub 86th, Guggenheim: Turrell; bus: 72, walk Central Park, lunch walk, sub WTC Strbx, apt: rest, bike/sub: Union Sq (lost umbrella), Heartland dinner, Union Sq, subs Bowling Green: find umbrella, ride WFC Hudson, river, Thames, BowlingGn, walk Hudson, apt, bed.
TU: Apt: bkfst, laundry, clean apt; bike to BowlGreen: fotos, bike back; shower, car to LGA: easy check-in, snacks, flite: good work done, IAH dinner, flite, car, home; water, mail, bed.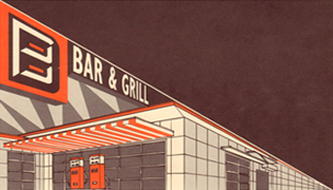 Standard, a painting by Ed Ruscha (an artist who lived in Oklahoma for 15 years before moving to California). The logo image for the Bowery Bar & Grill, just south of Cooper Union. the Bowery's outdoor dining area.


A park on 13th Street in the West Village.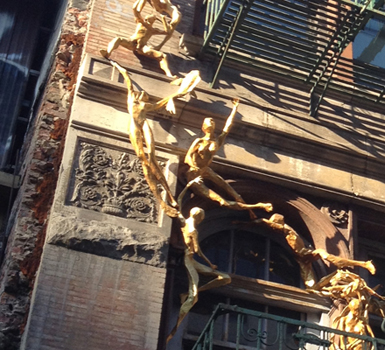 Some wonderful sculptural figures on a building in the Bowery.



Taking a break in the MoMA Sculpture Garden.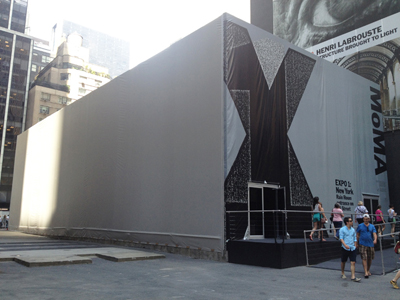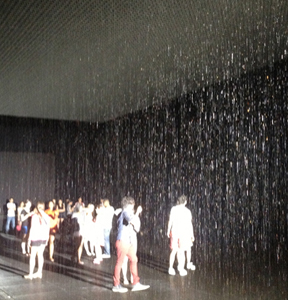 The Rain Room at MoMA. This was a space with rain (drops of water) falling through thousands of holes in the ceiling. There was a sensor that could notice where parts of humans were and stop the drip over those parts. If you moved slowly through the rain, you would not get wet, but be surrounded by falling water. Pretty cool - worth checking out. I checked online and learned that there could be long lines. I got to the museum in the morning and asked at the desk how long the wait would be. Seven and a half hours. Huh? Yes, seven and a half hours. Who waits in a line outside in the heat for that long? Not me. I went on in to the museum and had lunch (2 minute wait) and enjoyed the exhibits on Le Corbusier and the Design Gallery. I stopped by the line at the Rain Room and learned the wait was down to about an hour or two for members, but you could go in the room to view (not walk through the rain) and there was only a 5 minute wait for that. That was my option.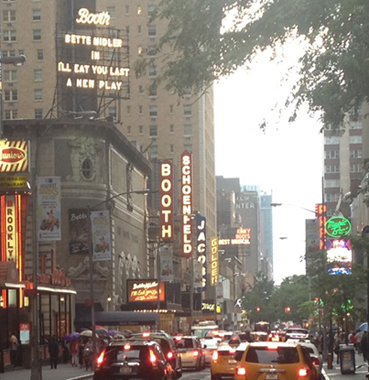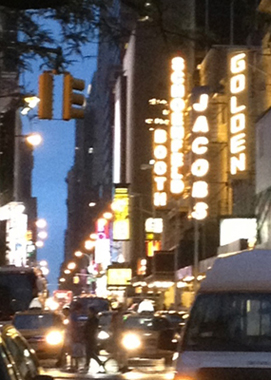 46th Street between 7th and 8th Avenues - the greatest concentration of live theater venues in the country.


An exhibit by at Madison Square Park,

Red, White, and Blue,

by Orly Genger. There were 3 of these huge rope constructions around the park, each a primary color. Notice the camouflage of the support band around the tree.


A phenomenal new bike sharing program in lower Manhattan and Brooklyn. I bought an annual pass and made 14 trips in 6 days. There is a station next to my building and 2 bike paths a block away in each direction. I now ride a bike to the 4/5 subway instead of walking. the bikes and docks at the Bowling Green subway entrance.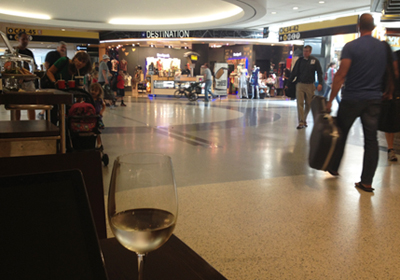 Dinner at the Houston airport on the final day of the Summer NYC Experience. Poor design of wayfinding signage in the airport.



During the summer, I make it a priority to take the ferry to Governor's Island. This time, I was able to ride a bike from my building to the ferry terminal. The white blobby sculpture above was a 'cloud' made of white plastic milk jugs and water bottles that had about an inch of blue water in each.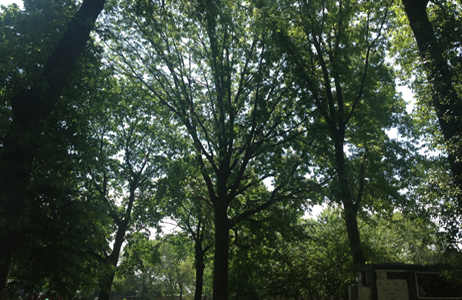 Lunch of a shrimp avocado mango salad and a glass of white wine. A splendid way to while away some time in the big city.



2013 • October 23-27


WE: lock up, load car; girls to vet, drive Classen Uturn: home for backpack, drive airport, easy precheck, bkfst, flite: large woman; IAH: sandwich, sit; flite: empty exit seat, new plane: webwork, EWR, car, coty ride; apt: unpack, walk SEnd, bagel dinner, shop, river, apt.
TH: Apt bkfst, see Bob re floor, bike to BG Whitehall, sub Union Sq: Seth, Union Sq, Univ place Medit lunch, sub: Bloomies: Beatles, drum set, Bloomberg rotunda: Chris doorman, walk, Starbux, sit Citicorp, sub Grand Central: Apple, Gallery, Pylones, sub Fulton, pizza, apt: rest, replace carpet; sub Times Sq: cookie, walk, Big Fish, Times Square, panini, sub, apt.
FR: Apt bkfst, sub 23rd: TWarner: turn in boxes, sub 53rd, Burger Heaven omelette, MoMA: Magritte, design women; store: Vignelli mug, sub: WTC, Path, new Calatrava tunnel, WFC, Shake Shack, walk river; apt: rest, work; walk river, Battery Park loop, bike West St, river, apt: work, bed.
SA: Apt bkfst, work, sub: 29th St Starbux: fotos, sub: Grand Central: Apple: mini? none, phone mail, Pylones, sub; Apple 5th Ave: buy Mini (1+ hour), ATT store (2+ hours); walk Upper Times Sq: Applebees: dinner, play pad: all good; walk Times Sq, sub, apt: tweak pad.
SU: Apt bkfst, rest; sub: Sheridan Strbx, wander, buy cup, Wash Sq: sit, Walgreens, Astor, sub, City Hall: Belgian waffle, CurrIves, WTC, Trinity cemetery, shop, apt: laundry, clean; river, car; EWR: TSfuckingA pat down (no agent knew what was going on), United Club, lecture, delaid flite; board, single exit row flite: lecture, web; drive, bed.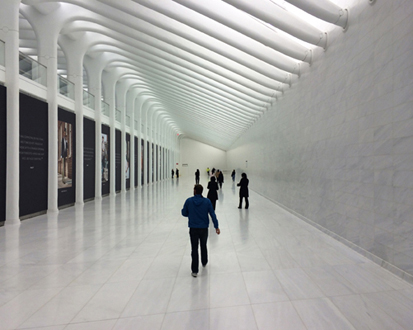 This new concourse, designed by Santiago Calatrava, connects the World Financial Center to the World Trade Center complex. Behind that solid wall would have been the basement of the North Tower. Behind the opposite wall is the base of the new World Trade Center 1, now the tallest building in the country.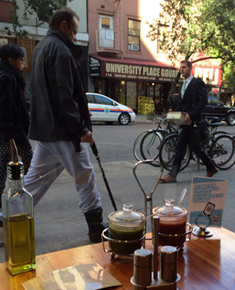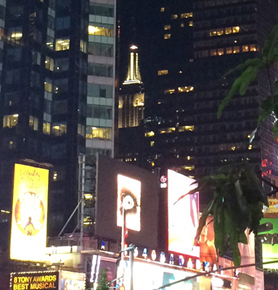 Lunch in the Village with a friend. The Empire State Building from Times Square.


South Cove on the Hudson on a nice fall day.


Ringo Starr's drum set from 1964 and 1965 was on display at Bloomingdale's. We had to go see. Parts of the set were what he played on at the concert on September 18 in Dallas.


Twas a hoot to be looking at them again - in many ways, music history was made on these very drums. We later wandered the Upper East Side and then descended into the subway. There on a tile wall was the best electrical outlet we had ever seen: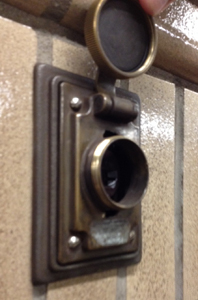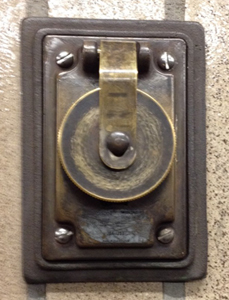 It sat alone on the wall, begging to be noticed. The serious industrial motif made it appear otherworldy - like from a Jules Verne novel or a sci-fi movie set. Now that I was aware of these cool things, I was on the lookout - below is another version spotted in the station by my apartment. It's above the Rector Street sign.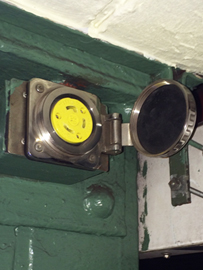 2014 • March 1-6


SA: Walk dogs, girls in, drive; hassle: new flite to Wash, lunch at airport, flite: finish reading Inferno, IAD: 5Guys burger, 1st Class: scotch, webwork, car to apt, river, shop, bed.
SU: Apt bkfst, walk 911, WTC, City Hall, sub SoHo, Paper, Flor, Apple, DWR, Strbx, NoLiTa, Mulberry, Columbus Park 5 Points, Foley Plaza, sub Strbx, Battery Park, Hudson, apt; work, eat; walk river, Brookfield, tunnel, south End, apt.
MO: Apt bkfst, snow trace, tips to desk; sub: Times Sq: Discovery Brick rr, Heartland lunch, Rock Ctr: Lego store, Grand Central: MTA shop, Piq, sit, sub: Trinity, coffee snak deli, apt; buy cereal, dinner, apt.
TU: Late sleep, apt bkfst, sub: Carnegie Hall tour, museum; Strbx, MoMA: FLW Dallas & Bartlesville, Cafe2, galleries, stores, sub: WTC, walk river; apt rest; walk BGreen sub: 29th Strbx, Battery Strbx: uploads, emails, walk, apt.
WE: Apt bkfst, walk WTC, Fulton, Urban Outfitters, Strbx, Seth: Woolworth lobby tour, wander downtown, Fulton buffet, Sth Str, Jack's Coffee, Federal Hall, BitCoin Center, Bowling Green, apt, laundry.
TH: Sub: Union Square, Coffee Shop breakfast, Petco, B&N; sub Fulton Street: new station, souvenirs: dog collar NYC pins, apt: rest, pack; car: EWR, flite: read Gladwell, CLE, Subway, flite: webwork, home.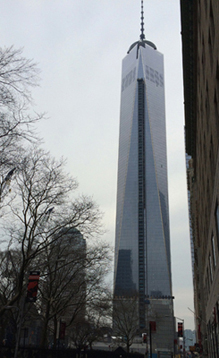 Columbus Park at Mulberry Bend and Five Points. Union Square.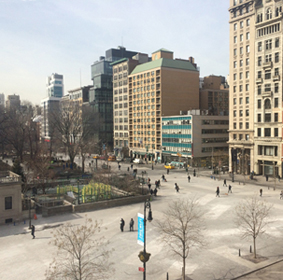 2014 • June 11-17


WE: Up early, dogs in, easy check in, sit with Hisseys, delay, rebook by phone, flite read: Houston: Bubbas lunch, flite: web, read; car, river: eat wrap, apt, shop, bed.
TH: Up early, bkfst, sub: MadSq, Strbx, shops, Modell, sub TmsSq: buy shoes, Heartland usual, sub: apt rest; walk river, Hudson Eats: pizza coffee, tunnel Path, West St Memorial, buy dog pins, walk; apt, rest, dinner; walk river PierA, apt, read.
FR: Apt bkfst, sub UnionSq: Seth, Panera coffee talk; sub: Williamsburg: Bedford, lunch: Pies n Thighs, Dianna bench, walk, sub: apt rest, balcony rain, eat, await Mike: 12:10.
SA: Balcony bkfst; walk ferry: Governor's Island: ride bikes, hammock, dancers, Admiral's House, Ft Jay, ice cream, house galleries, bikes, JazzAgeLawnParty: band, dancers, costumes; food trucks coffee, turn in bikes, grass nap, hill, ferry, walk apt; rest, sub Bleecker, theater, tshirts, B Grill patio, walk: Brazilia cafe, sugar, desigual, sub oops: Barclay's, sub, apt.
SU: George's bkfst, WTC, sub, Central Pk: rent bikes, loop, hill, rest; walk TavernGreen: lunch on patio, tour restraunt, meadow, mall, fountain, mall, 59th st, walk Lex: Strbx, Bloomies, sub: Wall St, walk, apt: rest; Chinese river dinner, walk river, shop, apt.
MO: Balcony bkfst, walk 9/11 Museum: exhibits, film, 8:40-2:00, boarding vet call; wait, walk Hudson Eats: lunch, apt rest, call vets; sub Village: BBall, AIA Gallery, WashSq: sit, 6th Ave: drink soccer, eat soccer, walk West Village, 14thSt; sub, river sit, apt.
TU: Balcony bkfst, shower, sub GCT: mta & piq; walk Diamond, MoMA: design, garden: Whichwich called: meet in Dallas, Cafe2 lunch, shop; walk TimesSq, sub, apt rest, Whch emails, pack, shower; 2 delays; river, car, EWR: UnitedClub, flite, drive, bed.
WE: Get Brooklyn, get Manhattan; email, upload


Central Park. The Sheep Meadow. Bethesda Fountain.


Governor's Island.


Later chatted with this guy - he rescued the dog and they are now inseparable.


Ladies from the Jazz Age Lawn Party. Jim and Dianna in Williamsburg, Brooklyn.





2014 • October 21-26


TU: Little sleep, bkfst, girls in, rest, drive, easy prk chkin, lost zipper; empty flite, IAH lunch, flite: whole exit row, coffee, blog, lectures, tests; car, River wrap, apt settle, shop, apt.
WE: Apt bkfst, work; Stbx: blog emails, web; MusAmIndian: photog, walk Bdwy, Pret, Bach Trinity, WTC walk, Memorial, shop, apt: rest coffee eat; sub TiSq: rain, pretzel, cookie, New Amsterdam: Aladdin, Walgreen's, sub, apt.
TH: Apt bkfst, sub, rain, SoHo: Apple, walk, Village, grilled cheese, WashSqPk, Brazilia coffee, Bdwy, sub; apt: rest, walk River, Brookfield, web; apt, Wogie's sandwich to go, apt.
FR: Apt bkfst, walk sub E/M MoMA: Seth, WW fotos, Matisse, Vignelli, Christopher Williams, bench, Robert Gober; Starbux lunch, Rock Ctr: Lego, sub 40th: Garment, coffee, walk MadSq, Eataly, Mad bench, Union Sq: sit; B&N, Pavilion dinner; sub, apt.
SA: Apt bkfst, cove wifi; walk River, BP: coff cupcake, tunnel, WTC, Fulton Ctr, Bdwy, Battery Park, apt rest; sub Houston sub LES: Katz too slow, walk, Taqueria, walk, chocolate, shoe store, Chinatown walk, Canal sub, River, shop, apt.
SU: Apt bkfst, sub: Village, WashSq: sit, turn in phone, walk 5th: Parsons gallery: Papanek exhibit, 14th, Staples, Pret lunch, Union Sq, sub, Whitehall, Battery Park, River; apt: laundry, pack; River, car; EWR: no line, Club: test revise, lecture, flite: lecture; car, home.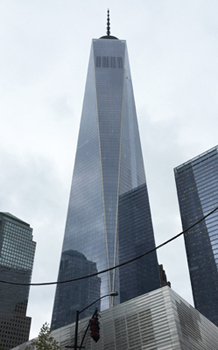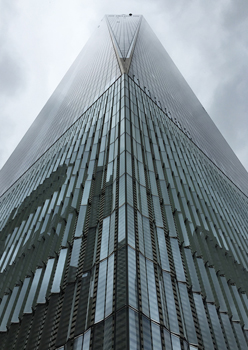 The new 1WTC Tower. Brazilia coffee, abstract subway art.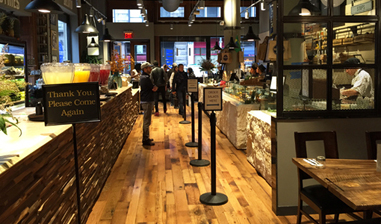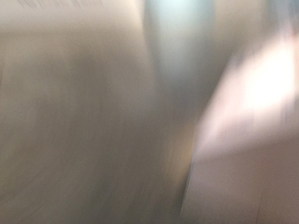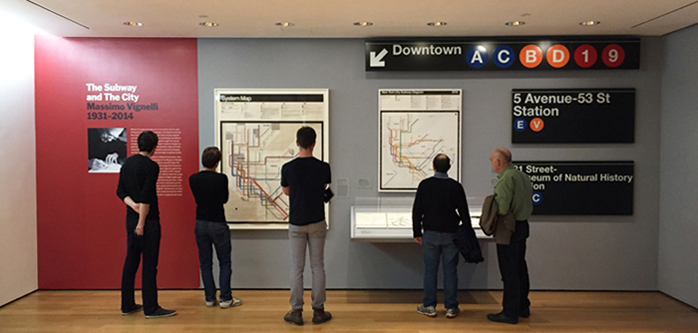 MoMA honored the death of Massimo Vignelli.



2015 • January 5-9


MO: Girls in, bkfst: pack, visit Mike/Anne, car to shop, cab to airport; Schlotzky's, flite: new plane extra room: WW web, IAH: roofer guy, Starbucks, Club: WW web work, snax; flite: whole row, WWweb, wrap, city views; car, apt.
TU: Apt bkfst, snow, web; sub 86th, Cooper-Hewitt: cafe, exhibits, shop; Gugg, bus 60th, subs; WTC Memorial, Hudson Eats, shop, apt.
WE: Apt bkfst, walk Fulton Center, sub: Great Jones, Syed Gallery, Public Theater, sub: Grand Central: gallery, piq, Juniors lunch, shuttle: Times Sq, sub 23rd: Doughnut Plant, Lego, MadSq; sub: Battery Park, Pier A, river, apt: blog, web upload, bed.
TH: Apt bkfst, cab to Met: Egyptian, snak, TH Benton, Cubism, lunch, Cubism; bus 60th, sub 34th; New School, sub: Pier A: dinner drink sunset water, walk apt, work, bed.
FR: Apt bkfst (snow) clean apt, laundry; river, car to EWR: flite (delayed), work, O'Hare: run to OKC gate
SA: Get car, get girls, bkfst


Nice new sign at the Cooper Hewitt garden entrance.
Whoever invented the bed is a genius.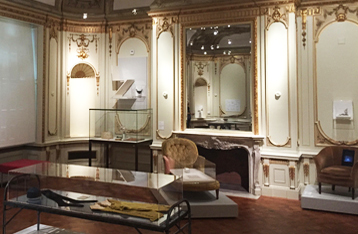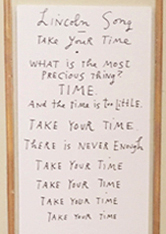 Maira Kalman Selects is an exhibition at the Cooper Hewitt Design Museum in the former Music Room of the Carnegie Mansion on Fifth Avenue.
Another in a Time theme, this one was in the dining area at Grand Central Terminal:



The 9/11 Memorial at night. New Year's Eve artifacts in Times Square on January 6



2015 • April 30 - May 15 • with Manhattan 7 & Brooklyn 1
Dog park friends: Milton (Collies), Unique (Watson), William & Mary (Kahlie), Matt & Jill nabers, Andrew & nabors
TH-SA: Smooth drives, girls good, easy motels, walk downtown Effingham, WashPA Panera.
SU: Drive FDR to Times Sq, tour Mark Hellinger theater.
MO: 29th Stbx, 30/30; guitar to Brenan, Brooklyn opens apt door, caught in hall, changed handle.
TU: Chambers hdwr: new dead bolt, she gets out again, installed new dead bolt.
WE: Jewish Museum modernism, Brkfld mall lunch, buy salmon dinner.
TH: Seth: Union, MadSq, Village, WashSq, AIA, SoHo.
FR: Wall St, AmerFinance, SoStSe, lunch; shop.
SA: Walk: north bpc park Goldman river.
SU: Christopher/Sheridan strbx: webwork, WashSq, Astor.
MO: UnionSq: Panera, Petco.
TU: Times Sq: get car, drive West Side; Uber: Taylor, Frying Pan; pack.
WE-FR: drives, Columbus; Ted Drewes, Springfield; Joplin: Bonnie & Clyde, tornado.



2015 • July 2-9
TH: Girls in, checkin, flite, dfw yog, flite: racism essay, LGA: Carmel; SWNY: dinner, shop; apt: unpack; river, shop, apt.
FR: Apt bkfst, sub: MoCNY: Rand; Central Park Conservatory, Meer: sit rest; Dunkin lunch, sub: apt rest; bus: Battery Park, Strbx wrap, River, shop, apt rest; roof, River (no fireworks), apt.
SA: Apt bkfst, sub: 13th, walk Whitney: bldg, terrace lunch, flyovers, ships, sit on River; HiLine, MePa, sub: apt: eat, rest, wifi work; walk Wall St, Battery Pk PierA: burger outside, apt rest; walk SoStSe: ice cream, fireworks, walk, River, apt.
SU: Apt bkfst, wifi; River, Brookfield crepe, WTC: OneWorld Observatory, lines, elevator, media, views, lunch; plaza sit, apt: rest; walk wtc, Fulton sub: UnionSq, Panera dinner, UnionSq: backgammon, Seattle Jesus guy, loopwalk; sub: Battery Park, River, shop, apt.
MO: Apt bkfst, rest, work, wifi; coffee, dog park, River, apt rest; walk SoEnd, mints, BFP stores, Regal: Inside Out, peanut m&ms, 911 Memorial, BFP: drugs, Clarkes burger outside, River, apt.
TU: Apt bkfst, sub: Grand Central, shops, Landmark exhibit, fukin cookie, walk; MoMA: lunch, migration, Yoko Ono, shop, soundesign, archit; sub: Hudson Eats pizza, apt: rest; sub: TimesSq, snak, Palace: American in Paris, TimesSq; sub, snak, apt.
WE: Apt bkfst, purge books, purge dvd/books, laundry, wifi; sub: TimesSq: snak, St.James: Something Rotten, TImesSq; sub: MadSq: Shackburger dinner, Denmark store, UnionSq; sub, walk SoStSe, bus, apt; River, apt.
TH: Apt yogurt, pack; walk RIver, Hudson Eats: bkfsts, walk River, apt; car, LGA: flite with Westchester couple to Telluride; DFW: Salt Lick dinner, flite, car, home.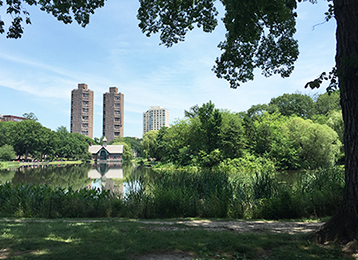 Central Park Meer. HiLine from the Whitney.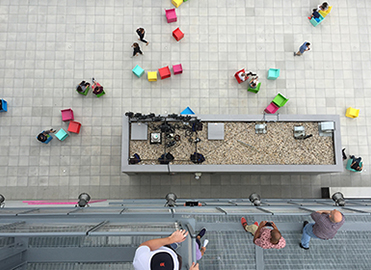 At the new Whitney Museum in MeatPacking.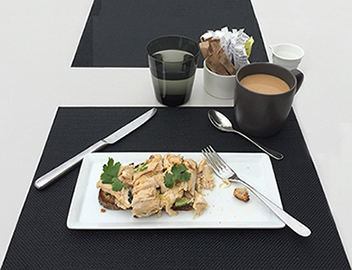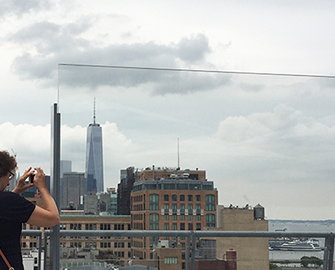 From the One World Observatory at One World Trade Center.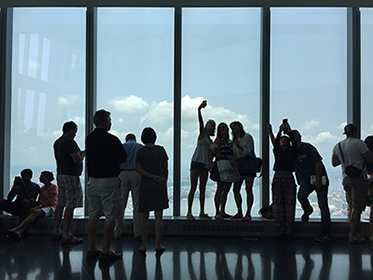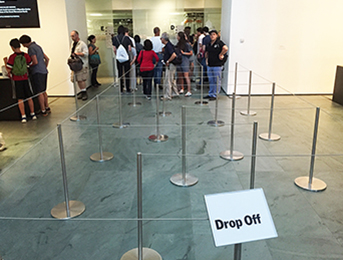 Poor que line at MoMA.




2015 • October 20-25
TU: Girls in, easy checkin, flite: whole row coffee; ATL walk, flite; trains to WTC, HudsonEats, River, Apt: rest; River, shop, bed.
WE: Apt bkfst, sub: TimesSq: Hamilton lottery, Marquis, no draw, walk; MoMA: lunch, Torres-garcia, Picasso, design, coffee; sub: apt, rest; sub TSq: Hamilton lottery, nope, sit in TimesSq, sub, apt, fotos, bed.
TH: Apt bkfst, sub: Grand Central: Apple: delay, no help; sub: Strbx 28: upload, email; walk MadSq, sub: UnionSq, Parsons: Typog, walk 5th: churches, WashSq: sit, more sit; AIA gallery, Bareburger, SoHo: Apple, MoMA, sub: BatPk, river, apt rest; bus: Fulton Seaport Studios: Michael Beirut, snax margarita, walk Fulton, AIGA, bus, river, call Frank, apt.
FR: Apt bkfst, sub: Hudson Yards, Think coffee, HiLine, Starrett-Lehigh: Beirut exhibit, HiLine primitive, sub: BryantPk: lunch, Pain, Pret, sub: dunkin, apt: rest; sub: Hamilton lotto, nope, LuntFont: bout tkt, TimesSq, McD bkfst, Walgreens, theater: Finding Neverland, sub, walk WTC, apt.
SA: Apt bkfst, walk Fulton Transit, sub: UnionSq Seth: sit steps, Starbux, walk east: WashIrving HS, lunch diner, Webster Hall, Astor Place, Starbux, sub, BatteryPk, river, apt rest, laundry, work.
SU: Sick, walk shop, apt bkfst, rest; car LGA: easy, flite, ORD: bagel wich, flite, car, home.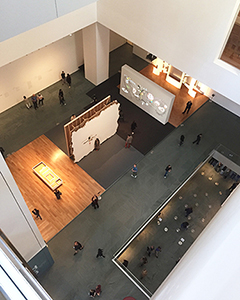 2016 • April 16-25 • final drive with dogs, Manhattan 8 & Brooklyn 2
Final drive with dogs. Prepping apt to sell. Dog park friends: Unique (Watson), Amy & husband (Rosie)
SA-MO: Smooth drives, girls good, easy motels; Eff: walk to McD, WashPA: drive US40 downtown, Panera; NYC: Park garage.
TU-FR: Dog Park, Battery Park, Hudson River.
TU: Prep apt: removed statues/buildings, clock numbers, 25 grey frames.
WE: Apt work; meetings with Broker and Bldg Mgr, Calatrava Oculus, salmon dinner.
TH: Apt work; Union Sq: dog food, Seth, Madison Sq; rest.
FR: Apt work; sub to 52nd, muffin, Ground Central Coffee: Derek que mt; walk GE bldg, GCT: theater, gallery, sandwich; taxi, Apt rest; rearrange furniture, Seth: clean apt, sit balcony, suitcases to car, walk dogs: Battery Park, home rest
SA: Up at 6, prep apt, dog park drizzle, load car, leave 6:46; drive, US40, horrible underground railroad 'museum', Chandler OH 40; Columbus motel: check in, rest, dinners, work, bed.
SU: Drive, McD an hour out, Ted Drewes: popular dogs, family with own grey, Springfield: rest, tour Commercial St, 66 motels, burger dinner, bed.
MO: Up at 4:04, leave at 5:00; drive, McD bkfst, Vinita coffee, drive; unpack.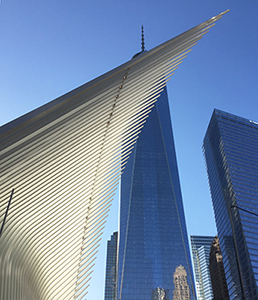 2016 • June 18-23 • The apartment • Final stay, Movers, and Empty
SA: Airport shuffle.
SU: Stomach ill, buy groceries drugs, purge, The King and I.
MO: Purge, Seth, load, Uber Goodwill, leave tv at 14th st curb, Union Sq Starbucks, tv gone, subway.
TU: Oculus, sub to Cooper Hewitt, taxi home; remove kitchen/bath carpet.
WE: Up at 5, prep, movers, sad and empty, walk Broadway lunch, text/email friends; check in Holiday Inn, Hudson Eats dinner.
TH: Bkfst at CoffeeBeene, walk to 911 memorial, drugstore, room; flite change: calls, shower, pack, taxi LGA; slight delay, flites; get girls; home.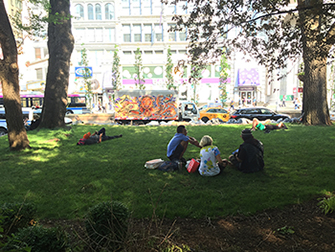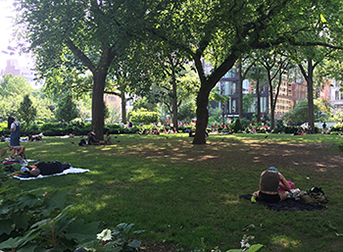 2017 • Febuary 13-17 • Marriott Marquis • First trip since out of the apartment
MO: Bkfst, pack, Brooklyn in; rest; drive airport, silly PreChk; Scholtzsky's, flite; ATL: iced latte, wrap lunch, 2hr delay, sit in gift shop by gate, webwork; board: 1 hr delay, flite; fast luggage, car to Marriott; check in, store wrap, hummus, room, bed.
TU: Hotel buffet bkfst salmon/granola; dump & rest, sub to Lego store: buy NYC, Madison Square, sub 42nd: lunch; 8th Ave, room: nap; lobby coffee work; room rest; Times Sq walk, Disney, bummed; store egg salad chips sandwich m&m; room, eat, tv, shower, bed.
WE: Hotel buffet bkfst eggs/granola; room, taxi: Met Breuer: yuck; walk to Met: lunch in American Wing, store; taxi Times Sq: Mitch ad; room rest; Times Sq, 48th sub: Union Sq: BarnesNoble, Petco treats, Seth, Starbux: talk, walk Astor Place, Cooper Union, Muji, East Village: Philip Glass house (saw him in the window), 2nd Ave, St Marks Place, goodbyes, Vspot vegan dinner, cvs: buy drops; sub TSq: ads, Hamilton, room.
TH: Hotel buffet bkfst salmon/eggs/granola; dump & rest; walk to MoMA: Bauhaus, interiors, Constructivism; Burger Heaven: lunch coffee; walk TSq; room rest; sub 47th Cortlandt: Oculus, Westfield Place, Saks, bridge over West, Memorial, Oculus: Apple, shops; sub TSq: Heartland, TGIF, hotel buffet, room, shower, pack, bed.
FR: Some sleep, alarms at 6:00; about 6:20: up, shower, pack, check out, firemen in lobby, firetrucks on street, taxi to EWR; poor tsa: empty pockets, belt, lose deod, bkfst, flite; ATL: Starbux, chips; flite, baggage, car, drive; get Brooklyn, home: unpack, mail, rest.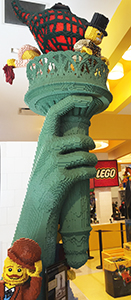 Philip Glass' house.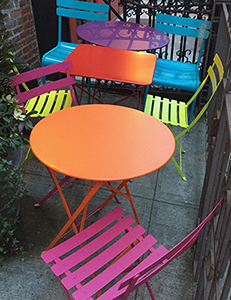 2017 • June 10-15 • Paramount & Marriott Marquis
SA: Bkfst, house prep; Brooklyn in: sad, not want to go; chekIn, flite; Atl: Asian lunch, coffee; flite: whole row, web work; bag clm, Uber; Paramount: chkin, room unpack; TimesSq: hot dog, hotel, chocolate, bed.
SU: Very little sleep & afib nite; bkfst yogparf coffee lobby, sit outside, room rest, shower; walk 42 sub, walk, Path: NJ walk Ruki's, condo, walk WhiteStar: lunch, walk Colgate clock, waterfront, sit, sit, Starbucks, sit; ferry: WTC, Oculus, R train: TimesSq: walk into Great Comet set, room, no AC, change room: 529 (1972 UT study tour), rest; return old key, ParaGrill: dinner, walk 8th Ave, Pret wrap; room: Tony awards, shower, bed; ac stops: pack, midnite: chkout, Marriott: chkin, yogurt, get upgrade TSq view, bed.
MO: Good sleep, bkfst buffet, room, lobby web work, room; sub 2 to 96th, Uber to Cooper Hewitt: Jazz Age, coffee, meet Ruki, talk tour office, exhibit, garden, meet Sarah Coffin, chief curator; walk Lex, Bocado Cafe: dinner wine; sub 4: byes at Grand Central, Transit museum, walk 45th, hotel: shower, tv, bed.
TU: Up at 10, store eats lobby, room; walk MoMA: renew, FLW, Rauschenberg, lunch: Cafe2, store souvenir; walk Red Caboose; room: rest, work, shower; walk Broadway, Caffe sandwich, theater: Groundhog Day; Bdwy, Caffe: hummus wrap, hotel, shower, load soundtrack, bed.
WE: Up at 8:30, bkfst omelet, room; sub: UnionSq: Seth, Q/2nd Ave subway: station at 72nd, 86th st; Yorkville: Obama's college home 94th (bottom middle), Marx family home 93rd, wood houses 92nd, Bocado Cafe 87th Lex, Strbx, sub Grand Central, bye Seth, Shuttle; walk Shubert Alley, TSq, room; Heartland: pickles caesar, TSq, theatres, Edison Hotel, 8th Ave: room, shower, bed.
TH: Bkfst omelet, room, TPiR, pack, rest, shower; chkout, taxi: 36th QMtunnel. new LGA: drop bag curb, short tsa, lunch, wait, cold brew bottle, GDay sndtrk, board, flite: web work; Atl: wrap yogparf, delay, call Frank, delay (3+ hrs), change terminals, change gates, wait, webwork, board; flite: music, read Swarm; no luggage (63 of us), drive home, bed. Got Brooklyn next morning. Luggage next evening.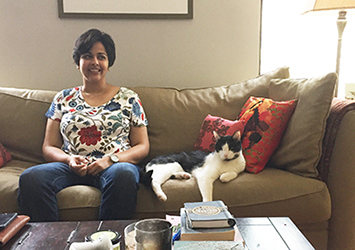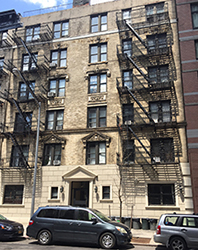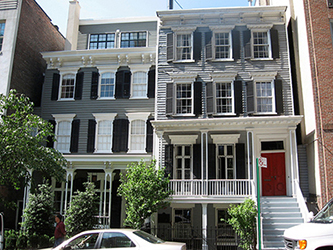 2017 • November 15-19 • New Yorker Hotel
WE: Bkfst, walk, Brooklyn to board; shower, pack, drive airport; TSA: patdown, sholder not even show up, Moes lunch, iced coffee, read paper, board; flite, read mag, DBrown; ATL: yog icecoffee; flite fat man, luggage, phone dead, taxi: Lincoln tunnel, New Yorker: checkin, room: unpack, dinner: TickTock, walk block like 1961, room, bed.
TH: Wake 7, shower; bkfst: TickTock, New Yorker history display, room; subway: wrong direction, wrong train, help weelcher; MoMA: computers, fashion, Terrace5: lunch, photography, store; subway, Strbx, room rest; Uber to gallery, call Frank, walk block: Basquiat studio, Show Opening: Syed, brothers, curator; taxi: hotel, dinner: TickTock, lobby, room, tv, bed.
FR: Wake 7:30, bkfst: TickTock, room; taxi: honking discussion; Union Sq, Seth, sub Oculus, Apple store, Hudson Eats: coffee by window, walk Saks, bridge, park overlook, Louis Vuitton exhibit in Stock Exchange, Trinity church, sit river at Cove Club, Battery Park, Bowling Green, lunch: Pret talk, walk Fulton Transit, sub Seth bye, 34th, Strbx: cold, room, lobby: chat Arthur Dallas, Scottish, emails, sling notes; vending snak, room: rest, shower; sub: 44th, walk, pretzel, Lyceum: The Play that Goes Wrong; walk TSq, 8th Ave: try sub: no machine, walk 8th to NYH, room: pills, dinner: TickTock, room: bed.
SA: Awake: 8, shave, bkfst: TickTock, room: text Syed, sub: 14th, buy bum sandwich & water, walk Whitney: Syed, Protest, meatpacking, lunch: Bills Burger Bar, walk to 8th: Strbx, sub, hotel, room: rest, pack; walk 34th, sub: Union Sq: Petco treat, Max's, Sq, B&N: Syed, book, walk dinner: Spice Thai, choc pastries, non-stop talk, UnionSq, sub: walk 34th, hotel, bed.
SU: Wake: 6:40, shower, pack; car to ewr: easy checkin/security, bkfst: Champs, buy mints, write, board; aisle, write Crazy Man in Car, read; ATL: Strbx, Asian protein, board, write, read; OKC: get coffee, luggage, walk car, get Brooklyn, home; unpack, resettle.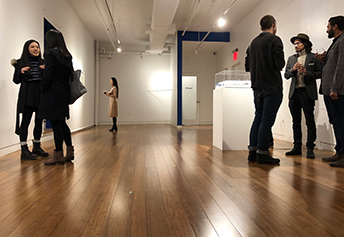 2018 • May 16-20 • Hotel Henri Wyndham, Sean
WE: (bkfst at 3a) Shower, coffee, pack, load; Brooklyn to Pawpa, drive, check in, Tucker's bkfst, board, read; Atl: panini, cold brew, board; read Flight Attendant; luggage, Carmel ride, Hotel Henri checkin, Sean, room, walk MadSq, 5th Ave: Mexicue dinner, walk MadSq, room, gummy, bar deck: snax, drinx, room.
TH: Good sleep, shower, elev Sean, Flatiron Green Cafe bkfst: MadSq umbrella, sub: MoMA: queline, store; walk 5th, Trump Strbx, Apple, Central Park: Mineral Springs lunch patio, gummy, Bethesda Fntn, Chinese busker, bubbles, mall, waffle; sub: hotel, rest; sub: Lincoln Ctr: plaza sit, My Fair Lady, walk ColCircle, sub 23rd, pizza slice, Tacombi: dinner, room.
FR: Shower, snak penthouse, park Sean sub: UnionSq, Coffee Shop bkfst, walk Parsons: gallery, Union, sub: Hudson Yards: Vessel, HiLine, Think coffee, walk HYards, NY Type Directors: Rocco Piscatello posters, talk with Carol, walk Strbx, New Yorker diner lunch, walk, sub, room rest; sub: Times Ctr: hold seat, Ruki, Christo images, talk, q&a; Heartland Brewery: pickles, RukiPatti, walk, sub: 23rd goodbyes, room.
SA: Shower, banana; Strbx bkfst, sub: Rector: West Bridge, Hudson, CoveClub George, cab: Seaport (all rain), walk Beekman Court: lunch, Fulton Transit, City Hall park, sub: abandoned city hall & 18th, 23, Strbx, room rest; sub SoHo: board store, Apple restroom, dwr, sub Times Square: design pavilions, AstroTurf beds, Chevy's, look for ice cream; sub 23: 7-11 ice cream bars, hotel deck: shrimp, dessert; room.
SU: Poor sleep, shower, Strbx bkfst, room eat, pack; lobby luggage; taxi: Javits ICFF, Sean Ruki, coffee, food court lunch, Stationery show; walk sub, 23rd, green cafe coffee, sit at Flatiron, walk MadSq, hotel: get luggage, car; EWR check in, TSA, wrap yogurt, board, flute: read; baggage, goodbye Sean, drive home.