Trip diaries: Abroad


Acapulco, Cancun, Cozumel, Mexico City, Monterey, Puebla; Jamaica
Aswan, Cairo, Thebes/Luxor; Amsterdam, London, Milan, Nice, Paris, Rome
Jim's Chronology • Trips in the USA • Trips to New York City


1966 • August 24-28 • San Antonio and Monterrey, Mexico
WE: Georgetown: Inner Space; San Marcos: Aquarena Springs; San Antonio: Fiesta del Rio.
TH: Drive, cross border.
FR: Monterey, Mexico: Grotto at Villa de Garcia.
SA: Drive Monterrey to San Antonio.
SU: Drive to Dallas.



1969-75

• Mexican border towns • Fraternity trips and TGI Friday's in San Diego


CA: Tijuana
TX: Ciudad Juarez, Neuvo Laredo, Reynosa, Matamoros

1973 • December 22-28 • Mexico City • Family Christmas
SA: Left Dallas at noon, checked in to Sheraton Maria Isabel, dinner at Hotel Cortez.
SU: Saw Ballet Folklorico in late morning, bullfights in the afternoon, dinner at Denny's.
MO: Toured Cuernavaca and Taxco from 8:50a - 8:00p, Gitaneri's for dinner and Flamenco dancing show.
TU: Lunch at Arroyo restraunt, took metro to Zocalo.
WE: Visited the Plaza of the Three Cultures, lunch at hotel, drove to Shrine of Guadalupe and Pyramids.
TH: Chapultepec park, lunch at Del Lago, Anthropology Museum, drink in hotel, up to observation deck of the Pan American Tower.
FR: More museum, pack, check out at 1:15p, to Dallas at 5:30p.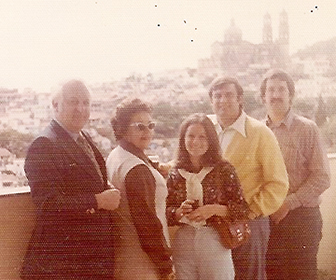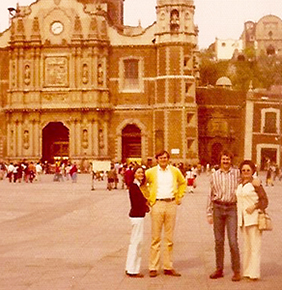 1978 • July • Jamaica
Flew from Ft. Lauderdale. Brad Nelson, Leann Molina, Nora Hughes, TGIF. Montego Bay, Ocho Rios, waterfall, Negril.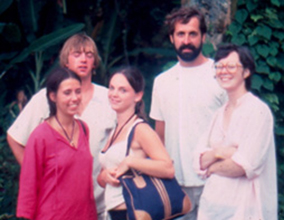 1981 • August 14-28 • Egypt, London, Amsterdam
FR: Bill drive to DFW: Flight to London, Orange 747, movie: Private Benjamin.
SA: Arrive Gatwick airport, train to Victoria Station, cab to Piccadilly Hotel; walk to Design Centre, hotel, got ticket to Cats; London Experience bus tour with mom, hotel: nap; Cats, hotel: eat cheese & crackers, sleep; up at 2:30: walk to Palace "How many guards are here at night?", hotel sleep.
SU: Walked to Savoy Hotel breakfast, walk along Thames, 10 Downing, Royal Horse guards, Big Ben, Westminster Abbey, Buckingham Palace: changing of the guards, Victoria Station, subway to St. Paul's; City of London Museum: coffee pastry, British Museum, hotel: eat.
MO: Cont bkfst in room, Sub to museum, Design Centre book shopping, National Gallery, Trafalgar Square, lunch with mom, hotel; cab to Heathrow, snack at airport. 4:30: EgyptAir Flight to Cairo: Customs, cab to Ramses Hilton #814, sleep.
TU: Breakfast in hotel; tour Cairo, Museum, Pyramids; hotel: nap, dinner.
WE: Early flight to Luxor, boarded boat Osiris, lunch on ship, carriage ride to Sound & Light show.
TH: Bus to Denderah and Temple of Hatshepsut, evening at Luxor Temple.
FR: Bus to Valley of Queens, King Tut's tomb.
SA: Cruised to Esna temple, Edfu & Temple of Horus, Kom Ombo; costume party on ship, I was Tut.
SU: Temple of Kom Ombo, left for Aswan before lunch, visited botanical gardens by felucca; checked in to New Cataract Hotel, felucca ride, dinner in hotel.
MO: Early flight to Abu Simbel to explore temple of Ramses II, left Abu Simbel, stop in Aswan, to Cairo at 7p, Hilton hotel.
TU: Left Cairo at 6:45, Istanbul, arrived in Amsterdam at noon, cab to Amsterdam Sonesta hote; walk around town, media show, beer in cafe; walk to Dam, churches, Burger King. Mom and I went on evening wine & cheese canal boat tour.
WE: Bkfst in hotel, city bus tour in morning - diamond factory, Rijksmuseum. hotel: lunch. Mom and I went on tour to Leiden, Delft, Hague, North Sea, Madurodam. Dinner in hotel.
TH: Bkfst in hotel, I walked city, museums, Anne Frank house, train station, subway: Rembrandt house, Van Gogh Museum, train ride. Dinner at Five Flies restaurant.
FR: Morning in hotel room. Left Amsterdam on KLM at 2p for Chicago, customs, Dallas at 9:30.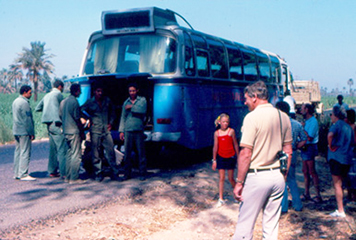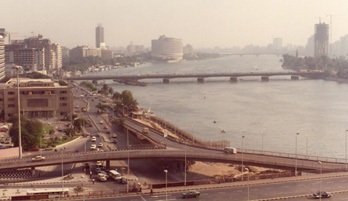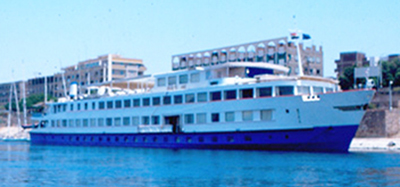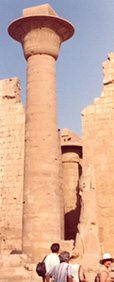 Fernando Farallon & Antonio Estandia, Mexico City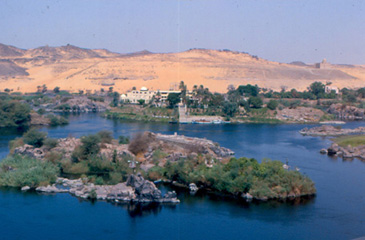 1982 • November 24-28 • Cozumel
TU: Muse Air, Houston Hobby, dinner: Birra Poretti's, April's house, Jerry's, sleep.
WE: Drive airport, flite, bus to Cozumel Caribe, check-in, room, beach: walk, drinks, happy hour sunset, pier, dinner: hotel, lobster, sleep.
TH: Rent moped, town, bkfst: Las Palmeras, market, Sol Caribe, El Presidente, bull ring, Cedral ruins, tip of isla, bar: monkeys, transversal to town, hotel, rest, play tennis, moped to town, dinner: Pepe's, walk waterfront, Carlos y Carlos, home in rain.
FR: Bkfst: hotel, rent snorkel, moped to Sol Caribe, snorkel: fish, sunken airplane; Plaza Maya, lunch: San Francisco, taxi, hotel, snorkel, room; Pepe's: homemade nachos, walk town, shop, dinner: Morgan's, hotel.
SA: Bkfst: Pepe's, town, cemetery, shop, return mopeds, lunch: El Portal, hotel swim, taxi to town: shop, rugs, shirts, liquor, dinner: pepe's Playa, walk, Carlos y Carlos, taxi hotel in rain.
SU: Pack, beach, check-out, taxi: Las Palmeras, airport, flite, Jerry's, Ninfa's, Tom Bartley's, airport, home.



1986 • March 6-12 • Cancun & Chichenitza
TH: Southwest, Birras, Jerry's, tv, sleep.
FR: Flite, rent car, lunch: Vallodolid, Chichenitza: volleyball, Mayaland, bungalow, margarita terrace, dinner, Sound & light show (no power), dark peninsula, climb pyramid by moonlight, bungalow sleep.
SA: Bkfst: Mayaland, ruins, check out, lunch: Valladolid, give ride to Jean & Eileen to Cancun; hotel: check-in, room, beach, town, Papeete, Tulum.
SU: Bkfst: Flamingo, Krystal, Hyatt, Camino, turn in car, Fiesta, walk to Sheraton: volleyball, pool, pizza; Flamingo: dinner, Mansion, Fonda, walk.
MO: Bkfst: Flamingo, Fiesta: sun, ski, water volleyball, shop, pizza, cab to Sheraton, sand volleyball, Flamingo happy hour, dinner: Choc Mool, Krystal.
TU: Bkfst: Flamingo, change rooms, shared taxi to Puerto Juarez: ferry to Isla Mujeres, town, moped, snorkel; ferry back, taxi to Calinda, walk Carlos n Charlie's, shop Plaza Caracol.
WE: bkfst: Krystal, shop market, Sheraton, pack, airport.

1988 • January 7-10 • Acapulco Laird
TH: Drive to DFW on icy LBJ, flite, Acapulco airport, bus past Princess, mountains, bay, city, to hotel; beach, margaritas, dinner: Pancho's.
FR: Bkfst: hotel, beach, taxi to town: market, cathedral, zocalo, lunch: zocalo, marina, taxi to hotel, beach, piña coladas, room: nap, taxi to Hornitos beach, dinner, beach, stars, hotel.
SA: Bkfst: hotel, beach, room, Sanborn's: shop, cafe, room, beach, volleyball, sunset, dinner: Carlos n Charlie's, plaza, Calinda, hotel.
SU: Bus to Caleta, bkfst: Boca Chica, walk to La Colinas, downtown, bus to hotel, buy teeshirt, bus to airport.

1990 • May 14-30 • London, Paris, Rome
MO/TU: Flite, Dallas couple, A&M guys, doze; Gatwick, bus to hotel Kennedy, rest; Tube to Leicester, tkt to Blood Brothers, Covent Garden; Hotel: dinner, rest, shower; tube to Albery: Blood Brothers; Piccadilly muffin, hotel.
WE: Bkfst in room; tube: Parliament, Westminster Abbey, Buckingham Palace, changing of guards, Victoria Station, tkt to Starlight Express; tube to Piccadilly, tkt to Aspects of Love, muffins, Design Centre: books; tube to hotel; tube Aspects of Love matinee, Trocadero, London Pavilion; Victorian Station, sandwich, book store; Starlight Express, dinner: Victoria Station; tube hotel.
TH: Bkfst, did laundry in bath tub; tube Covent garden, Transport Museum: Henry Beck, pasta lunch, walk to Leicester, Piccadilly, Design Centre: buy books; Craft Council Gallery: lettering, walk mall to St. James, Dunhill, Piccadilly; tube Victoria & Albert Museum, Harrod's; tube Covent Garden, sit rest; tube hotel dinner; tube Covent with Mark: beer, see Princess Anne at Miss Saigon; tube, sleep.
FR: Tube Covent: try Saigon tkt, coffee; tube Tower of London, walk bridge to Design Museum: Sport, research, lunch: Blue Print Cafe, river view, design syllabus format; Tower Bridge Observation; tube Liverpool Sta: new buildings, walk to Geffrye Museum: 50s Style; bus to Liverpool, Leicester: bought tkt; tube hotel, shower; tube Leicester, walk Covent, sandwich, Miss Saigon, walk Covent, Leicester crowds; tube hotel.
SA: Bkfst hotel, bus thru London to Canterbury, Cathedral, town, jog back for stragglers; bus to Dover: white cliffs, ferry, deck for departure, scotch in bar; Calais France: bus, train thru northern France to Paris; Station Nord, taxis to Hotel de Berne, rest, walk to dinner, walk Moulin Rouge, sex shops, walk home.
SU: Sleep in, wait an hour in lobby, metro to Picasso Musee - I walk on to Guimard's Nouveau synagogue, croisse and caffe in park with Rose State women, Picasso's cubism; metro to bus to Versailles: snack, Palais, rooms, gardens, fountains; bus/metro to dinner; metro with Ching, walk to Pompidou: architecture exhibit, views, Place des Innocents, drinks with Mark Ackerman; metro home.
MO: Bkfst, metro Opera House (drizzle); metro Louvre: pyramid, Medieval castle, coffee, walk Seine, Notre Dame, lunch: Tex Mex, Sorbonne; metro Gate, Pompidou; library: Modern Art; metro hotel, dinner; metro walk: Rue Raumar (Nouveau), Pl Innocentes, crepe, Starck cafe, VIA, Seine, sit, walk Rue Rivoli; metro hotel.
TU: Metro to Jasmin, walk, shop, Corbusier's Villa Roche, walk, Guimard's Nouveau apartments; metro Louvre Musee des Arts Decoratifs (closed), shop, Louvre Biblioteque: Art Deco scrapbook & poster, lunch: salad bar, Tullieres gardens, nap, Grand Palais, bridge, walk back to Concorde; metro Montmarte: artists, church, view, Lautrec studio Moulin Rouge, hotel rest; walk dinner, metro Seine, Ching and I to Eifel: city, sit, night lights, across Seine; metro hotel.
WE: Bkfst, talk with Bill; metro Arc de Triumph, walk Champs, Grand Palais, Musee d'Orsay: lunch, Nouveau; Opera House, leave clothes on fence, Arts Decoratifs: furniture show; metro park: Boules, mall Cafe Costas, VIA shop; metro room, with Ching to Montmartre: walk, church, sunset, Ching lit candle & prayed for my Italy trip, artists, cafe: wine, hotel.
TH: Pack, bkfst with Bill & Lois Joseph; metro to Gare de Lyon, train, stand in bar, switched seats, saw Marseilles, Mediterranean, Cannes, Nice; panic over unfamiliarity, walk towards sea, found great Hotel Trianow, change to shorts, walk along Cote d' Azur, jog, sit, walk shopping streets, dinner: salad, chicken sandwich, walk to sea, wade hotel, shower in tub.
FR: Pack, walk to station, validate Eurailpass, bkfst in station cafe, train along Riviera to Monaco, customs at Ventimiglia, lunch: sit on steps, walk streets, changed money to lire, back to train, into Milano, big stazione, walk for hotels - all full or expensive, gave up and took expensive, changed, metro (new and clean), walk to the Last Supper, pasta at cafeteria, walk to Duomo, old lacy Gothic, Galleria, La Scala, Duomo, walk hotel, read, shower, bed.
SA: Pack, metro to Dali exhibit exterior, walk to Duomo, Galleria; metro to hotel, rest, pack, check out, walk to Stazione, lunch: pasta, board train for Rome: 5 hour ride: good seat, cappuccino, work read guidebook, dept logo, stazione, call hotels (full), check bag, walk to Pensione Marsala: 40,000, Okay, get bag, unpack, walk area, dinner: Piazza Republica lasagne, wine, hotel, wash sox/underwear, sleep.
SU: Shower upstairs, buy metro pass, metro to Colosseo, walk around upper deck, metro to Ottaviano, walk to St. Peter's, sandwich & cappuccino, square, basilica, climb steps to top of dome, walk street, cross river, Piazza Novana, lunch: lasagne cappuccino, walk Pantheon, gelate, Campidoglio (by Michelangelo), Forum overlooks, prison of Peter & Paul, walk to Colosseo; metro, home, nap, metro Barberini, TWA, ate, gelate, Trevi fountain (scaffolded), Piazza Romana, galleria, Via Condotti to Spanish Steps, walk around; metro hotel, bought earplugs (helped some).
MO: Bought metro pass, metro to TWA: changed flite, design shop, furniture store, walk by Trevi, gelate; metro Ottaviano, lunch outside, walk to Vatican Musee: Sistine Chapel, coffee in Ristori; metro hotel, nap; metro Via Veneto, buy menu with ads, Villa Borghese giardino, overlook, obelisk, over Spanish Steps to Pia Napoleon; metro Republica, dinner: wine & lasagna, Pia Esquilino, termini, hotel.
TU: Metro Colosseo, Pia Venezia, Pia St. Ignacio, Via Giulia along Tiber: book and furniture stores, cross Tiber to Castel, wander to Pantheon; metro hotel, lunch by Termini; metro to Circo Massimo, hotel, nap, McD: coffee & shake, wander, shop (tie), pizza, gelate; metro hotel, pack.
WE: Pack, walk Termini, croissant, board bus to airport; flite delayed, check luggage, walk Le Galleria, buy Amaretto & biscuits, eat & drink, board plane: great leg room seat, next to May & Nathan Rosenbaum: wedding anniversary; connect through Saarinen's TWA terminal, make NYC-STL flite: good seat, transfer to OKC, another aisle seat next to empty; Bill, Ashlie, & Mike met me at gate, walk to concourse to meet Bill, Jane, & John Pickard, get luggage (mine not make it) dropped me at home (5am Rome time), fell asleep, up at 4a, sleep, up at 8, luggage arrive at 10:00, Wallo's brought car over at 10:15.

1995 • October 24-29 • Puebla
MO: Class, errands, rehearse, dogs to vet, Dehnert's, sleep.
TU: Pack, flite to DFW, change money, snack, call Orchid; flite, airport: customs, seek bus, see sign with my name - Luis has car; ride thru mountain pass, stop for bebida, get evening schedule, hotel: check in, unpack, rest, lobby; meet JoAnn & Kati in lobby bar, others join, bus to Expo; Congress meetings, snax & wine; dinner: Ponente Chino Poblano; little sleep: hot room, stressed, review workshop.
WE: Bkfst with JoAnn & Kati, bus to Expo, find room, set up; Workshop - okay, turn over to Bob, walked around; lunch at food court, take pix, others to Cholula, Scott & I to hotel; edit/revise paper, took walk, decide to do in English, felt relieved, more comfortable; room: make English version, join others for dinner, lobby bar, Vip's, room.
TH: Bkfst hotel, cab to Expo, sat with group, walked to rehearse, Planetario, park; Presentation - went great!; lunch: Los Faroles - celebratory; bus to Cholula, stop at cathedral, pyramid, Bret, Ellen, and Scott to church on top, bus: Bret & I get off, walk back to Zocalo, cathedral, plaza, cafe: beer, sunset, walk streets & mercado, taxi to hotel; lobby bar, van to Fiesta, hotel.
FR: Bkfst hotel, bus to workshop, help Bob, walk around; taxi to Bret's house & hotel, lunch: Vip's; taxis to Musee Amparo, mercado, museo, zocalo, pedestrian mall to Church, Suburbia mall, taxi to hotel; Liz vans us to her house, drinks, talk, van to hotel, dinner: La Dona, hotel.
SA: Bkfst with Kati & Scott, bus to Expo, workshops, final session, bus to hotel, lunch: snax in lobby bar, room rest; walk to UPAEP, saunter naberhood, hotel; taxi to Zocalo, Sanborn's, dinner: cafe at Zocalo, walk mall in rain, taxi to CAOS: drinks, walk to hotel.
SU: Pack, bkfst: Vip's, hotel, bus to airport, Mexico City airport: lunch, flite to OK.

1996 • May • Paris
While having lunch in the UCO Student Union, I saw an ad in the Oklahoma City newspaper: round trip from Oklahoma City to Paris for $298. I couldn't resist. Why not? I stayed at Disneyland Paris (no longer called EuroDisney) in the Arts & Crafts hotel, and had a blast: Disneyland, new hotels and shopping/entertainment district, Paris for a day: walked and enjoyed getting mentally lost in the City of Lights. Had seen all the tourist things on earlier trip so took the Metro out to some naborhoods and wandered.
SA/SU: Flite, sit with Mike & Deedee, walk St. Louis airport, flite: change seats movie, food, sleep; DeGaulle: exchange money, luggage, bus to Sequoia Hotel, check-in, room, nap, to Disneyland thru Festival and Hotel, bought 2-day pass, 4-11p: rode all rides, Elect parade, dinner: Plaza Garden, hotel, sleep.
MO: Bkfst hotel, coffee & pastries, wander hotel, room rest, Santa Fe Hotel, Cheyenne Hotel, Parc: rides, parade, Plaza Garden veggie plate, coffee in Adventure Land; train station, buy ticket; walk parking lot, shuttle bus to hotel: room, pool, gym, jacuzzi, dinner: Beaver Creek restaurant, room.
TU: Lobby, shuttle bus to train station, coffee & croissant; train to Paris, restroom in a cafe, walk Pompidou store, Seine, Louvre (closed) plaza, gardens, mall, lunch; metro Jasmin, Corbusier: sat in chairs, Ave Mozart; metro Trocadero, view Eiffel; metro Arc: elevator to top: views;metro La Defense: up top of new arch, plaza; metro Arc, sauntered Champs: Planet Hollywood, Disney, sculptures to gardens, terrace view: said goodbye to Paris, Louvre carousel; metro/train to Disneyland, walk Festival, talk with ex-Friday's at Annette's Diner, Los Angeles Bar & Grill: pizza & salad, comped wine (diner mgr had called), walked Festival, to Lodge, sleep.
WE: pack, walk Newport Bay: bkfst in Yacht Club, promenade to Festival, shop, room, check out; bus to airport, check in, last to board, nice flite: movie, food, puzzles, easy customs, got standby seat on earlier flite: walked to galley and spent entire flite there, visited with people incl Lloyd Noel & wife; WRA, home.

2000 • June • Puebla y Mexico City


SA: Smooth flite: 1st class bump, HIA: change dinero,, ride Link, flite: exit row, empty seat; Puebla: passport, helped Erika. met by Luis Y Gustavo, gave Erika ride to Colonial, Hotel Real: check in, unpack, walk to Vips, room.
SU: Read Dallas paper, call Orchid, Juarez: taxi to Zocalo, sit, Cathedral: enjoy music and voices, walk Plaza; Galleria, bkfst: Sanborn's, shop, Victoria Mall; taxi hotel, rest; Zocalo lunch: Sanborn's, artisan's market, zocalo clowns; taxi Vips, room, rest, tv: Tony awards, Millionaire, sleep, feeling confident.
MO: Bkfst: make notes, room, prep class; meet Luis: walk to UPAEP, admin details, tour campus, walk to lunch: Portons with Gustavo; get projector; class; a bit awkward, but okay, Luis office, walk hotel in drizzle; dinner: Vips, room.
TU: Bkfst: Vips, prep class, pharmacy on Juarez, walk naberhood, room; Luis to office, paperwork, tour Tech Center, hotel, rest, lunch: Vips, prep class; UPAEP: prep class, great class - in the 'zone', more comfortable, more English, talk with students during break and after class, sit under cafe tent in rain, ride with Jorge & Luis to hotel, call Orchid, dinner: Vips, room.
WE: Bkfst: Vips, walk: copy shop, room, UPAEP: meet with Luis & admin: interviews, paperwork, walk hotel in rain, rest, lunch: hotel cafe, prep class, great class - best yet; office, hotel in rain, tv, dinner: Vips, walk Juarez, laundry, sleep.
TH: Juarez, bkfst: La Vaca Negra, Paseo Bravo, walk Zocalo, shops, cathedrals; taxi hotel, lunch: Vips, prep class, quiet time in rainy classroom, class okay - students getting tired, out early, work with individual studio time, "great project", Luis office, drive to Fonda Restaurant: Zair, Augusto, Esmerelda, Antonio, Gustavo, Luis, Gustavo; hotel.
FR: Taxi Zocalo, bkfst: Vips, Civic Center, soccer and volleyball, Expo Center, Museum of Natural History, taxi hotel; rest, lunch: Vips, prep class, walk, Luis: got paid; class - best yet - presentations, works on board, talk with students; walk home in relief, rest, Juarez, dinner, hotel.
SA: Bkfst, room, UPAEP: set up in Cafe, consult with students, print/copy evaluation sheet, talk with Luis, lunch: El Porton; hotel, rest, UPAEP to get paper, hotel; meet Esmerelda and brother: drive to Tlaxcala: her house, family, drive to Tlax Zocalo, churches, views, drive VW plant, walking tour, drive, hotel.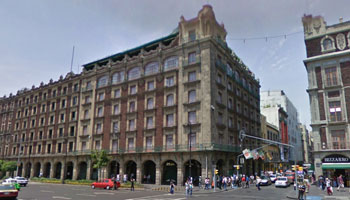 SU: pack, bkfst: Vips, room: grade projects, finish course, call Orchid, pack; meet Luis lunch: Vips, talk - ask me back, checkout, taxi; CAPU: bus Estrella Roja: music, views, coffee; Mexico City: taxi to hotel at Zocalo: check in room, Zocalo area, pastries, McD, Metro to Alameda: stalls, Palace lobby, shops, plaza, Metro, hotel: unpack, rest, walk Zocalo, room.
MO: Metro to Zona Rosa, pizza, check City Tours (lose camera?) sit at Reforma, market, Metro hotel, rest, dinner: Vips, Alameda market, Metro Zocalo, room.
TU: Bkfst: Vips, Latino Americano Tower, sit Alameda Bellas Artes; Tower observation deck, GNC, hotel: rest; Metro Merced markets, Zocalo, McD: sit outside with coffee, room: rest; 3 Metro lines to suburbs: Blockbuster, Hooters, TGI Friday's dinner; Metro; Zocalo dancers, room.
WE: Bkfst: Vips, walk, room, pack, check out; taxi to airport check in, walk airport, exchange money; flite: exit row, entire row, easy customs, flite: whole exit row; Lon meet, luggage, home.
Sad and glad. A life-changing experience.

2001 • May 19-28 • Puebla
SA: Work in office, walk dogs, call Orchid, girls to vet, pack, drive WRA: check-in, lunch, flite, DFW: exchange money, snack,flite: exit row, read, notes; luggage, customs, get bus tkt; Estrella Roja: movie: Speed; Puebla: taxi to Fiesta Inn, check-in, unpack, dinner: Toks, Vips, room read.


SU: Bkfst: hotel buffet, mall, room rest, taxi Centro: cathedral, plaza, market, Sanborn's, McD, taxi hotel, prep class, walk naberhood, dinner: hotel, room.
MO: Bkfst buffet, room, taxi: UPAEP: meet Luis, slides, paperwork; walk Juarez to Real, taxi hotel, rest, lunch, prep class, Gigante, room, taxi; Luis, class - good one; ride home, dinner: hotel, walk, room.
TU: Fiesta buffet, room, walk mall, shop,prep, lunch: Fiesta, taxi in rain, good class; dinner with Luis, Gustavo, Beto, Maya y Pini; room.
WE: Bkfst: Vips, shop Walmart, room, prep, lunch: KFC, class - good; spend break with Luis in Cafe, ride home, dinner: Fiesta, room.
TH: Bkfst: hotel, walk Galleria, Gigante, room, prep, lunch: Fiesta, prep, taxi;great class; wait with Luis y Beto, drink wine, ride home, dinner: Fiesta, walk, room.
FR: Call Orchid, bkfst: Fiesta, room, taxi UPAEP: get fee and foam core, taxi home, build sample, grade projects, lunch: Fiesta, taxi: class; walk to Fiesta, room, dinner: Fiesta, Vips, room.
SA: Quick bkfst: hotel, taxi: presentations - good, individual critiques, goodbye to class; shoot pix of work, grade projects, grades to Luis, walk campus, meet Beto: walk Remedios: lunch y beer, tequila 4:15-8:15; mall, dinner: Tony Roma's, drive, hotel, Vips, room.
SU: Bkfst: Fiesta, room, taxi: Zocalo, large market: shop, fruit, Conv Ctr; Zocalo, taxi, room; lunch Viejo Poloblito with Beto, Pini, Luis, Gustavo, David; drive UDLA, Cholula, volcano, campus, hotel; rest, walk Walmart, dinner: Vips, pack, room.
MO: Bkfst: Fiesta, walk - puppies, room, check-out; taxi to 4 Poniente Station, check-in, Luis y Beto come: say goodbyes, bus: Notre Dame iPod, purge papers; airport, flite: exit row, customs, see mom & dad at DFW: give gift, walk to Eagle bus: good flite, baggage, drive, home, unpack.

2008 • March 27 - April 1 • Mexico City y Puebla
TH: Smooth flite, grade tests; HAI Pres Club: eat, fone calls; flite: grade tests; customs, taxi, check in Sheraton, rest; walk Alameda, chips, Guimard Metro, Bellas Artes; Cathedral, living statue, donuts, Zocalo, Cathedral, Metro; mime, sit on Juarez/Bellas Artes; hotel, input fotos, rest/sleep; dinner buffet in hotel, walk Starbucks; bed.
FR: Sleep til 10, bkfst on terrace, rest; walk Juarez Metro, buy tkts, fotos, Insurgentes; Zona Rosa, sit on Reforma at US Embassy, sit, walk market, restroom Maria Isabel, Zona Rosa, patio cafe lunch; Metro, transfer, Hidalgo; sit fountain park, Starbucks, park; hotel, fotos, rest; walk Juarez, drummers, shop, Vips dinner, walk; bed.
SA: Bkfst buffet; lobby: weblish home page; walk,MAP museum, Juarez bollards, Alameda protest, room; check out, car to TAPO, buy bus tkt; bus ride: watch The Guardian; cab to La Purificadora; check in, room, walk city, zocalo, dinner, sweets, walk; room, bed.
SU: Sleep late, bkfst in hotel, fotos; taxi: UPAEP, walk block, Hotel Real, lunch Vip's: flautas; taxi: cathedral, zocalo benches, mall, Rosario Chapel, market, mall, coffees, zocalo bench, clowns, walk, artisans, buy mug, jazz, hotel; rest, rain storm,maid panics; dinner: mall, helado, Sanborn's: get cash; room: fotos, shower, bed.
MO: Sleep late; brkfst: Sanborn's; room, rest, fotos; taxi: UdLA: dancers and Jamie/Tina/Jill, dorm check-in, drink by pond, change airplane seat; taxis: Cholula, dinner at terrace rest, walk cathedral, zocalo, shops; taxi: UdLA: goodbyes, taxi hotel; room, bed.
TU: Up; walk zocalo, Vip's: no service; walk, Casa Real Poblana: bkfst buffet, walk, Sanborn's cash; room, pack, check out; taxi: CAPU, snax; bus to MX airport, easy check-in, lunch, input grades; flite, HAI: Pres club: input grades, emails, snax; flite OK, car, home: girls, bed.


The plaza in Cholula. Jamie, Director of Dance at UCO, serenaded at dinner. Jim, Jamie, Jill, Tina, and student at dinner.

Teaching at UPAEP





Mexico City


Ciudad de México, México DF, or simply México, is the capital city of Mexico. In 2006 the metro area had a population of about 20 million. Located in a large valley in the high plateaus at the center of Mexico, it was originally built by the Aztecs in 1325 on an island in a lake.


Mexico City is in the Federal District (like DC in the US). Puebla is the capital of the neighboring state of Puebla. My hotel - the Sheraton Historic Center. I stayed on the 21st floor with a great view. The hotel was top-notch with excellent amenities and service.


My view from the hotel room. Below is Alameda park. Just beyond the park is the Palacio de Bellas Artes. A student protest in the park.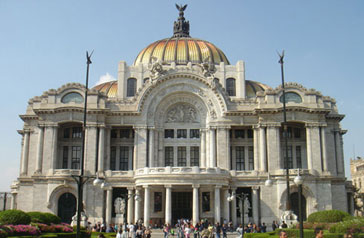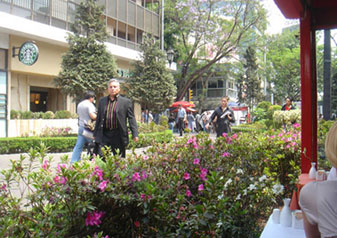 The Palace of Fine Arts with an Art Deco interior (construction was halted by the war and the interior was redesigned and finished in the 1930s) and a Tiffany glass curtain. One of several outdoor cafes where I had lunch - yes, there are Starbucks all over Mexico City - identical in every way - drinks, decor, baristas, food, except the menu is mostly in Spanish.


Inside the main cathedral. A mime and his 'partner'. A living statue.


One intersection was lined with benches by different designers, all intriguing. The police use Segways. A large ugly woman at a market.


The Mexico City airport International terminal is beautiful with lots of glass and minimal masses of architecture. Exiting from a plane into a glass jetway is a very welcoming joyous experience - instead of an enclosed hallway. The baggage claim had a 2-story wall of glass overlooking the tarmac. One could watch the baggage carts come right up to the glass and the luggage put on the conveyor belt and through a window opening in the glass wall.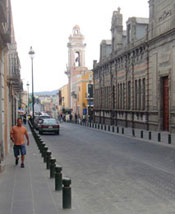 Many old cities use bollards - the short columns that separate vehicles from pedestrians. Many Mexican cities were laid out before the automobile so they didn't think to make curbs. Many new developments still use bollards instead of curbs - they are more efficient, allow wheelchairs to easily pass through, and pay homage to the heritage of the colonial cities.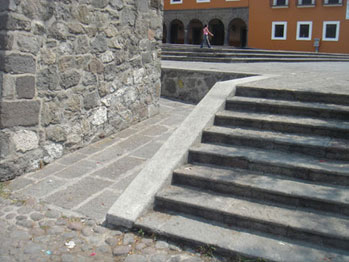 There are many instances of what appear to be dangerous ledges, steps, lack of handrails, etc. In the US we would have lawsuits. Mexico appears to be less lawsuit-crazy. I never once saw anyone get hurt or trip on a step or ledge. Mothers and fathers kept children in tow or the kids just ran around, but everyone seemed to be cautious enough and to take responsibility to watch where they were going. Very refreshing to see people rely on their own senses and intelligence than to rely on government to safetify their environment.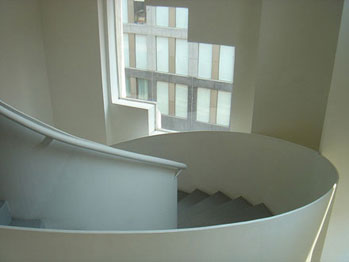 Four images from the new Museo de Arte Popular, an excellent museum right behind the Sheraton Hotel (that's the hotel tower shooting up beyond the atrium skylight). The museum was very well-designed - the entry, gift shop, cafe, ticket counter, and all the wayfinding and informational graphics throughout. Exhibit captions were in both Spanish and English. This was a great discovery I stumbled upon while walking some back streets. I'm very glad I went in.


A cool way to encourage recycling - two compartments in the same container, one for organic materials that do not need to be buried and smothered in a landfill where they aren't able to decompose. The new 'Walk lights' in Mexico City count down the seconds left before the light turns to 'Wait'. The figure is animated and speeds up as the time counts down.



Graphics in the Mexico City Metro


Mexico City is served by the Metro, the largest in Latin America, the first portions of which were opened in 1969. One of the busiest in the world, it is heavily subsidized, and has the lowest fares in the world. A number of stations display Pre-Columbian artifacts and architecture that were discovered during the metro's construction.


One of the reasons for going to Mexico City - to shoot slides of Lance Wyman's graphics for the subway system, opened in 1969.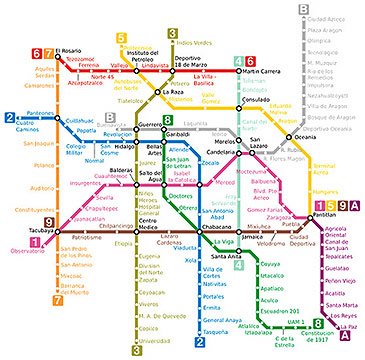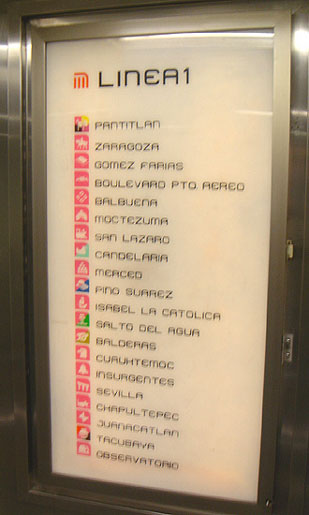 One entry to the Mexico City Metro was designed by Hector Guimard, identical to those he designed for the Paris Metro.





Puebla


The city of Puebla, full name - Puebla de los Ángeles or La Angelópolis, is the capital and largest city of the state of Puebla. With a metro population of about 4,000,000,it is the fourth most populous metropolitan area in Mexico. Puebla is one of the oldest colonial cities on the North American continent. Founded on April 16, 1531, Puebla was the first city in central Mexico that was not built upon the ruins of a conquered Amerindian settlement. Its strategic location, half-way between the port of Veracruz and Mexico City, made it the second most important city during the colonial period. Mexico's army defeated French forces in Puebla on May 5, 1862 in the Battle of Puebla - celebrated in Mexico and the US as Cinco de Mayo. Puebla is famous for 3 things: Cinco de Mayo; Mole Poblano, a sauce of 20 ingredients including cinnamon, peppers, and chocolate; and blue and white Talavera ceramics, used in dinnerware, plant pots, churches and even street tiles. Puebla is the Sister City to Oklahoma City. (Wikipedia)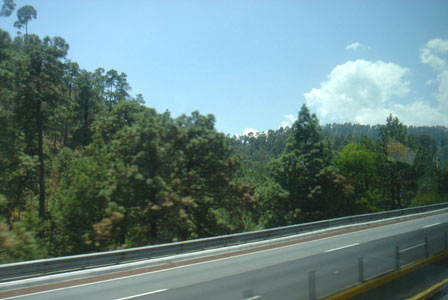 On the highway from Mexico City to Puebla. Mexico City and Puebla are 2-hour bus ride from each other. It takes about 30 minutes to get through Mexico City traffic, then its a nice ride over a mountain pass. In the background of the two bottom fotos is the volcano Popo.


Two closer views of the active volcano Popocatépetl or, Popo, as its affectionately called. It is the second highest peak in Mexico. Geologists are keeping an eye on its activity since it is in the mountains that separate Mexico City from Puebla - it is flanked by millions of people and a major eruption would likely be devastating to one or both metro areas. It had minor eruptions in 1947 and 2000.
Note: some of the pictures below were shot in 1996 and 2000 with an Instamatic type camera; these are scans of the slides so the color is not very true.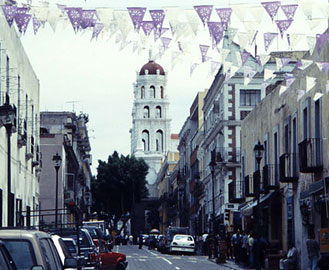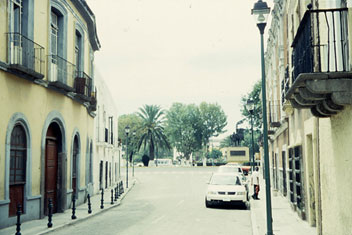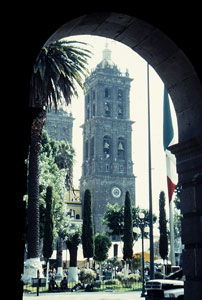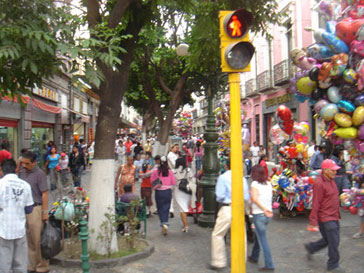 There is modern sculpture all over Mexico City and Puebla. These are around the Zocalo perimeter walkway.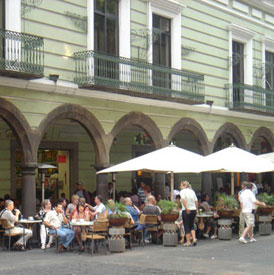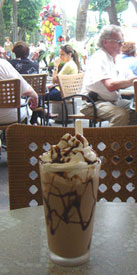 While there are Starbucks all over Mexico City, the pervasive coffee chain in Puebla is The Italian Coffee Company (that's their name and all in English). There are 3 locations of The Italian Coffee Company around the Zocalo in Puebla - one on each of 3 blocks (the 4th block is the cathedral).


The Italian Coffee Company where I took a break. The view from my table. My drink, a caramel-something - I had two of them.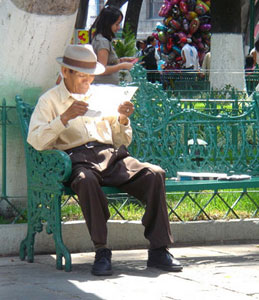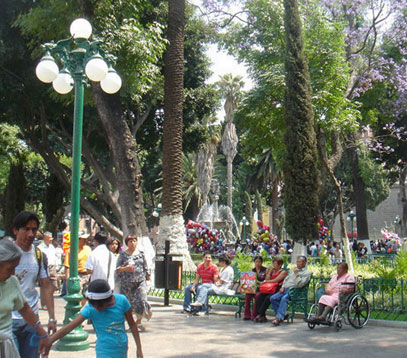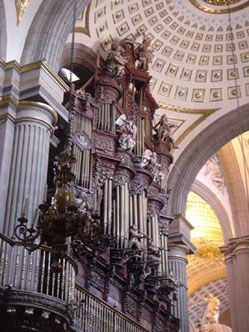 The cathedral on the Zocalo. The towers are the tallest in Mexico and the interior domes are patterned after St. Peter's Basilica in Vatican City in Rome.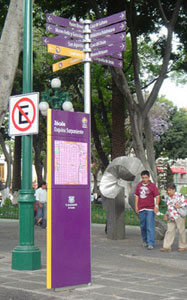 There was a jazz group playing by the restaurant umbrellas. I just sat and sat, enjoying the weather, the music, and the people. Examples of the wayfinding signage program in Puebla. The E on the sign is for 'Estacionamiento' - the Spanish word for 'parking'.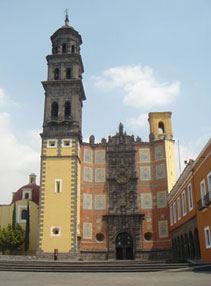 Mexican cities are full of cathedrals, churches, and chapels. Here are 3 different ones - the one on the right, Rosaria Chapel, is overwhelming covered in gold.


The largest employer in the state of Puebla is the mammoth Volkswagen plant that makes all the VW models sold in North America. I once toured the plant when they were assembling the Jetta. Watching the automated assembly lines was awesome - the technology and efficiency.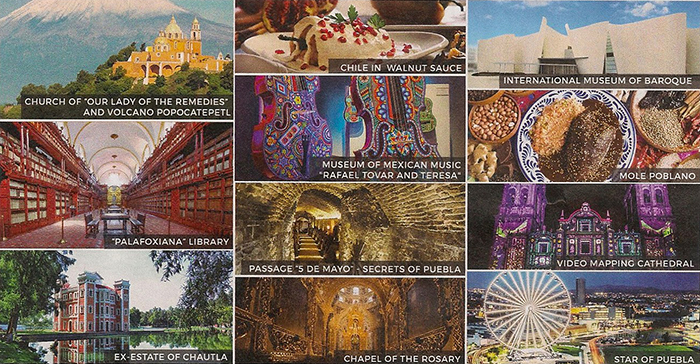 Teaching at UPAEP


La Purificadora hotel in Puebla
This hotel is in a former 19th-century water-purifying center between the Iglesia de San Francisco and the Convention Center. Purity was the guiding principle of the hotel's design: black and white are the only colors, bringing out the subtleties of the materials used - stone from the original building, old wood, onyx and custom floor tile, as well as found materials such as bottles and glass fragments, which are also integrated into the hotel's graphic design. A ground-floor restaurant, patio, library, and wine cellar offer civilized diversions, but La Purificadora's real achievement is in its mix of tradition and contemporary flavor. Hotel website. Another site.



Floor plan similar to the room in which I stayed. A view from the top of the stairs looking toward the front desk and entrance.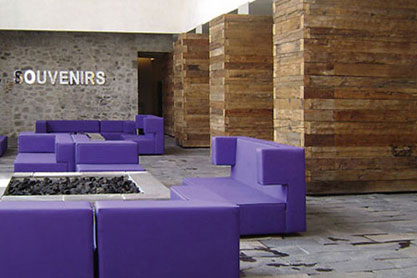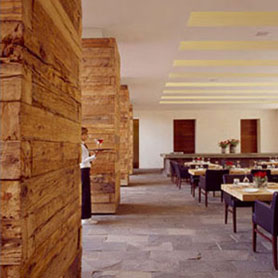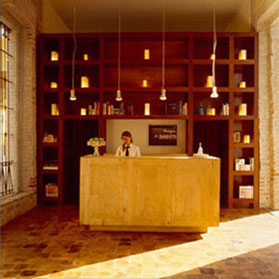 The front desk. The roof terrace with a popular evening bar and the glass-walled lap pool.


The entrance on the right with the convention center and restaurants on the left. A view from the adjoining park. My room is the one on the second floor with the blinds up.


Two views out to the park. I often slept and rested with the large glass door/wall open.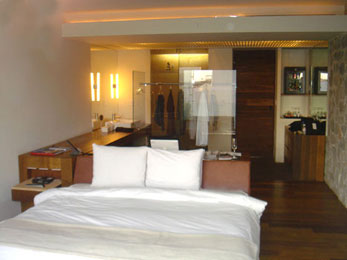 Bloggy thots in Mexico Impressiones de Mexico
• Often, when I travel, I get very inspired and sketch and doodle design solutions - solving problems, making things better, figuring out different ways to do things.
• My room at the hotel Purificadora was very stark and minimal - no pictures on the walls. One wall was all stone. It reminded me of a room where I stayed in Rome which was also minimal - that room inspired my love of and desire for minimalist rooms. Uncluttered walls, sparse furniture, few accessories.
• Mexican architecture and design is an eclectic mix of the traditional heritage with the contemporary modern. There are colonial ornate buildings, statues, and fountains interspersed with abstract steel sculptures and simple graphics. Many signs and posters use less ornate and less cluttered sans serif typefaces.
• Sitting at the Zocalo in Puebla, at The Italian Coffee Company, a kid came by selling silly cartoon trading cards. He was a cute kid. We chatted briefly - he will be 10 years old on September 18, 2008. He was so sweet-natured with a great smile, that I gave him 10 pesos - about a dollar. His eyes lit up, he was so excited. I didn't even take the cards.
• Another time I was just enjoying sitting on a bench at the Zocalo and watching the world go by. But I felt a fart working. I maintained decorum because I was afraid that the women sitting on the bench with me might feel the bench slats vibrate. So, I resisted. Then I glanced to my right and saw the woman next to me pull down her top to breast-feed her infant. Well, dang, if she can show tit, I can fart. So I did.
• I was sitting under a shade tree just outside the Student Union at the University of the Americas between Puebla and Cholula. I was waiting on the UCO dancers and faculty to check into their rooms. Using my iPhone, I was able to check into my flight the next day and get my boarding pass. Amazing, from a village in central Mexico I was able to access flight information, change my seat (to an exit row) and check-in for my flight.

I love Mexico - the people, the culture, the lifestyle, the heritage. I will go back.