Living in the heart of Tornado Alley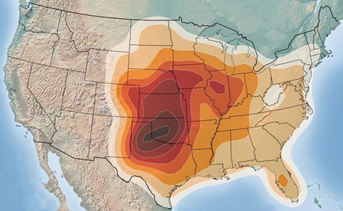 Left: Frequency of thunderstorms. Right: Number of tornados.



May 19, 2013, Sunday morning: I and a friend had a great brunch at the new Whiskey Cake restaurant at Penn Square Mall in OKC. The weather was so nice, we sat outside on the covered patio. I left for home at about 2:00. I had to mow the back yard before the arrival of a forecasted storm later that afternoon. While mowing, I noticed the sky turn dark and the cloud movement increase. I kept checking the sky as I later took the dogs for a walk. At one point, I looked up and the clouds were rotating in a large circle over my head. Holy shit! That looked bad. I went inside and led the dogs into the closet. I had earlier readied the closet floor with pillows and cushions. We got in and the dogs lay down (photo below). They stayed quite calm. I, however, got a bit scared. This closet was not much protection.


The sound of the storm increased and there was a bit of hail. The power had gone off, I could not get info from the television. I was following the weather maps on a couple of iPhone app sites. It looked like we only had to get through another 5 or 10 minutes. After that, I slowly slid open the closet door. It looked quite calm out. We got out and went outside. The power came back and the tv popped on. They mentioned that a small tornado had touched down about 3 miles away. The damage was fairly minor (well, not to that one guy who lost half of his roof) and there were no injuries. This was the very beginning of the tornado that continued east and grew into a monster, destroying much of a trailer park near Shawnee (photos above). Every spring tornado season, I think about installing a storm shelter. Now, I definitely will. I won't go through another season sitting scared in a closet.

Monday morning, we thought the worst was over. Just another day of thunderstorms, maybe some severe in the afternoon. The morning was beautiful and sunny. I did some more yardwork. Watching the weather coverage that afternoon - there was a tornado that went through Moore, about 24 miles south of where I live. But, no word on how strong it was. Then, as the storm passed and the sky cleared, the news helicopters aired live aerial views, including the elementary schools. It seemed quiet and serene from the air. It wasn't.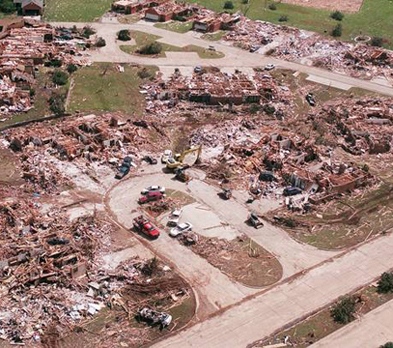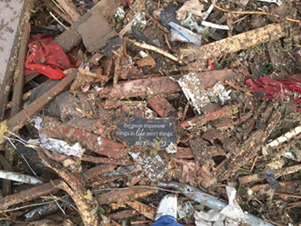 Found among the rubble. More fotos. Survivor finds dog buried alive under rubble.



Earlier memories


April 2, 1957, 4:20-4:50p: Tornado in Dallas from Oak Cliff along Harry Hines Exchange Center to Love Field. Dad took us onto Woodland to watch the skies.


Right: Looking northwest from the 31st floor of the Republic National Bank Bldg. in downtown Dallas. The area between the smoke stacks and the white grain silos on the right is the approximate location of the present day American Airlines Center.
May 3, 1999: Cleaned out closet. Watched forecast, saw it veer east towards Tinker AFB from Moore. Breathed a sigh of relief.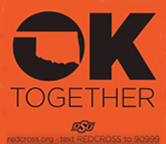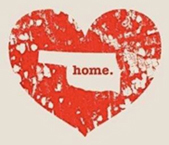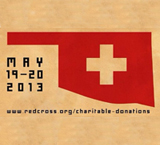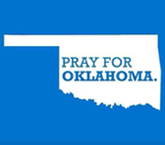 Above: some of the marks posted on Facebook, none very good. Below: the best one, by Andre' Johnson. It includes a direct emotional appeal and a mental play on words: Help more & Help Moore. The mark conveys clarity, alignment, passion, wit, and warmth.

NYC cares: More for Moore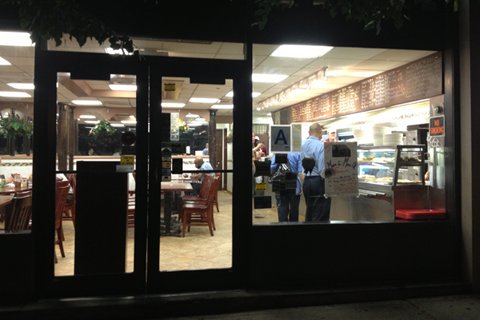 Walking around Lower Manhattan and saw this sign taped to the window of a pizza joint. New Yorkers are holding a fundraiser for the victims of the Moore tornado.




Dear Lord,
The tornadoes you created and sent through Oklahoma have nothing to do with our free will, so the destruction and death must be part of your glorious loving plan for us. I realize we, your children, can not always understand your will, but, I pray that you amend your perfect plan to suit me - please alter the path of your tornado to miss my house. Thank you.
In the name of your son, my savior, Jesus Christ,
Amen

"People are trapped. You are going to see the devastation for days to come," said a spokeswoman for the Oklahoma Highway Patrol. "Send your prayers heavenward because there are people fighting for their lives." In response to a woman who said she was praying for the tornado victims, a Facebook commenter replied, "If prayer worked (and superseded God's will), there wouldn't have been a disaster like this in the first place."

A Christian has to believe that the creator of the universe created tornadoes as part of his glorious plan for the world. The tornado that devastated Moore OK is not a result of free will, but is a part of God's glorious plan for our lives. A Christian has to worship a God that ignored the prayers of the trapped students and teachers and watched as 7 children suffered and died in their school building.





An issue I now fully support


Install storm shelters in every public school in Oklahoma.
With communication capabilities. handicap accessibility, and large enough for all students and neighborhood residents. Pet rooms with kennels, kid's play areas, restrooms.
Yes, it will be expensive. The USA spends more on the military than the next 10 countries combined. We can pay billions to attack Iraq and maintain military bases all over the world. Yet, we won't spend money to protect children in school in Tornado Alley?
A friend proposed that the shelters could be paid for from Lottery and gambling income. Lottery profits were earmarked for education, anyway. What a great idea. The lottery and gambling concerns could boast that they were now performing a public service - helping the safety of Oklahoma schoolchildren.





The tornado shelter


Spring of 2013 was a severe tornado season. One got close to my house. Laying on the floor of the closet, checking the weather app, and getting texts from friends about where the tornado was - that was one of the scariest moments I've experienced. I realized that if a tornado hit my house, 2x4 wood and sheetrock wouldn't quite save me. I had thought it about many times, during spring tornado season, but never committed to doing it. "Oh, I'll be alright." But that spring was different. There were offers of basements down the block, but I figured it was time to get a shelter in the garage.
I ordered it in May, 2013, and it was installed on Tuesday, September 10, 2013.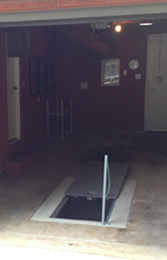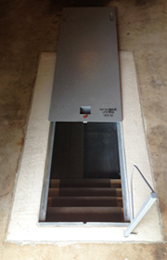 Tornado action plan




Before


• Charge phone
• Back up files
• Move car forward, open shelter door
• Put on dog collars
• Gather items, stock shelter


Pack into shelter


• Dog beds
• Laptop, iPad, chargers
• Water bottle
• Flashlight
• Keys: car, house, apt.
• Cash, car credit cards
• Glasses


Take into shelter


• Phone, credit card
• Glasses
• Leash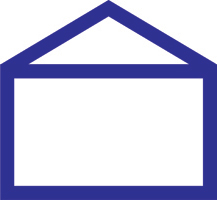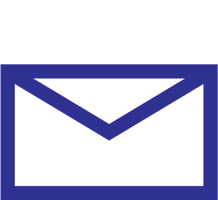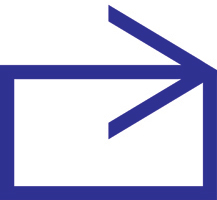 www.jamesrobertwatson.com/tornado.html