Where Jim Watson has lived and a few memories
Watson residences before Jim was born

To June 1942: 2116 Monroe Ave & 2116 Fox Ave, Madison Wisconsin


June 1942 - December 13, 1943: Houma Louisiana


Dec 15, 1943 - June 7, 1946: Black Bayou, Louisiana (brother Bill born)


Sept 10, 1946 - Jan 17, 1949: Maplewood (Lake Charles), Louisiana (brother Steve born)


Jan 18, 1949 - Feb 3, 1951: Parkchester Apartments, New Orleans



New Orleans - Jim is born




July 27, 1950 - Aug 2, 1950: Touro Infirmary hospital


Aug 2, 1950 - Feb 3, 1951: Parkchester Apartments, 4503 Perlita Street


Feb 3, 1951 - Jan 25, 1952: 4730 Baccich Street house, Gentilly Terrace



Dallas




Jan 27, 1952: Tower Courts motel, Harry Hines & Loop 12


Jan 28, 1952 - Jan 29, 1958: 6727 Woodland Drive


Jan 30, 1958 - 2003: 6631 Orchid Lane



Austin




Sept 1968 - May 1969: UT Prather Hall dorm


Sept 1969 - May 1970: UT Jester Center dorm, room M467


Aug 1970 - December 1972: Sigma Chi fraternity house


January 1973 - May 1973: 1901 Wiillow Creek, apt 104


May 1973 - July 1974: 4104 Ridgelea



Dallas




July 1974 - January 1979
Orchid Lane
Timbercreek studio apartment, NWest Hwy & Skillman
Saracen apartment, Turtle Creek



Austin




Spring 1979: Big white house: 909 West 22.5 Street



Dallas




May 1979 - Aug 1979: Orchid Lane


Aug 1979 - Sept 1979: Oak Lawn, Alamo apartment


Sept 1979 - Dec 1979: Orchid Lane


Dec 1979 - Aug 1987
Timbercreek, 3 apartments
Skillman/LBJ: apt 2071



Edmond




August 1987 - June 1992: Windrush apt, 15th Street


July 1992: Wallo house: East 7th Street


August 1992 - May 1995: 606 West 7th house


May 1995 - now: 424 East 4th house



New York City




March 2004 - April 2016: Cove Club 5-S: 2 South End Avenue



Denton




May 2018: Address?


Memories of home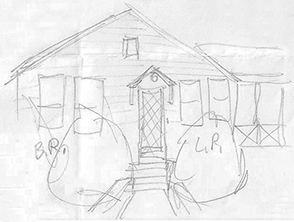 Sketch of some house - but not sure where.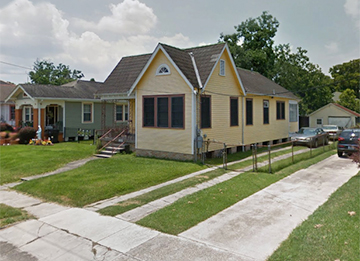 House on Baccich Street New Orleans: 1950-1952
My father worked for Shell Oil in downtown New Orleans. We lived in an apartment (that has since been razed) and a white frame house (above, now yellow) north of the French Quarter. When I was about 18 months old, he took a job with a petroleum consulting firm in Dallas.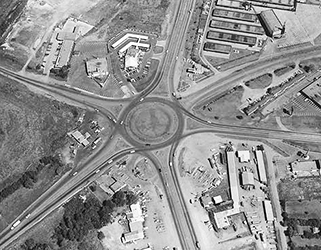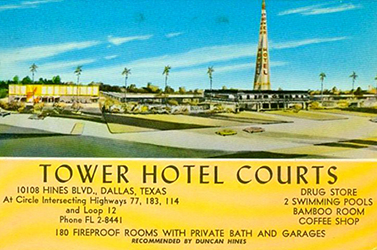 January 27, 1952: Once in Dallas, we spent the first night at the Tower Courts motel (upper right of aerial photo) on US 77 (Harry Hines Boulevard) and Loop 12 just north of the Tom Field Circle.

6727 Woodland Drive Dallas: January 28, 1952 - January 29, 1958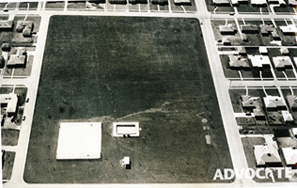 Then we moved to a new house off Hillcrest, north of Northwest Highway.
• Halloween trick-or-treating, birthday parties.
• Listening to Amahl and the Night Visitors.
• Running the hallway loop being chased by Blackie, the family dog.
• Bringing the class rabbit home for the weekend.
• Black Bart stories in the backyard. Stargazing.
• StoryBook Land and Cowboy Town (?):


• Fascinated by television.
• The neighborhood gang: Cheryl Teskey, Margie Chalkley, Ed Wynn,
• Construction blocks.
• Bunk beds.
• Walking home for the first time from school with Margie - stopping off to watch paving of Hillcrest - worrying the parents who frantically searched for us.


• Watching the 1956 tornado - Dad took us onto Woodland to watch the skies, April 2, 4:20-4:50p: from Oak Cliff along Harry Hines Exchange Center to Love Field.


• Preston Hollow elementary school. First day of school in new clothes.
• Playing in Preston Hollow Park - arts & crafts in the pavilion, swimming in the summer.
• Putting on puppet shows with Cheryl and Margie.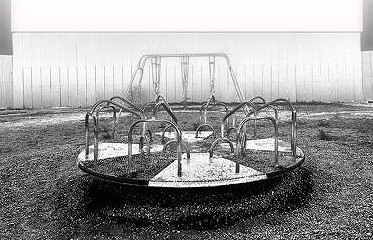 • Drive in movies at NW Hwy Drive in. Playground up front. Above foto 1941 - 11 years before we moved to Dallas. Later, the back of the screen had a mural of clown on an elephant bending down to brush elephant's teeth.
• Camps: Argyle, Wisdom, I35 racetrack, tree pole shelter, Grady Spruce, Constantine
• Keds, and Thom McAn shoes


• Lobello's drive-in, Preston Center
• Candy cigarettes, Lik-M-Aid, baseball card gum, Bazooka gum
• Butch wax, Brylcreem (a little dab'll do ya), Vitalis, Ipana toothpaste (Bucky Beaver)
• TV test patterns and static sound that came on after the last show and the national anthem
• 5 channels: ABC, CBS, NBC, KWTV Local, and Educational
• Howdy Doody, Davy Crockett, Disney World of Color, Flintstones, Jetsons
• Metal strap-on roller skates


• Tan Plymouth station wagon with a rear-facing third row - we loved to ride back there on road trips. Once, we put a blanket up over and behind us, blocking us from the rest of the car.
• Summer, 1956: Disneyland and Knott's Berry Farm. At Knott's, I saw this envelope of flat card stock with models of some of the park buildings. I loved to make models and was so eager to get it home and build these. I cherished the models; set them up on Margie Chalkley's card table in their den. It inspired a lifetime of delight in designing and making models.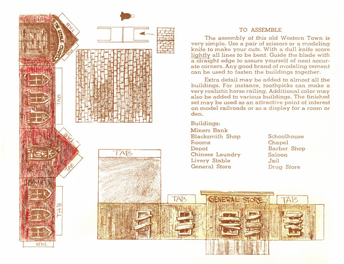 • Above: Cruising to Jack-in-the-Box on the Forest Lane cruise drag strip.
• Below: Eating at Luby's Cafeteria almost every Sunday after church. There were 2 serving lines and an organist.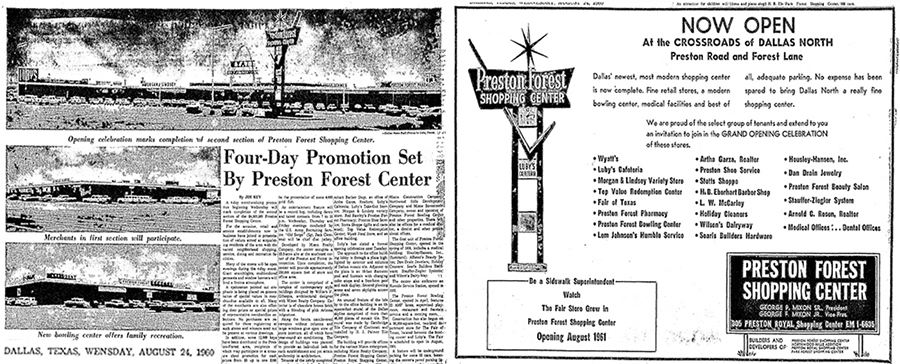 Jobs




Favorites


• Six Flags ride operator, 4 summers 1967-70: parking lot trams, Tower, 'doubles' log ride More
• Orientation Advisor, UT, 2 summers 1970-71, Jester and Kinsolving, training retreats
• Teacher: play with minds in the classroom


Least favorites


• Paperboy as an adult, it was okay as a kid, but not while in Graduate School
• Ad sales: UT pearl magazine, Dallas Times Herald. I am just not a good salesman. If someone doesn't want something, its tough for me to talk them into it - unless I feel passionate about the value it would have for them. But ad sales? I am not passionate about persuading someone to buy an ad.


Others


• Unloading produce trucks in downtown Dallas and Irving: early mornings, physical, satisfying
• Gordon Sibeck & Associates, Architects, 1967, presstype, logos from Mobil offices
• Texas State Trooper cafeteria, Austin, early 1970s, busboy, dishwasher
• 2-J's Hamburgers busboy and drinks, frat guys came in, Austin, early 1970s
• Baker's Dozen, Dobie Mall, Austin, early 1970s
• Dobie Mall Promotions Director, 1974, not much fun, back to school promotion, Christmas decorations with empty light sockets, designed mall improvements
• TV Facts production, hired even though I was "overqualified", wrote horoscopes, redesigned headings, 1975
• Dallas Times Herald, 1975
• TGI Friday's Restaurant, Dallas, 1975-81
• Richland College designer, fast, efficient


Each grandmother would take the train from Madison WI to Dallas to visit. To avoid downtown chaos on the other side of the tracks, we would park in the lot shown above and use a tunnel under the tracks to the ramps to each platform and on to Union Station. That same tunnel is now used to connect Union Station to the Hyatt Regency, which stands where the parking lot is in the photo.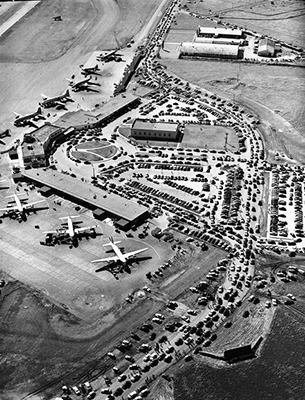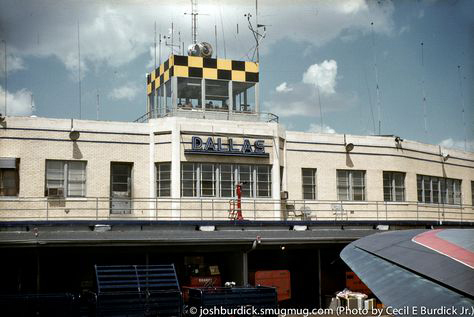 Took Dad to Love Field airport for many business trips. Enjoyed the new culture of flight. New terminal below:



6631 Orchid Lane Dallas: January 30, 1958 - 2003
As the family needed more space, the Watsons moved about a mile north to Orchid Lane, near Hillcrest & Royal Lane in Preston Hollow. Memories: We ate most meals at home; Mom cooked almost every day and when dad got home from work, we sat down together at the table, and if I didn't like what was on my plate I was allowed to sit there until I did. The closest we had to fast food was Youngblood's Fried Chicken, Pizza by Marco, Jack in the Box out on Forest Lane, and later, KFC.
Our parents never wore jeans or had a credit card. Later, they had something called a revolving charge card, PrestoCharge and, then, PrestoCard.
My parents never drove me to soccer practice. This was mostly because we had never heard of soccer. I had a bicycle that had three speeds.
I never had a telephone in my room. The only phone in the house was in the hall. There was a long cord so we could take the phone into the first bedroom and have some privacy when talking to girls. Later, we got additional phones in the kitchen and in my parent's bedroom.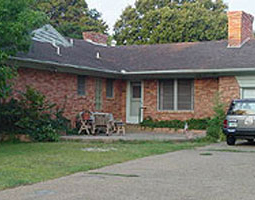 I delivered a newspaper, seven days a week. I had to get up at 4:30a every morning. On Saturday, I had to collect the 50 cents from my customers.
Wanted to get the fashion, what was in style:
• Madras fabric: shirts and pants
• Thick black ribbed-sole shoes from Thom McAn (David Rosenfield had them) and I had to have them; Cole-Haan shoes at UT.
• Transistor radio at Dealey, admiring others on the ramp after school.
I loved putting on those red pants - it was going to be a good day when I wore them. No matter what happened that day, it was going to be good. In the class where we learned to square dance, those pants were just sharp - the envy of all. Or, at least so I thought. Bright red. How can you go wrong with red pants?
• Spring Valley Country Club - driving up Preston past farmhouses, we counted the number of water wells.
• North Lake - water skiing.


• George B Dealey Elementary School.
• Cub scouts.
• Boy scouts.
• Playing the game of Clue - probly my favorite - it was a mind game.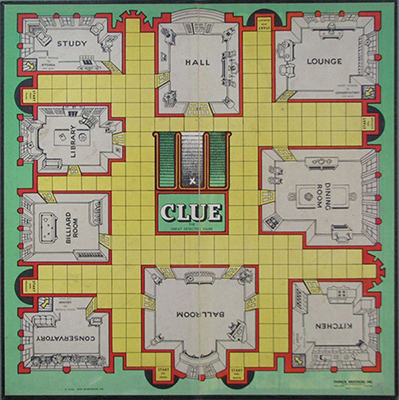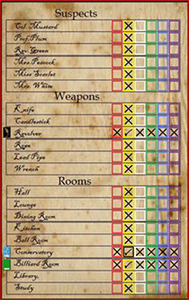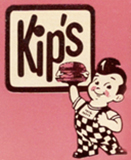 • High school hangout: Kip's Big Boy coffee shop - Big Boy triple decker hamburgers, fries, chocolate malts.
• Stepping into shorts and running outside to play all day long. "Time to come in, tomorrow's another day."
• I built complete villages of houses and roads in the sandbox next to Doug's garage.
• Dinners with the family.



• Pebble art kits that mom and I made.
• Road trips: New York to California, sights and sounds, relatives and familiar Disneyland.
• Plastic building blocks that led to highways, houses, and skyscrapers: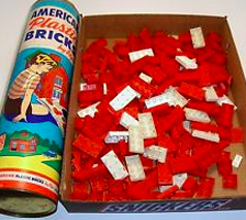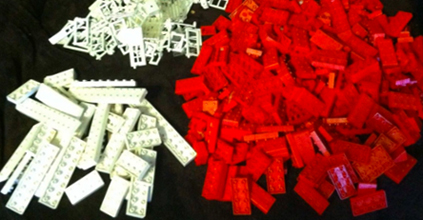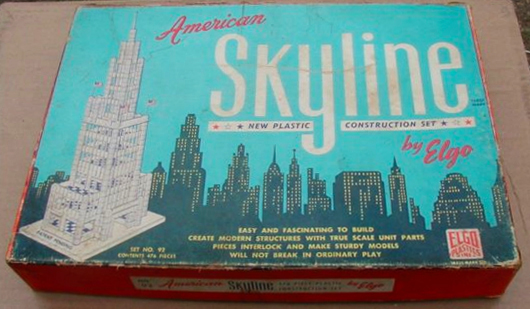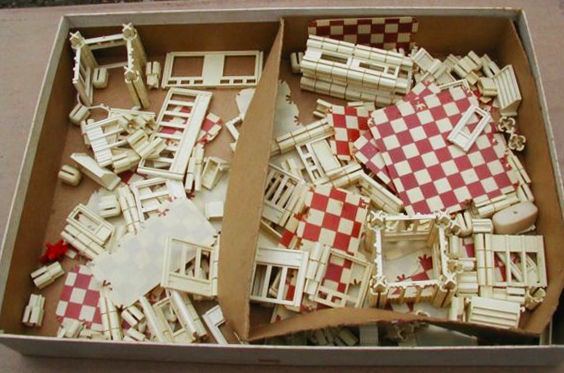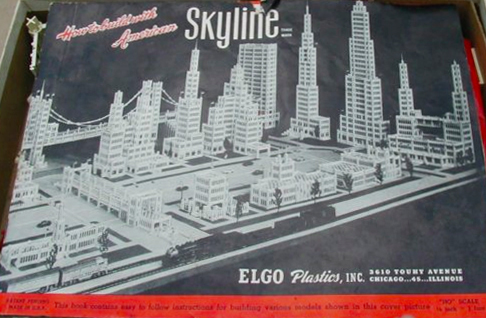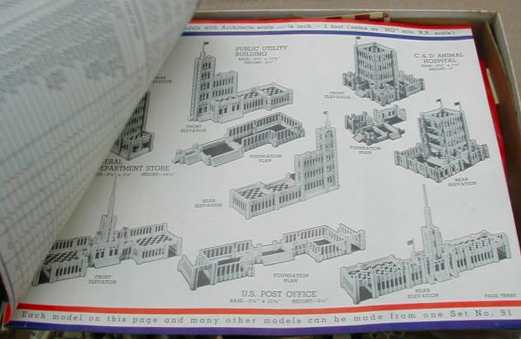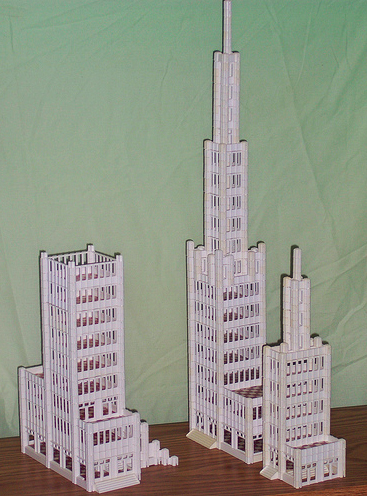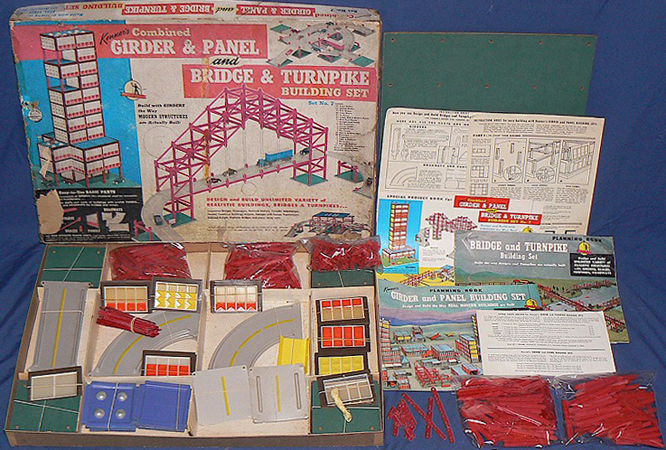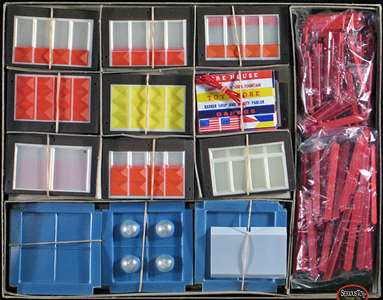 • Mimosa blossoms, cool Bermuda grass, and a warm kitchen.
• Exploring the alleys and vacant lots, with Doug, David, and Margie.
• Square dancing at George B Dealey school: the music, the movement, the smiles.
• Plastic model cars and balsa wood ships.


• Attended Benjamin Franklin Junior High School: Guide, JFK news, football stands.
• 1950s radio: KLIF was downtown in a flatiron-style building with a glassed-in studio out at the point. KBOX was north of Northwest Highway, just past White Rock Lake.
Contests, new releases. Beach Boys gave two sides of latest record, one to each station: 'God Only Knows' (KBOX) and 'Wouldn't It Be Nice' (KLIF).
• The Cavern Club, blacklights, bouncer, drinks.
• Drinking in car at synagogue. Put in soda cups. Chased by older kids.
• Jack tacos from Jack-in-the-Box on the strip: Forest Lane.
• Backstage, Butterfinger bars, reworking flats in hallways, painting spirit posters, animating them, building the model stage,
• Hi-fi's: 45 RPM records, mono LPs, transistor radios
• Top Value and S&H greenstamps
• Metal ice trays with levers
• Mimeograph paper in school, sniffing the ink
• Blue flashbulbs
• Skateboard: customized with rubber bumper and burlap texture
• Threw paper route on bicycle - sang and wrote songs while walking predawn.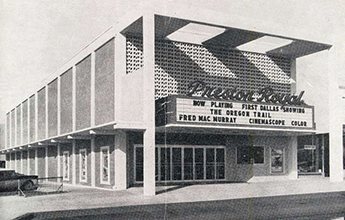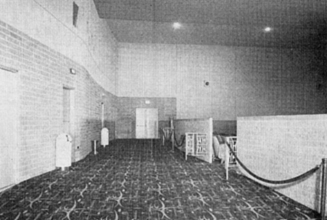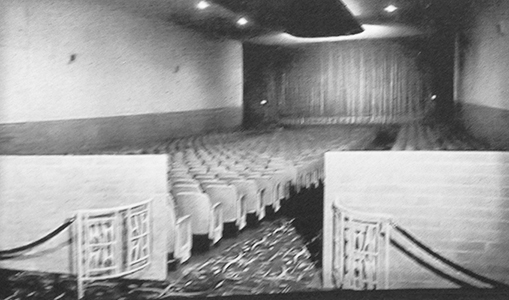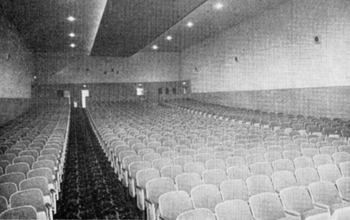 • Movies at Preston Royal Theater. Rode bikes, saw 4-D Man
• The Sound of Music starring Ann Blyth, my first live musical. Bought SoM soundtrack at Titche's Preston Forest, 1964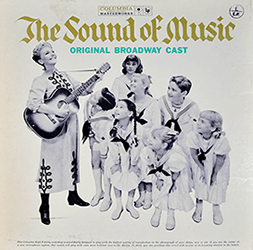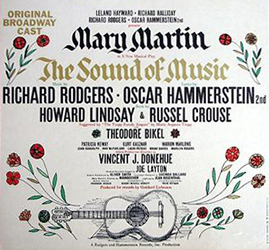 • The Impalas: Junior High band - Bob Schlotterbeck, Randy McCommons, Rick Hopkins and me on the drums.
• 1964: rode bicycle to Preston Ticket Agency at about 5am to get in line for tickets to the upcoming Beatles concert.
• Awakened by brothers to go to airport to see the Beatles land - we got right up to the car.
• Went to Beatles concert with Randy, Alec Pridgeon, and Jim McCommons.
• Late nite/early morn study/cram during high school - sit in the living room.


• Season tickets to Bronco Theater, Oak Cliff
• The King & I set designer, late nights, backstage gang: Laird McDonald, Barbara Smith, Chris Chernoff, Becky Kennedy, Abe Frishman, Allan Smoot,
• Watch the Beatles on The Ed Sullivan Show
• Other great childhood television: The Smothers Brothers Comedy Hour, Laugh-In, Gary Moore Show, The Flintstones on Friday nights, cartoons on Saturday morning
• 1969: watch the Apollo moon walk & Neil Armstrong while resting on the den floor.
• 1968: Kennedy assassination: the principal interrupted Mrs. Gambrell's 8th grade English class with an announcement over the school PA, some cried, silence, quiet hall, science room tv, tv all weekend, Sunday, dad & I went to Luby's for take-out, got home to mom at the den door telling us of Oswald's assassination.
• Familiar bedroom on visits home from college, summers, and various times throughout early professional career.

Pets: Blackie, Smokey, Chica, Tigre, hamsters, chameleon, chicks, school rabbit
Preston Royal: John Cobb's Airway Drugs with soda fountain, toy store, barber shop, TG&Y dime store, movie theater (4-D Man), Post Office, ice cream parlor, 7-Eleven, Marco's Pizza
Model cars, plastic, hobby shop in Preston Royal, coats of paint. Some customizing, but not too extravagant. A Buick station wagon - black with a few chrome accents. I entered it in a contest but it was not quite slick enough - a bit clumsy in the assembling, gluing, and painting. I was disappointed.
Mom Bought me a model car at a discount store on central north of Forest - FedMart? Also at Sears on Greenville and Ross.
I mowed lawns for $5 and, while I was mowing, I would think about what model kit I would get with the money. Some of the yards were within walking distance of the store with the models, so I could go there straight from work and get my reward. Of course, I never saved money, I spent it as soon as I got it. But I built up quite a collection of model cars.
Preston Forest: Minsky's record shop, Slot car raceway, A&P shopping with mom, Titche's: Boy Scout shop, record dept Sound of Music, Gary Lewis and the Playboys. Luby's Cafeteria almost every Sunday with organ music.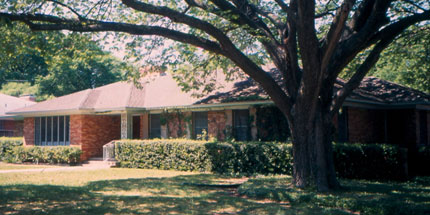 Death of the Orchid Lane house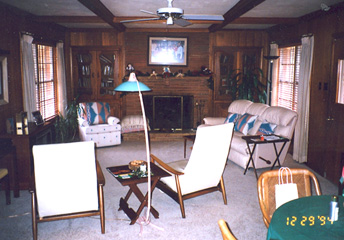 In the summer of 2003 it became apparent that dad would never be able to live at Orchid Lane again due to his stroke (mom had passed away the preceding December). My brothers and I decided it was time to sell the family house. We made arrangements and began purging the house of items we wanted to keep (pic of den prepped for sale). The house was turned over to an estate sale company on September 1 to prepare for the sale on September 6 & 7. The house was sold on September 15. It was razed soon after and construction of a large McMansion (pics below) went up at 6631 Orchid Lane.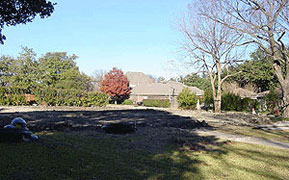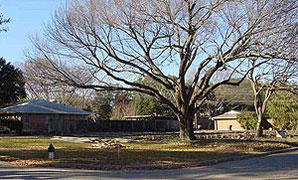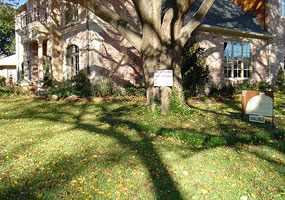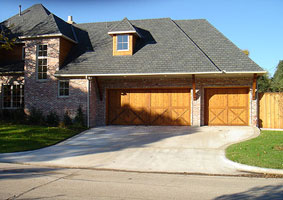 UT Prather Hall dorm, Austin: September 1968 - May 1969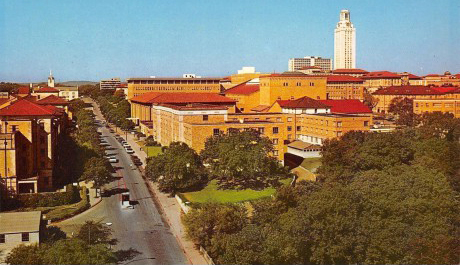 UT Jester Center dorm, room M467, Austin: September 1969 - May 1970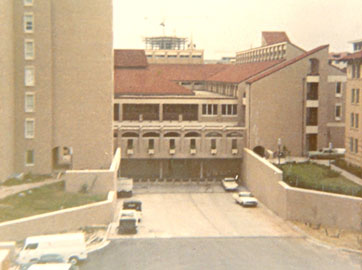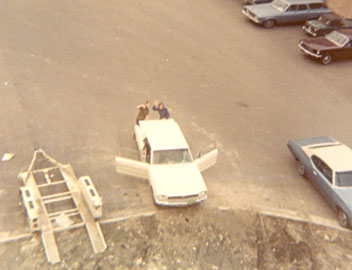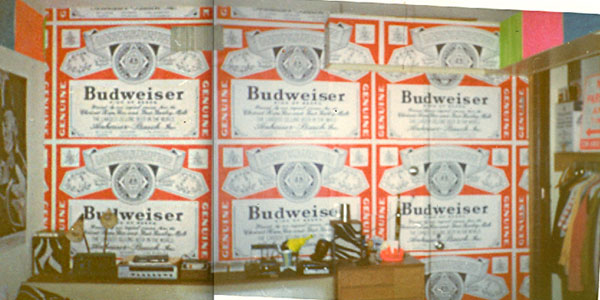 • Wall covered with Budweiser posters.
• Roommate John, from Midland/Odessa, his friend Brent.
• 8-track and cassette tapes.
• Painted soap on blinds - visible only under blacklight.
• Louie's - Louie didn't check IDs
• Gin at dorm room on Nueces (with Andy Anderson?): bushes by old house, dorm room, black out, shower

Sigma Chi house 2701 Nueces St, Austin: August 1970 - December 1972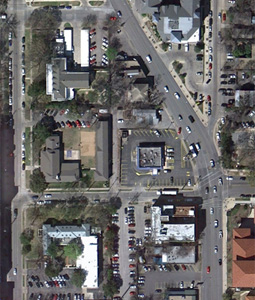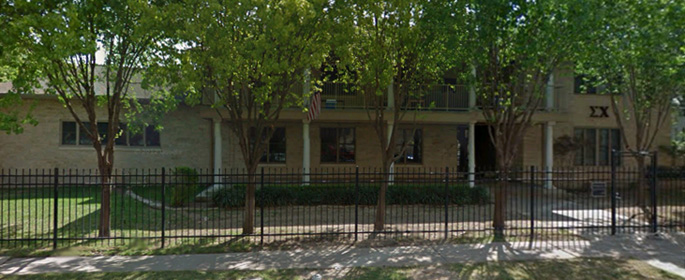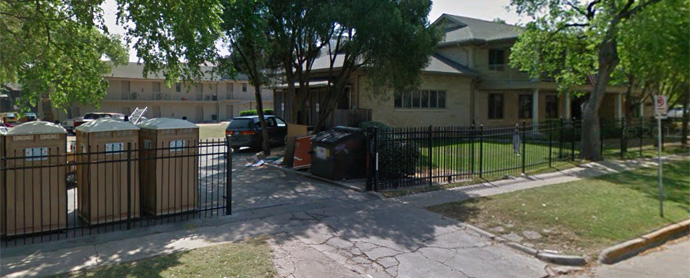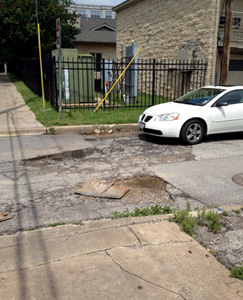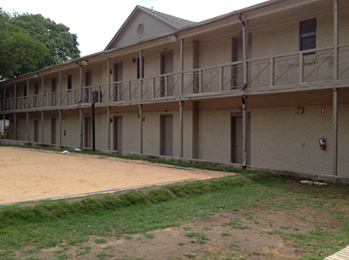 Roommates:
Room 2: Jim Craver (from OKC)
Officer's room: Mark Johnson
Room 4?: Bill Rogan
Room 5 remodeled: Greg Dial
Room 18: single room

Willowcreek apartment Austin: January 1973 - May 1973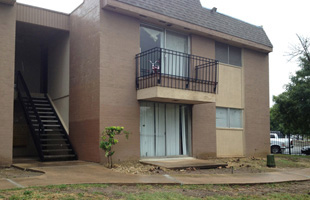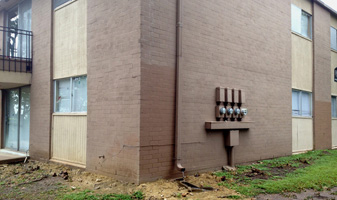 • JB the dog
• Gary Hunter, Bill McElvoy(?)
• Corn marijuana, Stairway to Heaven

4104 Ridgelea Austin: May 1973 - July 1974



• Mounted large realistic photo of woman's head peering out from kitchen
• Mounted a chair, rug, and floor lamp on the wall
• Jeet? Jew? Squeat.



Enjoyed the new limited-menu tacos and margaritas at the first Chili's on Greenville at Meadow, in a rumored former bar and speakeasy on the old highway to Oklahoma. It was torn down to accommodate the widening of Greenville Avenue. The replacement building is at the back far right, ready to open.

Big white house Austin: Spring 1979


Left: My room was on the second floor, on the right, in the back. Right: my room on far left, jutting out. The small square window is the bathroom with sleeping porch to the right.
• Shared bath, no shower - sat in tub
• Built Tripod House model
• Worked TGIFriday's in Houston

Windrush apartments Edmond: August 1987 - June 1992


• Two apartments: 2nd floor, 1st floor
• Adopted Dallas
• Built model train cars and plastic buildings, roller raceway, paperboard models
• Road trips, Route 66, Utah
• Volleyball leagues: MetroChurch, YMCA
• Trips to Dallas: friends, volleyball, family

East 7th Street Edmond: July 1992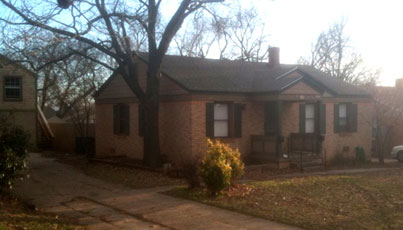 • 3 weeks while wait for rental house tenants to vacate.
• Walked Dallas, the puppy around the naberhood. Began training her.
• Sad for Dallas during rainstorm in a too-small dog house.

606 West 7th rental house, Edmond: August 1992 - May 1995


• Built De Stijl dog house, later moved it to the garage
• Found/adopted Austin
• Dog walks in naberhood, housing developments, fields

424 East 4th Edmond: May 1995 - now

2 South End Avenue Battery Park CIty, NYC: March 2004 - April 2016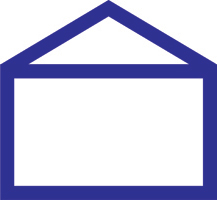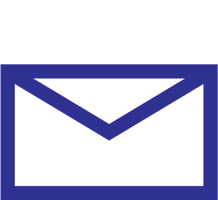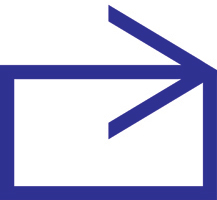 www.jamesrobertwatson.com/residences.html