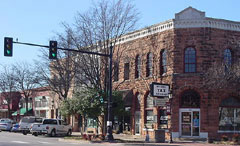 Jim Watson's house was in 424EAST4TH is in Edmond, Oklahoma, a suburb of Oklahoma City, far enough to have its own identity beyond the metro yet close enough to be an integral part of the Oklahoma City metro area. The first Europeans in the area came through as a result of the Santa Fe railroad laying tracks through the territory in the mid-1880s. Like all towns in Central Oklahoma, Edmond began at 12 noon on April 22, 1889; the Great Oklahoma Land Run. The government had decided to open up Oklahoma Territory to settlers with the promise of free land. All one had to was stake a claim. The government had previously plotted all the claims: lots within designated cities and quarter-mile quadrants outside the towns. Edmond was a water stop on the Santa Fe and was designated by the government surveyors as a 'town'. Edmond was originally named 'Summit' as it was believed that it was the highest point between the Cimarron and North Canadian rivers.

For the run, the townsite committee was considering the name 'Birge City' but when the papers were filed in 1889 at the Land Office in Guthrie (Oklahoma's first capital), someone, no one knows who, had crossed off Birge City and written in 'Edmond'. It was most likely named for Edmond Burdick, a freight agent for the Santa Fe railroad. Edmond became the site of the Oklahoma Territory's first institution of higher learning - the Normal School began classes on November 9, 1891. It is now the University of Central Oklahoma. Edmond grew rapidly: it was a stop on the Santa Fe railroad, it was later on the Interurban rail line running from Oklahoma City to Guthrie, and Route 66 ran right through town, today's Second Street and south on Broadway.


Edmond used to be a "Sundown town" or "Sunset town" - local law required any non-white person, including Blacks, AmerIndians, and Hispanics to be out of town before sunset. According to historian Christopher Lehman: By ordinance, the city of Edmond, Oklahoma, prohibited Blacks from the city limits for generations. The 1940 postcard for the Royce Café proudly emblazoned "A Good Place to Live. 6,000 Live Citizens. No Negroes" as an attraction for prospective residents. No Negro attended school in Edmond until 1974, and no Negro family lived there until 1976.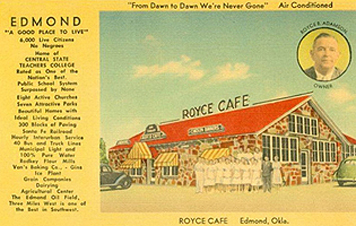 All the food at the Royce was "supervised by women."


As of 2015, Edmond has grown from 6,000 to 85,000 citizens. Today, there is a Muslim Mosque, a Mormon Church, a Witness Meeting Hall; and numerous Hispanics, Asians, and Negroes living in the city.



Capital View addition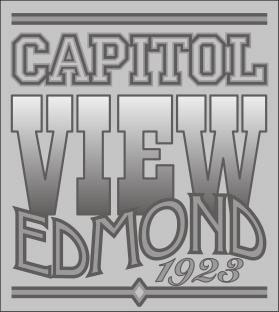 The second major housing development in early Edmond was south of Second Street, between town and the college. It was originally the site of the Clegern family farm, bounded by Second Street, Ninth street, Boulevard, and Rankin. Their farmhouse stood near the corner of Second Street and Jackson Street. The barn and a pond stretched south to what is now 4th Street. In the 1920s, the Clegerns built a new house on what is now Fifth Street, east of Rankin. They sold their farm and divided it into housing lots, first in 1917, and again in 1921 - the former Clegern farmstead became the Capital View Addition. Lots were typically 25' wide and 140' deep, although new owners bought 2 or more lots. The developer built the Clegern School on Jackson and 5th and a roundabout at 4th and University (then called College). The roundabout was removed and paved over later but reconstructed in about 2008 with a smaller diameter to accommodate today's larger trucks. Across Rankin (where the apartment complex is now) was a pioneer Edmond cemetery (graves were later moved to GraceLawn Cemetery on Danforth and Boulevard).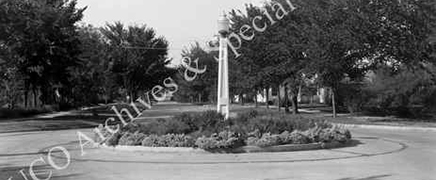 Above: the original lamppost in the roundabout circle at 4th and University (named College then). Below: Reconstructed version.


When Watson decided to buy a house, the Capital View naberhood was the only one considered: it is close to the campus (Watson sometimes walked to work), has houses with character, the trees are larger and more mature, and the location put Watson close to work, shopping, and highway access.



424EAST4TH is actually two city lots - lots 4 and 5. They remained vacant for 30 years. It is not known who owned these two lots during that time. In 1951, the owners contracted to design and build a house on the lots. The original house was designed by Richard Henley, an Oklahoma City architect. Construction was completed in 1952 in the typical brick ranch style. The most intriguing exterior architectural feature was the brick planter running along the front of the house. Jim Watson saw the house at 424EAST4TH and within minutes saw the possibilities for transformation from a cluttered space to one of openness. Watson was seeking the openness of a loft type space with a bit of industrial feel yet in a residential naberhood. The interior of the house was completely remodeled during the summer of 1995 by Watson. An office addition was designed by Watson and built during the summer of 2000; the new kitchen was designed and built during the summer of 2002. A new driveway with parking pad was designed and poured in winter 2004. The bathroom was enlarged and remodeled in spring 2004.



Route 66


The Mother Road came east/west along Second Street and north/south along Broadway to OKC. The Royce Cafe stone building is still there (now it houses offices).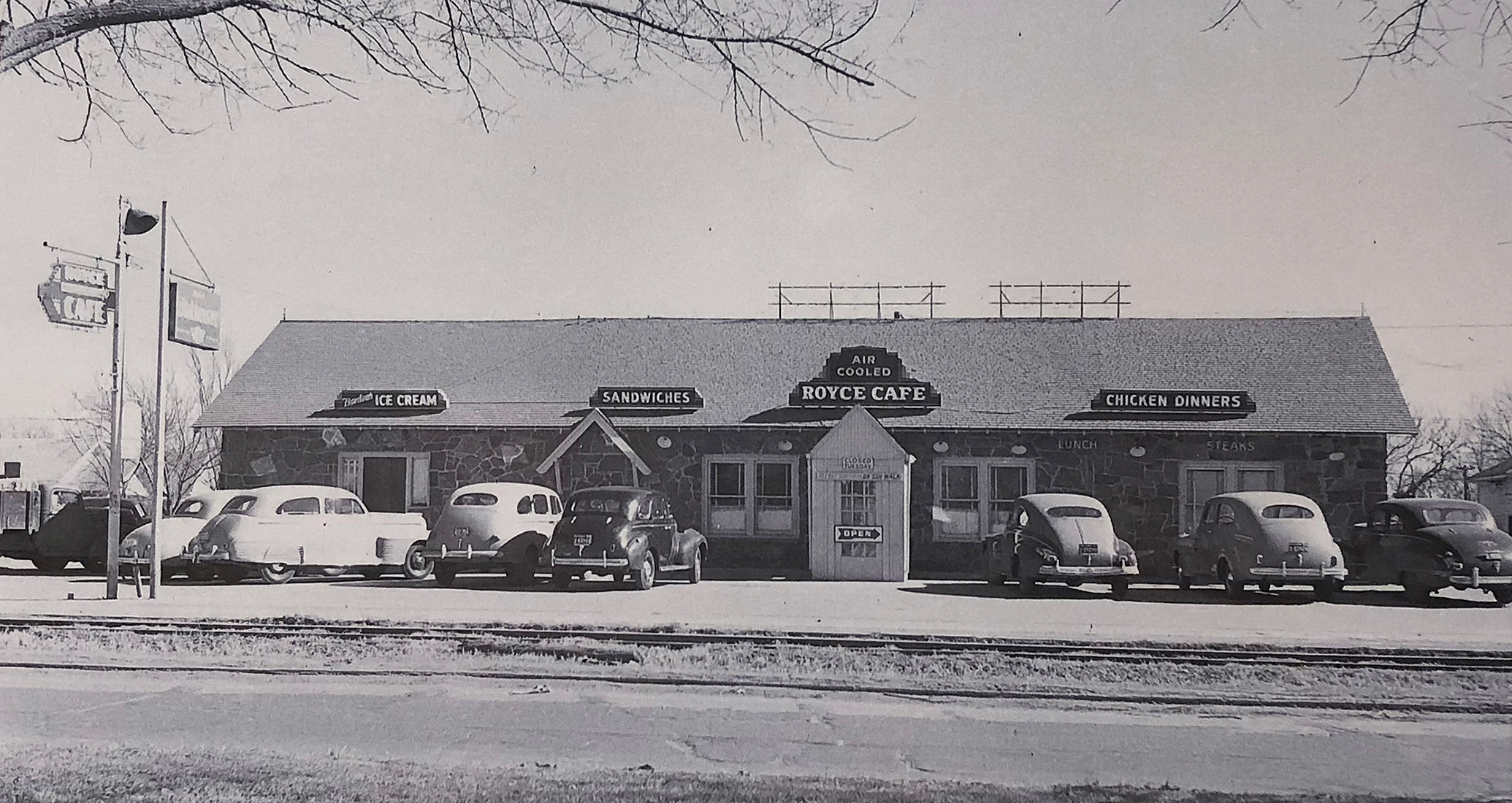 1934 & 1962: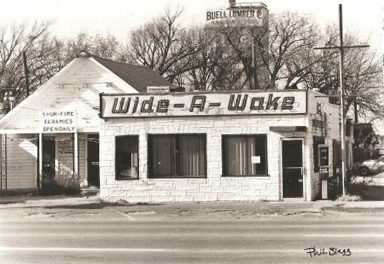 The Wide-A-Wake, a landmark on Route 66, was always open. Tastee-Freez at 8th Street & Broadway.
Below: Postcard, "Camp Dixie for rest: It's the very best" Edmond, Okla. This was where the drive from 2nd St to the Union is now. To the east of the Camp Dixie was a Dairy Queen, about where the Bronco statue is today.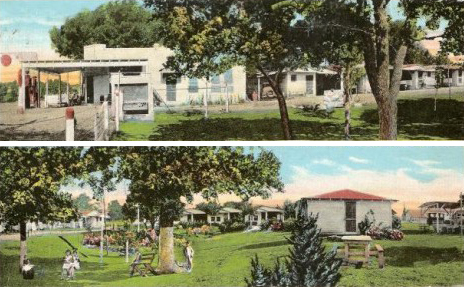 Below: Stephenson Park and the former WPA Armory, now the Edmond Museum. The Edmond Swimming pool: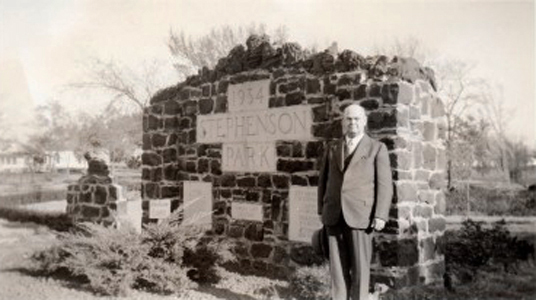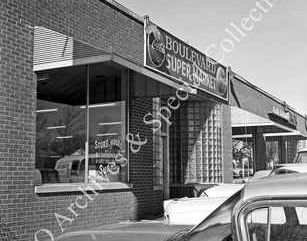 Above right: Former Boulevard Supermarket, now the Boulevard Steakhouse.



Fink Park: built 1926 along Route 66




Above: 1971 and 2010. Below: Park bridges, probly built in the 1920s?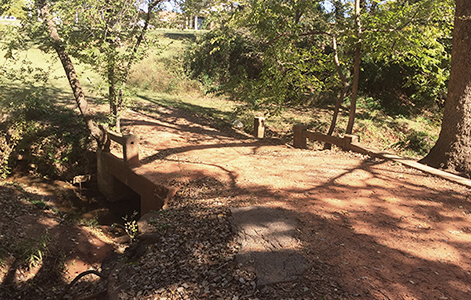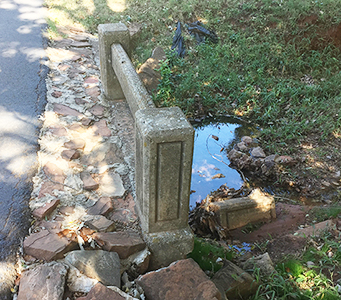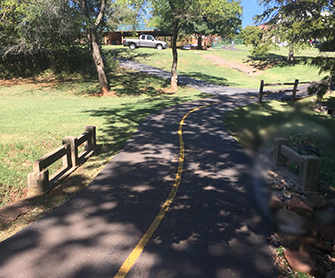 Below: Likely site of a croquet field: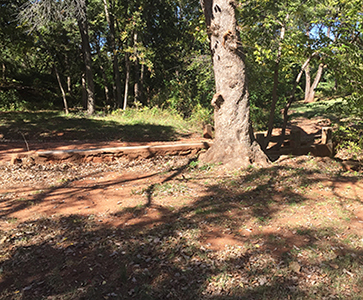 Below: Creek retaining wall, a WPA construction?


Below: Potential early camping sites:


'Lover's Rock' 1915 (students from an art class having a picnic). 1918 (before it was declared a city park in 1926). 2017: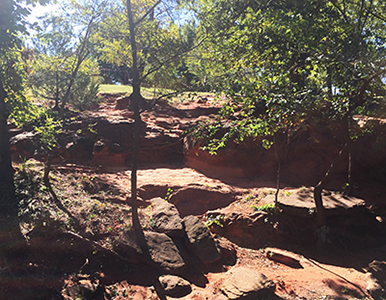 Below: Entrance sign to the park, 1930; and 1964 with an arch of cedar: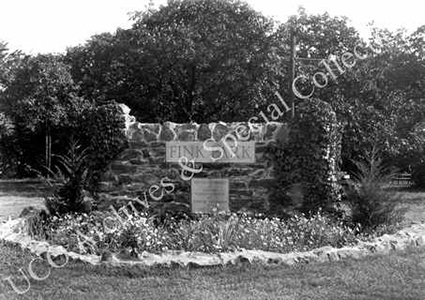 Above: Picnic table likely built as a WPA project. Below: WPA-era tables from other area city parks: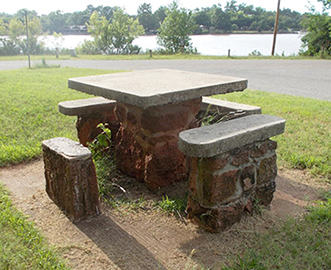 Below: Maybe the original Pavilion (the caption just places it "in a city park"). The slope down makes this location likely for the original set of steps (now it's an ADA-compliant ramp.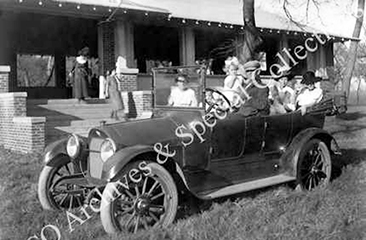 The hike & bike trail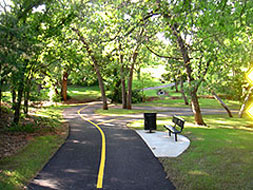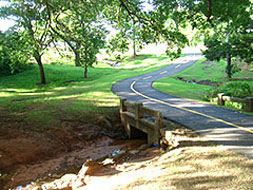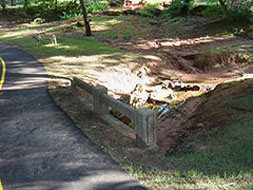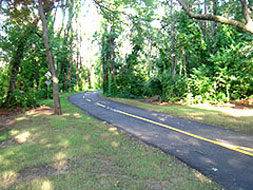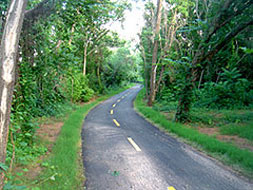 The City of Edmond Parks Dept built a hike/bike trail that starts at Fink Park and winds along a creek, behind Target and Lowe's (and close to Starbucks) and over to Hafer Park. I walked the dogs there several times a week.



Aerial view from 1971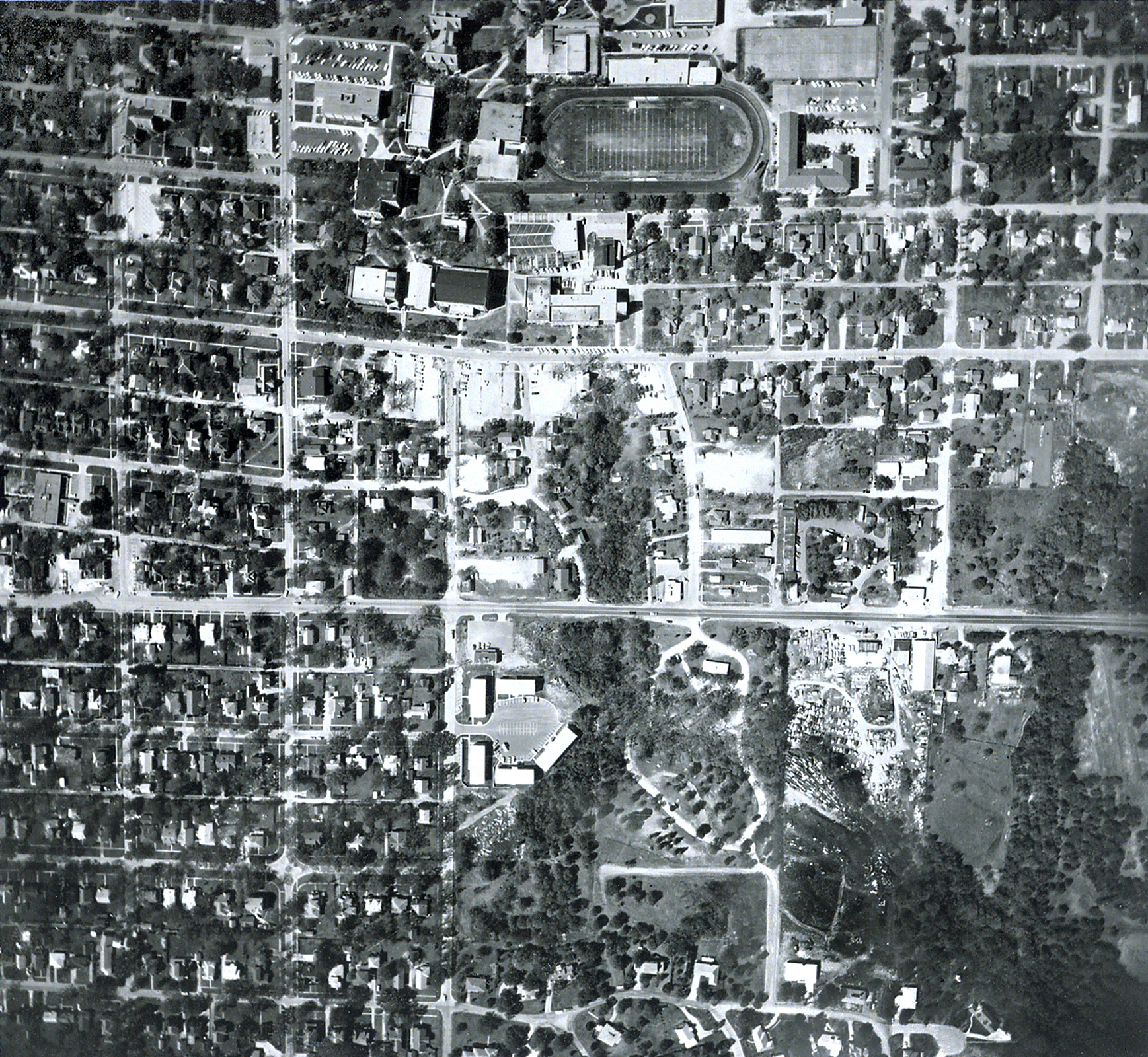 Photo from the Archives & Special Collections, Max Chambers Library, University of Central Oklahoma


We celebrate Litter Day every week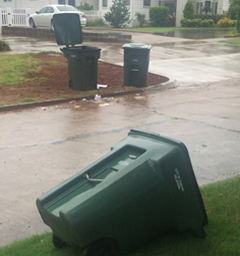 The trash truck in our naberhood regularly disperses trash on the street as the robotic arms lift the green bins, turn them over, and hope the contents make it into the truck opening on the roof. But, the Oklahoma wind rarely cooperates with that intent. So, we have embraced it by renaming Trash Day as Litter Day.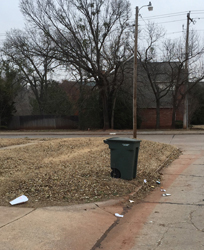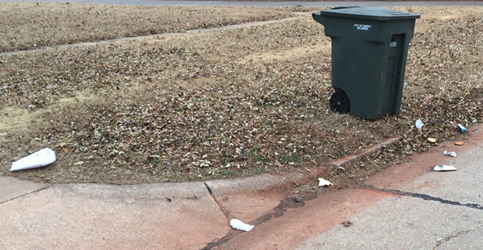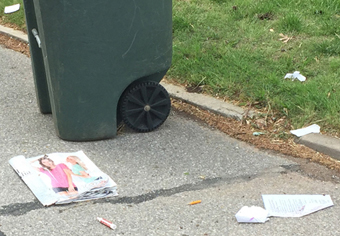 The grave of aviator Wiley Post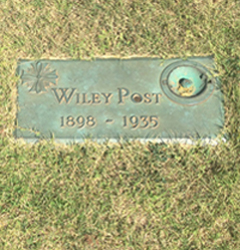 Wiley Post was one of this country's aviation pioneers - he began his career in the early 1920s as a barnstorming pilot, often performing as a parachute jumper. Some of his highlights:
• An aerial racer in the early 1930s, winning the Bendix Trophy while flying in his plane "Winnie Mae".
• The first person to fly solo around the world. 1931: 8 days, 16 hours. 1933: 7 Days, 19 hours.
• He pioneered a number of aviation inventions, including the automatic pilot.
• Helped develop the first high-altitude pressure suits, on display at the Smithsonian Museum in Washington, DC.
• Good friends with humorist and entertainer Will Rogers, who decided to accompany Post on a flight to Alaska. On August 15, 1935, a few miles from Port Barrow, Alaska they became lost in bad weather and landed in a lagoon to ask directions. The engine quit when they tried to take off again and the plane plunged into the lagoon and both Wiley Post and Will Rogers died instantly.
Wiley Post is buried in Memorial Park Cemetery in Oklahoma City, Oklahoma, just a few miles from my house in Edmond. I had searched for his grave before, but it wasn't until this historical marker was put up that I finally found it.





Living in the heart of Tornado Alley


Earliest memories: April 2, 1957, 4:20-4:50p: Tornado in Dallas from Oak Cliff along Harry Hines Exchange Center to Love Field. Dad took us onto Woodland to watch the skies.


Right: Looking northwest from the 31st floor of the Republic National Bank Bldg. in downtown Dallas. The area between the smoke stacks and the white grain silos on the right is the approximate location of the present day American Airlines Center.
Early Oklahoma memory: May 3, 1999: Cleaned out closet. Watched forecast, it veered east towards Tinker AFB from Moore. Breathed a sigh of relief.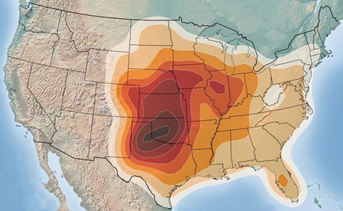 Left: Frequency of thunderstorms. Right: Number of tornados.


May 19, 2013, Sunday morning: I and a friend had a great brunch at the new Whiskey Cake restaurant at Penn Square Mall in OKC. The weather was so nice, we sat outside on the covered patio. I left for home at about 2:00. I had to mow the back yard before the arrival of a forecasted storm later that afternoon. While mowing, I noticed the sky turn dark and the cloud movement increase. I kept checking the sky as I later took the dogs for a walk. At one point, I looked up and the clouds were rotating in a large circle over my head. Holy shit! That looked bad. I went inside and led the dogs into the closet. I had earlier readied the closet floor with pillows and cushions. We got in and the dogs lay down (photo below). They stayed quite calm. I, however, got a bit scared. This closet was not much protection.


The sound of the storm increased and there was a bit of hail. The power had gone off, I could not get info from the television. I was following the weather maps on a couple of iPhone app sites. It looked like we only had to get through another 5 or 10 minutes. After that, I slowly slid open the closet door. It looked quite calm out. We got out and went outside. The power came back and the tv popped on. They mentioned that a small tornado had touched down about 3 miles away. The damage was fairly minor (well, not to that one guy who lost half of his roof) and there were no injuries. This was the very beginning of the tornado that continued east and grew into a monster, destroying much of a trailer park near Shawnee (photos above). Every spring tornado season, I think about installing a storm shelter. Now, I definitely will. I won't go through another season sitting scared in a closet.

Monday morning, we thought the worst was over. Just another day of thunderstorms, maybe some severe in the afternoon. The morning was beautiful and sunny. I did some more yardwork. Watching the weather coverage that afternoon - there was a tornado that went through Moore, about 24 miles south of where I live. But, no word on how strong it was. Then, as the storm passed and the sky cleared, the news helicopters aired live aerial views, including the elementary schools. It seemed quiet and serene from the air. It wasn't.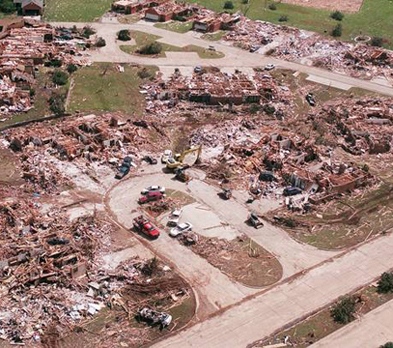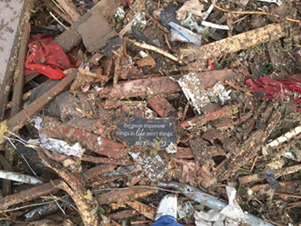 Dear Lord,
The tornadoes you created and sent through Oklahoma have nothing to do with our free will, so the destruction and death must be part of your glorious loving plan for us. I realize we, your children, can not always understand your will, but, I pray that you amend your perfect plan to suit me - please alter the path of your tornado to miss my house. Thank you.
In the name of your son, my savior, Jesus Christ,
Amen

"People are trapped. You are going to see the devastation for days to come," said a spokeswoman for the Oklahoma Highway Patrol. "Send your prayers heavenward because there are people fighting for their lives." In response to a woman who said she was praying for the tornado victims, a Facebook commenter replied, "If prayer worked (and superseded God's will), there wouldn't have been a disaster like this in the first place."

A Christian has to believe that the creator of the universe created tornadoes as part of his glorious plan for the world. The tornado that devastated Moore OK is not a result of free will, but is a part of God's glorious plan for our lives. A Christian has to worship a God that ignored the prayers of the trapped students and teachers and watched as 7 children suffered and died in their school building.





An issue I now fully support


Install storm shelters in every public school in Oklahoma.
With communication capabilities. handicap accessibility, and large enough for all students and naborhood residents. Pet rooms with kennels, kid's play areas, restrooms.
Yes, it will be expensive. The USA spends more on the military than the next 10 countries combined. We can pay billions to attack Iraq and maintain military bases all over the world. Yet, we won't spend money to protect children in school in Tornado Alley?
A friend proposed that the shelters could be paid for from Lottery and gambling income. Lottery profits were earmarked for education, anyway. What a great idea. The lottery and gambling concerns could boast that they were now performing a public service - helping the safety of Oklahoma schoolchildren.





Oklahoma boasts


• The first electric steel guitar: Beggs musician Bob Dunn, early 1930s.
• The first parking meter: OKC, July 16 1935.
• The first shopping cart: OKC, June 4 1937.
• The first Yield sign: Tulsa, 1950.
• The most diverse terrain of any state in the nation. Environmental Protection Agency: 11 distinct Eco-regions in Oklahoma.
• More man-made lakes than any other state. More than a million surface-acres of water and 2,000 more miles of shoreline than the Atlantic and Gulf coasts combined.
• Home to more astronauts than any other state. Owen Garriott: Enid, Tom Stafford: Weatherford, Shannon Lucid: Oklahoma City, William Pogue: Okemah, and Gordon Cooper: Shawnee.
• 3rd largest gas-producing state in the nation
• 4th in the production of wheat, cattle and calves
• 5th in the production of pecans
• 6th in peanuts
• 8th in peaches
• Famous hometowns
Chester Gould, Dick Tracy cartoonist: Pawnee
Clarence "Ducky" Nash, original voice of Donald Duck: Watonga
Garth Brooks: Tulsa
Reba McIntire: McAlester
Toby Keith: Clinton and Moore
Ron Howard: Duncan
Troy Aikman: Henryetta
Brad Pitt: Shawnee



OK = Lowest ranking - From a recent study of Happiest States by National Geographic Explorer, based on these 5 criteria: Daily life, Physical health, Location, Finances, Companionship



Oklahoma Values


"Oklahomans have known for a long time that the state is a great place to raise a family, grow a business and live your dreams." stated by the President and CEO of the State Chamber. Similar comments were made following the 2008 presidential election - the one in which Oklahoma was the only state to have 100% of its counties vote for John McCain. Okies wrote in to the newspaper and stated how proud they were that Okies held to their values. Okie values. Just what are those values? Lets look at some categories.



Rates of violent crime

(per 1,000 people, in selected cities)


89.30 Oklahoma City
87.92 Dallas
86.25 Los Angeles
85.52 New York City



Areas in which Oklahoma ranks in the top 10


Incarceration of women.
Household hunger.
Pain killer/Opiod abuse.
Divorce.
Methamphetamine laboratories.
Youngest age to get married.
Women killed by men.
Overall incarceration.
Teen births.
Fatal drug overdoses.



Areas in which Oklahoma ranks in the bottom 10


Well-being and happiness.
Most livable state.
Peacefulness and non-violence.
Women's progress economically, socially, and politically.
Teacher pay.
Population covered by health insurance.
Overall health.
Fruit and vegetable consumption (Centers for Disease Control and Prevention).
Life expectancy rate in USA.
Amount of walking that its citizens do and is rated as one of the most sedentary.
Prevalence of smoking - 1 in 4 Oklahomans smoke.
Prevalence of obesity - since 1990, increased from 12% to 29% of the population, increase of 148%.
Poor mental health days.
Cardiovascular deaths.
Premature deaths.
Overall health rank.



American Fitness Index

: Oklahoma City ranks last


The annual Index is based on a number of health factors, including percentage of residents who smoke, obesity rates, percentage of people who exercise and availability of parks, walking trails and farmers' markets. Oklahoma City is at the bottom of the list because of the residents' personal health habits such as smoking, not exercising enough, and not eating enough fruits and vegetables. "It takes a healthy community to produce a healthy population."
1. Minneapolis-St. Paul
2. Washington DC
3. Boston
4. Portland OR
5. Denver
6. San Francisco
50. Oklahoma City
Source: American Fitness Index from the American College of Sports Medicine, designed by health and medical experts and funded by the non-profit WellPoint Foundation. Reported in USA Today, May 23, 2011. More info.



Rural Oklahoma counties have highest per capita rate of female inmates


From The Oklahoman, March 2009. Oklahoma leads the nation in the per capita number of women in prison - Oklahoma imprisons 131 women per 100,000 women. The national average is 69, according to US Department of Justice statistics. "While we can't change these figures internally, we can make changes by making sure that women who leave our system are more prepared and returning at a lower rate," Pitman said. In the past three years, the number of women in prison has grown steadily by at least 10 percent each year, according to the report. Without significant changes, the female prison population could grow to as high as 3,028 by 2013, according to the report. In 2008, there were 2,721 women in prison, DOC records show.



Cities with the most faith


November 10, 2010. Men's Health magazine's Metrogrades survey is based on these criteria: places of worship per capita (from the US Census and Yellow.com); number of religious organizations (US Census); number of volunteers who support these groups (VolunteeringinAmerica.gov); amount of money donated to religious organizations (Bureau of Labor Statistics); and amount of money spent on religious books (Mediamark Research).
1. Colorado Springs CO
2. Greensboro NC
3. Oklahoma City OK
4. Wichita KS
10. Little Rock AR
11. Fort Worth TX
17. Dallas TX
96. Portland ME
97. Hartford CT
98. Boston MA
99. Providence RI
100. Burlington VT



Some selected area cities. Oklahoma City was #2 of all cities over 250,000 people (Mesa Arizona was #1).



Oklahoma in bottom 10 of US states in peacefulness


April, 2011. Oklahoma ranked No. 43 in a study by the Institute for Economics and Peace that measured US states in peacefulness, defined by the absence of violence. The United States Peace Index defines peace as the absence of violence and uses measurements of homicide, violent crime, jailed population, number of police officers and availability of small arms. New England states generally were ranked as the most peaceful (those states have the lowest percentage of religious people). States in the South (most religious) ranked in the bottom 10 of states in peacefulness.





Mixed emotions about the spending by the Federal Government


According to the Washington Post, April 2011, analysts say that skepticism toward the federal government in Oklahoma - where Obama won no counties in 2008 - is deep. According to an OU political scientist, "there is a lot of sentiment that the federal government is too large, too intrusive and probably too wasteful." Oklahoma's congressional delegation is known as the most conservative in the nation. In the last election, Republicans swept nearly 70 percent of the state legislative seats.
But the federal government in central Oklahoma not only keeps more than 20,000 civilians employed but also is helping to nurture the area's increasingly prosperous and diverse economy. The federally fueled economic mix has helped the city withstand the recession better than most places. Overall, Oklahoma City has a 6.2 percent unemployment rate, the second lowest among the nation's metropolitan areas with populations over 1 million, behind only Washington DC.
The state of Oklahoma gets back $1.35 for every dollar its residents and businesses pay in federal taxes, according to the Tax Foundation, a nonpartisan tax research group. That's the 15th most generous return among the 50 states.
• About 7 percent of the workers in Oklahoma City are federal employees, more than double the US average.
• A fast growing sector of the local economy is the aviation industry, which economists call an outgrowth of the work done at two large federal outposts: Tinker Air Force Base, which employees 14,400 civilians, and the Mike Monroney Aeronautical Center which employs more than 7,000 people.
• The city is a crossroads for three major interstate highways which were built with federal money. Currently, the city is rerouting a section of Interstate 40, opening up 750 acres of land for new development and a planned park - work being done with federal help.
• The state's booming energy sector as well as many of its farmers benefit mightily from federal subsidies.



So, just what are Okie values?


Why is Oklahoma such a great place to raise a family? The statistics above just do not paint a very family-friendly picture. I suspect what they mean is that Oklahoma is full of conservative Christian Republicans - are these the true 'Oklahoma values'?

There are many great things about Oklahoma: convenient location for traveling to other parts of the country, close to Dallas/Ft. Worth and Kansas City, beautiful diverse terrain for hiking, water sports, etc, a growing creative and arts community, many fine restaurants, and live music entertainment, casino gambling, and relatively minor traffic problems in the cities. But, too often, the good things about Oklahoma are overshadowed by statistics such as those above.





Is there a conservative Republican bias in

The Oklahoman

newspaper?


Central Oklahoma is served by only one major daily newspaper,

The Oklahoman

. A few years ago, it was one of the worst newspapers in the country:
• The

American Journalism Review

characterized the paper as suffering from uninspired content and political bias.
• The

Columbia Journalism Review

called

The Oklahoman

the "Worst Newspaper in America" - citing the paper's conformance to right-wing political views.
While there has been slight improvement, there is still obvious bias inherent in

The Oklahoman

.

Several people wrote letters to the editor (Your Views) in which they expressed support for Sarah Palin. I responded by writing my own letter to Your Views. The Editorial Writer challenged my opinion. I then wrote to the Editor of

The Oklahoman

asking for explanations to the Editorial Writer's challenge. After waiting a week and getting no response from the Editor, I wrote to the Publisher expressing my concerns about the challenges to my opinion letter and to the lack of a response from the Editor.


The Oklahoman

has the right to refuse to print any letter to the editor, but I am concerned with this obvious breach of journalistic ethics - to argue with an opinion letter submitted by a subscriber. I do not expect anyone from

The Oklahoman

to ever apologize or explain their behavior. That would be the honorable and right thing to do.


Letter 1: Jim's letter to Your Views,

The Oklahoman

opinion page Wednesday, January 20, 2010, 11:08a
The responses to James Mitchell's comments (Your Views, Jan. 20) overlooked a significant fact about Sarah Palin: She took an oath of office and committed to serve as the Governor of Alaska. However, when she realized that it would be more fun to write a book, travel the country, and go on TV; she quit. She defied her commitment and responsibility in favor of becoming a celebrity. Why would any thinking American want a president or vice-president who might quit when she sees something else that would be more fun? We need someone who has the integrity, maturity, and intelligence to honor commitments.
Jim Watson


Letter 2: Editorial Writer JE McReynolds' response to Jim's submission

January 20, 2010, 12:13p
Here are some points you need to address to support your argument:
-Obama, Biden and Clinton tooks [sic] oaths and committed to serving in Senate. They left.
-Janet Napilatano [sic] took an oath to be governor of Arizona. She left. Bill Clinton took an oath to be governor of Arkansas. He left. The list is endless and bipartisan.
-Palin didn't leave Alaska to become a celebrity. She's been a celebrity since August 2008.
-Hillary ran for a higher office, didn't win and left the Senate shortly thereafter when an opportunity came her way. Palin ran for a higher office, didn't win and left the governorship when an opportunity came her way.


Letter 3: Jim's response to Editorial Writer McReynolds

January 20, 2010, 2:10p
Thank you for your response.
You make some valid points, but I don't understand the opportunity that came Palin's way. The others had opportunities to continue their public service in higher offices so they resigned to move up. Sarah had no higher office or other public service beckoning her. Her motives seem to be more self-centered.
Jim


Letter 4: Jim's response to Editorial Writer McReynolds

January 20, 2010, 2:55p
I am also a bit confused. I wasn't making an argument, as you state, I was simply expressing an opinion for 'Your Views' on the Editorial page, as many others have done (is it the Editorial policy of The Oklahoman to question all letter writers and state additional points for them to address?)
You responded with examples of others who have resigned - and they are all Democrats. As if you assumed I was making a statement about Republicans (I am not a Democrat and am somewhat disgusted with President Obama). I was making a statement about people who don't follow through on their commitment to serve (or continue to serve) our country in public office. Actually, I was making a statement about people who support those who don't hold to their commitment. To my understanding, adhering to commitments is one of the basic philosophies of the Republican Party.
Jim


Letter 5: Editorial Writer McReynolds' response to Jim

January 20, 2010, 3:06p
Your Views is an edited forum. All letters that are published are edited, and submitted letters are scrutinized before publication. My response was to point out a problem with your logic in singling out Palin because it's quite routine for elected officials to jump from one office to another. If I didn't question your logic and published it as written, I'm quite sure that another letter would have done so in response. Mitchell's letter and the responses to it concerned Palin's lack of qualifications for higher office so it's not logical that any of those letters would have focused on Palin leaving office before her term was up -- something that many Democrats and Republicans have done over the years. Your concluding remarks in your letter would apply to any of the people I mentioned but especially Hillary because she, too, lost her bid for higher office and almost immediately left the Senate.


Letter 6: Jim's response to Editorial Writer McReynolds

January 20, 2010, 3:46p
I hope our dialog has not become a burden or tax on your time. I do appreciate your responses.
"Here are some points you need to address to support your argument:"
That request doesn't seem to be editing. Nor scrutinizing. Editing and scrutinizing I can understand. Your demand of what I need to do - that I do not understand in the context of Your Views.
". . . it's quite routine for elected officials to jump from one office to another."
I agree. However, Sarah Palin has not jumped to another office. That's my point exactly.
As to your referencing all the others - I am not concerned with their actions or any comparisons. My original intent was to point out a very significant fact that Palin supporters overlook. It doesn't matter what the others have done.


Letter 7: Jim's letter to Editor Ed Kelley

January 25, 2010, 9:02a
Mr. Kelley,
As a subscriber and daily reader of The Oklahoman, I submitted a letter to Your Views and received a reply from Mr. J. McReynolds. I have some questions about the way it was handled. Here is my submission followed by his responses:
(Jim Watson's letter submitted to Your Views, The Oklahoman opinion page)
(Editor J. McReynolds's responses to Jim's letter)
My letter to Your Views stated two things:
1. A

fact

: Palin quit as the Governor of Alaska.
2. An

opinion

(we should demand a greater sense of commitment from national candidates).
I understand that

The Oklahoman

has the right to refuse to print any letter to the editor. I am fine if Mr. McReynolds decides not to print my letter (as, apparently he has decided), but I am concerned with an apparent breach of journalistic ethics - to contest an opinion letter submitted by a subscriber.
Some of my concerns with Mr. McReynolds responses:
1. "

Here are some points you need to address to support your argument:

"
I wasn't making an argument, I was simply expressing an opinion for 'Your Views' on the Editorial page, as many others have done.
2. "All letters that are published are edited, and submitted letters are scrutinized before publication."
I do not understand the request of what I 'need to' do in the context of editing and scrutinizing an opinion in Your Views.
3. "...

it's quite routine for elected officials to jump from one office to another.

"
I agree. However, Sarah Palin has not jumped to another office. That's my point exactly. Mr. McReynolds makes an inappropriate response.
4. As to his referencing the others (all Democrats) who have quit to move to a higher office - I am not concerned with their actions or any comparisons. I was making a statement about people who support those who don't hold to their commitment to serve (or continue to serve) our country in public office. I am not concerned with the actions of others who have resigned. The intent of my letter was to point out a very significant fact that Palin supporters overlook. It doesn't matter what the others have done.
5. "My response was to point out a problem with your logic".
On Wednesday, January 20,

The Oklahoman

published 7 letters responding to James Mitchell and in support of Palin. Those letters included these phrases:
"... most of (the heads of state we deal with) are socialists or dictators!"
"... she's qualified to be president."
"... Palin was more qualified to be vice president than Barack Obama is to be president..."
"... (the left) can make no legitimate philosophical arguments on principles."
I doubt Mr. McReynolds challenged the logic of these statements.
6. "If I didn't question your logic and published it as written, I'm quite sure that another letter would have done so in response."
Good - that would create a healthy dialog among readers of

The Oklahoman

.
My questions - Does

The Oklahoman

:
1. Question all statements in all letters submitted to Your Views? If not, how does it select letters of which to make requests?
2. Routinely make demands of what needs to be done to further support a submitted opinion of a reader/subscriber?
I look forward to your response.
Jim Watson


Letter 8: Jim's letter to Publisher David Thompson

February 1, 2010, 1:11p
Mr. Thompson,
Monday, January 25, I sent an email (below) to Mr. Ed Kelley. I have yet to receive a response. I now have two concerns - the inappropriate treatment of an opinion letter by Mr. McReynolds (explained below) and Mr. Kelley's ignoring of my reasonable request.
Can you please help me and answer the questions at the end of the email and explain such treatment by the two editors to a subscriber and avid reader of

The Oklahoman

?
Thanks,
Jim Watson
(rest of the letter was a copy of the above letter to Editor Kelley)


Letter 9: Publisher David Thompson's response to Jim

February 1, 2010, 5:00p
Mr. Watson,
I have reviewed you [sic] concerns regarding your letters to the editor. Ed Kelley or I will get back to you within the next day after we have had time to discuss.
Thanks for your response.
dt


Letter 10: Editor Ed Kelley's response to Jim

February 4, 2010, 12:59p
Mr. Watson,
We'll publish your letter soon.
By the way, I was out of the state, on journalism-related business, when you wrote. Then both J.E. McReynolds and I got waylaid a bit, like other Okies, by the ice storm of last week. J.E. then had a family emergency illness that he had to oversee for awhile. So today is the first day we've had a chance to discuss your issue face to face.
I very much appreciate your interest in, and loyalty to,

The Oklahoman

.
Thanks,
Ed Kelley


Letter 11: Jim's response to Editor Ed Kelley

February 4, 2010, 1:34p
Ed,
My letter was submitted on and the letters it refers to were published on Wednesday, January 20 - over two weeks ago. Is it still timely and appropriate to publish such a letter?
I am glad that you have now discussed the issue with Mr. McReynolds and I look forward to your explanations about why Mr. McReynolds challenged my opinion letter and the rationale he gave for doing so.
Jim


Letter 12: Editor Ed Kelley's response to Jim

February 4, 2010, 1:36p
We'll be happy to publish the letter you submitted. We think it's still timely.



Letter From the Editor, Kelly Dyer, printed in the 11-4-18 Sunday Oklahoman, on the sale of the paper to a new owner.
"One constant through all of this has been a staff of Oklahomans dedicated to the mission of bringing you strong, fair and balanced journalism."
"The traditional conservative voice of The Oklahoman will stay intact."
Which is it, fair and balanced or traditional conservative?
You can't have both.