Road trips: Round-trip journeys between OKC & NYC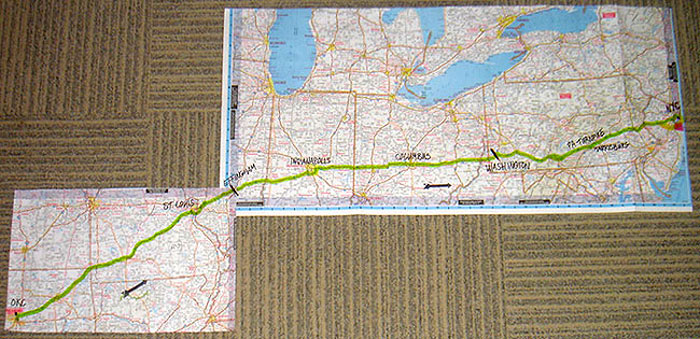 I had downloaded an album from Larry The Cable Guy and listened to it each of the three days of driving days - funny stuff. Cities along the way - St. Louis and the new stadium downtown; Indianapolis with the RCA Dome; Columbus Ohio and a neat Deco tower building; Wheeling, West Virginia with an old suspension bridge now used as a pedestrian walkway, and the farms and barns in rural Pennsylvania.

I stopped at a rest area on the Pennsylvania Turnpike. This section, the oldest on the turnpike, opened to traffic on October 1, 1940. This was many years before President Eisenhower funded the National System of Interstate and Defense Highways. Ike had seen how efficient the Autobahn was for moving troops while he was commanding the army in Europe. He returned to the US to help implement such a system here - originally it was for military purposes - to move troops and equipment quickly and to allow hazardous materials to avoid city centers. The Department of Defense even had to approve the new routes. The original plan also called for 1 mile of every 5 to be level and straight in order to serve as an emergency runway for aircraft. Of course, the Interstate system has come to serve primarily civilian traffic. This old part of the PA Turnpike was fascinating - it followed the right-of-way of the former Southern Pennsylvania Railroad. The overpasses were narrow and embellished with slight Art Deco detailing.

Thank God for two inventions - cruise control and air conditioning. While we have many monuments to others, there should certainly be large monuments, especially in the hot south, to these two inventors. Cruise control allows ones right foot and leg to change positions and rest a bit. It also allows the mind to wander a bit more since one doesn't have to be aware of maintaining a safe and steady speed. Air conditioning - the value and necessity of this shouldn't need much explanation (unless you live near Canada).



Overnight cities


The first nite I stayed in Motel 6 in Effingham, Illinois. I chose Motel 6 because they welcome pets with no extra deposit. Effingham is about an hour and a half past St. Louis. Effingham is a town whose economy and even survival seems to be reliant on Interstate traffic. There were numerous amenities - many motel and hotel chains, most fast food outlets, even a TGI Friday's and a free-standing Starbucks - a very nice one. Interesting to see the industry that now relies on truck and auto traffic. Dinner: two Whoppers for $3. What a deal. Watched Boston Legal and Will & Grace.

The second nite was in Washington, Pennsylvania, just south of Pittsburgh. This was also at an Interstate crossroads. After I walked Vegas and she went to sleep (she was on drugs pretty much the entire three-day trip) I drove around town. A fascinating Revolutionary-era town. Home of Washington & Jefferson College (founded in 1781 - the oldest college west of the Allegheny Mountains). Here also is the restored home of Francis LeMoyne, an abolitionist who was active in the Underground Railroad providing safe havens for Negroes that were coming up from the oppressive south on their way to Canada (he also built the first crematory in the country). The Whiskey Rebellion also took place in Washington; the 1788 home of the leader, David Bradford, is now a national historic site. The Federal government placed a tax on farmers who distilled and sold whiskey. Whiskey was the main money crop of this part of the country and the farmers refused to pay the new tax. This forced the hand of George Washington who ordered 12,000 soldiers into the area to quell the rebellion. This showed the nation that the new government meant business, was powerful, and was willing to use force to enforce its laws. Got gas (for the car) and a KFC platter meal. Watched some TV and read the book Brokeback Mountain.



Arrival in New York City


Exciting sign: New York City 135 miles. I saw it and laughed. I was getting close to something I had wanted to do for a couple of years. The drive into the city was quite easy. I took the New Jersey Turnpike which had express lanes to the Holland Tunnel. I caught one stoplight at the tunnel approach then on under the Hudson River into Manhattan, down West Street to my block. I parked in the groj in the building while I took Vegas to pee and then on up to the apartment. I unloaded the car a bit later. Driving in the city was exciting. I drove like a New Yorker, edging my car into tight spots and zipping around the city. I didn't, however, honk or use any gestures.


The next day I parked the car (next to the white suv above) in a fenced lot up on the north side of Manhattan, on the edge of Harlem - I bought a monthly parking place for $170/month. Great deal (parking near my apt would be around $700). I was able to keep the key and I have in/out privileges if I want to drive in the city or to another city up here.



Road thots


Some of the stuff I thot about on the road from OKC to NYC:
• I sure do put a lot of trust in strangers. The Interstate is full of people I never met who are in control of huge powerful machines that can cause havoc if not maintained and manipulated properly. All of these other people were trusting that I, too, was operating my driving machine in a safe manner. There are so many opportunities for accidental encounters that could be dangerous - I'm amazed there aren't more wrecks.
• I saw signs that read FOG AREA. I was confused about this acronym FOG. What could it mean? Free Octane Gas? Or Fog On Ground or Fog Over the Grass? None of those made much sense. I finally figured it must mean First Over Gear - maybe a suggestion for truckers to shift into first gear - the signs were always near the bottoms of valleys and approaching inclines - where first gear might be better. I don't know. On the drive back, maybe I'll ask a trucker at a rest area.
• There were stretches of Interstate that had lines, convoys, of trucks - a solid line of trucks for miles. I wonder if we should just replace Interstate highways with conveyor belts. Large conveyor belts. We would save on gas, there would be no speeding tickets (unless some moron sped on the belt), and there would be less accidents as each driver would simply put the vehicle in Park and be able to leave the seat - visit with other passengers, sleep, or step out onto the belt and enjoy the scenery. Vendors could drive carts along the belt dispensing snax, drinks, games, magazines, etc.
• My favorite billboard was The DaVinci Code movie is mostly a lie. Geez, its a novel - why so much fear and paranoia? Now, I'm beginning to wonder if those dinosaurs in Jurassic Park were also a lie. And maybe Forrest Gump didn't do all the things the movie said that he did. Maybe there are lots of lies in movies. Now I just don't know.



The return trip: getting the car


I parked the car in a lot in Harlem on June 1. I had been up twice after that just to pay the next month's rent and to check on the car. The car was good but a bit lonely. It was now time to go get it for the trip back. I took the subway up to Grand Central; I needed to transfer to the Lexington 4 to get up to Harlem. I decided instead, to take the MetroNorth train up to 125th Street. Right before the subway doors closed at Grand Central, I stepped off and went upstairs to buy a ticket. I used a ticket machine (the lines at the ticket windows in the Main Hall were very long). Trains were leaving in 5 minutes and in 8 minutes. I missed the 5 minute one because I stopped to help some people buy a MetroCard. I made the 8 minute one. I put the ticket behind my glasses by one ear. When the conductor came by to collect tickets, I told her that I must have lost it, I've looked all over and I can't find it. I turned my head as I was talking so she could spot the ticket on my head. She laughed. I went back to looking out the window at Harlem. The train came out of the tunnel at 98th Street and I disembarked at the very nice renovated wood paneled station at 125th Street. I walked one block to the lot, got to my car and started it right up. It had sat for over 2 months but it was rarin' to go. I had planned to get an oil change before the 1,500 mile drive, but I was enjoying driving around so much that I took my time. I drove past the Apollo Theater (recently restored and still hosting amateur nights), up the Hudson Parkway, to Fort Tryon Park on a hill with great views of northern Manhattan, the Hudson, the Jersey Palisades (the parkland of bluffs and trees along the Hudson), the George Washington Bridge, and then to the West Side Highway; past the new Trump apartment buildings, the piers with 2 large cruise ships docked, and on to Chelsea to the Auto Center.


Even though the car was running well and I had the oil changed 1,500 miles ago, I wanted to have it checked over before the journey to OKC. I ate lunch while that was going on - brick-oven pizza, a salad, coffee and New York style cheesecake with caramel and walnuts on top. Then I took the car 2 blocks down to get it washed - it had 2 months of NYC soot and grime on it. Then on down West Street to the apartment. I looked for a free spot on the street but found none, so parked in the garage under the condo building.



The drive


Got up on Sunday and finished packing, cleaned up the apt, talked with Allen down at the desk (we have an ongoing discussion about religion), and loaded the boxes and other stuff onto a cart and took it down to the groj and loaded up the car.

I drove up out of the parking groj and took a last look at the naberhood. Turned right, went a couple of blocks, and on down into the Brooklyn Battery Tunnel (under the ventilation building that served as the headquarters for the Men in Black) and drove alone thru the tunnel and up into Brooklyn, a typical city drive until I caught a glimpse of the Verrazano Narrows bridge that connects Brooklyn to Staten Island.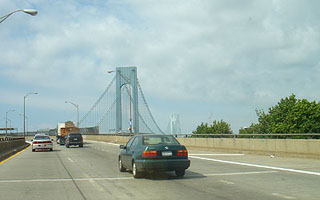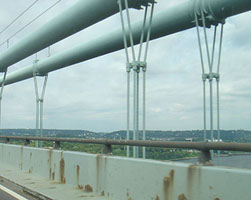 On across Staten Island and on to the Interstate to Oklahoma. Vegas wouldn't want me to do any sightseeing, she didn't need to go to the bathroom for many hours, and she didn't like to get out of the car; I was eager to get on home, so I just drove and drove, stopping only for gas and snax and bathroom breaks at rest areas. Decided that I could get farther than Washington, PA where I had a motel reservation, so went on to Columbus, Ohio. The next day, we also pushed it - driving for over 10 hours, through Columbus, Indianapolis, and over the Masipi River by the Arch in St. Louis, getting all the way to Springfield, Missouri. After walking Vegas and resting a bit, I had dinner at Cracker Barrel and some birthday ice cream with caramel topping and whipped cream.



iPod playlists


• Some enlightening interviews (about 7 hours worth) on freethought from the Center for Inquiry that I had downloaded from iTunes PodCasts.
• Larry the Cable Guy albums: Right to Bare Arms; Lord, I Apologize; and One for the Road
• Summer musicals: soundtrax mix from The Wedding Singer, Altar Boyz, and Tarzan
• New York City mix, Liza Minnelli, Barry Manilow, hip-hop, rock, and more
• NYC Subway: mix of subway entertainers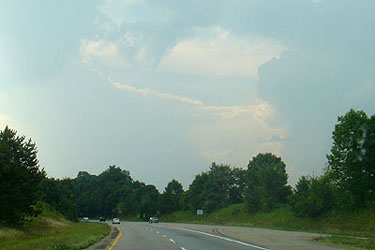 Driving stats


States: New York City - New Jersey - Pennsylvania - West Virginia -Ohio - Indiana - Illinois -Missouri - Edmond, Oklahoma
Miles: 1519
Time: 23 hours 20 minutes
Average speed: 68.3
Gas: $175. Oil change: $40. Total car expenses: $215. ($390 round trip)


I drove between 75 and 80mph but the average speed shown above is less due to the vast amounts of construction forcing traffic to merge into one lane. I was amazed at how many miles of Interstate are having to be refurbished. It may be due to inefficient government bureaucratic spending, highways being built to specs lower than those in Europe, and projects being awarded to the lowest bidder. Result: lots of money spent on highways and bridges and lots of time spent in traffic.



Summer (66 days) in New York


The summer exceeded my expectations - the drives to and from were very smooth, I saw lots of great stuff, I got some good work done on the apartment, wrote quite a bit, visited friends - old and new, and experienced the city as a native rather than an occasional tenant. As I figured, Vegas provided a real conversation starter. We were stopped almost every time we went for a walk.
It was one of the best summers of my life. It ranks right up there with the 4 summers that I worked at Six Flags as a Ride Operator (we got paid to have fun) and the summer when I was 8 or 12 and I slept in my underwear so that in the morning I could simply step into my shorts (that were on the floor next to the bed) and a tee-shirt. I was ready to go play with my friends all day. Interrupted only by my mother calling me in for lunch and by my father who, after dark, came outside to tell us that "tomorrow would be another day" and to come in and get ready for bed. This summer, 2006, was as good as that. Even though my mom didn't prepare my lunch and my dad didn't remind me when to go to bed. But still, they are responsible for my being able to enjoy this summer so much.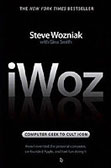 Drove from Oklahoma to New York City again, for the fourth time. This trip, however, I had two dogs - Vegas and Manhattan. I broke the trip into 3 days instead of 2 since neither dog really likes traveling in the car and their sedation pills were good for only 8 hours (its a 24 hour trip). We stayed in our usual cities of Effingham IL and Washington PA - both towns with great history and plenty of travel amenities. But I barely remember the drive because I was listening to an audiobook, iWoz: Computer Geek to Cult Icon: How I Invented the Personal Computer, Co-Founded Apple, and Had Fun Doing It about Steve Wozniak, the brains behind Apple computer. It is a fascinating read (or listen). I highly recommend it. Woz is a problem solver, strives to make things better, and seeks clarity and efficiency; thus, he's a designer - of the premier kind. He covers his career at Hewlett-Packard working on calculators, the Homebrew Computer Club, the beginning of Apple with Steve Jobs, his airplane crash, the US Festival, the first universal remote control, and more.



Epilog


I have made the same drive many times since the summer of 2006. Usually I would stay in the same cities as detailed above. One time, I drove the 1500 miles in 2 days - about 12 hours each day. That was too grueling so I haven't done that again. Manhattan, the other dog has joined us on these trips and after a rough start the first time, has adjusted to riding in the car for 3 days. The drive can be a bit tiring, but its worth to have the dogs with me in Manhattan.