My Mom, Lorraine Watson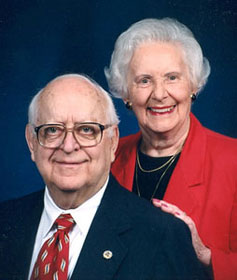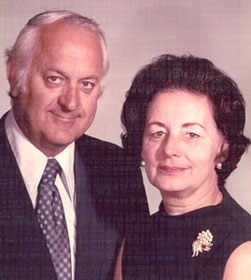 My mother died December 19, 2002, in Dallas, from complications from an accidental fall.

On November 16, she delivered some food to the neighbor across the street (this woman had just lost her husband to cancer). Mom fell (no one is sure why) and hit her head on the concrete steps. My dad and brother took her to the hospital (she would never return home). There was a slight concussion. More seriously, there was bleeding in her brain from the trauma. To minimize the bleeding, she was taken off blood thinners. This allowed some previous hardened blood from around her heart to dislodge and move towards her brain. This caused another stroke. She was in the hospital for almost 5 weeks, in and out of Intensive Care, and in and out of physical and speech therapy. She lost movement on the right side of her body and contracted pneumonia. She had trouble breathing. In ICU she was on a machine to help her breathe. Mother specifically requested that she not be kept alive by any mechanical efforts. On Wensday morning, December 18, my Dad, two brothers, and I agreed to remove the breathing tube. They did. She lasted for about 22 more hours, taking her last breath the next morning at 9:05am.

A Memorial Service was held on Sunday, December 22, at Preston Hollow Presbyterian Church in Dallas. Our family joined this church in 1952 and we all had been very active in church activities. There were about 3-400 people present for the service. The pastor did a superb job. Mom had provided some specific notes on hymns, Bible passages, and thoughts to share. There was a reception afterwards with many people offering wonderful memories and heartfelt condolences.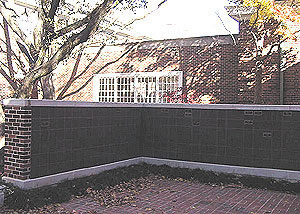 A few weeks earlier, Mom and Dad had bought several niches in the church's columbarium - a courtyard where cremains are inurned (pic at left). We all felt this was more appropriate than being buried in a plot. Mom would be in the family church, blocks from the family home. The Inurnment service was held Tuesday, December 24, at 11am. Now when I visit Dallas, I often 'visit' mom at the columbarium upon arrival and I say goodbye to her before heading back to Oklahoma. I sit and share with her what is going on in my life.



Final memories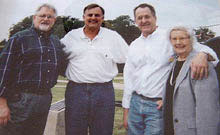 The last time I saw Mom out of the hospital was when the entire family came to Edmond for the grand opening of the new office for the Department of Design (mid-October, a month before she entered the hospital). Mom was instrumental in getting the office built as she and Dad donated most of the money for its construction and furnishing. It was named in their honor: The James W. & Lorraine R. Watson Department of Design Office.

We had a great weekend. After the office opening on Friday evening I, my brother, and my Mom went to the UCO Choreographers Showcase dance concert and we went backstage so Mom could meet the UCO dance faculty and talk 'shop'. On Saturday, we toured the campus, the 45th Infantry Museum (picture of her with her 3 sons), the Oklahoma City Memorial, and had dinner together. Sunday morning we hugged and said our goodbyes at their hotel in Edmond. It would be the last time I saw her out of the hospital and the last time to hug her.

My other fond final memory was a few weeks later during Thanksgiving. She was out of IC (for the time being) and I asked the nurses to help her into a wheelchair. I took her for a ride - down the hall, in the elevator, and outside to enjoy some fresh air and sky. While she couldn't speak much, she smiled and nodded her pleasure. This was the first time she had experienced 'freedom' since November 16. We both enjoyed our ride. It would be the last time she was outside.

The day before she died, I was alone with her in her IC room. She squeezed my hand tightly and tried to raise her head. I believe she was trying to talk to me - to tell me that she loved me and was proud of me and that she wanted me to continue on doing good work.

There are certainly many other fond memories. Many family summer trips all across the country, Cub Scouts and Boy Scouts (she was a Den mother), family reunions, Christmases, birthdays, visits home from college, and support of my work at school. She traveled all over the world. Mom had a tremendous zest for life, actively involved - a participant, not a bystander. A true role model and mentor.



A few regrets


I regret I didn't spend more time with her at the hospital, especially towards the end. While people, especially my dad, stopped in to visit she was often alone in that strange environment. She spent her last night alone and took her last breath with no family members present. That still bothers me. Other than that, I have very few regrets. I expressed my love and appreciation. She had a full and wonderful life - somewhat trying at times as she raised three boys into successful men. Experiencing the death of a loved one (not to mention my dog Austin; Conor, a student; and my dad) helps us put things of life into better perspective. I will strive to take better care of myself and appreciate life, time, health, opportunities, friends, and family.



What I wrote for her Memorial Service


The day before Mom died, I stroked her head & held her hand.
I told her I loved her very much and I wanted to thank her.
But I couldn't: there aren't enough words, there isn't enough
time, there aren't enough emotions.

How could I thank the person that sacrificed so much,
loved so much, cared so much, and taught so much?
I couldn't.

I will express my thanks by how I live my life: I will be more
compassionate, be more active, be a better leader, get more
involved, and be a better teacher. I will continue to inspire
and motivate young people to grow & become better thinkers.
Mom will guide me and help me. She will forever be with me.



A favorite passage of Mom's

Read at the Memorial Service


When I come to the end of the road
and the sun has set for me,
I want no rites in a gloom filled room,
why cry for a soul set free?
Miss me a little - but not too long,
and not with your head bowed low.
Remember the love that was once shared,
Miss me - but let me go.

For this is a journey we all must take,
and each must go alone.
It's all a part of the Master's plan,
a step on the road to home.
When you are lonely and sick of heart
go to the friends we know,
And bury your sorrows in doing good deeds -
Miss me - but let me go.



What Mom wrote to the family

Read at the Memorial Service


Celebrate Life!
I have had an active, satisfying & fun 'good life'. God has been good to me - why?
I don't know except that I led my life like my parents taught me - in their training,
examples, discipline, & faith.

I had my first ballet lesson at the age of 7 & have loved it & all that goes with it
all my life - a lot of hard work, physically & mentally, the discipline, the dedication,
and the beauty.

My great love was my family; a wonderful understanding husband.
I dearly love, respect, & have great pride in 3 sons, Bill, Steve, & Jim;
daughters-in-law Sandy & Debbie; and grandchildren Allison, Eric, Jimmy, & Tracy.



Excerpts from an article in the Dallas Morning News, 12-22-02


Promoted ballet, folkloric dancing
Lorraine Remmel Watson, 83, who taught and promoted ballet in the Dallas area, died Thursday, December 19, 2002, at Presbyterian Hospital in Dallas of complications from a fall.

A woman who was devoted to her family, Mrs. Watson taught dance rather than pursue a career as a professional dancer so she could take care of her family, said her husband, James W. Watson of Dallas.

Mrs. Watson was born November 9, 1919, in Madison, Wisconsin. She took ballet lessons at an early age and studied ballet for a year in Chicago. She studied dance at the University of Wisconsin before getting married. Upon arriving in Dallas in the early 1950s, Mrs. Watson taught ballet at several studios, schools and organizations. She was a supporter of the former Dallas Ballet and served as the Company Manager and Administrator. She was a member of the Dallas Dance Council.

Another interest of hers was the Pan American Round Table, a group that fosters relationships among people of the Western Hemisphere. At the time of her death, she was serving for a third time as Director of a Dallas table. In the 1960s, she founded the Pan American Folkloric Dance Group, which performed throughout Texas and Oklahoma. "She was very interested in the dances of South America," Mr. Watson said.

In addition to her husband, Mrs. Watson is survived by sons William Remmel Watson of Garland, Stephen Bruce Watson of Dallas and Professor James Robert Watson of Edmond, Oklahoma; two daughters-in-law; and four grandchildren.


The Lorraine Remmel Watson Dance Scholarship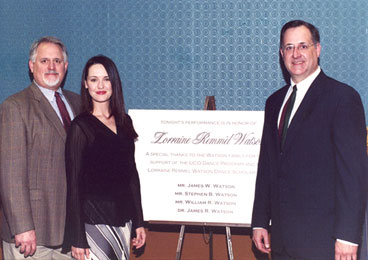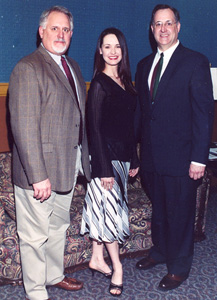 Lorraine Watson loved and lived dance. She was a dancer, a teacher, choreographer, administrator, and ardent supporter of all that is dance.
• The last dance performance she saw before her death was the UCO Choreographers Showcase.
• The last dance professionals with whom she talked 'shop' were the UCO dance faculty.
• Her son, Jim, was Chairman of the Department of Design at UCO.
• Lorraine and her husband, James W, are donors to the Department of Design.
In recognition of these facts and in honor of her love for dance, her son, Dr. Jim Watson, established the Lorraine Remmel Watson Dance Scholarship to be awarded to deserving dance majors at the University of Central Oklahoma. It has been endowed for perpetuity by Jim and the Watson family.
Above: Brother Bill, niece Allison, and Jim at the presentation of the first scholarship


Link to Dad's story
Link to Bill's story
Thoughts on grieving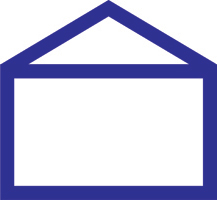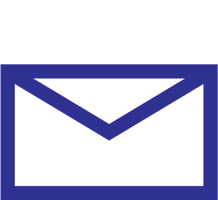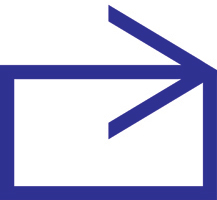 www.jamesrobertwatson.com/mom.html