Jim's cars


Childhood cars
1950s 1946-1948? Black Dodge - when we moved to Dallas in 1952 we only had one car - Dad would carpool to work or drive if Mom didn't need the car that day.
1950s Buick


1950s Tan Plymouth station wagon with a rear-facing third row - we kids loved to ride back there on road trips. Once, we put a blanket up over and behind us, blocking us from the rest of the car.
1960s Gold Chevrolet Impala
1960s? Red Ford Falcon
1965-1968 1965 Green-blue Mustang
Jim's cars
1969-1974 1966 White Ford Mustang, Shuttle Bus - 5 years
1972-1983 1970 Blue/grey VW van, Billy Bob - 11 years
1983-1985 1983 Silver Toyota Tercel - 2 years
1985-1989 1985 Dark grey Dodge Caravan - 4 years
1989-1998 1989 Black Geo Tracker 2 door- 9 years
1998-2007 1998 Taupe grey Chevy Tracker 4 door- 10 years
2007- now 2007 Silver Dodge Nitro, Greyhound Bus



My first car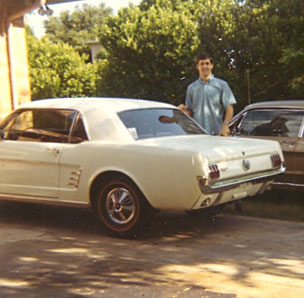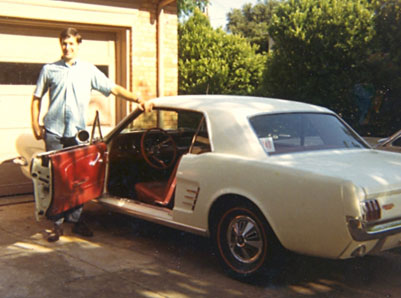 It was a 1966 Ford Mustang. After graduating from high school, I had spent the summer working at Six Flags (what a fun time) but had to get rides from North Dallas to Arlington, a 30 minute trip. The next summer, I decided to get my own car. My parents had told my brothers and I that we could get a car whenever we wanted but we had to pay for it ourselves.
I checked the ads in the paper for used cars and found this Mustang not too far from our house. It was $1,000. I went with my father to take a look at the car; it looked good, so I bought it. I drove it home. How exciting to drive my own car, my first. I worked double shifts at Six Flags that summer to pay for the car. A group of us would carpool.
It was a white car - I added red pinstripes along the sides, put in a cassette player, and built a console armrest. It was a great car. Later, while going to school at UT Austin - I named it Shuttle Bus, partly because of the new shuttle buses that had been put into service on campus and partly because it was used to give rides to friends and fraternity brothers.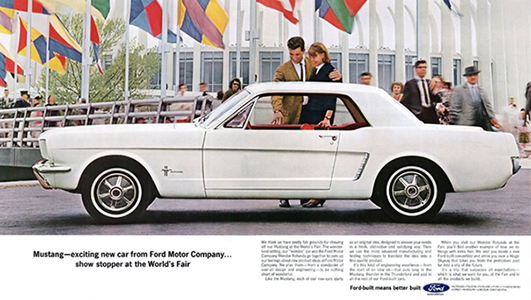 My 1966 Mustang was similar in style and colors to the model introduced at the NY World's Fair.



Billy Bob




Shuttle Bus finally wore out. I sold it to the father of a fraternity brother who had to tow it away. I became enamored with the idea of a van - being able to sit higher, more interior room, and better use of road space. I found a used Volkswagen van and refitted it to be more sophisticated and classy than a typical VW van. I do not remember why I named it Billy Bob.
Dates
Bought van: 1972
Renovated: 1976



Notes and sketches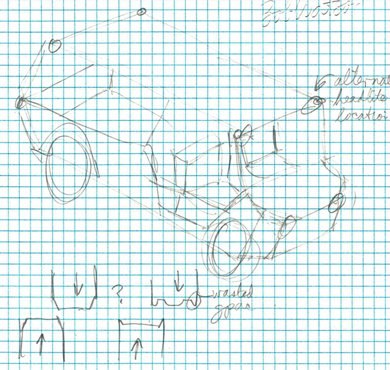 A vehicle must fit within specific dimension parameters - the width of a lane and of a parking place, the length of parking spaces, and the height of clearance under stoplights, bridges, and parking decks. Imagine the rectangular box that fits in that space. Most cars use only a small portion of that box - the Volkswagen van and other boxy vans use the space more efficiently. I'm not sure how a flat front would affect gas mileage - maybe there could be a greater slope to improve the aerodynamics. I bought my first boxy van, a VW, in 1972. With one exception (a Toyota), I have continued to drive boxy van/suv vehicles. I also like the higher seat for better road visibility and increased cargo/dog space.



Renovations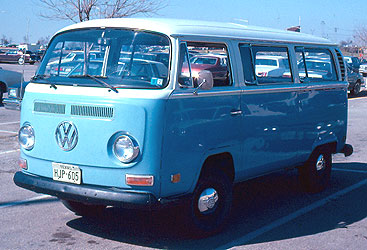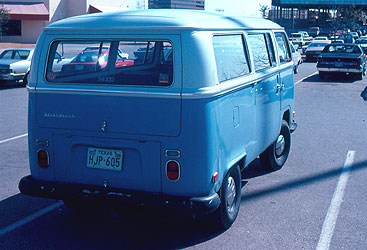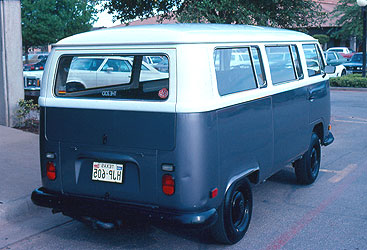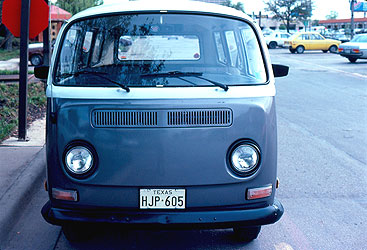 Alterations/improvements


• Removed all insignia from the body.
• Replaced, removed, or or painted all chrome.
• New floor carpeting.
• Painted black dashboard charcoal grey.
• Painted exterior from charcoal grey.
• Reupholstered all seats.
• Reupholstered panels behind front seats.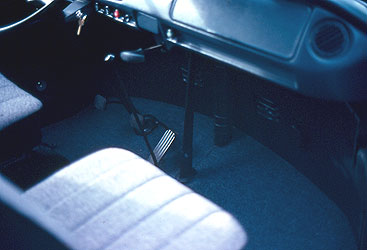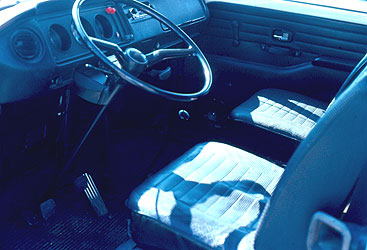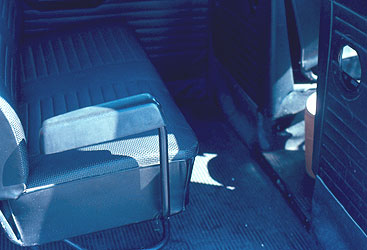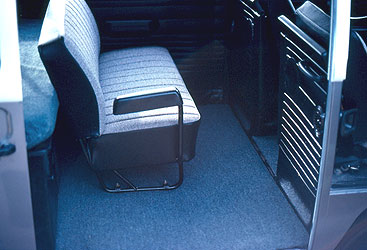 Toyota Tercel

Only had this for 2 years. Not a good car. No great memories. It was just a cheap ride.



Dodge Caravan




I missed having a van and the increased visibility and better view of the road. I bought the new Dodge Caravan. This van helped move me to Oklahoma and took me on many road trips. A good car.



Geo/Chevy Tracker


A few years later, I was on my way to get a new van. I passed the Geo Tracker convertible, and thought it might be neat. Then, no don't be silly, not that tiny thing. But the more I thought about it, the more I liked the idea of a convertible and a smaller sporty car. Test drove it. Bought it. Loved it.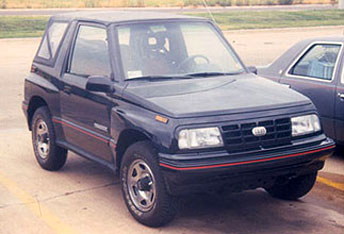 I later had the spare tire removed from the rear gate and built a padded platform in the back of the car that stored the spare tire. I also bought a 2-piece hard top later.
This car was fun to drive - it felt a part of the road. It took me on some memorable road trips all over the west - a life highlight was driving through the national parks in Southern Utah. The top was off and folded up in back. Back home, Dallas the dog would ride with her paws on the roof line and her head out the open roof. Her tongue and cheeks would flap in the wind. People we passed would point, stare, and laugh. It was quite a sight and she loved those car trips.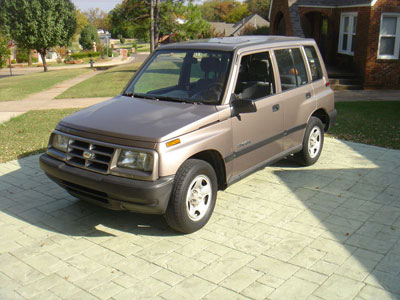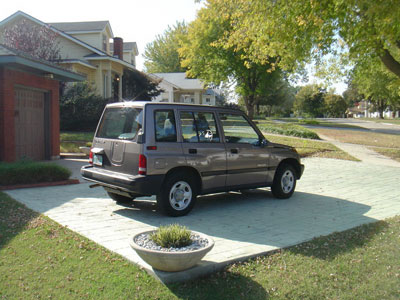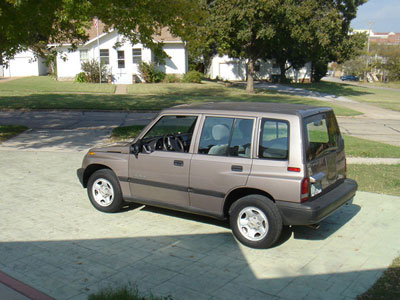 I liked the Tracker so much that when it came time to get a new car, I bought another Tracker - a bit larger for more comfortable highway riding. This Tracker has taken me to New York and back for a total of 6 cross-country trips. After 10 years and 114,000 miles, I figured it was time to get a new car. I bought a Dodge Nitro but it was a bit tough to part with the Tracker. I sold it to a naber who lives 4 houses down the street.



Dodge Nitro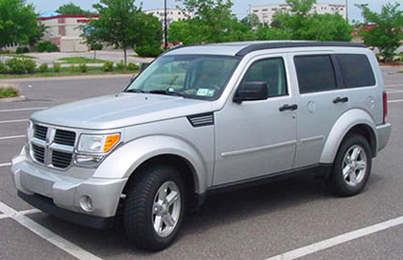 Story about the exterior cupholder.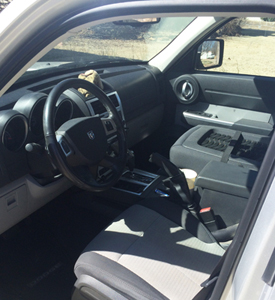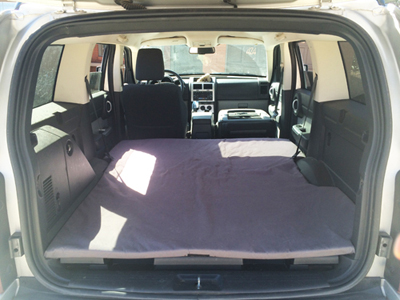 This was a comfortable road trip car. It also had amenities that were new for me: power windows, power lock with key fob, and fold-down rear seats. Because it transported the greyhounds to the dog park several times a week and took us all on long-distance treks to California and New York, I dubbed it the Greyhound Bus:


A simple adequate camper conversion for road trips.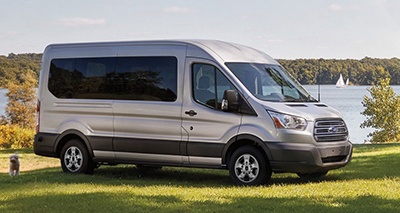 What car dashboards should look like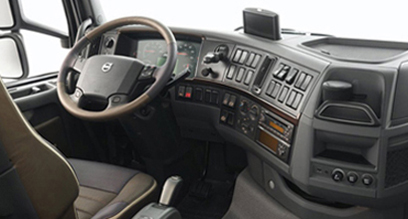 Driving would be safer and easier if the dash instruments wrapped around the driver, like many do in semi-rig truck cabs.