Ideas for a better & greener Edmond community dog park


Edmond, Oklahoma, has a very popular and large dog park on 33rd Street, east of Boulevard. It is so large that most dogs stay in one or two areas to socialize and play. And it is so popular that the Parks Department has had a hard time keeping grass growing - it is usually just dirt and, sometimes, mud. Sometimes, there are dust storms in Oklahoma's wind. One effort made has been to periodically fence off a small section that is then seeded and watered.


When the fence is removed, there is a small area of fresh grass for a short while. But, the number of dogs running and playing are just too much to allow the grass to thrive. The fresh grass doesn't last long.
Much of the overly large dog park goes unused: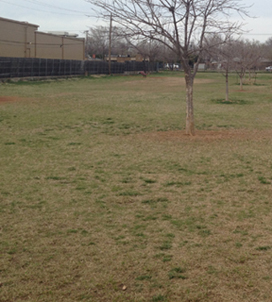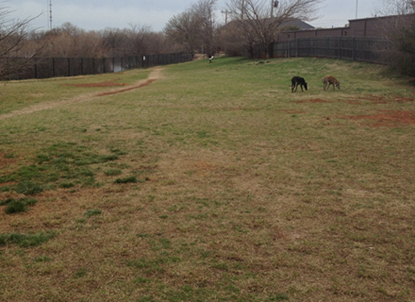 Here's another solution: Divide the large park into two parks.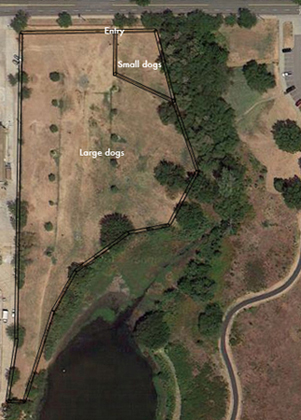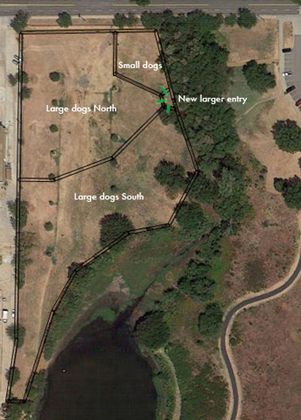 Advantages


• One park would be for active use, the other would be closed so that the grass has adequate time, without traffic, to root and thrive.
• Each park would still be an adequate size.
• Each would have large open areas for fetching and plenty of room for the dogs to run.
• All 3 parks would have easy access to drinking water.
• One park could be occasionally reserved for special events (Easter Egg hunt, training classes, etc.) while the other two would still be available as open parks.
The south side, with access to the pond, could be used in the summer months and the north side in the winter. There would be some initial cost in additional fencing. But, there would no longer be a need for the temporary fencing.
People at the dog park with whom I have shared this idea agree - the park is plenty big and, if divided, would still be big enough and it would be nice for the dogs to be able to run on more grass.


The new entry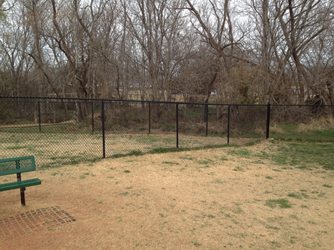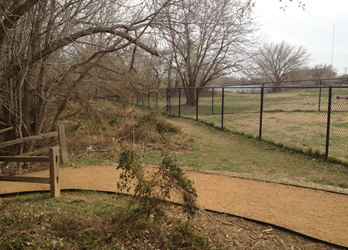 A new entry could be added on the east side to access all 3 parks: Small, Large North, and Large South. This would be more convenient: closer to the park parking lot, more park-like: near the creek bridge, trees, and the path, and safer: away from the busy 33rd Street.


The 3 dog parks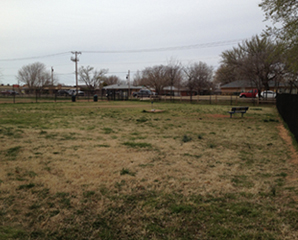 Small dogs. Large dogs North. Two views of Large dogs South.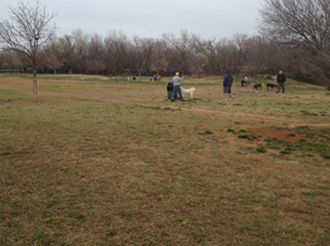 Size comparisons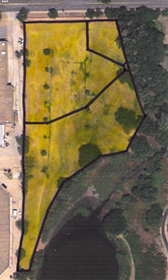 Above: In the same scale: Edmond, OKC Lake Hefner, OKC Downtown, Midwest City. Below: a new park in Ardmore OK:


Improved entry/exit lane to parking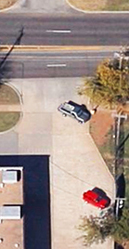 On the west side of the Edmond dog park is additional parking in the lot of the shopping center. The row of spaces along the side and in back of the building is rarely used by shoppers and it is closer to the park entrance than parking in the parking lot on the east side. The Parks Department acknowledged this when they paved the walkway from the lot to the entrance with a crushed stone composite.
Above right: Of course, there are rude, selfish people that want to park close to the entrance, even if it means inconveniencing other users by blocking part of the entry/exit to the lot. Someday there will likely be an accident as someone exits while someone else is turning in off of the busy street.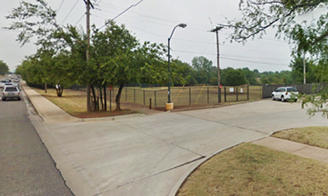 Below left: A red pickup truck parked along the curb, narrowing the available space to exit or turn into the lot. Below right: cars lined up to exit the lot.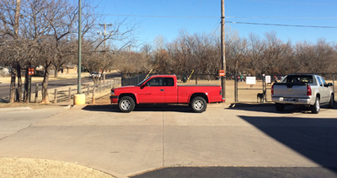 The solution: Mount some signs on the fence designating the area in front of the fence as No Parking. There is currently a sign stating to not block the maintenance access gate. The photos above show how ineffective that sign is.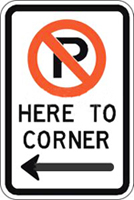 Wish list for a better Edmond Dog Park

More poop bag dispensers Especially outside the park fence, at the entrances to the walkways. Often, dogs poop on the way in or out and owners don't have a bag with them. In the park, bag dispensers could be mounted on trash cans so the cans could be moved around to grassy areas.


Signs reminding users to pick up their dog poop.


Benches mounted on skids would allow them to be moved to grassy areas as soon as the area around them begins to show worn grass. The permanent benches and bag poles create dust bowl areas making those areas less desirable for sitting, so some benches sit empty. Some of the benches could have canopies for shade.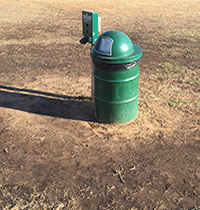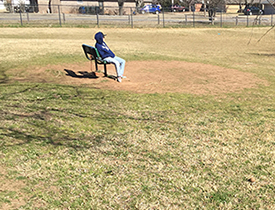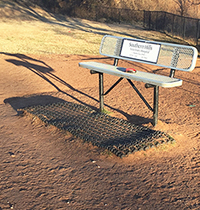 Restrooms There are restrooms nearby, but too far away to leave dogs unattended for so long.


More shade shelters July and August in Oklahoma can be brutal.


More parking Below: Existing (43 spaces) and improved (59 spaces).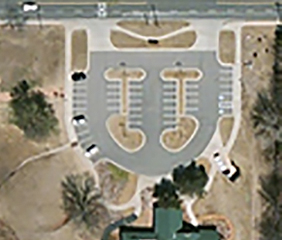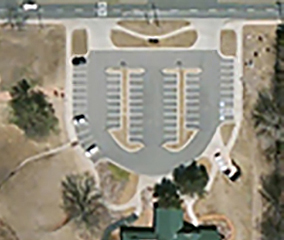 Better No Parking signage in the Mardel lot (see explanations and photos above).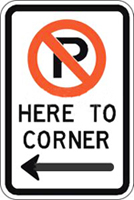 Concession stand Could be a seasonal operation, or daily in summer, weekends in winter. Food truck, ballpark food and drink, or vending machines. Or full service (see Mutts park below). Location A shown below allows easier access to loading and parking. B is more accessible for other park visitors with new entry on the east side.


Fenced dog swimming area The existing access to the pond lets the dogs out into an unsecured area. A fence could jut out into the lake and enclose enough area for safer swimming.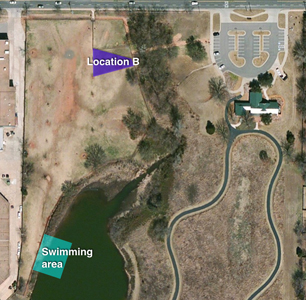 Build a second dog park at Mitch Park. There is ample land and parking, easy access, and away from busy streets. This would alleviate some of the overcrowding and wear on the Rudkin Dog park.


Dog Park People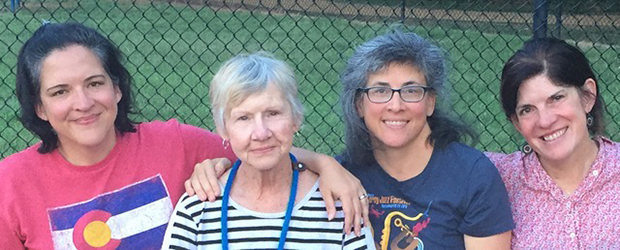 From the Mutts Cantina website: Mutts Canine Cantina is a new Dallas restaurant and dog park that lets you enjoy all your favorite things, in one great place - good friends, great food and drinks, a fun outdoor environment, and of course, your mutt. Open for breakfast, lunch, dinner, and any time in-between, Mutts Canine Cantina features an attended off-leash park for Mutts Members and an on-leash, dog-friendly outdoor patio and beer garden open to the public. This is a place where dogs can run, exercise, and play in the fresh air - and dog owners can relax and socialize, while spending time with their pets. So bring your best friend and your appetite and come out to play, at Dallas's newest dog-friendly destination.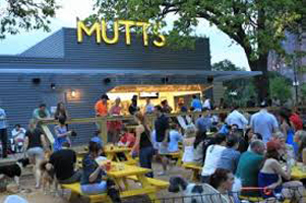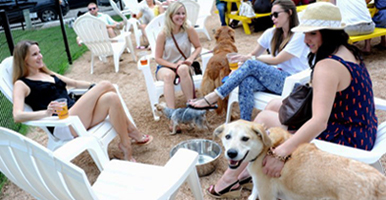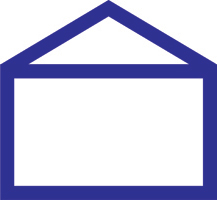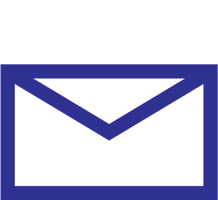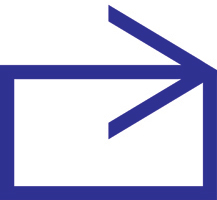 www.jamesrobertwatson.com/dogparks.html