A Disney resort in the New York City area


The Disney Company has a large presence in New York City through their Broadway shows

.

And, while they have resorts in California, Florida, Hawaii, Paris, Tokyo, and Hong Kong, there is nothing in the densely populated Northeast. They tried a while back with an American-themed park, but it was too close to sacred Civil War battlefields and raised too much opposition.
Cirque du Soleil has permanent shows in Las Vegas and Walt Disney World in Florida but nothing in NYC. They have mounted many shows in New York in a variety of venues. They, too would benefit from a permanent venue in the Big Apple.



The concept statement


A vacation destination to appeal to the Disney fan with resort amenities, including an indoor/outdoor pool, waterfront location, and water sports; a permanent Cirque du Soleil showplace; and easy access to the Statue of Liberty, Disney on Broadway, and all that Manhattan has to offer. Much like resorts in Hawaii, Florida, California, and Asia; and on their cruise ships. The resort could even include Disney timeshare units and vacation packages before or after boarding a Disney Cruise ship.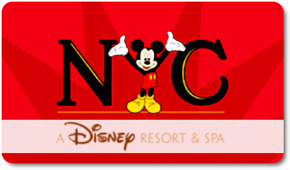 But, a major problem for both Disney and Cirque is finding enough land in the city and then paying high Manhattan prices.
Solution: Build a resort in New Jersey. Yep, instead of being

in

the city, have a view

of

the city. Like Disneyland and Walt Disney World, the resort is located in and part of a major amusement park - New York City. Guests would take excursions into the city, but from a resort getaway on the water, a resort that has the safe, familiar, and comfortable Disney attitude and service.



Location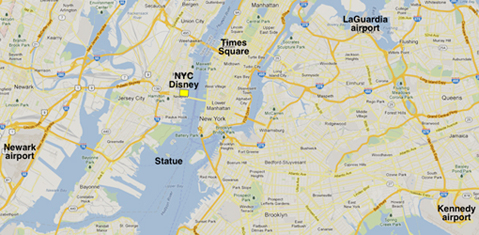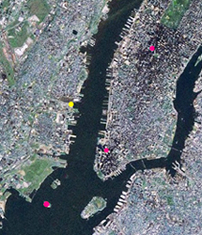 On the Hudson River waterfront between Jersey City and Hoboken, across the Hudson from Greenwich Village, between Downtown and Midtown. Two blocks off of Interstate 78 and US1, and a short way from I-95, allows easy freeway access and convenient highways from all 3 NYC airports.
The red dots are, from top to bottom, Times Square, the new World Trade Center and the 9/11 Memorial, and the Statue of Liberty.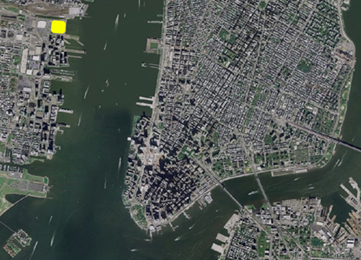 At the very northern boundary of Jersey City.
The Erie Lackawanna train and ferry depot is at the top of the photo. Newport Mall and movie theaters are at the lower left.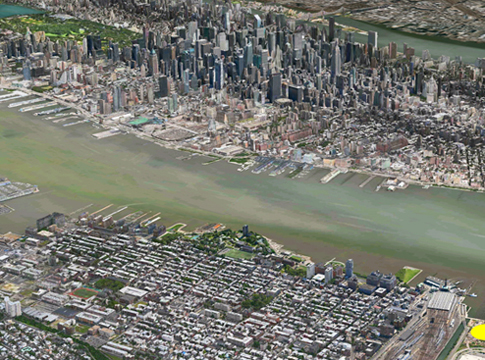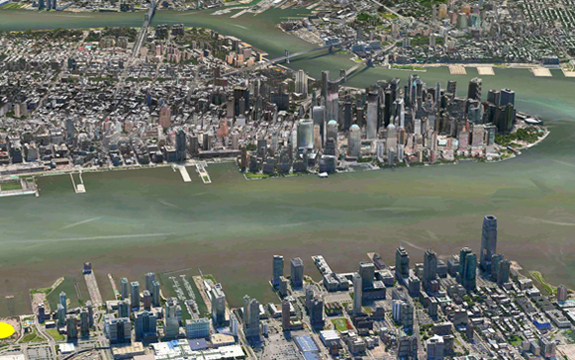 The resort on the Jersey City waterfront.

Statue of Liberty on the far left.


View of NYC from the Disney resort:






Activities and excursions




At the resort


• Fireworks several times a week
• River watersports: paddle boats, kayaks, jet skis
• Bike rentals, waterfront bike path
• Indoor/outdoor pool and waterpark
• Cirque du Soleil
• Hotel restaurants, arcade, and theater
• Breakfast and dinner cruises
• River tour boats: Hudson Bay, loop around Manhattan


Nearby in New Jersey


• Liberty Science Museum
• Newport Mall with move theaters
• Hoboken
• Light Rail: downtown Jersey City, PATH trains to Manhattan and Newark Airport, Liberty Science Museum, and Liberty Park


Ferries across the Hudson


• Times Square: Broadway shows, 3 or 4 are Disney musicals
• Midtown and Rockefeller Center
• Museums: The Met, MoMA, the Guggenheim, Natural History
• Statue of Liberty and Ellis Island Museum of Immigration
• Downtown: WTC, Wall Street
• Brooklyn: the bridge, IKEA, waterfront park, Grimaldi's Pizza, Dumbo shops
• Plus, all of the other sights of New York City!


Shuttle vans


• Airports, train stations, and Meadowlands sports arenas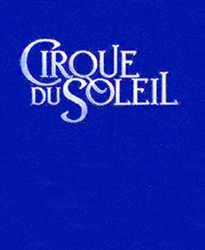 Cirque du Soleil mounts amazing and popular shows that tour all over the world and have a permanent presence in Las Vegas and Walt Disney World. This NYC Disney show could have an urban, city theme and be integrated into the resort complex. The same ferries that transport resort guests would also ferry ticket holders from Manhattan to the resort venue.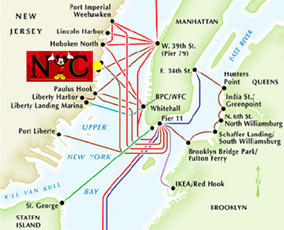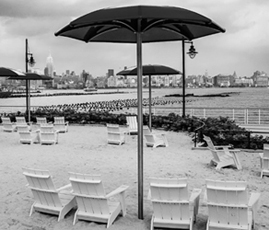 Numerous ferries ply the Hudson River.
How the waterfront might look.


the Disney Aulani resort in Hawaii


The resort could pay homage to the days of Art Deco when NYC gained many of its classic skyscrapers: Empire State, Chrysler, GE, Chanin, etc.
A rough rendering showing the Hotel towers (brown) and the Cirque arena (white) and the expanded riverfront beach and boardwalk.



Views of Midtown Manhattan and the Hudson River from the resort.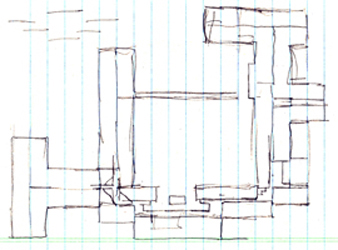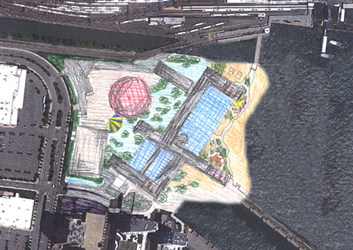 Idea and sketches: 2011
Presentation: 2013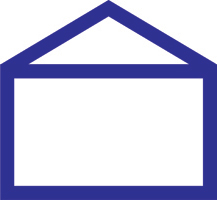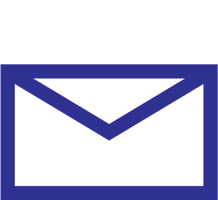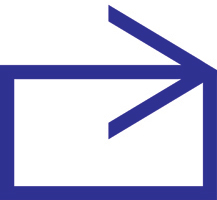 www.jamesrobertwatson.com/disneynyc.html