Conor Henderson


Conor Henderson was a student in Graphic Design 1 during the fall 2002 semester. He had a delightful spirit and zest for life. Conor was committed to becoming a designer. He was very creative and touched all who had the pleasure to know him.

Conor was killed in a car accident on Broadway Extension during the early morning of Saturday, November 23, 2002. He was alone in the car, no other vehicles were involved, and he probably died instantly. Conor was 24 years old. His death deeply affected many. As his teacher, his life and death certainly changed my life. I had never yet felt such sadness and aching for another human being (until four weeks later when my mother died). It was very difficult to go back into the classroom and not have him there. Therapy, medication, and talking with friends helped me overcome the grief. I doubt I'll ever forget Conor Henderson.

Someone had maintained a flower and cross marker at the site of his crash and death from his death until the road was widened and the median was paved over. I acknowledge it and think of Conor when I pass that spot. It reminds me of the fragility and preciousness of life and to continue to work at honoring him in my attitude and behavior.


Photo of design field trip to Tulsa, fall semester, outside the Philbrook Museum. Conor is in the back row, on the right. Other students from his Graphic Design I class are scattered throughout the photo.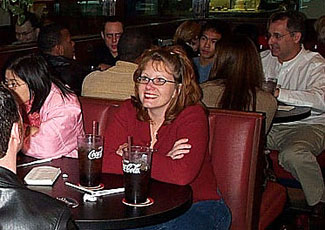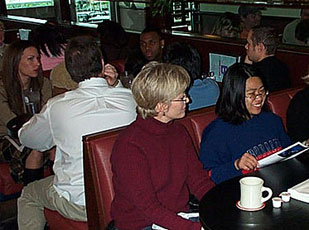 We stopped for lunch in Tulsa. In the left foto, Conor is at the back corner, looking at the camera.



Excerpts from final handout in Graphic Design I, December 2002





Graphic Design I is over


The semester ended sort of abruptly. We didn't get a chance to say goodbye. We had quite a journey, quite a ride since we took off in August. Conor didn't get to finish with the rest of us. And the rest of us didn't even get to officially finish the ride. This handout is to help provide some definite closure that the course is over.

I will see you again, but it won't be the same. I won't have any of you in such a studio class again. We will pass in the hall and I will review your portfolio before Graphic Design II, but it just won't be the same. I have many fond memories of this GDI group. Thank you.



Logo design


Because we lost 3 class periods - migraine, Conor, and no exam week class. We didn't get to talk about logo design much. You will have more chances in later courses to practice identity design. Remember the keys: logos are identities, not ads; design and critique from the target's point of view; strive for clarity; strive for memorability; and integrate type and image.



Save all your art & design work


New procedures require you to pass a portfolio review with the design faculty before enrolling in Graphic Design II. Keep all your good work from Drawing, 2D Design, Graphic Design I, Illustration, and Computer Graphics I. More info and details on this review will be posted later.



Neurobics


You have turned in your last Neurobics form, but I hope you never finish doing neurobics. I hope personal efforts to broaden your horizons will become part of your lifestyle.



Course finale


As a result of your being in Graphic Design I and the bumpy ride we took together, I hope your eyes have been opened: you see differently, you think differently. I hope you now solve problems more thoroughly and efficiently. I hope you better understand the process of design. That list really was too long.



Therapy update


I had a good visit with a therapist. What I learned:
• I am very sensitive. Because I choose to be single, students are my 'kids'. But the therapist reminded me that being caring and sensitive was a good thing. The alternative would be worse (callous, cold, uncaring, etc.)
• I never got closure with Conor, never got to say goodbye, good luck, take care.
• There are no time limits to grieving.
• I may be too hard on myself - too much of a perfectionist - I'm going to get Conor to help me work on this. He will remind me to lighten up a bit.
• Walking back into room 102 was tough. I apologize for leaving you alone during the final. I was very uncomfortable in the room at that time, especially since I went in at 10am and said, "Who are we missing?" (Oops).
• Its okay to cry. One therapist (I've seen two) thought it was cool that I role-modeled crying in front of students, especially the guys. Its okay and not a sign of weakness. Okay, maybe a little weakness, but that is okay, too. Its human to be fragile at times. She also thought it was cool that I would acknowledge seeking professional counseling help. That is a good thing to model for students.
Don't know if I mentioned that during the Conor loss my mother was in the hospital with some serious brain injuries. Her impending poor health (she's 83 years old) coupled with Conor's death was a lot for me to deal with. My doctor has prescribed some antidepressants to help me through this tough period.

Conor's life and death has caused me to do some self-assessment: Neurobics, encouraging risk-taking, personal values, teaching etc. Despite the consequences, I am still committed to pushing students to higher standards, to get going, and to think more deeply. I will not forget Conor and what he meant to me.

Thoughts on grieving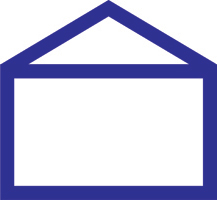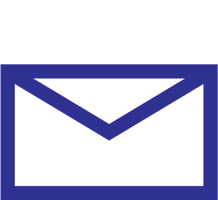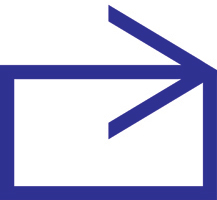 www.jamesrobertwatson.com/conor.html