The Gates Central Park, New York City 1979-2005


I have long been a fan of work by Christo - the wrapped structures, the running fence, umbrellas - work that is well-crafted and presents our world to us in a new package. As soon as I read about The Gates project in Central Park in 2005, I planned a trip to see them first hand.

I arrived in New York on Thursday, Febuary 17, and went that evening to the newly-reopened Museum of Modern Art to watch 3 films about the installations of earlier Christo works - Wrapped Coast in Australia, Wrapped Trees in Switzerland, and Wrapped Walkways in Kansas City.

Saturday was the big day. I had previously bought bottled water, snacks, and nutrition bars. I put on my iPod, hit the Favorites playlist and rode the subway all the way up to 110th Street, the top boundary of Central Park. I walked up out of the subway entrance and saw the gates across the street. The sun was illuminating them from behind. I started to chuckle - it was so joyous. I spent the next 4+ hours wandering and zigzagging the entire length of Central Park, stopping to rest, eat, and drink when necessary. The sky was bright blue and the crowds were animated - thick at times and nonexistent at times. In addition to feeling exhilarated by the flapping orange panels, I also got to know much of Central Park - the hills, trees, brooks, lawns, and buildings. Its a spectacular park and a great otherworldly setting for this huge display of public art. At one point along the journey, I got a swatch of the orange fabric from one of the docents.

As if drawn to a magnetic focus, I returned to The Gates on Sunday - another beautiful day. This time I didn't have the goal of walking the entire length of the park so I was able to slow down and wander. I sauntered and meandered. I listened to music by Philip Glass - a very minimalist composer. His music is very repetitious which was very fitting for the repetition of the gates, the shadows, and the people. I had lunch at an outdoor cafe overlooking a meadow. There were gates blowing above me and in the distance. A great place for people watching. Both days were like a huge festival - people, food, souvenirs, picture-taking, and the stars - the gates with their fluid motion and orange color. This was a once-in-a-lifetime opportunity that I will cherish for a long time.



I was awed by several things




The very Dadaist approach to allowing participants to experience a familiar environment in a new and fresh way.


The large number of people experiencing the project during the 16 days, estimated by the Park Service to be over one million. The Gates had to be one of the more photographed events held. I enjoyed listening to comments, talking to people, taking pictures, and getting into several group shots. Lots of people turning out to see a work of art.


The incredible attention to detail and meticulous craftsmanship by Christo, Jeanne-Claude, the project coordinator, and all the project workers. To have designed, sketched, plotted, measured, engineered, and installed each of 7,500 structures to provide such an experience is impressive.



Dates of exhibition


Saturday morning, Febuary 12, to Sunday evening, Febuary 27, 2005. The artists display their work for about two weeks. This aesthetic decision endows the work with a feeling of urgency to be seen, and the love and tenderness brought by the fact that they will not last. Those feelings are usually reserved for other temporary things such as childhood and our own lives. These are valued because we know they will not last.


The artists


Christo Vladimirov Jovacheff of Bulgaria and Jeanne-Claude Denat de Guillebon of Morocco moved to New York City in 1964. The two have inspired the world with their public art, which has been displayed on four continents and seen by millions.


A few other works


Wrapped Reichstag, Berlin, 1971-95; The Pont Neuf Wrapped, Paris, 1975-85; Surrounded Islands, Biscayne Bay, Miami, 1980-83; Running Fence, Sonoma and Martin Counties, California, 1972-76, 24 miles long; and Valley Curtain, Colorado, 1970-72.


The inspiration


Long wanting to do a major work in their hometown, they first proposed wrapping two buildings in the financial district downtown. That project was not approved. In addition to being impressed with the skyscrapers, they were also influenced by the amount of walking done in New York City. They wanted the new project to reflect this pedestrian river of motion and fluidity. Christo and Jeanne-Claude developed the concept in 1979. The city of New York granted permission on January 22, 2003.


The site


Christo and Jeanne-Claude took their young son to Central Park everyday - Central Park became an integral part of their lives. It is the New York City site most dependent on pedestrian activity. The gates did not interfere with any existing tree branches. All material used in the project will be recycled.


Numbers


7,532 gates, 16 feet high, 5.5 feet to 18 feet wide, about 12 feet apart, orange fabric panels hang down 7 feet; along 23 miles of footpaths; 15,000 steel bases; 165,000 bolts and 165,000 nuts; 46 miles of hems; $21 million dollars paid by Christo and Jeanne-Claude.
Christo and Jeanne-Claude's website.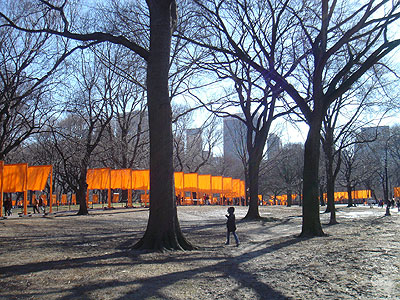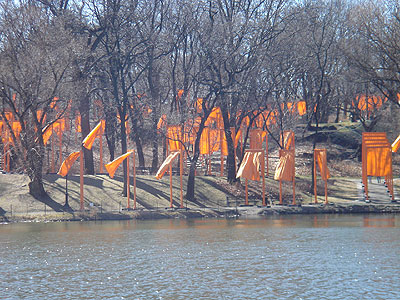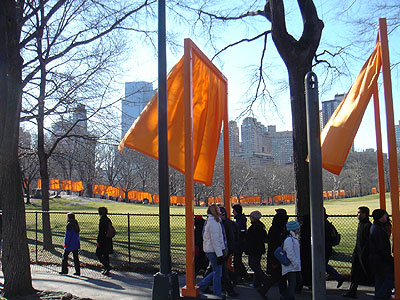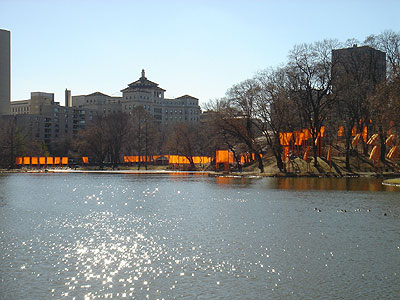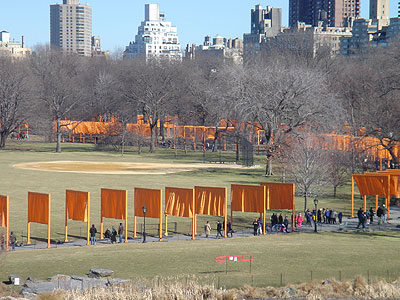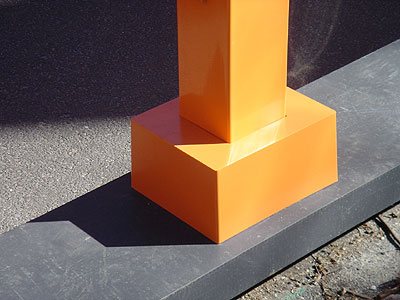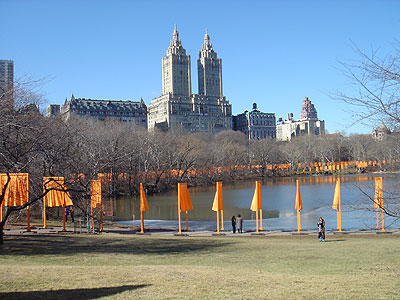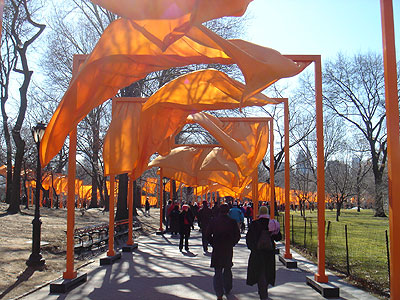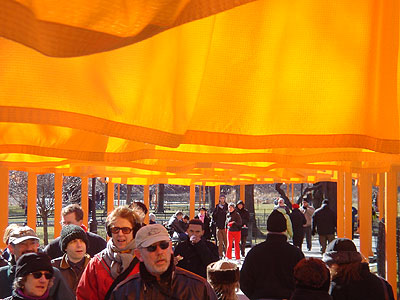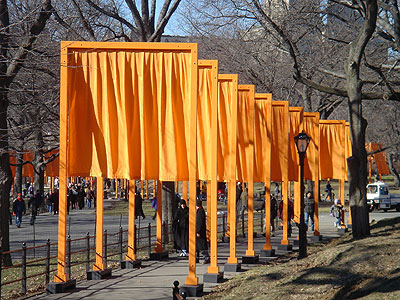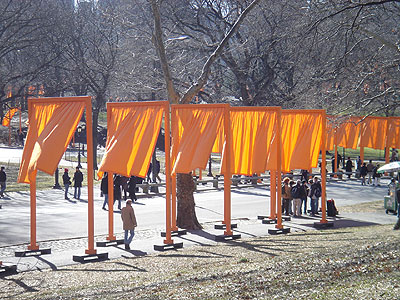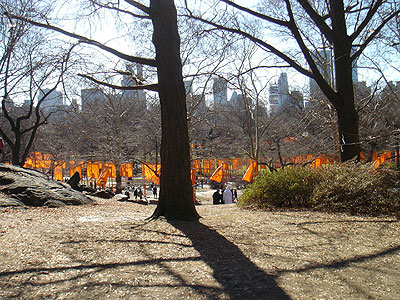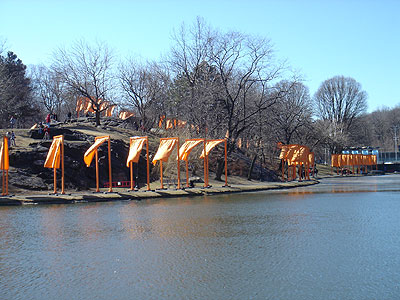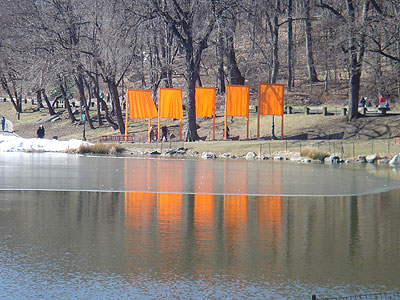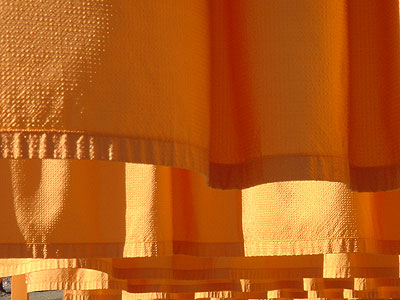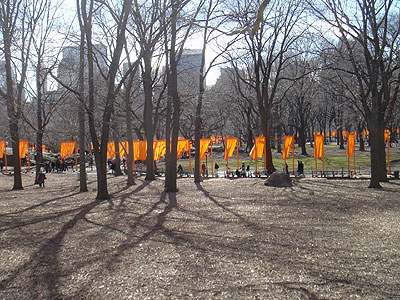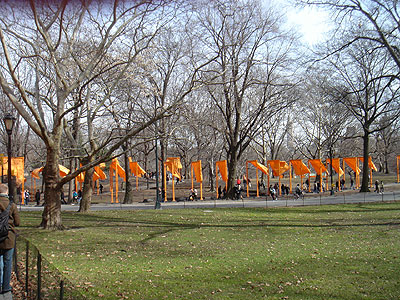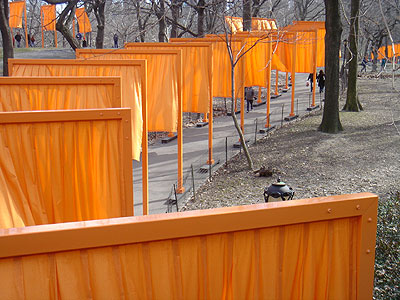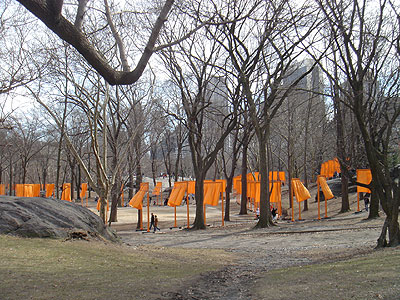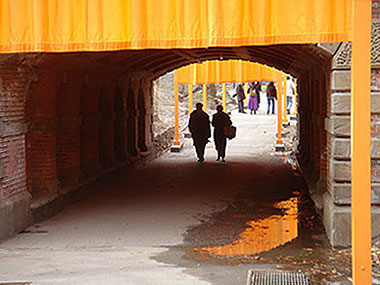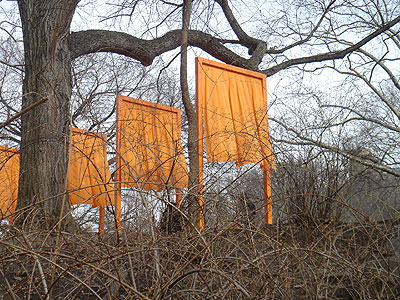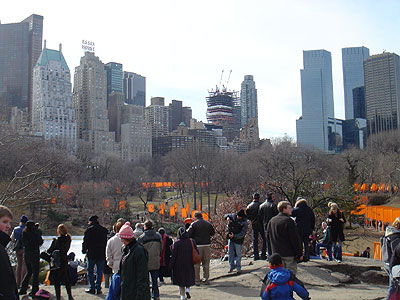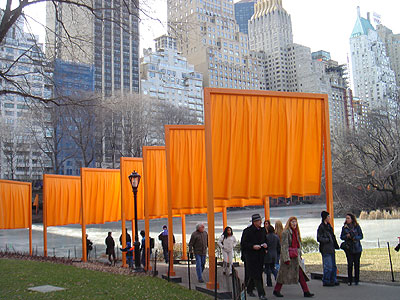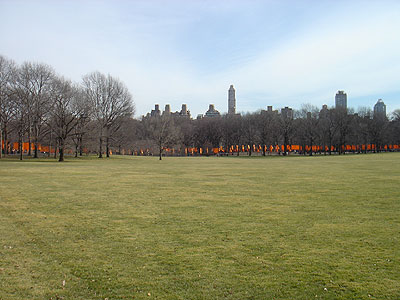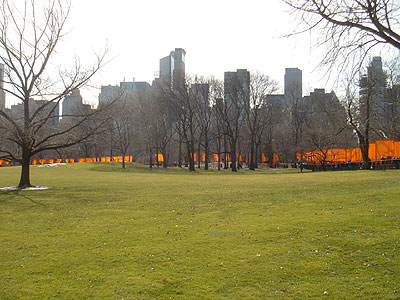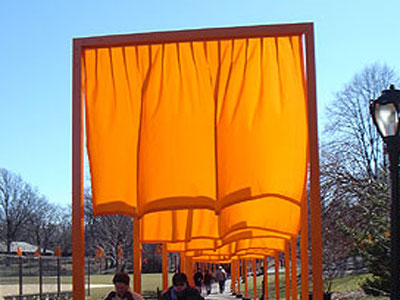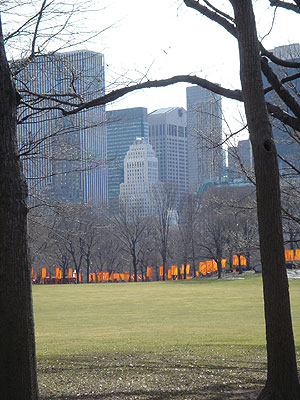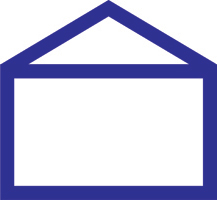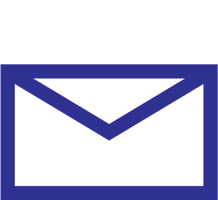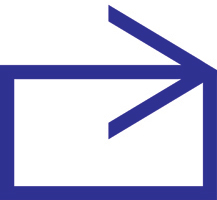 www.jamesrobertwatson.com/christo.html