A few Broadway shows




Seen in New York City, 2006-12, and reviewed by Jim Watson





Brief explanation


Off-Broadway originally referred to productions that were more experimental, with smaller casts, produced on a lower budget, and typically in Greenwich Village and away from Times Square. Today, Off-Broadway mainly refers to the number of seats in the theater:
Off-Off-Broadway - theaters with 99 seats or less
Off-Broadway - theater with 100-500 seats, even if it is in the theater district around Times Square
Broadway - theater with more than 500 seats and in the Theater District



Disney on Broadway


The Walt Disney Company has a pretty decent track record with Broadway musicals. They created a division within the company just to produce Broadway shows. They introduced Beauty and the Beast, The Lion King - a mega-hit with several Tony awards including Best Musical, and Aida, a new version of the classic opera with music by Elton John. Aida had a moderately successful run. Beauty and the Beast became the 6th longest-running show on Broadway. The Lion King moved in June of 2006 to a different theater so the New Amsterdam theater on 42nd street could be available for the US version of Mary Poppins. The New Amsterdam theater (former home of the Ziegfeld Follies) had been completely remodelated to its former Art Nouveau glory by the Walt Disney Company which helped revitalize and clean up 42nd Street in Times Square.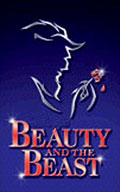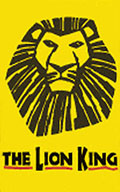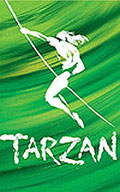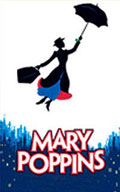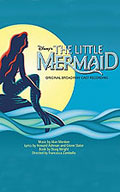 Two of the very best shows I've seen on Broadway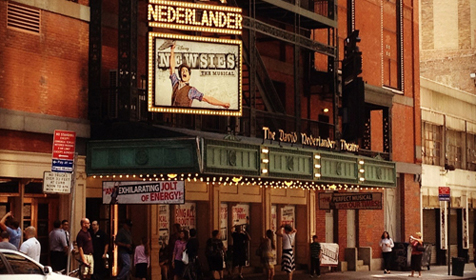 The new Disney musical

Newsies

about the newsboy strike against Joseph Pulitzer in 1899. I place Newsies in the top tier of current Broadway musicals, with Phantom of the Opera, The Lion King, Wicked, and The Book of Mormon.


Evita

with Ricky Martin, is about the rise to power of the First Lady of Argentina, Eva Peron.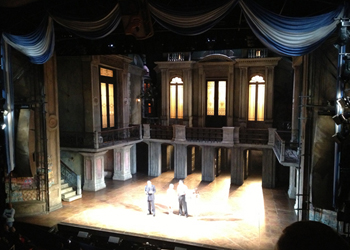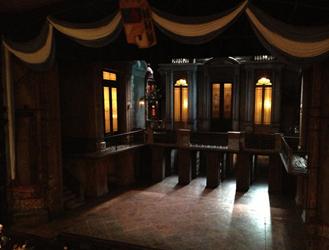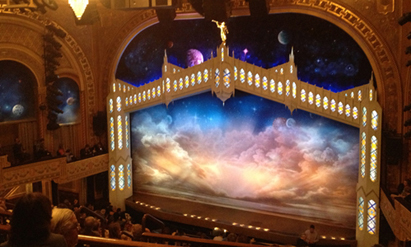 The hottest ticket on Broadway since it opened in March 2011,

The Book of Mormon

was conceived, written, and scored by the creators of South Park and Avenue Q, it tells the story of two young Mormon missionaries sent to a remote village in Uganda, where a brutal warlord is threatening the local population. Naïve and optimistic, the two missionaries try to share the Book of Mormon - which only one of them knows very well - but have trouble connecting with the locals, who are more worried about war, famine, poverty, and AIDS than about religion. In desperation, the more ignorant missionary (and with a more active imagination) makes up stories, things the people want to hear, and they become interested and choose to be baptized. The show ends with yet another new religion, one based on those made-up stories.
Granted, it is so easy to make jokes about the Mormon Church: Golden plates - that no one ever saw - buried in a backyard in upstate New York, men who can become Gods and rule their own planet, sacred underwear, men with multiple wives, and more. Even though the Mormon God cursed some people by giving them dark skin, in 1978, the Mormon Prophet got a new revelation from God that Black people were okay, after all.
The parallel to today's ChristRepublican Party is clear - if you lie and tell people what they want to hear to support their pre-existing biases, you will gain ardent followers.
The musical was hilarious and very entertaining.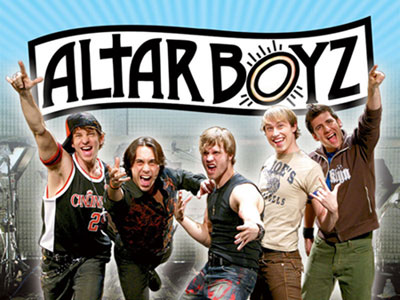 The reviews and street-buzz for this Off-Broadway show about a Christian boy-band were very good. I thought I was out of my 'NSync phase (please don't ask), but I succumbed to the hype and bought a ticket. I'm glad I went. It was excellent - a lot of fun and very well done - a very enjoyable hour and a half of singing and dancing. The fotos here are of the original cast. The cast I saw did better on some songs than the original on the soundtrack. I have witnessed that before - cast replacements that do better in the role than the originating actors. Sometimes, the show 'settles in' and finds its rhythm that the newcomer can embrace and enhance. The replacement cast in Spamalot did much better than the originals. Hank Azaria, David Hyde-Pierce, and Tim Curry are celebrities and movie and television stars, not musical comedy actors. The replacements fit the characters better and had more depth in the roles. I think the same holds true for Altar Boyz.
This show seems to be desperately hanging on to the boy band phenomenon of Backstreet Boys, 'NSync, 98 Degrees, etc. There is a website called 'Altarholics' and a blog page on MySpace. There are references to a loyal following and all the background and promo hype that any legit boy band would have. They seem to be purposefully blurring the distinction between a musical group and a Broadway show. The show, in the guise of the band, went on tour - it played Austin and Dallas in January, 2007.
Jesus and the theater: For many years, actors were considered by the church to be heathens and undesirables. Actors and 'those nasty theater folk' were not welcomed inside most churches in Manhattan. Reasons: the large number of Jewish people in the theater that were looked down upon by the Christian community, the late hours kept by theater people, and the bawdy entertainment usually associated with live theater. When the Theater District was around Madison Square, one church did welcome actors and it became known as the Actor's Chapel and The Little Church Around the Corner. When the theaters moved uptown to the brand-new Times Square area, a couple of churches in the area were welcoming.
A couple of religious themed shows have been hits on Broadway: Godspell based on the gospel of Matthew and Jesus Christ Superstar, one of Andrew Lloyd Webber's early hits. Altar Boyz, while being very respectful and educational about Christianity, has several subtle slams against religion - the four lead Christian characters (Matthew, Mark, Luke, and ... Juan) are discovered to be greedy and selfish. Turns out, only the Jewish character, Abraham, maintains his righteous integrity.
Notes from their website: Altar Boyz is a musical-comedy spoof about a fictitious Christian boy-band on the last night of their national 'Raise the Praise' tour. As they perform their signature hits featuring lyrics like "Girl, you make me wanna wait" and "Jesus called me on my cell phone," soul-wrenching secrets come tumbling out - with hilarious results. The Boyz begin to question their faith in each other, and learn if fate is really holding them together - or if it's just their extra-firm hair gel. With their sweet harmonies, sinfully spectacular dancing, and an unnerving sense of fashion, the Altar Boyz are destined to rock the masses! A musical for the entire family, Altar Boyz is 90 minutes of pure fun.
Best Off-Broadway Musical, 2005 Outer Critics Circle
Outstanding Choreographer (Christopher Gattelli), 2005 Lucille Lortel Award.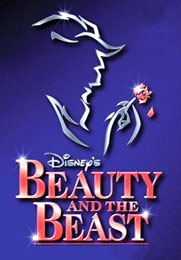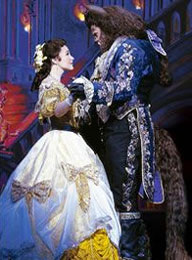 The Walt Disney Company knew they were dealing with a magical tale when they released their animated musical version of Beauty and the Beast in movie theaters for the 1991 holiday season. The film became so popular that it completely revived the Disney animation department and went on to become the first animated film to ever be nominated for the Academy Award for Best Picture. Theater fans said that the score and story were good enough for Broadway. Beauty and the Beast premiered in New York as the first of Disney's theatrical ventures, and became a Tony award winner and an instant smash with family audiences.
In Beauty and the Beast, Belle, a young woman in a small, provincial town, meets the Beast, in reality a young prince whose lack of compassion has trapped him in a spell placed by an enchantress. If the Beast can learn to love and to be loved, the spell will be broken and he will be transformed back to his former self. But time is running out, and if the Beast does not learn his lesson, he will be doomed for all eternity.
The show was a bit disappointing - the pace was a bit clunky and cumbersome and some of the dialogue was just too cheesy, even for an adapted cartoon. The sets and costumes were good, the performances strong; a solid show, but not one of the ground-breaking, dynamite shows that make news. But, who can argue with success - audiences must love it since it ran for over 14 years on Broadway.
• Opened on Broadway April 18, 1994, three years after the release of the movie
• The idea came from a 25 minute live performance of the film at Disneyland and Walt Disney World
• 6th longest running show in Broadway history, with 5,464 performances
• Translated in 6 languages
• Seen by 34 million people worldwide
• Won 9 Tony Awards including: Best Musical, Best Original Score,
• Best Direction, Best Costume Design, and Best Lighting Design
• Closed on Broadway: July 29, 2007 to make way for Disney's next musical, The Little Mermaid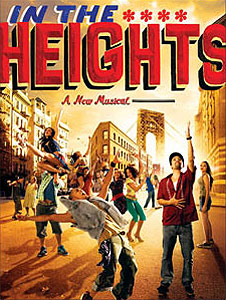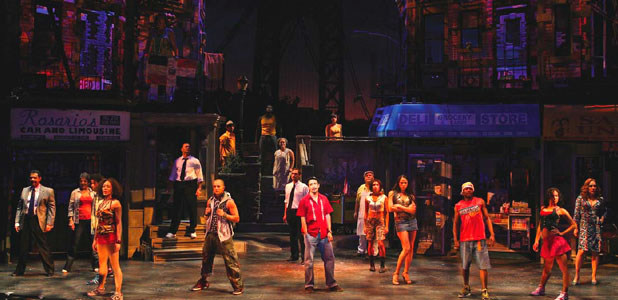 In the Heights
This is one of the best musicals I have seen, about dreams, hopes, death, and tribulations of living in Washington Heights, in the northern tip of Manhattan (that's the George Washington Bridge in the poster and the stage set). It won the Tony award for Best Musical and it deserved it. It began as an original musical conceived by Lin-Manuel Miranda during his sophomore year at Wesleyan University. Upon graduating and returning home to New York, Miranda collaborated with the director to rework and restage the campus hit for a larger audience. It opened Off-Broadway, got rave reviews, and built an audience. It moved to Broadway. The direction and choreography are some of the best I have ever experienced - the choreographer also earned a Tony Award.



Sorority star Elle Woods doesn't take 'no' for an answer. So when her boyfriend dumps her for someone 'serious', Elle puts down the credit card, hits the books, and sets out to go where no Delta Nu has gone before: Harvard Law. Along the way, Elle proves that being true to yourself never goes out of style. The movie was a hit, driven by the cute Reese Witherspoon. It has been translated for the stage with music and dancing, but holding true to the screenplay.
I was a bit concerned about this show - when I told people I was going to see it, there were snickers, like, 'Oh, another fluff movie-made-into-a-musical.' Once I got to my seat, I was surprised to see that the Palace Theater was only about half full in the mezzanine and balcony (I didn't check the orchestra section - hopefully it was fuller). I'm not sure this show is earning much respect. The Wedding Singer went through something similar - an excellent production but it was never taken seriously by the New York theater crowd. But, it was a good show, not great, but a good solid evening on Broadway. Individual performances were outstanding, the choreography and direction were excellent - some of the most original and best performed dancing. The sets were designed by David Rockwell who has done some hit shows but his work is too clunky, not quite polished and sophisticated enough for Broadway. I was in awe of the sets at The Pirate Queen and wishing that Rockwell could learn from Eugene Lee who has extensive experience designing sets.
Legally Blonde was nominated for 7 Tony awards, including Lead Actress, Featured Actor, Featured Actress, Choreography, and Costume design.


Opened: March, 2007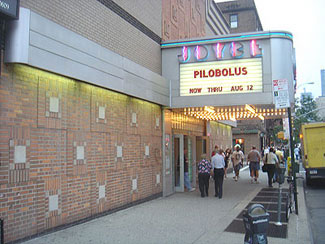 My birthday was coming up in a few days. I would spend it in New York. What to do? My mother usually made a big deal out of my birthday (mothers are supposed to do that). I had been thinking of her and dad - as I often do while in New York - so decided to get a ticket to a dance concert. I saw in the paper that a dance troupe called Pilobolus was playing NYC. I had heard of them and their avant garde pieces for many years. So, this was the time to finally go see them. I got a ticket - my birthday present.
The Joyce Theater was designed to be a showcase for dance. It sits inside the shell of the 1940s era Elgin Theater, a moviehouse that saw later life as a porn house. The naberhood wanted porn out, so the Joyce moved in. It serves as a venue for all types of dance and was named after the daughter of one of the chief benefactors. It is an excellent theater, very simple, but with good use of materials, lighting and good sightlines and acoustics. Often, dance pieces are performed with no set, just a black or white backdrop and dramatic side lighting. This was an excellent performance of old and new pieces within the Pilobolus repertoire.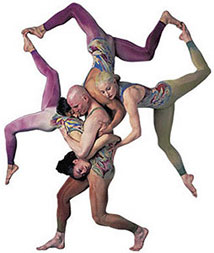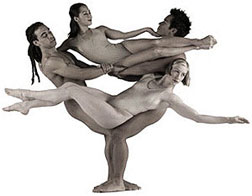 Pilobolus, the arts organism, germinated in a Dartmouth College dance class in 1971. What emerged was a collaborative choreographic process and a unique weight-sharing approach to partnering that gave the young company a nontraditional but powerful new set of skills with which to make dances. The group was immediately acclaimed for its startling mix of humor and invention and Pilobolus soon became a self-sufficient organization, its members choreographing, dancing, managing, and publicizing their own programs. Pilobolus is recognized as a major American dance company of international influence and remains a deeply collaborative effort with one of the most popular and varied repertoires in the field.
The name: Pilobolus is a a sun-loving fungus that grows in barnyards and pastures. It grows on a stalk as a small bladder, pressurized by cell sap and topped with a tiny black cap filled with spores. When Pilobolus is ripe, this entire sporangium is blasted off with incredible force and the little spore bags can shoot over a cow - like clowns out of a cannon. It's reported that the acceleration, from 0-45 mph, is the second fastest in nature.



This musical tells of an inspiring woman: Grace O'Malley, a heroine who led an extraordinary life as a pirate, chieftain, and mother in 16th Century Ireland. Her quest to protect her people - and save her one true love - embarks her on a thrilling voyage that climaxes in a heated confrontation with the one woman more powerful than her - her fierce rival, Queen Elizabeth I of England. The Pirate Queen combines classic storytelling and a sweeping score with the powerful, vibrant traditions of Irish dance and song, to create a new musical event and an epic romance.
This new Broadway musical from the creators of Miss Saigon and Les Miserables is a $16 million production with a cast of 42. It is in the Hilton Theater (formerly the Ford Center theater) which is new, large, and with good legroom. This theater was formed from the shells of two old theaters - the Apollo (where I saw Christopher Reeve in Fifth of July) and the Lyric theater. They had entrances on 42nd and so went through their porno-house phase. Now its classy and first-rate.
This is one of the most lavish and visually rich shows I've seen. The sets, costumes, and lighting were excellent. The music is quite operatic and not too memorable. Not a single melody stuck in my head. This show didn't make it, maybe because of the slow pacing, the mediocre music, and the lack of surprise and emotion. We know the pirate queen will win and that she will fall in love and be with the one she wants at the end. Yawn.
The Pirate Queen opened on April 5, 2007 and closed on June 17 after a disappointing run of just a few weeks. It was critically savaged during its out-of-town previews and, despite an extensive revamp, also when it arrived on Broadway. It is set to be one of Broadway's costliest flops, coming in at a reported loss of $16 million. The producers plan to rework the show and tour it in Europe to try to get some of their money back.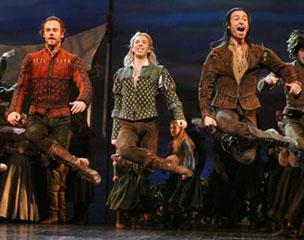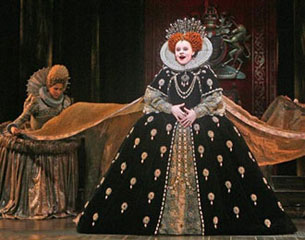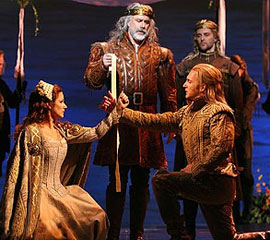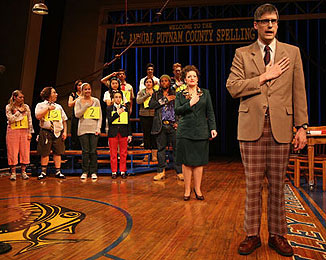 Six young people in the throes of puberty, overseen by grown-ups who barely managed to escape childhood themselves, learn that winning isn't everything and that losing doesn't necessarily make you a loser. A quirky yet charming cast of outsiders for whom a spelling bee is the one place where they can stand out and fit in at the same time. Audience members are recruited to join the on-stage spellers, providing hilarious and unexpected experiences.
Full title: The 25th Annual Putnam County Spelling Bee. It started as a play entitled C-R-E-P-U-S-C-U-L-E (the period of partial darkness at the beginning or end of the day) performed by an improvisational group. A playwright, Wendy Wasserstein (The Heidi Chronicles) encouraged the producers to turn it into a full-length musical. It was workshopped in Massachusetts and first performed in a school cafeteria. It then moved to Off-Broadway where it quickly sold out its run and was extended. Buoyed by that success, it premiered on Broadway on April 15, 2005 and won 2 Tony awards.
Spelling Bee is hilarious - clever, witty, topical dialogue; mediocre music; interesting set and staging. A funny entertaining evening at the theater.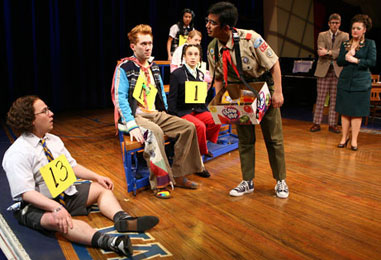 Opened: April 15, 2005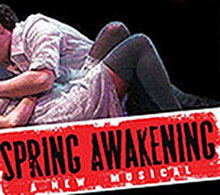 Spring Awakening takes its inspiration from one of literature's most controversial masterpieces - a work so daring in its depiction of teenage self-discovery, it was banned from the stage and not performed in its complete form in English for nearly 100 years. Setting: Germany, 1891 - a world where the grown-ups hold all the cards. The students contend with sexuality, failure, suicide, pregnancy - you know, typical stuff - but in an environment of strict oppression from the school headmaster, teachers, and parents. The friends need each other to help them understand what it means to grow up. The show originally was off-Broadway but it built an audience and some good word-of-mouth, so the producers moved it to Broadway and enlarged the show - more singers, larger set, etc. It opened in December, 2006. The cast is superb, all younger than 24 - some even began as young as 14 when the show was being developed in workshop.
Spring Awakening was nominated for 10 Tony awards and won these: Best Musical, Original Score, Featured Actor, Direction, Choreography, and Lighting design.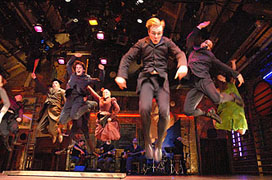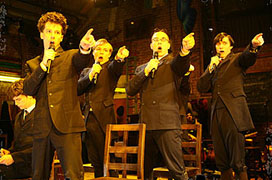 Opened: December 10 2006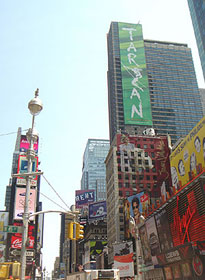 I had heard about the new musical from Disney last winter. Signs at the theater are often put up months before the show goes into previews to generate some buzz. The photo of the sign above is in Times Square and is 26 stories tall (the tallest building in OKC is about 30 stories tall.) I downloaded the soundtrack to Tarzan - with music by Phil Collins - and really liked it. I have enjoyed all the other Disney musicals so I figured I better see this one, also. I kept checking online for a ticket. It is selling out for the next few months, but tickets show up online periodically. I got a ticket, center orchestra, second row, on the aisle (my long legs need aisle room in the cramped Broadway theaters).
The opening sequence to this show is one of the most spectacular on stage. Before the curtain goes up, a projection of entries in the Captain's log is projected on a scrim at the front of the stage. The entries start off detailing nice weather and a nice voyage, then they get increasingly more ominous, ending in stormy weather. Behind the scrim is a drop of an outlined ship - this curtain rocks left and right conveying a sailing motion. Then the lights dim, lightning, thunder and it is the storm - an effect achieved with lighting and sound. Then we see the parents of the boy Tarzan drowning and swimming up and back away from us. The whole stage is lit as if it is underwater and the two actors are on cables that are hoisting them up. The effect was very believable. People were running for the lobby before they got drowned (okay, I made up that last part). But it was very convincing. Then we see a top view of the couple on the beach (which is the back wall of the set) and they are killed by the leopard, but the child is saved inside a trunk, to be discovered by the apes later. Great opening.

The aerial work of men and apes swinging thru the jungle was choreographed and produced by the creator of the aerial show De La Guarda, an innovative troupe from Argentina that performed in NYC and Las Vegas (where I saw it). Unfortunately, this show relied a bit too much on aerial theatrics. It was a visual stunner with 'dazzling special effects' but I left a bit disappointed - I had never quite gotten into the flow of the show. I was so fascinated with the mechanics of rigging, flying, and bungee jumping, that the story seemed secondary. The acting was excellent. The gorilla characters really mimicked the right moves and mannerisms. The music was good and performed well. The acrobatics and flying were almost overwhelming. Some came out over and behind my head and a few came along a wire from the back of the theater to the front, dipping periodically to just over the audience's heads.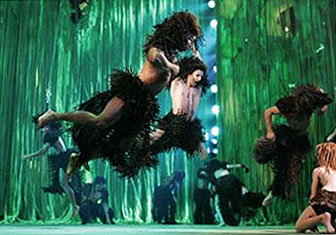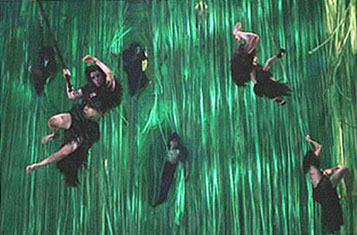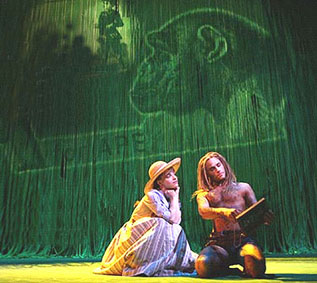 Tarzan and Jane learning history. Loading the set into the theater.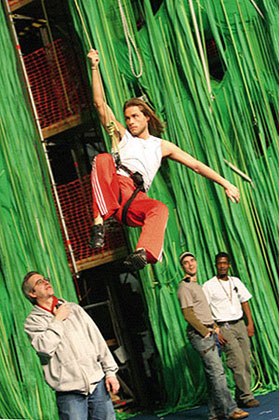 The Q&A session
After the show, I stuck around to listen to the orchestra (as I often do - to hear more of the music, to let the masses get out of the theater, and to see the stage set after the curtain is raised for the nite). This time, when I turned around, there were hordes of people coming down to the front and sitting down. I was aware of some special invitee-only presentations, so I sat down as if I had been invited (who would know?) I wanted to be as prospicuous as I could (the opposite of conspicuous). I'm glad I stayed. Apparently it was a large group (a hundred or so) of theater educators and theater students. The entire cast came out and sat or stood along the front of the stage. We heard great stories about the audition process, the many hours of classes in Yoga, Gorilla Movement, and Flying.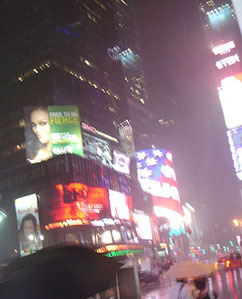 The thunderstorm
Towards the end of the Q&A, there was a loud thunderclap. People gasped. By the time we left the theater, it was a downpour. And it was stunningly beautiful. Times Square was awash in this incredible rainstorm. Loud thunder. Cracks of lightning. Gusty winds. Some had given up and were just walking and playing in the rain. I thoroughly enjoyed seeing Times Square in a whole different environment. It was laugh-out-loud joyous.
Disney on Broadway
On Tuesday afternoon, July 25, a large record/electronics store sponsored Disney on Broadway, featuring a song from Beauty and the Beast, 2 songs from The Lion King, and several songs from Tarzan. I'm not sure Tarzan is getting great press and this may have been an attempt to build interest in that show. The concert was absolutely excellent. The sound system was powerful. The songs were the best I've ever heard them. It was a phenomenal evening - the park, the crowd, historic and modern buildings, the music, and the performances.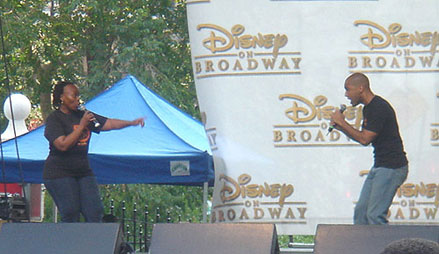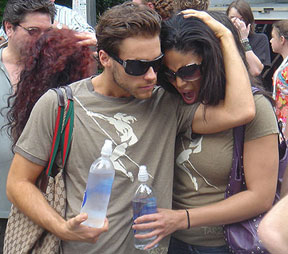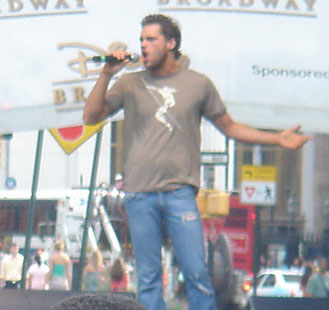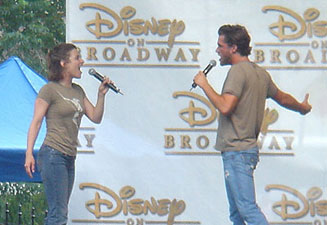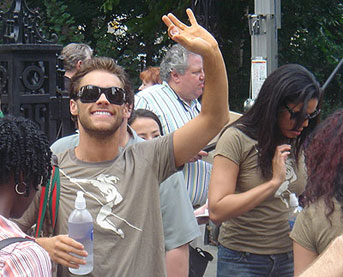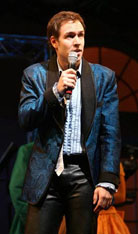 I was wandering around the South Street Seaport and saw the Half-Price Ticket booth. This is operated, with its sister booth in Times Square, to sell tickets to Broadway shows on the day of the show. Theaters that have tickets remaining or no-shows then make them available at these two locations. I thought, why not. One show being offered was The Wedding Singer. I had read that it was a hit show, with several Tony nominations including one for Best Musical - so, it seemed a bit odd that it would already be at the half-price booth. Turns out, someone had just turned in their tickets and I got one of them - a great seat: Orchestra section, third row from the stage, and on the aisle. I had plenty of leg room and a completely unobstructed view of the stage. The Tony award for Best Musical went to Jersey Boys but The Wedding Singer is a better show. It has a better story, better acting, better sets, etc. All around much better. The strength of Jersey Boys (the story of Frankie Valli and The Four Seasons) is mainly the music from that group.
This was one of the best musicals I have ever seen. It was clever, well acted, with good music, and very well crafted with great attention to detail. I haven't seen the movie with Adam Sandler and Drew Barrymore but I was aware of the synopsis and the story. It was not a star vehicle - there were the two romantic leads but also a significant supporting cast each with large parts and their own songs. The lead was Stephen Lynch, a comedian in his first Broadway role. There are many references to the 1980s - 'Where's the beef?' 'Whachoo talkin bout, Willis?' and on and on. Linda: "I learned my lesson, when I applied to DeVry, I needed a back-up school."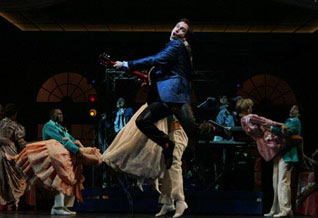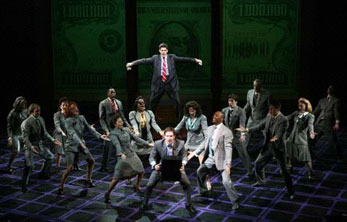 From the show website: Xanadu follows the journey of a magical and beautiful Greek muse, Kira, who descends from the heavens of Mt. Olympus to Venice Beach, California in 1980 on a quest to inspire a struggling artist, Sonny, to achieve the greatest artistic creation of all time - the first roller disco (hey, it's 1980). But, when Kira falls into forbidden love with the mortal Sonny, her jealous sisters take advantage of the situation and chaos abounds.
This hilarious, roller skating, musical adventure, about following your dreams despite the limitations others set for you, rolls along to the original hit score composed by pop-rock legends Jeff Lynne and John Farrar, and includes, Magic, All Over The World, Suddenly, I'm Alive, Evil Woman, Have You Never Been Mellow and Xanadu, and is based on the cult classic movie which starred Olivia Newton-John and Gene Kelly.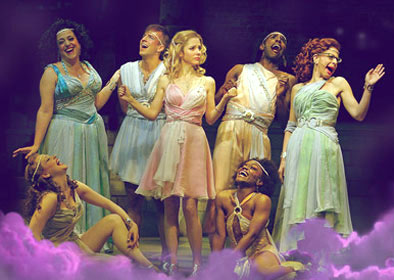 I had read about the advance press notices. There was a slight air of disdain about another musical made from a movie, and a bad movie, at that. But then, it opened and the reviews came in. They were positive, some even raving that it was a sold hit show. So, I got a ticket. I rented the movie from 1980 to get a sense of the synopsis. I had read the 1980s reviews that stated this was a terrible movie, just awful. But I watched it anyway. Holy shit, it really is a terrible movie - ridiculous dialogue, bad acting, weak convoluted plotlines. But I already had a ticket and the press for the Broadway version was good.
It rained that day but I got to the theater early enough to dry off. It is in a small theater with some audience seating up on the stage and the band/orchestra on a platform in a far corner of the stage. Not a large performing space but the cast used the on-stage aisles and behind the seating rows. This show is hilarious, well-written, and well acted. Just a hoot. I laughed hard and long. This show is just fun. Who woulda thunk it? It works.
Opened: July 10, 2007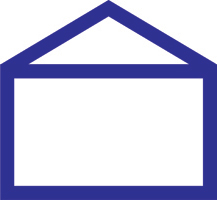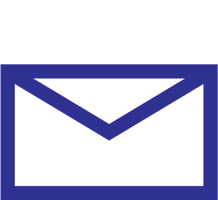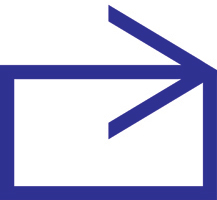 www.jamesrobertwatson.com/broadwayshows.html