Biography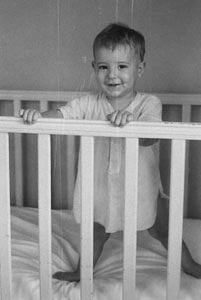 Creative Problem Solver, Design Coach, Guru of the clear message


Jim Watson has written horoscopes, acted on stage in numerous roles, written and lectured on creative problem solving, sat on the edge of the Grand Canyon under a full moon, run over a bird in his car, sat at the top of a Mayan pyramid in the moonlight, walked around an Egyptian pyramid, met Lyndon Johnson, waved at Barack and Michelle Obama, and owned Ringo Starr's autograph.



Me


I am a minimalist. I am often disappointed by movies. My favorite number is 44. I love to travel to other cities. Bryce Canyon in Southern Utah is my favorite natural sight. Walt Disney World is my favorite man-made sight. I do not believe in superstition and myths. I like to drink coffee in coffeeshops. I like to write. I like to invent. I like to solve problems. I neither trust nor respect politicians. I think teachers and medical support staff don't get paid enough. I think most CEOs get paid too much. I am opposed to the death penalty. I think religion is the root cause for almost all of the man-made horrors the world has experienced. I don't like laughtracks on sitcoms. I am pro-choice. I am anti-abortion. I do not like lima beans. I am a dog lover. I prefer Dewar's scotch. I like eating out with friends. I love New York. I miss my friend Laird. I miss my parents. I miss my dogs. I love to teach and to push minds. I love sudoku and crossword puzzles. I love to solve mind games. I am fascinated by word origins. I like granola cereal. I like to read the newspaper. I don't like telemarketing spiels. I don't like boring stories. I am not cowed by ancient beliefs that are meant to terrify me into submission. I fear little. I think life is a hoot.



Him


James Robert Watson was born in New Orleans, the youngest of 3 sons, in 1950. The family moved to Dallas in 1952. They took family vacations each summer all over the USA. Jim designed stage sets and spirit posters in high school and worked summers at Six Flags.
He went to the University of Texas during the turbulent late sixties/early seventies; he majored in set design, graphic design, and advertising. Jim was president of the Sigma Chi fraternity and worked as a freshman orientation advisor.
After UT, Jim worked as a designer for 5 years in Austin & Dallas. After committing to a profession as a teacher, he went to graduate school at the University of North Texas where he earned a 4.0 GPA for the Master's degree and was inducted into honor fraternities. During graduate school, Jim taught high school and community college in the Dallas area. Jim earned the PhD degree in 1987, moved to Oklahoma, and began teaching at the University of Central Oklahoma. He became active in student services and specializing in creative problem solving and design. He also taught at Oklahoma State University, the University of Oklahoma, and the Universidad Popular Autonomous del Estado Puebla in Mexico.
In 2001, UCO created the new Department of Design with Jim as the chairman of the department. Building this department was Jim's primary focus for a few years.
Upon the death of his parents, Jim bought and furnished an apartment in Battery Park City in downtown Manhattan. He spent most semester breaks there. He retired from full-time teaching at UCO in the spring of 2008. He continues to lecture on Design History at OSU. Jim currently writes a blog about designculture and innovation and serves as a Design Coach.




Some accomplishments


• Invented a flag waving hat, the word neurobics, a dog leash belt, and the Ultimate Backgammon Board
• US Design Patent and copyrights for Round Backgammon board and TravelPants
• Create and maintain a blog about innovative design
• Written and lectured on the creative problem solving process
• Served as the Inaugural Chairman of the Department of Design at UCO
• Has taught at 4 universities
University of Central Oklahoma, Professor of Design
Oklahoma State University, Visiting Professor of Design
University of Oklahoma, Visiting Professor of Design
UPAEP in Puebla, Mexico, Visiting Professor of Design
• Held numerous leadership roles
• Honored with awards:
Outstanding Professor
Distinguished Teaching
Outstanding Mentor
Distinguished Student Service
Outstanding Design Educator
• Designed and remodeled house and office
• Majored in advertising, art, and theater at the University of Texas in Austin
• Majored in art/design, higher education, and computer science at the University of North Texas
• Lived (longer than 1 year) in Dallas, Austin, New York City, Edmond OK
• Lived (longer than 1 month) in Los Angeles, Chicago, Cleveland, Ft. Lauderdale
• Travels: Europe, North Africa, Caribbean, Mexico, NYC, and all over USA

Some of Jim's Social Justice issues
I have been a registered Independent most of my adult voting life. There was a short stint when I registered as a Republican because Oklahoma is such a red state - your vote doesn't count much unless you vote Republican. I gave up on the Republicans when I realized they had strayed too far to the right; they want government to be too intrusive into personal lives and were not taking care of citizens to the level I thought they should. I became a Democrat for a short while, but they're not a whole lot better. So I went back to being a registered Independent. Both parties have some similarities. I'm just as disgusted by the extremists on both the far left and the far right and all those in either party who put their party before their country. I do relate better to Democrats - they are less racist and sexist, more open-minded, better thinkers, and more humanistic.
ANTI-WAR
• Peace Tax Fund
• War Tax Resistance
ASSISTED SUICIDE
• Death with Dignity
• Final Exit Network
DEATH PENALTY, PRISON REFORM
• Death Penalty: Equal Justice USA
• Sentencing Project
DRUG POLICY
• Drug Policy Alliance
GREYHOUNDS, ANIMALS
• Grey2K
• Humane Society of US
RACIAL, WOMEN'S, HUMAN RIGHTS
• ACLU Foundation
• Planned Parenthood
• Southern Poverty Law Center
RELIGIOUS RIGHTS
• American Atheists
• American Humanist Association
• Americans United for Separation of Church & State
• Center for Inquiry/Richard Dawkins
• Freedom From Religion Foundation



Some of Jim Watson's favorite things




Authors

in alphabetical order
• Chip Kidd
• Dan Brown
• Dean Koontz
• John Grisham
• Malcolm Gladwell
• Michael Crichton
• Richard Dawkins
• Sam Harris
• Victor Papenek


Books


• A Time to Kill
• Ain't Nobody's Business If You Do
• Angels & Demons
• Black Like Me
• The Cheese Monkeys
• The DaVinci Code
• Design for the Real World
• The End of Faith
• The God Delusion
• God is not Great
• The Lost Symbol
• Steve Jobs


Cars I've owned

in chronological order
• 66 Mustang
• Remodeled Volkswagen van
• Geo Tracker 2-door
• Chevy Tracker 4-door
• Dodge Nitro


Cirque du Soleil performances


In order of preference, best to worst (tie for first place):
• Mystere and La Nouba
• Varekai
• 'O'
• KA
• Ovo
• Kooza
• Dralion
• Alegria
• Saltimbanco
• Quidam
• LOVE - the Beatles
• Wintuk
• Corteo (not so hot - avoid)
• Zarkana (horrible - avoid)
Mystere is at Treasure Island in Las Vegas and La Nouba is at Downtown Disney in Orlando. Cirque shows represent the ecstacy of the human species - dedicated craftspeople who strive to do their very best. Every humanoid on the planet should experience at least one Cirque performance (unless its Corteo or Zarkana).


Colors


• Blue
• Grey
• Orange
• Silver/aluminum
• Yellow


Concerts

in chronological order
• The Beatles
• Dave Clark Five
• Rolling Stones
• Beach Boys
• Animals
• Cat Stevens
• Michael Jackson
• Andy Williams in Branson
• Blue Man Group
• NSync
• Lord of the Dance


Drinks


• Coffee
• Dewar's scotch
• Diet Dr Pepper & Diet Coke mixed together without ice
• Margarita on the rocks, no salt


Food


• Chicken quesadillas (no sour cream, please)
• Chili cheese Fritos
• Granola cereal
• Lasagna
• Pistachio nuts,
• 7-11 Big Wheel
• Taco Bell Frito burrito
• Tex-Mex


Innovators


• Benjamin Franklin
• Buckminster Fuller
• Frank Lloyd Wright
• Herb Lubalin
• Richard Saul Wurman
• Thomas Edison
• Thomas Jefferson
• Walt Disney


Inventions


• Air conditioning (in summer)
• Bedspreads (in winter)
• Cruise control


Movies


• Airplane
• Avatar
• Back to the Future
• The Big Chill
• The Birdcage
• Cars
• Close Encounters of the Third Kind
• Days of Heaven
• Dirty Rotten Scoundrels
• Fried Green Tomatoes
• Ghost
• Groundhog Day
• The Hangover
• How the West Was Won
• Limitless
• Lucky number Slevin
• Koyaanisqatsi
• Men in Black
• Michael Jackson's This Is It
• Midnight in Paris
• The Pink Panther
• Rango
• Rise of the Guardians
• Scary Movie 4
• The Shawshank Redemption
• Silver Streak
• Star Wars
• What's up, Doc?


Music and composers


• Andreas Vollenweider
• Andrew Lloyd Webber
• Buddy Holly
• Cat Stevens
• Cirque du Soleil soundtracks
• Cusco
• Danny Elfman
• Ennio Morricone
• Philip Glass
• Stephen Sondheim
• Wyndham Hill artists
• Yanni


Musical theater


• Cats
• In the Heights
• The Lion King
• next to normal
• Notre Dame
• Phantom of the Opera
• Rent
• Spring Awakening
• Urinetown
• The Wedding Singer
• Wicked


Places


• Austin
• Boulder
• Dallas
• Las Vegas
• Mexico City
• New York City
• Puebla Mexico
• Seattle
• Bryce Canyon
• Disney theme parks
• Grand Canyon
• Mexico
• New York City
• Northern Arizona/Southern Utah


Songs


• Eleanor Rigby
• Fast Car
• Fiery Nights
• InAGaddaVida
• Lady Madonna
• Lay Lady Lay
• The Maelstrom
• Midnight Rodeo
• Rivers of Cesme
• Rumeurs
• The Shoop Shoop Song
• Stairway to Heaven
• Tree of Life
• Trip Stumble & Fall
• White Bird


Spending time


• Eating a bowl of granola cereal (with sliced pecans) from the breakfast buffet at the Mirage Hotel in Las Vegas.
• Walking the dogs along the Hudson Esplanade.
• Browsing Borders & Noble.
• Laying in the hot tub watching the sunrise and listening to the birds.
• Traveling. Road trips.
• Solving a sudoku and crossword puzzles in the morning. While drinking coffee.
• Encouraging people to spell Wensday and Febuary in more intelligent ways.
• Sitting in museum cafes with coffee and pastry.
• Sunday mornings in bed with a book - while its raining - with the dogs on the bed.


Television shows

in chronological order
• What's My Line
• To Tell the Truth
• Camouflage
• The Flintstones
• The Jetsons
• The Ed Sullivan Show
• The Smothers Brothers Comedy Hour
• Laugh-In
• Bob Newhart
• Lou Grant
• MASH
• Tim's Place
• Police Squad!
• Miami Vice
• Moonlighting
• PeeWee's Playhouse
• Northern Exposure
• thirtysomething
• Ally McBeal
• Cheers
• Mad About You
• Jeopardy
• The West Wing
• Seinfeld
• Malcolm in the Middle
• The Simpsons
• Boston Legal
• Arrested Development
• The Office
• 30 Rock
• Family Guy
• Cash Cab
• Modern Family


Television specials


• 1963 Kennedy Assassination coverage
• 1964 The Beatles onThe Ed Sullivan Show
• 1984 Los Angeles Olympic Games
• 2008 Beijing Olympic Games Opening Ceremony
• 2009 Barack Obama's Inauguration


Themeparks


• Walt Disney World
• Disneyland
• Disneyland Paris
• Six Flags over Texas
• Six Flags Atlanta
• Six Flags St. Louis
• AstroWorld
• CircusCircus AdventureDome
• Knott's Berry Farm
• MGM Grand Adventure
• Universal Studios Hollywood
• Worlds of Fun


Trails


• Interurban tracks in North Texas and Central Oklahoma
• Oregon Trail
• Route 66 (I've driven the entire 'old road' from Chicago to LA)
• Santa Fe Trail





Never better


A few experiences that will likely never be surpassed.
• Comedy, humor, laughter
Fame Becomes Me, a one-man show by and with Martin Short. I laughed so hard
I almost had to go to the lobby to save myself from doing physical internal harm.
• Drawings
The Rothschild Drawing collection at the Museum of Modern Art.
• Entertainment experience
Cirque du Soleil
• Friend
Laird McDonald
• Job
Teaching
• Dogs
Dallas & Manhattan
• House
424 East 4th Street, Edmond OK
• Naberhood
Battery Park City, Manhattan
• Car
Chevy Tracker
• Man-made place
Disney parks
• Natural place
Southern Utah



Not so favorite




• Lima beans
Something happened in childhood to turn me against these vile things.
• Ribs, wings, whole lobster
Too much work for too little reward.
• Food that has faces that stare at me



Some things I try to avoid


Not everything I face in life is going to be good, uplifting, or deserve my attention.
Here are a few things that are just not worth my time:


Poopy people


Toxic people (negative, complainers, rude, egotists)


Bitchy people


Any internet, web, or email technical support phone marathon


Ribs and wings - too difficult to eat. The work required doesn't match the food gained


Religious fanatics who believe they are correct, everyone else is wrong


People who have closed their minds well before they die


Mosquitoes - Noah should have killed both of them


Talking to people who lean their seat back on the airplane (won't help and its really their call)


Oysters. As Woody Allen says, "I will not eat oysters. I want my food dead. Not sick, not wounded - dead."


People with egos bigger than their brains


Bureaucrats


Theocrats


Lima beans


People when they are telling me about a movie they just saw. If I'm going to see the movie, I don't want their abridged version of it and if I'm not going to see the movie, their tale is just boring


Politicians


Used car salesmen


PWUTMAs - People who use too many acronyms


Egocrats and narcissists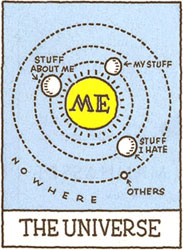 Definition: nar·cis·sism [nahr-suh-siz-em]
1. inordinate fascination with oneself; excessive self-love; vanity -
being a normal condition at the infantile level of personality development.
Synonyms: self-centeredness, smugness, egocentrism.
It seems that many narcissists are hiding deeper insecurities and fears - the 'me first' is quite likely just a cover so underlying deficiencies can be masked. Maybe this is just an appropriate and expected result of this era of fear-mongering from the government and the media. This commitment to self may help explain why so few people are involved or seem to care about the consequences of The Worst President Ever, climate change, and other social issues. I wonder if facebook, selfies, and personal blogs have an influence on this - much of this digital socializing encourages self-centeredness. The illustration above, by Ron Barrett in The New York Times, is so right-on. It portrays the extent of the universe in the minds of many people.


Life impactors
(in no particular order)

Tracking the Santa Fe Trail


Once I stopped alongside the trail in western Kansas to see the trail ruts. Parallel to those ruts is the US highway, Route 50. On the other side of the highway is the Santa Fe railroad. I stood in the open field under a beautiful sky and it occurred to me that it was that railroad that replaced the Santa Fe Trail - it was faster, safer, and more comfortable. The railroad declined in popularity as people took to driving on the US highways - like the railroad but more convenient - one's own space and on one's own timetable. Just about that time in my thinking, a plane flew overhead paralleling the trail, the railroad, and the highway - now making 4 ways to travel along this route. I had a couple of impactful thoughts. One, the people on the Santa Fe Trail could not comprehend the automobile, much less, an airplane - a metal cylinder full of people that streaks through the sky. They might think one was mentally off if they described such a wonderful way to travel. The wagons on the trail made about 12 miles a day while the car travels that in about 10 minutes. Second, I wondered what the fifth mode of transportation would be. There's no good reason to think that transportation progress will stop with airplanes. Just like the wagoneers could not conceive of the car or plane, we may not be able to conceive of the next step or the one after that. Someday, people along that stretch of path in Kansas may look back on the obsolete airplane as being very primitive.


Other trails


Interurban commuter rail routes: North Texas, Oklahoma City, Boulder
The Oregon Trail


The Sound of Music
My parents took me to see the musical at the Music Hall in Dallas. I was probably only 12 or 13 years old. I was enthralled by the recreation and telling of a story on a stage. It got me hooked on seeing live theater. I am still awed by live performances - that people can communicate so well a time and place and emotion.


Ain't Nobody's Business If You Do
A great book that opened my eyes to the notion of living by two principles: 1. Do not hurt anybody and 2. Do not hurt anyone's possessions. That's it - simple yet thorough principles for life. All else falls within those two. The book details all the problems caused by government intervention into controlling people beyond that - to enforce a specific value system that infringes on individual liberties and responsibilities.


Living in Austin, 1968-74


Some of it is memories from college - an impactful time in life anyway, but also the impact from the city of Austin - a very diverse, laid-back, tolerant, and progressive community. There was the beautiful natural environment - lakes, hills, and parks that allowed an escape within the city and Austin preserved and protected as much of its natural character as it could. Going to school at a major university provided numerous opportunities for exposure to new ideas, people, and events.


Disneyland, Walt Disney World, and Disneyland Paris
All well-designed places that taught me to cherish my childhood and see the world slightly skewed through the eyes of innocent fantasy. I was impacted, as many 50s kids were, by watching the TV show Disneyland and wanting to go there. We did - in 1956, one year after it opened. It was life-changing. This wonderful place of comfort and familiarity that was all about fun. My design sense was influenced by what I experienced - the attention to detail, the craftsmanship, the historical references, the storytelling.


Koyaanisqatsi
This movie encouraged me to see the mundane differently - a Dadaist approach to experiencing our surroundings.


New York City


I fell in love with this 'wonderful town' in 1958 when the family visited and later when I made regular visits while working with the Pressman Toy Company on Backgammon-in-the-Round. What changed me was the energy and the inspiration of sights and ideas. Even though I live there for about 60 days of the year (2 months total) I have yet to tire of walking the naborhoods and discovering great new stimuli.


Black Like Me
A great book that impacted the way I thought about Negroes and discrimination. The author disguised himself as a Negro in New Orleans and experienced being treated completely differently from a few days earlier when he did essentially the same activities, but as a white man. This impacted my empathy and appreciation for what Negroes have suffered. It led to my admiration of Rosa Parks.


Comments from student evaluations, emails, and letters


I read these when I need a boost or when I am having doubts about my teaching or the impact I am making on others. They always provide the lift and inspiration I need.


Design for the Real World
Book by Victor Papenek: how I thought about the power of design. I read this in college when I was more idealistic and hopeful about how design could impact the world. The book encourages designers to use their talents to affect third-world countries and the less-advantaged.


Narcissists


I have had strong relationships with 4 people in my life who must be in the Top 5 of World's Biggest Narcissists. They were so self-centered that every conversation would be twisted until it was about them. As a child and young adult, I didn't realize the energy drain and shallowness of these relationships, but as an older adult, I finally realized how selfish, inconsiderate, and destructive it is to be so selfish. I didn't want to be that type of person.


Fountain splash


One summer in 1969 or 1970, I was working as a Freshman Orientation Advisor at UT. One evening there was a female student splashing in the fountain in the courtyard of the dorm where we all stayed. Another advisor was nearby. I asked if we should ask her to get out of the fountain, thinking that it was not appropriate or she would hurt herself or she simply shouldn't be there. The other advisor said, "Why? She's not hurting anybody." I learned that as long as one is not hurting any one nor themselves, let it go.


Sigma Chi Fraternity at the University of Texas


I certainly enjoyed the friendship and activities in the fraternity - late nights, pledge class functions, the parties, serenades, trips to the gulf coast, working on the house - I designed and rebuilt two rooms, one with a wall dividing the bath area from the bedroom. One thing that influenced me but I now regret was advising 'troubled' pledges, those that were not meeting the criteria the actives had set out for them. It seemed important then, but now I realize it was lots of crap. Anyway, I conducted sessions with the individual pledges and told them that it was not important what they think of themselves, only what others (the actives) thought of them. Ouch. I bought into that then. I know better now. I later learned the opposite to be true. I hope I didn't steer anyone dangerously astray.


Kill AHHS


In high school, I had bought and was wearing a spirit ribbon on my shirt. I and some friends had gone to Northpark Center after school (maybe to watch Sump'n Else which aired from the mall) and as I made a purchase, the cashier/clerk read the ribbon, Kill AHHS, and commented that killing them was a bit too extreme, too violent. She was smiling, but I had to agree. We hadn't even thought about the message - kill an opponent, a reference to military campaigns, battles, and conflicts. I learned to pay more attention to messages and consider less violent ones.


Don't overthink it


Dennis Cavanaugh, supervisor at Dobie Mall where I worked after college saw me trying to balance drink and items on my tray. He said to simply not look and let my hand achieve the balance. I looked up and he was right - achieving balance was then easy. I learned that one shouldn't try too hard, but to often let the innate system take over.


Smoking a cigarette


As a kid, our family would spend many summer afternoons at Spring Valley Country Club in north Dallas. Once, I was walking around the golf course with my mother. It must have been during the week as the course was not too busy. I got somewhat bored but it was a nice walk. About halfway through the course, we took a break at a shed that had a water jug and paper cups. My mother lit up a cigarette (this was before we understood all the dangers of cigarettes). I asked if I could try it. She said, "Sure. Take a deep breath." I did. gag. Cough, Sputter. I was dying here. Hocking my throat out. After I quieted down a bit, she said, "I hope you never do that again." I haven't.


Interior design class


For fun, in my 20s, I enrolled in a class at EastField College, Intro to Interior Design. The elderly matronly woman who spoke with an air of authority and respect discussed priorities. A sofa or chair with a bright busy print might look great in the showroom, in a catalog, or even in the living room - but what will happen when a guest with a busy print dress sits on that sofa. Not so great anymore. Her point and her lesson: the people in the room are the most important design element in a space. Design around them, not despite them.


'Authorities' don't always know


Interviewing in Dallas after college, I showed my design portfolio book to Alan Lidji and he told me what my best piece was (I don't remember which) and he told me not to show another piece. Later, I interviewed with Stan Richards of The Richards Group. He commented that the best piece was the very one Alan said not to show. Instead of just being confused, I realized right then that it would be entirely up to me to decide what is good and what isn't. Here were two very successful designers in Dallas and they had differing opinions, almost canceling each other out. It was now up to me to make intelligent decisions.


Bryce Canyon in the rain


I stood on the rim of the mesa looking about 200 miles to the east and spotted a thunderstorm off in the distance. Instead of seeking shelter - I just stood there and waited for the storm to come up the mesa/canyon walls and right over me. Standing in the rain - phenomenal, spiritual, and mesmerizing.


Other trips


Western US with Laird; Las Vegas: attention to detail. excess, elaborate, spend the money and it shows; Seattle, Los Angeles, Orlando,
Bryce Canyon, Southern Utah, Grand Canyon, Northern Arizona, Mexico; Europe and Africa


Working summers at Six Flags over Texas


My first real job requiring responsibility and maturity (other than being a paperboy). I had to ensure guest safety and that each would have a positive experience in the park. I enjoyed making guests laugh and have fun. Worked with great people, all there to have a good time in the summer. Met people from all over the area.
I also spent time observing the urban planning and park layout: the traffic flow, building locations, que lines, architecture, Victoriana. I often reworked areas to address observed issues and improve user desires and needs. I came up with ideas for new rides and sketched rides, buildings, and layouts.


This bumper sticker

Once I had decided to become a teacher and experienced the low funding for education, this image disturbed me.


Sleepovers in South Dallas


Growing up in north Dallas, we had a maid who came to the house at least twice a week. She was actually part of the family. She had a son, also named James, who was my age. My mother suggested that I go home with Fammie and spent the night at their house so James and I could play. I suspect she worked out the details with Fammie beforehand. I remember having some of Fammie's excellent cooking that night. James and I played outside until dark. It was a fun sleepover. My mother never coached me or cautioned me that I was going to south Dallas into a black naborhood. She positioned it simply as two kids playing together for an evening. It was a good lesson on what makes us more similar than different.


Summer vacations with the family


We saw Civil War battlefields, big cities, national parks, purple mountain majesties, amber waves of grain, and oceans white with foam. These trips forever showed me the joy, inspiration, and growth that comes from traveling out of one's naborhood.


Scout and summer camps

Watching the human spirit at its best


Cirque du Soleil, the Andy Williams Show in Branson, Olympic competitions, and the NSync and Michael Jackson concerts.


Building paper models


Summer, 1956: Disneyland and Knott's Berry Farm. At Knott's, I saw this envelope of flat card stock with models of some of the park buildings. I loved to make models and was so eager to get it home and build these. I cherished the models; set them up on Margie Chalkley's card table in their den. It inspired a lifetime of delight in designing and making models.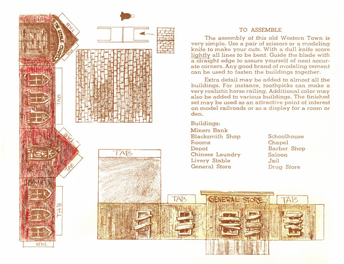 Designers

Benjamin Franklin


Buckminster Fuller


Frank Lloyd Wright


Herb Lubalin


Richard Saul Wurman


Steve Jobs


Thomas Edison


Thomas Jefferson


Walt Disney
People/mentors

Jim and Lorraine Watson

, parents


Margaret Hudson

, Hillcrest High School art teacher in Dallas from 1966 to 1968. Guided me with a sense of humor, high expectations for my work, and subtle encouragement and support. Demanding teacher who wouldn't allow mediocrity from her good students. Ms. Hudson graduated from SMU with a degree in Advertising Art and assigned a few graphic design projects in the art curriculum - unusual for high school art - and significant in introducing me to design.



While purging files and fotos, I found this note from Ms. Hudson. She heavily influenced my teaching philosophy, as evidenced by her suggestions - Think and contemplate. Have a reason for everything. Be critical. Ms Hudson was active, strong, and lived honestly, by her own rules. Margaret Hudson died on April 2, 2016 in Dallas.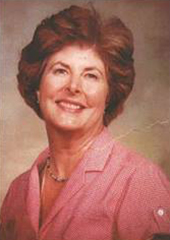 Thomas Boggs

, Manager at TGI Friday's.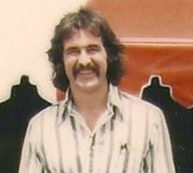 Donna Adams

, helped me get through graduate school.


Wanda Hill

, good friend with an incredible and positive zest for life. Tons of energy and selfless service to others.


Dennis Cavanaugh

, see story above.


Milton Jackson

, Chapter Advisor to Sigma Chi Fraternity while I was President. His no-ego dedication to helping others was unusual to see at that time and has guided me since. He died of cancer when I was still in college.


Laird McDonald

, best friend and fellow traveler. Great designer and conversationalist. We redesigned almost every environment we encountered. And it was fun. I will always miss his friendship. More


Cecilia Robertson

, best girlfriend who taught me about relationships and encouraged me to look at myself.


Abdullah Syed

, design student, teacher, artist.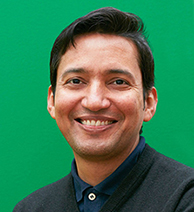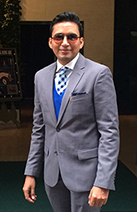 Acquaintances

, Tommy Moore at Camp Constantine, Jim Wilson at Dallas Times Herald, Rip Parker, singer at Six Flags, Highland Park high school tennis player, Audelia Road school basketball court.


Link to Jim's resume

My devices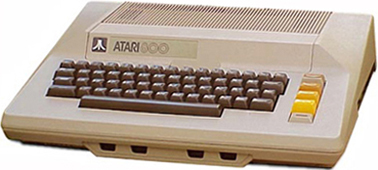 Back in the 1980s, I was facing the daunting task of writing a doctoral dissertation. I had been using an electric typewriter for my grad school papers, cutting and pasting with scissors and tape and retyping the page. It was time to get a better machine - one that could save my work and allow easier manipulation of text. I perused the options and settled on the Atari 800 in 1983 - during the very time period that Steve Jobs and Jef Raskin were developing the Macintosh computer. The Atari 800 was highly rated in reviews. You could add memory boards to boost the capacity to 58K ram! A variety of cartridges were available for games, and productivity functions. I explored options for designing layouts and manipulating and placing text, none of which was in the manuals. I was asked to present some of the layout and text formatting tips to the Computing Science department at the University of North Texas. It was so early in the chronology of desktop publishing that guidelines hadn't yet been established for graphic design.
The Atari computer served me well through graduate school, but upon graduation in 1987, I upgraded to Apple products.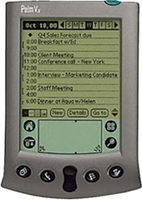 The Palm Pilot PDA truly enhanced my life and it got me hooked on pocket computers.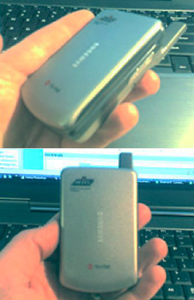 I avoided getting a cell phone because I didn't want another gadget in my pocket. Someone told me about a Sprint phone that had a Palm PDA integrated into it. Great. I got it, loved, it, and wore it out.

5 iPhones, starting with the day it first came out - June 29, 2007
4 desktop computers: iMac, eMac, early Macs
6 laptop computers: MacBook, MacBook Pro, MacBook Air, MacBook Pro
2 iPads, starting with the first generation
2 iPad Mini, first generation
9 iPods, starting with the first generation
2 HomePods
13 accessories: cables, earbuds, docks, cases, hard drive, flash drives, laptop bag
2,924 items on iTunes (some free downloads)


Desktops: eMac, iMac,


Laptops: Macbook Pro , MacBook Air



iPads: May 2010, March 2012, Mini: Oct 2013



iPods: 2001, 2003, 2004, Shuffle 2006/7, Classics: 2007



iPhones: 2007, 2009, 2011; 2013 (5 was my favorite), 2016