Newspaper, broadcast, and internet articles





Design Prof Shows Off


By David Klein, NONzine, September 29th - October 12th, 2006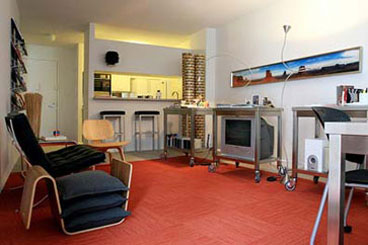 "Jim Watson, professor of design at the University of Central Oklahoma and part-time New York City resident, will be a featured designer on the Home and Garden Television program Small Spaces, Big Style on October 8. Watson entered his modestly sized, efficiently designed New York apartment in an HGTV design contest and lost, but a network producer had noticed his apartment and offered to film the space for another show.
"It's just a hoot," Watson said. "But I'm a little worried about how it will turn out."
"Watson's apartment was the essence of New York long before he added his 3-D puzzle of the city's skyline − It is in Lower Manhattan; overlooks the Hudson River; and is a whopping 719 square feet (with the balcony). All it lacks is a sweaty, disheveled cabbie on the couch. From a casual glance, Watson's apartment seems like any contemporary, hip New York apartment, but his meticulous attention to detail makes the space unique. Every item in the apartment is completely functional and well placed. Early in the design process, Watson had walls removed and opened the main room. He used squares of carpet laid at an angle, which create an illusion of space and continuity throughout the apartment and direct the flow of traffic between rooms.
"I tried to create a loft essence in the apartment," Watson said.
"Invisible bookshelves, industrial frames, and seas of landmark statuettes break the routine of the white walls, while stainless steel furniture and accents give the apartment a sterile strength through which the red flooring pops.


"Every room in the apartment is a distinct homage to New York City's vast history and diverse culture with New York maps, books and souvenirs. Watson also displays autographed work from designers he respects including Milton Glaser, Christo and Jeanne-Claude. Watson spends nearly a quarter of the year in the hustle and bustle of New York but loves living in the dawdle and calm of Edmond while school is in session.
"I love every minute in each city," Watson said. "They are perfect antidotes for each other."
"Watson's Edmond home rivals the New York apartment in style while its extra space afforded him the luxury of a detached office and a urinal in the bathroom. Watson's designs spill from his residences into every aspect of life. He is continually improving the status quo in which the average person finds solace. He is not content with standing in an inefficient ticket line or eating at a square restaurant table with unused space. He questions the need to idle on red at a stoplight and wants to use urban street posts as iPod holders. Despite his constant design revision, Watson does not anticipate a redesign for the New York apartment after it takes its permanent place in the annals of the cable television catalogue.
"I've done a couple of things since the filming, but I'm very happy with the apartment," Watson said. "I'm happy with how the space feels."



TV show features local professor as he does big things in small space


By Penny Cockerell, The Oklahoman, September 7, 2006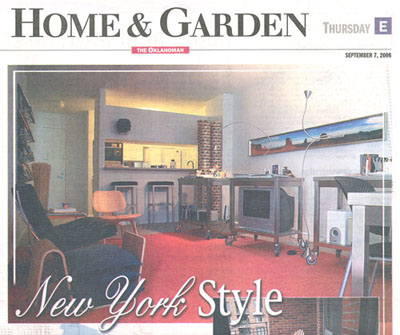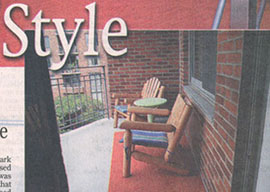 What happens when a design professor from roomy Oklahoma takes on the challenge of turning a dorm-size Manhattan domain into a showcase that makes even New Yorkers look twice? University of Central Oklahoma professor James Robert Watson's utilitarian design, his disappearing act with the walls and a bold blend of souvenirs turned a basic 630-square-foot apartment into a witty and workable abode. And it soon will be the subject of a segment on HGTV's "Small Spaces, Big Style," most likely to be aired this month.
"The apartment also is Watson's summer escape — which is also an escape within an escape. Watson has loved the bustle of Manhattan since he was a child. But the city's zaniness requires a retreat, which Watson created on the fifth floor of a Battery Park City building with a balcony that faces the Hudson River. Peace is found within these walls, away from Oklahoma, away from New York street life. Watson, 56, bought the apartment after his parents died in 2002 and left him an inheritance. As the son watched his parents languish in intensive care, he realized that in the bigger scheme of things, money meant little. But an apartment in Manhattan - that was something.
"While shopping with a real estate broker, Watson found that most apartments had views of other buildings and that simply wouldn't work for this Oklahoma-Texas hybrid. They moved their shopping spree to Battery Park City, where a "For Sale" sign advertised a fifth-floor apartment. The layout was painfully basic, but it had a balcony that faced the Hudson River. Watson closed the deal in March 2004. Having taught design for 20 years, Watson knew that basic never had to stay that way. But overcoming size was a different challenge. He first set out to erase the walls. The 1980s-style built-in bookshelves had to go, as did the texturing on the walls.
"I had the superintendent just gut the apartment and tear all of that out and repaint the walls a pure white," said Watson, explaining that flat, white walls don't distract from the rest of the room and, in essence, they become invisible. It's a trick that art galleries use. Watson then used cube-shaped carpeting to realign the space at a rectangle. The distinct red carpet has a wow appeal, and its angled placement knocks the whole apartment off center. In short, rather than following the walls, the carpeting defies them.
"The walls create the smallness, so if I can get the perception to ignore the walls, it would make it appear larger," Watson said. "Now when people enter, they don't associate with the grid of the walls, they associate with the grid of the rectangle."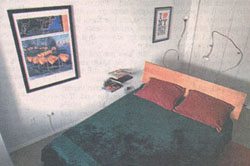 "In keeping with that "out of place" drama, Watson spontaneously turned his bed backward, so it sort of floats in the bedroom and faces the window, rather than bumping against a wall. The reason: He liked the brackets on the headboard so much that he didn't want to hide them. Themes are essential because they provide focus and unity. Watson chose 1950s industrial-style furnishings and made his apartment an unmistakable tribute to New York City. A living room table is full of kitschy New York souvenirs left by visitors. A wall contains 30 framed postcards cut to 3 inches, which leaves viewers guessing just what part of New York they represent. A framed New York subway map stares back from the kitchen wall, and a revised "I (Heart) New York More Than Ever" poster hangs in the bedroom. The revision was done after 9/11, and the heart has a small bruise on it. New Yorkers scooped up the poster in droves.
"Perhaps most startling is a grid of 192 Statues of Liberty and Empire State Buildings protruding from the bedroom wall in the shape of the Twin Tower footprint.
"I can't remember what inspired me to stick them to the wall, but that's what got me thinking that they ought to mean something and that's where the footprint idea came through," Watson said. The horizontal angle of the statues is carried elsewhere, such as in the elongated photo of Monument Valley in Utah, where early Western movies were filmed.
"Horizontal is very soothing and calming. We stretch out horizontally and see the horizon, and I like the content of the towers (naturally formed limestone plateaus) in Monument Valley — they are skyscrapers in a different form," Watson said.
"Watson originally entered his New York digs in a Web site contest called Small Cool Apartments. He didn't win, but his apartment caught the eye of HGTV producers for the "Small Space, Big Style" segment. HGTV will feature his apartment in a "Small Spaces, Big Style" segment under the title, "Uncluttered, Chic and Small Spaces." HGTV producer Sage Rockermann said she liked Watson's use of repetition and the way he twisted the apartment with the rectangled carpeting. She also liked his use of stainless steel tables and furniture on wheels, which gives versatility.
"The space definitely seems very him, a very personal space, but specific ideas from that I think anyone could adapt," Rockermann said. "For example, keeping furniture on wheels so you can use them in different arrangements, that's great for anyone in a small space." She also pointed to how he kept his apartment uncluttered while still having lots of, well, clutter.
"He groups them together," Rockermann said. "For example, one of his tables has all the souvenirs that people collect in the city. If spread out in the apartment it would look like clutter. But grouped together, it looks like a collection." Watson carefully chose each wall hanging, each vase, table and display. Each, therefore, says something distinct to the person viewing it. Each has its reason for taking up room in this small place.
"It turned out much better than I expected," Watson said. "I love being in that space. Some people have commented that they think they're in a gallery. When there's something on the wall, they feel like it's very significant," Watson said. "It is daring and challenging, and that's what I want."
"So, is it true that designers never give up the journey? Or has Watson really finished designing his New York mecca? "I'm never done, but I don't have anything on the to-do list," Watson said. "But then I look up and say, 'Oh, I could do this over there,' and there's a new project. But at this moment, I'm very satisfied."



UCO professor's New York apartment to appear on HGTV show


The Edmond Sun, August 20, 2006
"University of Central Oklahoma Professor of Design James Robert Watson will have his New York City apartment featured on an upcoming episode of Small Space, Big Style. The program premiers on Home and Garden Television (HGTV) - seen locally on Cox Cable channel 58 - at 3 p.m. today, and several times throughout the remainder of the month. The show features stylish homes under 1,000 square feet. In each episode, the host meets the homeowners and learns the tricks to making the most out of limited space.
"Watson entered a contest on a design Web site by sending in pictures and a floor plan of his 630-square-foot apartment in Battery Park City, Manhattan.  Although he didn't win the contest, someone from HGTV noticed his entry on the Web site.
"I got an email from someone at a show on HGTV called Small Space, Big Style," Watson said. "She asked if I was willing to speak with one of their producers and I said, you bet!" The show's production team filmed Watson's apartment in May and included it in the upcoming episode, Uncluttered Chic in Small Spaces. Watson's segment is called Souvenirs That Add Character to a New York Apartment, which examines how he decorated in a New York motif while maximizing his small living space.




"The highlight of the apartment is an "Ode to New York" featuring 96 miniature Statues of Liberty and 96 miniature Empire State Buildings - two of the most recognizable New York icons - arranged in a grid in the footprint plan of the World Trade Center towers. The apartment also includes a 3D puzzle of the New York Skyline illuminated by lamps featuring 9-foot tall stems that can be bent to any configuration. In addition, viewers will see slanted and lipped shelves crafted by Watson that hold books about New York City. Watson inherited the New York City apartment from his parents (sic- not quite correct), who passed away a few years ago. He lives in Edmond and teaches at UCO, but makes New York City his home in the summertime. He also gives study tours there yearly with his UCO students.



Professor's apartment to appear on HGTV


By Andrew Knittle, The Vista, August 29, 2006




Normally, a person with hundreds of miniature Empire State Buildings and tiny Statues of Liberties crammed into a 630 square-foot apartment would be considered a hoarder. But for James Robert Watson, UCO professor of design, having just that earned him - and his NYC apartment - a spot in an upcoming episode of HGTV's show "Small Space, Big Style." Watson, on the UCO staff since 1987, said he was sought by the show's production team after it saw photographs of his Battery City apartment on a design website.
"I got an e-mail from someone at a show on HGTV called 'Small Space, Big Style,'" Watson said. "She asked if I was willing to speak with one of their producers and I said, you bet!" In a segment called "Souvenirs That Add Character to a New York Apartment," the program looked at how Watson deployed his NYC-themed decor to make the most of his small space.
The apartment, where Watson spends his summers, features a 3-D puzzle of the Manhattan skyline and customized, slanted bookshelves - crafted by Watson himself - used to store books about New York City. But it's the "Ode to New York" - 96 miniature Statues of Liberty and 96 miniature Empire State Buildings, arranged meticulously in a blueprint of the Twin Towers - that Watson claims is the space's centerpiece. Filmed back in May, Watson said the process was "exciting, fascinating, intriguing, educational and fun," but not financially enriching.
"No fee," Watson said. "Well, they bought me coffee and lunch." The episode featuring Watson's apartment was originally slated to air August 20, but was postponed due to unspecified reasons. Those interested in catching the program should consult any TV guide or visit HGTV's website for future programming schedules.



Accolades from the web


I entered a contest online called Small Cool Apartment. I posted pictures and descriptions of the interior of the apartment. Following are some of the comments posted to the site. It was the exposure from this contest that led to the invitation for the apartment to be featured on HGTV.
• The carts with their long-necked lamps just amuse me so much.
• Love it. Very creative, loosens up the mind - great energy. Lots of conversation pieces, too. Love this: "Minimal furniture provides a respite from the busy-ness of the city."
• This apartment is fascinating because I've never seen anything quite like it. I like the freaky little mechanical toys all over the place. The Nelson bed is beautiful - I think its one of the best beds out there. The tentacle style lamps are cool because they're a little disturbing. Angling the furniture to create a second grid within the outer grid is a great idea and creates a lot of visual interest (the floor plan looks like a Russian Constructivist poster). Thanks for a look at your thoughtfully put-together space!
• I love the originality of this apartment, especially that tower of Metrocards.
• One thing I love about this apartment is the contrast between the skewed line of the carts and the long straight photograph on the wall behind it - really drives home the angularity of the arrangement.
• I love the creativity and courage it takes to live in a truly unique space.
• The angling of the Flor tiles is a great way to create space within the space.
• I like carts although I would never be brave enough to position them away from the wall like that. I like it - it works in some strange way.
• I love it - it looks like an inspired space with all its quirkiness. You can tell that the person who lives here has an interesting character. Its far better than the typical apartment trying desperately to imitate the slick magazine photographs.
• I think the warmth comes from the red rug, and I really like his determination to create a new set of rules and to follow them, and to think outside the box - or the grid.
• Your place is great. I am currently living in a triangle and really struggling with a layout - your place has given me a lot of confidence to damn the walls and do what I want. I love the lamps/rolling carts and the whimsy of the Metrocard columns. It looks like fun.
• Sly, ironic, and devious with more to it than first meets the eye. There's nothing safe here and much that's question-provoking and even vaguely unsettling - edges not often found in a living space. This is an elevator ride with William Burroughs.

Video of the HGTV Small Space, Big Style show segment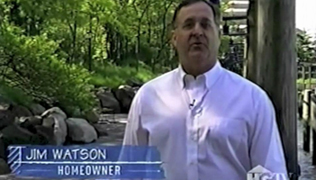 First aired: October 8, 2006



The HGTV website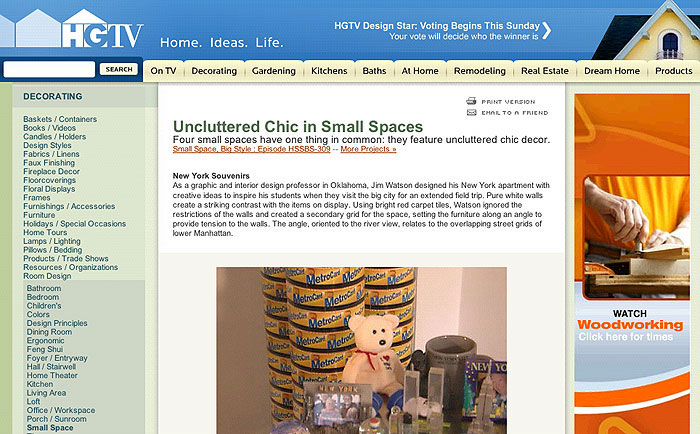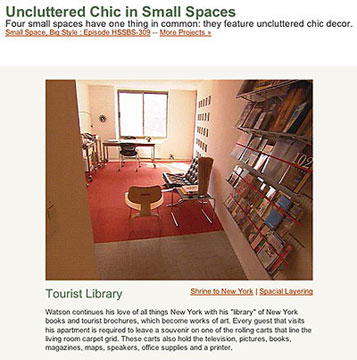 Loft Living


By Laura Verticchio, FLOR Community website, October 13, 2005

Flor website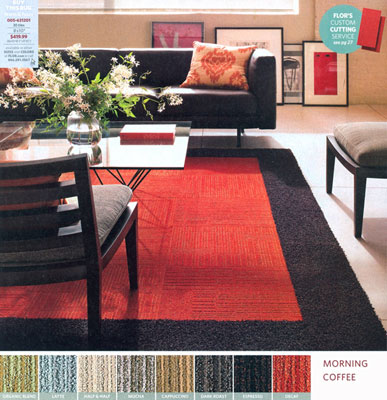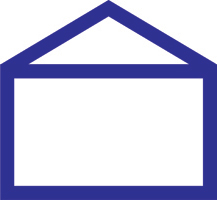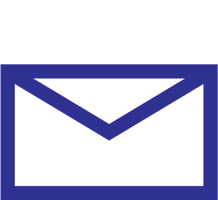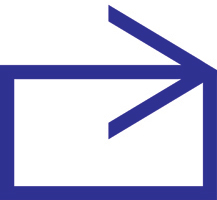 www.jamesrobertwatson.com/5smedia.html