Cool Homes


By Angie Mock, FOX25 Morning News, Oklahoma City, June 25, 2007

Video of the tour segment

Angie and John, the cameraman, filmed the house on Friday, June 22 from 10am to almost 1pm. The two-minute segment on the morning news show covered the location and some of the background to my buying the house. Images were of the kitchen pedestals, the seating units, living room chairs, bedroom nitestand lite switch, and the office.





Was Frank Lloyd Wright or wrong?

The noted architect was absolutely right as far as an Edmond Design professor is concerned.


By Dennie Hall, The Oklahoman, July 3, 1996
Jim Watson, professor of design at the University of Central Oklahoma, has redesigned his home to reflect modern European and Japanese minimalism and Wright's philosophies. "These philosophies are," Watson said, "open spaces revolving around a central core, furniture built appropriate for the space and the open floor plan with room areas that flow into one another."
Watson bought the house, 424 East 4th Street in Edmond, in 1995 and then spent "six weeks of pure hell" in remodeling projects. The result is a house interior that perhaps is the most modern and functional in Edmond.
His views are incorporated in every feature. For instance:
• A pet peeve is making beds; he built one that requires merely a quick spread of a cover.
• He doesn't like to search through closets of open and shut doors, so his bedroom has a closet on wheels with everything exposed to view.
• Hallways are a waste of space, he believes, so he eliminated them.
• Horizontal surfaces collect 'stuff'. He did away with most of those.
In gutting the house, Watson and the workmen he hired created a great room that contains a living area defined by the carpet and collection of chairs, an office area, a den/media area, and a dining room. To gain the needed space, he eliminated one of the two bedrooms in the 1,080 square-foot house and reduced the kitchen size.
Don't look for a sofa. Watson thinks they make inefficient units for humans to converse comfortably, so he has chairs in several different styles. Some walls in the great room are of corrugated tin at a 45-degree angle to the layout of the house. "This represents rural Oklahoma twisted by a prairie tornado plopped down into the 50s ranch house," Watson said. Other rooms in the house are grey or white.
The office corner of the great room contains industrial shelving with table and desktops of faux stone. A workstation contains an iBook laptop, file cabinet, and digital answering machine.


Watson, who wrote a graduate school thesis on Wright, designed and built 22 modular seating units for the den/media area. Watson designed and built the foam-covered table for the dining area. The base of the table - and those in the office - is a pedestal, thus cutting down on stubbed toes and banged knees. Watson's bathroom and even his laundry room are out of the ordinary. For instance, he dislikes stepping over a tub and under a shower curtain rod. Therefore, the shower stall is defined by a wall of glass block. He dislikes cabinets under bathroom sinks. Furthermore, he didn't want a sink with a large protrusion from the wall or with visible pipes underneath. Persistence paid off; he finally was able to order one he liked from the manufacturer.
Simplicity is a primary goal of Watson's. "We Americans are guilty of amassing stuff we don't need," he declares. Some of the house's other features are a wall clock made of knickknacks, a slot in the laundry room wall so the dogs can come and go, a mail slot in the garage door, dimmer lights, a hot tub beside the deck, and doors that open with levers instead of knobs.
Watson paid $58,000 for the house and spent another $13,000 on the remodeling. "I can't estimate the quantity of work that it took," he said. Resale was no consideration in the remodeling project. Watson is pleased with the neighborhood and the nearness to the UCO campus. Living with him are his two dogs, Dallas and Austin. Watson grew up in Dallas and went to the University of Texas in Austin for his undergraduate work. He has a master's and doctorate from the University of North Texas.
A glance at Watson's watch reveals it has only one hand. A peek at his eyeglasses will show they have no frames over the lenses. What else would one expect from a minimalist?



'The simpler it is, the more beautiful it is'




Dr. Jim Watson, professor of design at UCO, describes his life as a minimalist and why 'less is more'.


By Mary Reinauer, The Vista, September 17, 1996


In a world increasingly filled with the clutter of comfort, UCO's Dr. Jim Watson has less, by design. The design professor, a devotee of architect Frank Lloyd Wright, said he is a minimalist. That means no knickknacks, no undersink cabinets, and few walls. Instead, Watson filled his house with functional items that also happen to be decorative. The overall effect might be described as a loft-tech-meets-Oklahoma-prairie look.
"This house allows me to address all my pet peeves," said Watson. Wasted space and time, obtrusive decorations, and hard to use or uncomfortable items have no place here, he said.
On the front porch of the typical 1950s ranch style Edmond home, Watson explained why less is more and how the ordinary house lent itself to the simple life. "Its all suburban kind of architecture. One story, simple floor plan, etc." The front planter is of Roman style bricks, noted for their long thin shape and used extensively by Wright to convey a low horizontal design that is in tune with the lines of the prairie. There was a lot of interest in Wright's work in this area at the time his house was built. Wright even called his style of wide houses with open floor plans the prairie Style, said Watson. Roman brick is one example of Wright's design that is meant to draw the eyes to the side, he said. Shutters and wrought iron railings were removed, bushes trimmed, and planters added to enhance the strong horizontal line. "The simpler it is, the more beautiful it is," he said.
The house at 424 East 4th Street is in the old Edmond neighborhood of Capitol View where residents plan to form a historic preservation association soon. "Right across the street is the old Clegern house," said Watson. The Clegerns were Edmond pioneers. The old farmhouse was probably built in the teens. "Its still there. Now we have a Clegern school and Clegern Drive. When Watson bought the house last year, it required extensive work to achieve the simplicity Watson desired. "We had six weeks of real serious work: I had electricity only in the bedroom so if I took a shower at night I had to take a lantern in there. "I had about two weeks without a shower, but fortunately I could shower outside since it was August. And I had a week without a toilet. I won't talk about that," he said.


When the walls were demolished, workers found an original set of blueprints for the house, designed in 1952 by Oklahoman Richard Henley. Because this find simplified the task at hand, Watson reacted as if he "had found a treasure map." When the remodeling was finished, he had something even better, he said. Mailcarriers especially appreciate what Watson has done to the old house, even Watson has to train them to find it. A hinged panel on the garage door swings inward to reveal a drop box for Watson's mail. "The postman loves it because he doesn't even have to slow down," said Watson.
In the bathroom, the shower has no shower curtain. 1930s style glass blocks serve as the walls of the stall and as windows that provide light while maintaining privacy. A pristine white sink juts directly from the wall with no visible plumbing or supports. The 'sink' is actually a commercial modern drinking fountain. The pipes are hidden within the unit and run behind the sheetrock. Appropriately hung over the toilet is a colorful oil painting of Elvis on black velvet. "It's fitting that it should hang in the bathroom - that's where he died, you know," said Watson. Watson has two roommates. Austin, a space-saving greyhound Watson found on the Bailey Turnpike, and Dallas, an exuberant Doberman-type mutt who adopted him from the pound. "I spend a lot of time on the highway," said Watson of his dog's names.
(Written before the kitchen and office remodel in 2002.) The kitchen is a white recessed space that steps down into the laundry room, where faucets project directly over the dogs' bowls. Unobtrusive recycling bins fit under and to the side of a narrow refrigerator. In the silverware drawer, black handled utensils are lined up in a wire basket like a display at Pier One. A stainless apple corer has found its way into the drawer. "That doesn't belong there," said Watson, apparently restraining himself from relocating it. Don't even ask to see Watson's 'junk drawer.' Minimalists don't have junk drawers," he said. Nor do they have sofas, closets, or elaborate wardrobes. Collections, however, are acceptable if they have function. Watson offers a collection of chairs representing 'classic '50s, Art Deco, and vintage UCO dorm styles for visiting and conversing. "People come in and get to pick where they want to sit," he said. A decorative time piece is really a collection of pop icons displayed on the wall in a circular pattern centered with a generic clock movement. "This way "it becomes more than just a clock. Its functional art."
The floor plan is dominated by the multipurpose great room featuring galvanized corrugated tin on three walls. The low-key silver color lends drama to the area and also represents the Oklahoma rural heritage. The great room includes areas for eating, living, and working. The office area features industrial style shelving and tables that can be arranged in a variety of ways to fit the modular setting. The effect is much like a functional puzzle. "Its messy right now because I am writing a book (The Idea Kit)," said Watson, although a look around might prove Watson has different standards for clutter. The topic of the book is appropriately 'creative problem solving.'



Form follows function...




An open home leads to an open house for UCO professor


By Mary Reinauer, The Vista, October 8, 1996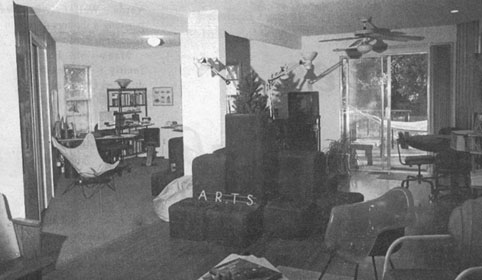 An open house plan has spurred plans for an open house of a different kind for UCO design professor Dr. Jim Watson. People who got a glimpse of Watson's unusual home in The Vista's September 17 issue can see the whole thing for themselves at his open house at 424 East 4th Street on Sunday, October 13, from 1-5pm. The house, within walking distance of campus, incorporates the industrial loft look Watson admires. But friends and visitors will be mistaken if they expect loft art to adorn Watson's house. Watson is a minimalist.
The Vista's September 17th article described how the principles of Frank Lloyd Wright and Japanese and European minimalism transformed his ordinary house into a showcase of functionality and enduring design. Since then, Watson has been a busy man. "For the first week or so (after the article) I could barely walk from my office over to the Student Union without people wanting to talk to me about my house," he said. Several phone calls a day and even some curious visitors have prompted Watson to host the open house. Everyone, especially members of the UCO community, is welcome, he said.
Although Watson enjoys expounding on the minimalist concept, true to form, he has prepared a brochure to expedite the process (info now on this website). The graphic yellow and black self-guided tour booklet ushers guests through the bright yellow door, through the five room house, and even into the bathroom where the 'King' is enshrined on black velvet. Modifications to the 1952 design transformed the architecture of the house, so typical of the era, to meet a minimalist theory of structural simplicity that suits Watson's busy lifestyle. Visitors to the Open House can check out the newest addition to Watson's minimally mowed back yard - pink flamingos.
Below: The floor plan of Dr. Watson's house before and after renovations were made.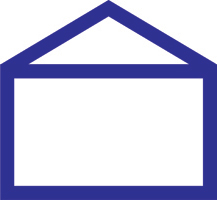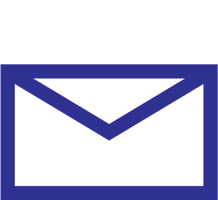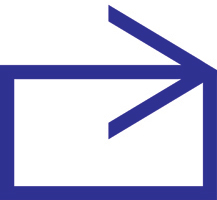 www.jamesrobertwatson.com/424media.html